Japanese cuisine is a part of Japanese culture. Just like the famous art of Origami, Japanese cuisine always makes people fall in love and admire much for its elaborateness, meticulousness, and sophistication. 
Referring to Japanese cuisine, people often whisper to each other dishes such as sushi, sashimi, ramen, Udon noodles, sake, etc. However, don't rush to discuss how these dishes are prepared, but let's go through a bit about the specific philosophies of Japanese cuisine. From those philosophies, you will have an overview and be closer to Japanese dishes. Don't worry, a detailed list of traditional dishes with easy Japanese recipes to make at home will be provided shortly, in the 2nd heading.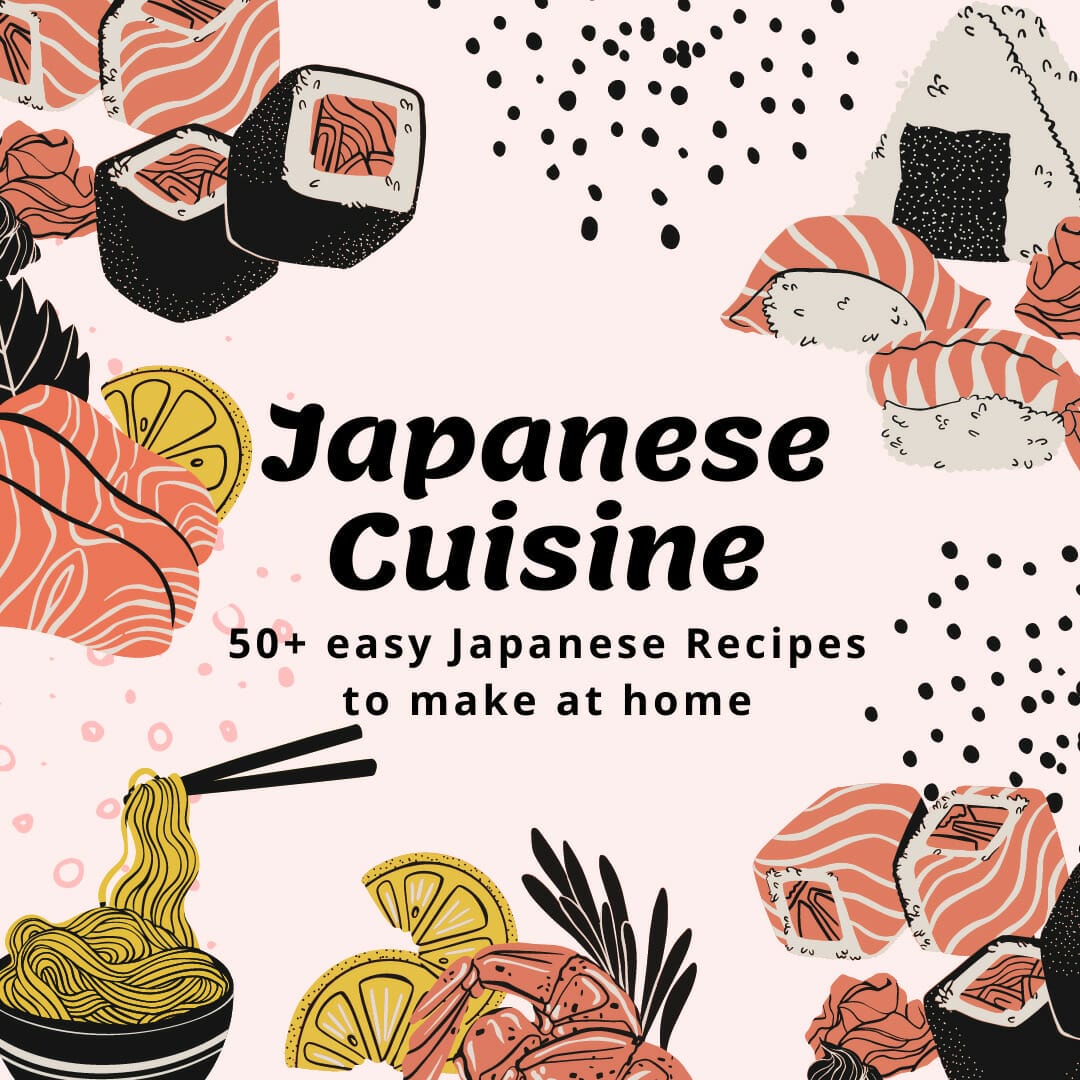 Japanese cuisine philosophy
5 colors
Each Japanese dining table has unique artwork. Besides taste, eyesight plays an important role in dish enjoyment. White, red, green, yellow, and black are the five major colors on a Japanese dinner table (black can be replaced with darker tones like brown, purple, etc.). The five colors in the dish, according to Japanese philosophy, reflect the five elements: metal, wood, water, fire, and earth. Besides, these 5 colors aim to ensure a balance of nutrition in each meal of Japanese. Especially, Japanese dishes such as Sushi, Sashimi… are all focused on color harmony.
The main representative ingredients for each color both harmonize the dish and bring a source of high nutritional value to the user, including:
White: From rice, snow fungus, and white radish
Red: Obtained from the meat of animals such as beef, salmon, or eggs of fish with similar tones
Green: From vegetables
Yellow: From rare mushrooms
Black or dark tones: From grilled meat, mushrooms, seaweed, eggplant, soy sauce, etc.
5 tastes
The 5 basic flavors in sensory evaluation are sour, salty, bitter, sweet, and umami, which are also the 5 basic tastes in Japanese culinary philosophy. 
In which:
The sour taste in Japan comes from rice vinegar

The salty taste is obtained from soy sauce

The bitter taste is extracted from green tea

Sweet taste from mirin

The umami taste is taken from the taste of MSG, rice, meat, or seafood.
3 cooking techniques
There will be at least 5 dishes with 5 different processing methods in a Japanese meal, such as raw, stew, grilled, steamed, fried… Regardless of the cooking method, the intrinsic nutrients and natural flavor of the ingredients are preserved. As a result, chefs will select the appropriate processing methods for each type of ingredient to ensure the dish's purity of flavor.
5 senses
A wonderful meal stimulates not just the senses of taste and smell, but also the senses of sight, hearing, and touch. Measuring the harmony of the presentation of dishes on the plate is a very significant element of the meal, and the Japanese have a famous adage about it: "dine with your eyes."
5 dining principles
These five rules, which originated in Japanese Buddhism, have become a unique characteristic of Japanese culinary culture. One, you must respect and be grateful for the efforts of the person who grew and prepared the food. Two, we must perform nice deeds deserving of such delicacies. Three, we must approach the table with a calm mindset. Fourth, in addition to nourishing the body, we should enjoy food to nurture the spirit. Five, we must strive to maintain a positive mental attitude.
5 Japanese food names feature Japanese cuisine quintessence
Ramen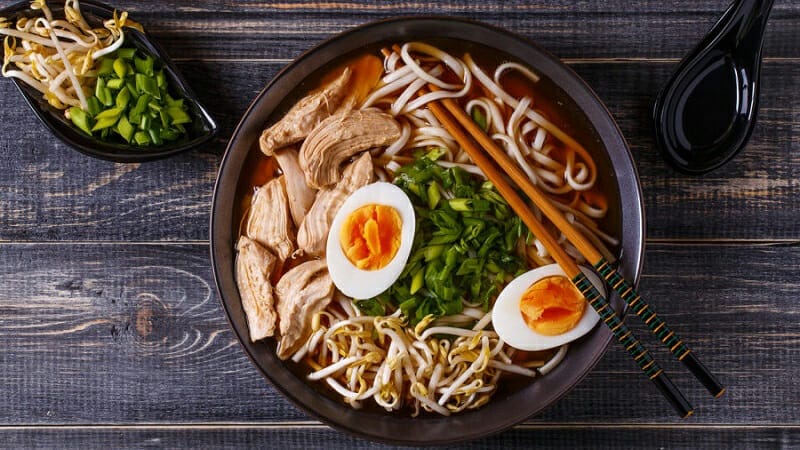 Ramen is a Japanese traditional dish that is a perfect combination of noodles made from wheat and soup cooked from pork bone, chicken bone, or fish. It is also served with eggs, vegetables, scallions, sour bamboo shoots, or seaweed
The origin of ramen is a secret until now. Some people say that it was sourced from China, but they have not had proof enough to demonstrate this statement. Also, others suppose that ramen was born in Japan in the early 20th century. 
In Japanese recipes ramen, noodles are formed into various shapes and lengths. It can be thin, thick, curly, straight, or round, square depending on the place of production in each locality. 
There are many Japanese ramen versions, such as: Shoyu ramen, Tonkotsu ramen, Tsukemen ramen, Sapporo ramen, Hakata ramen, Kitakata ramen, Wakayama ramen, Onomichi ramen, Hakodate ramen, etc.
Below is a list of Japanese recipes ramen that you can make at home:
Sushi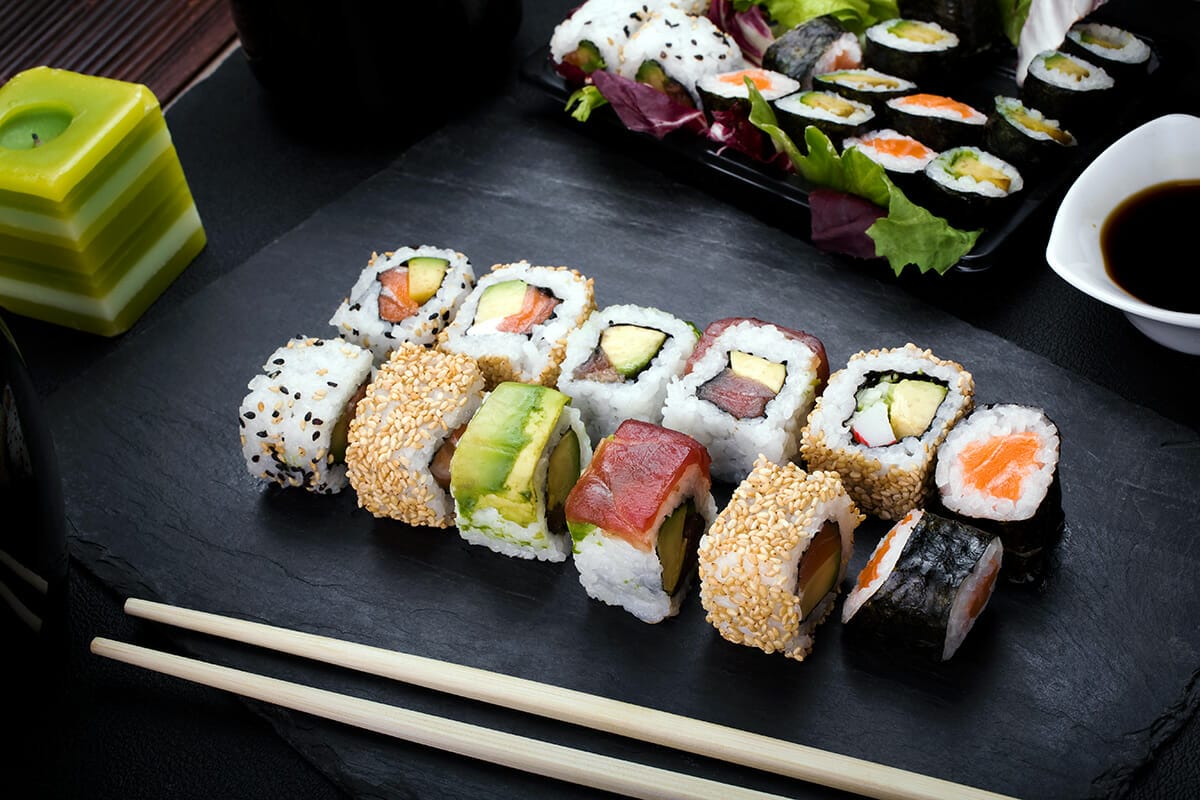 Sushi, a dish that combines raw or cooked seafood with white rice, is a must-try when it comes to the beauty of Japan's culinary culture. It's not easy to make a dish of sushi that has both taste and meaning, as it requires very strict processing criteria from the start. To make sticky, fragrant, soft rice grains that are not crushed to create adhesion, the water used to cook rice must be clean water.
The most important thing to remember is that seafood must be fresh, especially when it is captured and transferred rapidly to the processing facility, in order to make sure the grease and flavor are intact.
A unique feature is that Japanese people frequently prefer seafood caught in coastal waters, ensuring that the fish provided is both delicious and nutritious. When processing, in order to keep the purity and deliciousness of the dish, chefs often use wooden utensils because the acid in rice when mixing rice with vinegar will react if used with a metal utensil. They're also creative when it comes to forming rice into artistic shapes and combining colors made from available natural ingredients to make dishes more colorful and flavorful.
Some well-known sushi: Nigirizushi, Chirashizushi, Makimono, Gunkan, Oshizushi, Temaki, etc.
Below is a list of Japanese recipes for sushi that you can make at home:
Sashimi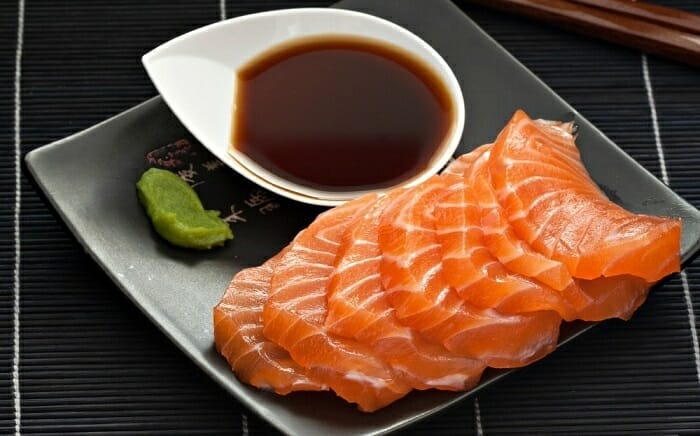 If you are not comprehensive about Japanese cuisine, easily, you may be misunderstood between sashimi and sushi. Differentiating from sushi which is a combination of seafood and vinegar rice, sashimi is a common name for dishes whose main ingredients are fresh seafood. This is a very popular dish on the Japanese menu because the Japanese think that seafood dishes, in general, are very beneficial for people to enjoy.
Sashimi is served with dipping sauces like soy sauce, wasabi, ginger, and vegetables such as perilla, mint, sliced white radish, or seaweed. The most common is mustard, which improves the flavor of the meal while also killing dangerous bacteria found in raw fish, which aids digestion.
Some popular sashimi dishes include salmon, tuna, salmon, squid, octopus, salmon roe, etc.
Japanese recipes for sashimi that you can make at home:
Udon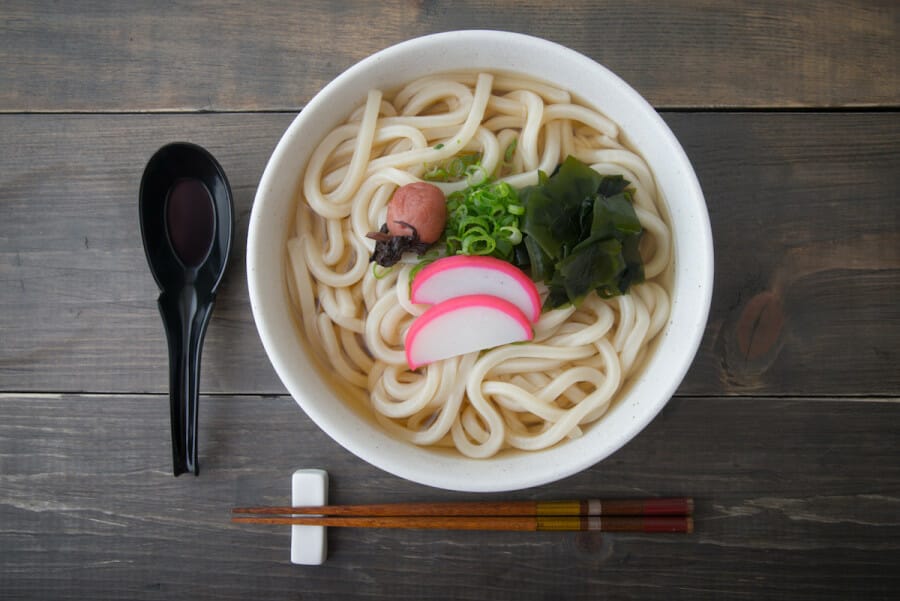 Udon noodle originates from Kagawa, which is located in Northeast Japan. This kind of noodle is considered a culinary quintessence of Japanese. 
Udon has a noodle part made up of flour, salt, and water and when made, it has a characteristic milky white color. Compared to Ramen, Udon noodles are thicker and tougher.
Though there are many versions of the broth of Udon nowadays, the taste of the traditional broth is still highly appreciated by diners. Most chefs often combine soy sauce, mirin, and dashi to make sure a broth is created with a delicious and sweet taste.
This noodle dish can be served hot or cold depending on the weather as well as the preferences of each dinner. 
Below is a list of Japanese recipes for udon that you can make at home:
Soba
Besides Ramen and Udon, Japanese cuisine is well-known for Soba. Soba noodles are similar in thickness and length to ramen noodles, but they are made mainly of buckwheat or a mixture of buckwheat and wheat. In particular, Soba noodles will be called Zarusoba if served with Nori seaweed, and if no seaweed is used, it will be called Morisoba.
Soba noodles, like Udon, can be eaten hot or cold, depending on personal choice. Cold soba noodles are boiled and dipped in soy sauce and it is served with Yam or seaweed. Hot soba is eaten with eggs.
Below is a list of Japanese recipes for soba that you can make at home:
Top 20+ easy Japanese recipes to make at home
Cultural significance through Japanese cuisine
In Japanese cuisine, each dish shows a certain cultural significance. Commonly, each dish symbolizes good wishes for people. For example, tofu is used to wish good health, sake is used to ward off evil spirits and prolong life, tempura for longevity, grilled cod roe for a happy family, shrimp dish for longevity, sea bream sushi for prosperity, Komochi Nishin dish for many children and grandchildren,…
In short, in Japanese cuisine, every dish brings a particular meaning, so depending on specific occasions, different dishes appear on the diner table of Japanese
Etiquette on the dining table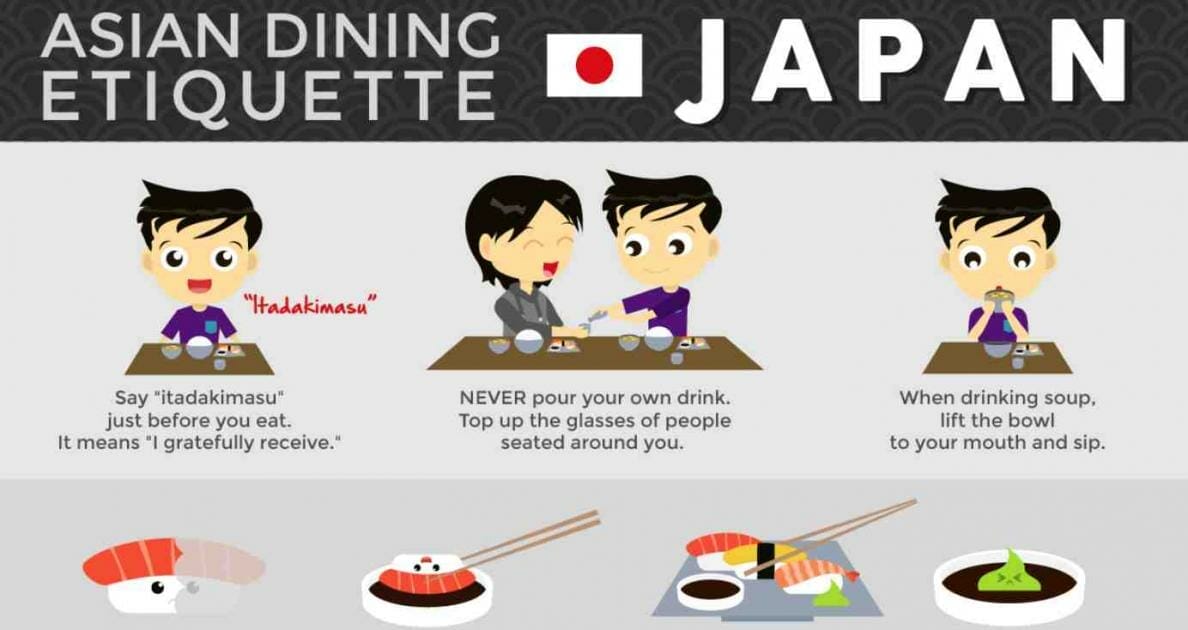 Etiquette is an important aspect not only in Japanese culture, in business but also in dining. At a Japanese dining table, to show respect to the dish, the cook, and the host as well, it is highly recommended that you show interest in the food. Therefore, you should not eat reservedly, tidily, or moderately, but you should "drink" the dish and eat it as if you are covetous a lot. Although this behavior may make you feel impolite, it is the thing the host likes
Japanese often use chopsticks to enjoy the food and they hate to use their hands to hold the food. The chopsticks should be placed on the edge of your rice bowl or on a chopstick block provided.
Besides, do not leave any leftovers because according to Japanese cuisine, you must eat all the food that has been served. In addition, you should eat the whole piece at once and avoid using your teeth to shred it. If there are any items in the meal you ordered that you cannot eat, inform the restaurant to substitute another one. After you've finished eating, return the plates and chopsticks to their original positions to indicate that you've finished your meal.
Conclusion
Thanks so much for putting in the time to come see the Foodandmeal blog. Let's please do this again. Because Foodanmeal is a treasure trove of recipes to help you enrich your international culinary knowledge.