Udon Noodle Egg Drop Soup is one of my favorite soups, and this recipe is very easy to make. This delicious soup can be served cold or at room temperature, depending on your preference. I like to add spinach, scallions, and toasted sesame seeds for a unique taste. I also use a spout in my cup to pour in the soup. Once the mixture has cooled down, I garnish it with the remaining scallions.
Noodle Egg Drop Soup Recipes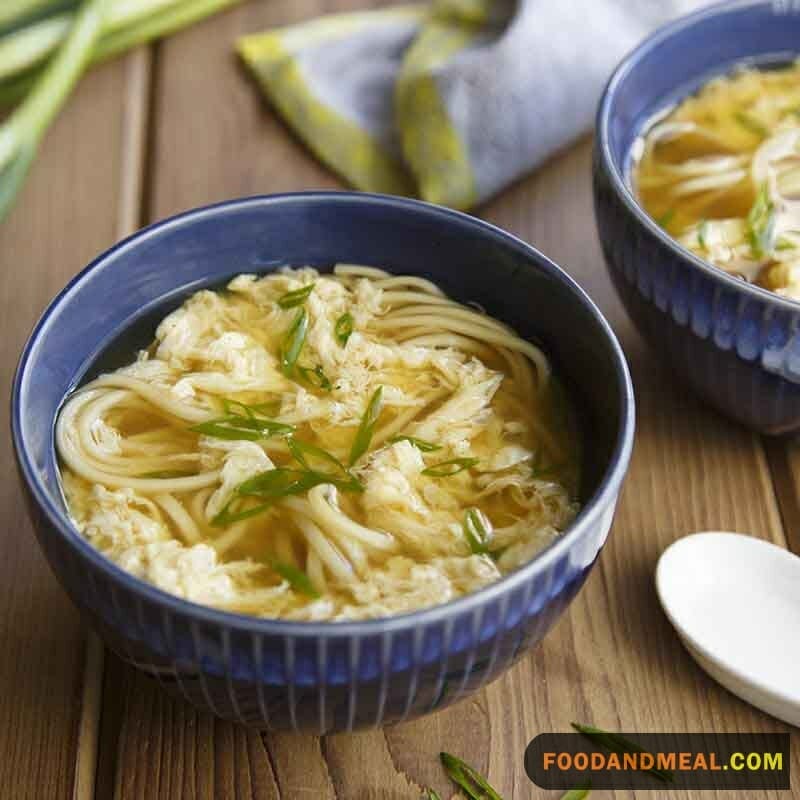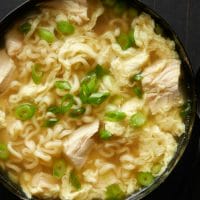 Udon Noodle Egg Drop Soup
Slurping a bowl of egg drop soup with noodles is sure to bring you a contented smile. The combination of dashi-based broth and tasty egg, along with udon noodles Makes this a great meal for a night of entertainingguests.
Print
Add to Collection
Go to Collections
Ingredients
Optional:
shichimi chili powder

for serving
Instructions
Cook udon noodles for about 10 minutes in boiling, filtered water. Drain in cool water.

Combine soy sauce, sea salt, mirin and dashi in sauce pan on med. heat. Bring to boil.

Beat eggs in measuring cup. Stir soup in circular motions. Add eggs in slowly to soup while swirling, making thin ribbons. Remove from heat when egg ribbons have floated to surface.

Place udon in bowls. Add egg drop soup and garnish using spring onions. Add chili powder to taste. Serve.
Notes
This delicious soup is best served as soon as it's ready. The soup does not keep well and can't be refrigerated. For maximum flavor, use a homemade chicken stock. Alternatively, you can substitute baby bella mushrooms for crimini mushrooms. The broth should be hot to taste, so add ginger only a pinch to keep the flavor mild. Next, add the beaten eggs to the simmering soup, letting the yolks spread out like ribbons.
Share by Email
Share on Facebook
Share on Twitter
Nutrition
Serving:
1
serving
|
Calories:
114
kcal
|
Carbohydrates:
6
g
|
Protein:
10
g
|
Fat:
5
g
|
Saturated Fat:
2
g
|
Polyunsaturated Fat:
1
g
|
Monounsaturated Fat:
2
g
|
Trans Fat:
1
g
|
Cholesterol:
164
mg
|
Sodium:
1618
mg
|
Potassium:
253
mg
|
Fiber:
1
g
|
Sugar:
3
g
|
Vitamin A:
245
IU
|
Vitamin C:
1
mg
|
Calcium:
86
mg
|
Iron:
1
mg
© Food And Meal
This website provides approximate nutrition information for convenience and as a courtesy only. Nutrition data is gathered primarily from the Spoonacular Database, whenever available, or otherwise other online calculators.
Alternative Preparation Method: Using a Microwave for Quick Noodle Egg Drop Soup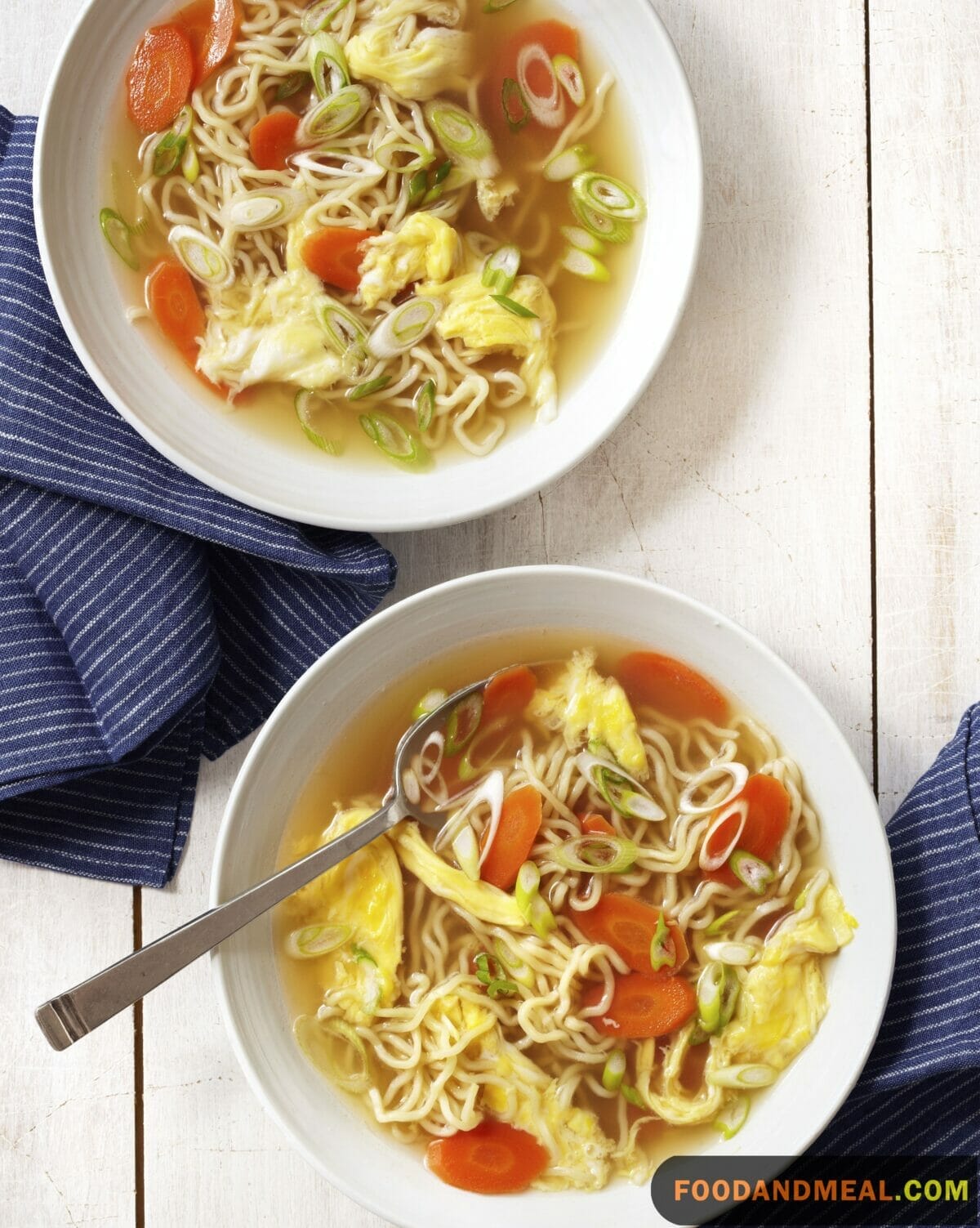 Ingredients:
2 cups chicken or vegetable broth
1/2 cup cooked noodles (precooked)
2 large eggs
1 tablespoon soy sauce
1/2 teaspoon ginger, minced
Salt and pepper, to taste
Sliced green onions and a dash of sesame oil for garnish
Instructions:
Prepare Broth: In a microwave-safe bowl, pour in the chicken or vegetable broth. Add the minced ginger, soy sauce, salt, and pepper. Stir well to combine.
Microwave Broth: Place the bowl in the microwave and heat it on high for 2-3 minutes or until the broth is steaming hot.
Noodles in: Carefully remove the hot bowl from the microwave. Add the precooked noodles to the hot broth. Stir them in gently.
Egg Ribbon Time: In a separate microwave-safe bowl, beat the two eggs until they are well combined. Slowly drizzle the beaten eggs into the hot broth, stirring gently and continuously in one direction.
Final Touches: Put the bowl back in the microwave and cook on medium power for another 1-2 minutes. Keep an eye on the egg ribbons forming.
Serve and Garnish: Once the egg ribbons are set, carefully remove the bowl from the microwave. Garnish with sliced green onions and a drizzle of sesame oil. Serve hot!
Tips for making noodle egg drop soup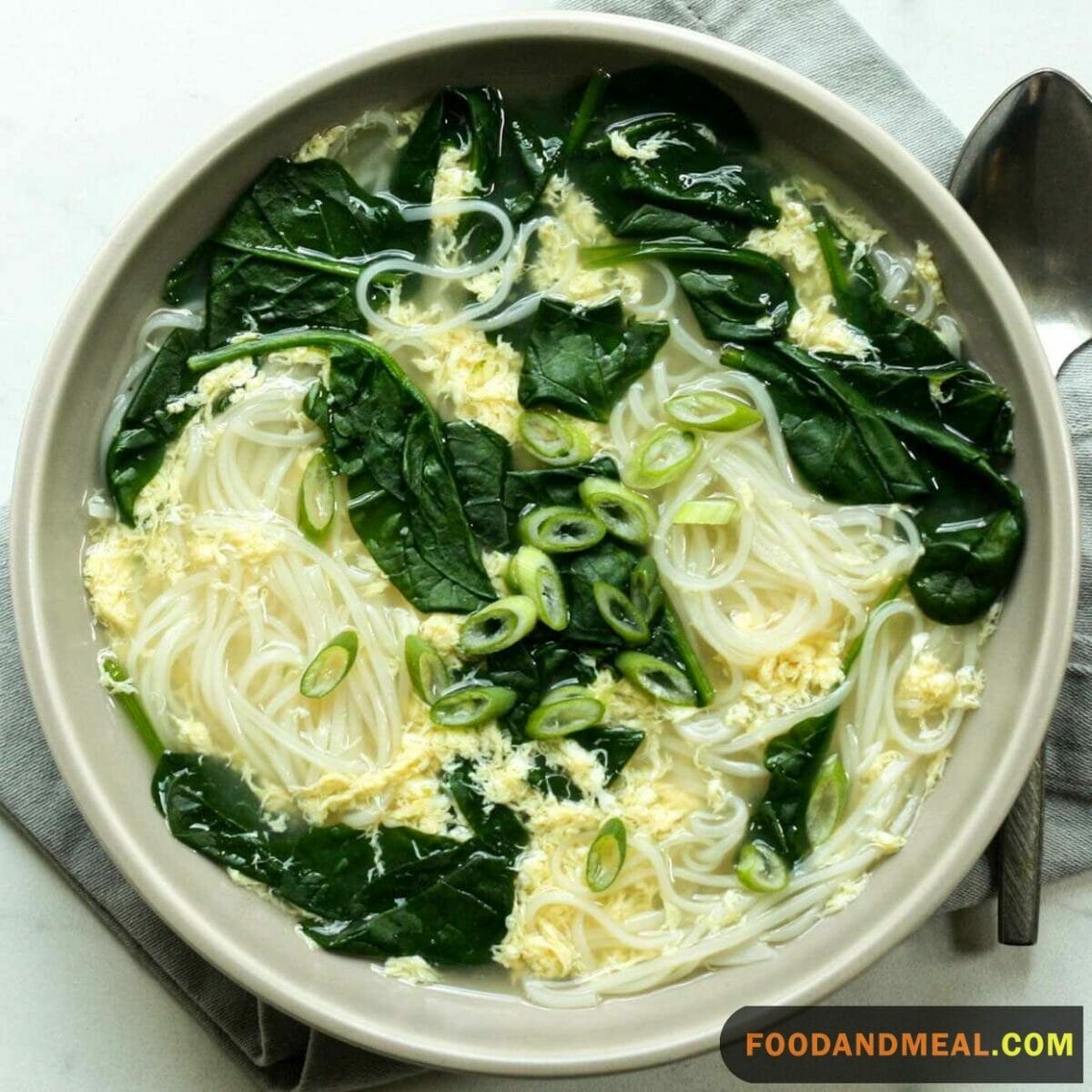 Cooking Tips
Use High-Quality Broth: The foundation of any great soup is the broth. Use a high-quality chicken or vegetable broth for the best results. Homemade is ideal, but store-bought works well too.
Precook Noodles: Cooking the noodles separately and adding them to your soup when serving helps prevent them from becoming mushy and overcooked.
Slow, Steady Egg Pour: When adding beaten eggs to the hot broth, ensure a slow, steady pour. Stir continuously in one direction to create those beautiful egg ribbons.
Don't Overcook Eggs: Avoid overcooking the eggs; the gentle, creamy ribbons are what make this soup special.
Season Thoughtfully: Be cautious with the soy sauce, salt, and pepper. It's easier to add more seasoning later than to correct an overly salty soup.
Garnish Gracefully: Freshness is key. Garnish with sliced green onions and a drizzle of sesame oil right before serving to enhance the flavors.
Customize to Taste: Feel free to customize your Noodle Egg Drop Soup with additional ingredients like tofu, vegetables, or even some chili sauce for a spicy kick.
Serving Suggestions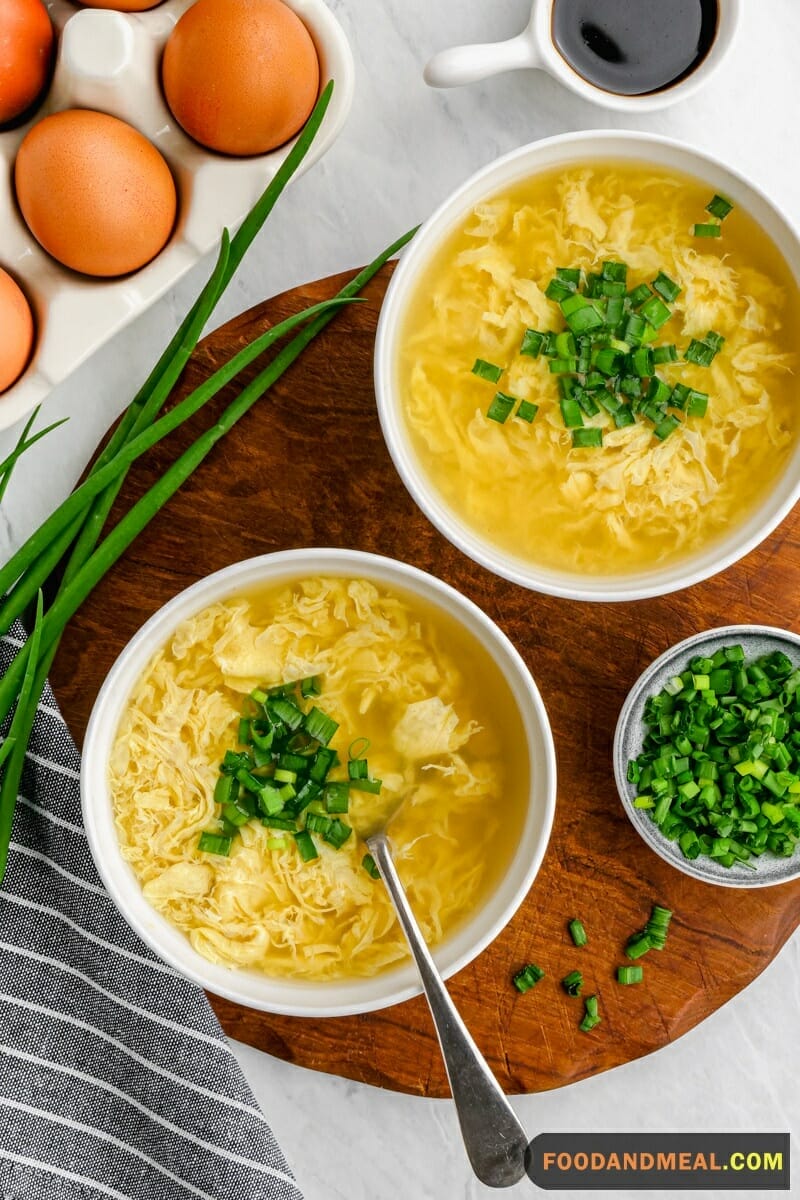 Pair with Dumplings: Serve your Noodle Egg Drop Soup alongside a plate of steamed dumplings. The contrast of flavors and textures is delightful.
Fresh Herbs: Add fresh cilantro or Thai basil for a burst of herbal freshness. These herbs complement the soup beautifully.
Crunchy Sides: Offer some crunch to your meal by including a side of crispy prawn crackers or sesame-coated fried wontons.
Iced Green Tea: For a soothing beverage, pair the soup with a glass of iced green tea. It balances the warmth of the soup.
Family-Style Dining: Make it a family-style meal by placing different garnishes on the table. Let everyone customize their soup with their favorite extras.
FAQs about Noodle Egg Drop Soup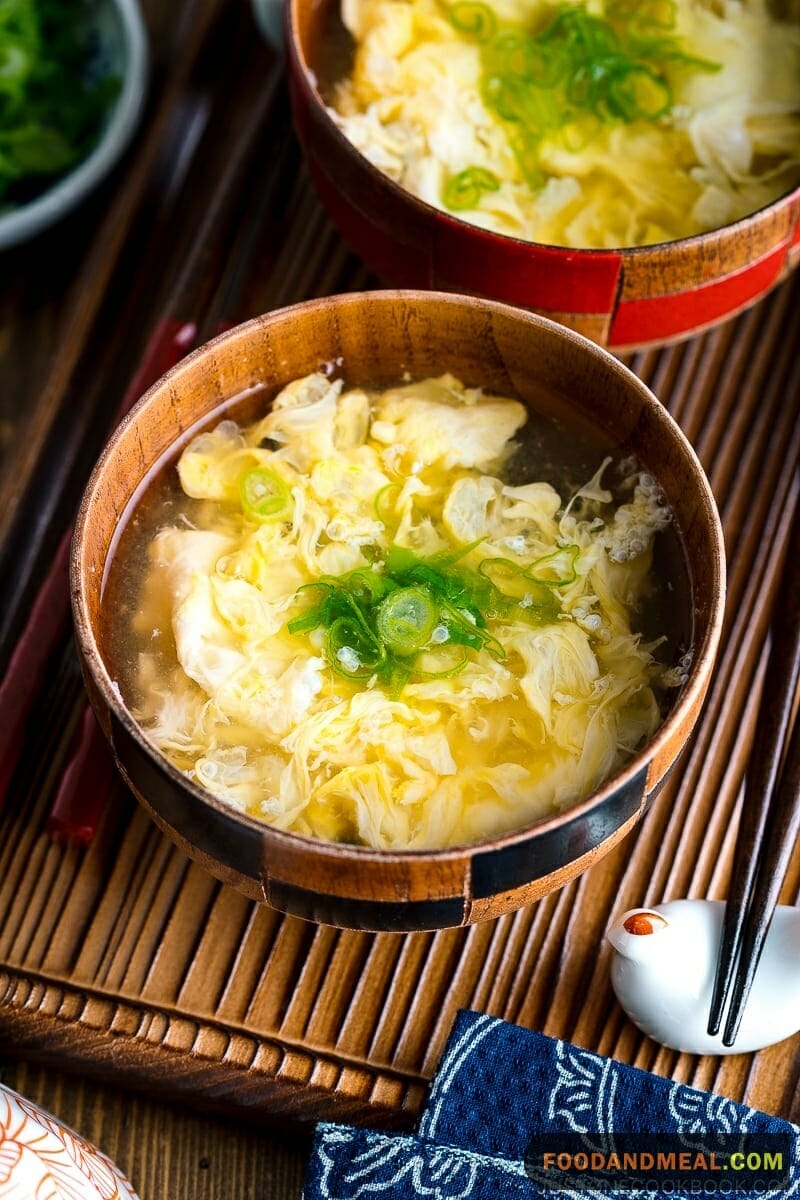 Can I make this soup vegetarian? Absolutely! Use vegetable broth instead of chicken broth, and you've got a delightful vegetarian Noodle Egg Drop Soup.
How do I store leftovers? Store any leftover Noodle Egg Drop Soup in an airtight container in the refrigerator. Reheat gently on the stovetop, and add some fresh garnishes for a tasty round two.
Can I use other types of noodles? Certainly! You can use various noodles like rice noodles, udon, or even egg noodles to suit your preference.
Is this soup spicy? The base recipe is not spicy, but you can add chili sauce or red pepper flakes for a spicy kick if you like.
What's the best way to reheat the soup? To maintain the soup's quality, reheat it on the stovetop over low heat. Be gentle when stirring, especially to keep those lovely egg ribbons intact.
Master the art of making Noodle Egg Drop Soup with our step-by-step guide. Create silky egg ribbons and enjoy a bowl of comfort. Explore more recipes on our blog.
I'm James F Anderson, a noted sous chef from London and a Le Cordon Bleu alumnus. My career began in a Michelin-starred Parisian eatery, where my blend of classic and contemporary cooking, using seasonal ingredients, earned accolades. Recognized in culinary publications and on cooking shows, I'm committed to mentoring aspiring chefs and delivering memorable dining experiences, marking me as a standout talent in the culinary world.
Affiliate DisclaimerAbout The Content
As an affiliate, we may earn a commission from qualifying purchases. We get commissions for purchases made through links on this website from Amazon and other third parties.