If you prefer to serve the dish as a meal, ramen is often served with vegetables such as cucumber or carrots. Traditionally, ramen is served with negi, a traditional vegetable topping that is topped with beef. Then, you can top it with your favorite toppings. For example, you can top your noodle soup with sukiyaki beef and chashu. Then, add negi to your noodle bowl and serve immediately. In this article, we will show you how to make this Negi-Baka Tonkotsu Ramen in the easiest way.
Negi-Baka Tonkotsu Ramen Recipes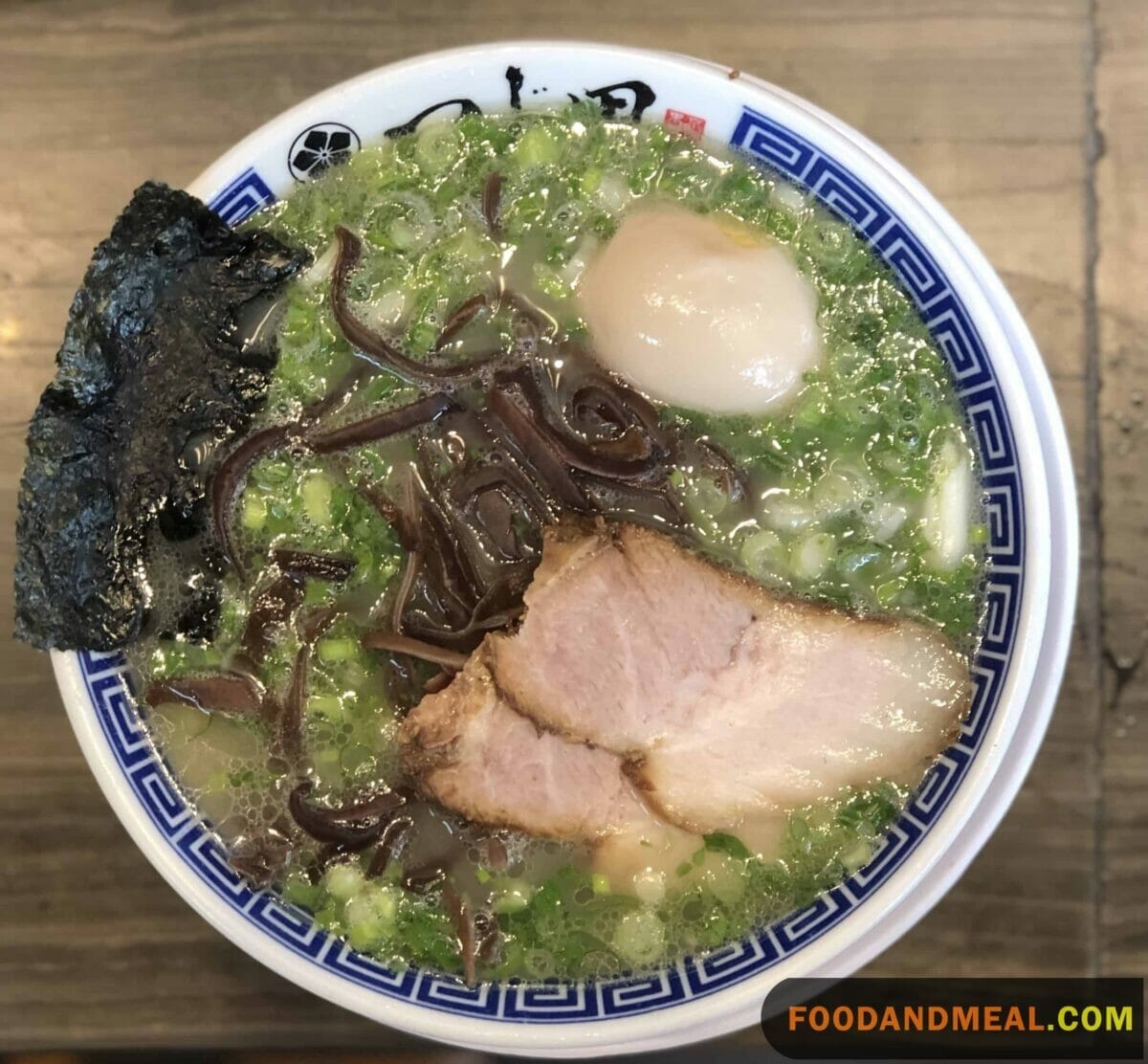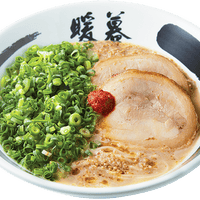 Negi-Baka Tonkotsu Ramen
There was a tonkotsu ramen shop in Tokyo called Nandenkanden that was so popular it caused daily traffic jams. People lined up for hours just to sample their creamy soup. One of their most popular items was negi-baka, which translates (roughly) to "a stupid amount of scallion." Sure enough, the bowl was completely covered by fresh negi, and every slurp of noodles would be a mix of white soup and green onion.
Print
Add to Collection
Go to Collections
Equipment
Instructions
With all your ingredients ready to go, bring a large pot of water to a boil over medium-high heat.

Heat your ramen bowls by filling them halfway with hot water. The bowls don't need to be scalding, but they should be hot to the touch. Dump out the hot water and dry the bowls with some paper towels or a clean towel.

Put the tare and soup in a medium saucepan. Mix and bring to a simmer over low heat.

Cook the noodles in the large pot of boiling water. Ramen that has been cut to a standard thickness (about 1 mm) will cook in 1 to 2 minutes.

About 30 seconds before the noodles are finished cooking, ladle the soup into the ramen bowls.

Drain the noodles, taking care to shake off as much excess water as you can. Carefully place some noodles in each bowl of soup, keeping them tidy.

Place 1 or 2 slices of chashu and 1 cup of negi neatly on the ramen. The scallions should cover the entire bowl. Serve immediately.
Notes
Use only the green parts of your scallions for this dish. Negibaka is as much about the presentation as it is about the flavor.
Share by Email
Share on Facebook
Share on Twitter
Nutrition
Serving:
1
bowl
|
Calories:
703
kcal
|
Carbohydrates:
128
g
|
Protein:
25
g
|
Fat:
9
g
|
Saturated Fat:
3
g
|
Polyunsaturated Fat:
3
g
|
Monounsaturated Fat:
2
g
|
Cholesterol:
6
mg
|
Sodium:
2572
mg
|
Potassium:
1176
mg
|
Fiber:
6
g
|
Sugar:
7
g
|
Vitamin A:
625
IU
|
Calcium:
92
mg
|
Iron:
2
mg
© Food And Meal
This website provides approximate nutrition information for convenience and as a courtesy only. Nutrition data is gathered primarily from the Spoonacular Database, whenever available, or otherwise other online calculators.
Alternative Method: Slow Cooker Negi-Baka Tonkotsu Ramen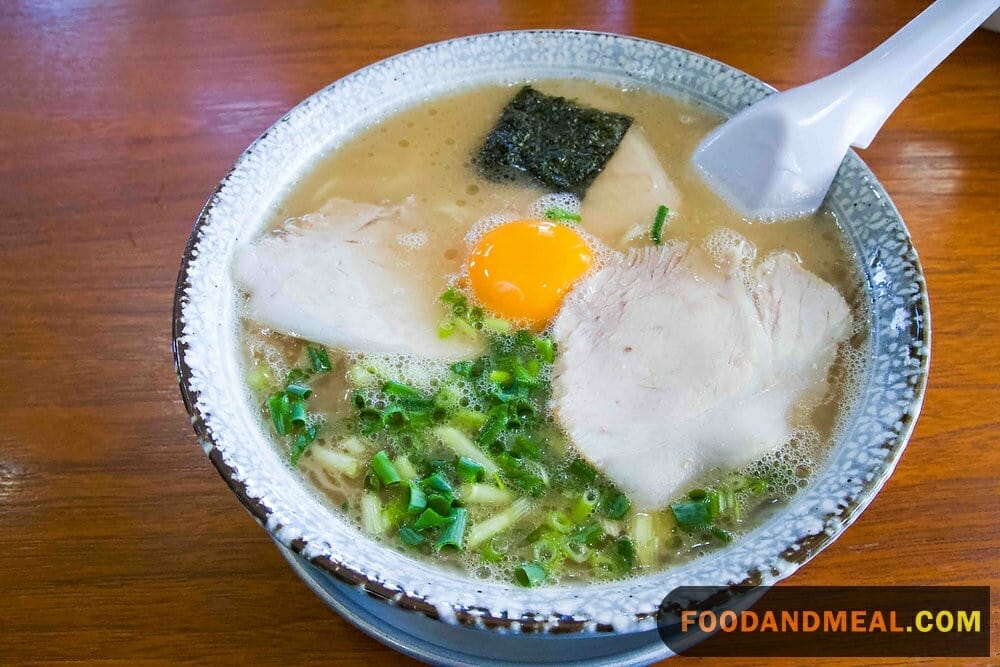 Preparation Time: 30 minutes
Cooking Time: 8-10 hours (slow cooker)
Servings: 4
Ingredients:
4 pounds pork neck bones
2 pounds pork belly
1 onion, peeled and halved
1 head garlic, halved horizontally
1 thumb-sized piece of ginger, sliced
8 cups water
2 cups chicken broth
2 tablespoons vegetable oil
4 bundles fresh ramen noodles
4 boiled eggs, halved
2 cups chopped green onions (negi)
2 sheets nori seaweed, cut into strips
Salt and white pepper to taste
Sesame seeds for garnish (optional)
Instructions:
Prepare the Slow Cooker: Place the pork neck bones, onion, garlic, and ginger in your slow cooker. Add 8 cups of water and 2 cups of chicken broth. Cover and set the slow cooker to low heat. Allow it to simmer for 8-10 hours. This long, slow cooking process will extract maximum flavor from the bones, resulting in a rich and creamy broth.
Prepare the Pork Belly: While the broth is simmering, let's prepare the pork belly. In a large pan, heat 2 tablespoons of vegetable oil over medium-high heat. Sear the pork belly slices until they are golden brown and crispy on each side. This should take about 2-3 minutes per side. Once seared, set them aside.
Strain the Broth: After the slow cooker has done its magic, strain the broth into a large pot. Use a fine mesh strainer to remove all the solids, leaving you with a smooth and flavorful broth.
Season the Broth: Return the strained broth to the slow cooker and season it with salt and white pepper to taste. Remember that the broth will be concentrated, so season it a little at a time and taste as you go until it's perfect for your palate.
Cook the Ramen Noodles: In a separate pot, bring water to a boil and cook the fresh ramen noodles according to the package instructions. Drain and set aside.
Assemble Your Ramen Bowls: To serve, place a portion of cooked ramen noodles in each bowl. Ladle the rich Tonkotsu broth over the noodles, making sure each bowl has an equal amount. Add slices of seared pork belly on top of the noodles.
Add Toppings: Garnish your bowls with halved boiled eggs, chopped green onions (negi), and strips of nori seaweed. Sprinkle with sesame seeds if desired.
Serve and Enjoy: Serve your homemade Negi-Baka Tonkotsu Ramen hot, and don't forget to enjoy the rich, savory broth and tender slices of pork belly. Your taste buds are in for a delightful treat.
Tips for making Negi-Baka Tonkotsu Ramen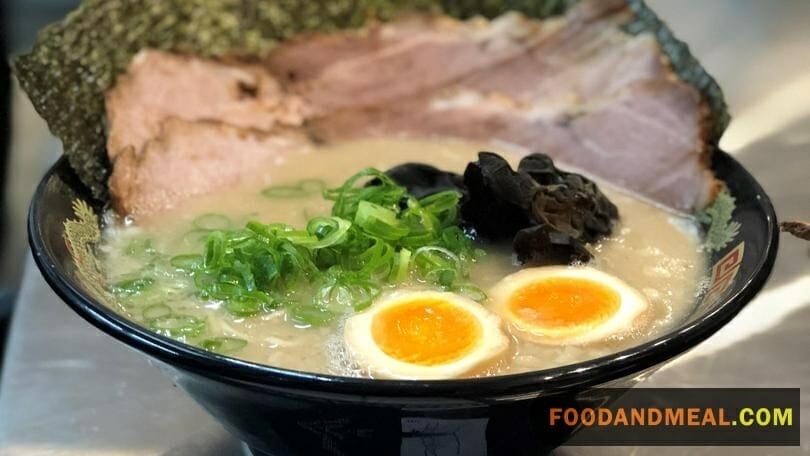 Cooking Tips
Slow Simmer for Flavor: The secret to a rich and creamy Tonkotsu broth is the slow simmer. Be patient and allow the broth to cook on low heat for 8-10 hours. This will extract all the savory goodness from the pork bones.
Season Gradually: When seasoning the broth, remember that it's concentrated. Add salt and white pepper gradually, tasting as you go to achieve the perfect balance of flavors.
Perfectly Cooked Eggs: For the ideal soft-boiled egg, boil them for exactly 6 minutes, then transfer them to an ice bath to stop the cooking process. This results in a runny yolk that complements the ramen perfectly.
Customize Toppings: While our recipe suggests specific toppings, feel free to get creative. Corn kernels, bamboo shoots, and bean sprouts are all great additions.
Keep the Pork Belly Crispy: Searing the pork belly adds a wonderful texture to your ramen. To keep it crispy, add it to the ramen just before serving.
Serving Suggestions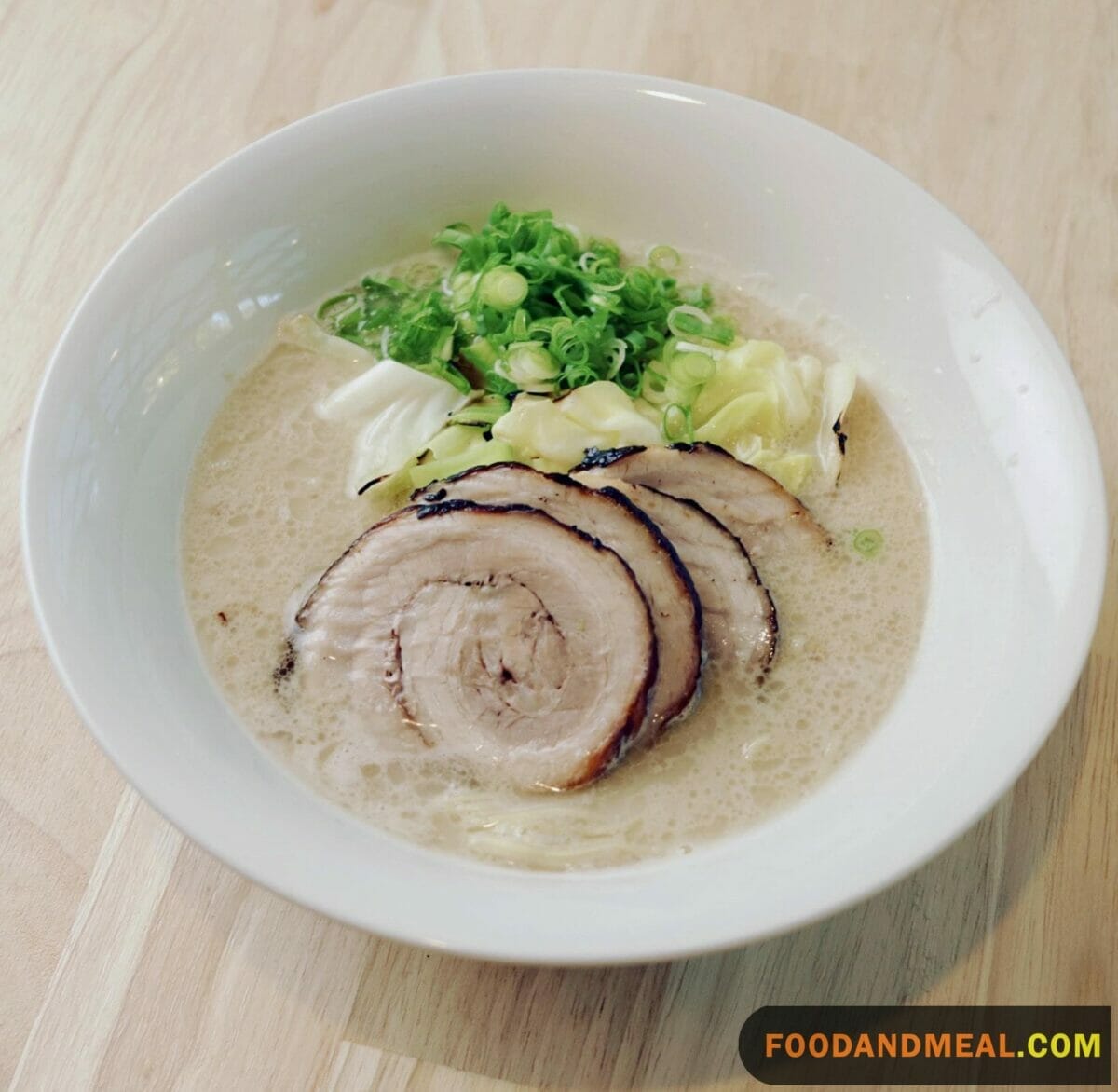 Side Dishes: Serve your ramen with a side of Gyoza (Japanese dumplings), Edamame, or a fresh seaweed salad.
Garnishes: Enhance the flavors with additional garnishes like pickled ginger, chili oil, or a drizzle of sesame oil. These can be offered on the side for diners to customize their bowls.
Beverages: Pair your ramen with traditional Japanese beverages like green tea or try something unique like a cold glass of Ramune soda.
Different Styles: Tonkotsu Ramen can be enjoyed in various styles. Consider serving it as Tsukemen (dipping noodles) or adding a dollop of miso paste for Miso Tonkotsu Ramen.
Homemade Sushi: If you want to go all out, serve your ramen alongside homemade sushi rolls for a Japanese feast.
Frequently Asked Questions about Negi-Baka Tonkotsu Ramen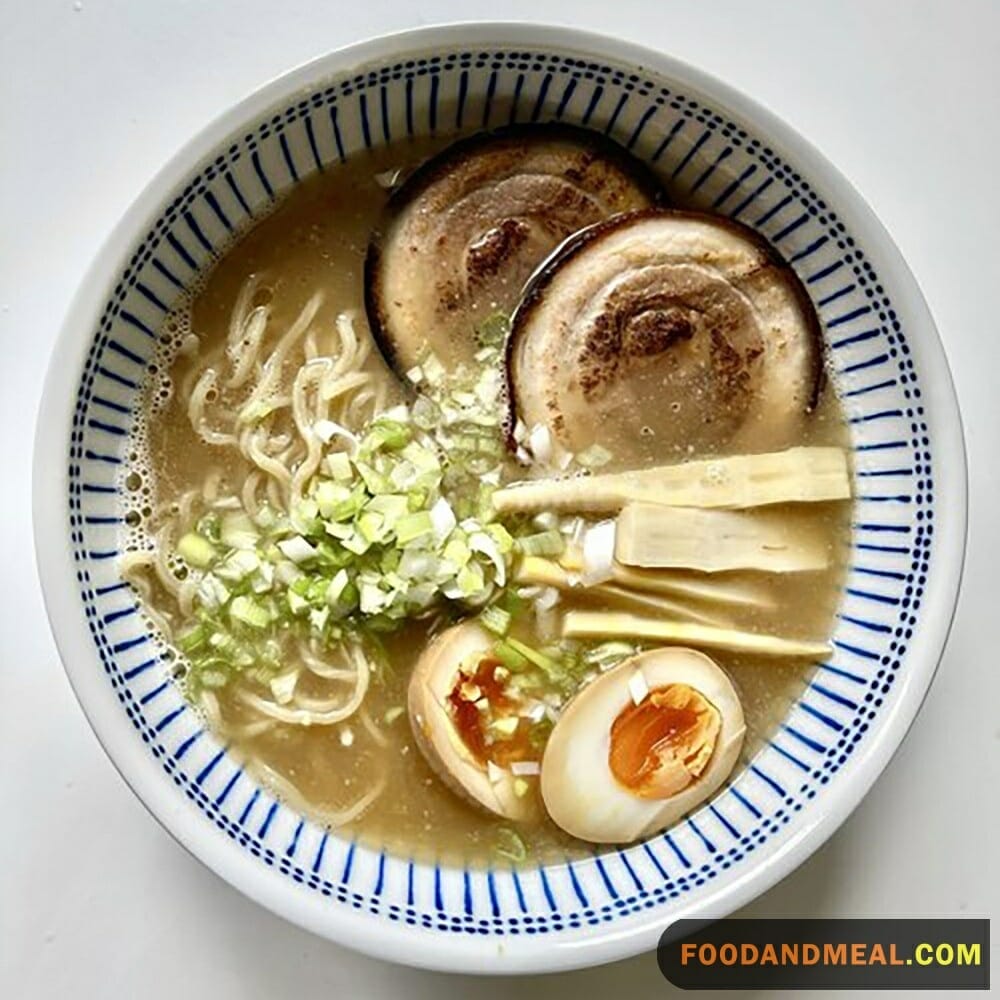 Can I make the broth in advance and store it? Absolutely! You can make the Tonkotsu broth in advance and refrigerate it for up to 3 days or freeze it for several months. Reheat gently before serving.
Can I use other cuts of pork for the broth? While pork neck bones are traditional, you can use other cuts like pork femur or knuckles. These cuts are rich in collagen, which gives the broth its creaminess.
Can I make this ramen vegetarian or vegan? Yes, you can. Substitute the pork-based ingredients with vegetable broth and tofu for a delicious vegetarian or vegan alternative.
How do I store leftovers? Leftover ramen should be stored in an airtight container in the refrigerator. Reheat gently on the stovetop, and add fresh toppings before serving.
What's the best way to reheat ramen without overcooking it?  To reheat ramen without overcooking, bring the broth to a gentle simmer and add the noodles for a few minutes until warmed through. Be cautious not to boil the noodles excessively.
Indulge in Negi-Baka Tonkotsu Ramen: Create velvety broth, tender pork, and flavorful toppings with our step-by-step recipe. Elevate your ramen game today.
I'm James F Anderson, a noted sous chef from London and a Le Cordon Bleu alumnus. My career began in a Michelin-starred Parisian eatery, where my blend of classic and contemporary cooking, using seasonal ingredients, earned accolades. Recognized in culinary publications and on cooking shows, I'm committed to mentoring aspiring chefs and delivering memorable dining experiences, marking me as a standout talent in the culinary world.
Affiliate DisclaimerAbout The Content
As an affiliate, we may earn a commission from qualifying purchases. We get commissions for purchases made through links on this website from Amazon and other third parties.