In Japan, you can find various kinds of kabocha purin, also called kabocha pud, all over the country. The name comes from the Japanese pronunciation of pudding, but it's actually more of a flan. You can get them at family restaurants, cafes, and convenience stores. They come in various flavors, including vanilla, chocolate, and mango. This type of dessert is an example of how a Western dessert can be adapted to fit the taste and preferences of the Japanese population.
If you are looking for a simple, but delicious dessert for Halloween, consider making a kabocha pud. Using real vanilla beans in your recipe will give you a rich and decadent dessert. If you're looking for a pumpkin-based Halloween dessert, look no further. This tasty and healthy recipe will surely satisfy your craving for kabocha. And it won't cost you much time to prepare.
Kabocha Purin Recipes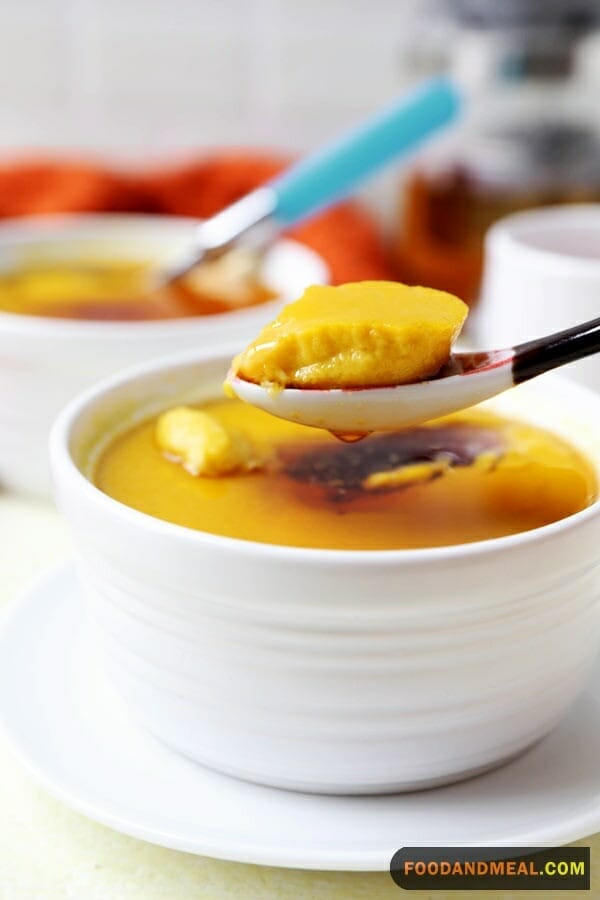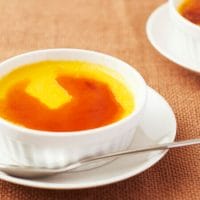 Japanese Kabocha Purin
Do you love Japanese desserts? This pumpkinpudding is a sweet and addictive dessert that you will want to make every timethere is a family gathering in your home or just for your family members.
Print
Pin Recipe
Add to Collection
Go to Collections
Instructions
Place the squash on a cutting board and scoop the seeds and cut the rind.

Slice the squash into a half inch pieces and place them in a pot. Add water to cover the pieces then bring to boil.

Reduce heat and simmer until the squash is tender. Add the squash in your blender and add half the almond milk and sugar.

Blend until smooth. Add the other half of milk, eggs, and vanilla. Continue blending at low speed until smooth and no foam is formed.

Use a strainer to strain the liquid and discard the solids. Divide the liquid between two ramekins (heat safe)

Pour water into a pot over heat then deep the ramekins. The ramekins should be a third covered. Cover the pan with an aluminum foil then lid the pot.

Let the water boil then lower the heat to simmer for twenty-five Minutes. Check if the pudding is firm and if not steam for five more Minutes.

If ready place it in a fridge to chill then serve and enjoy the pudding with pure maple syrup.
Notes
When making a kabocha pud, you can use real vanilla beans or artificial flavors. Some people like to cook the pumpkin in a savory way, but you can also use it in a sweet dish. Another popular kabocha pudding is a pumpkin pudding. Its rich flavor comes from the combination of sugar, kabocha puree, and vanilla. It's a great dessert for Halloween or any other time of year.
Share by Email
Share on Facebook
Share on Twitter
Nutrition
Serving:
2
servings
|
Calories:
210
kcal
|
Carbohydrates:
30
g
|
Protein:
7
g
|
Fat:
6
g
|
Saturated Fat:
1
g
|
Polyunsaturated Fat:
2
g
|
Monounsaturated Fat:
2
g
|
Trans Fat:
1
g
|
Cholesterol:
164
mg
|
Sodium:
223
mg
|
Potassium:
421
mg
|
Fiber:
2
g
|
Sugar:
23
g
|
Vitamin A:
1605
IU
|
Vitamin C:
12
mg
|
Calcium:
198
mg
|
Iron:
1
mg
© Food And Meal
This website provides approximate nutrition information for convenience and as a courtesy only. Nutrition data is gathered primarily from the Spoonacular Database, whenever available, or otherwise other online calculators.
Pin Recipe
Alternative Method: Kabocha Purin in a Microwave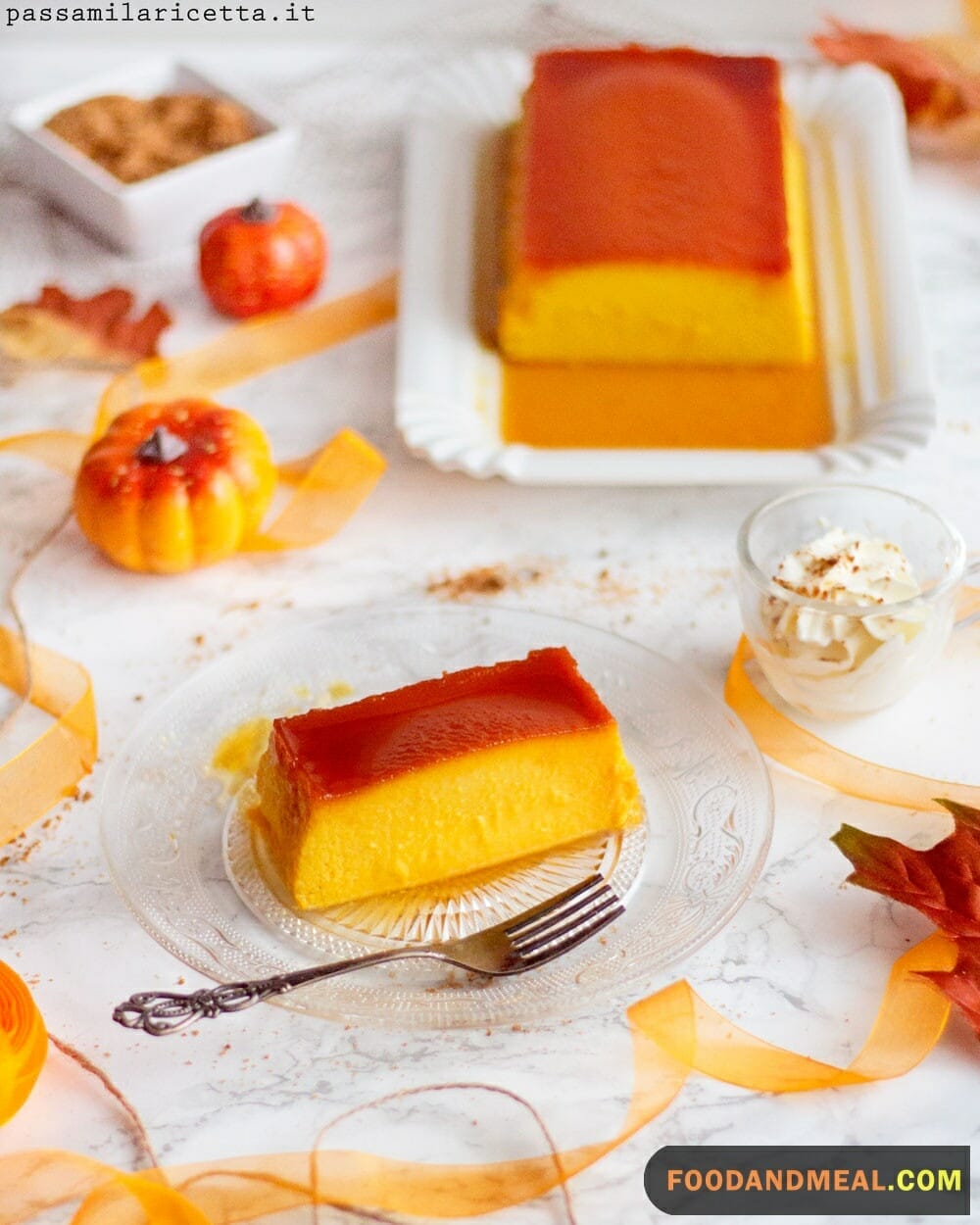 Preparation Time: 10 minutes
Cooking Time: 10 minutes
Chilling Time: 3-4 hours (or overnight)
Ingredients:
250g (about 1 cup) of Kabocha, peeled, deseeded, and diced
2 large eggs
1/2 cup of granulated sugar
1 cup of whole milk
1 teaspoon of vanilla extract
A pinch of salt
Instructions:
Prepare the Kabocha: Peel, deseed, and dice the Kabocha into small pieces. Place them in a microwave-safe bowl.
Microwave Kabocha: Cover the bowl with a microwave-safe lid or microwave-safe plastic wrap. Microwave the Kabocha on high for about 5-7 minutes, or until the pieces are soft and can be easily pierced with a fork. Check and stir every 2-3 minutes for even cooking.
Blend Kabocha: Transfer the microwaved Kabocha into a blender or food processor. Blend until it becomes a smooth puree. You may need to add a tablespoon or two of water if it's too thick. Allow the puree to cool to room temperature.
Prepare Caramel: In a microwave-safe glass or ceramic bowl, combine 1/4 cup of granulated sugar and 1 tablespoon of water. Stir to create a sugar paste. Microwave for about 2-4 minutes until it turns into a golden caramel. Watch it closely to prevent burning.
Coat Ramekins: Carefully pour the caramel into the bottom of your ramekins or custard cups. Swirl to coat the bottoms evenly. Allow the caramel to cool and harden.
Whisk Eggs: In a separate bowl, whisk the eggs, the remaining 1/4 cup of sugar, vanilla extract, and a pinch of salt until well combined.
Combine Ingredients: Gradually add the Kabocha puree to the egg mixture, whisking continuously. Ensure the mixture is smooth and well-blended.
Add Milk: Slowly pour in the milk, stirring constantly.
Strain the Mixture: To ensure a silky-smooth texture, strain the mixture through a fine-mesh sieve or cheesecloth into a separate bowl.
Fill Ramekins: Pour the strained Kabocha custard mixture into your prepared ramekins with the hardened caramel bottoms.
Microwave: Cover the ramekins individually with microwave-safe plastic wrap. Microwave each one at 50% power for about 5-7 minutes or until the custard is set but slightly jiggly in the center. Cooking times may vary depending on your microwave's wattage.
Cool and Chill: Let the Kabocha Purin cool to room temperature. Then, refrigerate for at least 3-4 hours, or preferably overnight, to allow the flavors to meld.
Serve: To serve, run a knife around the edge of each ramekin to loosen the custard. Invert each ramekin onto a serving plate, allowing the caramel to drizzle over the custard.
Tips for making Kabocha Purin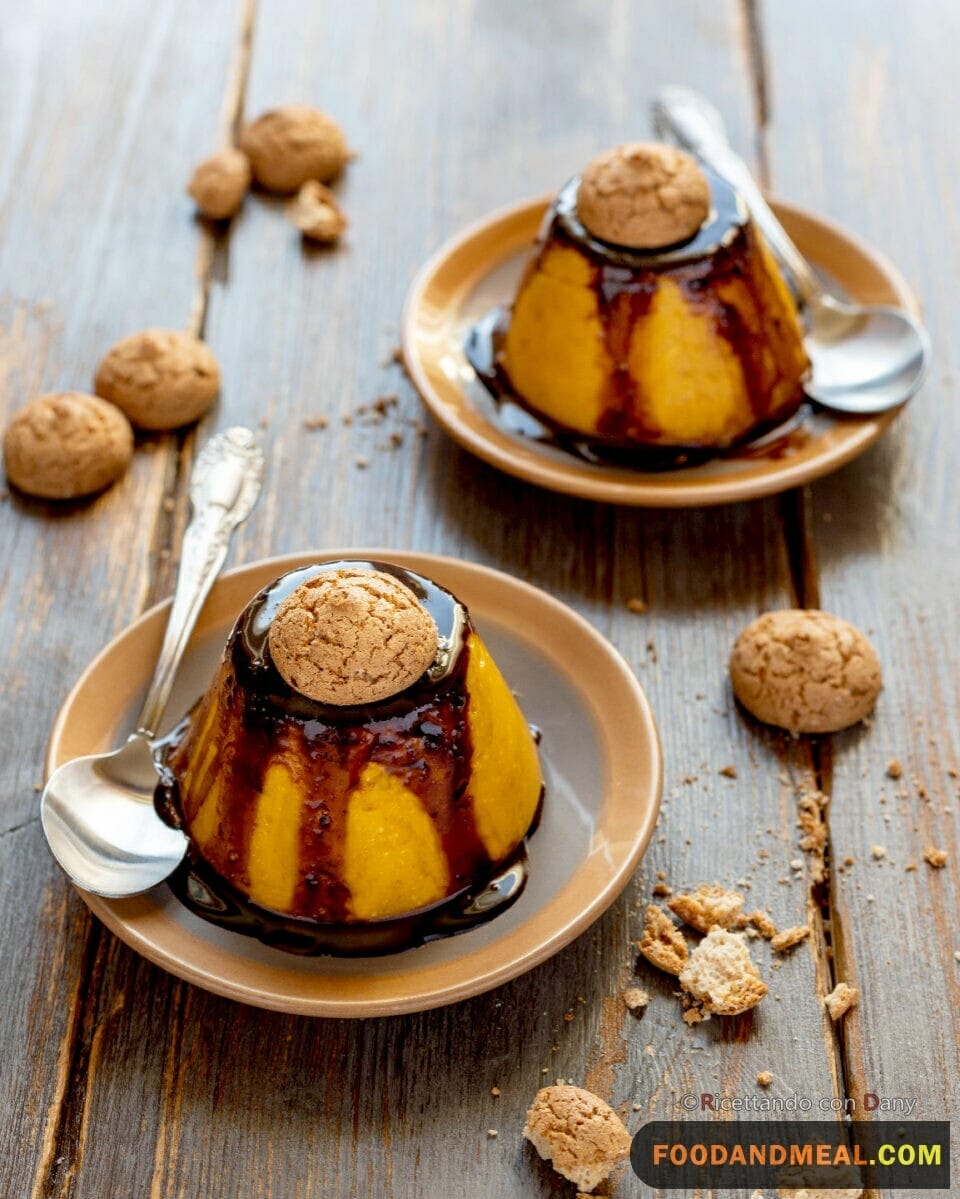 Cooking Tips
Microwave with Caution: When microwaving the Kabocha, be sure to check and stir it regularly to prevent overheating. Overcooking can lead to a watery puree, which can affect the final texture of your custard.
Silky Smooth Texture: To achieve a silky-smooth custard, strain the Kabocha and egg mixture through a fine-mesh sieve or cheesecloth. This step removes any lumps and ensures a velvety consistency.
Cool Kabocha Puree: Allow the Kabocha puree to cool to room temperature before incorporating it into the egg mixture. Mixing hot puree with eggs can lead to curdling.
Gentle Microwaving: While microwaving the custard-filled ramekins, choose a medium power setting (around 50%) and monitor the cooking closely. This gentle approach prevents the custard from becoming too firm.
Chill Thoroughly: For the best flavor and texture, refrigerate the Kabocha Purin for at least 3-4 hours or, ideally, overnight. This extended chilling time allows the flavors to meld, resulting in a more delectable dessert.
Serving Suggestions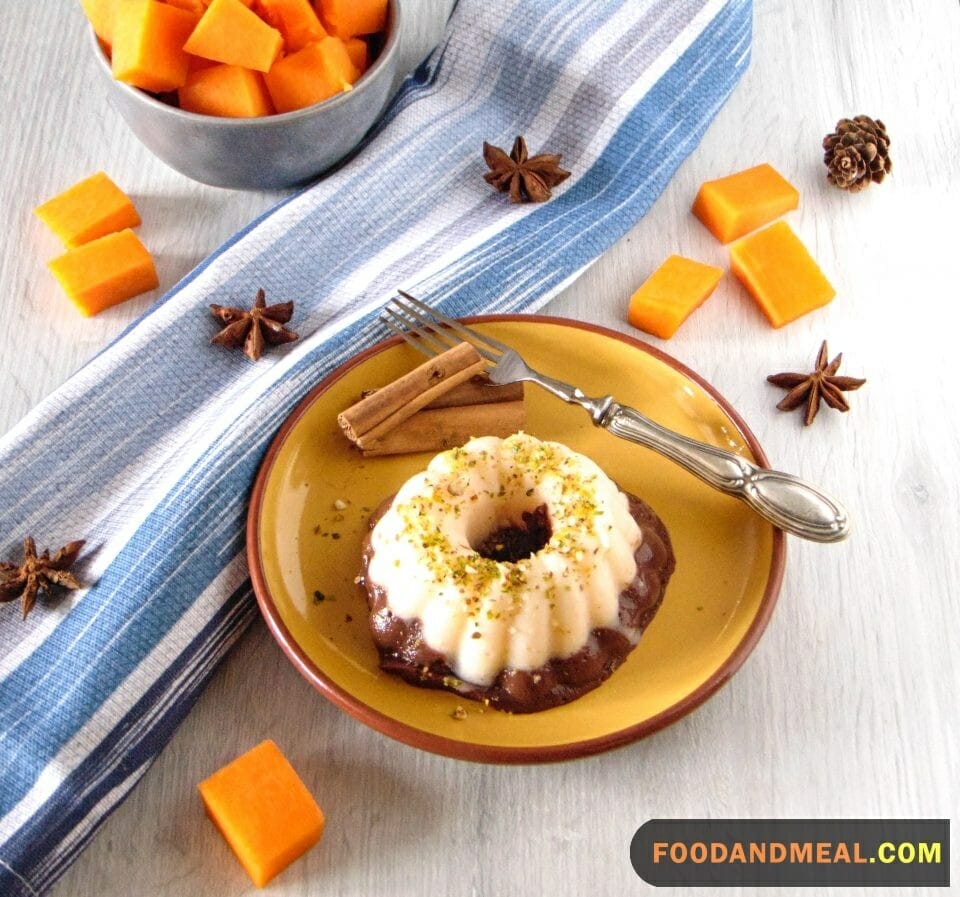 Garnish: Sprinkle a light dusting of matcha (green tea) powder or cocoa powder over the custard for a visual and flavor contrast.
Whipped Cream: Top your Kabocha Purin with a dollop of freshly whipped cream for added richness.
Fresh Berries: A side of fresh berries, such as raspberries or strawberries, complements the sweet custard with a refreshing tartness.
Japanese Tea: Serve your Kabocha Purin with a warm cup of green tea or a soothing cup of roasted barley tea (mugicha) for an authentic Japanese touch.
Ice Cream: Elevate your dessert by serving it alongside a scoop of vanilla or black sesame ice cream for a delightful fusion of flavors.
Frequently Asked Questions about Kabocha Purin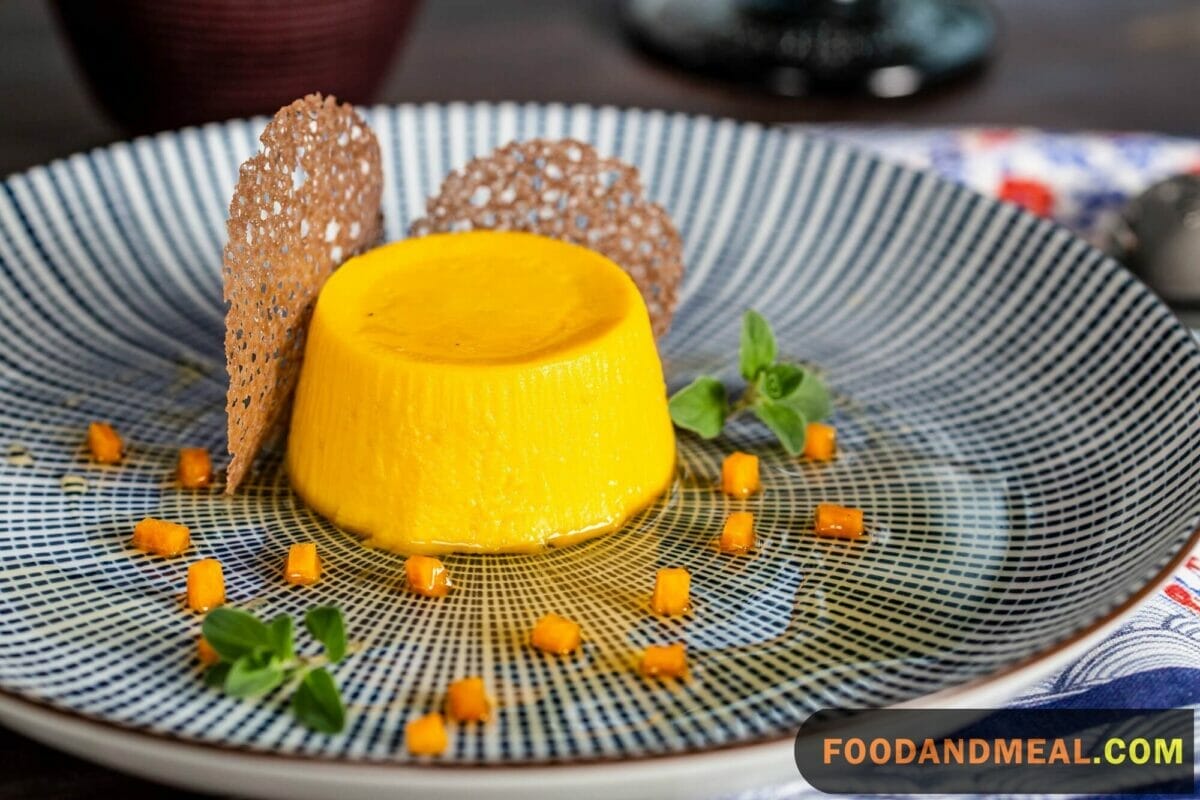 Can I use canned Kabocha puree instead of fresh?Absolutely! Canned Kabocha puree can save you time and effort. Just ensure it's plain, unsweetened, and not seasoned with additional spices.
Can I make Kabocha Purin in advance for a special occasion?Yes, you can prepare Kabocha Purin a day in advance and keep it in the refrigerator. This allows the flavors to meld, resulting in a more delicious dessert.
What if my caramel hardens too quickly when coating the ramekins? If your caramel hardens too fast, you can briefly reheat it in the microwave or on the stovetop to liquify it before coating the ramekins.
Can I use a steamer to cook the Kabocha Purin instead of a microwave? While a microwave is the preferred method for this recipe, you can use a steamer. Steam the custards over simmering water until they're set but slightly jiggly.
How should I store leftover Kabocha Purin? If you have leftovers, cover the ramekins with plastic wrap and store them in the refrigerator. Consume within 2-3 days for the best quality.
Indulge in Japanese Caramel Custard Pudding – Kabocha Purin. Learn to craft this velvety delight and subscribe for more culinary adventures.
I'm James F Anderson, a noted sous chef from London and a Le Cordon Bleu alumnus. My career began in a Michelin-starred Parisian eatery, where my blend of classic and contemporary cooking, using seasonal ingredients, earned accolades. Recognized in culinary publications and on cooking shows, I'm committed to mentoring aspiring chefs and delivering memorable dining experiences, marking me as a standout talent in the culinary world.
Affiliate DisclaimerAbout The Content
As an affiliate, we may earn a commission from qualifying purchases. We get commissions for purchases made through links on this website from Amazon and other third parties.