Katsudon is a popular Japanese dish that combines rice with a breaded, deep-fried pork cutlet. The dish is made popular by a variety of reasons, including its simplicity and ease of preparation. The dish is also considered a vegetarian food. If you're interested in trying katsudon, keep reading to learn about its nutritional value and how to make it at home. In addition to its delicious flavor, katsudon is also a healthy choice.
Katsudon Recipes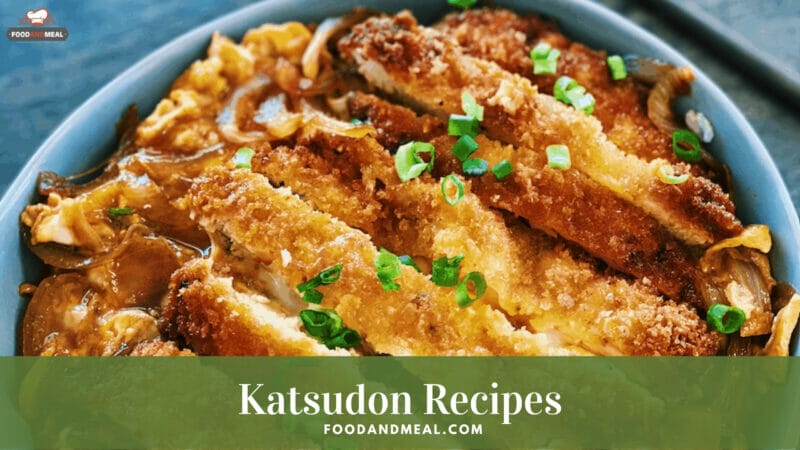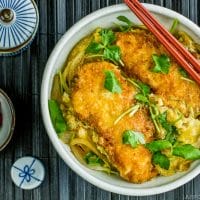 Katsudon
Katsudon is a great choice for a quick lunch or a snack. The panko crusted pork and rice is topped with a sweet and savory sauce that is similar to the sauce used for tonkatsu. It can be served with any type of sauce, and is often best served at a higher temperature. If you want to try katsudon, you can prepare a delicious meal with leftover tonkatsu.
Print
Pin
Rate
Add to Collection
Go to Collections
Ingredients
1

medium onion

thinly sliced

2

large eggs

beaten

2

servings steamed white rice

freshly cooked Green onion, chopped, for garnish
For sauce
½/

cup

dashi stock

2

teaspoons

sugar

1

tablespoon

soy sauce

2

teaspoons

mirin
Katsu or breaded cutlet
2

pieces

boneless pork chops

pounded to ⅛-inch thickness (may be substituted with chicken breast or thigh, or beef)

Salt and pepper Flour

for dusting

1

egg

beaten (for coating)

1

cup

panko breadcrumbs

Cooking oil

for frying
Instructions
Whisk together ingredients for the sauce in a bowl. Set aside.
For breaded cutlets
Place the egg and panko in separate shallow bowls.

Season the pork chops with salt and pepper. Dust lightly with flour.

Heat up a skillet or wok and add the oil. Test if the oil is hot enough by dropping in a pinch of panko. The panko should sizzle.

Dip the pork in the egg, followed by the panko. Press down on the breadcrumbs to make sure they stick well to the pork.

Fry the breaded pork until golden brown (about 5 minutes on both sides).

Remove from the pan and drain on paper towels. Cut the pork into M-inch strips, but not all the way to the other one edge, so you can still pick it up as a whole piece.
For sauce and to assemble Katsudon
Heat up another wok or skillet over medium heat. Add 1 tablespoon of oil from that used to fry the cutlets.

Add the onions and saute until slightly caramelized.

Pour the sauce over the onions and bring it to a boil.

Arrange the cutlets over the onions.

Reduce the heat to low, and pour the eggs over the meat. Do not stir. At this point, fill2 donburi bowls (or regular bowls) with hot rice and set them aside.

When the egg has set, turn off the heat.

Place the cutlets with sauce, onions, and egg over steamed rice and garnish with green onion.
Notes
Katsudon is often served with broth. It is a combination of sake, soy sauce, and a Japanese vegetable stock. Traditionally, katsudon is served over rice with a dipping sauce, but some people prefer to serve it without broth because it is too dry. It is also possible to get katsudon with chicken or beef, but there isn't much variation between the two. It's important to know the difference between a katsudon and a ton of ramen.
Share by Email
Share on Facebook
Share on Twitter
Nutrition
Serving:
2
servings
|
Calories:
271
kcal
|
Carbohydrates:
35
g
|
Protein:
14
g
|
Fat:
8
g
|
Saturated Fat:
2
g
|
Polyunsaturated Fat:
2
g
|
Monounsaturated Fat:
3
g
|
Trans Fat:
1
g
|
Cholesterol:
246
mg
|
Sodium:
1092
mg
|
Potassium:
254
mg
|
Fiber:
2
g
|
Sugar:
10
g
|
Vitamin A:
483
IU
|
Vitamin C:
4
mg
|
Calcium:
107
mg
|
Iron:
3
mg
© Food And Meal
This website provides approximate nutrition information for convenience and as a courtesy only. Nutrition data is gathered primarily from the Spoonacular Database, whenever available, or otherwise other online calculators.
Other ways to making Deep-Fried Breaded Pork Cutlet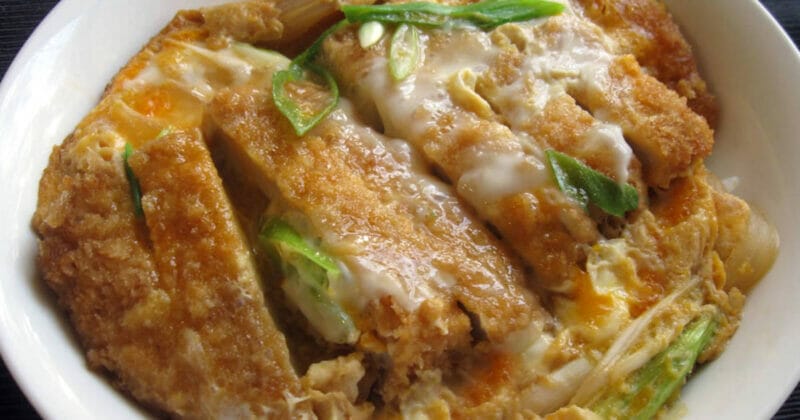 This delicious deep-fried pork cutlet is a popular dish throughout Asia. It is prepared in different ways in different countries, but its most well-known version is tonkatsu, which is served in Japan. This dish is great for a quick meal or as a side to a main course. The following is a recipe for a tasty pork cutlet. Hopefully, it will inspire you to make your own.
First, begin by coating the pork cutlet with flour. Then, dip it in eggs. Next, dredge it in panko. While the panko may be fluffy, you don't want it to get too crunchy. Then, set it aside for 5-10 minutes to dry. Then, deep fry your pork cutlet. Let it cool before serving. It is best to keep it covered while cooking, or you will risk letting the crumbs fall off.
After frying the pork cutlet, prepare the vegetables. Slice the cabbage thinly, Hiroki slices it with his knife, sprinkles it with rice vinegar and dries it. To prepare the cabbage, set up three plates with flour, eggs, and Panko. Remove the fat from the pork slices. Using a sharp knife, slash the fat so that it won't curl while cooking. Season the cutlets with salt and pepper on both sides. Next, dredge them in egg, flour, and breadcrumbs.
Then, pound the cutlet with a meat mallet to about a quarter-inch thickness. Add a little salt and pepper to the cutlets and dredge them in flour. After that, dip the cutslet in egg and then roll it in panko. Once it is completely coated, place it in the air fryer or a skillet. It should be fried to your liking in about 30 minutes.
After the cutlets have been dredged in flour, they should be dredged in the panko. You should use enough flour to prevent the pork from sticking to the panko coating. The panko should be fluffy and the panko should be evenly spread over the cutlets. Once cooked, set aside the pork and serve it with the sauce. If you want to serve the pork cutlet with an accompanying vegetable, try the Korean donkatsu.
About Katsudon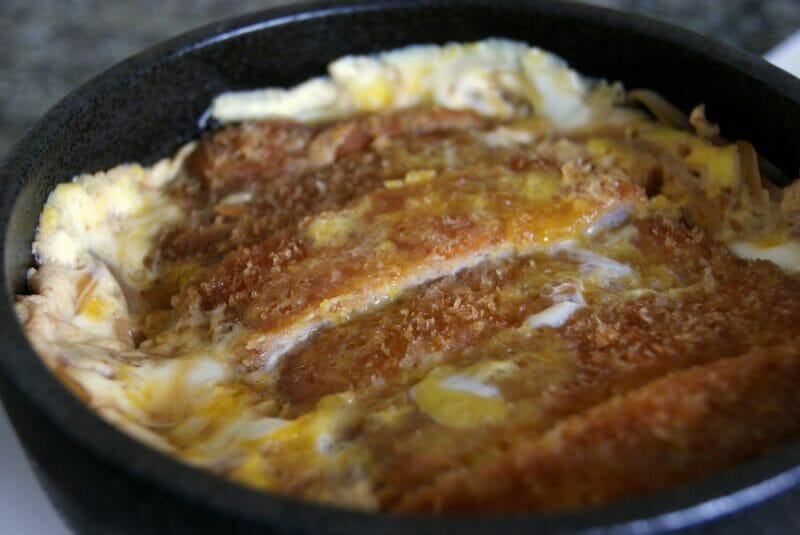 A classic katsudon is a rice bowl filled with panko-crusted pork and a sauce that tastes like miso. This dish is a traditional Japanese dish and has become a staple in many Japanese restaurants. If you've ever tasted it, you've probably seen a TV commercial for it, which you can watch below. But before you start ordering katsudon, you'll need to understand how it's made.
One of the most common theories about where the katsudon originated is a soba restaurant in Kofu called Okumura Honten. This restaurant has long been known as the birthplace of the Japanese rice bowl, and its name hints at the origins of the katsudon dish. Another theory claims that a man named Masutaro Takahata is the first person to serve katsudon. Later, Takahata would later go on to serve katsudon at a restaurant in Waseda, Tsurumaki-cho.
There are several variations of katsudon. The classic katsudon is served with a broth made from stock, soy sauce, and other ingredients. Some katsudon are served without a broth, which can make the dish dry. To avoid this, you can add sauce to your katsudon and add different toppings. Some katsudon are served with chicken and others with beef. Once you have found your favorite version, don't forget to try it!
There are two main theories about the origin of katsudon. The first is the oldest. This theory says that katsudon is a Japanese dish that originated in the Fukui prefecture. Unlike other types of katsudon, this one is best eaten with a broth. However, it can be dry if it doesn't have any broth. It is also commonly served as a street food.
Katsudon is a popular Japanese dish. It is a popular dish that combines a panko-crusted pork cutlet with steamed rice and condiments. It is derived from the words tonkatsu and donburi, which mean "toaster" and "donburi" respectively. It is also known as oyako katsudon. When it comes to a bowl of katsudon, the dish is often served with tempura or beef.
The most famous type of katsudon is a rice bowl with panko-crusted pork. A katsudon bowl typically contains two main ingredients: a fried egg and steamed rice. The dish is traditionally eaten with broth. The broth is made from sake, soy sauce, and other ingredients. It can also be served with sauce, as well as different toppings. Some katsudon are made with chicken while others are served with beef.
Katsudon is a dish that combines the flavors of Donburi and Tonkatsu. The pork cutlet is panko-crusted and dredged with panko breadcrumbs and served with rice. It is usually accompanied by a flavorful broth and a side of rice. The noodle broth makes the dish flavorful and satiating. It's a good choice for any meal, whether it's for a family or a business meeting.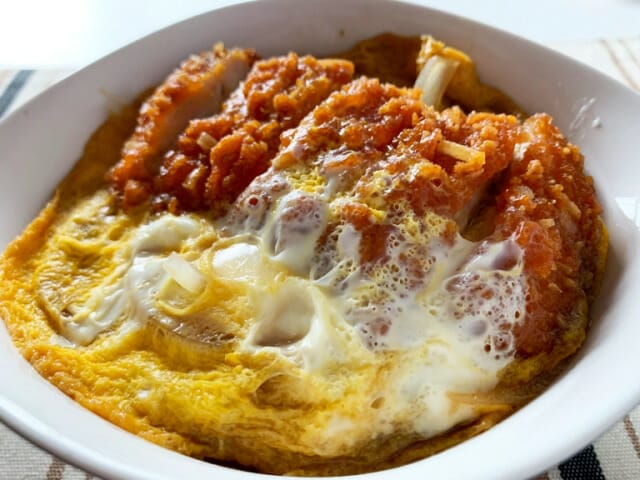 Want to read more? Click the follow button right now! And you will have them for free. Foodandmeal is happy to accompany you on a tour of culinary cultures around the world. Feel free to ask us anything about the recipes because all your kind comments give us the chance to improve our site.