Teriyaki chicken noodle bowls are a popular Japanese meal that many people love. There are plenty of options to customize your noodle bowl, including different types of vegetables and a homemade teriyaki sauce. Try making the sauce yourself to get the most flavor and to lower the sodium content. Make sure to read the label carefully for nutritional information. Be sure to follow the manufacturer's instructions to ensure your bowls contain the right amounts of salt and sugar.
Teriyaki Chicken Noodle Bowls Recipes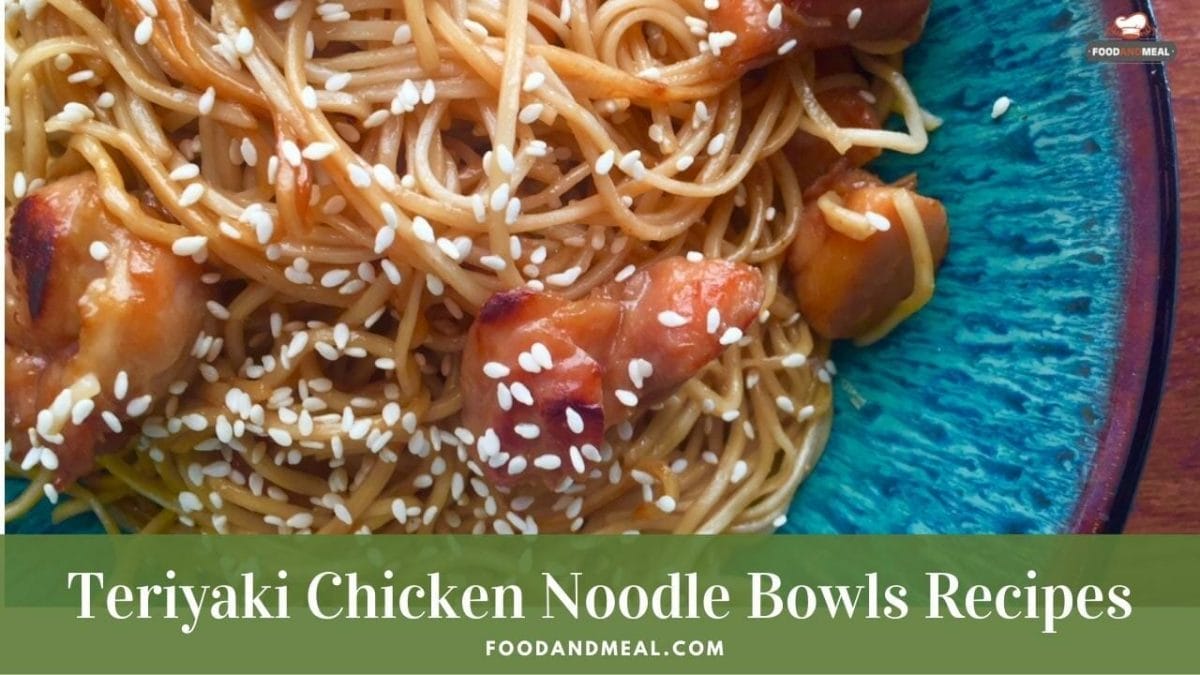 Teriyaki Chicken Noodle Bowls
A teriyaki chicken noodle bowl recipe is a great way to get more veggies into your children's diet. The teriyaki sauce adds flavor and nutrients to your chicken and vegetables. It also makes the noodles softer, so they are more appealing to kids. If you're looking for more teriyaki chicken noodle recipes, you should check out the following sites.
Print
Pin Recipe
Add to Collection
Go to Collections
Equipment
Instructions
In a pot set over medium heat, fill with water. Allow to come to a boil. Add in the soba noodles. Cook for 1 to 2 minutes. Drain and set aside.

In a bowl, add in the cornstarch and ¼ cup of water. Whisk until smooth in consistency. Set aside.

In a saucepan set over medium heat, add in the low sodium soy sauce, light brown sugar, minced garlic, grated ginger, honey and 1 cup of water. Stir well to mix. Allow to come to a simmer. Add in the cornstarch mix. Stir well to mix. Cook for 2 minutes or until thick in consistency. Set ¼ cup of this mix aside.

In a Ziploc bag, Add in the soy sauce mix and chicken thighs. Seal the bag and set into the fridge to marinate for 30 minutes. Drain the chicken from the marinade.

In a skillet set over medium heat, add in the olive oil. Add in the chicken thighs. Cook for 4 minutes on each side or until golden. Remove from heat and set aside.

In a bowl, add in the reserved teriyaki and noodles. Toss well to mix.

Serve the noodles immediately with the chicken. Garnish with the sliced green onions and sesame seeds.
Notes
Noodle Selection: Feel free to choose your favorite type of noodles – udon, ramen, or soba. Each variety brings a unique texture to the dish, creating a personalized experience.
Veggie Delight: Enhance the nutritional profile by adding colorful veggies like bell peppers, carrots, and snap peas. Not only do they add vibrancy, but they also provide a satisfying crunch.
Customize Your Sauce: Experiment with the teriyaki sauce's sweetness or saltiness to match your taste preferences. Create a symphony of flavors that's uniquely yours!
Join me in crafting Teriyaki Chicken Noodle Bowls that transcend boundaries. Share your kitchen triumphs, and let's celebrate the joy of fusion cuisine. Don't forget to subscribe for more culinary inspirations!
Share by Email
Share on Facebook
Share on Twitter
Nutrition
Serving:
1
serving
|
Calories:
572
kcal
|
Carbohydrates:
68
g
|
Protein:
28
g
|
Fat:
23
g
|
Saturated Fat:
6
g
|
Polyunsaturated Fat:
5
g
|
Monounsaturated Fat:
11
g
|
Trans Fat:
1
g
|
Cholesterol:
111
mg
|
Sodium:
1228
mg
|
Potassium:
457
mg
|
Fiber:
1
g
|
Sugar:
22
g
|
Vitamin A:
119
IU
|
Vitamin C:
1
mg
|
Calcium:
55
mg
|
Iron:
3
mg
© Food And Meal
This website provides approximate nutrition information for convenience and as a courtesy only. Nutrition data is gathered primarily from the Spoonacular Database, whenever available, or otherwise other online calculators.
Pin Recipe
Other ways to making Teriyaki Chicken Noodle Bowls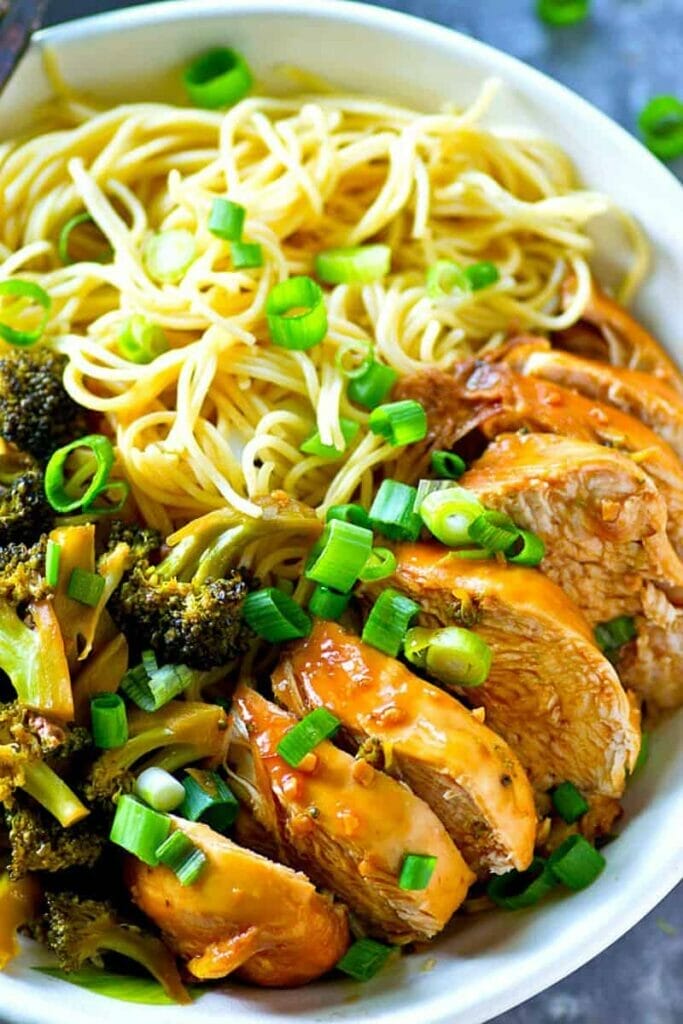 The main dish of this recipe is made with a teriyaki sauce that is a mixture of soy sauce, rice vinegar, brown sugar, garlic, and ginger. The chicken is marinated for 45-50 minutes, and then tossed in with the teriyaki sauce. The noodles are added to the sauce after the chicken is done. Add sesame seeds and toss to combine. Serve immediately or let sit for several hours in the refrigerator.
For the chicken, first prepare the teriyaki sauce. It is best to use homemade teriyaki sauce. You can also make it the night before and store the leftover teriyaki sauce for another day. You will need about 1 hour to make the sauce, though this time should be taken into account the idle time. After that, you will need to cook the chicken. Using a microwave is also an option, but it takes longer than preparing the bowls from scratch.
Teriyaki Chicken Noodle Bowls are loaded with vegetables. This healthy meal combines udon noodles, chicken, broccoli, cabbage, and carrots. A homemade teriyaki sauce is great for sneaking in more vegetables, and it will taste even better if your child is averse to trying new food. Most noodle bowls are half noodles and half veggies, but you can add meatballs or broccoli as well.
While a typical noodle bowl is usually half noodles and half vegetables, you can increase the number of vegetables in your teriyaki chicken noodle bowl by adding more veggies. In addition to chicken, you can also add broccoli, carrots, and snow peas. Some noodle bowls include meatballs for extra flavor. If your kids are not a fan of vegetables, they can still enjoy a few servings of these dishes.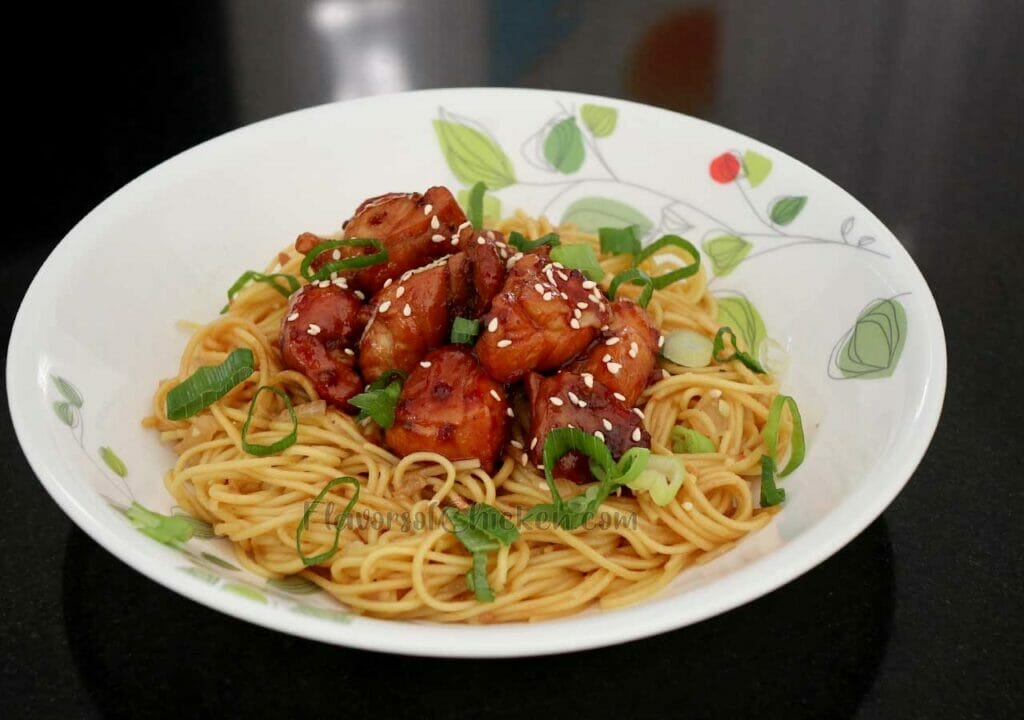 Would you like to collect the handfuls of precise recipes? Click the follow button right now! And you may have them at no cost. Foodandmeal is happy to accompany you on a tour of culinary cultures around the world. Feel free to ask us anything about the recipes because all your kind comments give us the chance to improve our site.
Cooking Tips: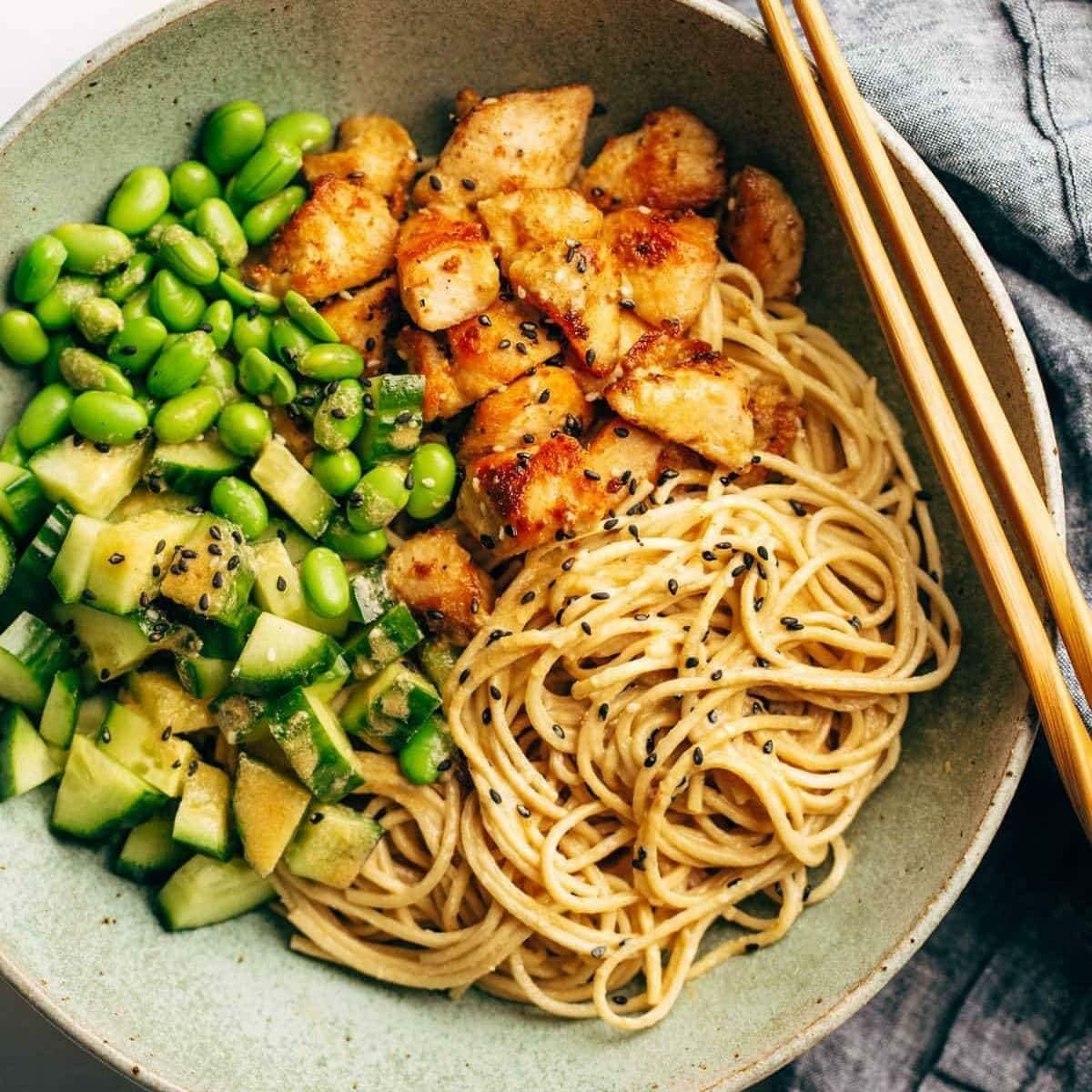 Crafting Teriyaki Chicken Noodle Bowl Perfection: Expert Insights
Creating a dish that harmoniously blends teriyaki flavors and the comfort of noodles requires finesse. Here are my secrets to elevate your Teriyaki Chicken Noodle Bowls to a level of culinary excellence:
Marinating Magic: Allow the chicken to marinate for at least 30 minutes. This imparts depth of flavor and tenderness to the meat.
Stir-Fry Savvy: When stir-frying the chicken and veggies, ensure the pan is sizzling hot. This quick cooking method seals in the juices and preserves the vibrant colors.
Common Mistakes to Avoid:
Overcrowding the Pan: Overcrowding leads to steaming rather than stir-frying. Cook in batches if needed, ensuring each ingredient gets its moment to shine.
Soggy Noodles: Cook the noodles until they're just al dente. Overcooked noodles can result in a mushy bowl.
Serving Suggestions: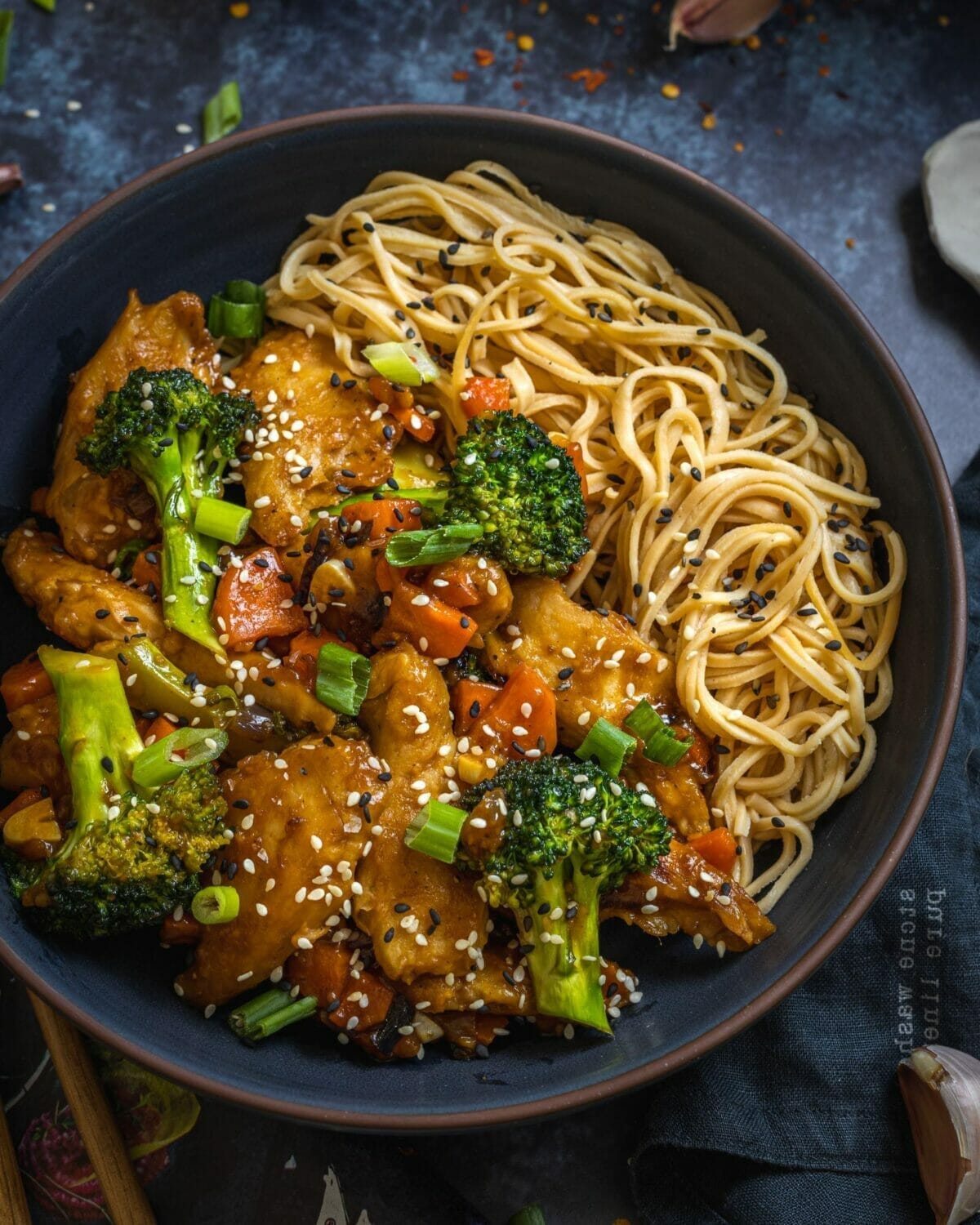 Delightful Moments: When, Where, and How to Serve Teriyaki Chicken Noodle Bowls
This versatile dish is a culinary chameleon, perfect for various occasions and palates:
Quick Weeknight Fix: Whip up Teriyaki Chicken Noodle Bowls on busy weekdays. It's a comforting meal that pleases kids and adults alike.
Casual Lunches: Pack this dish for work or school lunches. It's equally enjoyable hot or cold.
Weekend Gathering: Surprise your guests with a bowl that's both comforting and elegant. Serve as a main course or in smaller portions as an appetizer.
Flavorful Pairings:
Sides: Steamed broccoli, sautéed bok choy, or a side salad with a sesame-ginger dressing complements the dish's flavors and adds a nutritional boost.
Garnishes: Sprinkle with sesame seeds, chopped green onions, or a dash of red pepper flakes for an extra kick.
Beverages: Opt for jasmine tea or a crisp Sauvignon Blanc to balance the sweetness of teriyaki.
Creative Serving Styles:
Bowl of Comfort: Serve traditionally in bowls, allowing each guest to enjoy the harmonious blend of flavors.
Lettuce Wraps: Wrap the teriyaki chicken and noodles in large lettuce leaves for a refreshing twist.
Noodle Salad: Toss the dish with a light vinaigrette for a cold noodle salad option.
FAQs (Frequently Asked Questions):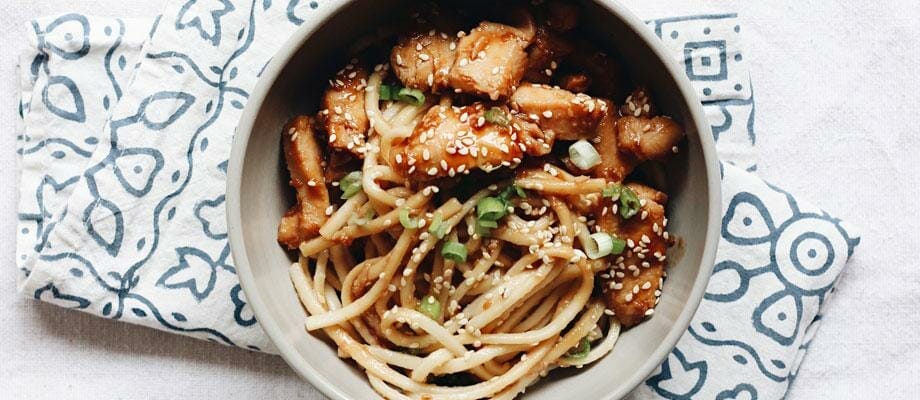 Q1: Can I use different proteins? Absolutely! Swap chicken for shrimp, tofu, or thinly sliced beef. Adjust cooking times accordingly.
Q2: Can I use store-bought teriyaki sauce? Certainly! However, crafting your own teriyaki sauce adds a personal touch. Check our recipe for a homemade option.
Q3: Can I make it vegetarian? Absolutely! Replace the chicken with pan-seared tofu or tempeh. The flavors will still shine.
Q4: How do I store leftovers? Store leftover Teriyaki Chicken Noodle Bowls in an airtight container in the refrigerator. To reheat, gently stir-fry or microwave, adding a splash of water if needed.
Q5: Can I use different vegetables? Of course! Feel free to customize with your favorite veggies. Just remember to adjust cooking times for different textures.
Unlock the world of Teriyaki Chicken Noodle Bowls with these insights. Share your culinary journey, and make sure to subscribe for more creative recipes and delightful dishes!
I'm James F Anderson, a noted sous chef from London and a Le Cordon Bleu alumnus. My career began in a Michelin-starred Parisian eatery, where my blend of classic and contemporary cooking, using seasonal ingredients, earned accolades. Recognized in culinary publications and on cooking shows, I'm committed to mentoring aspiring chefs and delivering memorable dining experiences, marking me as a standout talent in the culinary world.
Affiliate DisclaimerAbout The Content
As an affiliate, we may earn a commission from qualifying purchases. We get commissions for purchases made through links on this website from Amazon and other third parties.