For a quick and easy Japanese Beef Potato Soup, try Nikujaga, which only takes 20 minutes to prepare. This soup is best served with piping hot sushi rice. This delicious dish is the ultimate comfort food. It's the perfect dish for a rainy day.
Japanese Beef Potato Soup Recipes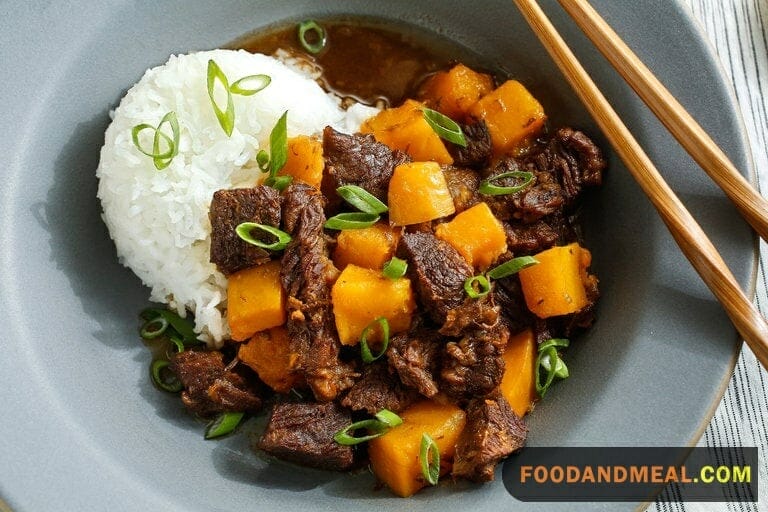 Japanese Beef and Potato Soup
What could be more wholesome and filling than meat and potatoes? They offer such a savory taste, especially when included in an umamiflavor soup. It is somewhat thinner than conventional recipes, but it's stillwarming and filling.
Print
Pin Recipe
Add to Collection
Go to Collections
Ingredients
For garnishing:
Instructions
Blanch snow peas in boiling, very lightly salted water for a minute. Place them in ice water to stop cooking process. Leave them there so they can cool. Drain. Cut diagonally into two to three pieces per pod and set aside for later.

Peel and then quarter potatoes and carrot. Cut onions into wedges. Slice beef thinly.

Heat oil at med-high in large sized pan. Cook beef until browned lightly. Add carrot, potatoes and onions. Cook for two or three minutes.

Add dashi. Cover pan. Cook over med. heat for 12-15 minutes. Don't stir.

Mix salt, sake, mirin, soy sauce and sugar in medium bowl. Add to pan. Cook for five to 10 minutes more.

Remove pan from heat. Allow to sit out for 1/2 hour. Add snow peas. Sprinkle with the spring onions. Serve hot.
Notes
Nikujaga is a classic Japanese soup, which can be bought at a Japanese supermarket or restaurant. Traditionally, you can make it yourself if you want. Firstly, you need to boil water for the noodles. Once the noodles are ready, you can add the beef, onion, and carrot. You can also add snow peas to the soup if you prefer. You may add a bit of salt to taste.
Share by Email
Share on Facebook
Share on Twitter
Nutrition
Serving:
2
servings
|
Calories:
851
kcal
|
Carbohydrates:
127
g
|
Protein:
60
g
|
Fat:
11
g
|
Saturated Fat:
3
g
|
Polyunsaturated Fat:
2
g
|
Monounsaturated Fat:
5
g
|
Trans Fat:
1
g
|
Cholesterol:
113
mg
|
Sodium:
5889
mg
|
Potassium:
2849
mg
|
Fiber:
12
g
|
Sugar:
43
g
|
Vitamin A:
5168
IU
|
Vitamin C:
186
mg
|
Calcium:
709
mg
|
Iron:
9
mg
© Food And Meal
This website provides approximate nutrition information for convenience and as a courtesy only. Nutrition data is gathered primarily from the Spoonacular Database, whenever available, or otherwise other online calculators.
Pin Recipe
Alternative Preparation Method: Slow Cooker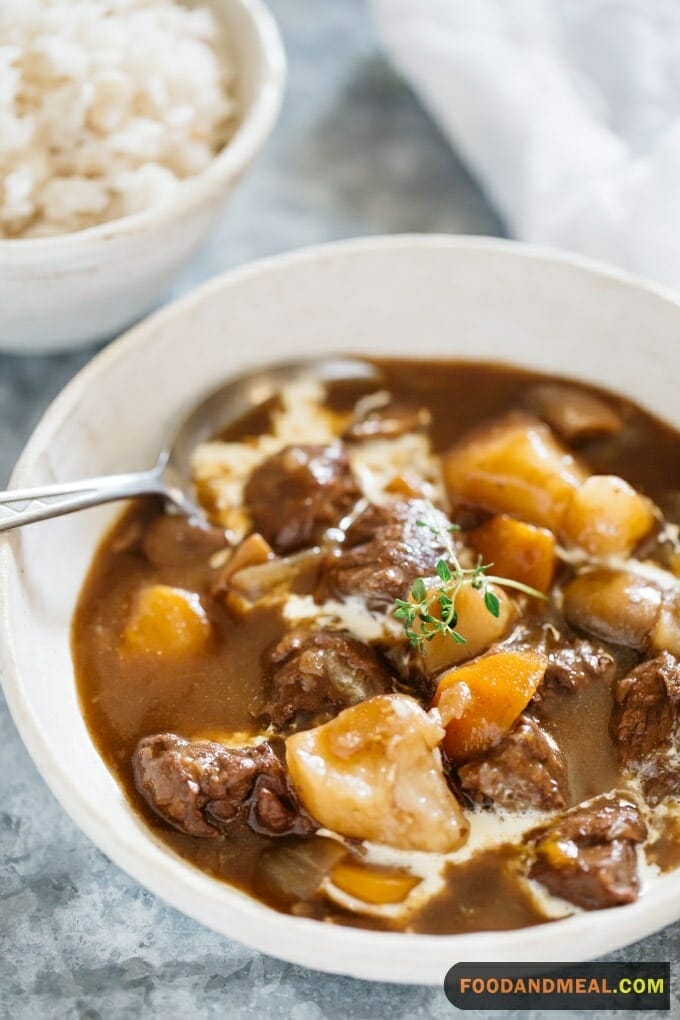 Ingredients:
1 pound (450g) beef stew meat, cut into bite-sized pieces
4 cups (950ml) beef broth
2 large potatoes, peeled and cubed
2 carrots, sliced
1 onion, chopped
3 cloves garlic, minced
1/4 cup (60ml) soy sauce
2 tablespoons (30ml) mirin
2 tablespoons (30ml) sake
1 tablespoon (15ml) vegetable oil
1 teaspoon (5g) sugar
1/2 teaspoon (2.5g) ginger, grated
1/4 teaspoon (1.25g) black pepper
2 green onions, chopped
Cooked rice, for serving
Instructions:
Start by browning the beef. In a large skillet, heat the vegetable oil over medium-high heat. Add the beef and cook until it's nicely browned on all sides. Transfer the beef to your slow cooker.
Add the potatoes, carrots, onions, and garlic to the slow cooker.
In a bowl, mix together the beef broth, soy sauce, mirin, sake, sugar, ginger, and black pepper. Pour this flavorful mixture over the ingredients in the slow cooker.
Cover the slow cooker and cook on the low setting for about 6-8 hours. This slow cooking process allows the beef to become incredibly tender and the flavors to meld together perfectly.
About 30 minutes before serving, add the chopped green onions to the slow cooker. Stir well.
Serve your Japanese Beef Potato Soup hot over a bowl of steamed white rice. Garnish with additional green onions for a fresh touch.
Tips for making Japanese Beef Potato Soup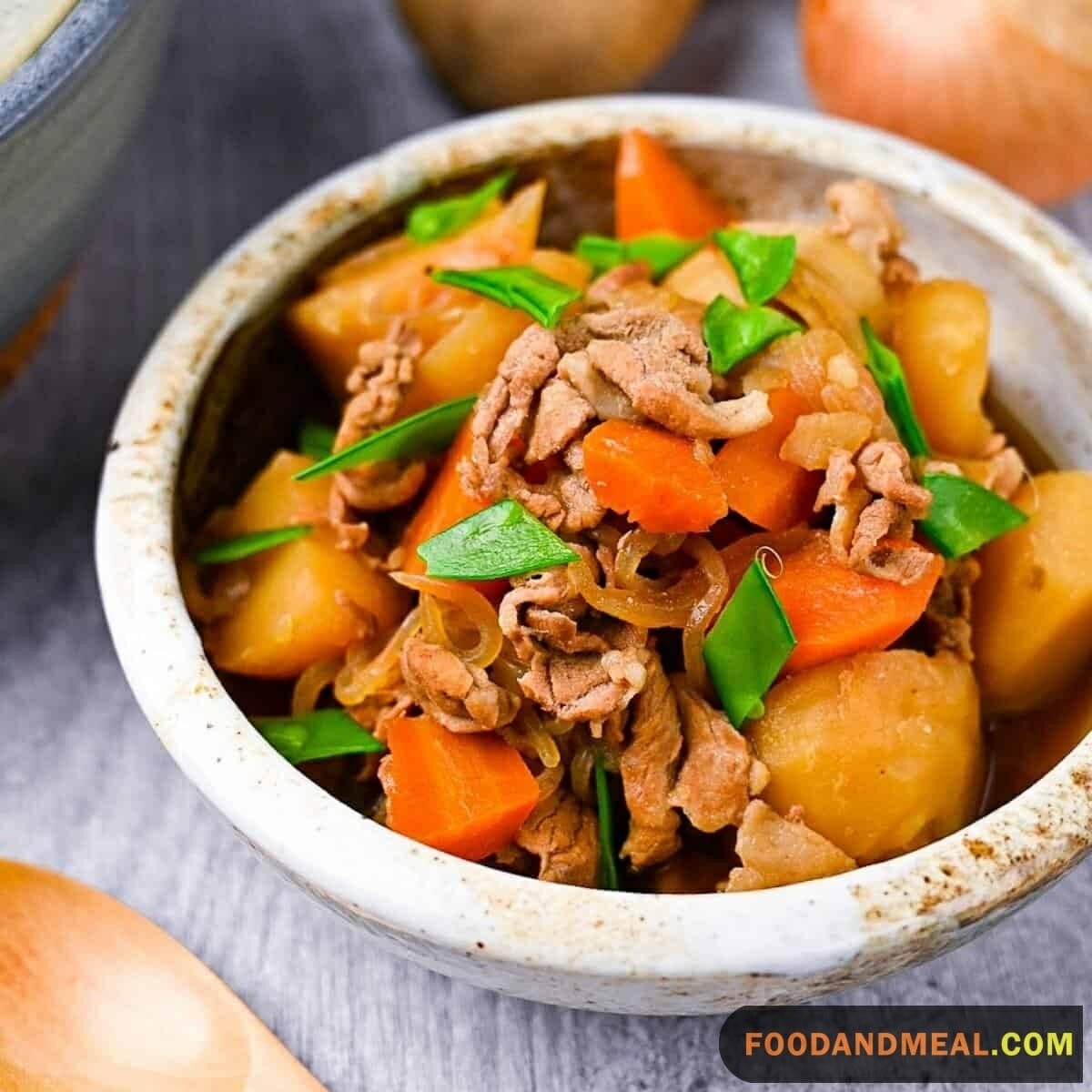 Cooking Tips
Choose the Right Beef: Opt for well-marbled beef, such as chuck or stew meat. This will make your soup rich and flavorful.
Searing is Key: When browning the beef, let it sear properly. A good sear adds depth of flavor to your soup.
Low and Slow: If you're using a slow cooker or stovetop, allow the soup to simmer slowly. Low and slow cooking breaks down the beef and melds the flavors beautifully.
Quality Broth: Use a good quality beef broth or make your own for the best results. The broth forms the base of your soup.
Balancing Flavors: Be mindful of the soy sauce and mirin. Taste your soup and adjust if it's too salty or too sweet by adding a bit more of the other.
Leftovers Improve: Japanese Beef Potato Soup often tastes even better the next day as the flavors continue to meld.
Serving Suggestions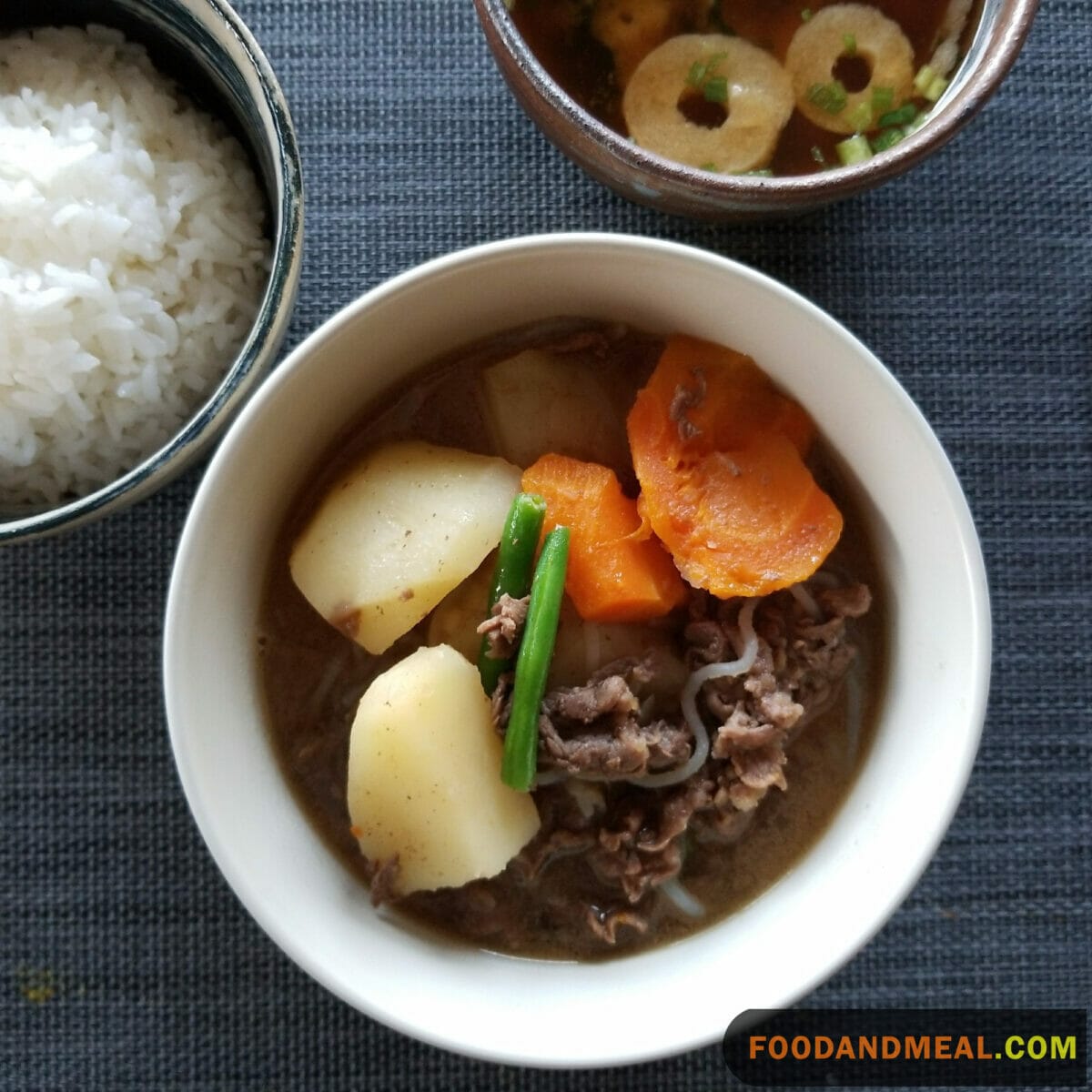 Side of Pickles: Serve some Japanese pickles (tsukemono) on the side. The contrasting flavors are delightful.
Steamed Rice: A bowl of steamed white rice is the classic accompaniment. Ladle your soup over the rice for a heartier meal.
Miso Soup: Begin your meal with a small bowl of miso soup for an authentic Japanese dining experience.
Sake or Green Tea: Complement your soup with a glass of sake or a cup of green tea. These beverages harmonize beautifully with the flavors.
Fresh Fruit for Dessert: Finish with a simple dessert like fresh fruit to balance the hearty soup.
Frequently Asked Questions about Japanese Beef Potato Soup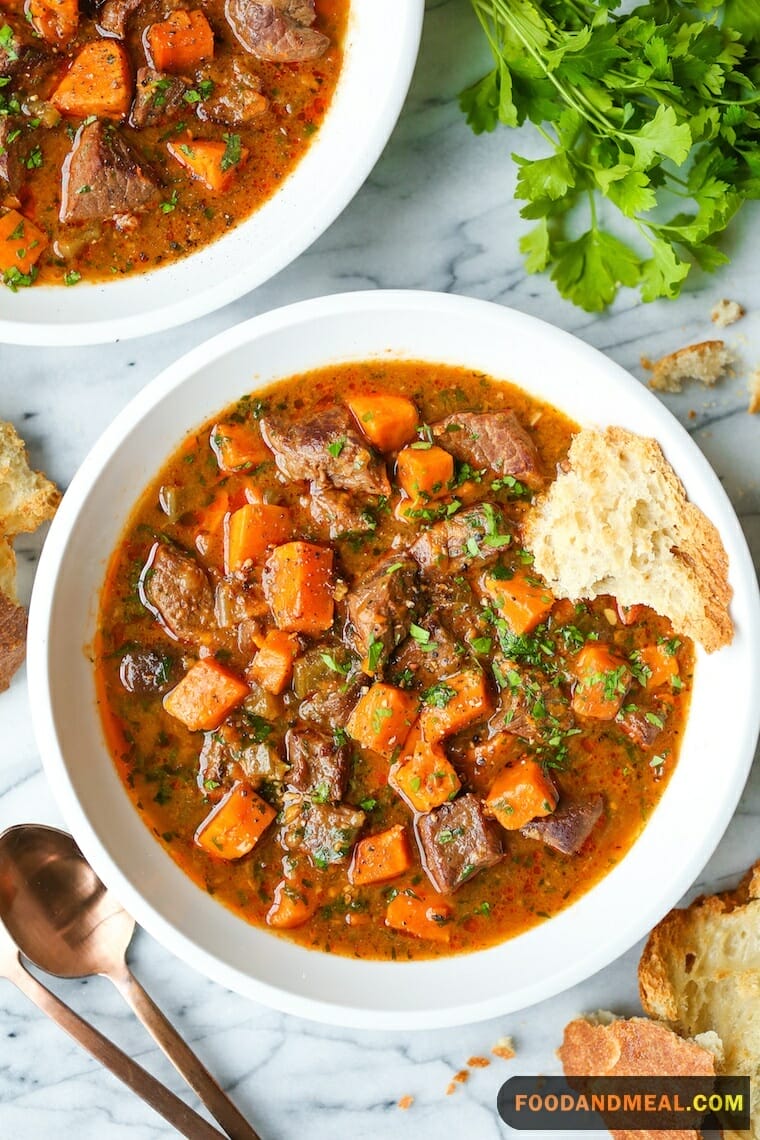 Can I freeze Japanese Beef Potato Soup? Yes, you can freeze this soup for up to three months. Just ensure it's completely cooled and use airtight containers.
What's the best beef cut to use? Chuck or stew meat are excellent choices due to their marbling, which adds richness to the soup.
Can I make this soup in advance? Absolutely! It often tastes even better the next day as the flavors meld. Reheat gently.
Are there vegetarian options? You can make a vegetarian version by substituting the beef with tofu or a variety of mushrooms.
Is this dish gluten-free? To make it gluten-free, use tamari instead of soy sauce, as soy sauce typically contains gluten.
Indulge in the warmth of Japanese Beef Potato Soup. Discover the secrets to perfect umami and explore versatile serving options.
I'm James F Anderson, a noted sous chef from London and a Le Cordon Bleu alumnus. My career began in a Michelin-starred Parisian eatery, where my blend of classic and contemporary cooking, using seasonal ingredients, earned accolades. Recognized in culinary publications and on cooking shows, I'm committed to mentoring aspiring chefs and delivering memorable dining experiences, marking me as a standout talent in the culinary world.
Affiliate DisclaimerAbout The Content
As an affiliate, we may earn a commission from qualifying purchases. We get commissions for purchases made through links on this website from Amazon and other third parties.