This is a delicious Japanese dessert to have on cold days. The heavenly ginger-infused rice pudding will give you the special treat you always desire.
A traditional Japanese Rice Pudding recipe is quite simple. You can use any of the above ingredients to create a delicious dessert. It's easy to make and freeze it. The ingredients are easily available in most grocery stores and you can find them online.
Japanese Rice Pudding
Recipe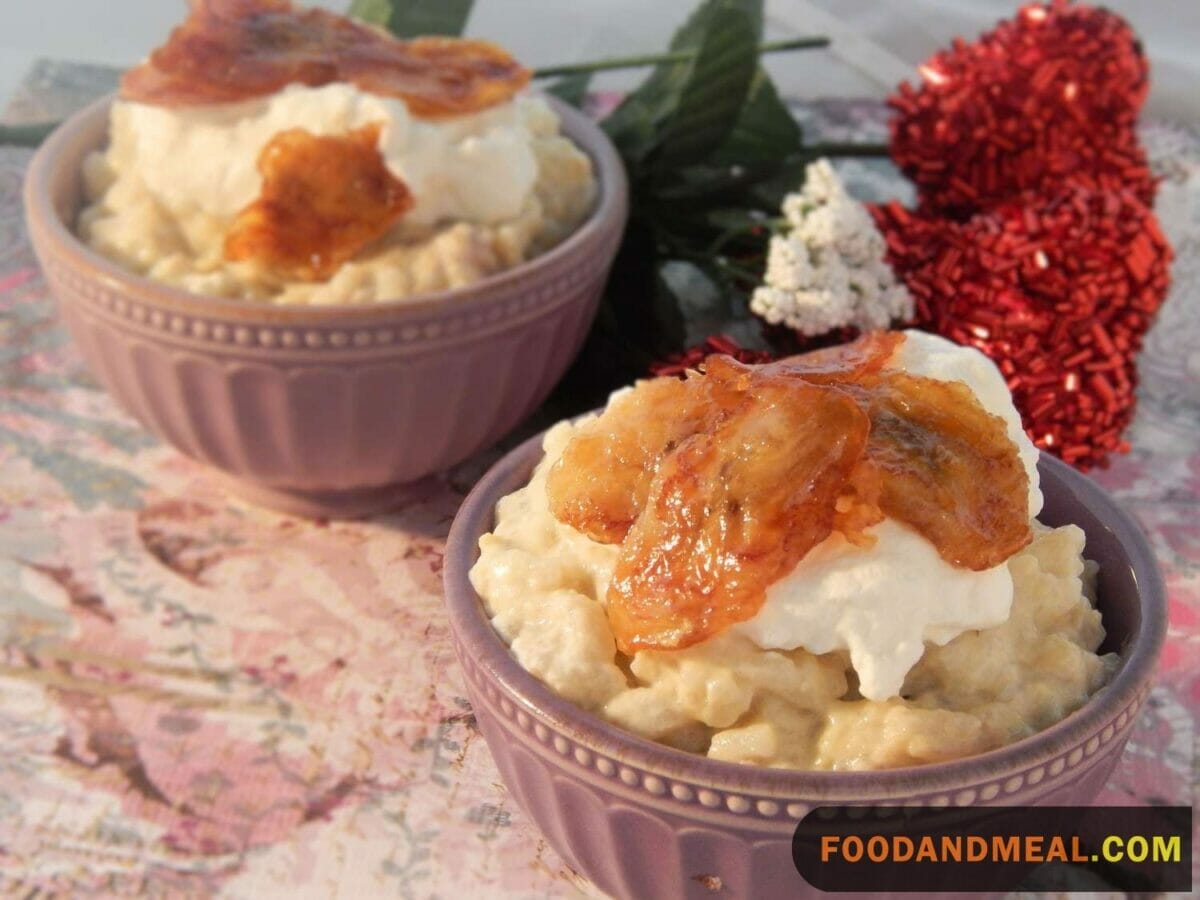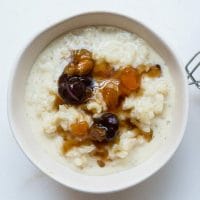 Instructions
Syrup
Combine sugars and water in a medium saucepan then cook until boiling over medium heat.

Turn to low heat and simmer for about 30 Minutes stirring occasionally.
Pudding
Meanwhile, place ginger in a cheesecloth and tie using a string.

Combine soy milk, milk and the ginger bag in a saucepan (large) then simmer for about 20 Minutes over low heat skimming the top occasionally. Remove the ginger bag.

Stir syrup and rice then cook to boiling.

Reduce to medium-low heat, simmer while uncovered for about 45 Minutes and stir often until rice becomes tender and the pudding thickens.

Add heavy cream.

Spoon the pudding among 10 cups and top with strawberry slice and ginger on each.

Serve.
Notes
Just remember to use good quality rice. The pudding should be delicious and serve at room temperature. It can serve as a snack or dessert for special occasions. When making it for family and friends, it should be as authentic as possible.
Share by Email
Share on Facebook
Share on Twitter
Nutrition
Serving:
1
serving
|
Calories:
396
kcal
|
Carbohydrates:
65
g
|
Protein:
6
g
|
Fat:
13
g
|
Saturated Fat:
7
g
|
Polyunsaturated Fat:
1
g
|
Monounsaturated Fat:
3
g
|
Cholesterol:
40
mg
|
Sodium:
85
mg
|
Potassium:
309
mg
|
Fiber:
1
g
|
Sugar:
48
g
|
Vitamin A:
749
IU
|
Vitamin C:
19
mg
|
Calcium:
226
mg
|
Iron:
1
mg
© Food And Meal
This website provides approximate nutrition information for convenience and as a courtesy only. Nutrition data is gathered primarily from the Spoonacular Database, whenever available, or otherwise other online calculators.
Pin Recipe
Alternative Method: Preparing Japanese Rice Pudding Using a Rice Cooker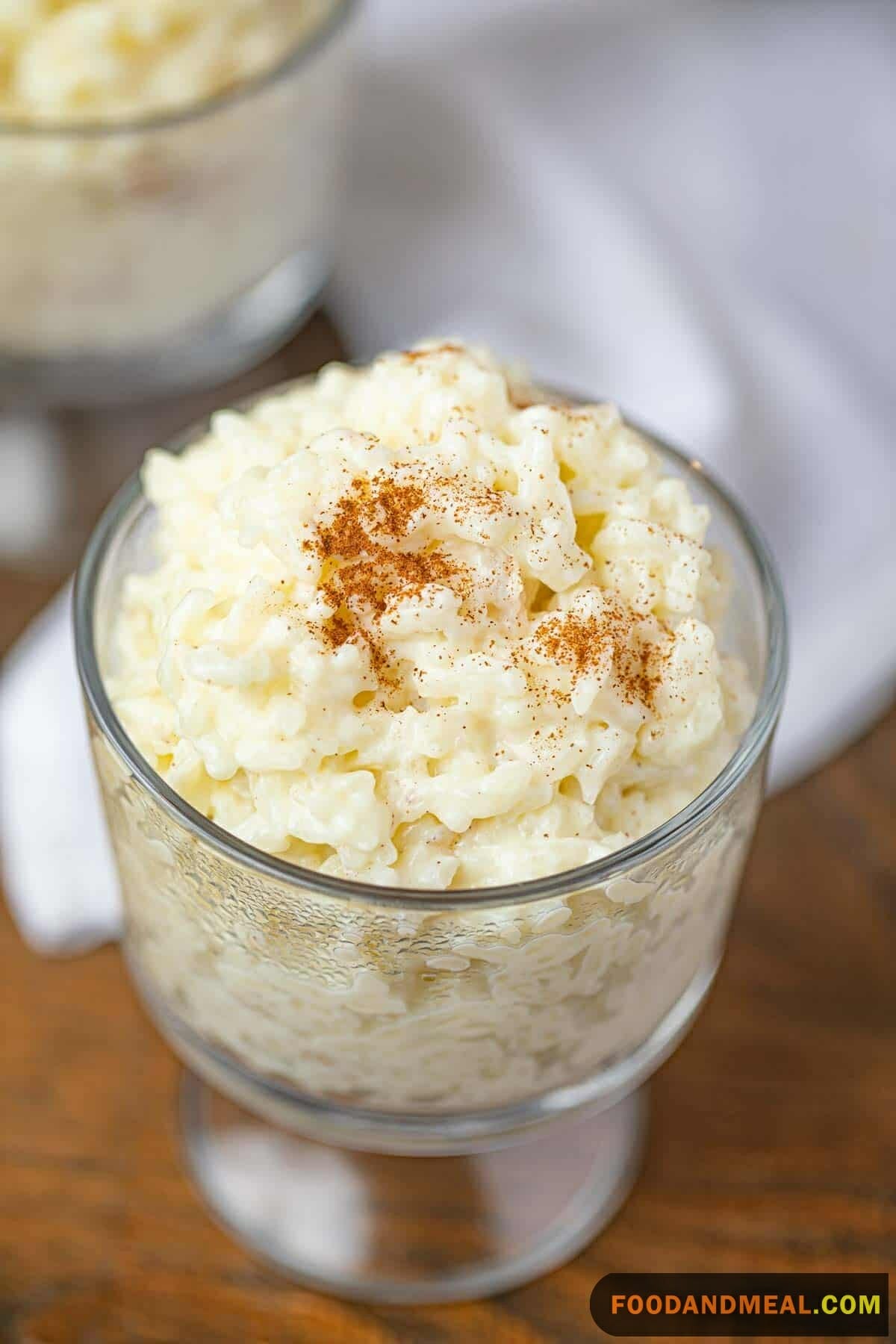 Ingredients:
1 cup of short-grain Japanese rice
3 cups of whole milk
1/2 cup of granulated sugar
1/2 teaspoon of vanilla extract
A pinch of salt
Optional toppings: Fresh fruit, kinako (roasted soybean flour), or sweet red bean paste.
Instructions:
Start by rinsing the short-grain Japanese rice under cold running water until the water runs clear. This helps remove excess starch, ensuring a smoother pudding.
Add the rinsed rice, milk, sugar, vanilla extract, and a pinch of salt to the rice cooker. Stir the mixture gently to incorporate the ingredients.
Close the rice cooker lid and set it to the "White Rice" or "Porridge" setting, if available. This will typically take around 30-40 minutes, but the cooking time may vary depending on your rice cooker.
Allow the rice cooker to complete the cooking cycle. Once it's done, the pudding should have a creamy consistency. If you prefer a thicker pudding, you can let it sit in the "Keep Warm" mode for an additional 10-15 minutes.
Give the pudding a final stir and transfer it into serving dishes or ramekins. Let it cool to room temperature, and then refrigerate for at least two hours to allow it to set.
When you're ready to serve, add your favorite toppings. Fresh fruit, a sprinkle of kinako, or a dollop of sweet red bean paste work wonderfully.
Tips for making Japanese Rice Pudding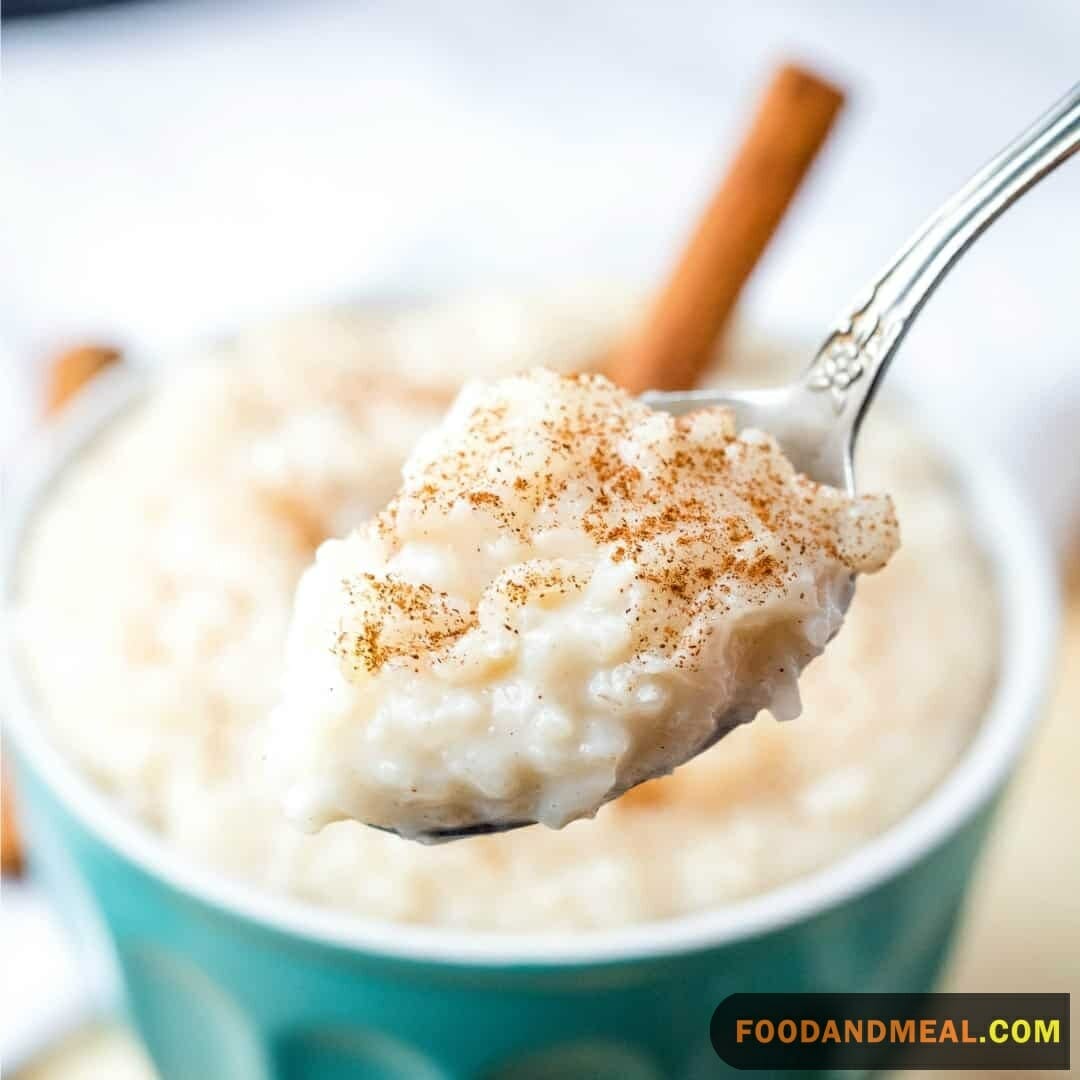 Cooking Japanese Rice Pudding to Perfection
Choose the Right Rice: Opt for short-grain Japanese rice like sushi rice or mochigome. These varieties yield the desired creamy texture.
Rinse Thoroughly: Always rinse the rice before cooking to remove excess starch. This helps prevent a gummy consistency.
Sweetness to Taste: Adjust the sugar content to your preference. You can increase or decrease the sugar level depending on how sweet you like your pudding.
Keep an Eye on Milk: While it's essential to use whole milk for a creamy texture, be cautious not to let it boil over. Stir gently and maintain a moderate heat level.
Slow and Steady: Slow-cook the pudding. Rushing it may lead to uneven consistency.
Stir Well: Stirring is crucial to prevent rice from sticking to the bottom and ensure a consistent distribution of flavors.
Serving Suggestions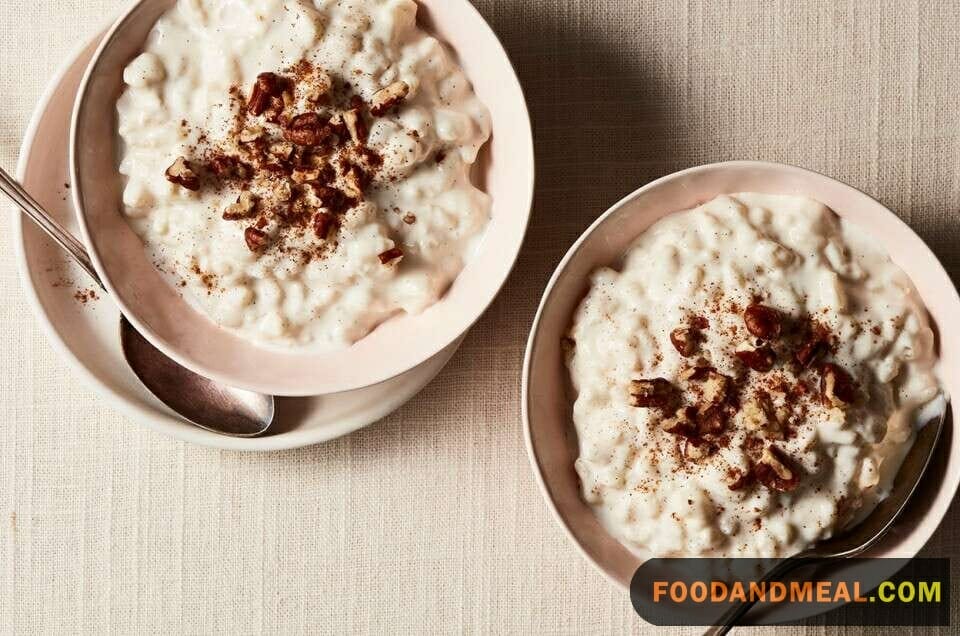 Fruit Delight: Top your pudding with fresh fruits like strawberries, mangoes, or kiwis for a burst of freshness and color.
Traditional Toppings: For an authentic twist, dust your pudding with kinako (roasted soybean flour) or a drizzle of kuromitsu (black sugar syrup).
Sweet Red Bean Paste: A dollop of sweet red bean paste (anko) adds a delightful sweetness that complements the creamy pudding.
A Cup of Green Tea: Serve alongside a cup of hot or iced green tea. The contrast of flavors is a match made in heaven.
Mochi Additions: Enhance the dessert with bite-sized pieces of mochi (rice cake) for a chewy contrast.
Frequently Asked Questions About Japanese Rice Pudding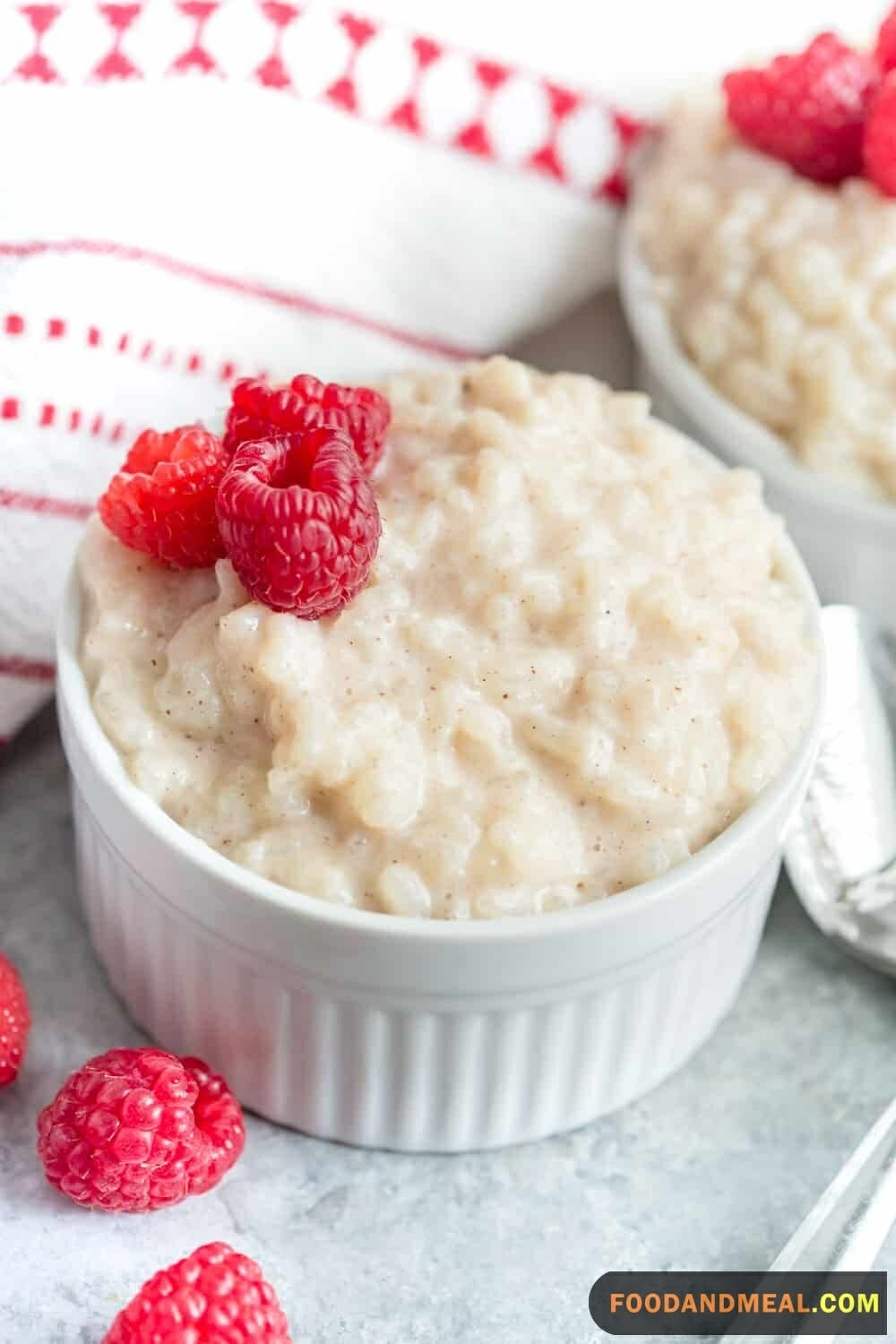 Can I use long-grain rice for this pudding? It's best to stick with short-grain Japanese rice, as it offers the desired creamy texture. Long-grain rice may not produce the same results.
Can I make this dessert vegan? Absolutely! Substitute whole milk with your preferred plant-based milk and use dairy-free butter or margarine.
How do I prevent skin from forming on top of the pudding?To prevent a skin from forming, place plastic wrap or parchment paper directly on the surface of the pudding while it cools.
Can I make a larger batch for a gathering? Certainly! Adjust the ingredients accordingly, but ensure your cooking vessel can accommodate the larger batch.
Indulge in creamy Japanese Rice Pudding. Learn how to make it with our step-by-step guide. Perfect for sweet cravings!
I'm James F Anderson, a noted sous chef from London and a Le Cordon Bleu alumnus. My career began in a Michelin-starred Parisian eatery, where my blend of classic and contemporary cooking, using seasonal ingredients, earned accolades. Recognized in culinary publications and on cooking shows, I'm committed to mentoring aspiring chefs and delivering memorable dining experiences, marking me as a standout talent in the culinary world.
Affiliate DisclaimerAbout The Content
As an affiliate, we may earn a commission from qualifying purchases. We get commissions for purchases made through links on this website from Amazon and other third parties.