If you're looking for a tasty taco recipe for Tuesdays, you should try Teriyaki chicken tacos. The combination of Asian flavors, grilled pineapple, and mayo slaw makes these chicken tacos a winner. They also make for a fantastic weeknight dinner, especially if you make them in large portions. This recipe serves two people, so you can easily double or triple the recipe.
Teriyaki Chicken Tacos Recipes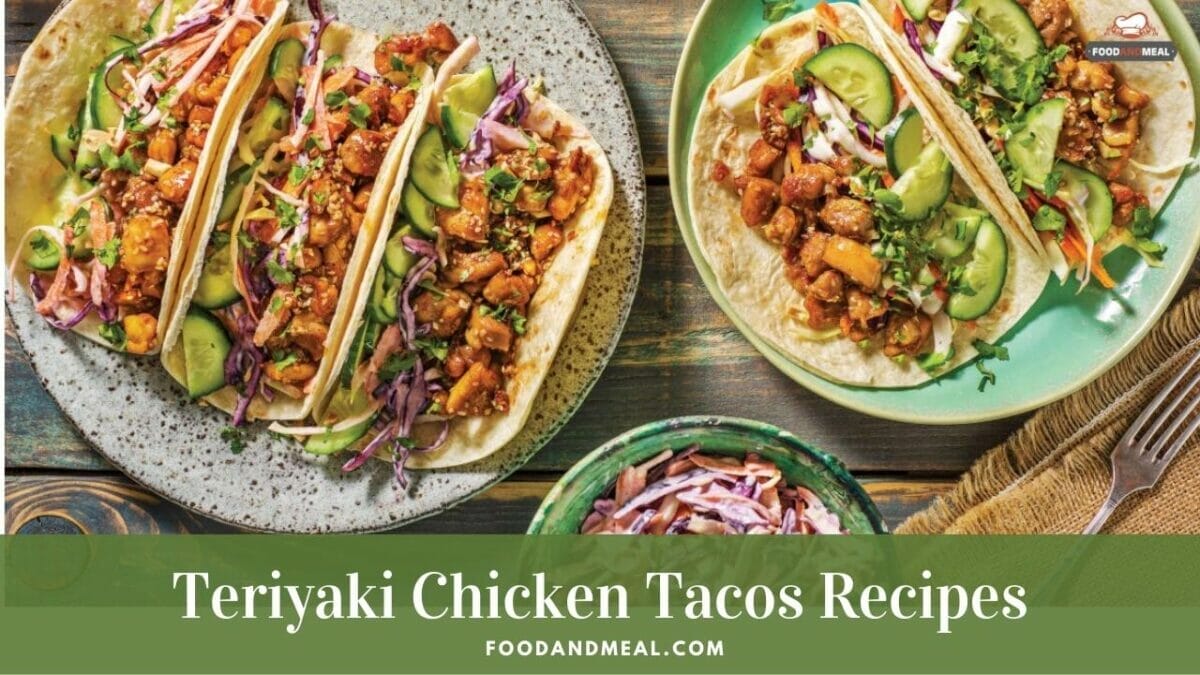 Ingredients
List of Ingredients:
1

pack

McCormick Teriyaki packet

1 ½

pounds

chicken breasts

boneless and skinless

4 to 6

flour tortillas

2

cups

Monterey jack cheese

shredded

1 ¼

cups

white rice

cooked
Ingredients for the crema:
Instructions
Prepare the marinade. Prepare the Teriyaki packet according to the directions on the package.

In a Ziploc bag, add in the prepared teriyaki sauce and chicken.

Seal the bag and toss to coat. Set aside to marinate for 30 minutes.

Prepare the crema. In a bowl, add in all of the ingredients for the cream. Stir well to mix.

Preheat a grill to 375 to 400 degrees. Grease the grates of the grill with olive oil. Add the chicken and cook for 8 minutes on each side or until the chicken is cooked through. Remove and set aside to rest for 5 minutes. Slice into thin strips.

Add the chicken strips into a bowl. Add in the teriyaki sauce and toss well to coat.

Add the chicken strips onto a flour tortilla. Drizzle the cream over the chicken. Top off with the shredded Monterey jack cheese and cooked rice.

Serve.
Notes
Teriyaki Chicken Tacos are a great way to bring Asian and Mexican flavors to your next BBQ. They feature a crispy wonton shell with tender teriyaki chicken stuffed inside. A tangy pineapple slaw is the perfect accompaniment. The chicken should be cooked through and the pineapple salsa should be on the side. In a separate dish, you can add the remaining teriyaki sauce and top with the vegetables and salsa.
Don't hesitate to adjust the teriyaki marinade to match your taste. Add a touch of honey for sweetness or a dash of chili flakes for a hint of heat. Ready to savor the magic? Let's dive into the recipe and awaken those taste buds!
Share by Email
Share on Facebook
Share on Twitter
Nutrition
Serving:
6
tacos
|
Calories:
503
kcal
|
Carbohydrates:
41
g
|
Protein:
38
g
|
Fat:
19
g
|
Saturated Fat:
9
g
|
Polyunsaturated Fat:
3
g
|
Monounsaturated Fat:
6
g
|
Trans Fat:
1
g
|
Cholesterol:
108
mg
|
Sodium:
502
mg
|
Potassium:
527
mg
|
Fiber:
1
g
|
Sugar:
1
g
|
Vitamin A:
327
IU
|
Vitamin C:
2
mg
|
Calcium:
319
mg
|
Iron:
2
mg
© Food And Meal
This website provides approximate nutrition information for convenience and as a courtesy only. Nutrition data is gathered primarily from the Spoonacular Database, whenever available, or otherwise other online calculators.
Other ways to making Teriyaki Chicken Tacos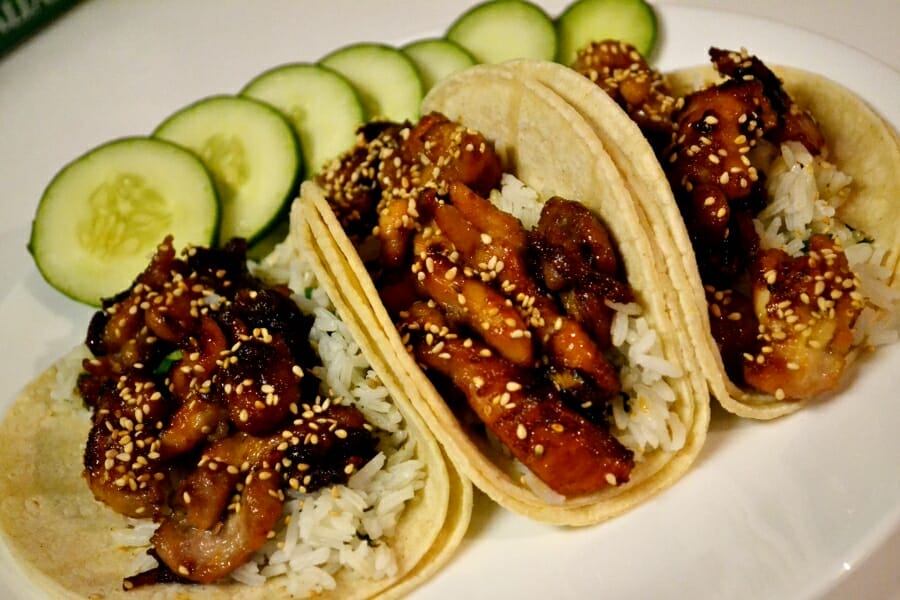 To make Teriyaki Chicken Tacos, start by grating the chicken. Then, spread it onto a tortilla. Top it with the sauce and then top it with carrot and cabbage. Finally, top with crema Mexicana and toasted sesame seeds. These tacos are perfect for a weeknight dinner, as they can be prepared and served in 20 minutes. To serve, spread the chicken with salsa and serve with a side of slaw.
While this taco recipe isn't your typical taco, it is packed with flavor. The teriyaki chicken is topped with a creamy cilantro-cabbage slaw, sweet pineapple salsa, and a tangy Asian slaw. This delicious dish is an excellent meal for a summer night! It can be made in advance, and refrigerated overnight. Before you cook it, make sure the tacos are at room temperature. Heat a large non-stick skillet over medium-high heat. Add the tacos and wait for them to be cooked through.
Food and Meal website is a website you should not miss if you love to cook. Leave a kind comment below to let us know you're passionate about cooking! And share this post to let your friends know how you are passionate about cuisine.
Cooking Tips: Elevate Your Culinary Game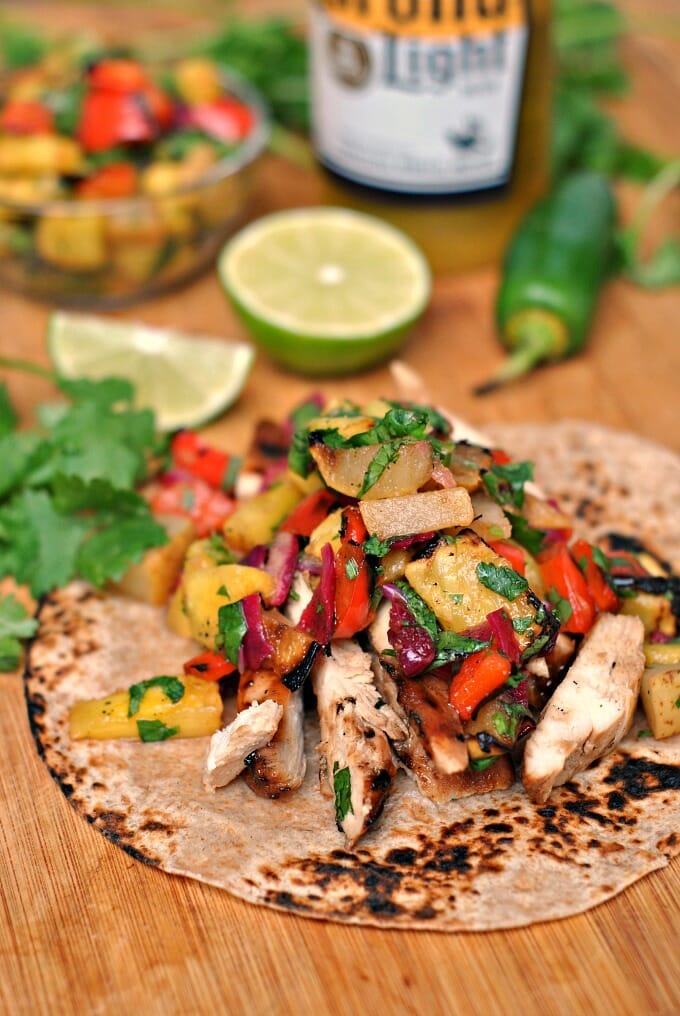 Prepare to embark on a culinary journey where each step counts. To ensure your Teriyaki Chicken Tacos shine, here are some expert tips and insights:
Tips and Tricks for Best Results: Welcome to the art of marination! Allow the chicken to soak in the teriyaki goodness for at least 30 minutes. For a flavor explosion, marinate overnight.
Avoid These Common Mistakes: Watch the grill closely – the sugar in the teriyaki sauce can cause quick caramelization. Control the heat to achieve that perfect glaze without burning.
Serving Suggestions: A Gastronomic Symphony
Teriyaki Chicken Tacos are versatile and fit a variety of occasions. Here's when and how to serve them:
Perfect Timing and Audience: Ideal for casual gatherings, these tacos shine at backyard barbecues, game nights, and family dinners. They're also a hit with kids and adults alike.
Complementary Sides, Garnishes, and Beverages: Pair with jasmine rice for a complete meal. Top with freshly chopped scallions, cilantro, and a sprinkle of sesame seeds for a burst of color and flavor. For beverages, opt for an ice-cold lychee green tea or a zesty ginger lemonade.
Multiple Ways to Serve: Serve Teriyaki Chicken Tacos as a vibrant platter, allowing guests to assemble their own. Alternatively, go for a taco bar setup, providing an array of toppings for a customizable experience.
FAQs: Unveiling Culinary Secrets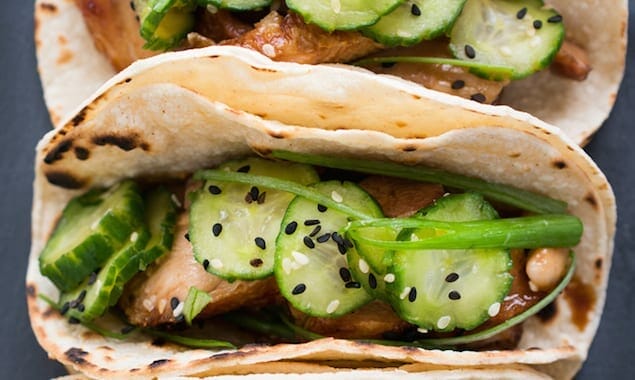 Q: Can I use store-bought teriyaki sauce? Absolutely! While making your own sauce is delightful, store-bought options work well too. Look for quality brands with minimal additives.
Q: Can I use tortilla alternatives? Certainly. Lettuce wraps or rice paper can replace tortillas for a low-carb twist. Experiment with different bases to suit your dietary preferences.
Q: How do I store leftovers? Store any leftover marinated chicken in an airtight container in the refrigerator for up to 2 days. When reheating, a quick sauté or a gentle microwave session will do the trick.
Q: Can I grill indoors? Absolutely. Utilize a grill pan on the stovetop for that charred goodness if an outdoor grill isn't available.
Q: Can I make this dish vegetarian? Absolutely! Swap chicken with tofu or your favorite meat alternative. Marinate and grill as usual for a delectable vegetarian version.
Now that you've unlocked the secrets of crafting the perfect Teriyaki Chicken Tacos, it's time to savor each bite and relish in the joy of creating a memorable culinary masterpiece. Happy cooking!
Affiliate DisclaimerAbout The Content
As an affiliate, we may earn a commission from qualifying purchases. We get commissions for purchases made through links on this website from Amazon and other third parties.