We understand that shopping for a fridge may not be the most exciting task, but given how frequently you rely on your refrigerator each day, it's crucial to approach this purchase with careful consideration.
When comparing different refrigerator types, a bottom-freezer model offers distinct advantages. It provides ample storage options in a convenient, eye-level design, making it particularly suitable for families requiring enhanced space and organization. Moreover, its sleek and contemporary appearance blends well with modern home aesthetics. Additionally, bottom-freezer refrigerators often come equipped with advanced smart capabilities, allowing for enhanced functionality and convenience. You can enjoy features like water dispensers and the added convenience of pull-out freezer drawers. Below is the top 7 Best Bottom-Freezer Refrigerators of 2023 which Food and Meal want to share with you.
What to Look for in a Bottom-Freezer Refrigerator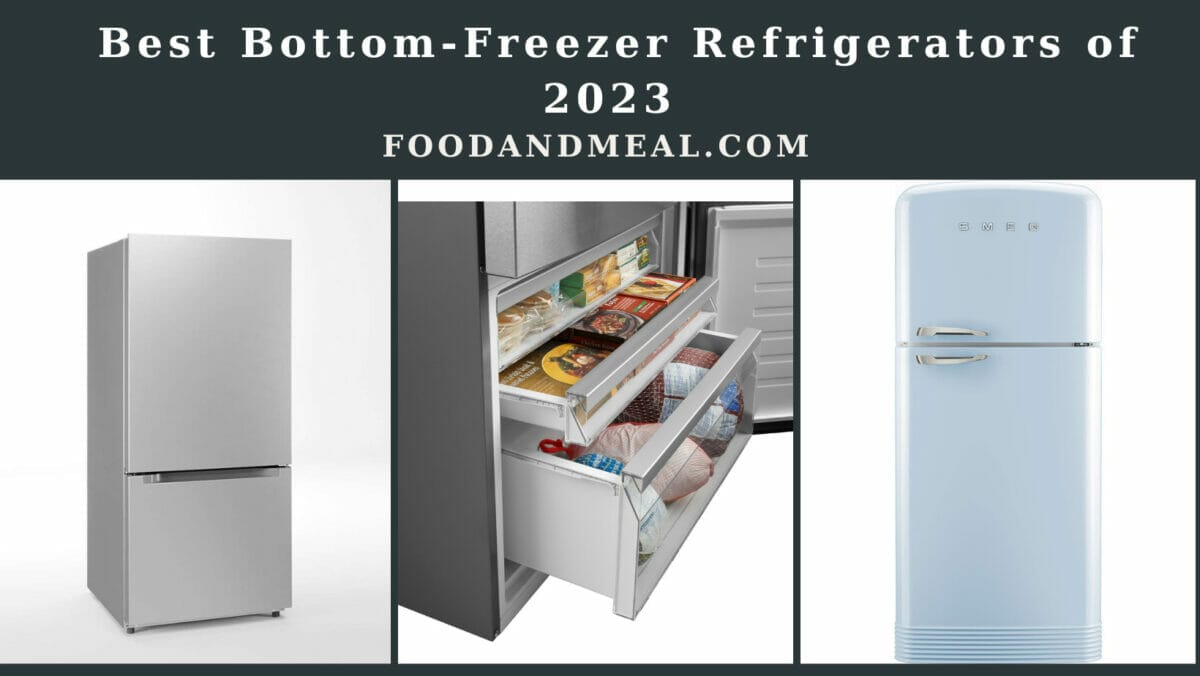 | | |
| --- | --- |
| Dimensions and Capacity | Dimensions are crucial for a seamless fit in your kitchen, while capacity determines its grocery storage. Bottom-freezer fridges range from 11 to 26 cubic feet. Compact models are available for smaller spaces but may compromise storage. Some smaller models use drawers for frozen foods instead of pull-out freezer baskets in larger ones. Choose wisely to meet your needs. |
| Energy Efficiency | Choose an energy-efficient bottom-freezer refrigerator with Energy Star or CEE certification to save on expenses. Look for estimated energy usage figures if certification is absent. |
| Storage Features  | Bottom-freezer refrigerators offer extra features like specialized compartments and two-tier freezer storage for enhanced convenience and organization. |
Best Bottom-Freezer Refrigerators of 2023
Best Price
Midea MRB19B7AST 18.7 cu
4.1
(14881 ratings)
Price: $1,099.99
Total Capacity: 18.7 cubic feet
Dimensions: 66.6 x 29.5 x 30.9 inche
Installation Depth: Standard Ice/Water Dispenser: None
Ice Maker Type: Single (optional)
Available Finishes: Stainless steel
Garage Friendly: No
Pull-out basket for freezer compartment
LED lighting for better visibility in fridge and freezer
Energy Star certified
Stainless steel finish isn't fingerprint-resistant
No deli drawer
If you're in search of a budget-friendly bottom-freezer refrigerator, we recommend the Midea MRB19B7AST. This model offers a cost-effective option, typically priced below $1,000 at most retailers, while still providing a full-size capacity of 18.7 cubic feet. It excels in energy efficiency and comes with a pull-out freezer compartment, offering more storage versatility compared to other budget-friendly models that have limiting freezer drawers.
With 13.1 cubic feet of space in the refrigerator compartment and 5.6 cubic feet in the bottom freezer, this model ensures ample room for your groceries. Organizational features include gallon storage on the refrigerator door, three spill-proof refrigerator shelves (two of which are adjustable), and dual humidity-controlled crisper drawers for storing produce. However, please note that there is no dedicated deli drawer for meats, cheeses, or other snacks.
The freezer compartment features two tiers of storage, allowing you to keep smaller and larger frozen items separated and easily accessible. The appliance sports a sleek stainless steel finish, complementing other modern kitchen appliances. However, it's important to be aware that the stainless steel finish is not fingerprint-resistant, so regular cleaning may be necessary to remove smudges and handprints.
On the energy efficiency front, this model boasts both Energy Star certification and a CEE Tier I rating, assuring you of its energy-saving capabilities.
Best Price
SMEG FAB32UR 24-inch Bottom Freezer
3.2
(14881 ratings)
Price: $3,099.99
Total Capacity: 12.8 cubic feet
Dimensions: 77.48 x 23.66 x 30.24 inches
Installation Depth: Standard
Ice/Water Dispenser: None
Ice Maker Type: None
Available Finishes: White, black, cream, blue, green, orange, pink, red
Garage Friendly: Yes
Cooler drawer with adjustable temperature
Variety of color finishes to choose from
Adjustable glass shelves
No ice or water dispenser
Only available in standard depth
When it comes to combining functionality with style, the Smeg FAB32UR stands out as an exceptional choice for a bottom-freezer refrigerator. This model offers an appealing aesthetic while maintaining reliable performance. Designed with small spaces in mind, it features a bottom freezer compartment with three drawers for efficient organization.
Manufactured by SMEG, an Italian appliance maker, this compact refrigerator is constructed with steel and comes in a variety of eye-catching colors such as blue, green, orange, red, pink, as well as classic options like cream, black, and white. The retro-styled chrome handles add a touch of charm as you open the fridge and freezer compartments. The 8.26-cubic-foot refrigerator section provides two adjustable glass shelves for storing fresh foods, along with a LifePlus 32-degree Fahrenheit cooler drawer dedicated to preserving cheese, meat, fish, and other perishables. The drawer even allows you to control its temperature, ranging from 28 to 37 degrees.
Inside the 3.43-cubic-foot freezer, you'll find three drawers for storing your frozen goods. However, it's important to note that the smaller capacity means it can accommodate only the essentials, and you may not have space for large, bulky items such as a turkey or frozen pizza boxes. While the refrigerator is compact in size, it's essential to know that it's not a counter-depth model. Despite its smaller dimensions, this refrigerator is highly sought after for its retro design and adds a striking statement to any kitchen.
Best Price
GE GBE17HYRFS 17.7
Total Capacity: 17.7 cubic feet
Dimensions: 68 x 31.125 x 27 inches
Installation Depth: Counter
Ice/Water Dispenser: None
Ice Maker Type: None
Available Finishes: Fingerprint-resistant stainless steel
Garage Friendly: No
Narrow width and recessed handles
Temperature-controlled, full-width drawer
Three-drawer freezer compartment
Lacks an ice maker
Not Energy Star certified
Opting for a counter-depth refrigerator brings several advantages, including a streamlined appearance that aligns with your kitchen countertops. This design choice also frees up more space for walkways, which is especially beneficial in kitchens with limited square footage. Our recommended choice for a counter-depth, bottom-freezer refrigerator is the GE GBE17HYRFS. It offers a 27-inch depth and provides ample organizational options without compromising on space. Moreover, this model incorporates advanced cooling features to ensure consistent refrigeration.
With a total storage capacity of 17.7 cubic feet, including a 4.7-cubic-foot bottom-freezer compartment, this counter-depth refrigerator offers efficient storage solutions. The freezer section, although smaller compared to some other models, stands out with its sliding drawers that allow for easy division of frozen items. The bottom drawer provides ample space for frozen turkeys or whole chickens, while a medium and small drawer accommodate frozen meals, vegetables, ice cream, and popsicles. The 13 cubic feet of fridge space also offers excellent organization. Notably, there's a full-width storage drawer that can be adjusted to three preset temperatures, optimized for storing snacks, beverages, or meats.
This counter-depth, bottom-freezer refrigerator includes other notable features such as enhanced air circulation for improved efficiency and a fast cooling function for both the fridge and freezer. By selecting the Turbo Cool option from the digital control panel, the refrigerator directs cold air to rapidly lower the internal temperature and preserve food freshness.
In summary, this counter-depth refrigerator may be compact in size, but it's equipped with the necessary features to efficiently store fresh and frozen foods while providing a sleek appearance in your kitchen.
Best Price
LG Electronics LRDCS2603S 25.50 cu
4.4
(1786 ratings)
$1,599.99
Total Capacity: 25.5 cubic feet
Dimensions: 69.88 x 32.75 x 34.88 inches
Installation Depth: Standard
Ice/Water Dispenser: None
Ice Maker Type: Single
Available Finishes: PrintProof stainless steel, PrintProof black stainless steel Garage Friendly: No
Large, 8.3-cubic-foot freezer drawer
WiFi-enabled
Factory-installed ice maker
Cooling vents to ensure door contents stay cold
No through-the-door ice or water dispenser
While it's true that bottom-freezer refrigerators may not always offer the largest storage capacity compared to French door refrigerators, there are certainly models that provide ample space. Among our top picks for high-capacity bottom-freezer refrigerators, the LG LRDCS2603S stands out. With a generous 26 cubic feet of room, divided into a 17.2-cubic-foot refrigerator and an 8.3-cubic-foot freezer, this model offers the most capacity among popular bottom-freezer refrigerators on the market. It's an excellent choice for large families or those who prefer bulk grocery shopping. However, it's important to consider the available space in your kitchen before selecting a large and spacious refrigerator. When measuring, ensure there's enough room for the refrigerator doors to swing open and allow for a 1-inch clearance around the sides and back to facilitate proper
The LG LRDCS2603S not only impresses with its size but also incorporates innovative technology to enhance efficiency. LG's Smart Cooling technology is utilized in this model to monitor refrigerator temperatures and adjust compressor operation to maintain desired temperatures. Additionally, strategically placed vents direct cold air to the refrigerator door, ensuring that condiments, dairy products, and beverages stored in the door bins remain properly chilled and ready for serving.
Available in sleek finishes resistant to fingerprints and smudges, such as stainless steel and black stainless steel, the LG LRDCS2603S exudes a modern appeal. It features a hidden digital control panel for easy temperature adjustments, but you can also conveniently manage settings using the LG ThinQ app on your smartphone. Notably, this is one of the few recommended bottom-freezer refrigerators that offers built-in smart technology, further enhancing its appear.
Best Price
Whirlpool 26.8 cu. ft. French Door Refrigerator with Dual Ice Maker
3.7
(1786 ratings)
$2,099.99
Total Capacity: 26.8 cubic feet
Dimensions: 69.88 x 35.69 x 35.63 inches
Installation Depth: Standard
Ice/Water Dispenser: Both
Ice Maker Type: Dual
Available Finishes: Fingerprint-resistant stainless steel, fingerprint-resistant black stainless steel
Garage Friendly: No
In-door ice maker frees up refrigerator shelf space
Dual ice maker produces ice for single-serve and bulk use
Unique organizational features
More expensive than most models of its kind
If you desire the convenience of a bottom-freezer refrigerator with an ice and water dispenser, the Whirlpool French Door Refrigerator is an excellent choice. With its impressive size of 26.8 cubic feet, this model offers spacious storage alongside convenient features such as a through-the-door dispenser, a dual ice maker, and practical storage options for both frozen and fresh foods.
When selecting a bottom-freezer refrigerator with a dispenser, it's important to consider usability. Some models have a water dispenser located inside the fridge compartment, maintaining a streamlined exterior but requiring you to open the refrigerator door each time you want to fill a glass with water. However, many people prefer the one-handed convenience of a through-the-door dispenser, which the Whirlpool French Door Refrigerator provides. Equipped with a dual ice maker, this model includes an in-door ice maker for small cubed or crushed ice and a second ice maker in the freezer compartment, allowing you to create additional ice for coolers, ice chests, or entertaining purposes.
The 7.77-cubic-foot bottom freezer of this refrigerator offers ample space for storing your frozen favorites, complete with two tiers of storage. Notably, it even includes a dedicated slot for upright storage of pizza boxes, eliminating the need for stacking them beneath other freezer items. Moving to the refrigerator compartment, you'll find 19 cubic feet of space, featuring five glass shelves, two produce drawers, and unique storage features like a slide-out shelf for platters or casseroles, a full-width deli drawer, and a drawer designed for beverage cans.
Although this refrigerator may have a higher price compared to other bottom-freezer models, its greater capacity sets it apart. The combination of generous capacity, organizational features, and the convenience of a through-the-door ice and water dispenser make it a highly appealing appliance.
Best Price
Samsung RB10FSR4ESR 11.3
4.4
(1786 ratings)
$2,099.99
Total Capacity: 11.3 cubic feet
Dimensions: 70.13 x 24 x 26.63 inches
Installation Depth: Counter
Ice/Water Dispenser: None
Ice Maker Type: None
Available Finishes: Fingerprint-resistant stainless steel
Garage Friendly: No
Three extendable freezer drawers
Sliding shelf in the refrigerator
Fingerprint-resistant stainless steel finish
No option for an ice maker
Limited capacity for families
If you're in the market for a bottom-freezer refrigerator suitable for an apartment or condo, the Samsung RB10FSR4ESR is a sleek and straightforward option to consider. This model is designed to save space with its compact dimensions, measuring 70.13 by 24 by 26.63 inches. The fingerprint-resistant stainless steel finish not only gives it a modern aesthetic but also reduces the visibility of handprints and smudges. Priced under $1,000, this refrigerator offers good value and has sufficient capacity for one or two individuals.To maximize its 11.3 cubic feet of capacity, this refrigerator incorporates sliding shelves and drawers. While the freezer compartment is on the smaller side at 3.8 cubic feet, it compensates with three fully extendable drawers that allow for organized storage of items like pizza boxes, meats, and ice cream cartons. The refrigerator section offers 7.5 cubic feet of space and features edge-to-edge glass shelves, providing more room for fresh foods. Additionally, a sliding shelf enhances accessibility to smaller items placed at the back of the refrigerator. It's worth noting that this model does not include an ice maker or water dispenser. However, it is Energy Star certified, operating efficiently with the assistance of air vents strategically placed throughout both the refrigerator and freezer compartments.
Affiliate DisclaimerAbout The Author
As an affiliate, we may earn a commission from qualifying purchases. We get commissions for purchases made through links on this website from Amazon and other third parties.