Green Tea Matcha Kasutera is a popular Japanese sweet bread that is made with green tea. Its color comes from its natural green content. Traditionally, it is baked into thick slices and topped with icing. However, if you want a lighter, less oily version, try baking it with a light brown color. Its delicate texture and flavor make it perfect for a dessert or snack. Here are some simple instructions to make this delicious treat.
Matcha Kasutera Recipes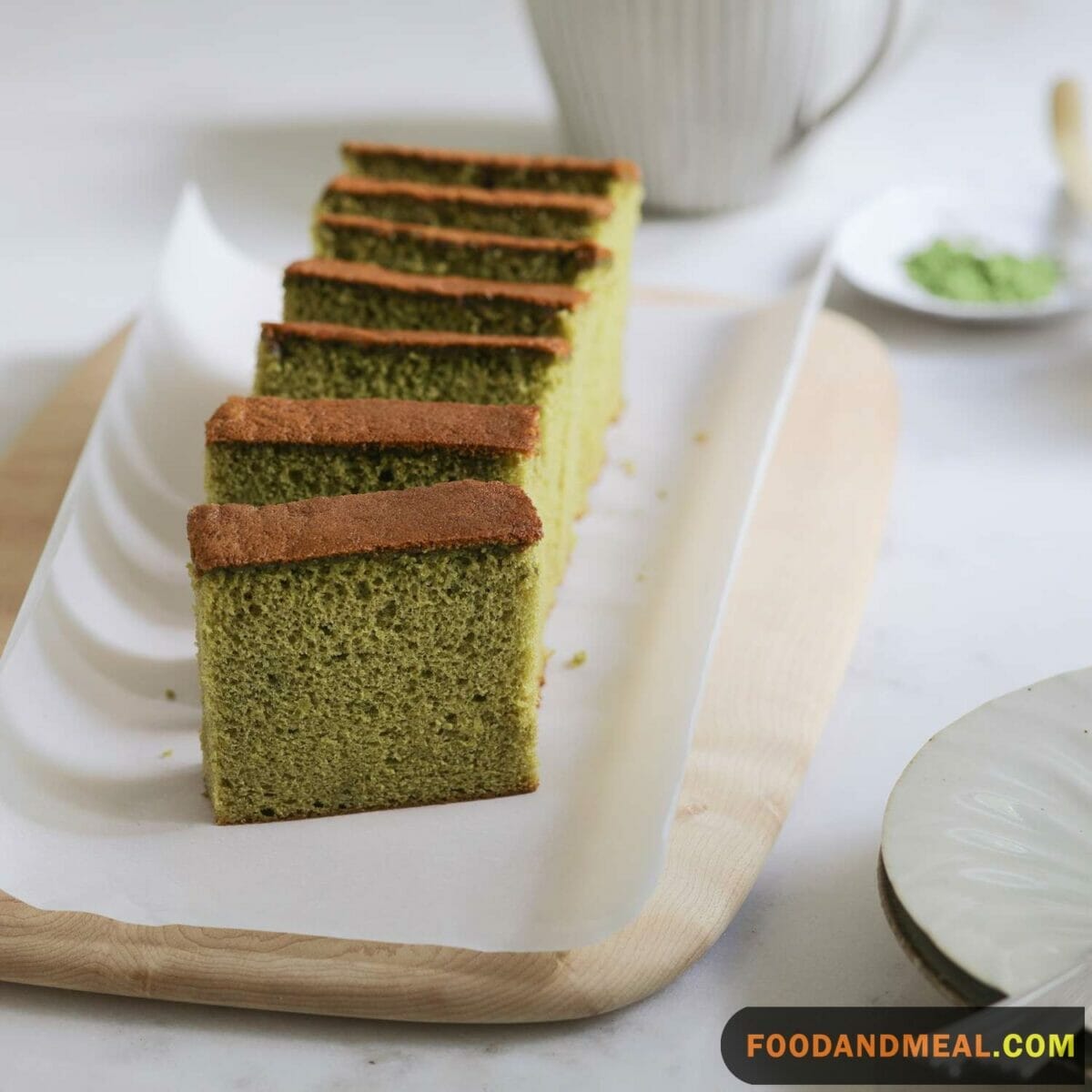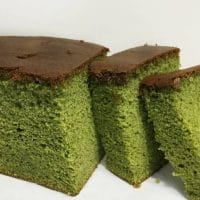 Green Tea Castella Cake
The Green Tea Kasutera recipe is a traditional Japanese sponge cake with a few ingredients. The recipe below is a matcha green tea kasutera. Its color comes from the green tea powder. It is an excellent combination of matcha powder and green tea. If you are in the mood for a delicious dessert, you can try a Green-Tea Kasutera. Its flavor is intense and has a perfect texture.
Print
Pin Recipe
Add to Collection
Go to Collections
Instructions
Line your loaf pan with parchment paper.

In a small mixing bowl, milk and honey. Sift the bread flour and matcha together several times. Set aside.

Use a hand mixer to whisk eggs then add sugar as you whisk in a small bowl.

Place the small bowl in warm water, probably in a large bowl. Whisk the egg further until almost white.

Preheat oven to 360F.

Add the milk mixture into the egg mixture.

Add the dry ingredients into the wet ingredients and gently mix with a spatula.

Pour the well-mixed batter into the lined loaf pan then tap the pan to release bubbles.

Bake in the oven for ten Minutes at 360F then lower to 300F and bake for forty more Minutes.

Check if the cake is cooked by poking it with a skewer (bamboo). If the bamboo skewer comes out clean, you good to go.

Flip down the pan to release the cake on a platter. Remove the parchment paper and let the cake cool wrapped in a plastic wrap.

Serve and enjoy.
Notes
The green tea kasutera recipe includes three ingredients. You'll need one cup of bread flour and a teaspoon of matcha green tea powder. You can also use egg yolks and butter if you don't have egg whites. It is a Japanese dessert that can be enjoyed by anyone. Just make sure you have plenty of patience and you'll be enjoying this delicious dessert in no time. You can also serve it with a cup of coffee or tea!
Share by Email
Share on Facebook
Share on Twitter
Nutrition
Serving:
1
serving
|
Calories:
241
kcal
|
Carbohydrates:
6
g
|
Protein:
5
g
|
Fat:
3
g
|
Saturated Fat:
1
g
|
Polyunsaturated Fat:
1
g
|
Monounsaturated Fat:
1
g
|
Trans Fat:
1
g
|
Cholesterol:
110
mg
|
Sodium:
44
mg
|
Potassium:
51
mg
|
Fiber:
1
g
|
Sugar:
6
g
|
Vitamin A:
292
IU
|
Vitamin C:
1
mg
|
Calcium:
22
mg
|
Iron:
1
mg
© Food And Meal
This website provides approximate nutrition information for convenience and as a courtesy only. Nutrition data is gathered primarily from the Spoonacular Database, whenever available, or otherwise other online calculators.
Pin Recipe
Alternative Method: Preparing Matcha Kasutera Using a Microwave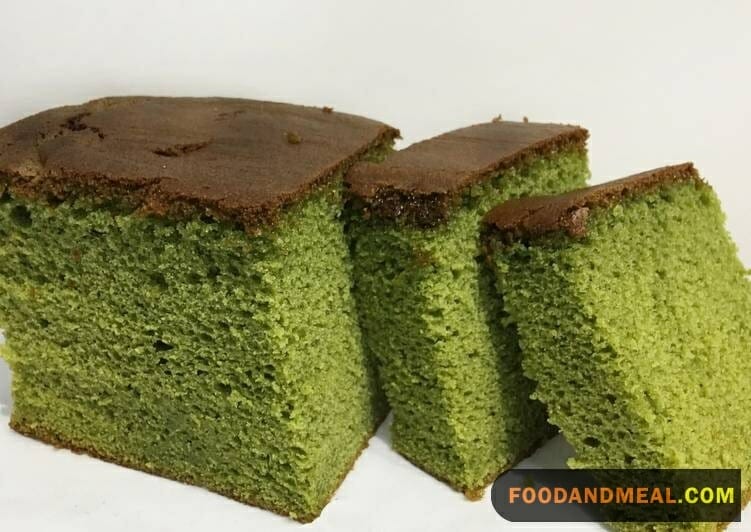 Ingredients:
4 large eggs
120 grams of granulated sugar
1 teaspoon of honey
120 grams of cake flour
2 tablespoons of high-quality matcha powder
1 tablespoon of whole milk
Instructions:
Preparation: Start by preparing an 8×8 inch microwave-safe baking dish. Grease it lightly with cooking spray or butter.
Sifting Dry Ingredients: In a mixing bowl, sift together the cake flour and matcha powder. This step ensures a smoother batter without any lumps.
Egg Mixture: Crack the eggs into another large mixing bowl, add sugar, and beat them together. You can use an electric mixer or a whisk. Beat until the mixture becomes pale and slightly frothy.
Honey and Milk: Warm the honey slightly in the microwave for a few seconds and add it to the egg mixture. Also, add the whole milk and mix well.
Incorporating Dry Ingredients: Gradually fold the sifted dry ingredients into the egg mixture. Gently mix until you get a smooth and consistent batter. Be careful not to overmix; just fold until there are no visible streaks of flour.
Microwave Cooking: Pour the batter into the prepared baking dish. Tap the dish on the counter to remove any large air bubbles.
Microwave Settings: Place the baking dish in the microwave and select the microwave setting at 600W (watts).
Cooking Time: Microwave the kasutera for about 5-6 minutes. The exact time may vary depending on your microwave's wattage, so keep an eye on it. The kasutera should rise and become firm to the touch.
Cooling: Once done, remove the kasutera from the microwave and let it cool in the dish for a few minutes.
Slicing and Serving: After it has cooled slightly, remove the kasutera from the dish and let it cool completely on a wire rack. Once cooled, slice it into squares or rectangles, and your microwave Matcha Kasutera is ready to be enjoyed!
Tips for making Matcha Kasutera
Cooking Tips
Sift with Care: When sifting the cake flour and matcha powder, make sure to do it gently. Sifting helps eliminate lumps and ensures a smooth, velvety batter.
Egg Quality Matters: Use fresh, high-quality eggs. They are the foundation of this dessert and significantly impact its texture and taste.
Temperature Control: Pay close attention to the microwave's wattage when using the alternative method. Microwaves vary, so adjust the cooking time accordingly to avoid overcooking.
Tapping Technique: After pouring the batter into the dish, tap it on the counter to release any large air bubbles. This helps create an even texture.
Cool Gradually: Let your kasutera cool gradually. Start by cooling it in the dish for a few minutes before transferring it to a wire rack. This prevents cracking due to sudden temperature changes.
Cover While Storing: Once your Matcha Kasutera has cooled and you've enjoyed your first servings, cover any leftovers with plastic wrap or store them in an airtight container to maintain its moisture and prevent it from drying out.
Serving Suggestions
Traditional Tea Pairing: Accompany a slice of Matcha Kasutera with a cup of authentic Japanese green tea to complement the flavors.
Fresh Berries: Top your kasutera with fresh berries like strawberries or raspberries. The tartness of the fruit balances the sweet matcha cake.
Whipped Cream: A dollop of freshly whipped cream adds a delightful creaminess that contrasts beautifully with the kasutera's texture.
Ice Cream: Pair a warm slice of kasutera with a scoop of vanilla or matcha ice cream for a delightful warm-and-cold dessert experience.
Honey Drizzle: A drizzle of honey adds a touch of sweetness that enhances the earthy notes of the matcha.
Dress It Up: Serve it on a stylish Japanese dessert plate with a dusting of matcha powder for an elegant presentation.
FAQs about Matcha Kasutera
How can I store leftover Matcha Kasutera? To store leftover kasutera, cover it with plastic wrap or place it in an airtight container. Keep it at room temperature for up to 2-3 days to maintain its moisture.
Why did my kasutera turn out dry? Overbaking can lead to a dry kasutera. Ensure you adjust the cooking time according to your microwave's wattage. Start with 5-6 minutes and add more time if needed.
Can I use culinary matcha for this recipe? While culinary matcha works, it's recommended to use high-quality, ceremonial-grade matcha for a more vibrant color and robust flavor.
Can I make Matcha Kasutera without honey? Yes, you can omit honey or replace it with a similar sweetener, but honey adds depth to the flavor and moisture to the cake.
Why did my kasutera crack while cooling? Kasutera can crack if it cools too quickly. To prevent this, cool it gradually by starting in the baking dish and then transferring it to a wire rack.
Indulge in matcha bliss with our Matcha Kasutera recipe. Discover tips, serving ideas, and the essence of Japanese desserts.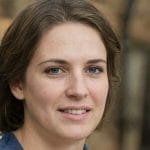 Hi! I'm Paula from the Philippines, the passionate blogger and skilled photographer behind Gobble the Cook. I also spearhead the media photography for Food And Meal in Vietnam.
Affiliate DisclaimerAbout The Content
As an affiliate, we may earn a commission from qualifying purchases. We get commissions for purchases made through links on this website from Amazon and other third parties.