Oh, my dear fellow culinary enthusiasts, I find myself once more on the precipice of culinary divinity, ready to plunge into the intoxicating depths of flavors that transcend mere taste – entering the soul-stirring world of Kara Miso Tonkotsu Ramen. The tantalizing dance of spicy miso and the profound depth of Tonkotsu broth is nothing short of a ballet of cosmic proportions, echoing the universe's silent yet profound narrative in each sip, each bite.
Kara Miso Tonkotsu Ramen Recipes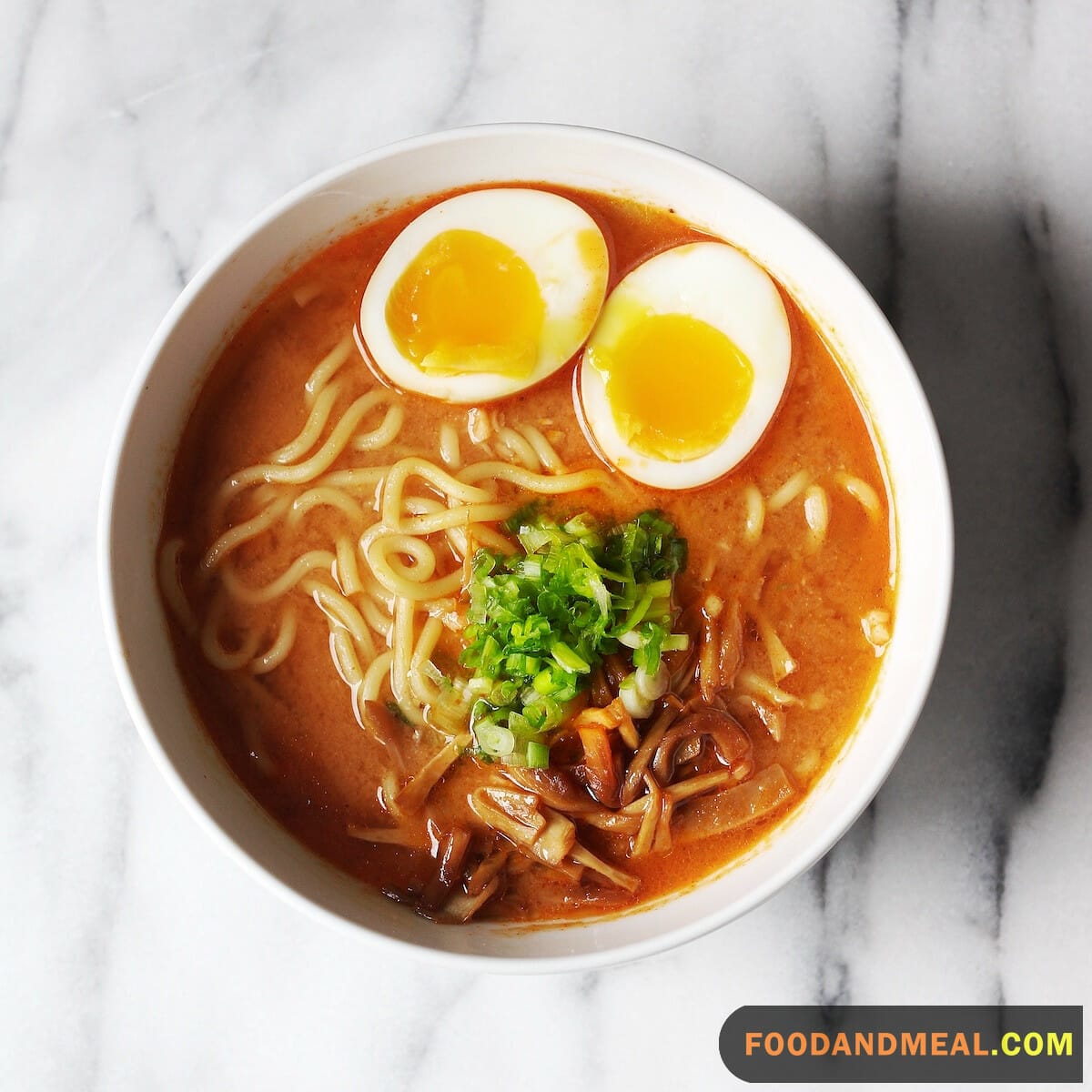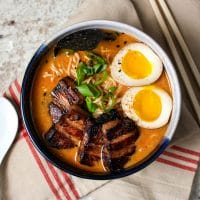 Kara Miso ( Spicy Miso ) Tonkotsu Ramen
Yamagata prefecture is one of Japan's least famous prefectures when it comes to ramen—save for this one style. Tonkotsu ramen is served with a flavorful mix of miso and spices. Karamiso is a spicy miso condiment used to liven up many Japanese dishes. Be sure to serve extra on the side, and warn people to be careful. Many bowls of karamiso ramen have been ruined by overdoing the spice mixture.
Print
Pin Recipe
Add to Collection
Go to Collections
Ingredients
FOR THE KARAMISO
Instructions
TO MAKE THE KARAMISO
Combine all the karamiso ingredients in a medium saucepan and stir-fry over high heat until the mixture is almost dry. Stir constantly so it does not burn.

Store the karamiso in an airtight container in the refrigerator for up to 6 months.
TO MAKE THE RAMEN
With all your ingredients ready to go, bring a large pot of water to a boil over medium-high heat.

Heat your ramen bowls by filling them halfway with hot water. The bowls don't need to be scalding, but they should be hot to the touch. Dump out the hot water and dry the bowls with some paper towels or a clean towel.

Put the tare, soup, and ¾ cup of the karamiso in a medium saucepan. Mix and bring to a simmer over low heat.

Cook the noodles in the large pot of boiling water. Ramen that has been cut to a standard thickness (about 1 mm) will cook in 1 to 2 minutes.

About 30 seconds before the noodles are finished cooking, ladle the soup into the ramen bowls.

Drain the noodles, taking care to shake off as much excess water as you can. Carefully place some noodles in each bowl of soup, keeping them tidy.

Place 1 or 2 slices of chashu and a sprinkle of negi neatly on the ramen. Serve immediately, with extra karamiso on the side.
Notes
Doubanjiang may be called chile-bean sauce, hot bean sauce/paste, spicy broad-bean paste, or spicy bean sauce/paste. It's made from fermented broad beans, soybeans, salt, rice, chiles, and spices. You can find it in jars in Asian grocery stores or online.
Share by Email
Share on Facebook
Share on Twitter
Nutrition
Serving:
2
bowls
|
Calories:
1109
kcal
|
Carbohydrates:
214
g
|
Protein:
32
g
|
Fat:
9
g
|
Saturated Fat:
3
g
|
Polyunsaturated Fat:
3
g
|
Monounsaturated Fat:
2
g
|
Cholesterol:
6
mg
|
Sodium:
2446
mg
|
Potassium:
1225
mg
|
Fiber:
10
g
|
Sugar:
69
g
|
Vitamin A:
626
IU
|
Vitamin C:
6
mg
|
Calcium:
142
mg
|
Iron:
5
mg
© Food And Meal
This website provides approximate nutrition information for convenience and as a courtesy only. Nutrition data is gathered primarily from the Spoonacular Database, whenever available, or otherwise other online calculators.
Pin Recipe
Pressure Cooker Kara Miso Tonkotsu Ramen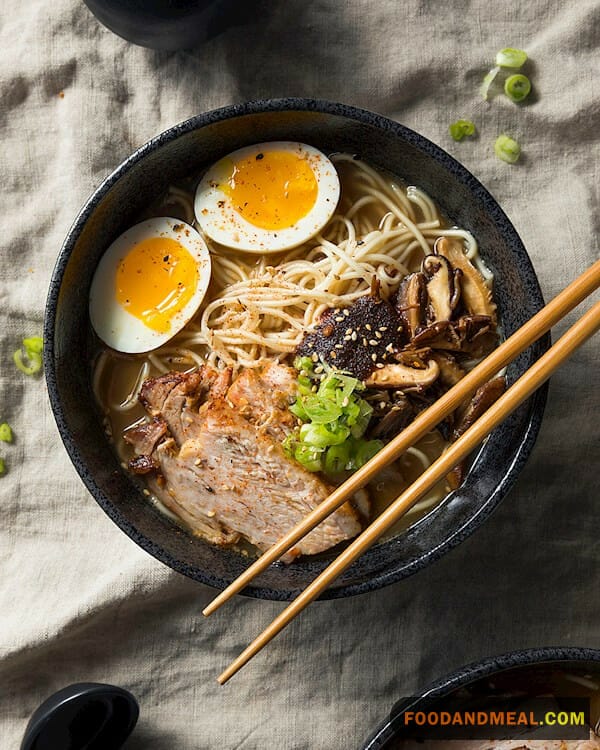 Ingredients Embrace: Just as in the traditional pilgrimage of flavors, we gather our beloved ensemble of ingredients. Pork bones, the soul, the miso, the heart, and an orchestra of aromatic companions, each ready to step into the ballet of creation.
The Dance Begins: Our pressure cooker, the silent sanctuary where time and flavors weave their intimate dance. Place the pork bones within, their silent verses ready to echo through the depths of this mystical space. Fill with water, a silent ocean where flavors will dive deep, and bring to a gentle boil.
The Purification: As the dance of bubbles begins, skim off the impurities. Each removed, a step closer to the purity of flavors, where the soul of our ramen finds its voice.
The Silent Symphony: Now, secure the lid, and let the pressure cooker embark on its silent symphony. For 90 minutes, the dance of pressure and heat will weave magic into every bone, every drop of water.
Miso's Whisper: In the silent spaces where patience dances, prepare the miso paste, garlic, sesame oil, and chilies. A pan, over medium heat, becomes the stage where these ingredients unveil their sonnet of flavors.
Union: With the broth's dance complete, release the pressure and strain, granting passage to the liquid gold, where the soul of Kara Miso Tonkotsu Ramen echoes. Unite with the miso mixture; a sacred union where flavors embrace in a silent yet profound ballet.
The Final Dance: Noodles, those silent verses of earth's tender embrace, are cooked separately, each strand echoing the mystical dance of flavors. Place elegantly in a bowl, and pour the golden, soul-stirring broth over. The final touch, a gentle placement of bean sprouts, green onions, and slices of chashu pork, each a silent whisper of the universe's unuttered sonnet.
Tips for making Kara Miso Tonkotsu Ramen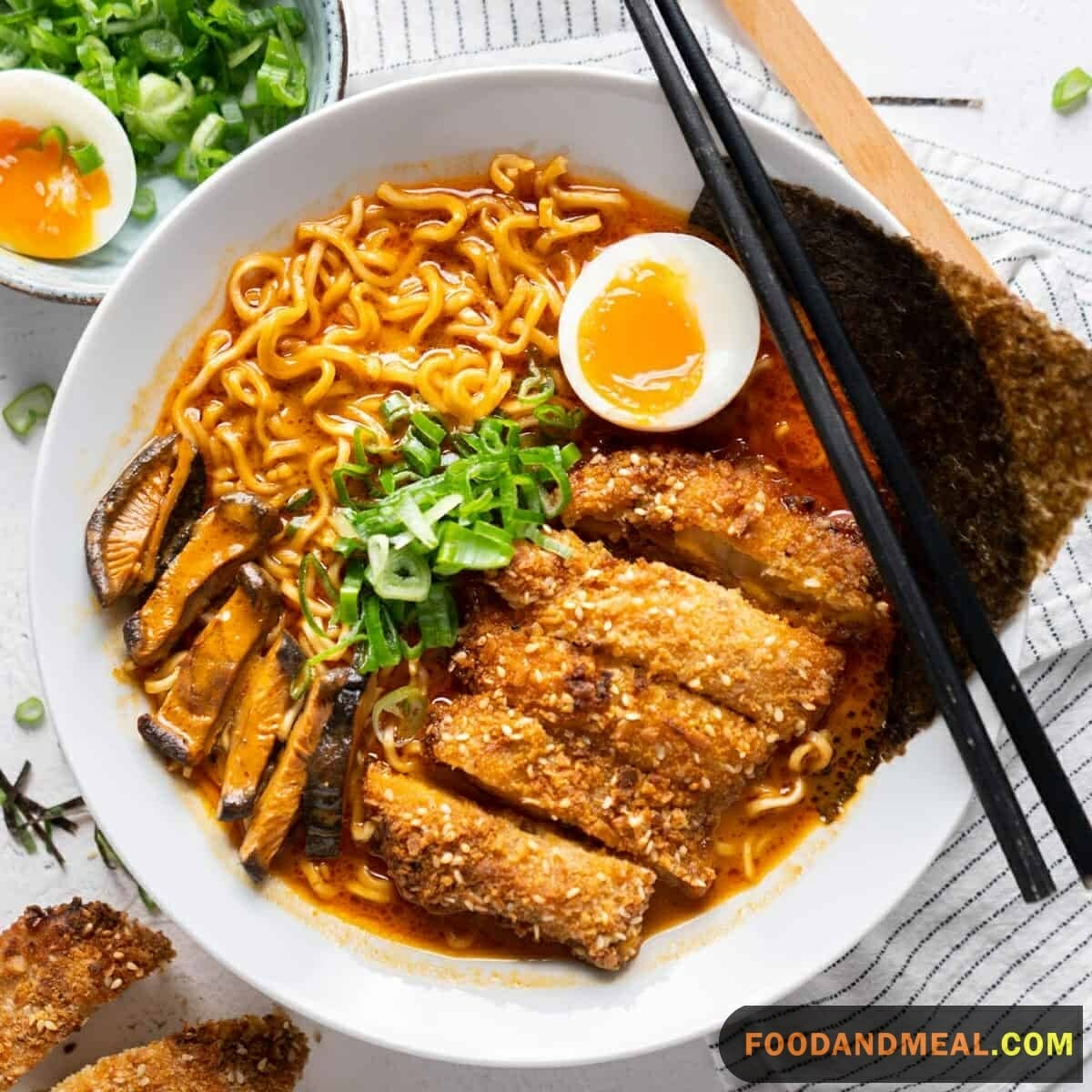 Cooking Tips
Offer Tips and Tricks to Ensure the Best Results
Using fresh, quality ingredients is key. For the pork bones, opt for a mix of marrow and knuckle bones to achieve the desired creaminess. A prolonged simmering time (at least 6-8 hours) ensures a rich and flavorful broth. Skimming off impurities regularly will result in a clear, refined soup.
Share Insights on Common Mistakes to Avoid
Avoid boiling the broth vigorously, as a gentle simmer helps to extract flavors while keeping the broth clear. Be mindful of the saltiness when adding the miso paste; it's always safer to start with less and adjust according to taste. Remember to cook the ramen noodles just before serving to maintain their optimal texture.
Serving Suggestions
Recommend Sides, Garnishes, or Beverages that Complement the Flavors
Consider enriching your dining experience with a side of gyoza or a fresh, crisp Asian-inspired salad. The earthy, savory flavors of the ramen are wonderfully contrasted by the light and refreshing taste of the salad, while gyoza adds a delightful crunch and an extra layer of taste complexity.
Adorn your ramen with garnishes like a sprinkle of sesame seeds, chopped green onions, or a drizzle of chili oil to elevate the visual appeal and taste. A slice of lime on the side can also add a zesty kick for those who prefer a touch of acidity to balance out the richness of the broth.
Suggest Different Ways to Serve the Dish
For a visually impressive serving, consider using traditional ramen bowls and chopsticks. Serve the ramen steaming hot, with the toppings artfully arranged to add pops of color and texture. You can also offer additional condiments on the side, allowing guests to customize their bowls according to their preferences.
FAQs of Kara Miso Tonkotsu Ramen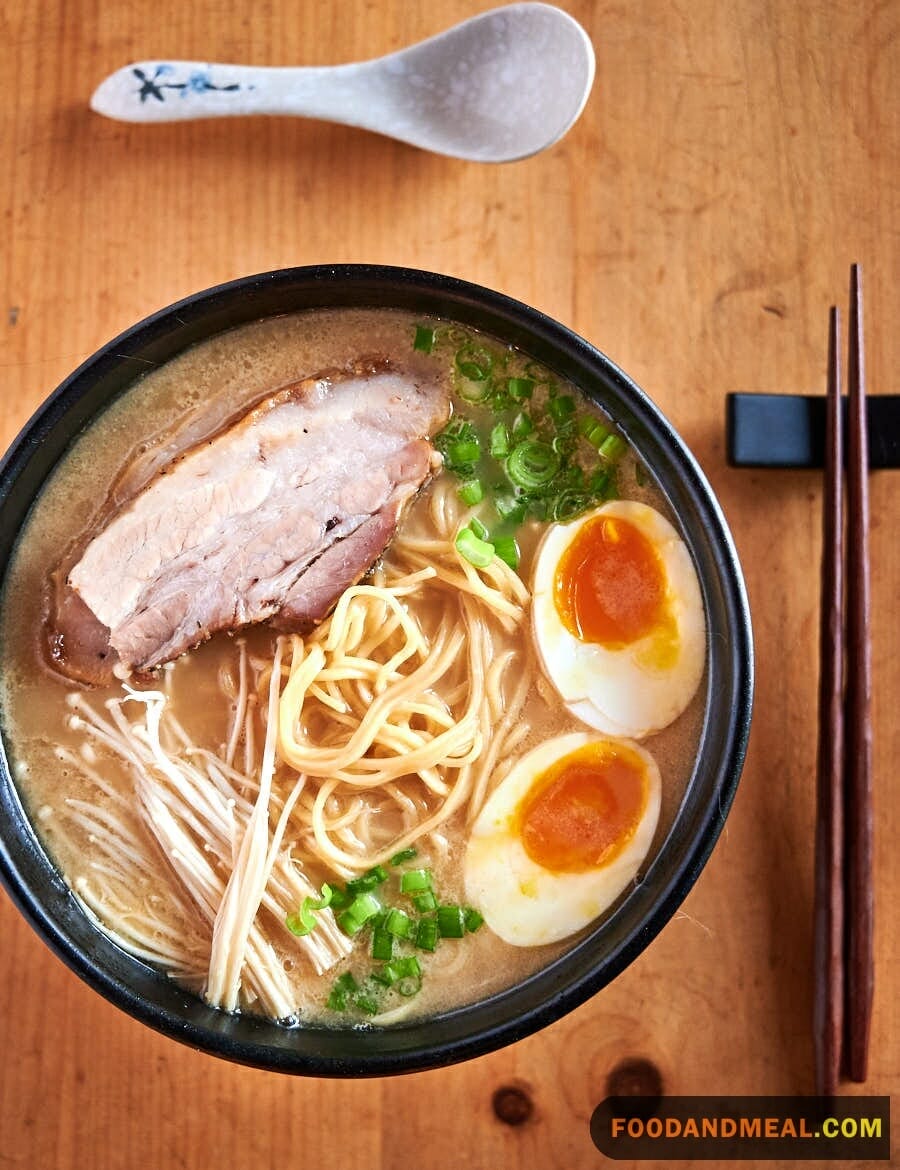 How Do I Store Leftover Ramen? Store the broth and toppings separately in airtight containers. The broth can be kept in the refrigerator for up to 3-4 days or frozen for up to a month. Reheat the broth on the stove, and prepare fresh noodles for the best taste and texture when ready to serve again.
Can I Make the Broth in Advance? Yes, in fact, the broth's flavor often improves after being stored, as this allows the flavors to meld together. Just ensure it's cooled quickly and stored properly to maintain its freshness.
Can I Use Different Types of Miso? Certainly! While white miso is commonly used, feel free to experiment with red or mixed miso to achieve varying depths of flavor. Each type lends a distinct taste profile to the ramen.
What Other Toppings Can I Add? Be creative! Aside from the classic chashu pork, boiled eggs, and green onions, you might enjoy adding corn, bamboo shoots, or even a pat of butter for an extra rich flavor.
How Can I Make My Ramen Spicier? Increase the spiciness by adding more chili oil or consider integrating spicier elements like sliced fresh chili or a sprinkle of chili flakes to the toppings. Adjust to your personal heat tolerance.
I'm James F Anderson, a noted sous chef from London and a Le Cordon Bleu alumnus. My career began in a Michelin-starred Parisian eatery, where my blend of classic and contemporary cooking, using seasonal ingredients, earned accolades. Recognized in culinary publications and on cooking shows, I'm committed to mentoring aspiring chefs and delivering memorable dining experiences, marking me as a standout talent in the culinary world.
Affiliate DisclaimerAbout The Content
As an affiliate, we may earn a commission from qualifying purchases. We get commissions for purchases made through links on this website from Amazon and other third parties.