In Japan, a bowl of Butter and Cheese Shio Ramen is a special treat for those with a love of Japanese food. The noodles are thick and creamy, and are topped with melted butter and cheese. The dish is usually served with a slice of negi, chashu, or 3 pieces of menma. The noodles are served immediately after cooking. In the United States, butter and cheese shio ramen is not widely available.
Butter and Cheese Shio Ramen Recipes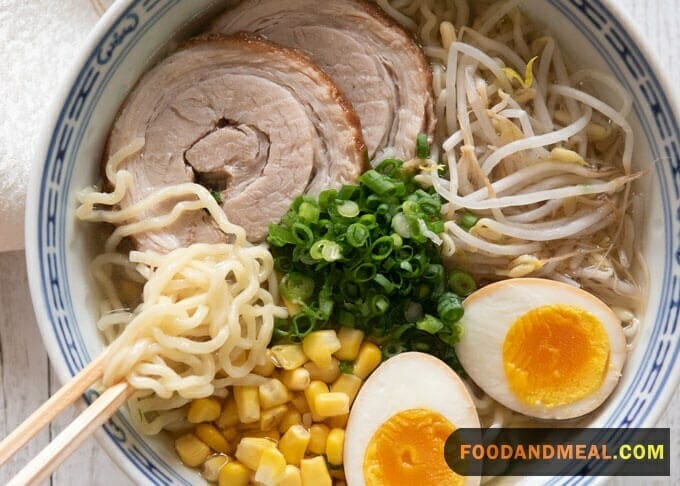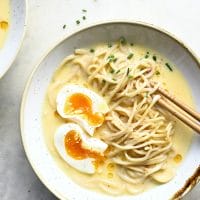 Butter and Cheese Shio Ramen
Although Hokkaido is best known for miso ramen, I once wandered into a small shop in Sapporo that served nothing but shio ramen. Dairy is a big thing in Hokkaido, and at the master's suggestion I had my shio ramen with a big hunk of butter and some local cheese. The butter and cheese—something I'd never had with a simple shio ramen—melted right into the bowl. And though the whole thing was on the heavy side, it kept me warm in the Hokkaido snowstorm that had picked up while I was in the shop.
Print
Pin Recipe
Add to Collection
Go to Collections
Instructions
With all your ingredients ready to go, bring a large pot of water to a boil over medium-high heat.

Heat your ramen bowls by filling them halfway with hot water. The bowls don't need to be scalding, but they should be hot to the touch. Dump out the hot water and dry the bowls with some paper towels or a clean towel.

Put the tare and soup in a medium saucepan. Mix and bring to a simmer over low heat.

Cook the noodles in the large pot of boiling water. Ramen that has been cut to a standard thickness (about 1 mm) will cook in 1 to 2 minutes.

About 30 seconds before the noodles are finished cooking, ladle the soup into the ramen bowls.

Drain the noodles, taking care to shake off as much excess water as you can. Carefully place some noodles in each bowl of soup, keeping them tidy.

Place 2 or 3 slices of chashu and a salted egg neatly on the ramen. Add 1 tablespoon of butter and 2 tablespoons of cheese on top. Serve immediately.
Notes
Use as much or as little butter and cheese as you want in this bowl. Some people prefer two to three times the melted butter in their ramen. For the cheese, choose something with a light, mild flavor, like mozzarella or Monterey Jack, or something bolder, like Camembert
Soup: Mix equal parts unseasoned low-sodium chicken broth and dashi broth. Japanese dashi powder to make broth can be found in the Asian foods section of many supermarkets or in Asian grocery stores or online. You could try this one with a creamy chicken broth as well.
Noodles: Use 3 ounces of dried ramen noodles per bowl, preferably the thin, straight style.
Share by Email
Share on Facebook
Share on Twitter
Nutrition
Serving:
1
bowl
|
Calories:
724
kcal
|
Carbohydrates:
113
g
|
Protein:
25
g
|
Fat:
18
g
|
Saturated Fat:
9
g
|
Polyunsaturated Fat:
2
g
|
Monounsaturated Fat:
5
g
|
Trans Fat:
1
g
|
Cholesterol:
194
mg
|
Sodium:
73
mg
|
Potassium:
401
mg
|
Fiber:
5
g
|
Sugar:
4
g
|
Vitamin A:
587
IU
|
Calcium:
60
mg
|
Iron:
3
mg
© Food And Meal
This website provides approximate nutrition information for convenience and as a courtesy only. Nutrition data is gathered primarily from the Spoonacular Database, whenever available, or otherwise other online calculators.
Pin Recipe
Slow Cooker Butter and Cheese Shio Ramen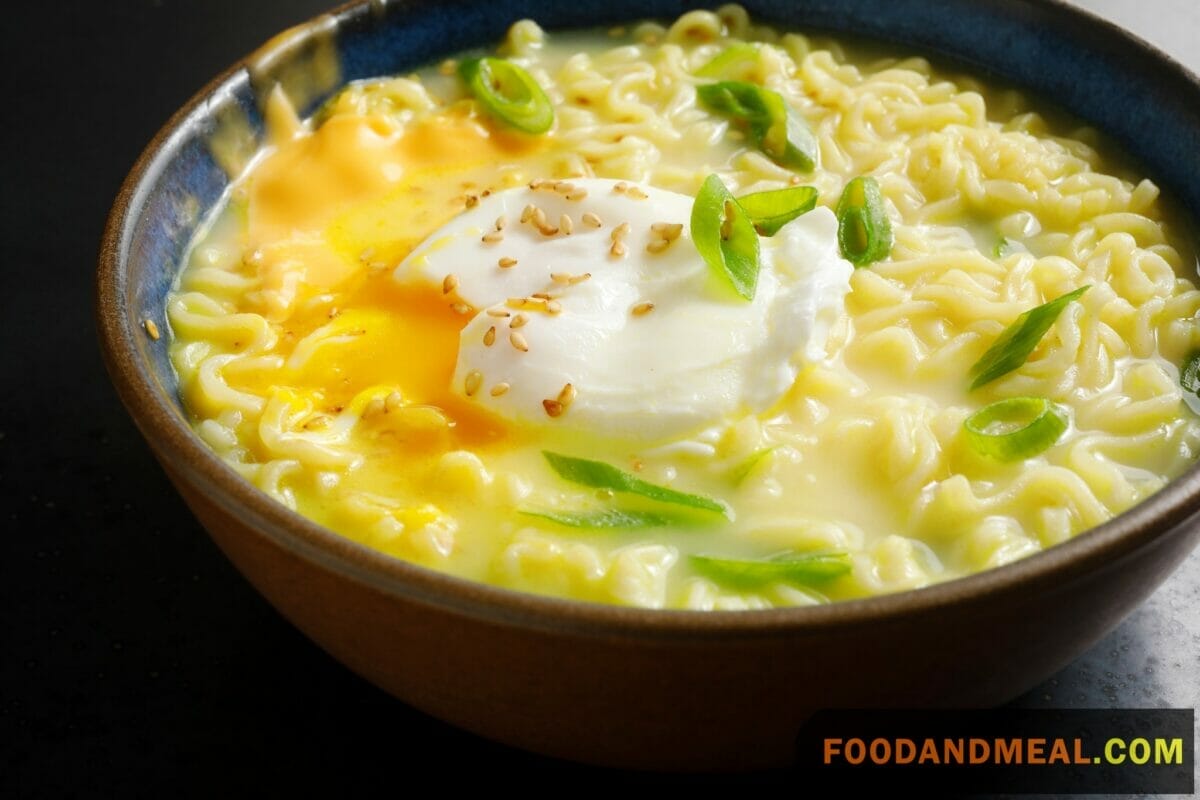 Ingredients:
4 cups chicken or vegetable broth
2 chicken thighs, boneless and skinless
2 cloves garlic, minced
1 onion, thinly sliced
1 cup shiitake mushrooms, sliced
1 cup baby spinach
1/2 cup heavy cream
1/4 cup unsalted butter
1 cup cheddar cheese, grated
2 teaspoons sesame oil
Salt and white pepper, to taste
8 oz ramen noodles
Green onions, for garnish
Sesame seeds, for garnish
Instructions:
Begin by placing your chicken thighs at the bottom of the slow cooker.
Add minced garlic, thinly sliced onions, and sliced shiitake mushrooms on top of the chicken.
Pour in 4 cups of chicken or vegetable broth. Season with a pinch of salt and white pepper.
Cover the slow cooker and set it to the low-heat setting. Let the ingredients cook and meld together for about 6 hours. This slow cooking process will develop deep flavors.
After 6 hours, remove the chicken thighs from the slow cooker. Shred the chicken using two forks and return it to the pot.
Stir in 1/2 cup of heavy cream and 1/4 cup of unsalted butter until they melt into the broth, creating a luscious, creamy base.
Add 1 cup of grated cheddar cheese, stirring until it's fully incorporated and the broth becomes creamy and cheesy.
Meanwhile, cook 8 oz of ramen noodles according to the package instructions. Drain and set aside.
Stir in 2 teaspoons of sesame oil into the slow cooker for a delightful aroma.
To serve, place a portion of cooked ramen noodles in a bowl. Ladle the creamy Butter and Cheese Shio Ramen broth over the noodles.
Add fresh baby spinach to each serving, allowing it to wilt in the hot broth.
Garnish your slow cooker Butter and Cheese Shio Ramen with sliced green onions and sesame seeds for extra flavor and visual appeal.
Tips for making Butter and Cheese Shio Ramen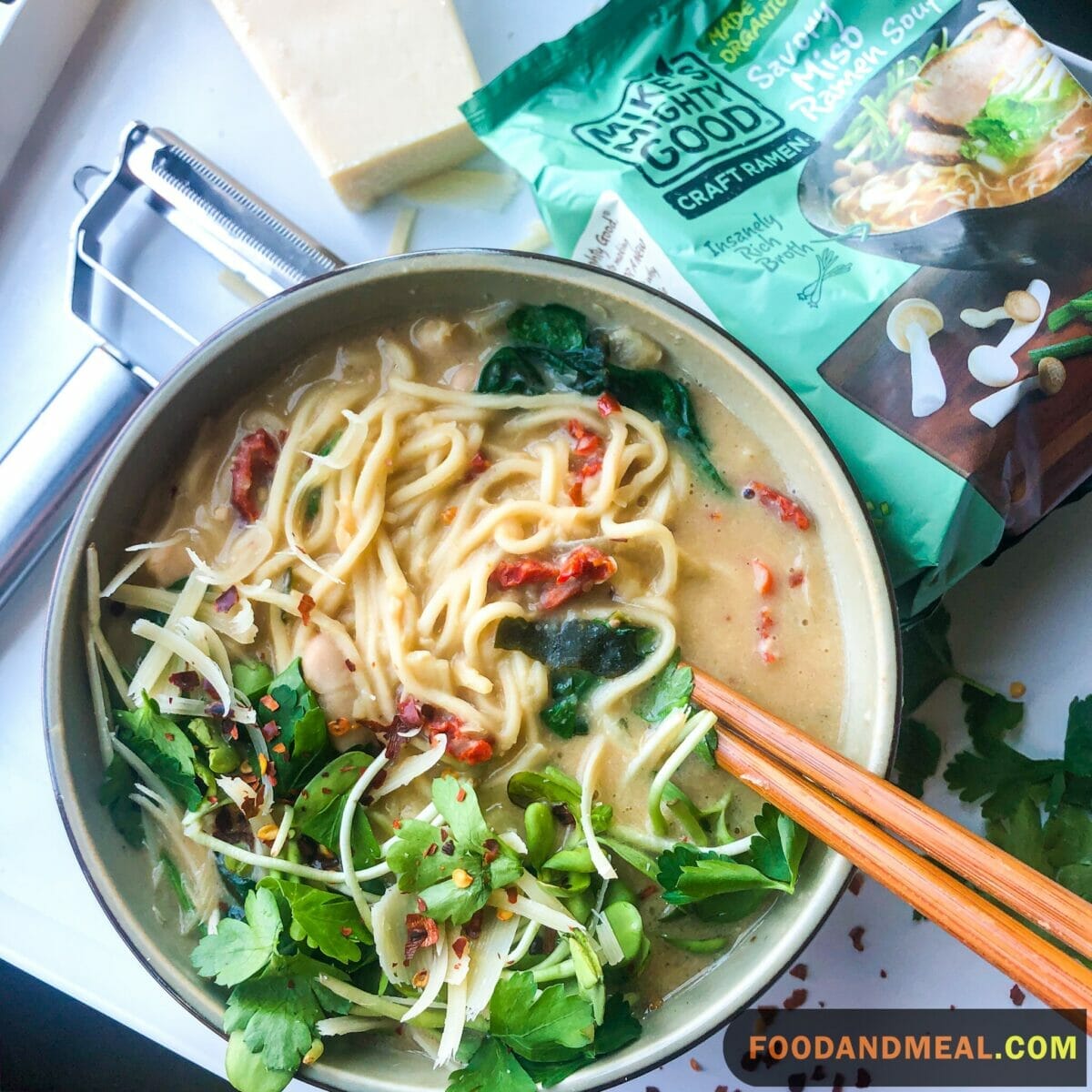 Cooking Tips
Quality Ingredients: Use high-quality butter, cheddar cheese, and fresh vegetables to enhance the overall flavor and texture of your ramen.
Slow Cooking: If you're using the slow cooker method, be patient. Letting the ingredients simmer together for a longer time will result in richer and more robust flavors.
Season Carefully: Be cautious with salt. Shio ramen is naturally salty, so taste before adding more salt. White pepper can also enhance the flavor without adding excessive saltiness.
Creamy Consistency: Achieve a velvety texture by slowly incorporating the heavy cream, butter, and cheddar cheese into the broth while stirring continuously.
Noodle Timing: Cook the ramen noodles separately and add them to each bowl just before serving to maintain their ideal texture.
Garnish Creatively: Experiment with garnishes like sesame seeds, nori seaweed, or even a soft-boiled egg to add extra layers of flavor and presentation.
Serving Suggestions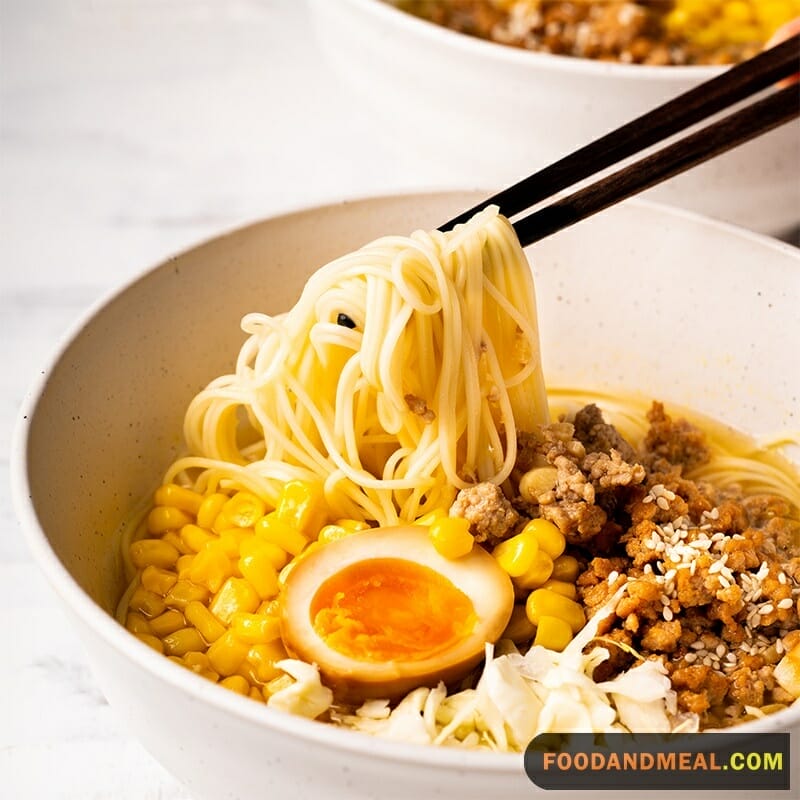 Pair with Pickles: Serve your ramen with Japanese pickles (tsukemono) like takuan (pickled daikon radish) or gari (pickled ginger) for a delightful contrast of flavors.
Sake or Green Tea: Complement the rich and creamy ramen with a glass of cold sake or a soothing cup of green tea.
Fresh Greens: Add a side of crisp, refreshing cucumber or wakame seaweed salad for a light and healthy accompaniment.
Spicy Condiments: Offer condiments like rayu (chili oil) or shichimi togarashi (Japanese seven-spice blend) for those who enjoy a spicy kick.
Breaded Favorites: Consider serving a portion of karaage (Japanese fried chicken) or tempura alongside your ramen for a hearty meal.
Ramen Burger: Use ramen noodles as buns for a unique and indulgent ramen burger experience. Fill with the creamy Butter and Cheese Shio Ramen.
Ramen Pizza: Transform leftovers into a ramen pizza by spreading the ramen noodles as a base, adding cheese and your favorite pizza toppings, then baking until crispy.
Ramen Soup Dumplings: Create ramen-filled soup dumplings for a fusion twist. The rich ramen broth encapsulated in dumpling form is sure to be a hit.
Frequently Asked Questions about Butter and Cheese Shio Ramen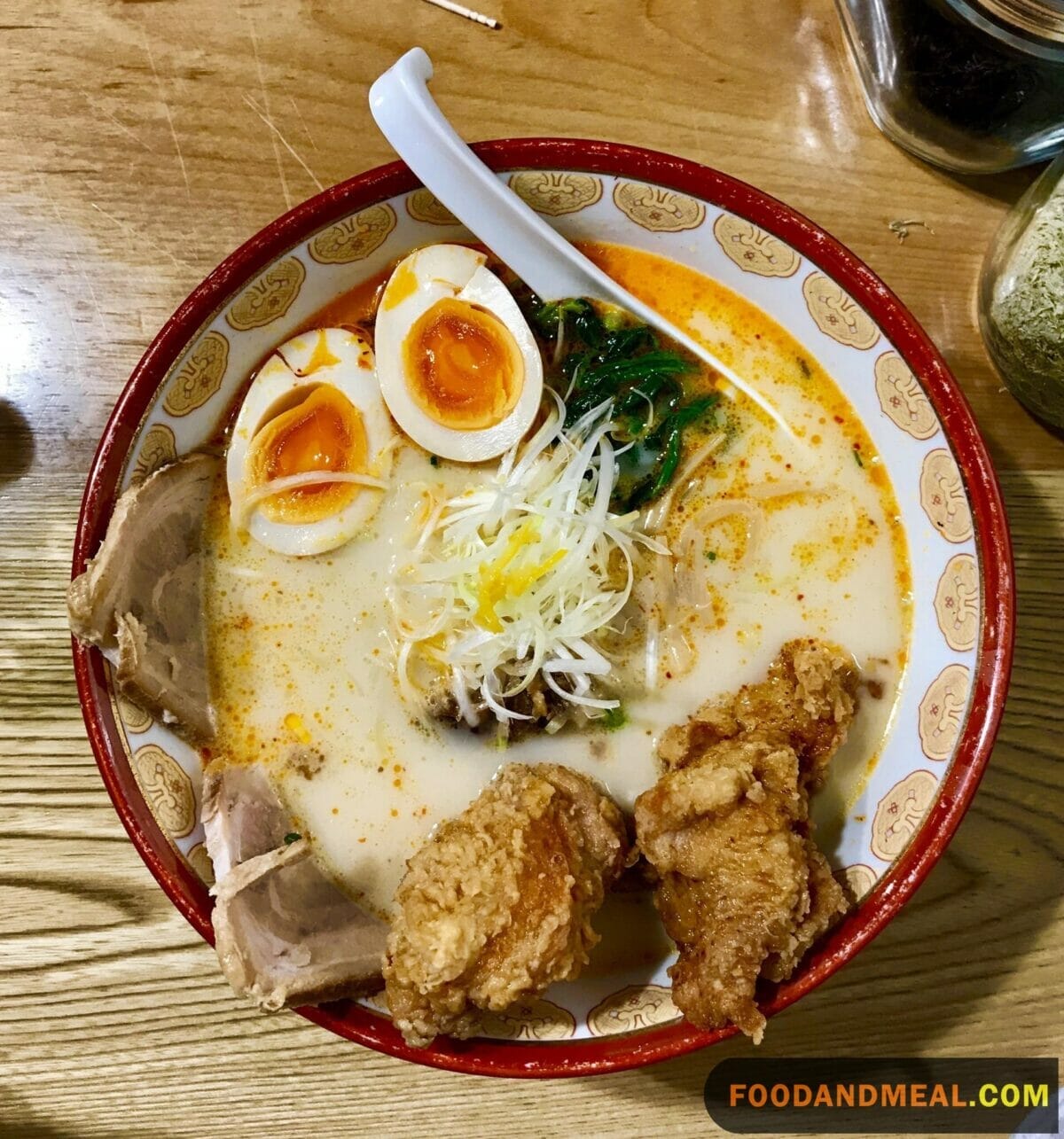 Can I Make This Recipe Vegetarian? Absolutely! You can use vegetable broth and omit the chicken to create a vegetarian version. Replace the chicken with tofu or your favorite meat alternative for added protein.
How Do I Reheat Leftovers? To reheat, gently warm your Butter and Cheese Shio Ramen on the stovetop over low heat, stirring to maintain its creamy consistency. Avoid boiling to prevent overcooking.
Can I Freeze the Leftovers? It's not recommended to freeze ramen with a creamy broth, as it may separate and become grainy upon thawing. It's best enjoyed fresh or refrigerated for a day or two.
Can I Use Different Cheese Varieties? While cheddar cheese adds a unique flavor, you can experiment with other cheeses like Gouda, Swiss, or Monterey Jack for different taste profiles.
How Spicy Can I Make It? Feel free to adjust the spiciness to your liking. Add more white pepper or chili oil to achieve your desired level of heat.
Explore our irresistible Butter and Cheese Shio Ramen recipe. Creamy, savory, and unforgettable. Create your perfect bowl today.
I'm James F Anderson, a noted sous chef from London and a Le Cordon Bleu alumnus. My career began in a Michelin-starred Parisian eatery, where my blend of classic and contemporary cooking, using seasonal ingredients, earned accolades. Recognized in culinary publications and on cooking shows, I'm committed to mentoring aspiring chefs and delivering memorable dining experiences, marking me as a standout talent in the culinary world.
Affiliate DisclaimerAbout The Content
As an affiliate, we may earn a commission from qualifying purchases. We get commissions for purchases made through links on this website from Amazon and other third parties.