Welcome to a culinary journey where succulence meets flavor in perfect harmony. In today's gastronomic adventure, we're delving into the art of crafting Teriyaki Chicken Thighs, a recipe that has stolen hearts across dining tables.
Teriyaki Chicken Thighs Recipes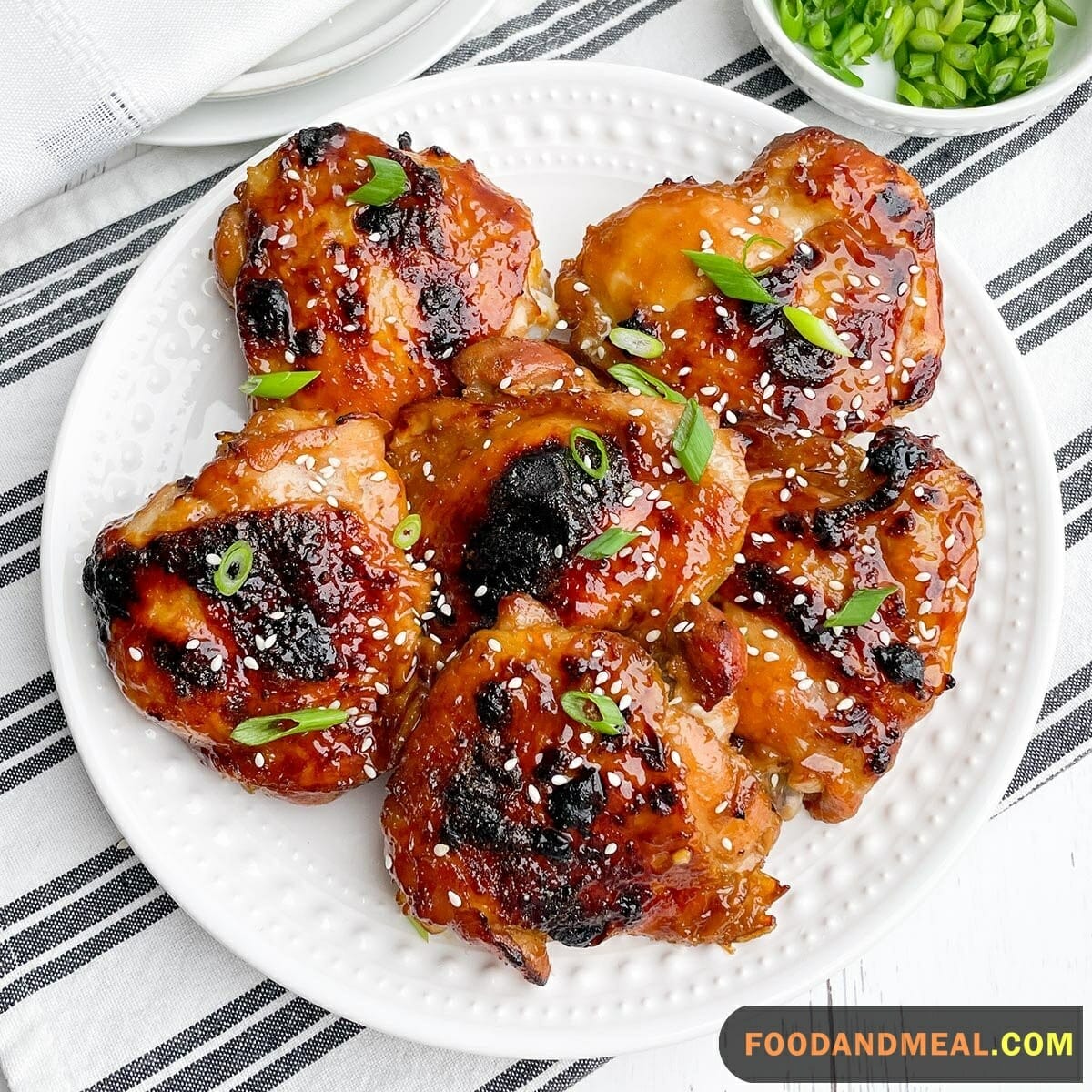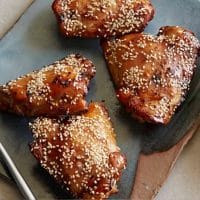 Garlic and Teriyaki Chicken Thighs
Make Teriyaki Chicken Thighs ahead of time. You can store them in the refrigerator for up to 3 days or freeze them for up to 3 months. They're also great for weeknight meals or entertaining. You can even make them gluten-free by substituting tamari or low-sodium soy sauce for the tamari. It's important to cut the chicken thighs into similar-sized pieces to ensure even cooking.
Print
Add to Collection
Go to Collections
Instructions
In a bowl, add in the smashed garlic, soy sauce, mirin and sake. Whisk to mix.

Pierce the chicken thighs over the surface with a knife.

In a skillet set over medium heat, add in the olive oil. Add in the chicken. Cook for 8 minutes on each side or until seared. Drain the excess grease.

Pour in the teriyaki sauce and cover. Cook for an additional minute.

Remove the cover. Continue to cook for 5 minutes or until the sauce is thick in consistency. Remove from heat.

Serve with a garnish of sliced green onions.
Notes
You can substitute boneless thighs for breasts. They will taste great, too! If you don't have a bone-in chicken thigh, you can use the skinless thighs instead. If you want to bake your chicken in the oven, turn it half-way through the process. This way, it will soak up the teriyaki sauce, giving your thighs a juicy texture.
Share by Email
Share on Facebook
Share on Twitter
Nutrition
Serving:
1
serving
|
Calories:
330
kcal
|
Carbohydrates:
12
g
|
Protein:
20
g
|
Fat:
22
g
|
Saturated Fat:
5
g
|
Polyunsaturated Fat:
4
g
|
Monounsaturated Fat:
10
g
|
Trans Fat:
1
g
|
Cholesterol:
111
mg
|
Sodium:
814
mg
|
Potassium:
281
mg
|
Fiber:
1
g
|
Sugar:
8
g
|
Vitamin A:
136
IU
|
Vitamin C:
2
mg
|
Calcium:
20
mg
|
Iron:
1
mg
© Food And Meal
This website provides approximate nutrition information for convenience and as a courtesy only. Nutrition data is gathered primarily from the Spoonacular Database, whenever available, or otherwise other online calculators.
Alternative Method: Oven-Baked Teriyaki Chicken Thighs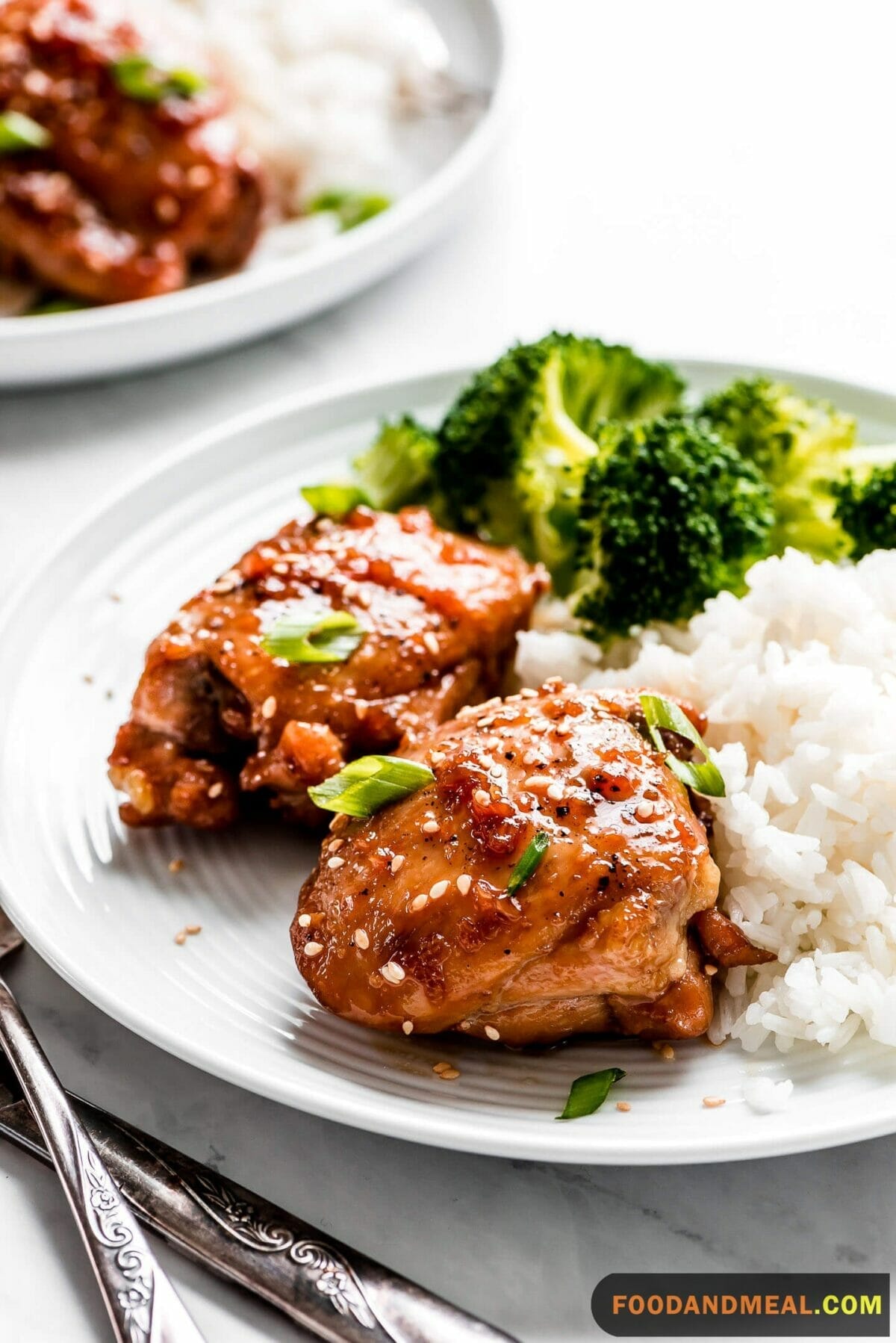 Prep Time: 10 minutes
Cook Time: 30 minutes
Total Time: 40 minutes
Servings: 4
Ingredients:
4 boneless, skinless chicken thighs
1/2 cup of teriyaki sauce
2 cloves garlic, minced
1 teaspoon ginger, minced
2 tablespoons honey
1 tablespoon sesame oil
1 tablespoon vegetable oil
1/4 teaspoon red pepper flakes (optional, for heat)
Salt and black pepper, to taste
Sesame seeds and chopped green onions for garnish
Instructions:
Preheat the Oven: Start by preheating your oven to 375°F (190°C). This temperature ensures that the chicken cooks evenly and develops a lovely caramelized teriyaki glaze.
Prepare the Marinade: In a bowl, combine the teriyaki sauce, minced garlic, minced ginger, honey, sesame oil, vegetable oil, and red pepper flakes if you want to add a bit of heat. Mix everything together until the marinade is well-blended.
Marinate the Chicken: Place the chicken thighs in a large zip-top bag or a shallow dish. Pour the teriyaki marinade over the chicken, making sure each thigh is coated evenly. Seal the bag or cover the dish and refrigerate for at least 30 minutes. For an even richer flavor, marinate for a few hours or overnight.
Prepare the Baking Dish: Take an oven-safe baking dish and lightly grease it with cooking spray or a small amount of vegetable oil. This prevents the chicken from sticking to the dish while baking.
Bake the Chicken: Remove the marinated chicken thighs from the refrigerator and arrange them in a single layer in the prepared baking dish. Season with salt and black pepper to taste. Bake in the preheated oven for about 25-30 minutes, or until the chicken reaches an internal temperature of 165°F (74°C).
Glaze and Broil (Optional): If you desire a caramelized, slightly crispy exterior, you can turn on the broiler for the last 2-3 minutes of cooking. Keep a close eye on the chicken to prevent burning.
Serve: Once the chicken is cooked to perfection and has a beautiful teriyaki glaze, remove it from the oven. Garnish with sesame seeds and chopped green onions for an extra layer of flavor and presentation.
Enjoy: Serve your oven-baked teriyaki chicken thighs with your choice of sides, such as steamed rice, stir-fried vegetables, or a fresh green salad. Drizzle any remaining teriyaki sauce from the baking dish over the chicken for an extra burst of flavor.
Tips for making Teriyaki Chicken Thighs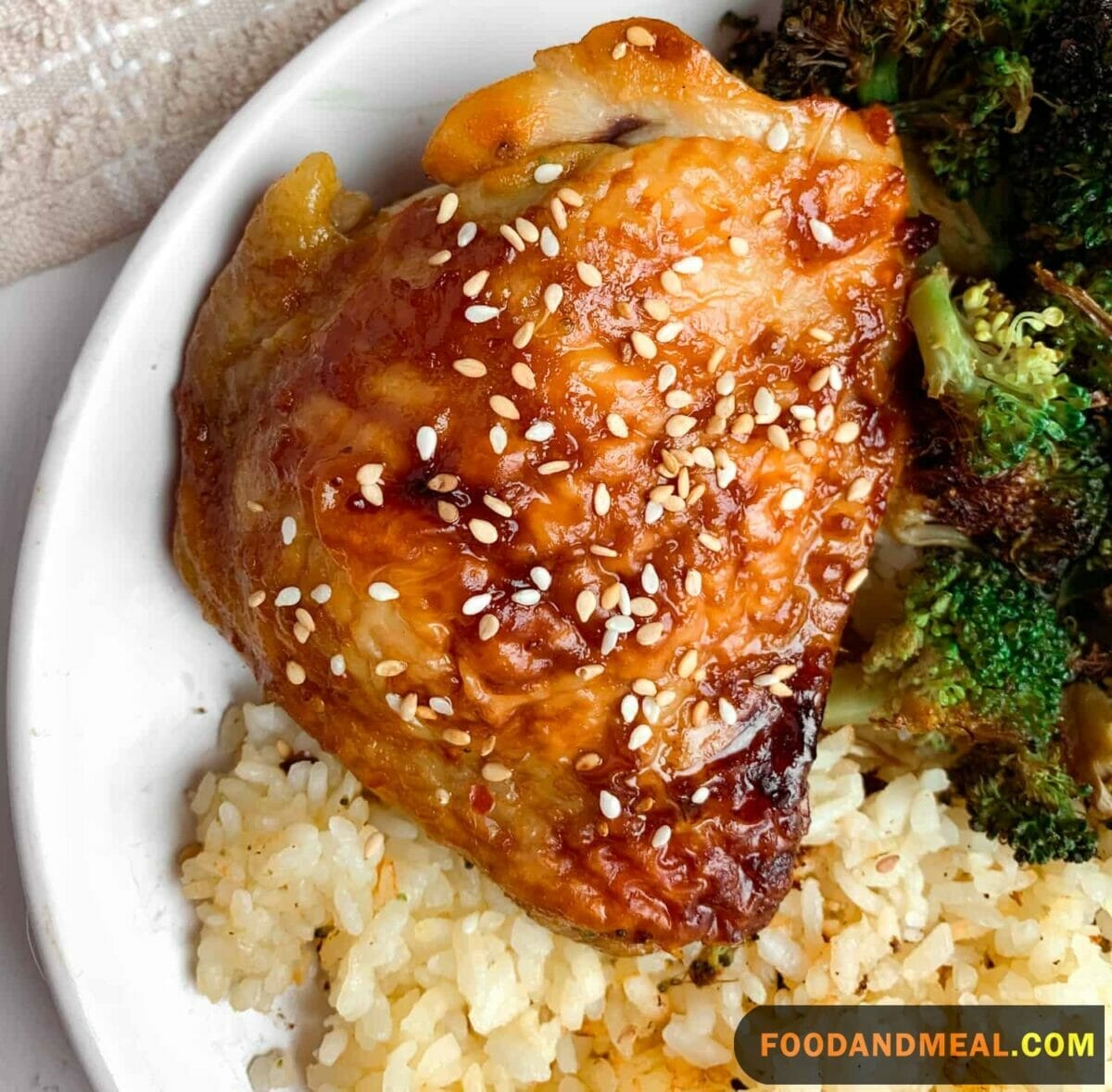 Cooking Tips to Elevate Your Teriyaki Chicken Thighs
Marinate for Maximum Flavor: For the most flavorful results, marinate your chicken thighs for at least 30 minutes. For an even richer taste, marinate them for several hours or overnight. This allows the chicken to absorb all the delicious teriyaki goodness.
Use a Meat Thermometer: To guarantee that your chicken is cooked to perfection without overcooking, invest in a meat thermometer. The internal temperature should reach 165°F (74°C).
Baste for Extra Flavor: During baking or grilling, baste the chicken thighs with the teriyaki sauce from the marinade. This adds an extra layer of flavor and keeps the chicken moist.
Opt for High-Quality Teriyaki Sauce: The quality of your teriyaki sauce matters. Choose a high-quality, store-bought sauce or make your own for an authentic taste. Look for sauces that are well-balanced in sweetness and saltiness.
Adjust Sweetness to Taste: Depending on your preference, you can adjust the sweetness of the teriyaki sauce by adding more or less honey or sugar. Taste the marinade and tweak it to your liking.
Garnish Thoughtfully: Garnish your teriyaki chicken thighs with sesame seeds and freshly chopped green onions to add a burst of color and flavor. These simple additions make a big difference in presentation.
Broil for a Caramelized Finish: If you want a slightly crispy exterior and a caramelized glaze, turn on the broiler for the last few minutes of cooking. Keep an eye on it to prevent burning.
Serving Suggestions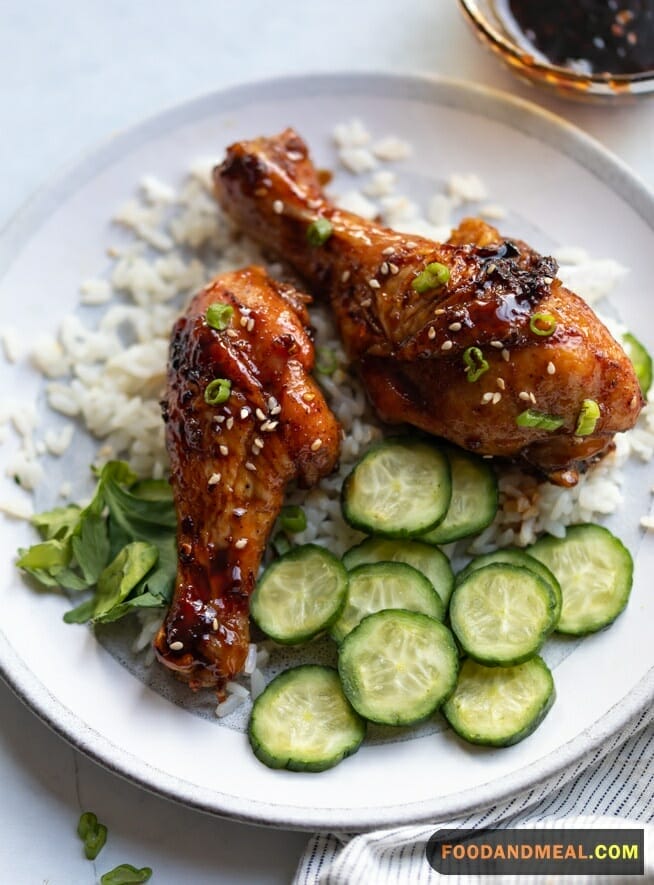 Steamed Rice: Serve your teriyaki chicken thighs over a bed of fluffy, steamed white or brown rice. The rice absorbs the savory teriyaki sauce and balances the sweetness.
Stir-Fried Vegetables: Prepare a colorful stir-fry with broccoli, bell peppers, carrots, and snap peas. The crisp-tender vegetables add freshness and texture to the dish.
Noodles: Try serving your teriyaki chicken with yakisoba noodles or udon noodles. Toss them in a bit of teriyaki sauce for a flavorful twist.
Fresh Green Salad: Create a refreshing contrast with a side salad made of mixed greens, cucumber, and cherry tomatoes. Drizzle with a light sesame dressing.
Pineapple Slices: Add a tropical touch by serving pineapple slices alongside your teriyaki chicken. The sweet and tangy pineapple pairs wonderfully with the savory sauce.
Teriyaki Sliders: For a fun twist, make mini teriyaki chicken thigh sliders. Place each cooked chicken thigh between slider buns with lettuce and a slice of pineapple.
Teriyaki Rice Bowl: Create a custom rice bowl with teriyaki chicken, steamed rice, avocado slices, and a soft-boiled egg. Drizzle extra teriyaki sauce for extra flavor.
Beverage Pairing: Complement your meal with a cold glass of iced green tea, a crisp lager beer, or a fruity white wine. These beverages harmonize with the teriyaki flavors.
Frequently Asked Questions about Teriyaki Chicken Thighs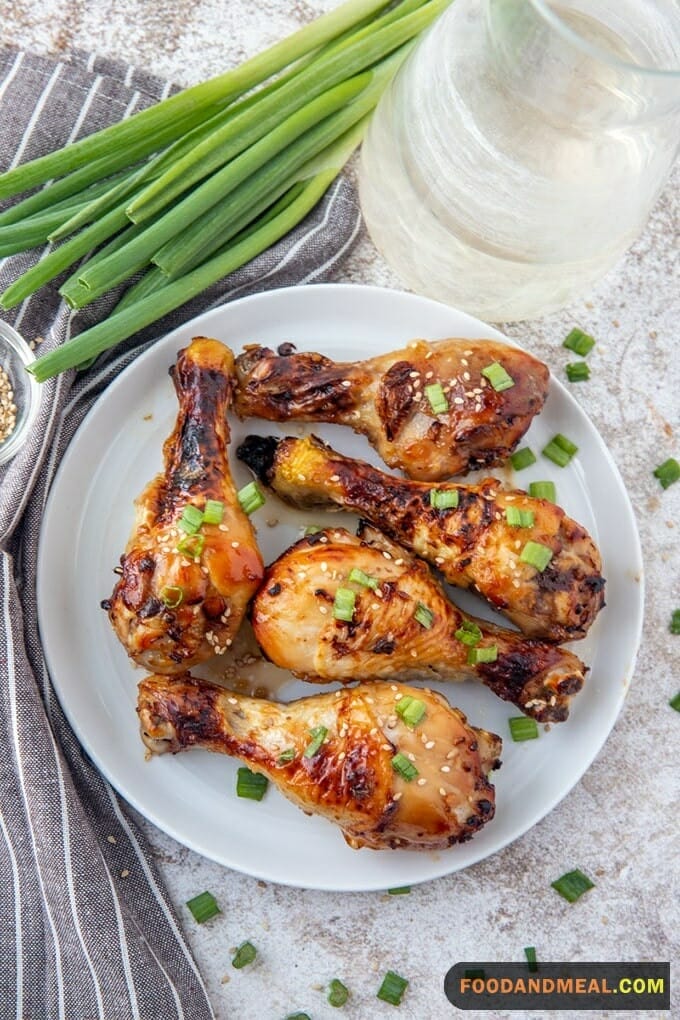 Can I use boneless, skinless chicken breasts instead of chicken thighs for this recipe? Yes, you can use boneless, skinless chicken breasts if you prefer. Keep in mind that chicken breasts may cook faster than thighs, so adjust the cooking time accordingly to avoid overcooking and drying out the meat.
Is there a substitute for soy sauce if I have a soy allergy? If you have a soy allergy or prefer an alternative, you can use tamari sauce, which is a wheat-free version of soy sauce. Coconut aminos, often available in health food stores, is another soy sauce substitute with a slightly sweeter flavor.
Can I make this recipe ahead of time and reheat it? Absolutely! Teriyaki chicken thighs can be made ahead of time and reheated. Store the cooked chicken in an airtight container in the refrigerator for up to three days. Reheat in the oven, microwave, or on the stovetop until warmed through.
Can I freeze teriyaki chicken thighs? Yes, you can freeze cooked teriyaki chicken thighs. Ensure they are completely cooled before placing them in an airtight container or freezer-safe bag. Label and date the container, and they can be stored in the freezer for up to three months. Thaw in the refrigerator before reheating.
What can I do with leftover teriyaki chicken thighs?Leftover teriyaki chicken thighs are incredibly versatile. You can slice them and use them in salads, sandwiches, wraps, or rice bowls. They also make a fantastic filling for teriyaki chicken tacos or quesadillas. Be creative and enjoy delicious meals with your leftovers!
How can I make this recipe gluten-free? To make this recipe gluten-free, ensure you use gluten-free soy sauce or tamari sauce, as regular soy sauce contains gluten. Check the labels of other ingredients, such as teriyaki sauce, to confirm they are gluten-free as well.
Can I use homemade teriyaki sauce instead of store-bought? Absolutely! Homemade teriyaki sauce can add a personal touch to your dish. Feel free to substitute it for store-bought teriyaki sauce. Just ensure your homemade sauce is well-balanced in flavor with the right combination of sweet and savory elements.
Indulge in the savory delight of Teriyaki Chicken Thighs with our easy recipe. Master the art of marination and baking, bringing Japanese flavors to your table. Subscribe for more culinary adventures!
I'm James F Anderson, a noted sous chef from London and a Le Cordon Bleu alumnus. My career began in a Michelin-starred Parisian eatery, where my blend of classic and contemporary cooking, using seasonal ingredients, earned accolades. Recognized in culinary publications and on cooking shows, I'm committed to mentoring aspiring chefs and delivering memorable dining experiences, marking me as a standout talent in the culinary world.
Affiliate DisclaimerAbout The Content
As an affiliate, we may earn a commission from qualifying purchases. We get commissions for purchases made through links on this website from Amazon and other third parties.