Pork Belly Chashu Ramen is a delicious and healthy Japanese soup. This recipe uses rolled and block-like pork belly as its main ingredient. It's not uncommon to find this dish in Japan, but it is not commonly available in the US. This soup combines the traditional flavors of the country with Chinese flavors. It is a great way to eat more lean meat. The spiciness and flavor of the broth make this dish a perfect choice for the holidays.
Pork Belly Chashu Ramen Recipes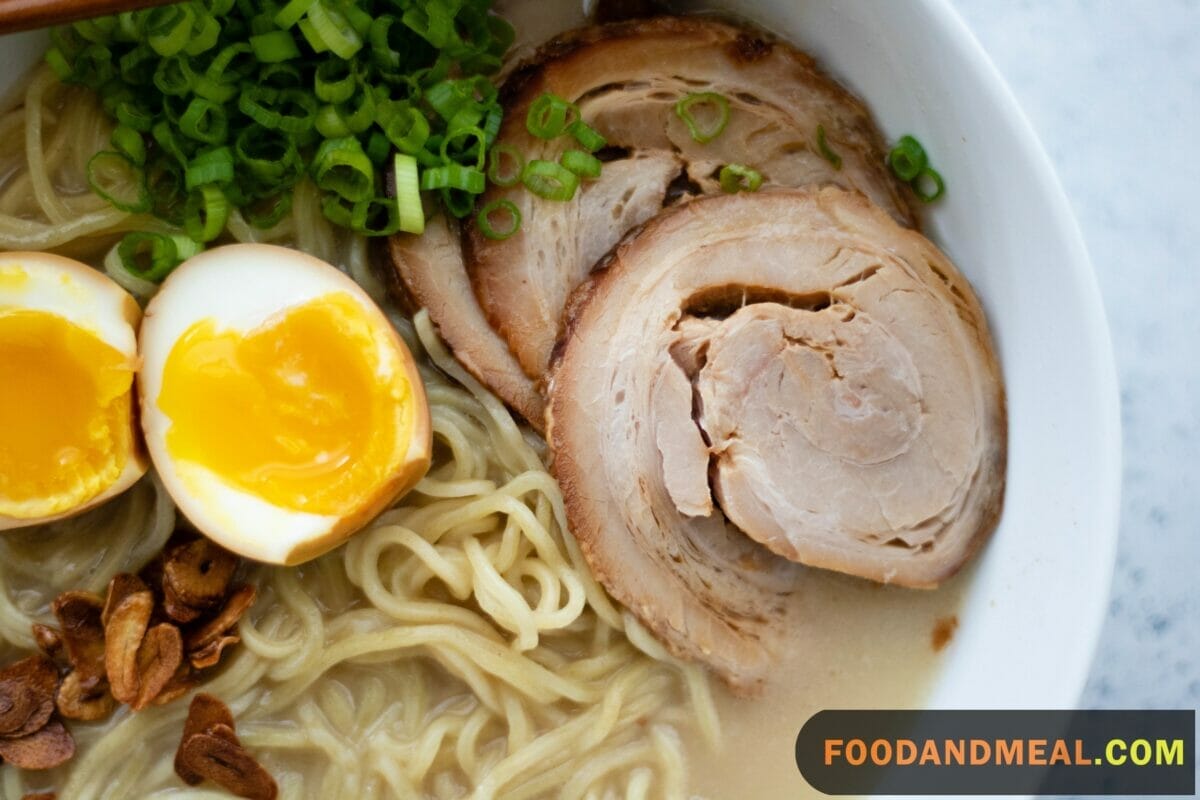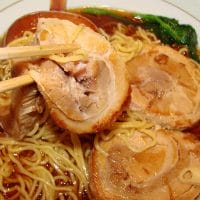 Pork Belly Chashu Ramen
This bowl is called chashumen, which literally means "roasted-pork noodles." If you really love chashu, covering the entire bowl in sliced pork is not a problem. Be sure to place the chashu last, and cover every inch of the bowl with meat.
Print
Add to Collection
Go to Collections
Instructions
With all your ingredients ready to go, bring a large pot of water to a boil over medium-high heat.

Heat your ramen bowls by filling them halfway with hot water. The bowls don't need to be scalding, but they should be hot to the touch. Dump out the hot water and dry the bowls with some paper towels or a clean towel.

Put the tare and soup in a medium saucepan. Mix and bring to a simmer over low heat.

Cook the noodles in the large pot of boiling water. Ramen that has been cut to a standard thickness (about 1 mm) will cook in 1 to 2 minutes.

About 30 seconds before the noodles are finished cooking, ladle the soup into the ramen bowls.

Drain the noodles, taking care to shake off as much excess water as you can. Carefully place some noodles in each bowl of soup, keeping them tidy.

Place 1 egg and a sprinkle of negi neatly on the ramen. Then place 4 to 8 slices of chashu on top; try to cover as much of the ramen with chashu as you can. Serve immediately.
Notes
This is a lot of meat, so slice the chashu as thin as you can.
Soup: Mix equal parts unseasoned low-sodium chicken broth and dashi broth. Japanese dashi powder to make broth can be found in the Asian foods section of many supermarkets or in Asian grocery stores or online.
Noodles: Use 3 ounces of dried ramen noodles per bowl, preferably the thin, straight style.
Share by Email
Share on Facebook
Share on Twitter
Nutrition
Serving:
1
bowl
|
Calories:
578
kcal
|
Carbohydrates:
114
g
|
Protein:
22
g
|
Fat:
2
g
|
Saturated Fat:
1
g
|
Polyunsaturated Fat:
1
g
|
Monounsaturated Fat:
1
g
|
Sodium:
1760
mg
|
Potassium:
476
mg
|
Fiber:
5
g
|
Sugar:
4
g
|
Calcium:
42
mg
|
Iron:
2
mg
© Food And Meal
This website provides approximate nutrition information for convenience and as a courtesy only. Nutrition data is gathered primarily from the Spoonacular Database, whenever available, or otherwise other online calculators.
Alternative Method: Pork Belly Chashu Ramen in a Slow Cooker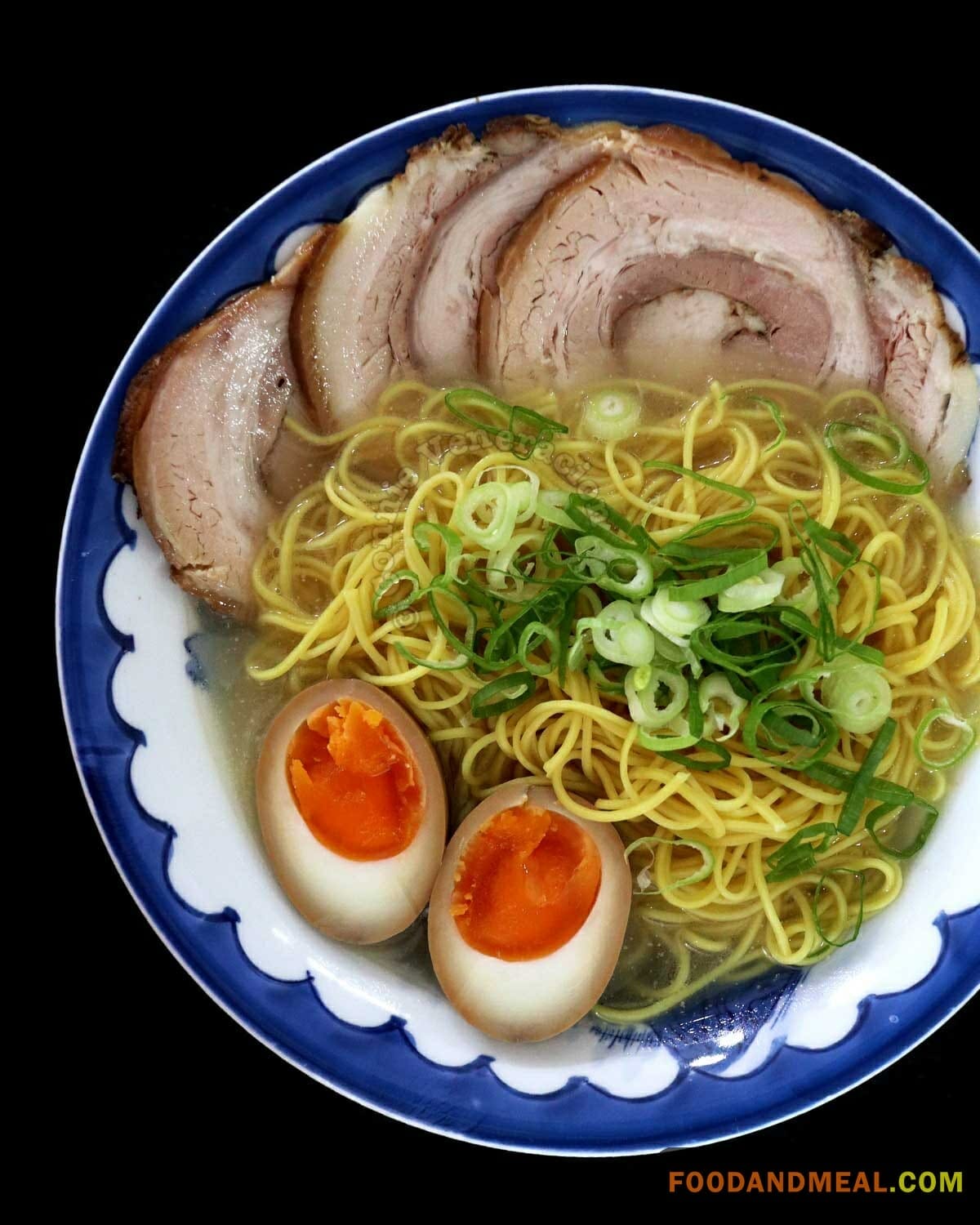 Ingredients:
1 pound pork belly, skin-on
1 cup soy sauce
1/2 cup sake (Japanese rice wine)
1/2 cup mirin (sweet rice wine)
1/4 cup sugar
1 thumb-sized piece of ginger, sliced
2 cloves garlic, minced
2 green onions, chopped
1 star anise
2 cups chicken broth
4 servings of ramen noodles
Soft-boiled eggs, bamboo shoots, and nori for garnish
Instructions:
Start by searing the pork belly. In a hot skillet, place the pork belly skin-side down. Sear until the skin is crispy and golden brown. Transfer the pork belly to your slow cooker.
In a mixing bowl, combine the soy sauce, sake, mirin, sugar, ginger, garlic, green onions, and star anise to create the chashu marinade. Pour this mixture over the pork belly in the slow cooker.
Add the chicken broth to the slow cooker, ensuring the pork belly is partially submerged in the liquid.
Set your slow cooker to the low heat setting and let it cook for 6-8 hours, or until the pork belly is tender and easily falls apart.
Once the pork is done, remove it from the slow cooker and let it rest for a few minutes. Then, slice it into thin pieces.
While the pork is resting, cook the ramen noodles according to the package instructions. Drain and set aside.
To serve, place a portion of cooked ramen noodles in each bowl, ladle some of the flavorful chashu broth over the noodles, and top with slices of the tender pork belly.
Garnish with soft-boiled eggs, bamboo shoots, and a sheet of nori, if desired.
Serve hot, and enjoy your Pork Belly Chashu Ramen prepared effortlessly in a slow cooker.
Tips for making Pork Belly Chashu Ramen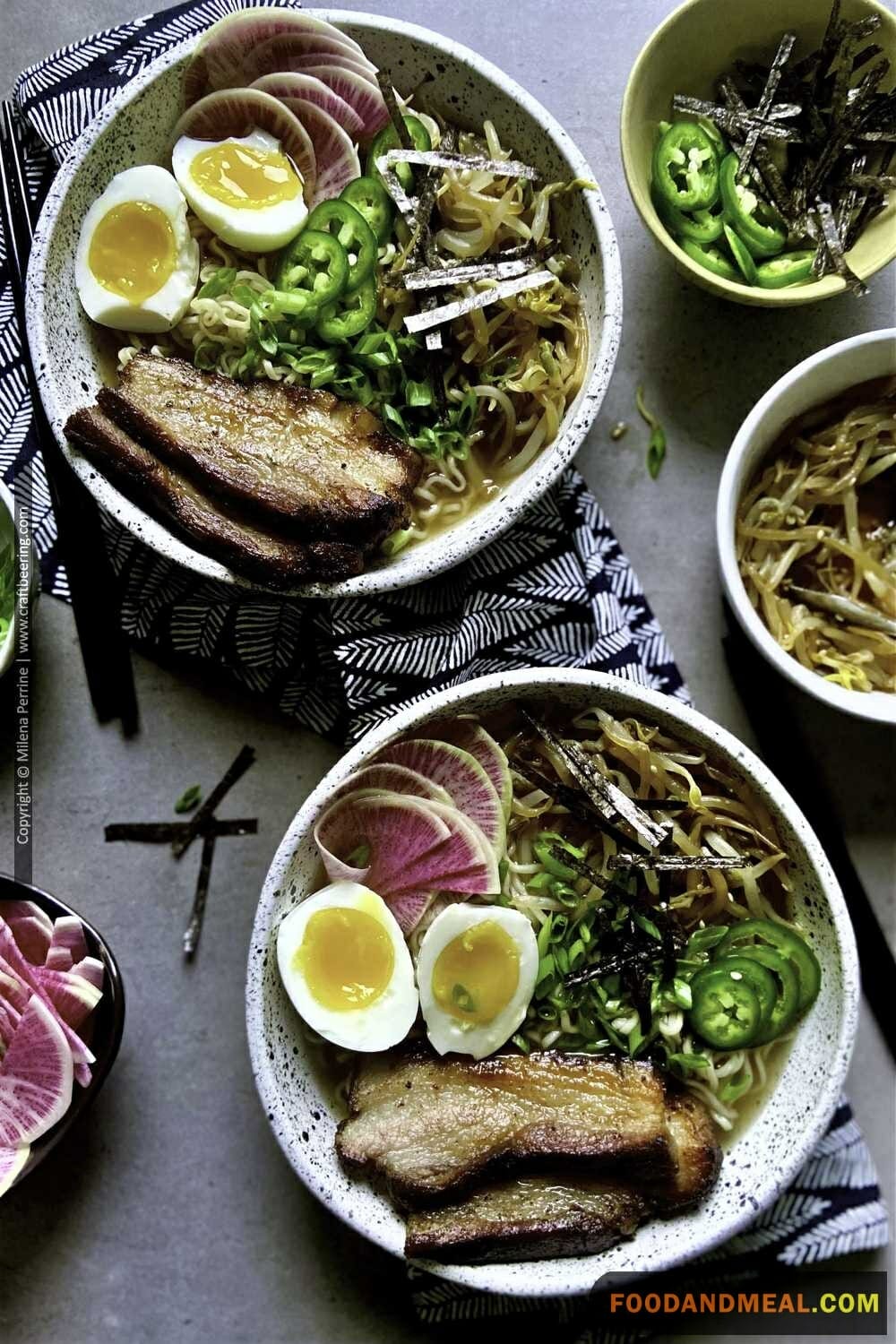 Cooking Tips
Tips and Tricks for the Best Results:
Searing Matters: When searing the pork belly, ensure the skin gets beautifully crispy. A hot skillet is your best friend for this step.
Marinate with Patience: Let the pork belly marinate in the chashu sauce for at least an hour before slow cooking. This allows the flavors to penetrate deeply.
Low and Slow: The key to tender chashu is cooking it in the slow cooker on the low setting. Resist the temptation to rush; slow cooking works its magic over time.
Skim the Fat: During cooking, periodically skim excess fat from the broth to ensure a cleaner and more concentrated flavor.
Rest and Slice: After slow cooking, let the pork belly rest before slicing. This helps retain its juiciness.
Common Mistakes to Avoid:
Skipping the Sear: Don't skip the searing step; it imparts incredible flavor and texture to the pork belly.
Rushing the Marinade: Allow the pork to marinate adequately. Hastening this step can result in less flavorful chashu.
High Heat Cooking: Avoid high-heat cooking methods for chashu; slow and low is the way to go.
Overcooking: Be mindful of overcooking the pork belly. It should be tender but not falling apart.
Not Skimming Fat: Skipping the fat-skimming step can lead to a greasier broth.
Serving Suggestions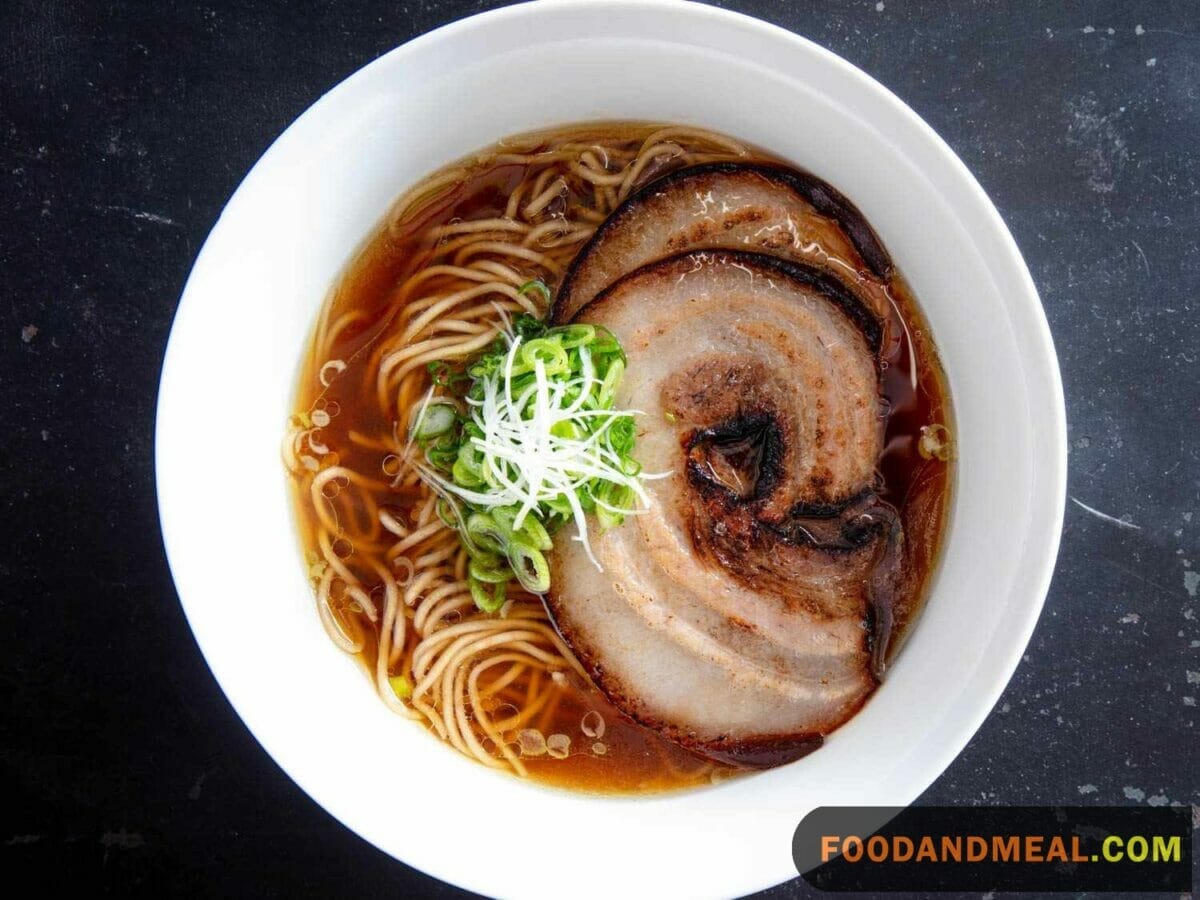 Recommend Sides, Garnishes, and Beverages:
Soft-Boiled Eggs: Top your ramen with a perfectly soft-boiled egg, adding creaminess to each bite.
Bamboo Shoots (Menma): Menma adds a delightful crunch and earthy flavor. You can find canned or vacuum-packed varieties at Asian grocery stores.
Nori Sheets: A sheet of nori (seaweed) is a classic ramen garnish that complements the flavors.
Sesame Seeds: A sprinkle of toasted sesame seeds on top adds a nutty aroma.
Green Onions: Freshly chopped green onions provide a pop of color and a mild oniony kick.
Beverage Pairing: Pair your Pork Belly Chashu Ramen with a cold Japanese beer, a refreshing iced green tea, or a Japanese soda for the ultimate ramen experience.
Different Ways to Serve:
Traditional Bowl: Serve your ramen in deep bowls with the sliced pork belly on top of the noodles, and garnish generously.
Build-Your-Own Ramen: Set up a ramen bar with various toppings and let everyone customize their bowl.
Chashu Rice Bowl: Use the pork belly chashu as a filling for rice bowls, drizzling some chashu sauce over the top.
Chashu Bun: Create savory chashu buns by placing a slice of pork belly and your favorite toppings inside a steamed bun.
Cold Ramen Salad: Use leftover chashu and ramen noodles in a cold salad with sesame dressing, fresh vegetables, and herbs.
FAQs about Pork Belly Chashu Ramen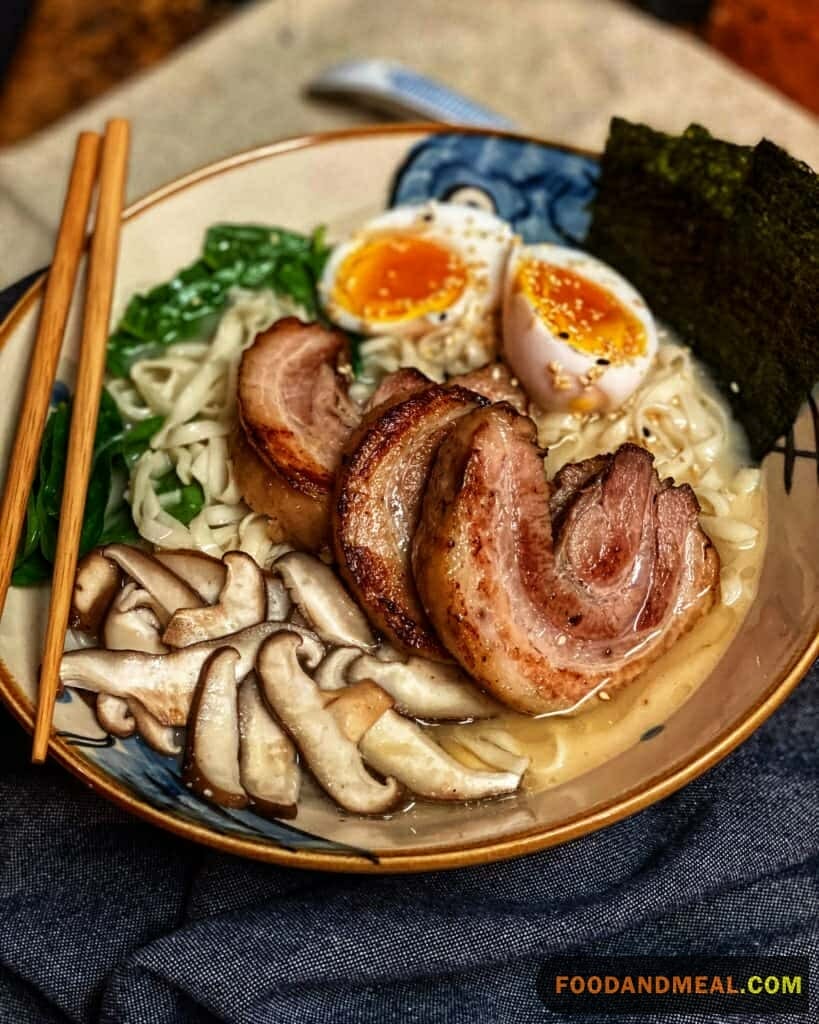 Can I freeze leftover chashu? Yes, you can freeze leftover chashu. Wrap it tightly in plastic wrap and place it in an airtight container or freezer bag. It should be good for up to 2-3 months.
How do I reheat chashu? To reheat, simply place the frozen or refrigerated chashu slices in simmering broth until warmed through. Alternatively, you can microwave them for a short time.
Can I use other cuts of pork for chashu? While pork belly is traditional, you can experiment with other cuts like pork shoulder or butt. Just ensure they have some fat for flavor and tenderness.
What if I don't have a slow cooker? If you don't have a slow cooker, you can use an oven on a low temperature (around 275°F or 135°C) and a covered, oven-safe dish. Cook for 4-5 hours until tender.
Can I make chashu without alcohol? Yes, you can make chashu without sake. Simply substitute with an equal amount of chicken or vegetable broth for a similar depth of flavor.
Create ramen perfection with our Pork Belly Chashu Ramen recipe. Discover cooking tips, serving suggestions, and FAQs to master this Japanese classic. Elevate your culinary skills today.
I'm James F Anderson, a noted sous chef from London and a Le Cordon Bleu alumnus. My career began in a Michelin-starred Parisian eatery, where my blend of classic and contemporary cooking, using seasonal ingredients, earned accolades. Recognized in culinary publications and on cooking shows, I'm committed to mentoring aspiring chefs and delivering memorable dining experiences, marking me as a standout talent in the culinary world.
Affiliate DisclaimerAbout The Content
As an affiliate, we may earn a commission from qualifying purchases. We get commissions for purchases made through links on this website from Amazon and other third parties.