The perfect meal for busy weeknights is beef teriyaki noodles, made with a quick and easy Soy Vay Veri Teriyaki Sauce. This recipe is so delicious and simple to prepare that you won't believe it took you only 20 minutes to prepare. Make sure you brown your ground beef thoroughly and drain. Cook the sauce for 5 to 6 minutes, and then add the vegetables and udon noodles. Finish by serving the dish with a drizzle of soy sauce.
Beef Teriyaki Noodles Recipes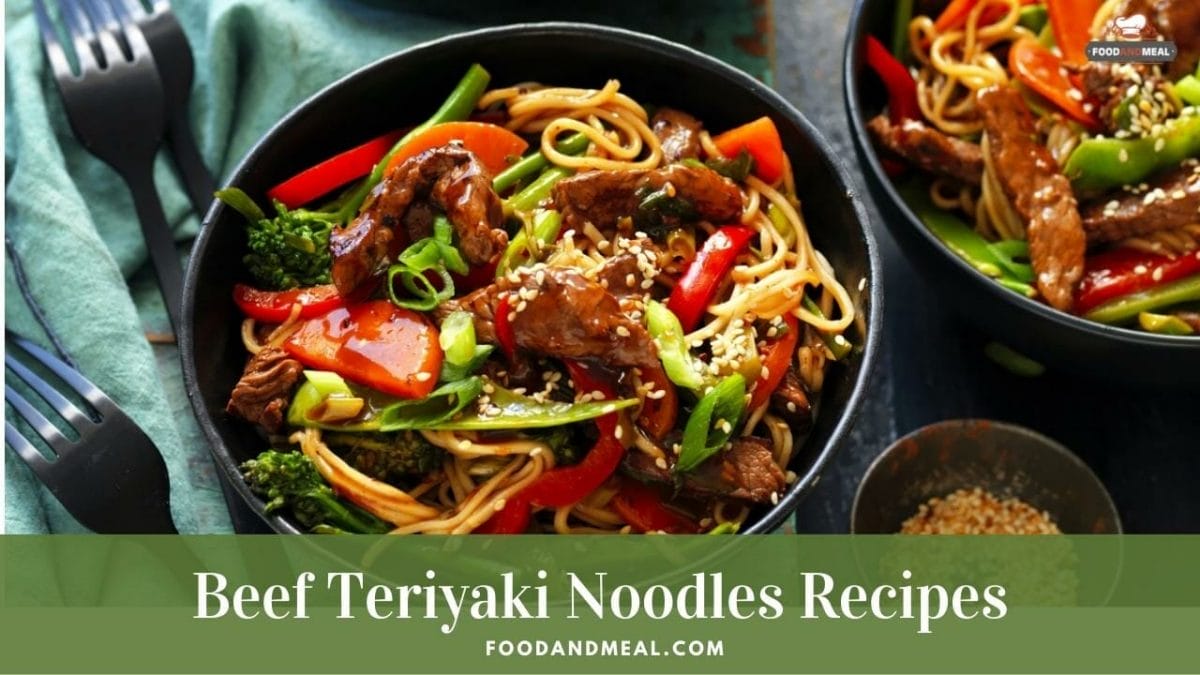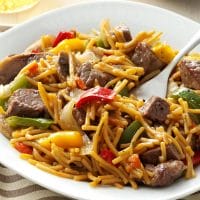 Beef Teriyaki Noodles
This is a simple and delicious teriyaki dish that nobody will be able to resist once they get a taste of it. Made in a homemade teriyaki sauce, there is nothing you won't be able to complain about.
Print
Add to Collection
Go to Collections
Instructions
In a bowl, add in the flank steak pieces and cornstarch. Toss to coat.

Prepare the lo mein noodles according to the directions on the package. Drain and set the noodles aside.

In a skillet set over medium to high heat, add in 1 tablespoon of vegetable oil. Add in the coated steak. Cook for 4 minutes on each side or until cooked through. Remove and set aside.

Add in another tablespoon of vegetable oil. Add in the minced garlic and grated ginger. Cook for 1 to 2 minutes.

In a bowl, add in the soy sauce, light brown sugar, mirin, dash of fish sauce and sesame oil. Whisk until mixed. Pour into the skillet. Cook for 2 to 3 minutes or until simmering.

In a separate bowl, add in the cornstarch and water. Whisk until smooth in consistency. Pour into the skillet. Continue to cook for 1 to 2 minutes or until thick in consistency.

Add in the steak pieces and cooked noodles. Toss to coat. Remove from heat.

Serve immediately with a garnish of sliced green onions and sesame seeds.
Notes
In addition to beef, teriyaki noodles are also great for lunches. They're quick to prepare and can be eaten throughout the week. Just prepare the teriyaki sauce and add the beef. If you are using canned sauce, add a few tablespoons of water instead of water. It will thicken the sauce, and you're ready to eat! Just remember to season the noodles and eat!
Share by Email
Share on Facebook
Share on Twitter
Nutrition
Serving:
4
servings
|
Calories:
819
kcal
|
Carbohydrates:
131
g
|
Protein:
36
g
|
Fat:
17
g
|
Saturated Fat:
4
g
|
Polyunsaturated Fat:
5
g
|
Monounsaturated Fat:
5
g
|
Trans Fat:
1
g
|
Cholesterol:
68
mg
|
Sodium:
1702
mg
|
Potassium:
492
mg
|
Fiber:
2
g
|
Sugar:
34
g
|
Vitamin A:
1
IU
|
Vitamin C:
1
mg
|
Calcium:
56
mg
|
Iron:
3
mg
© Food And Meal
This website provides approximate nutrition information for convenience and as a courtesy only. Nutrition data is gathered primarily from the Spoonacular Database, whenever available, or otherwise other online calculators.
Tips And Tricks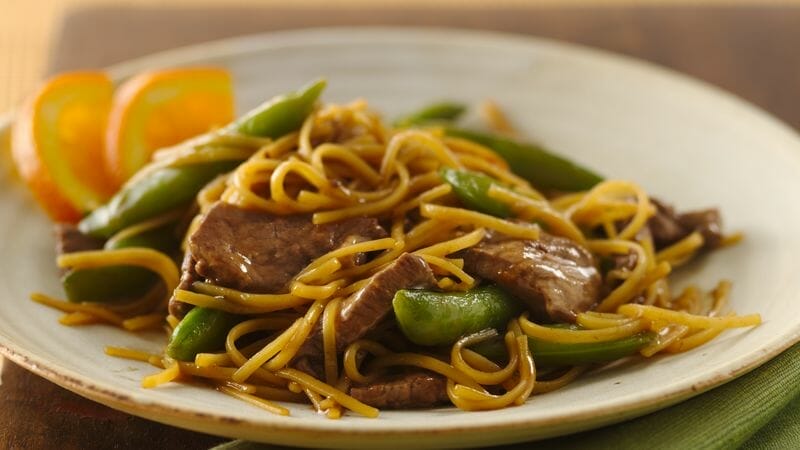 Welcome to the heart of culinary expertise. Here's how to ensure your Beef Teriyaki Noodles turn out spectacular:
Tips and Tricks for Best Results: Marinate beef for at least 30 minutes to infuse the teriyaki magic. Slice it against the grain for maximum tenderness.
Avoid These Common Mistakes: Watch the cooking time – overcooking can make the beef tough. Keep an eye on the noodles too; they should be al dente, not mushy.
Serving Suggestions: A Culinary Symphony
Now, let's bring your Beef Teriyaki Noodles masterpiece to the table in style:
Ideal Occasions and Audience: This dish bridges casual and special occasions. It's perfect for family dinners, cozy date nights, and even gatherings with friends who appreciate the fusion of flavors.
Complementary Sides, Garnishes, and Beverages: Pair with steamed broccoli or stir-fried bok choy for a wholesome meal. Garnish with toasted sesame seeds and finely chopped scallions for a burst of freshness. Accompany with a chilled glass of jasmine green tea or a fruity sake for a harmonious experience.
Versatile Serving Styles: Serve this dish as a vibrant one-bowl wonder or present it on individual plates for a gourmet touch. For a fun twist, transform it into a noodle salad by tossing in some crispy veggies and a zesty dressing.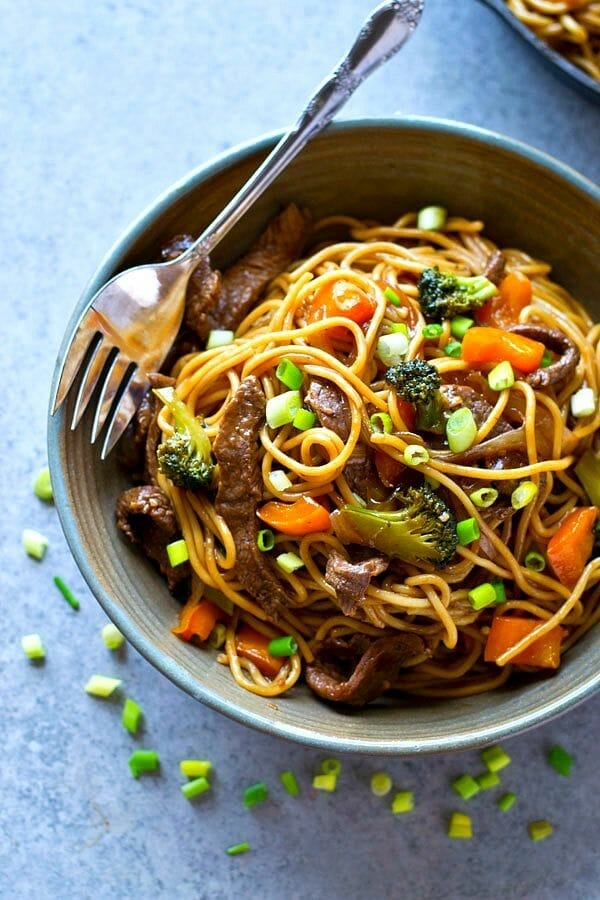 FAQs: Unveiling Culinary Secrets
Q: Can I use chicken instead of beef? Absolutely! Adjust cooking time accordingly. Marinate chicken for the same flavor infusion.
Q: What kind of noodles work best? Traditional egg noodles or yakisoba noodles are fantastic choices. Experiment with your favorite Asian noodles too.
Q: How long can I store leftovers? Store in an airtight container in the refrigerator for up to 2 days. To reheat, add a splash of water and gently warm on the stove or microwave.
Q: Can I make it vegetarian? Absolutely! Swap beef with tofu or tempeh. Marinate and cook as directed for a delightful veggie twist.
Q: Can I freeze Beef Teriyaki Noodles? While possible, noodles can lose texture when frozen. It's best enjoyed fresh for that perfect balance of flavors and textures.
Crafting culinary masterpieces is a journey of love and creativity. Now that you have the secrets of Beef Teriyaki Noodles, it's time to create, savor, and share the magic! Stay tuned for more culinary adventures on FoodAndMeal.com.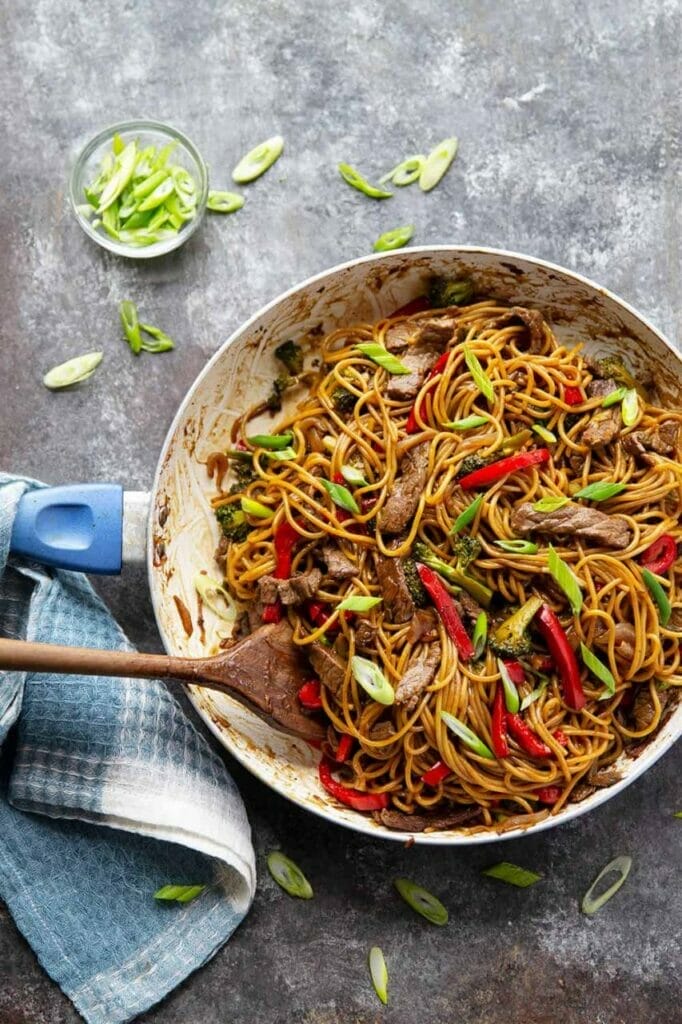 Summaries: Share, Subscribe, and Savor
Share the Culinary Joy: As your culinary journey continues, share the delight of Beef Teriyaki Noodles with your loved ones. A recipe that resonates deserves to be enjoyed together. Don't keep this masterpiece a secret.
Stay Connected with Culinary Magic: Hungry for more exquisite recipes and kitchen adventures? Subscribe to our blog for an exclusive pass to culinary creativity. Dive into the world of flavors and never miss a dish.
Crafting Memories, One Recipe at a Time: Every recipe is an opportunity to create cherished memories. Make Beef Teriyaki Noodles a part of your culinary repertoire. Share, savor, and let your kitchen tales unfold.
Hope you enjoy the special beef noodles recipe and don't forget to read more interesting articles about culinary knowledge on Food and Meal site ! If you feel this recipe is useful, please leave your kind comments below and take time to read other blogs to be an international chef at your home.
I'm James F Anderson, a noted sous chef from London and a Le Cordon Bleu alumnus. My career began in a Michelin-starred Parisian eatery, where my blend of classic and contemporary cooking, using seasonal ingredients, earned accolades. Recognized in culinary publications and on cooking shows, I'm committed to mentoring aspiring chefs and delivering memorable dining experiences, marking me as a standout talent in the culinary world.
Affiliate DisclaimerAbout The Content
As an affiliate, we may earn a commission from qualifying purchases. We get commissions for purchases made through links on this website from Amazon and other third parties.