Radish tofu soup is created with miso, or fermented soy beans. This recipe adds tofu to daikon radishes, giving this recipe more texture, and making it more unique, even if you serve it often.
Japanese Radish Tofu Soup
Recipes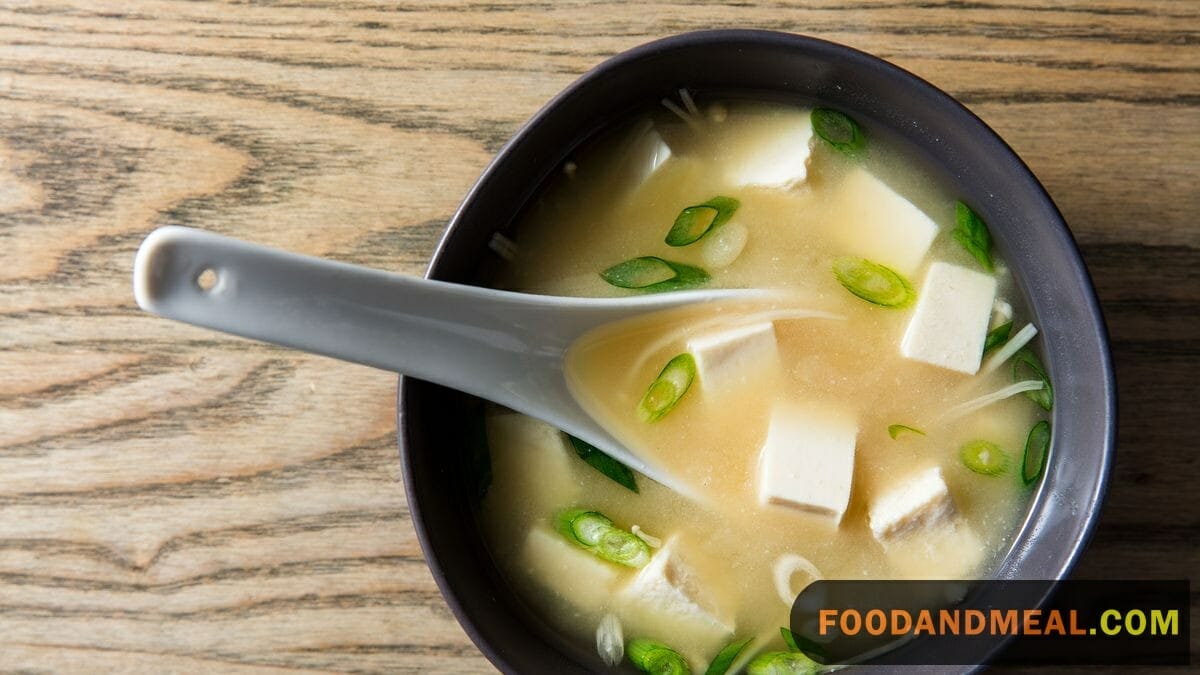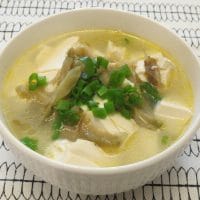 Radish and Tofu Soup
To make this delicious soup, prepare the radishes and cut them into cubes. Add the soaked mushrooms and their soaking liquid. Cook until the radishes are tender, about 5 minutes. Add the tofu. After the tofu is done cooking, stir in the remaining ingredients, including the jujubes and chives. Heat the soup until it boils. Once the mixture is hot, garnish with cilantro and serve.
Print
Pin Recipe
Add to Collection
Go to Collections
Equipment
Ingredients
3

tbsp.

onions

sliced, spring

3

tbsp.

awase miso

blended

2 & 3/4

oz.

sliced tofu

abura age, fried

3

oz.

daikon radish

matchstick cut
Instructions
Blanch tofu in boiling hot water for about a minute, for removal of excess oil. Drain. Squeeze out excess water and slice.

Add daikon and dashi to medium sized sauce pan. Bring to boil on med. heat. Allow to boil for about five minutes.

Add tofu. Cook for three more minutes. Reduce heat to low. Measure blended awase miso with spoon. Dip that spoon into stock. Dissolve miso into dashi till dissolved evenly.

Bring soup back up to boil. Add onions. Serve while hot.
Share by Email
Share on Facebook
Share on Twitter
Nutrition
Serving:
2
servings
|
Calories:
192
kcal
|
Carbohydrates:
35
g
|
Protein:
11
g
|
Fat:
1
g
|
Saturated Fat:
1
g
|
Polyunsaturated Fat:
1
g
|
Monounsaturated Fat:
1
g
|
Sodium:
836
mg
|
Potassium:
175
mg
|
Fiber:
5
g
|
Sugar:
7
g
|
Vitamin A:
20
IU
|
Vitamin C:
18
mg
|
Calcium:
99
mg
|
Iron:
3
mg
© Food And Meal
This website provides approximate nutrition information for convenience and as a courtesy only. Nutrition data is gathered primarily from the Spoonacular Database, whenever available, or otherwise other online calculators.
Pin Recipe
Alternative Method: Radish Tofu Soup in the Instant Pot
Ingredients:
2 cups of radish, peeled and diced
1 cup of firm tofu, cubed
1 medium onion, chopped
2 cloves of garlic, minced
4 cups of vegetable broth
1 teaspoon of grated ginger
1 teaspoon of sesame oil
1 tablespoon of soy sauce (or tamari for a gluten-free option)
Salt and pepper, to taste
Green onions and cilantro for garnish
Instructions:
Sauté the Aromatics:

Set your Instant Pot to the Sauté function. Heat the sesame oil, then add the chopped onions and minced garlic. Sauté for a few minutes until they become fragrant and slightly translucent.

Add Radish and Tofu:

Toss in the diced radish and cubed tofu. Stir them with the sautéed aromatics for a couple of minutes to develop flavor.

Season and Deglaze:

Pour in the soy sauce and grated ginger. Stir well to coat the ingredients. Season with salt and pepper as per your taste.

Pressure Cook:

Pour the vegetable broth into the Instant Pot and stir everything. Close the lid and set the Instant Pot to High Pressure for 5 minutes.

Natural Release:

Once the cooking time is up, allow for a natural pressure release for about 10 minutes. Then, carefully open the valve to release any remaining pressure.

Garnish and Serve:

Ladle the Radish Tofu Soup into bowls. Garnish with chopped green onions and fresh cilantro. Enjoy your flavorful and nourishing bowl of soup.
Tips for making Radish Tofu Soup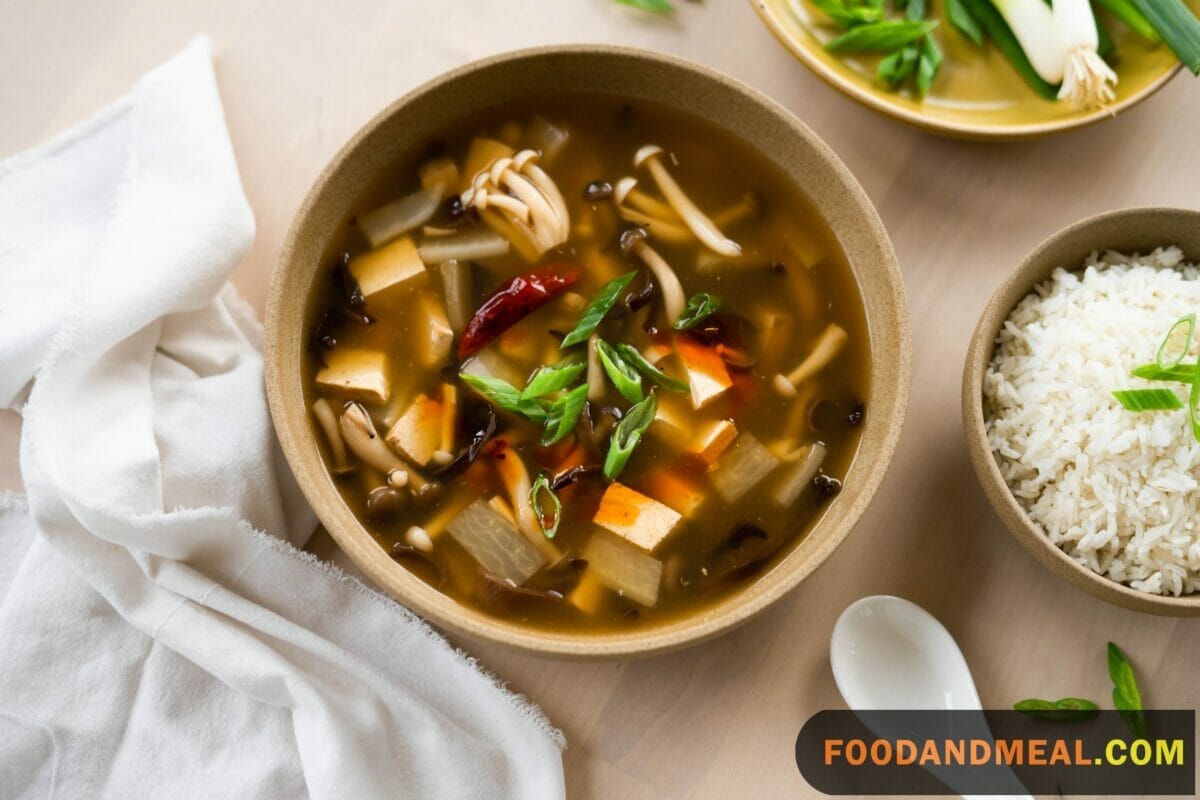 Serving Suggestions
Crusty Bread Companions: A slice of crusty bread or a warm baguette is the perfect sidekick to soak up the delicious broth. It adds a delightful crunch and heartiness to your meal.
Herbal Harmony: Garnish your soup with fresh herbs like cilantro, basil, or a sprinkle of chopped green onions. These herbs not only enhance the flavor but also add a burst of color.
Side Salad: Pair your Radish Tofu Soup with a simple side salad for a balanced meal. A fresh garden salad with a light vinaigrette dressing complements the soup beautifully.
Soy Dipping Sauce: For an extra layer of flavor, prepare a small bowl of soy dipping sauce with a dash of chili flakes and sesame oil. Dip your tofu cubes for a flavor explosion.
Ginger Tea Elixir: Consider serving a soothing cup of hot ginger tea as a beverage alongside your soup. It harmonizes wonderfully with the flavors and offers a comforting warmth.
Cooking Tips
Even Tofu Cubes: To prevent tofu from disintegrating in the soup, ensure you cut it into even cubes and add it gently.
Balanced Saltiness: Be cautious with salt since soy sauce can vary in saltiness. Taste as you go and adjust the seasoning carefully.
Radish Consistency: For optimal results, make sure your radish pieces are uniformly chopped to ensure even cooking.
Gentle Pressure Release: When using the Instant Pot, be patient with the natural pressure release. It helps the flavors meld together.
Sesame Oil Finale: Drizzle a bit of sesame oil just before serving. It adds a pleasant nuttiness and enhances the overall aroma of the dish.
FAQs about Radish Tofu Soup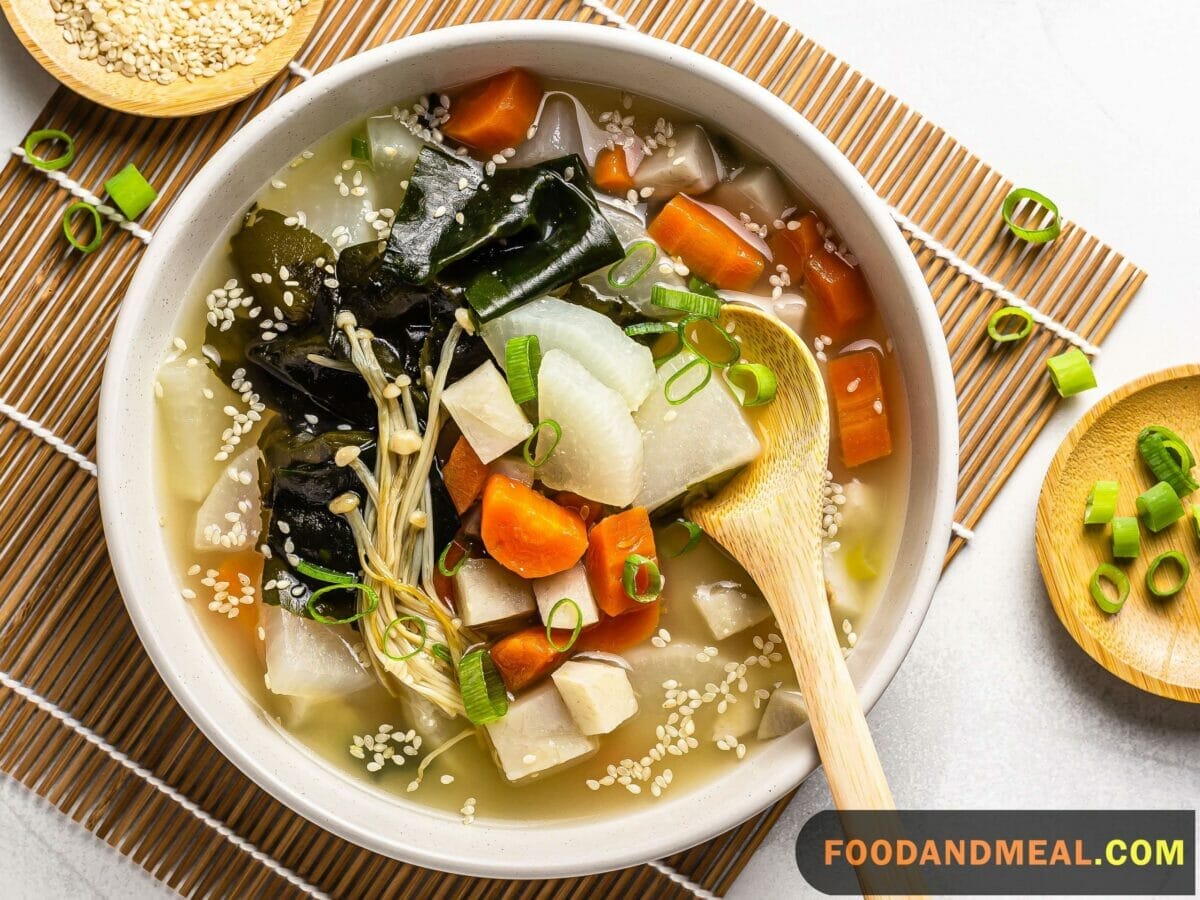 Can I make this soup with other types of radishes? Yes, you can use different radishes, but the flavor may vary. Daikon radish or watermelon radish can be interesting alternatives.
How long can I store leftover Radish Tofu Soup? Store leftovers in an airtight container in the refrigerator for up to 3-4 days. Reheat gently on the stovetop.
Is there a way to make this soup spicier? You can add a pinch of red pepper flakes or a dash of sriracha sauce to give the soup a subtle kick of spiciness.
Can I use soft tofu instead of firm tofu? While firm tofu holds up better, you can use soft tofu for a different texture. Be extra gentle when handling it to avoid breaking it apart.
What if I don't have an Instant Pot? Can I use a regular stovetop pot? Absolutely! Just follow the same steps, but simmer the soup on the stovetop over low heat for about 20-25 minutes or until the radish is tender.
Wholesome Radish Tofu Soup: Your choice – Instant Pot or stovetop. Share the recipe, and subscribe for more culinary wonders.
I'm James F Anderson, a noted sous chef from London and a Le Cordon Bleu alumnus. My career began in a Michelin-starred Parisian eatery, where my blend of classic and contemporary cooking, using seasonal ingredients, earned accolades. Recognized in culinary publications and on cooking shows, I'm committed to mentoring aspiring chefs and delivering memorable dining experiences, marking me as a standout talent in the culinary world.
Affiliate DisclaimerAbout The Content
As an affiliate, we may earn a commission from qualifying purchases. We get commissions for purchases made through links on this website from Amazon and other third parties.