If you are a busy person, this Teriyaki Chicken Quinoa Bowls prep is a great choice. The quinoa is a versatile and easy-to-prepare ingredient, and the chicken is tender and flavorful. Adding some broccoli and cabbage makes this dish a healthy option for lunch or dinner. You can make the chicken teriyaki sauce ahead of time and serve it with the quinoa bowls in a few minutes.
Teriyaki Chicken Quinoa Bowls Recipes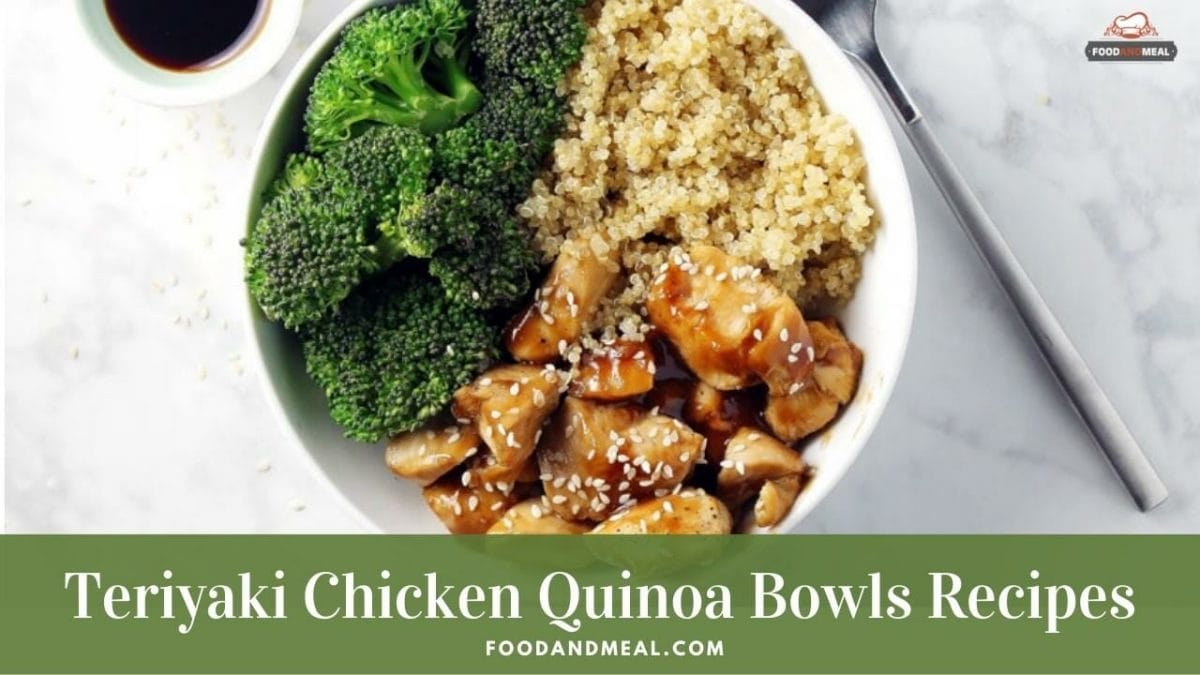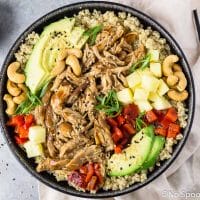 Teriyaki Chicken Quinoa Bowls
These Teriyaki Chicken Quinoa Bowls are the perfect way to incorporate a healthy protein into your weekly meals. This dish is very simple to prepare, and only requires a few basic ingredients. First, you need to prepare the quinoa. Wash and drain the quinoa. Next, you need to cook the pineapple and a medium-sized piece of chicken. Meanwhile, prepare the vegetables. Add the onion, carrots, and tofu.
Print
Pin Recipe
Add to Collection
Go to Collections
Instructions
In a pot set over medium to high heat, add in the water and quinoa. Season with a dash of salt. Allow to come to a boil. Cover and lower the heat to low. Cook for 15 minutes or until all of the water has been absorbed. Remove from heat and fluff with a fork.

In a bowl, add in the palm sugar, soy sauce, minced garlic, powdered ginger, apple cider vinegar and cornstarch. Whisk until smooth in consistency. Set aside.

In a steamer, add in the broccoli. Season with a dash of salt and black

pepper

. Steam until tender. Set aside.

In a skillet set over medium heat, add in 1 tablespoon of vegetable oil. Add in the chicken. Season with a dash of salt and black

pepper

. Cook for 8 to 10 minutes or until the chicken is cooked through.

Lower the heat to low. Add in the sauce and stir well to mix. Cook for 1 minute or until thick in consistency. Remove from heat.

Add the cooked quinoa into serving bowls. Top off with the cooked chicken and steamed broccoli.

Serve with a garnish of sesame seeds.
Notes
Customize to Your Palate: Feel free to experiment with the teriyaki sauce's sweetness or saltiness to match your taste. Remember, cooking is a personal expression – own it!
Nutrient Boost: Enhance the nutrition by adding colorful veggies like bell peppers, broccoli, or snap peas. They not only add vibrancy but also essential vitamins.
Meal Prep Magic: Prepare extra portions of the teriyaki sauce and quinoa in advance. This not only saves time but also sets you up for multiple delicious and nutritious meals throughout the week. Embrace efficiency without compromising on taste!
Embrace the culinary maestro within you, and let's create an enchanting Teriyaki Chicken Quinoa Bowl that's not just a dish but a masterpiece. The symphony of flavors, the burst of textures – it's all here, waiting for you to take a bow.
Share by Email
Share on Facebook
Share on Twitter
Nutrition
Serving:
3
bowls
|
Calories:
592
kcal
|
Carbohydrates:
53
g
|
Protein:
36
g
|
Fat:
25
g
|
Saturated Fat:
7
g
|
Polyunsaturated Fat:
7
g
|
Monounsaturated Fat:
10
g
|
Trans Fat:
1
g
|
Cholesterol:
109
mg
|
Sodium:
848
mg
|
Potassium:
651
mg
|
Fiber:
4
g
|
Sugar:
9
g
|
Vitamin A:
211
IU
|
Vitamin C:
3
mg
|
Calcium:
56
mg
|
Iron:
4
mg
© Food And Meal
This website provides approximate nutrition information for convenience and as a courtesy only. Nutrition data is gathered primarily from the Spoonacular Database, whenever available, or otherwise other online calculators.
Pin Recipe
Other ways to making Teriyaki Chicken Quinoa Bowls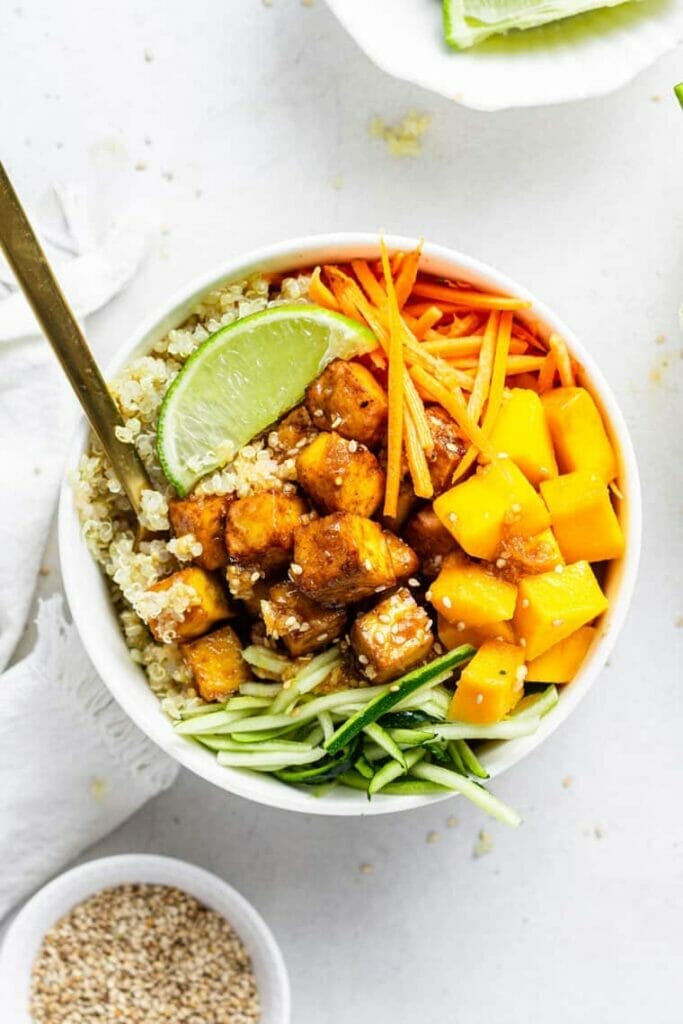 In a medium-sized saucepan, combine the quinoa with water and the teriyaki sauce. Stir together until smooth and creamy. Then, add the shredded chicken to the sauce, and stir to combine. When the sauce thickens, add the couscous or cornstarch slurry. Let it sit for about 10 minutes before assembling the Teriyaki Chicken Quinoa Bowls.
To prepare the teriyaki chicken, cook the quinoa according to the package directions. If desired, you can prepare the toppings in advance. You can then turn on the slow cooker and let it cook for at least two to three hours. While the sauce is cooking, you can make the teriyaki chicken by adding the shredded chicken, a slurry of cornstarch, and a few tablespoons of water. Once the chicken is tender and the quinoa is soaked in the sauce, you can then assemble the bowls.
Once the quinoa is cooked, you can add the chicken, pineapple, and vegetables. You can also serve the Teriyaki chicken in a bowl. This healthy dinner idea is also a great lunch idea, and you can easily make enough for the week. Assemble the Teriyaki Chicken Quinoa Bowls, you'll be glad you did! You'll have the perfect meal prep in 30 minutes.
Besides the quinoa, you'll need to cook the sauce. To do this, follow the instructions on the packaging. When the quinoa is ready, you can add the chicken and veggies. Once the sauce is thickened, you're ready to serve the Teriyaki Chicken Quinoa Bowls as lunch. This meal is a healthy and nutritious meal prep. You can make it ahead of time and enjoy the delicious teriyaki chicken quinoa bowls when you're busy.
For the quinoa, you can mix the ingredients in your slow cooker. Just add water to the quinoa, and mix well. Then, add chicken and cornstarch, stir it together and stir it in. If you don't have a slow cooker, you can use a food processor instead. It will be even easier to chop the chicken breasts, so it's a good option for busy families.
FoodAndMeal.Com website is happy to accompany you on a tour of culinary cultures around the world. Feel free to ask us anything about the recipes because all your kind comments give us the chance to improve our site.
Cooking Tips: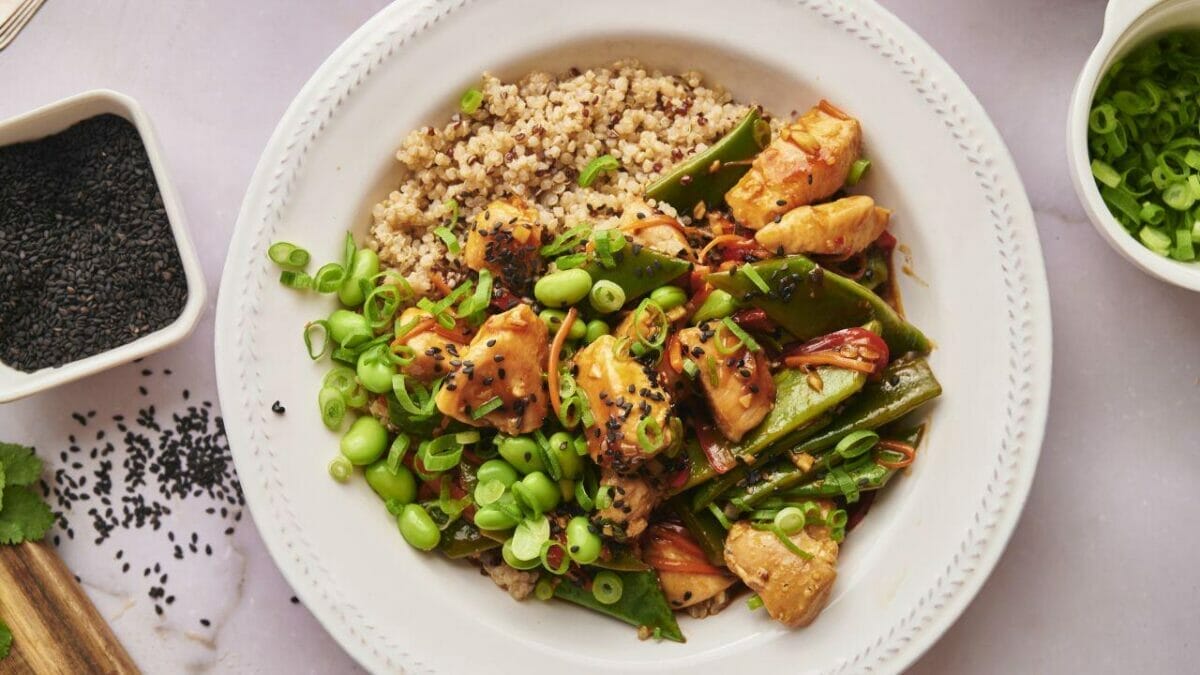 Unlock Culinary Brilliance: Tips for the Perfect Teriyaki Chicken Quinoa Bowl
Achieving culinary excellence requires a blend of technique and intuition. Here are some insights to elevate your Teriyaki Chicken Quinoa Bowl to a level of gourmet perfection:
Marinate Mindfully: Allow the chicken to luxuriate in the teriyaki marinade for at least 30 minutes. This not only infuses flavor but also tenderizes the meat for a succulent bite.
Sear with Precision: When cooking the chicken, ensure the pan is hot before adding it. This creates a tantalizing caramelized crust that seals in the juices.
Fluff Your Quinoa: After cooking the quinoa, fluff it with a fork to achieve a light, airy texture. This ensures that each mouthful is a harmonious blend of nuttiness and tenderness.
Common Mistakes to Avoid:
Rushing the Marination: Impatience can lead to bland chicken. Allow the marinade to work its magic; your taste buds will thank you.
Overcooking Chicken: Nothing is sadder than dry chicken. Keep a close eye on the cooking time to maintain the tender juiciness.
Serving Suggestions: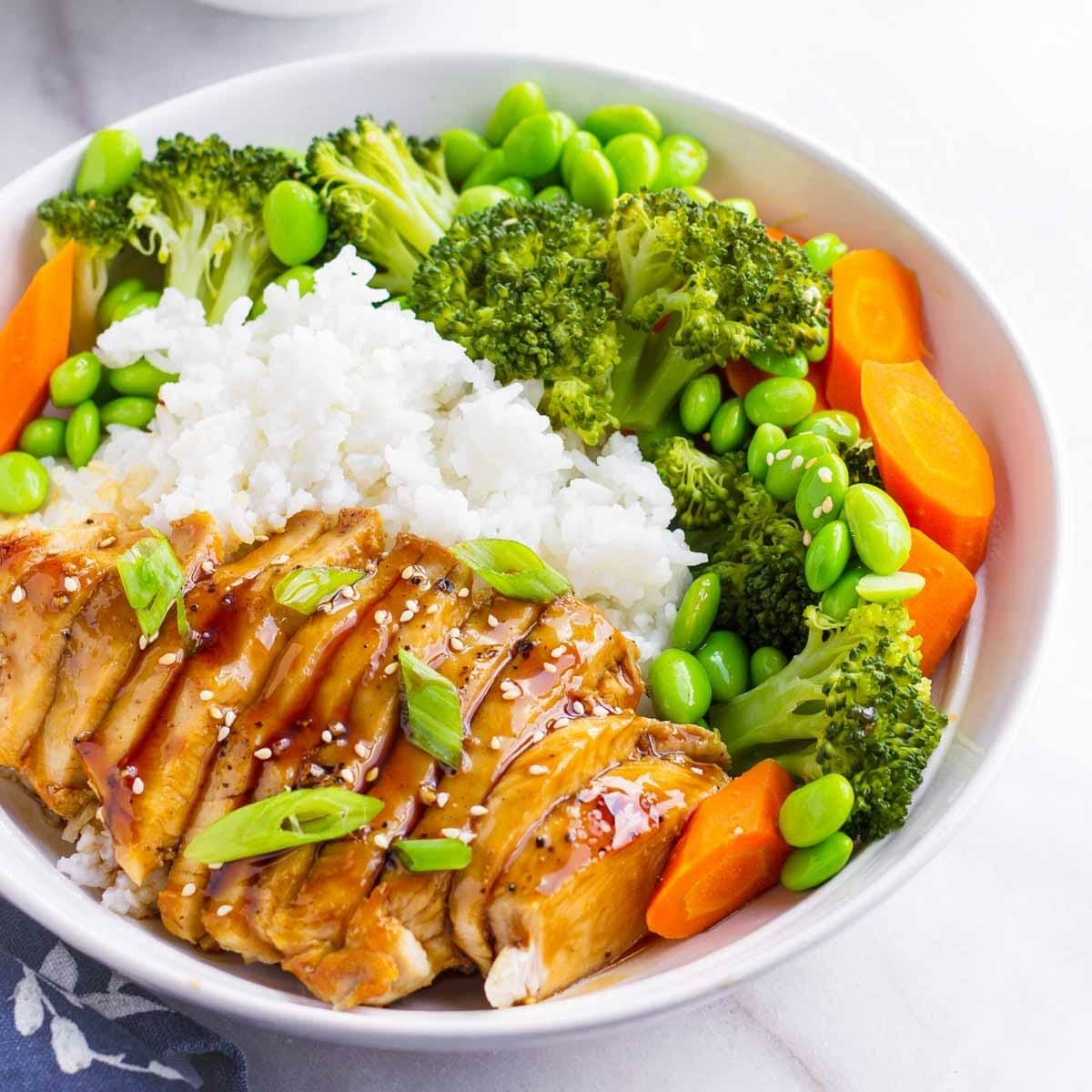 Elevate Your Dining Experience: Serving the Teriyaki Chicken Quinoa Bowl
This dish embodies versatility, making it perfect for various occasions and audiences. Its balanced flavors and wholesome ingredients make it an ideal choice for:
Weeknight Delight: Treat your family to a nourishing yet indulgent meal after a long day. The bowl provides a balanced nutritional profile that satisfies and nourishes.
Lunchtime Fuel: For an energizing midday feast, assemble the Teriyaki Chicken Quinoa Bowl as a bento-style lunch. Its portability makes it a go-to option for busy professionals and students.
Dinner Party Charm: Impress your guests with a sophisticated twist. Pair the Teriyaki Chicken Quinoa Bowl with steamed edamame, pickled ginger, and a side of miso soup for a Japanese-inspired extravaganza.
Garnishes and Pairings: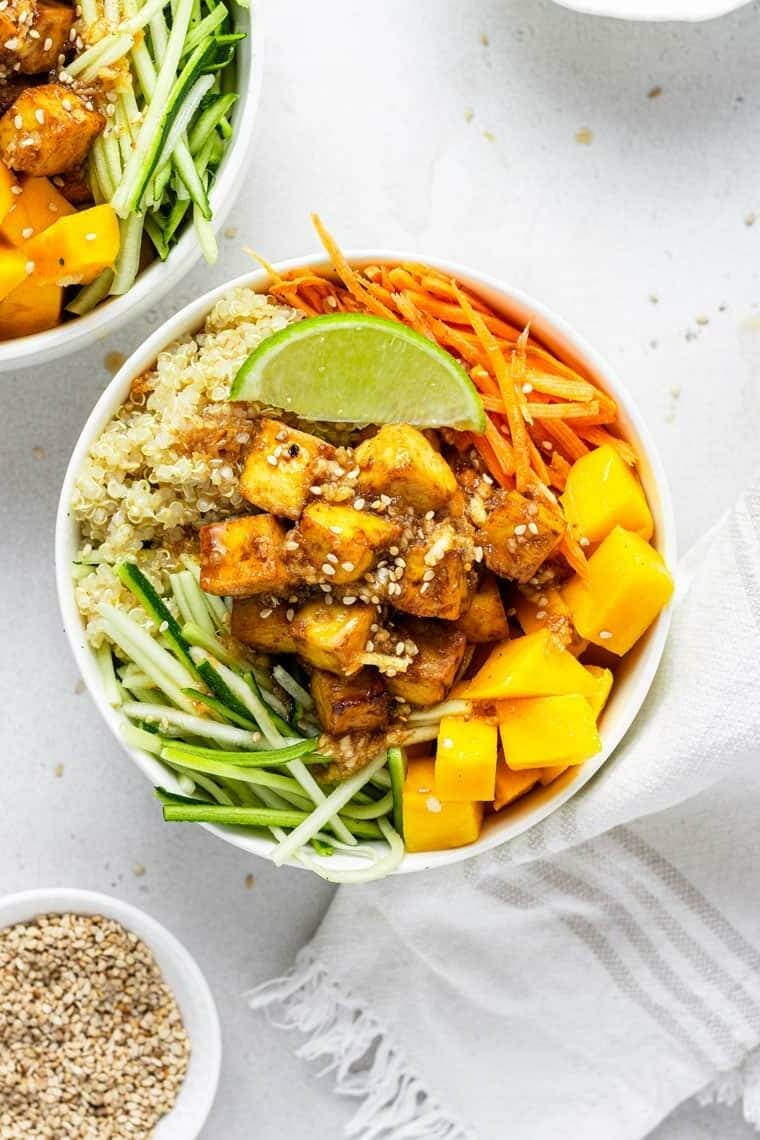 Freshness Burst: Top the bowl with sliced green onions, chopped cilantro, and sesame seeds for a burst of color and flavor.
Sidekick Sides: Serve with a side of sautéed snap peas or lightly blanched broccoli to complement the dish's textures.
Liquid Harmony: A glass of chilled jasmine green tea or a fruity white wine harmonizes beautifully with the teriyaki flavors.
Multiple Serving Styles:
Classic Bowl: The traditional approach, where the chicken and quinoa shine as the stars.
Stuffed Peppers: Load the teriyaki-infused chicken and quinoa into bell peppers for a creative twist.
Wraps or Rolls: Use large lettuce leaves or tortillas to wrap the components, adding a refreshing touch.
FAQs (Frequently Asked Questions):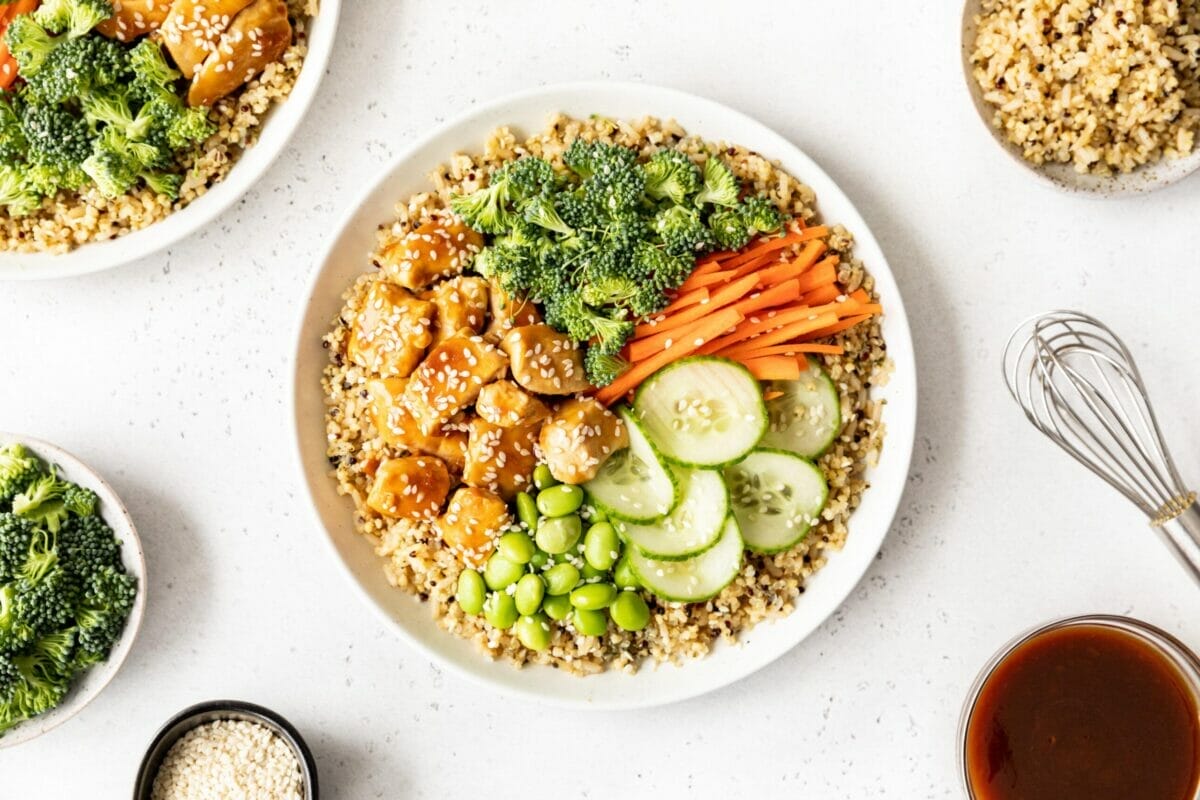 Your Queries, Answered
Q1: Can I use store-bought teriyaki sauce? Absolutely! However, consider crafting your own teriyaki sauce for an authentic and customized flavor profile. Check out our teriyaki sauce recipe in our previous blog post.
Q2: Can I make this bowl ahead of time? Certainly! Prepare the components – marinate the chicken, cook the quinoa – and store them separately. Assemble the bowl when ready to serve for maximum freshness.
Q3: How do I store leftovers? Store the leftover components separately in airtight containers in the refrigerator. When ready to enjoy again, gently reheat the chicken to preserve its tenderness.
Q4: Can I make a vegetarian version? Absolutely! Swap the chicken for tofu or tempeh marinated in teriyaki sauce. You'll achieve a protein-packed delight.
Q5: Can I freeze the Teriyaki Chicken Quinoa Bowl? While quinoa doesn't freeze well due to its texture change, you can freeze the cooked, marinated chicken. Ensure it's properly sealed and consume it within a month for the best results.
There you have it – a comprehensive guide to mastering the Teriyaki Chicken Quinoa Bowl. From cooking insights to serving flair, we've covered it all. Now, go forth and create your culinary masterpiece!
Affiliate DisclaimerAbout The Author
As an affiliate, we may earn a commission from qualifying purchases. We get commissions for purchases made through links on this website from Amazon and other third parties.