Mizu Yokan is a delicious sweet wagashi made with red bean paste, agar, and sugar. It is usually sold in blocks, but it is eaten in slices. There are two main types of ykan – neri ykan and mizu ykan. Niri ykan is sweeter than neri ykan, and it is eaten in the summer. It is best when made with a bit more water, as the fruit is very sweet.
Mizu Yokan Recipes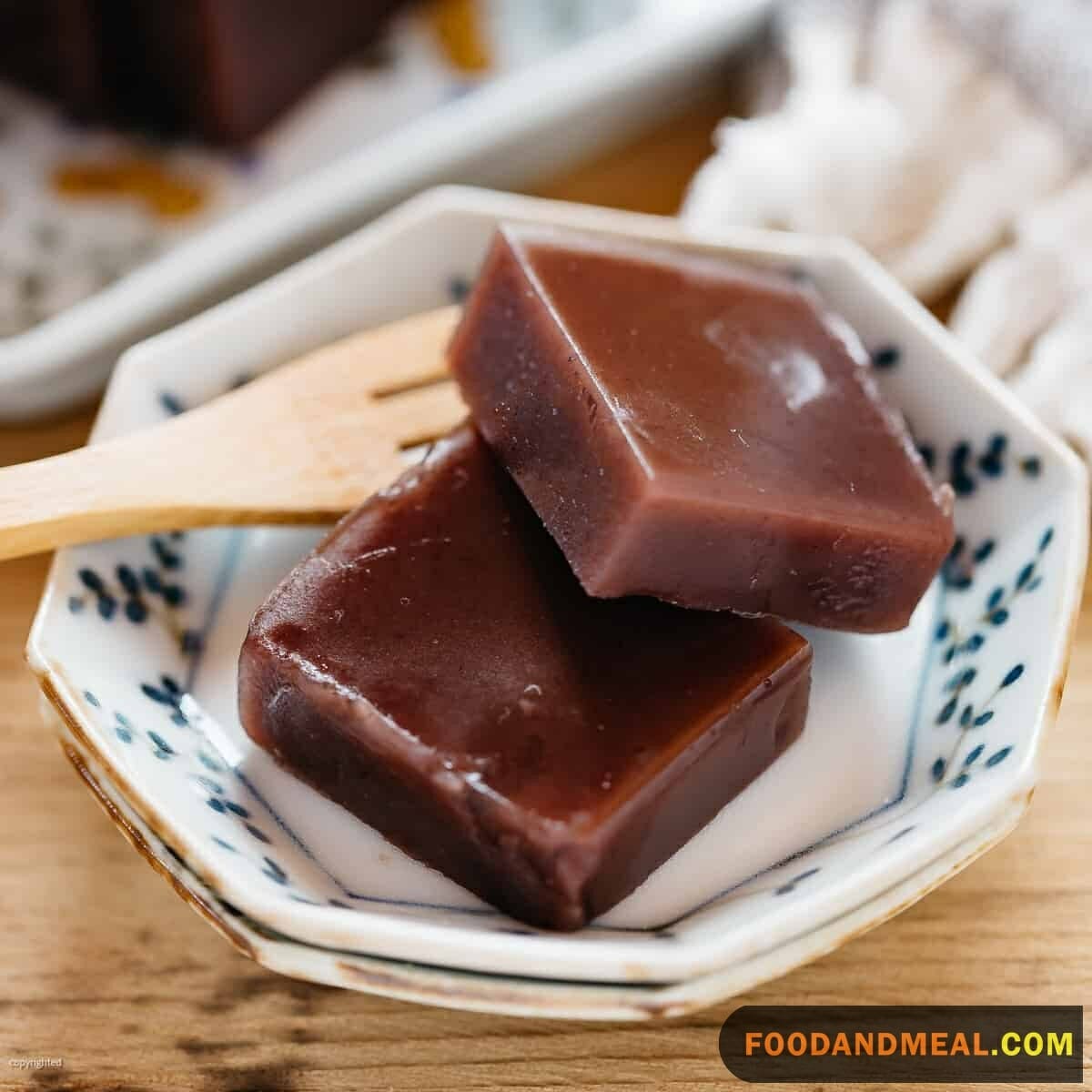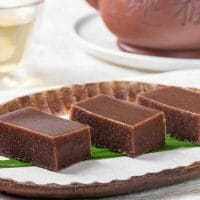 Japanese Mizu Yokan
Mizu Yokan is a Japanese dessert made with red bean paste, sugar, and agar powder. It is usually served cold. You can find it in Asian or American supermarkets. If you don't find it in your area, you can also order it online. Once it has been prepared, it can be chilled until firm. If you enjoy this Japanese treat, you can share it with your family and friends. This summer treat is light and refreshing, and is perfect for a hot day.
Print
Pin Recipe
Add to Collection
Go to Collections
Equipment
Instructions
Soak the kanten in a bowl of water until softened.

After an hour, remove the agar agar from water then squeeze it to remove any excess water.

Use your hands to tear the agar agar into small bits.

Add kanten pieces and one and quarter cup of water in a pan. Bring to boil while stirring occasionally.

Simmer until the agar agar has dissolved in the water. Add brown sugar then stir thoroughly.

Add the anko and continue to stir occasionally. Simmer the mixture until it thickens then remove from heat.

Pour the anko mixture into a rectangle container (plastic). Allow to rest and cool then refrigerate for some Minutes.

The mizu yokan is now firm. Use a knife to cut it into bite size cubes.

Serve and enjoy.
Notes
This Japanese dessert is typically made from agar-agar and red bean paste. It is not edible, but it is a wonderful vegan alternative to gelatin. As it is colorless and tasteless, it is an ideal summer treat. The kanten and agar-agar are both natural ingredients and are available in Asian grocery stores. They can also be bought online. The shiratama powder can be found in Asian supermarkets or in some online stores.
Share by Email
Share on Facebook
Share on Twitter
Nutrition
Serving:
1
serving
|
Calories:
194
kcal
|
Carbohydrates:
50
g
|
Protein:
1
g
|
Sodium:
4
mg
|
Potassium:
4
mg
|
Fiber:
1
g
|
Sugar:
50
g
|
Calcium:
4
mg
|
Iron:
1
mg
© Food And Meal
This website provides approximate nutrition information for convenience and as a courtesy only. Nutrition data is gathered primarily from the Spoonacular Database, whenever available, or otherwise other online calculators.
Pin Recipe
Alternative Method: Making Mizu Yokan with a Steamer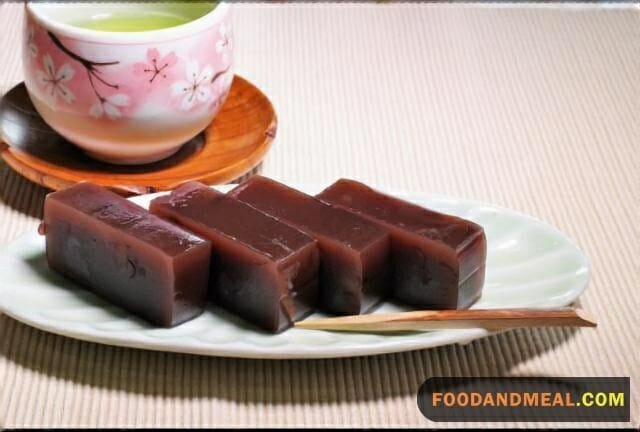 Ingredients:
300g red bean paste (anko)
150g sugar
600ml water
10g agar-agar powder
A pinch of salt
1 tsp vanilla extract (optional)
Instructions:
Prepare Your Steamer:

Fill the bottom of a steamer with water and bring it to a boil. Place a heat-resistant dish or Mizu Yokan mold in the steamer. Ensure that the dish or mold fits comfortably and has a lid.

Combine Sugar and Agar-Agar:

In a separate saucepan, combine the agar-agar powder, sugar, and a pinch of salt. Mix well.

Add Water and Dissolve:

Pour the 600ml of water into the saucepan with the sugar and agar-agar mixture. Heat the mixture over medium heat while stirring continuously. Allow it to come to a gentle boil. Let it simmer for about 2-3 minutes, or until the agar-agar and sugar are completely dissolved.

Add Vanilla Extract (Optional):

For added flavor, you can stir in a teaspoon of vanilla extract. This step is optional but enhances the taste.

Incorporate Red Bean Paste:

Take the red bean paste (anko) and stir it into the agar-agar mixture until it's well combined. The anko should be evenly distributed.

Pour into the Dish:

Carefully pour the mixture into your heat-resistant dish or Mizu Yokan mold. Smooth the surface with a spatula.

Steam the Mizu Yokan:

Place the lid on the dish or mold and put it in the steamer. Steam it over high heat for about 30-40 minutes. The exact time may vary, so check it after 30 minutes. The Mizu Yokan should set and become firm.

Cool and Slice:

Once the Mizu Yokan has set, remove it from the steamer. Allow it to cool at room temperature. Once it has cooled completely, refrigerate it for a few hours to enhance the texture.

Slice and Serve:

When ready to serve, gently remove the Mizu Yokan from the dish or mold. Slice it into desired portions and enjoy!
Tips for making Mizu Yokan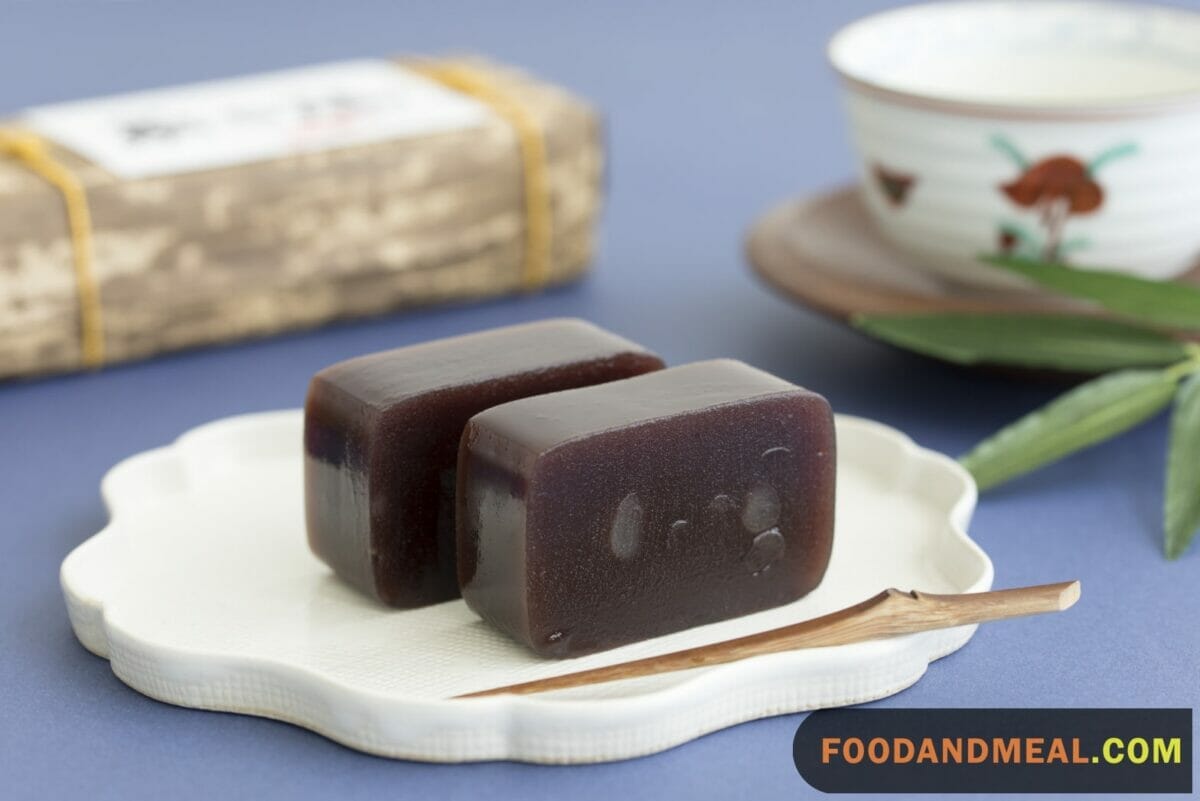 Cooking Tips
Quality of Red Bean Paste: Choose a good-quality red bean paste (anko) for your Mizu Yokan. You can make your own or buy it from a reputable source. The taste and texture of the anko greatly impact the final dessert.
Agar-Agar Measurement: Be precise with your measurement of agar-agar. Too little can result in a dessert that doesn't set properly, while too much can lead to a firmer texture than desired.
Steamer Set-Up: Ensure your steamer is well-preheated and has a consistent steam flow. This ensures even cooking and a smooth texture.
Mixing Red Bean Paste: When incorporating the red bean paste into the agar-agar mixture, mix thoroughly to achieve a uniform distribution. This ensures that every slice has the perfect balance of flavors.
Cooling and Setting: Allow your Mizu Yokan to cool completely at room temperature before refrigerating it. This gradual cooling process helps in setting the dessert for the ideal texture.
Serving Suggestions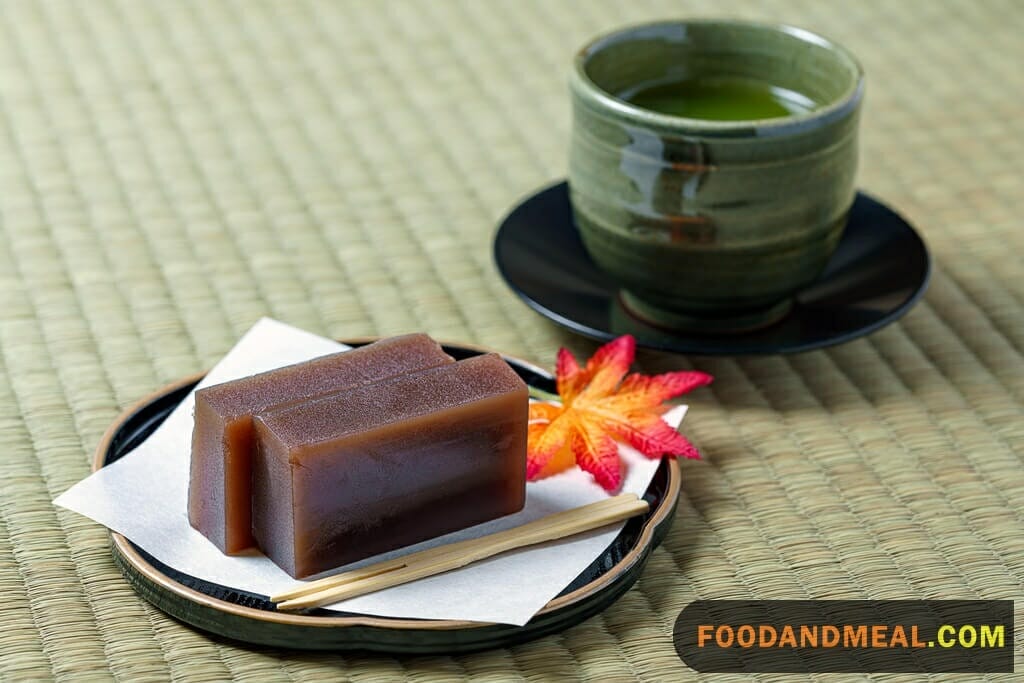 Green Tea: Serve Mizu Yokan with a cup of Japanese green tea, such as matcha. The earthy flavors of green tea complement the sweetness of the dessert.
Kuromitsu Syrup: Drizzle a bit of kuromitsu (black sugar syrup) over your Mizu Yokan. It adds a rich and slightly bitter contrast to the sweetness.
Kinako Powder: Sprinkle some kinako (roasted soybean flour) on top. It provides a nutty and toasty flavor that pairs beautifully with the anko.
Fresh Fruits: Garnish with fresh fruits like strawberries, raspberries, or orange segments. The fruity freshness balances the dessert's richness.
Chestnuts: For a traditional touch, add a piece of candied chestnut on the side. It's a classic Mizu Yokan pairing.
Ice Cream: If you enjoy experimentation, serve Mizu Yokan with a scoop of green tea ice cream. The temperature and flavor contrast can be delightful.
Frequently Asked Questions about Mizu Yokan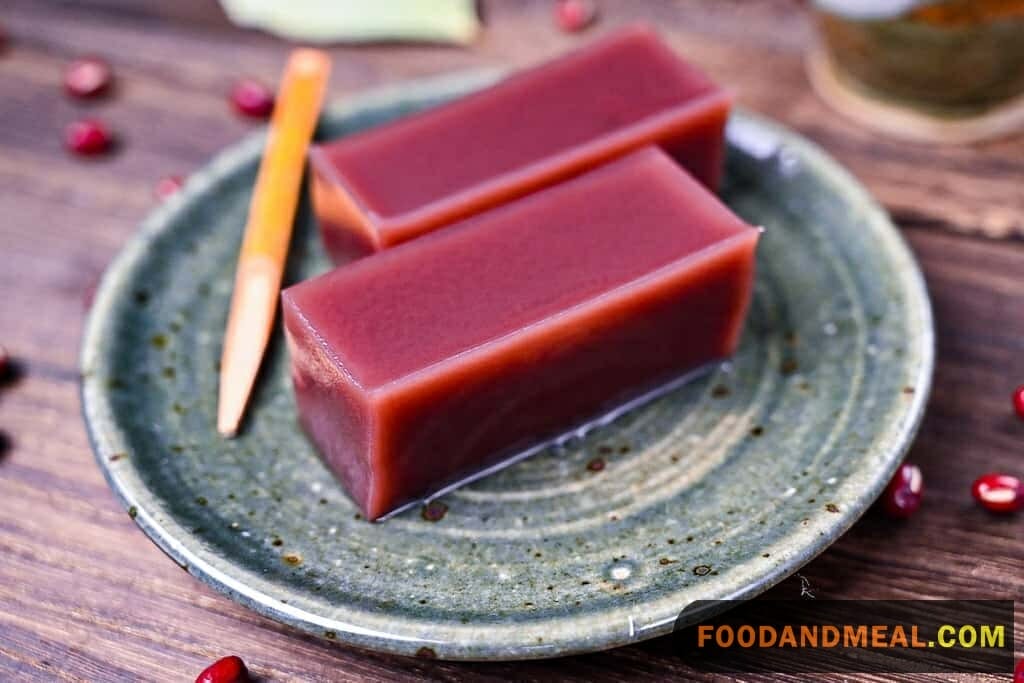 Can I use canned red bean paste? Yes, you can use canned red bean paste for convenience. Just ensure it's of good quality and free from any added flavors.
Can I adjust the sweetness? Absolutely. Mizu Yokan's sweetness can be adjusted by varying the amount of sugar you add during preparation.
How long can I store leftovers? You can store leftover Mizu Yokan in the refrigerator for 2-3 days. Keep it in an airtight container to maintain its freshness.
Can I freeze Mizu Yokan? Freezing isn't recommended as it can alter the texture. It's best enjoyed fresh or refrigerated.
Can I use other flavors besides red bean? Yes, you can experiment with other flavors such as chestnut, sweet potato, or even matcha for a unique twist on Mizu Yokan.
Indulge in Mizu Yokan, a Japanese sweet delight. Learn to craft this dessert masterpiece, get serving suggestions, and subscribe for more culinary adventures.
I'm James F Anderson, a noted sous chef from London and a Le Cordon Bleu alumnus. My career began in a Michelin-starred Parisian eatery, where my blend of classic and contemporary cooking, using seasonal ingredients, earned accolades. Recognized in culinary publications and on cooking shows, I'm committed to mentoring aspiring chefs and delivering memorable dining experiences, marking me as a standout talent in the culinary world.
Affiliate DisclaimerAbout The Content
As an affiliate, we may earn a commission from qualifying purchases. We get commissions for purchases made through links on this website from Amazon and other third parties.