Slow Cooker Honey Teriyaki Chicken is one of the easiest and most delicious dishes that you can make for a weeknight meal. It's extra saucy and super easy to make, and is a wonderful meal for the whole family. Serve this dish over rice or noodles. If you're looking for a quick and easy meal that you can prepare ahead of time, this recipe is for you.
Slow Cooker Honey Teriyaki Chicken Recipes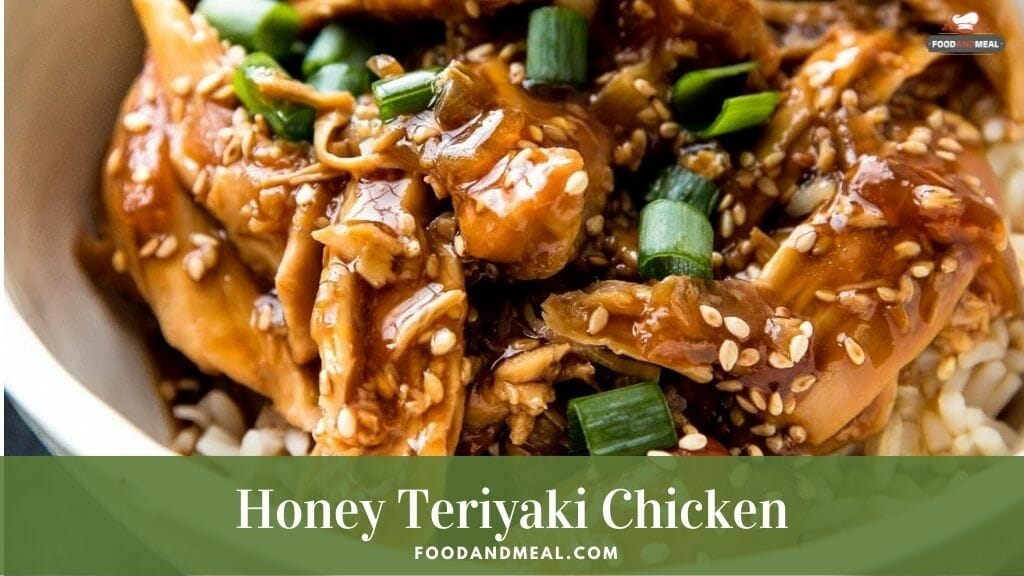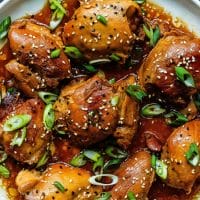 Honey Teriyaki Chicken in Slow Cooker
Honey teriyaki chicken is a delicious dish that can be made by combining honey and soy sauce. You can add soy sauce or any other type of sauce to your recipe. The sauce is full of ginger, soy, garlic, and ginger. This dish is also delicious for lunch or dinner. There is a sweet and spicy flavor that will be sure to please your family. This dish is easy to make and has great flavor.
Print
Add to Collection
Go to Collections
Equipment
Instructions
Add the chicken breasts into the bottom of the slow cooker.

In a bowl, add in the soy sauce, honey, vinegar, chopped onion, minced garlic, powdered ginger and dash of black pepper. Whisk until mixed. Pour over the chicken.

Cover and cook on the highest setting for 3 to 4 hours. Remove the shred and shred finely.

Pour the sauce into a saucepan set over medium heat. Allow to come to a simmer.

In a bowl, add in the cornstarch and water. Whisk until smooth in consistency. Pour into the saucepan. Cook for 2 minutes or until the sauce is thick in consistency. Pour back into the slow cooker.

Add the chicken back into the slow cooker. Toss to mix.

Serve immediately with the sliced green onions and sesame seeds.
Notes
This recipe is one of the easiest to make. It has a rich, tangy taste that's sure to please the entire family. It's a great option for busy weeknights. Just throw the ingredients in a slow cooker and wait for them to cook. You'll be amazed at how delicious it is! It's the perfect meal for a weeknight! When you need something fast, this recipe is ideal.
Share by Email
Share on Facebook
Share on Twitter
Nutrition
Serving:
1
serving
|
Calories:
437
kcal
|
Carbohydrates:
44
g
|
Protein:
51
g
|
Fat:
6
g
|
Saturated Fat:
1
g
|
Polyunsaturated Fat:
1
g
|
Monounsaturated Fat:
2
g
|
Trans Fat:
1
g
|
Cholesterol:
145
mg
|
Sodium:
1886
mg
|
Potassium:
947
mg
|
Fiber:
1
g
|
Sugar:
36
g
|
Vitamin A:
69
IU
|
Vitamin C:
4
mg
|
Calcium:
27
mg
|
Iron:
2
mg
© Food And Meal
This website provides approximate nutrition information for convenience and as a courtesy only. Nutrition data is gathered primarily from the Spoonacular Database, whenever available, or otherwise other online calculators.
Other ways to making Honey Teriyaki Chicken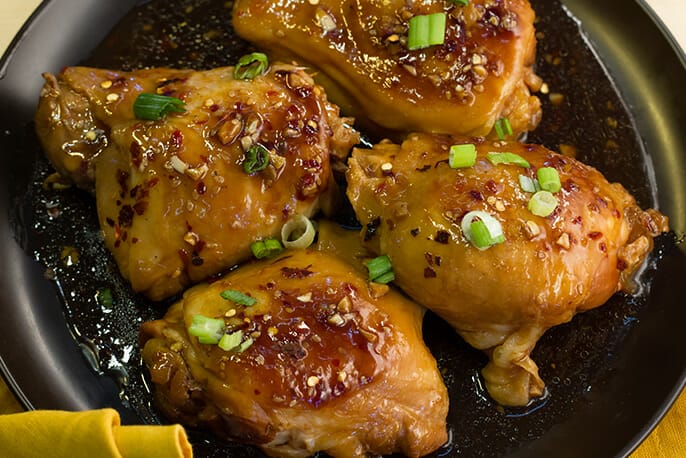 To make this dish, start by preparing the chicken. Cover the breasts with cooking spray. Combine the honey, soy sauce, rice wine vinegar, and ginger. Place the chicken in the slow cooker, and cook until cooked through. Once cooked, shred the chicken and serve over rice. This is a delicious recipe for any occasion! This recipe will make your family happy for days! You'll want to try this one soon.
After assembling the slow cooker, spray the inside with cooking spray. Fill it with the chicken and the sauce. Set the slow cooker on high for about 3-4 hours, or low for up to six to eight hours. Once cooked, shred the chicken and return it to the cooker with the vegetables. Continue to cook for 20 minutes more, and then stir in the cornstarch and water mixture to thicken the sauce. Sprinkle sesame seeds on top and serve!
About Honey Teriyaki Chicken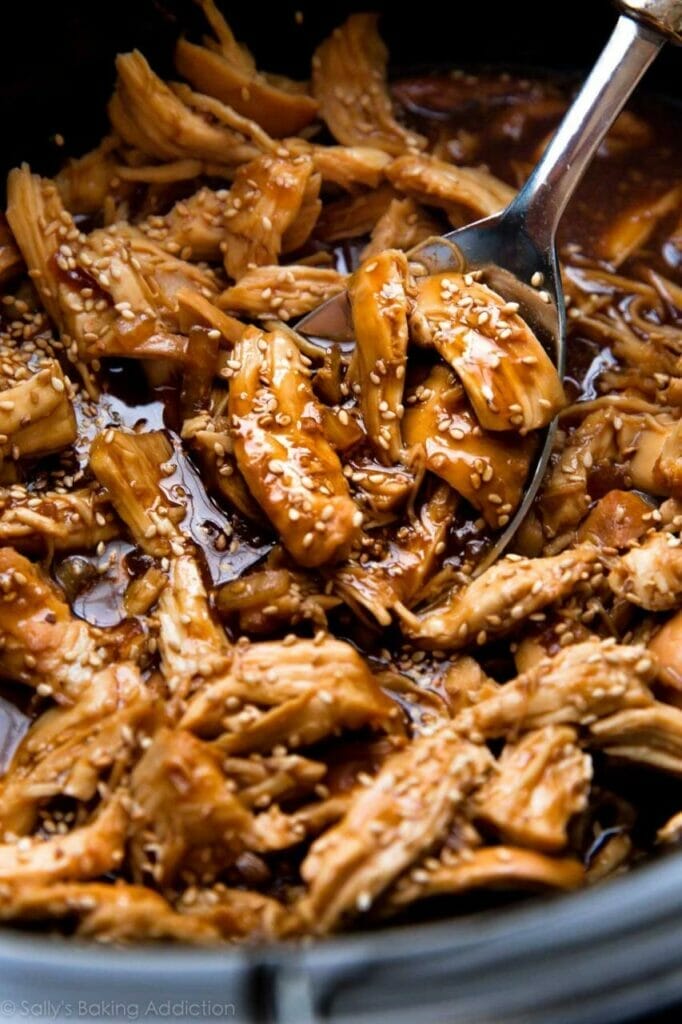 This chicken dish only requires minimal effort but delivers great flavor. You'll need to make the honey teriyaki sauce yourself, which should take about 30 minutes. Then, add the chicken and sauce to the slow cooker, and cook on high for three to four hours. Then, you'll be able to enjoy your meal without the calories of takeout! If you're looking for a quick and easy dinner that is delicious and healthy, this dish is the answer!
This recipe is so easy to make and has great flavor. You'll need to prepare the chicken first by spraying it with cooking spray. After that, combine the honey, rice wine vinegar, and soy sauce. Next, add the onion, garlic, ginger, and pepper. Wait until the chicken is fully cooked, and then shred it. You can serve it over rice or noodles, and everyone will be pleased!
This dish is so easy to make and will give your dinner a unique taste. All you need to do is prepare the honey teriyaki sauce and chicken. You can also use a store-bought or homemade sauce. Then, all you need to do is pour it into the slow cooker. It's ready to eat in about four hours! You can serve this recipe over rice, or serve it with noodles.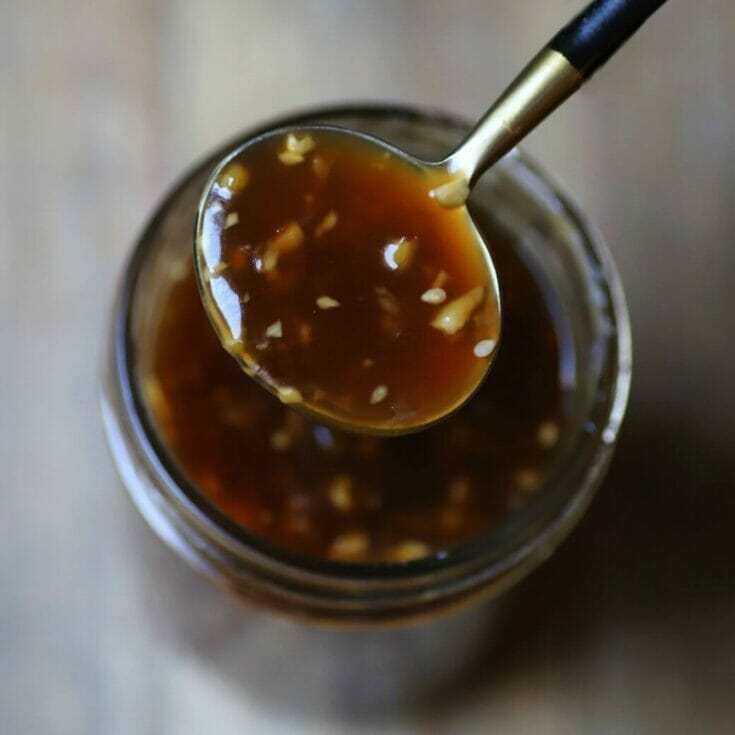 Thanks for your visiting our Food And Meal blog. Like and share this recipe if it is useful for you.
Cooking Tips: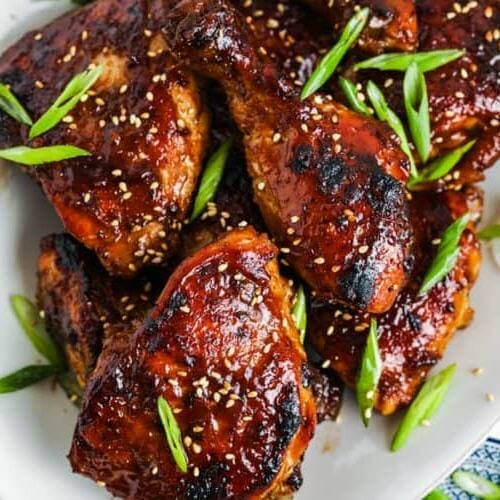 Mastering the art of Slow Cooker Honey Teriyaki Chicken requires a blend of technique and intuition. To ensure your culinary journey is a smooth one, here are some expert tips and insights.
Tip 1: Select Quality Ingredients Start with high-quality chicken and fresh ingredients for the best results. This forms the foundation of a mouthwatering dish.
Tip 2: Patience is Key The slow cooking process allows flavors to meld and intensify. Be patient and resist the urge to rush; the reward is tender, flavorful chicken.
Tip 3: Searing for Depth For an extra layer of flavor, sear the chicken before slow cooking. This step caramelizes the surface and adds a rich dimension to the dish.
Common Mistake to Avoid: Overloading the Crockpot Don't overcrowd the slow cooker. Give the ingredients room to breathe for even cooking and optimal flavor infusion.
Serving Suggestions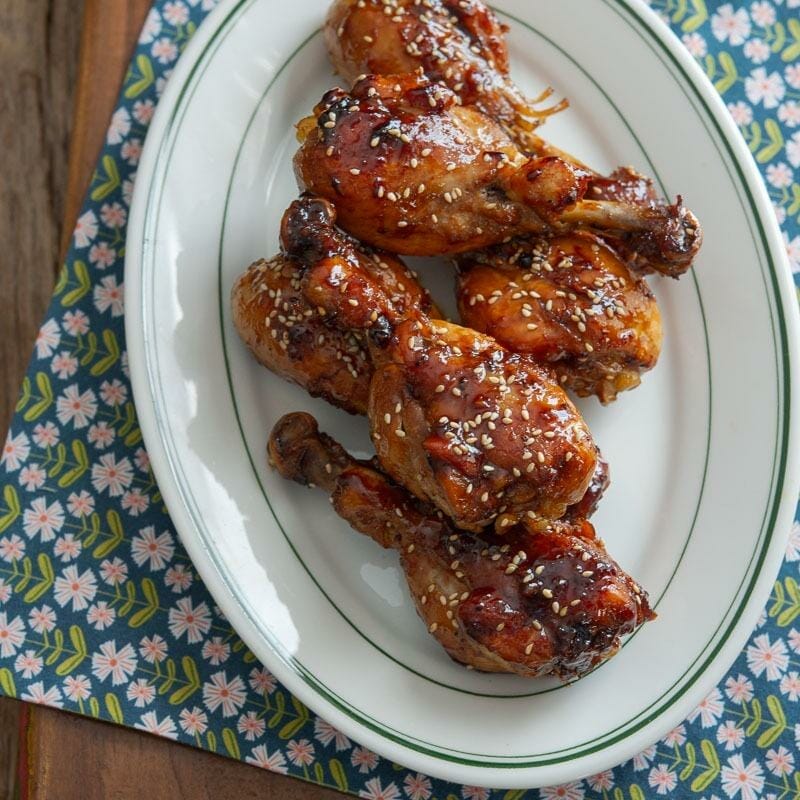 Slow Cooker Honey Teriyaki Chicken is versatile and suited for various occasions. Whether it's a cozy family dinner or a celebratory gathering, this dish shines.
For Weeknight Dinners: Serve this dish over steamed rice for a fulfilling meal that's both quick and delightful.
For Entertaining Friends: Impress your guests by presenting the chicken on a platter adorned with sesame seeds and chopped scallions. Pair it with a side of stir-fried vegetables for an elegant touch.
For Outdoor Gatherings: Transform the chicken into sliders by placing the tender pieces between mini buns, drizzled with extra teriyaki sauce. It's a perfect finger food for casual gatherings.
Complementary Sides: Steamed broccoli, garlic sautéed snow peas, or a fresh cucumber salad with a tangy vinaigrette harmonize beautifully with the dish's flavors.
Refreshing Beverages: Opt for a light and crisp white wine or a ginger-infused mocktail to balance the richness of the teriyaki sauce.
Multiple Serving Styles: Explore different ways to enjoy the dish – from crafting wholesome rice bowls to incorporating it into vibrant wraps with crunchy veggies.
FAQs (Frequently Asked Questions):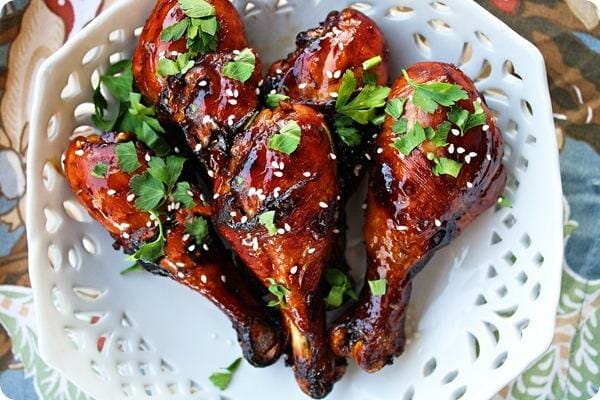 Q1: Can I use frozen chicken for this recipe? Absolutely, but ensure the chicken is fully thawed before placing it in the slow cooker. This guarantees even cooking and optimal flavor absorption.
Q2: Can I adjust the sweetness of the teriyaki sauce? Definitely! Feel free to adjust the honey quantity to your taste. A bit more or less can personalize the dish to perfection.
Q3: How should I store any leftovers? To preserve the dish's flavors, store leftovers in an airtight container in the refrigerator. Reheat gently in a skillet or microwave, adding a splash of water to maintain moisture.
Q4: Can I use boneless chicken thighs instead of breasts? Certainly! Boneless thighs bring an extra layer of tenderness to the dish while absorbing the teriyaki flavors beautifully.
Q5: Is it possible to make the dish gluten-free? Absolutely. Opt for gluten-free soy sauce and ensure that the other sauce ingredients are also free of gluten. This way, you can indulge without any worries.
Wrapping Up: Cooking isn't just about preparing a meal; it's about crafting an experience. Slow Cooker Honey Teriyaki Chicken embodies the essence of this philosophy. From cooking tips that guarantee perfection to serving suggestions that elevate occasions, this recipe promises to leave an indelible mark on your culinary journey. Embrace the joy of creating flavors that resonate, and let this dish be your canvas of culinary expression.
I'm James F Anderson, a noted sous chef from London and a Le Cordon Bleu alumnus. My career began in a Michelin-starred Parisian eatery, where my blend of classic and contemporary cooking, using seasonal ingredients, earned accolades. Recognized in culinary publications and on cooking shows, I'm committed to mentoring aspiring chefs and delivering memorable dining experiences, marking me as a standout talent in the culinary world.
Affiliate DisclaimerAbout The Content
As an affiliate, we may earn a commission from qualifying purchases. We get commissions for purchases made through links on this website from Amazon and other third parties.