Musubi Hot Pot, the dish that sends my culinary heart aflutter every time I prepare it. Each ingredient, each step, is like a lovingly written verse in a poetic ode to Japan's rich culinary landscape. It's my honor and pleasure to pull back the curtain on this delightful creation and share it with you, fellow food enthusiast.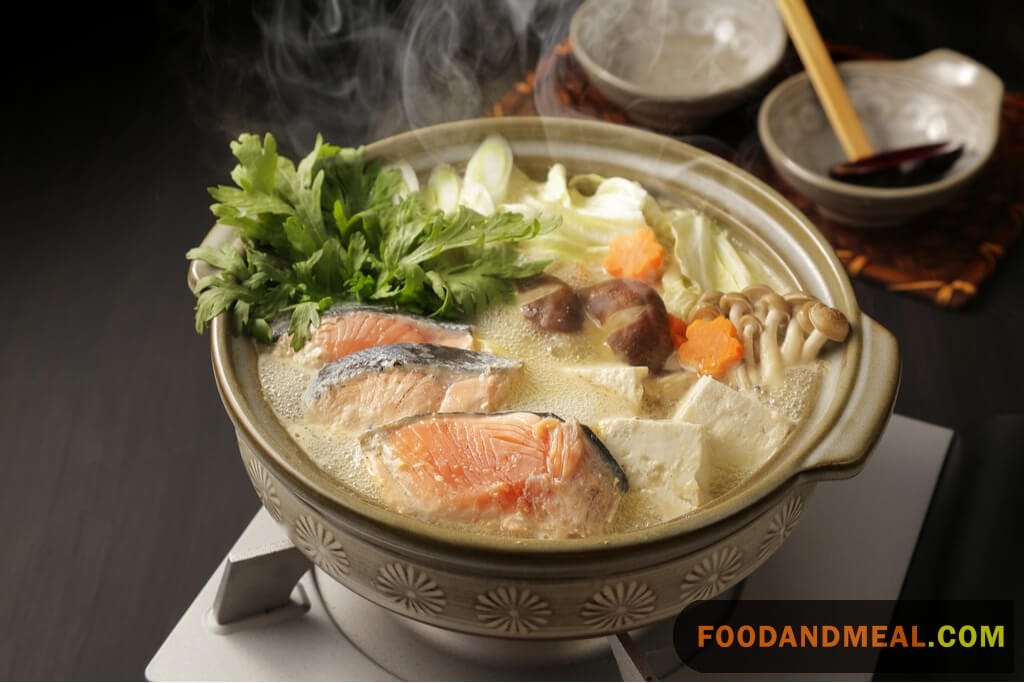 Japanese Musubi Hot Pot Recipe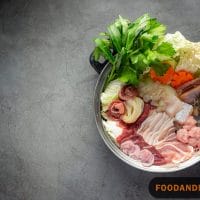 Japanese Musubi Hot Pot
From the heart of Japanese cuisine, our Musubi Hot Pot is a testament to the power of simple ingredients and timeless techniques. Share this gastronomic journey with your loved ones and keep the culinary flame burning by subscribing to our blog. More delicious adventures await!
Print
Pin Recipe
Add to Collection
Go to Collections
Equipment

Ingredients
1/3

peeled, round-cut radish, daikon

2

peeled, halved potatoes, medium

4

peeled, boiled eggs

1

triangle-cut yam starch cake (konnyaku)

2

blanched & triangle-cut deep-fried tofu

4

blanched tofu fritters (ganmodoki)

2 to 4

chunk-cut fish cakes

4

knotted kelp (musubi-kombu)

4-5

tablespoons of

soy sauce

2

tablespoons

sake

1

teaspoon of

white sugar
Instructions
Pour four cups dashi soup stock into large sized pot.

Add sugar, sake and soy sauce.

Place other ingredients except tofu in pot.

Bring to boil. Then reduce heat down to low. Simmer for 45 minutes to an hour.

Add soup stock and any soy sauce desired.

Have your family and friends dip tofu cubes in the broth to cook them, and provide dipping sauce if they like them. Give them individual bowls.
Notes
Note on Broth Selection: The soul of the Musubi Hot Pot lies in its broth. Choosing a high-quality base can make a world of difference. Remember, patience is key. Let it simmer, let the flavors meld, and let the magic happen. Loved this tip? Share the recipe with your fellow foodies and stay tuned for more!
Ingredient Freshness: Fresh ingredients are the heartbeat of the Musubi Hot Pot. The vibrant colors, the aromatic scents, and the crisp textures—they all converge to make this dish truly special. Impressed by the magic of fresh ingredients? Share this wisdom with friends and subscribe for more insights!
Perfecting the Simmer: The Musubi Hot Pot is not just about ingredients; it's about the love and patience you pour into it. A gentle simmer, a watchful eye, and a heart full of passion is the secret. Ready to embark on more culinary adventures? Share this recipe and join our community for more treasures.
Share by Email
Share on Facebook
Share on Twitter
Nutrition
Calories:
19
kcal
|
Carbohydrates:
2
g
|
Protein:
1
g
|
Fat:
0.02
g
|
Saturated Fat:
0.002
g
|
Polyunsaturated Fat:
0.01
g
|
Monounsaturated Fat:
0.002
g
|
Sodium:
661
mg
|
Potassium:
27
mg
|
Fiber:
0.1
g
|
Sugar:
1
g
|
Calcium:
3
mg
|
Iron:
0.3
mg
© Food And Meal
This website provides approximate nutrition information for convenience and as a courtesy only. Nutrition data is gathered primarily from the Spoonacular Database, whenever available, or otherwise other online calculators.
Pin Recipe
Musubi Hot Pot in a Pressure Cooker
Ingredients:
Same as the original recipe.
Method:
Sautéing: Start with your pressure cooker in its sauté mode. Lightly sear the Musubi pieces until they are golden brown. This will give an added depth to your final dish. Remove and set aside.
Building the Broth: Add a dash of oil and then sauté your aromatic ingredients like garlic, ginger, and scallions until fragrant. Pour in your chosen broth, ensuring it covers all the ingredients but not exceeding the max fill line of your pressure cooker.
Layering: Introduce your vegetables and other ingredients, layering them in the pot. Remember, the ones that take longer to cook (like dense root vegetables) should be at the bottom, while the more delicate ones (like leafy greens) should be on top.
Pressure Cooking: Seal your pressure cooker. Set it to high pressure for about 10 minutes. This will allow all the flavors to meld beautifully.
Quick Release and Final Touches: Once done, perform a quick release to prevent the vegetables from overcooking. Reintroduce the seared Musubi pieces. Let them warm in the hot pot for a few minutes, soaking up the flavors.
Garnishing: Sprinkle fresh herbs, a dash of sesame oil, or even some zesty lime for that final touch.
Cooking Tips
Broth Base: Always use fresh ingredients for your broth. Whether it's dashi or any other stock, the flavor of your broth sets the tone for the entire dish.
Musubi: Don't over-soak or over-cook your Musubi. You want it slightly firm to withstand the hot broth.
Layering: Layering is key in a hot pot. Dense ingredients at the bottom and delicate ones on top ensure even cooking.
Tofu: If you're adding tofu, make sure to use firm tofu and add it towards the end, so it retains its shape and texture.
Heat: Never let your broth boil too aggressively. A gentle simmer extracts flavors without making the ingredients go mushy.
Serving Suggestions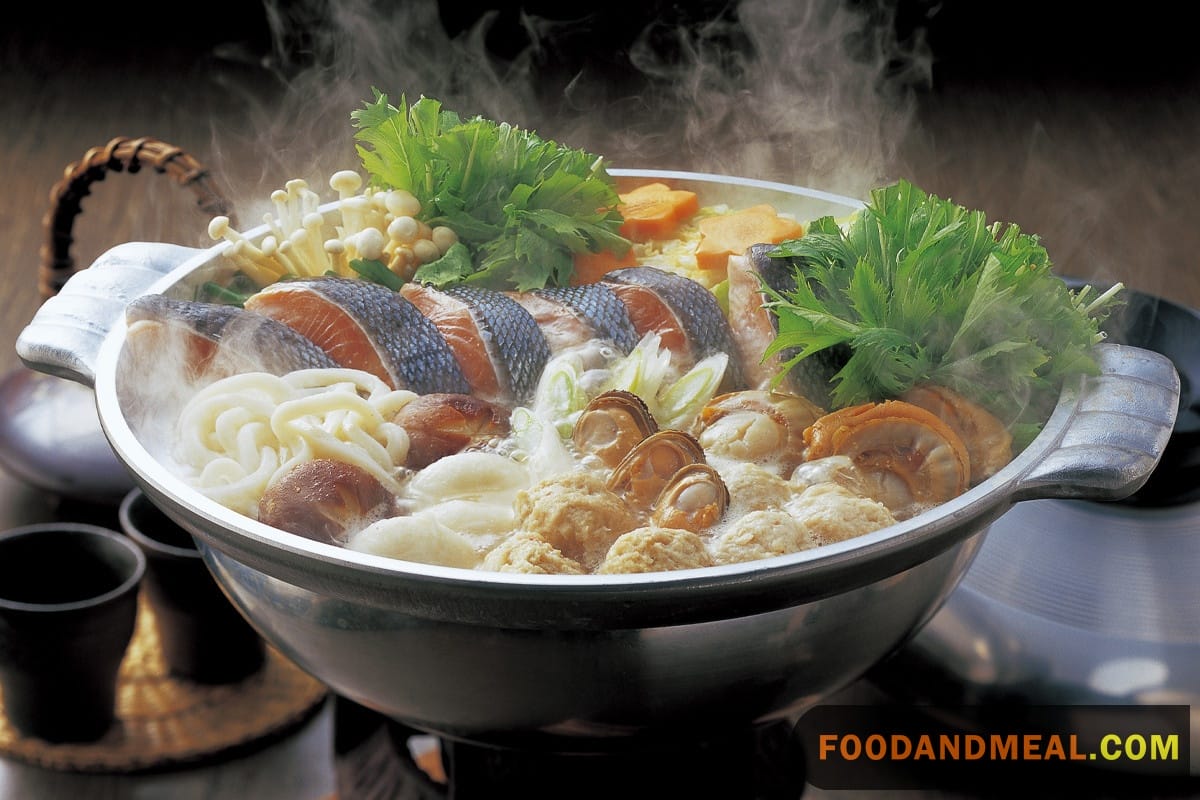 Occasions: This dish is perfect for cold evenings when you crave something warm and wholesome. It's also great for family gatherings, where everyone can huddle around the pot, feeling the warmth and love.
Audience: It's kid-friendly, given the mildly flavored broth, but it's sophisticated enough for adults when paired with the right drink.
Sides and Garnishes: Consider serving it with a side of pickled radish or kimchi for an extra zing. Freshly sliced green onions, a sprinkle of sesame seeds, or even a dollop of spicy miso paste can elevate the flavors even more.
Beverages: A cold glass of Japanese beer or a warm sake complements the rich flavors. For a non-alcoholic treat, try a refreshing iced barley tea.
Serving Styles: While traditionally served in a communal pot, you can also serve individual portions in deep bowls. This way, each person can customize their bowl with their preferred ingredients.
FAQs of Musubi Hot Pot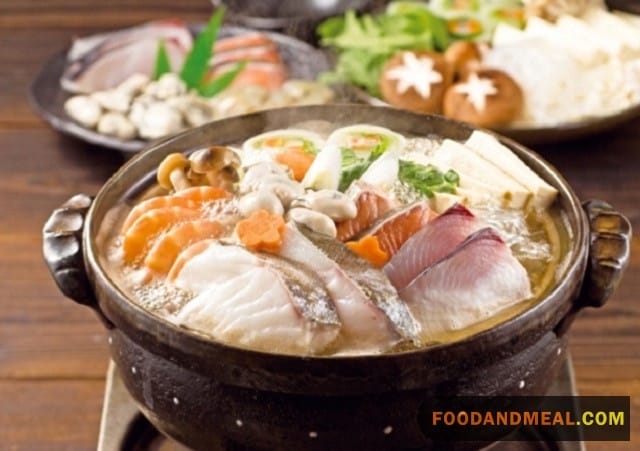 Can I make Musubi Hot Pot vegan?
Absolutely! Substitute any non-vegan ingredients with plant-based alternatives like tofu or tempeh for protein and use a vegetable broth as a base.
How do I store leftover Musubi Hot Pot?
Cool the hot pot to room temperature, then transfer it to airtight containers. Store in the refrigerator for up to 3 days. When reheating, bring to a boil to ensure it's piping hot.
What if I don't have a traditional hot pot vessel?
No worries! A deep pot or a Dutch oven works just as well. The key is to have a vessel deep enough to hold all ingredients and broth.
Can I freeze the broth for later use?
Yes, the broth can be frozen in an airtight container for up to a month. Thaw and heat thoroughly before using.
Any alternatives to Musubi in the hot pot?
While Musubi is a unique ingredient, you can use alternatives like rice cakes or even mochi pieces. The texture will be different but still delightful!
Discover the magic of our Musubi Hot Pot – where tradition meets taste. Embrace authentic Japanese flavors today!
Affiliate DisclaimerAbout The Author
As an affiliate, we may earn a commission from qualifying purchases. We get commissions for purchases made through links on this website from Amazon and other third parties.