Every time I journey back through my culinary escapades, Mexico resonates with vivid colors, textures, and flavors. The bustling markets, the aroma of roasted chilies and spices, the harmonious blend of tradition and innovation—it's an experience that transcends words. Over the myriad of dishes I've passionately created, the Bacon Enchiladas Recipe stands out with its delectable layers and intricate flavors. Today, I'm unfolding the pages of this iconic dish, sharing with you not just a recipe, but a slice of my culinary journey, and a generous portion of my soul.
Bacon, with its smoky and savory charm, acts as a star in many delightful dishes. For the Bacon Enchiladas Recipe, it's imperative to source quality bacon that renders a crisp texture and a flavorful bite. Once your bacon is perfectly cooked, set it aside, and let it be the muse for the delectable sauce and fillings that come next. Marrying traditional techniques with a touch of personal flair, this recipe is sure to transport you straight to the heart of Mexico with every bite.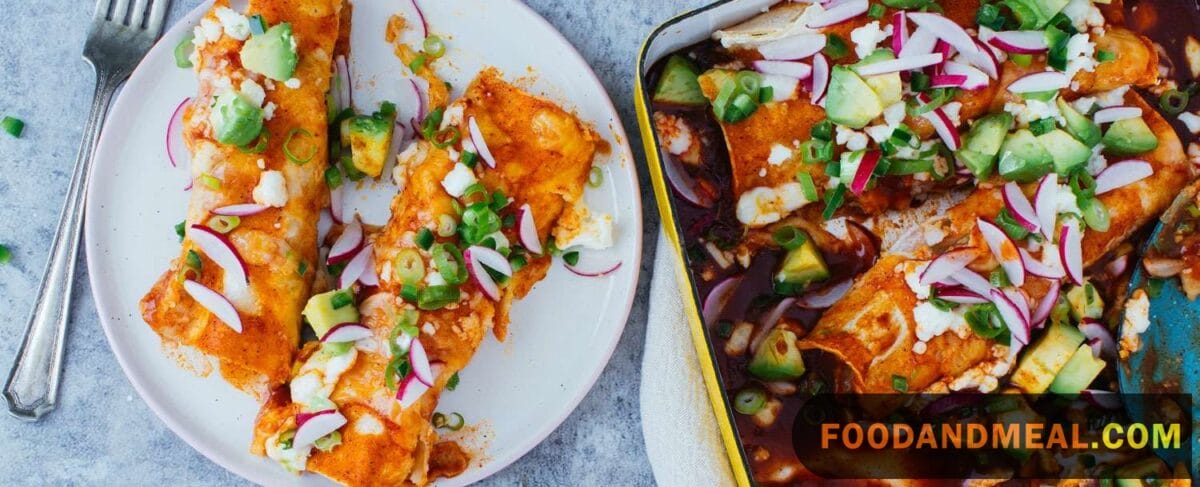 Bacon Enchiladas Recipe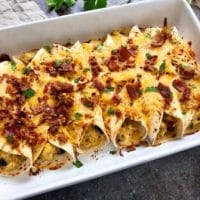 Bacon Enchiladas
These Bacon Enchiladas are the perfect way to celebrate Mexican food. Whether you're a fan of the spicy salsa or the creamy filling, you'll love the flavors of this traditional dish. Try this savory dish for a unique breakfast. It's sure to set you up for a successful weekend. You can easily prepare a delicious meal in minutes and enjoy it in no time. It'll leave you feeling stuffed and full.
Print
Pin Recipe
Add to Collection
Go to Collections
Equipment
Ingredients
Enchilada sauce
6

dried

guajillo chillies

also: ancho, pasilla, New Mexican chillies or chipotles

1

canned

chipotle in adobo

including a dash of adobo sauce

½

yellow onion

roughly chopped

4

cloves

garlic

peeled and rough chopped

1

can

tomatoes

14.5 oz. diced, drained and fire toasted

½

tsp.

oregano

dried

¼

tsp.

ground allspice

2

tsp.

ground cumin
black pepper

freshly ground
Enchiladas
Garnish (your choice)
Guacamole

Onions

raw and chopped
Instructions
Healthier Bacon Gouda Breakfast Enchiladas
Prepare the enchilada sauce by doing the following steps:
Rehydrate the dried chillies by tearing off the stems and deseed them by tearing off the flesh and getting rid of the seeds and membrane. Note: If you have sensitive skin, wear gloves first.

Put the chillies inside a medium stockpot and fill it with water just enough to fully submerge the chillies. As the chilies will float, submerge them using the tongs to know the right amount. As the rehydration process takes place, you will notice that they begin to sink.

Now, place the pot over high heat but don't cover it with lid. When it comes into a boil, turn off the heat and cover the pot with lid. Let it rest for about 20-30 minutes.

When the chilies are soft enough to the feel, pick them out of the water using the tongs and put them inside the blender.

Pour 1 cup of rehydrating liquid into the blender to rehydrate the chilies.

Set a medium or large pan over medium flame and add 1 tsp. of vegetable oi.

Sauté the onion and garlic until they are translucent. Turn off the heat and let them cool for a while before transferring them to the blender together with the chilies.

Also add the chipotle in adobo sauce plus a dash of adobo sauce.

Next, put the tomatoes, oregano, cumin, allspice, salt and pepper into the blender.

Blend the ingredients together until you make a smooth puree.

Using the same pan where you sauté the onion and garlic, add a teaspoon of vegetable oil again and transfer the enchilada sauce into the pan. Cook it for about 10 minutes over medium-low heat. Wait until the sauce thickens and darken a bit then lower the flame.  After cooking the sauce, set it aside until you need it.
You are now ready to arrange the enchiladas, so take the following steps:
Preheat your oven to 350-degrees Fahrenheit and grease a 9×13-inch pan while you're at it.

Heat the tortillas using microwave or over a medium-low heat of a gas stove. Keep them warm on a tortilla warmer or a clean cloth.

Pour half a cup of enchilada sauce onto the baking pan and spread it evenly.

On a flat surface, work on your tortillas by laying out one piece of it and fill its center with a quarter cup of shredded cheese. Top the cheese with 1 slice of bacon and a pinch of cilantro. Gently roll the tortilla and place it into the pan with the seam facing down. Repeat this step to the remaining tortillas and pour the remaining enchilada sauce onto their top, then sprinkle with cheese.

Put 1 pickled jalapeno ring on each enchilada roll.

Bake the assembled enchiladas for 15 minutes or until you see the cheese bubbling on the surface.

Before serving, sprinkle some cilantro over the enchilada and serve with your choice of garnish.
Notes
You may also like pierogies with onion and bacon recipe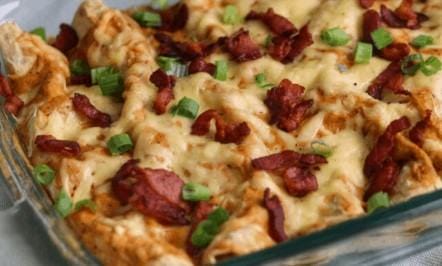 Share by Email
Share on Facebook
Share on Twitter
Nutrition
Serving:
4
servings
|
Calories:
1148
kcal
|
Carbohydrates:
53
g
|
Protein:
49
g
|
Fat:
84
g
|
Saturated Fat:
39
g
|
Polyunsaturated Fat:
10
g
|
Monounsaturated Fat:
30
g
|
Trans Fat:
1
g
|
Cholesterol:
190
mg
|
Sodium:
1524
mg
|
Potassium:
958
mg
|
Fiber:
10
g
|
Sugar:
9
g
|
Vitamin A:
3440
IU
|
Vitamin C:
64
mg
|
Calcium:
970
mg
|
Iron:
6
mg
© Food And Meal
This website provides approximate nutrition information for convenience and as a courtesy only. Nutrition data is gathered primarily from the Spoonacular Database, whenever available, or otherwise other online calculators.
Pin Recipe
Bacon Enchiladas Recipe Made in a Slow Cooker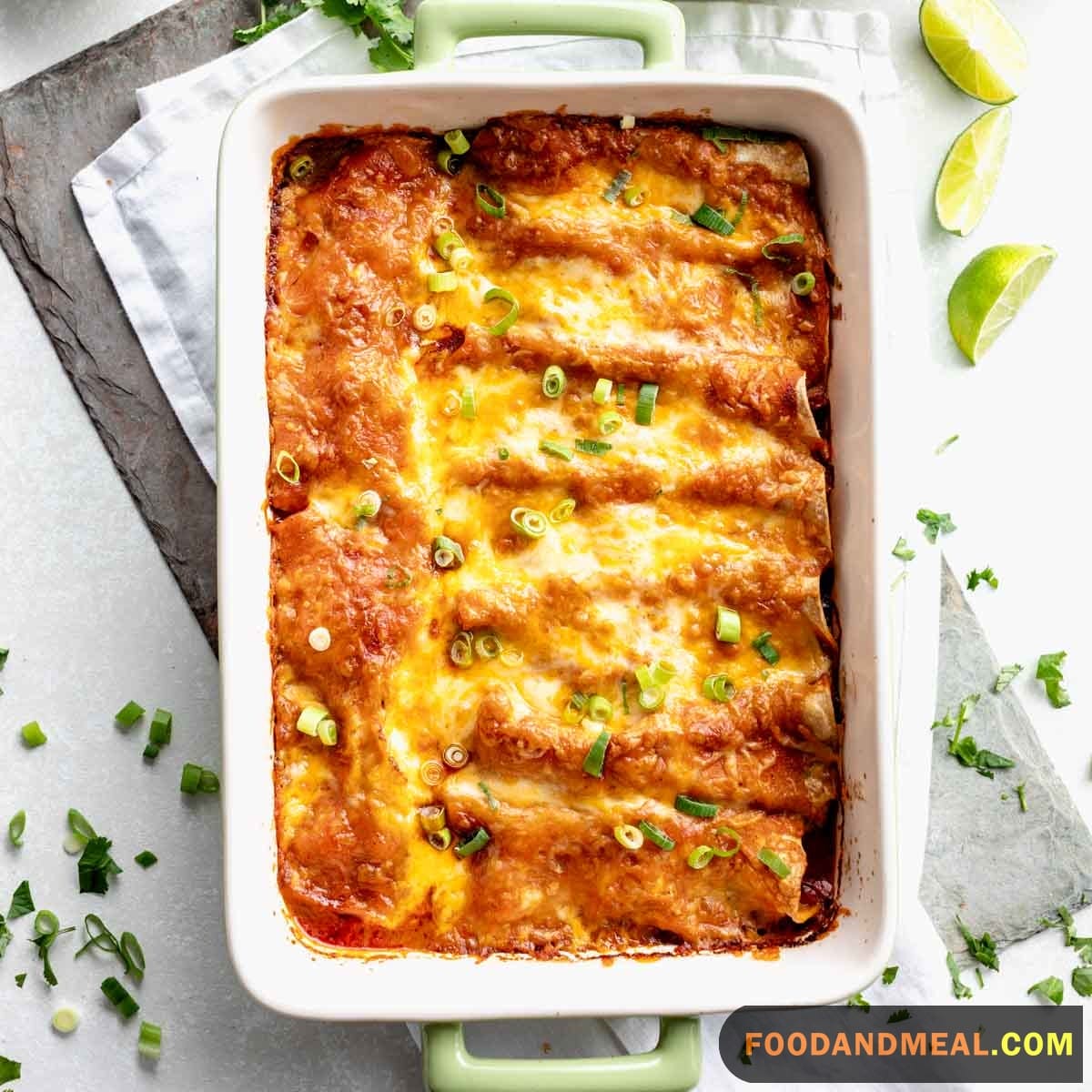 Ingredients: (Use the same ingredients as the traditional stovetop method.)
Method:
Bacon Preparation: Start by cooking your bacon until it's crisp. This can be done on the stovetop. Once cooked, crumble the bacon into bite-sized pieces and set aside.
Assemble Enchiladas: Lay out your tortillas and evenly distribute the bacon pieces among them. Add any additional fillings you prefer, such as cheese or beans. Roll each tortilla tightly and place them seam-side down in the slow cooker.
Sauce: Prepare your enchilada sauce as per the original recipe. Pour the sauce over the assembled enchiladas in the slow cooker, ensuring they are well-covered.
Slow Cook: Cover and set your slow cooker on low heat. Let it cook for about 4-5 hours. The low and slow process allows the flavors to intensify and the sauce to penetrate the tortillas, making them delightfully soft and flavorful.
Finishing Touch: In the last 30 minutes of cooking, sprinkle a generous amount of cheese on top if desired. The heat will melt the cheese, giving your enchiladas a gooey topping.
Serve: Once done, carefully extract the enchiladas from the slow cooker using a spatula. Plate them up, drizzle any remaining sauce from the cooker over the top, and garnish as desired.
Tips for making Bacon Enchiladas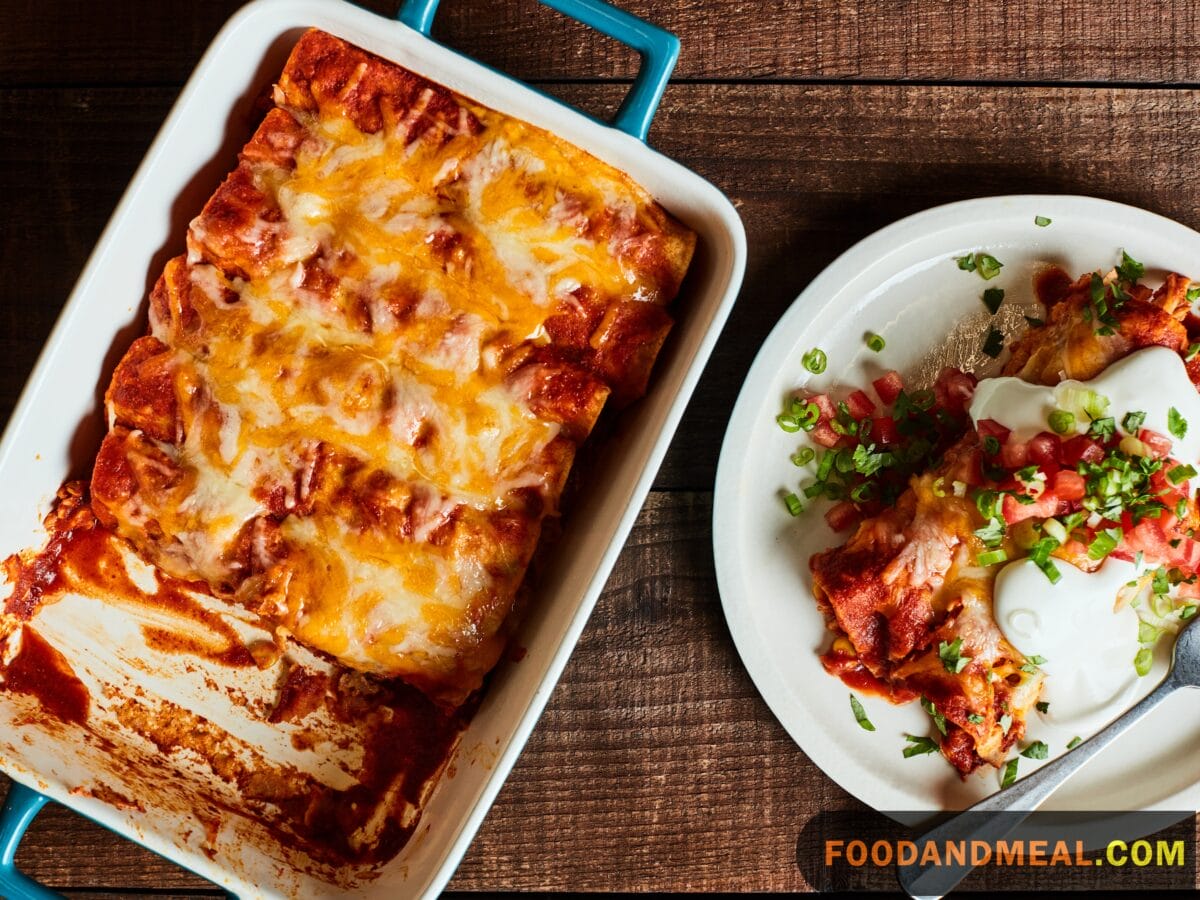 Cooking Tips
Bacon Quality: Always opt for high-quality bacon. The better the bacon, the more pronounced and delicious the flavor will be in your enchiladas.
Tortilla Choices: Using corn tortillas can offer a more authentic taste. However, if they feel too stiff, warm them slightly before rolling to prevent tearing.
Avoid Sogginess: If you're using particularly wet ingredients or a lot of sauce, be mindful of not over-soaking the tortillas. No one enjoys a soggy enchilada!
Layering: When assembling, ensure even distribution of bacon and other fillings for a consistent taste in every bite.
Serving Suggestions
Sides & Garnishes: Fresh guacamole and pico de gallo can add a burst of freshness to the rich bacon enchiladas. A dollop of sour cream or a vegan alternative can provide a creamy contrast. Don't forget a sprinkle of fresh cilantro and a squeeze of lime for that zesty finish.
Beverages: Pair your enchiladas with a cold, crisp Mexican lager or a tangy margarita. For non-alcoholic options, a chilled horchata or tamarind juice complements the dish wonderfully.
Alternative Serving Ideas: Consider dishing out the enchiladas atop a bed of Spanish rice or alongside refried beans. For those who love a little extra heat, drizzling some spicy salsa verde or red chili sauce can turn up the flavor intensity.
FAQs of Bacon Enchiladas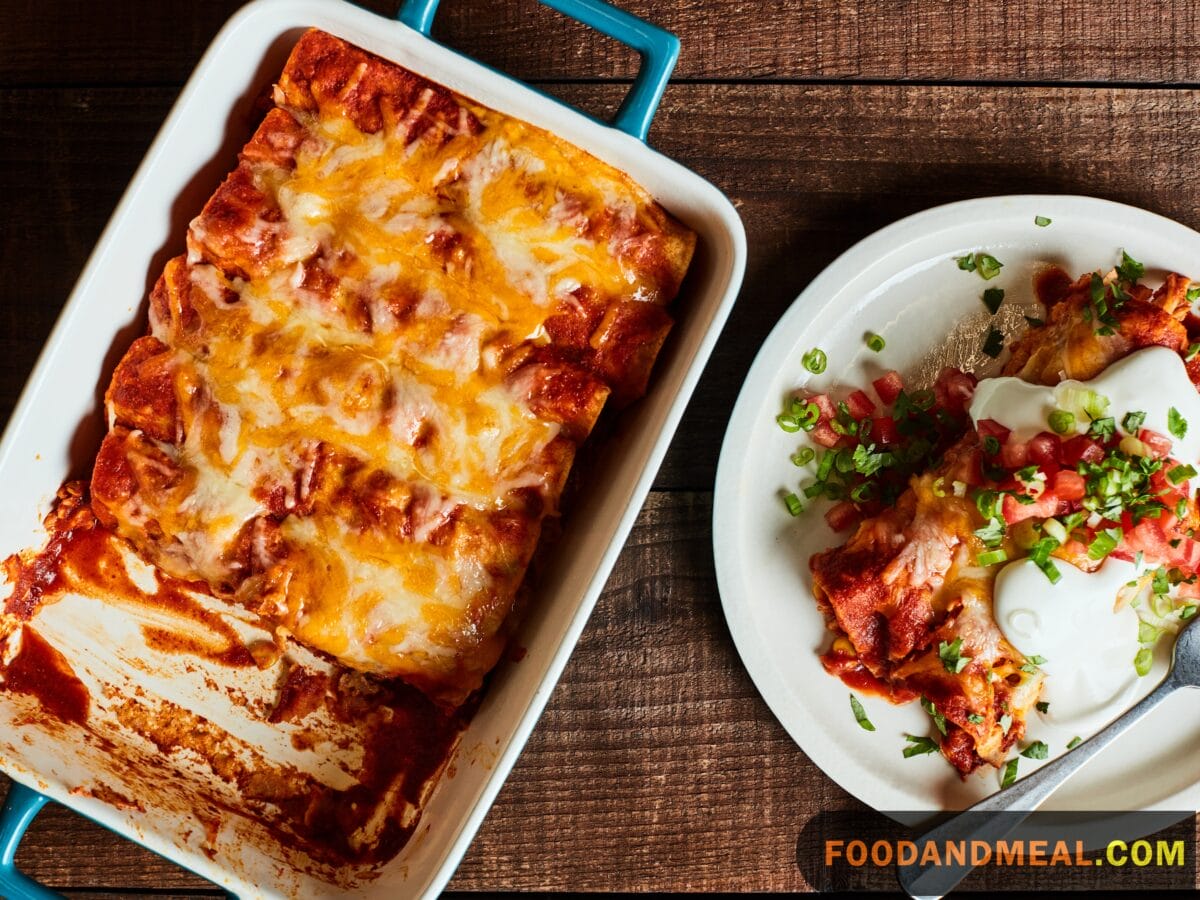 How should I store leftover Bacon Enchiladas? Cool the enchiladas to room temperature, then place them in an airtight container. Store in the refrigerator for up to three days.
Can Bacon Enchiladas be frozen? Absolutely! Once cooled, place them in a freezer-friendly container, separating layers with parchment paper. Freeze for up to a month. Thaw in the refrigerator overnight before reheating.
I don't eat pork. Can I replace the bacon? Certainly! Turkey bacon or even meaty mushrooms (like shiitake) seasoned well can be a great alternative. Adjust cooking times accordingly.
How do I ensure my enchiladas don't turn out dry in a slow cooker? Using enough sauce is key. The slow cooker's sealed environment will prevent much moisture loss, but starting with ample sauce ensures juicy enchiladas.
What if I don't have a slow cooker? The traditional method using a stovetop or oven works great. Follow the original Bacon Enchiladas Recipe, adjusting cooking times based on your chosen method.
The Bacon Enchiladas Recipe stands as a flavorful testament to culinary artistry, weaving tradition with contemporary tastes. Each bite is a journey to Mexico's heart, echoing its rich gastronomic heritage. As we wrap up, let these enchiladas inspire countless feasts and memories. ¡Buen provecho!
Experience the culinary brilliance of Chef John at Food And Meal Restaurant. With over 20 years of global expertise, My innovative creations and unwavering dedication to cooking have earned me a well-deserved reputation. My passion for gastronomy is showcased in every dish, combining fresh, local ingredients with harmonious flavors and captivating presentations. My ability to tell a story through my food reflects my profound understanding of culture and emotion.
Affiliate DisclaimerAbout The Content
As an affiliate, we may earn a commission from qualifying purchases. We get commissions for purchases made through links on this website from Amazon and other third parties.