Immerse yourself in the intricate dance of flavors and traditions with the iconic Chicken Hot Pot. As the gentle steam rises, and the aroma envelopes your senses, I'm reminded of my journeys across Japan, discovering the true essence of its culinary wonders.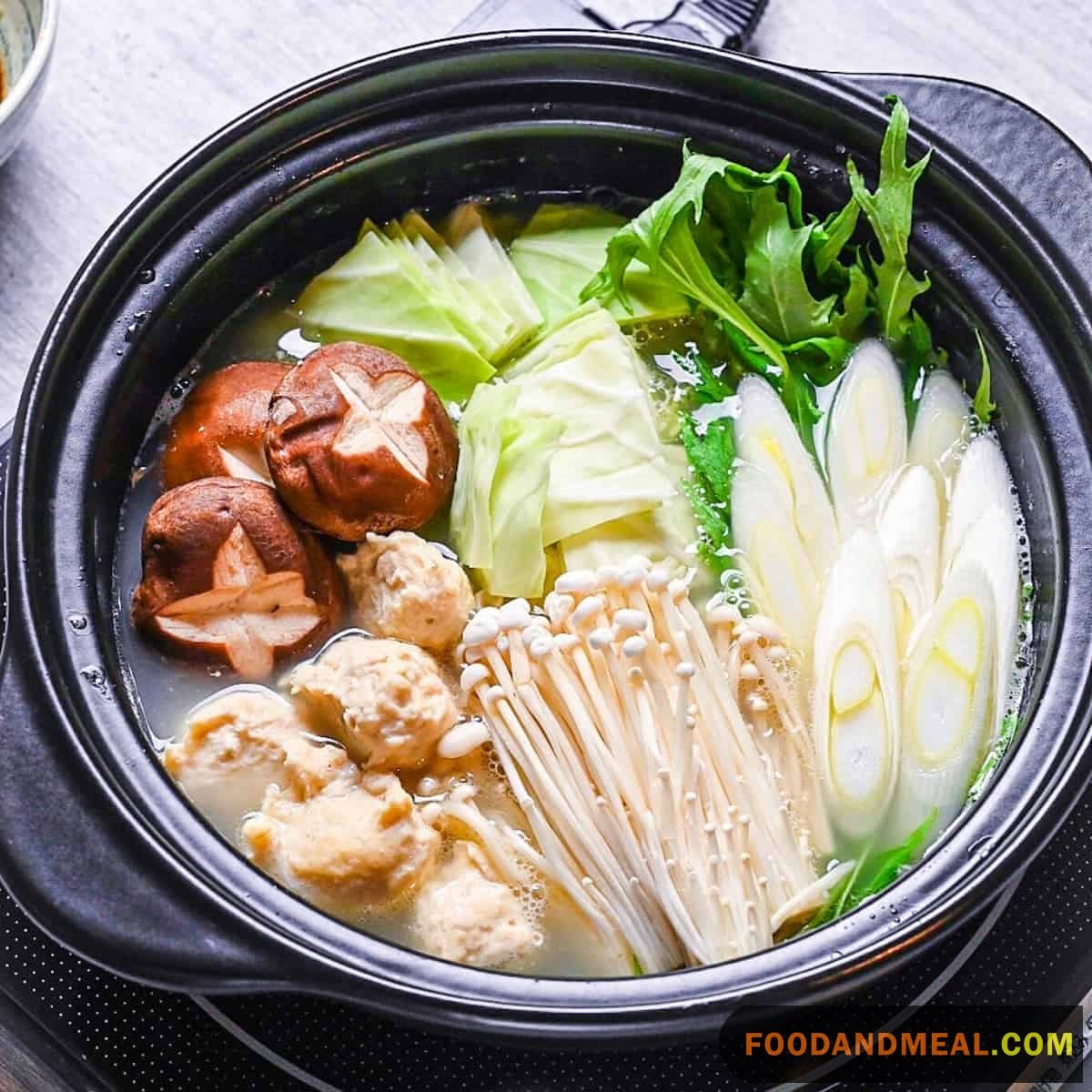 Chicken Hot Pot Recipe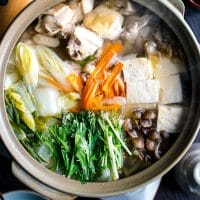 Japanese Chicken Hot Pot
Dive deep into the heartwarming world of Chicken Hot Pot, a traditional Japanese culinary marvel. The warmth, the aroma, and the flavors are a testament to its rich heritage. Found this comforting? Don't keep it to yourself! Share this recipe with your loved ones and subscribe for more delightful dishes straight from my kitchen to yours.
Print
Add to Collection
Go to Collections
Ingredients
Ingredient List:
For kombu dashi:
5

cups

water

seaweed rectangles
Instructions
Preparation:
Season chicken with salt and allow to marinate for an hour.

Pat chicken dry. Combine with remainder of ingredients in hot pot. Cover. Set on med-high heat.

When broth begins boiling, reduce heat and simmer. Skim if needed. Cover once more. Simmer for 18-22 minutes.

Turn heat off. Allow to rest for 13-15 minutes.

Transfer wings to bowl. Refrigerate for later reuse. Strain stock through sieve.
For kombu dashi:
Combine seaweed/kelp (kombu) and water in hot pot. Allow kombu to soak for 1⁄2 hour. It should grow to about double its original size.

Set hot pot on med. heat without covering. Before broth simmers, remove kombu. Turn off heat.

Turn heat back to med-high. When broth starts boiling, return to low and simmer. Add remainder of ingredients, but not mizuna.

Cover hot pot. Bring to simmer on pot on table till all is cooked through. Add mizuna. Cook for about a minute more. Turn heat off. Give your family or guests individual bowls and allow them to ladle their servings from hot pot.
Notes
This Chicken Hot Pot goes beautifully with a side of Japanese rice or udon noodles. To make it even more delightful, serve with a glass of sake. Always start with a cold broth and gradually heat up to ensure the chicken remains tender and succulent. Once done, serve immediately for optimal flavor.
Share by Email
Share on Facebook
Share on Twitter
Nutrition
Calories:
398
kcal
|
Carbohydrates:
28
g
|
Protein:
30
g
|
Fat:
18
g
|
Saturated Fat:
4
g
|
Polyunsaturated Fat:
6
g
|
Monounsaturated Fat:
6
g
|
Trans Fat:
0.2
g
|
Cholesterol:
63
mg
|
Sodium:
1770
mg
|
Potassium:
981
mg
|
Fiber:
8
g
|
Sugar:
13
g
|
Vitamin A:
16664
IU
|
Vitamin C:
75
mg
|
Calcium:
279
mg
|
Iron:
4
mg
© Food And Meal
This website provides approximate nutrition information for convenience and as a courtesy only. Nutrition data is gathered primarily from the Spoonacular Database, whenever available, or otherwise other online calculators.
Slow Cooker Chicken Hot Pot Method
Ingredients: Note: Use the same ingredients as the traditional Chicken Hot Pot recipe.
Method:
Preparation: Begin by prepping all your ingredients as you would for the traditional method. Clean and slice the chicken, chop the vegetables, and prepare the broth.
Layering: Start by placing the chicken pieces at the bottom of the slow cooker. This ensures they remain submerged in the broth and cook evenly. Follow this with your vegetables, tofu, mushrooms, and noodles.
Pour in the Broth: Gently pour your broth over the layered ingredients in the slow cooker. If you have a specific broth or dashi recipe, prepare it ahead of time.
Season: Sprinkle in the necessary seasonings – soy sauce, mirin, sake, and any other flavoring agents you're using.
Slow Cook: Cover the slow cooker with its lid. Set it to 'LOW' and let it cook for about 6-7 hours. If you're short on time, you can set it to 'HIGH' and cook for 3-4 hours. However, the longer and slower it cooks, the more flavors will meld together.
Serve: Once done, stir the hot pot gently to mix the ingredients. Serve it directly from the slow cooker to retain warmth. Garnish with fresh scallions or any preferred herbs.
Our Recommended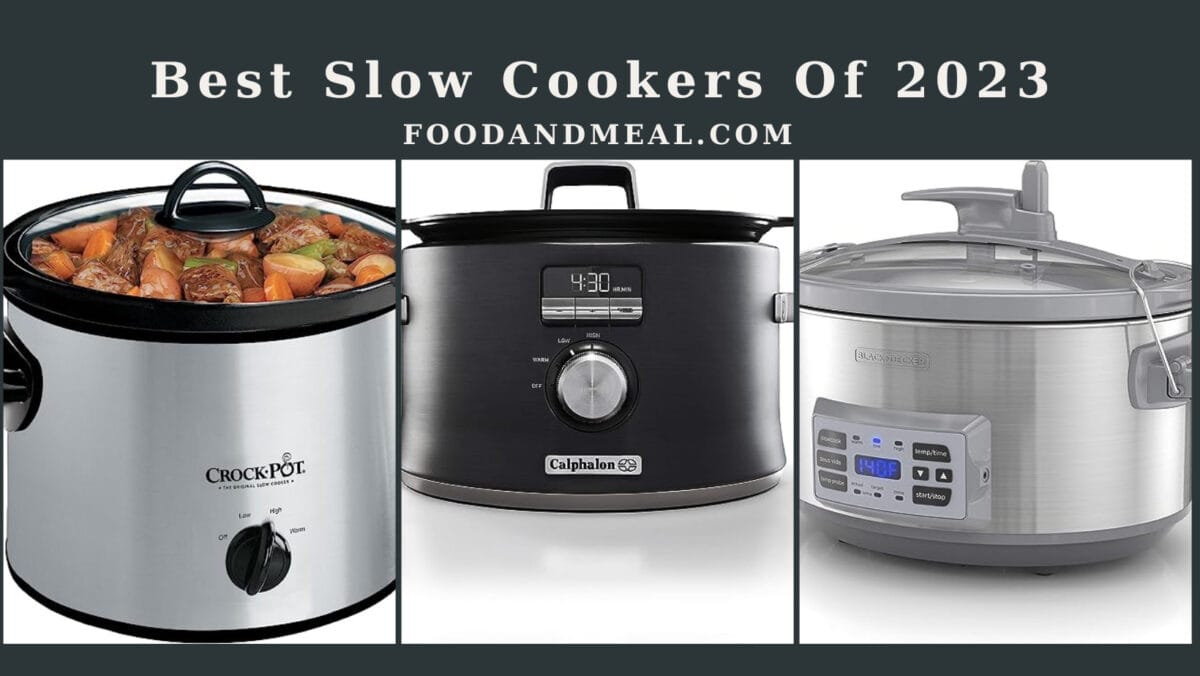 Read more
Cooking Tips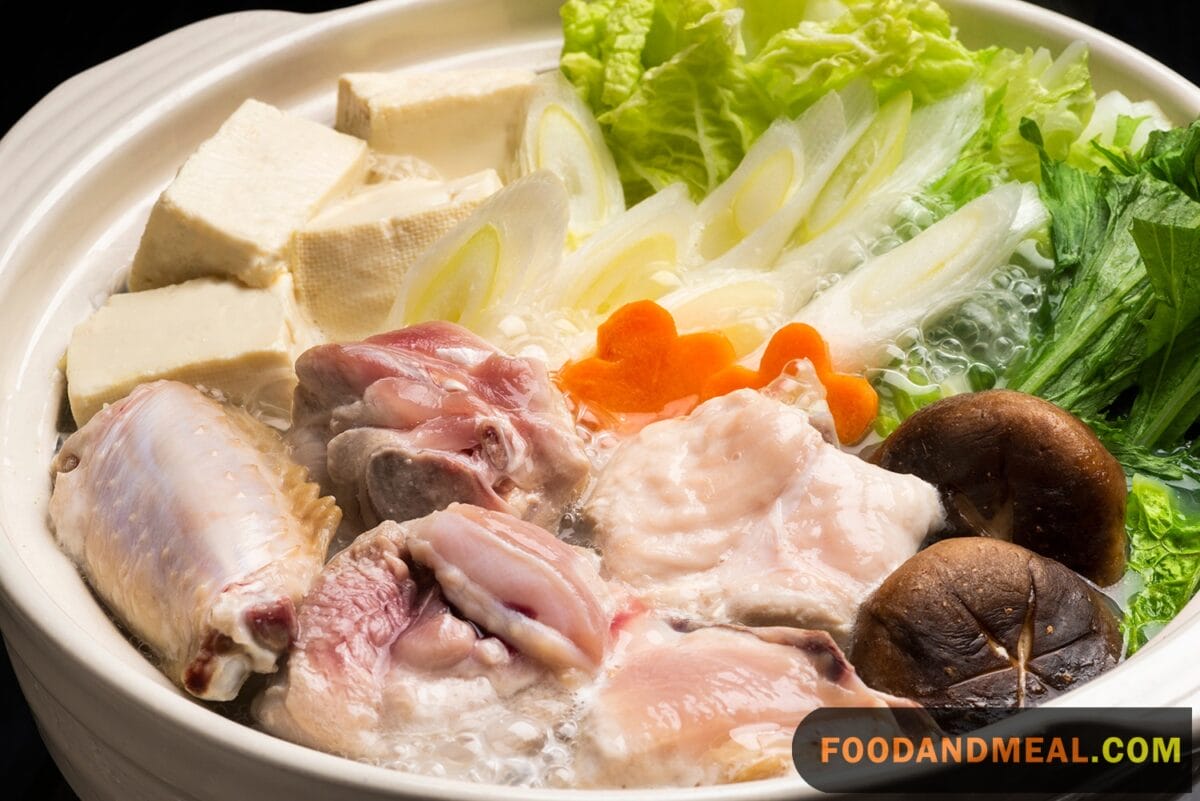 Even Heating: Whether you're using a traditional pot or a slow cooker, ensure even heating. This helps in melding the flavors better and ensuring the chicken is cooked uniformly.
Always Fresh: Use fresh ingredients. Especially with the chicken, fresher cuts give the best flavor and texture.
Broth Matters: Your broth is the soul of the hot pot. Take your time with it. If you can, use homemade stock. It makes a world of difference.
Don't Overcrowd: Resist the temptation to throw everything in. Too many ingredients can overwhelm the broth and affect even cooking.
Mistakes to Avoid: Overcooking the veggies and proteins makes them lose their individuality. And remember, always add delicate ingredients like tofu or thin noodles towards the end to avoid overcooking.
Serving Suggestions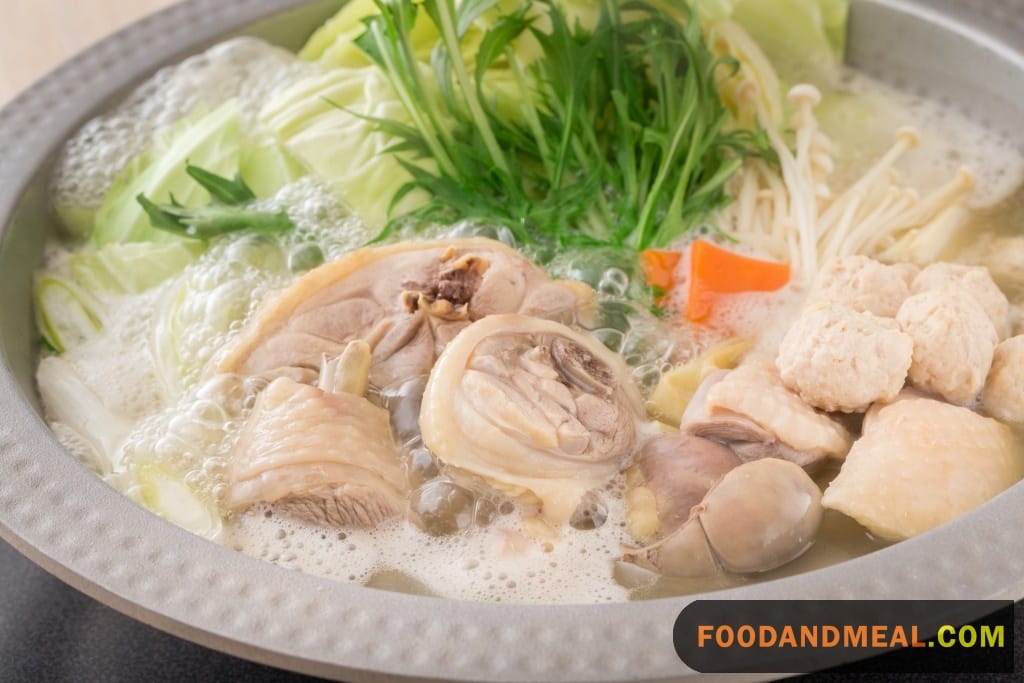 Occasion: Perfect for cold winter evenings or when you're in need of some comfort food. Ideal for family gatherings, date nights at home, or even solo indulgence.
Audience: A universal favorite! Children, adults, and the elderly will appreciate its warmth and flavors. If you have guests from different cultures, this is a great dish to introduce them to Japanese cuisine.
Sides: Think light. A fresh green salad with a tangy dressing, pickled radishes, or even a mild miso soup pairs well. If you want to stick to carbs, steamed jasmine or brown rice does the trick.
Garnishes: Fresh herbs like chopped scallions, cilantro, or even thinly sliced radishes add a refreshing touch. For a zestier kick, sprinkle some sesame seeds or drizzle a little chili oil.
Beverages: Keep it traditional with warm sake or green tea. If you're in the mood for something different, white wine or a light beer complements the flavors beautifully.
FAQs of Chicken Hot Pot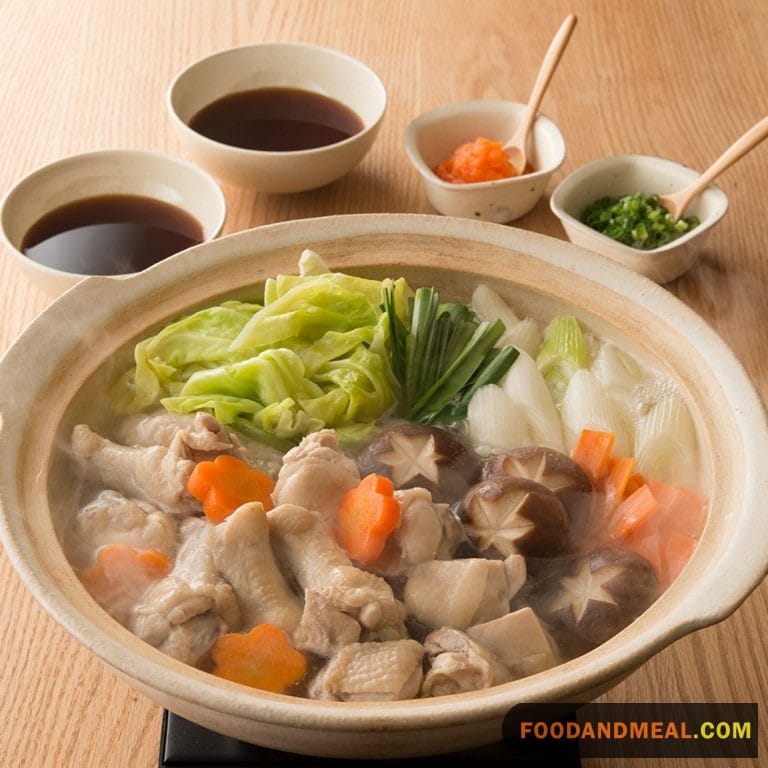 Can I substitute chicken with another protein? Absolutely! While chicken offers a tender bite, feel free to use tofu, shrimp, beef, or even a mix of your favorite proteins. Just adjust the cooking time depending on the chosen protein.
How long can I store the Chicken Hot Pot leftovers? Ideally, it's best to enjoy the hot pot fresh. However, if you have leftovers, refrigerate them within two hours of cooking. Stored in an airtight container, they'll stay good for 2-3 days. Just ensure you reheat thoroughly before serving again.
I don't have sake. What can I use instead? If sake isn't handy, you can use dry sherry or Chinese rice wine as a substitute. If you prefer a non-alcoholic alternative, apple juice or white grape juice mixed with a splash of lemon juice works well.
Is it essential to use a slow cooker for the alternative method? No, the slow cooker is just one alternative method. You can also use a Dutch oven or even a regular deep pot on the stove. The essence is in the slow and prolonged cooking.
How can I make my Chicken Hot Pot spicier? If you're a fan of spice, add some chopped red chilies, a splash of chili oil, or even a spoon of spicy bean paste. Adjust according to your heat preference and enjoy!
Are Japanese Rice Cookers the Best Choice for Making Chicken Hot Pot? When it comes to making chicken hot pot, nothing beats the convenience and precision of must have rice cookers from Japan

. These extraordinary appliances not only ensure perfectly cooked rice but also excel at creating delectable hot pots. Their advanced features, such as multiple cooking modes and adjustable temperatures, allow for effortless preparation of tender chicken and flavorful broths. Elevate your hot pot experience with the unparalleled performance of Japanese rice cookers.
Dive into the authentic Japanese Chicken Hot Pot recipe. Experience a symphony of flavors and warmth with every bite. Try it, share, and explore more recipes!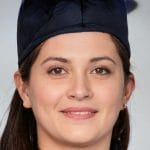 Hi! I'm Nazia of 'Nazia Cooks', a self-taught baker and cook residing in Chennai. Rooted in the rich South Indian culinary landscape, my palate has expanded to embrace global flavors. I revel in crafting fusion dishes, melding traditions to birth unique tastes.
Affiliate DisclaimerAbout The Content
As an affiliate, we may earn a commission from qualifying purchases. We get commissions for purchases made through links on this website from Amazon and other third parties.