Welcome to a world of pure chocolatey delight! As a passionate food blogger and a seasoned chef, I can confidently say that few things in life are as satisfying as sinking your teeth into a perfectly baked chocolate cupcake. Today, I'm thrilled to share with you my all-time favorite recipe for Chocolate Cupcakes. These little bites of heaven are a symphony of rich cocoa flavor, moist crumb, and luscious frosting. Whether you're a novice baker or an experienced one, follow along, and I promise you'll be whipping up these indulgent treats in no time.
Chocolate Cupcakes Recipe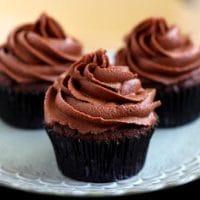 Chocolate Cupcakes
This chocolate cupcake recipe is pure chocolate indulgence. Children will love to decorate with chocolate strands and chocolate decorations.
Print
Add to Collection
Go to Collections
Instructions
For the cake
You have to preheat the oven to 350⁰F or an equivalent of 177⁰C.

Get your muffin tray and line it with muffin liners.

Prepare two mixing bowls for the dry and wet ingredients. Mix all the dry ingredients in the first mixing bowl.  Into the other, mix also all the wet ingredients.

After you mix the dry and wet ingredients into separate bowls, incorporate them together by mixing the wet mixture into the dry one.

Commence blending again but make sure not to over mix.

Pour the batter into the muffin cup, filling only about two-thirds of the cup.

Bake the mini-cakes for approximately 20-22 minutes then remove from the wire rack. Let them cool completely before topping them with icing.

Chocolate Cupcakes Recipe
For the icing
Put the chocolate bits in a heat-proof bowl and place bowl in a double boiler. Melt the chocolate and set aside until it cools down in a normal room temperature.

Using a whisk or stand mixer, beat the butter until smooth and soft. Pour the sugar into it and beat again until the blend has light and fluffy texture.  You can then add the vanilla extract plus the melted chocolate.  Beat the mixture again until it attained the shiny and smooth texture.
Finalizing
Get your cupcakes and decorate them using the icing you've just made.

You can also add chocolate bits, candies and sprinkles. Enjoy your homemade cupcakes with friends and loved-ones.
Notes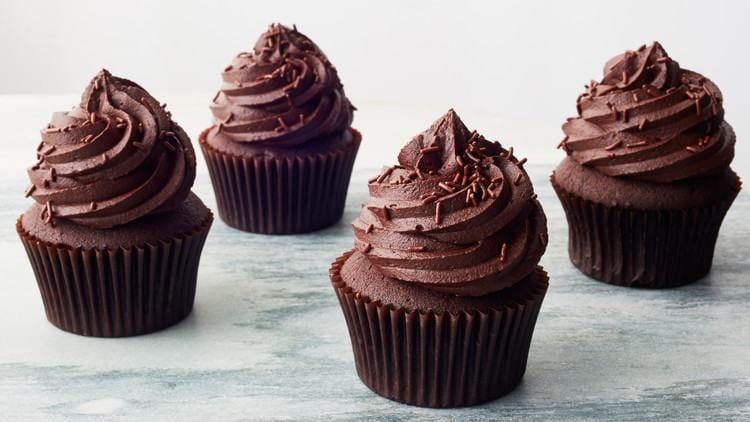 Incoming search terms:
chocolate cupcakes
chocolate cup cakes
chocolate cupcake
chocolatr cupcakes
cupcakes with chocolate
how to make chocolate cupcake
Share by Email
Share on Facebook
Share on Twitter
Nutrition
Serving:
1
cupcake
|
Calories:
120
kcal
|
Carbohydrates:
19
g
|
Protein:
1
g
|
Fat:
5
g
© Food And Meal
This website provides approximate nutrition information for convenience and as a courtesy only. Nutrition data is gathered primarily from the Spoonacular Database, whenever available, or otherwise other online calculators.
Alternative Method: Chocolate Cupcake in a Microwave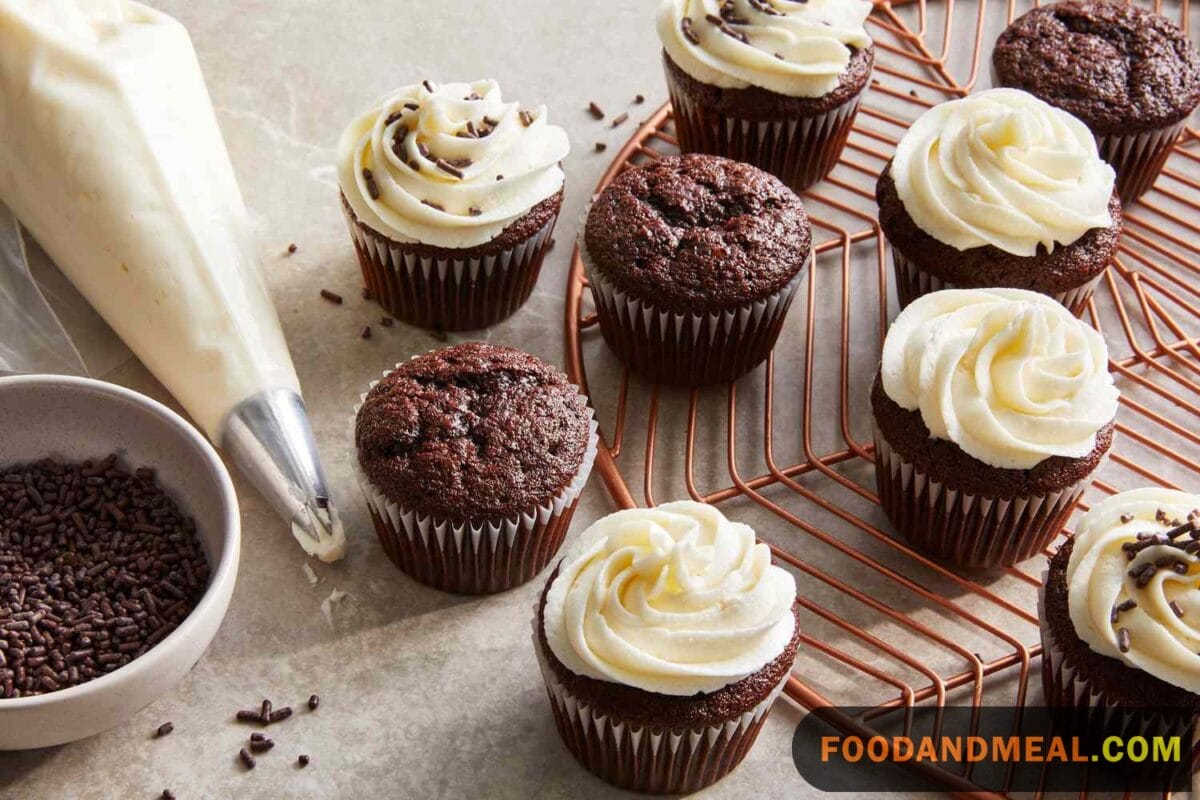 Ingredients:
2 tablespoons all-purpose flour
2 tablespoons granulated sugar
1 tablespoon unsweetened cocoa powder
1/8 teaspoon baking powder
A pinch of salt
1 tablespoon vegetable oil
2 tablespoons milk
1/4 teaspoon vanilla extract
1 tablespoon chocolate chips (optional)
Instructions:
In a microwave-safe mug or a ramekin, combine the all-purpose flour, granulated sugar, unsweetened cocoa powder, baking powder, and a pinch of salt. Stir to mix well.
Add the vegetable oil, milk, and vanilla extract to the dry ingredients. Mix until you have a smooth batter. Ensure there are no lumps.
If you'd like an extra chocolatey kick, sprinkle chocolate chips over the top of the batter.
Microwave the mixture on high for about 60-90 seconds. Cooking times may vary depending on your microwave's wattage, so keep a close eye on it. The cupcake should rise and set but still be slightly gooey in the center.
Carefully remove the cupcake from the microwave (it'll be hot!), and let it cool for a minute or two.
Dig in with a spoon or add a dollop of whipped cream or a scoop of vanilla ice cream for an extra treat.
Tips for making Chocolate Cupcake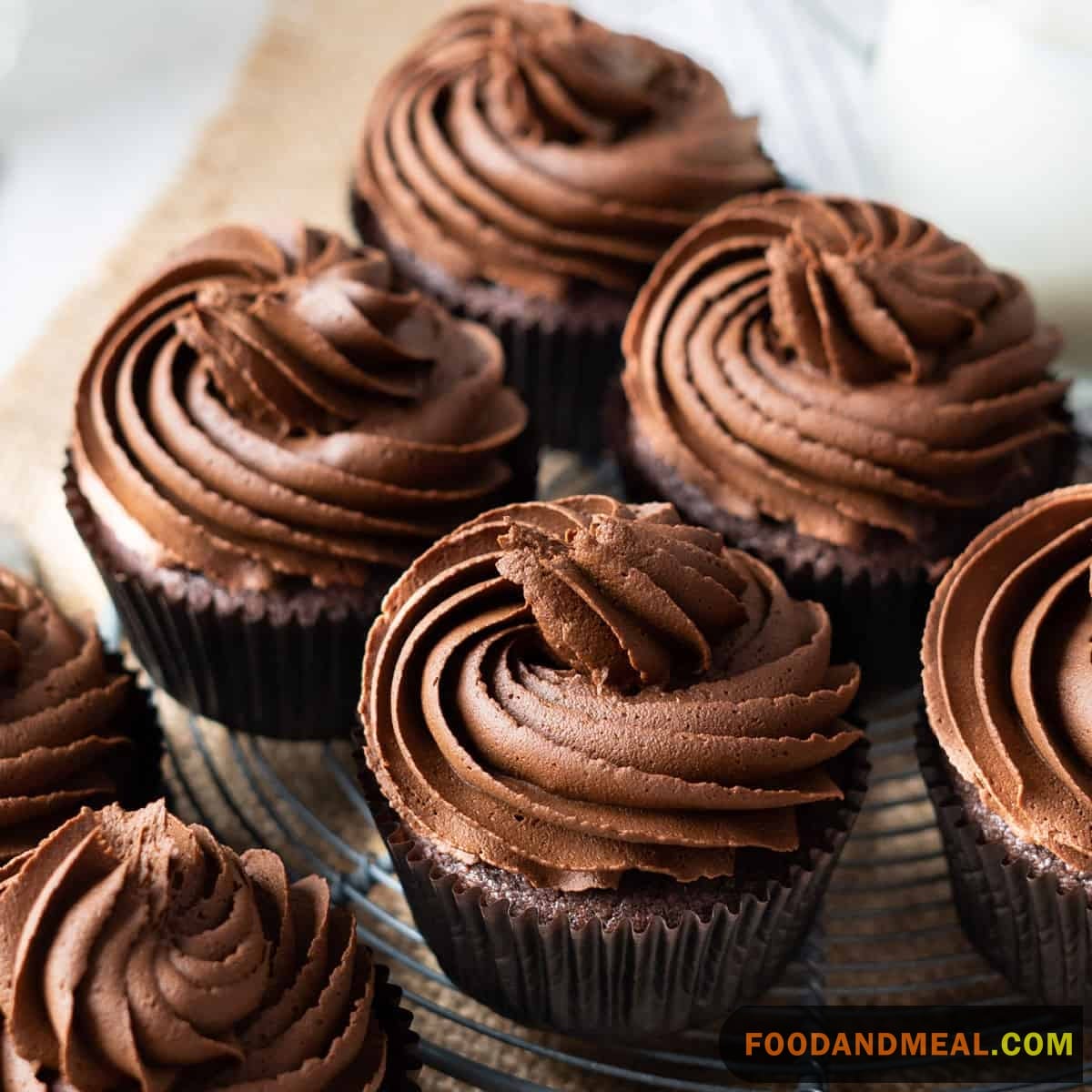 Cooking Tips
Room Temperature Ingredients: Allow your eggs, milk, and butter to come to room temperature before you start baking. This ensures better mixing and a smoother batter.
Sift the Dry Ingredients: Sifting the dry ingredients, especially the cocoa powder and flour, helps eliminate lumps and results in a lighter cupcake texture.
Don't Overmix: When combining wet and dry ingredients, mix until just combined. Overmixing can lead to tough cupcakes.
Use Quality Chocolate: Opt for high-quality chocolate and cocoa powder. It makes a significant difference in flavor.
Even Filling: Use an ice cream scoop or a spoon to ensure that you fill each cupcake liner evenly. This helps your cupcakes bake uniformly.
The Toothpick Test: To check if your cupcakes are done, insert a toothpick into the center. It should come out with a few moist crumbs clinging to it, not wet batter.
Cool Completely: Allow your cupcakes to cool in the pan for a few minutes before transferring them to a wire rack. Let them cool completely before frosting.
Serving Suggestions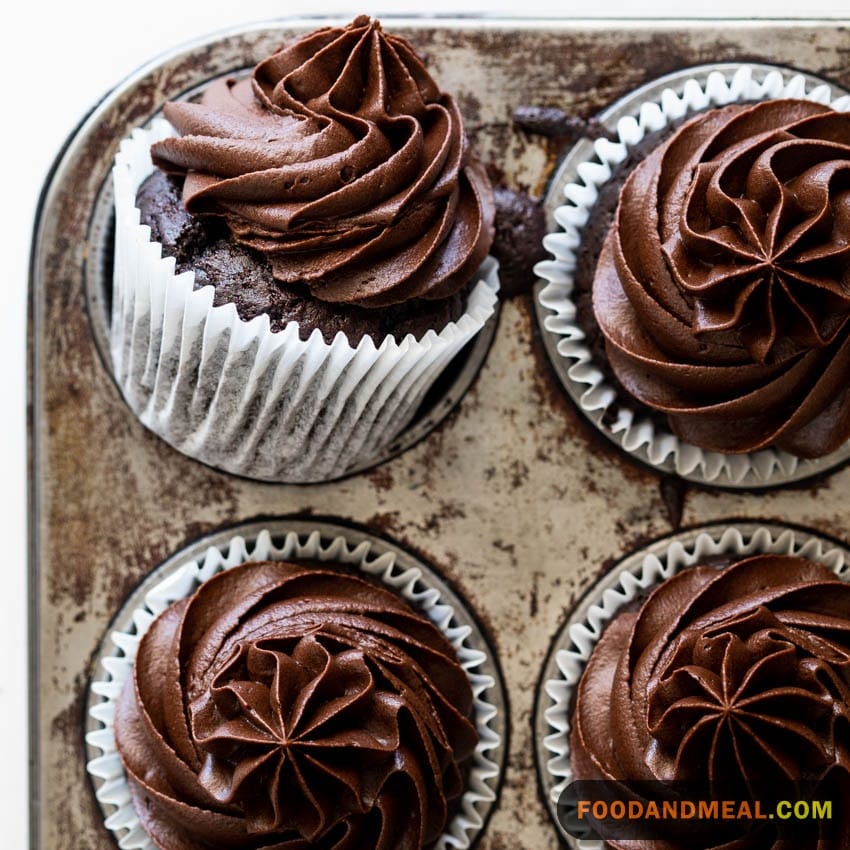 Classic Frosting: Top your cupcakes with classic chocolate or vanilla buttercream frosting. Swirl it on with a piping bag for a bakery-worthy look.
Fresh Berries: Serve your cupcakes with a side of fresh berries like raspberries or strawberries. The tartness of the berries complements the sweetness of the cupcakes.
A Scoop of Ice Cream: Warm cupcakes and a scoop of vanilla ice cream are a match made in dessert heaven. The warm-cold contrast is delightful.
Chocolate Drizzle: Drizzle some melted chocolate or a chocolate ganache over your cupcakes for an extra layer of chocolaty goodness.
Coffee Pairing: Chocolate and coffee are a classic duo. Enjoy your cupcakes with a cup of your favorite coffee or a rich hot chocolate.
Frequently Asked Questions about Chocolate Cupcakes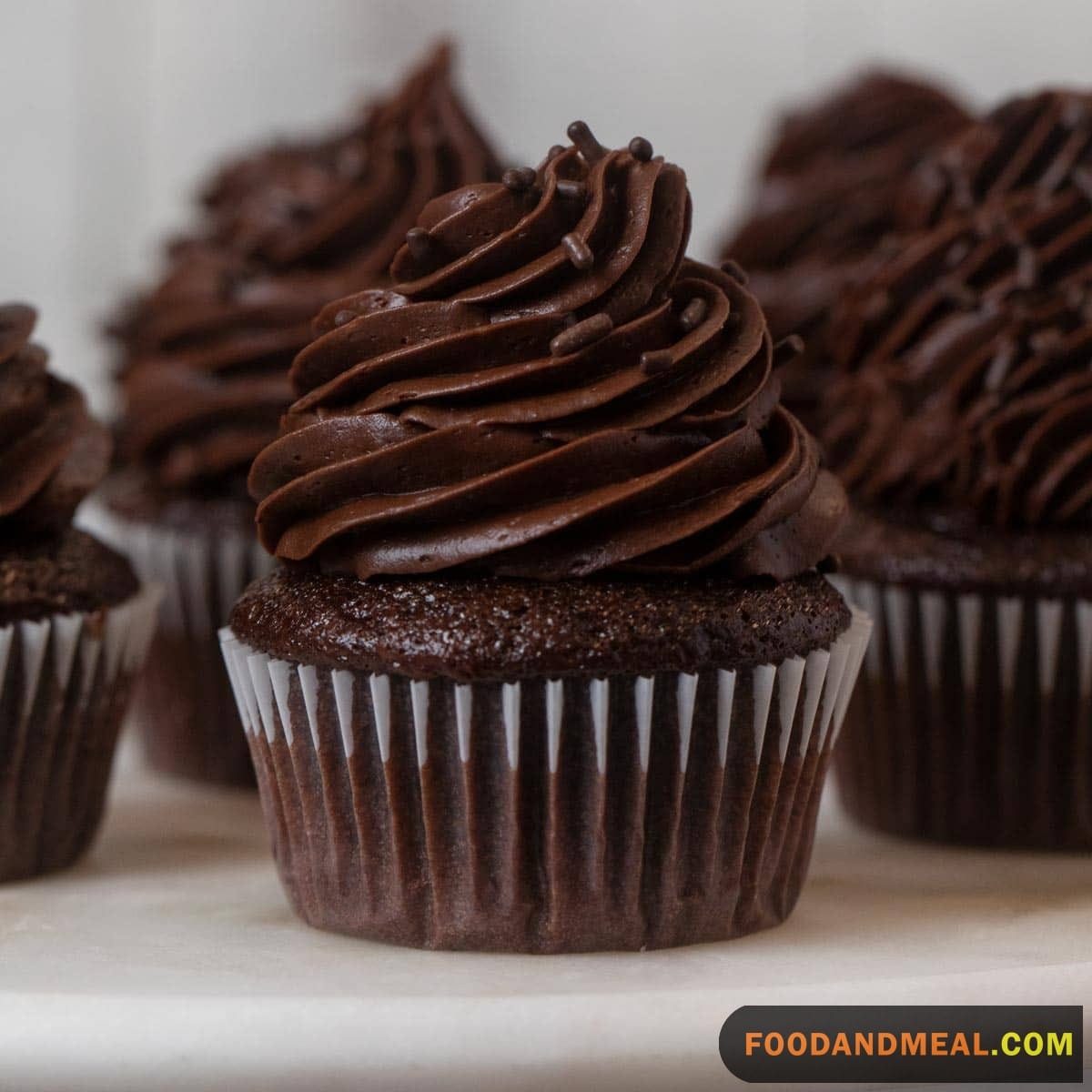 Can I make these cupcakes ahead of time? Absolutely! Bake the cupcakes in advance, let them cool, and store them in an airtight container at room temperature for up to two days.
How do I store leftover cupcakes? If you have any leftover cupcakes, store them in an airtight container at room temperature for a day or two. For longer storage, freeze them in an airtight container or freezer bags for up to three months.
Can I use this recipe to make a whole cake instead of cupcakes? Yes, you can! This recipe can be adapted to make a single-layer 8 or 9-inch cake. Adjust the baking time accordingly.
My cupcakes sunk in the middle. What did I do wrong? Cupcakes sinking in the middle could be due to overmixing the batter, opening the oven door too early, or not baking them long enough. Be sure to follow the recommended baking time and avoid opening the oven door prematurely.
Can I make these cupcakes gluten-free? Yes, you can substitute gluten-free flour for all-purpose flour. Ensure your other ingredients are also gluten-free, and consider adding a little xanthan gum for better texture.
Satisfy your chocolate cravings with our scrumptious Chocolate Cupcakes recipe. Expert tips and serving suggestions included. Bake these delights today!
Affiliate DisclaimerAbout The Content
As an affiliate, we may earn a commission from qualifying purchases. We get commissions for purchases made through links on this website from Amazon and other third parties.