How to make Akkawi Cheese (or simply Akawi)? A kind of white cheese is made from cow milk and salt.  Sometimes, they are also made using sheep or goat milk. It can be served as an appetizer and as part of entrees and desserts.  You can also serve Akkawi cheese as a fried snack, with fruits or just as it is.
Akkawi Cheese Recipe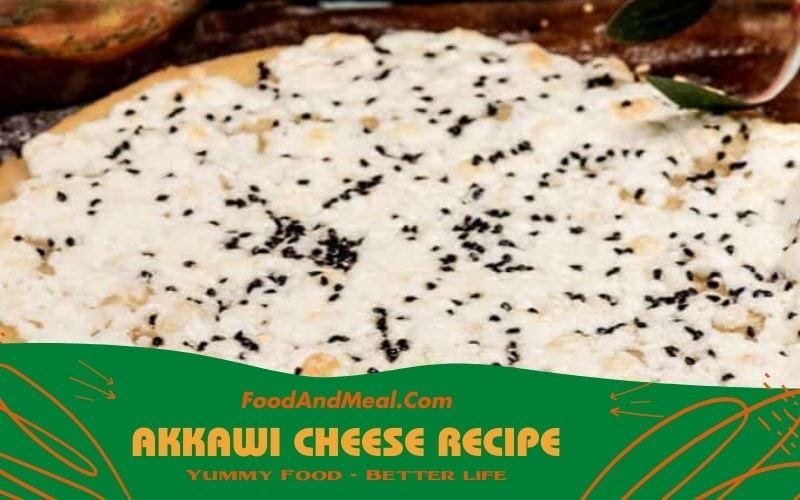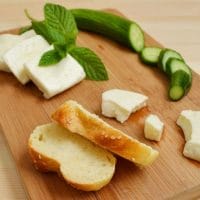 Akkawi Cheese
This Akkawi Cheese recipe, the cheese bread is topped with nigella seeds, but you could also use a spice mixture called za'atar which will add a bit more flavor to the bread.  
Print
Pin
Add to Collection
Go to Collections
Instructions
The bottom section of the double boiler must be filled with water; while the top of the double boiler must be filled with 1 gallon of milk. Then add 2 teaspoons of salt and two rennet capsules to the milk. Follow the directions based on the rennet capsule's manufacturer's instructions.

Next, strain the milk using a strainer. Notice then that the curds are being separated from the liquid. Put the curds in cheesecloth, wrap and squeeze over the kitchen sink. Note that you must remove as much wetness as possible.

Get the curds and form them into a ball, then put it inside a glass container or bowl. Cover the curds with the cheesecloth and set aside in a cool place. Leave it be for about two weeks, maintaining temperature of about 45⁰-50⁰

After two weeks, get the already made cheese. Make brine solution by combining 1 lb. of salt and ½ gal. of water; and blend them well. Using cheesecloth, wife the surface of the cheese with brine solution. Cover the cheese with cloth for yet another two whole weeks.

Repeat process for every two weeks until you reach a sum of eight weeks. If you want your cheese to be tangier, add another four weeks after the eight-week period, doing the same process.
Video
Notes
A delicious flat cheese bread called Akkawi manakeesh, super popular in Saudi Arabia, and for good reason, it is delicious!
Share by Email
Share on Facebook
Share on Twitter
Nutrition
Serving:
100
g
|
Calories:
262
kcal
|
Carbohydrates:
3
g
|
Protein:
22
g
|
Fat:
18
g
|
Saturated Fat:
14
g
|
Sodium:
1000
mg
© Food And Meal
This website provides approximate nutrition information for convenience and as a courtesy only. Nutrition data is gathered primarily from the Spoonacular Database, whenever available, or otherwise other online calculators.
What is Akkawi Cheese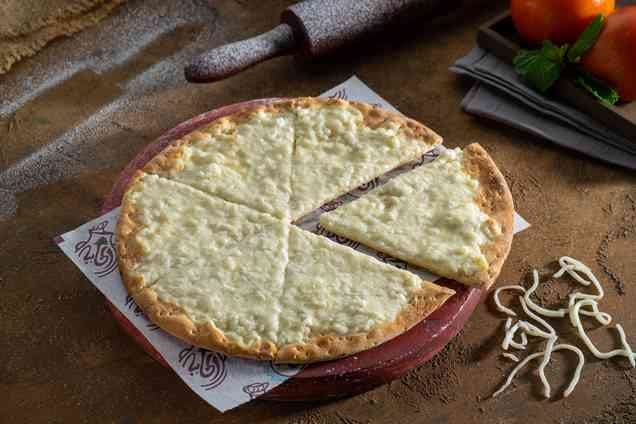 The white brine cheese of Acre, Israel, Akkawi cheese is very popular. Its nutty flavor and distinctive aroma will leave you craving more. But how do you tell if it is worth trying? Here's a guide. Read on to find out more about the origins of this unique, salty delicacy. If you're a cheese fan, you may want to try it.
The cheese is usually made from pasteurized cow's milk, though goat or sheep milk is sometimes used. It is mainly produced in the Middle East, where it is commonly eaten with soft flatbread during lunchtime. The cheese is hand-packed into draining hoops and then cured in a salted brine solution for two days. It is then pressed and then sliced and sold. The resulting cheese is then used in cooking and sandwiches.
Tips for making Akkawi Cheese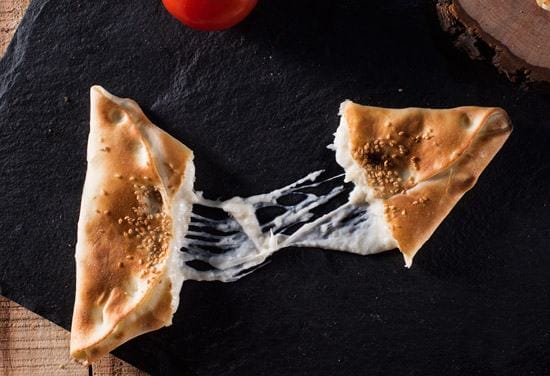 For baking, simply place the akkawi cheese in a large pot and cover it with cold water. Let it sit for 5-10 minutes, then stir. After that, divide the dough into equal-sized portions and allow it to rest for 30 minutes. Once cooled, the curds should be rolled into discs about 10 inches in diameter. To serve, sprinkle them with nigella seeds. When they are ready to be served, you're ready to eat them!
The process of making akkawi cheese is fairly simple. First, you should put the akkawi cheese into a large mixing bowl. Then, cover it and let it sit for about 20 minutes. The curds will sink to the bottom of the bowl while the dripping 'whey' will be at the top. After the curds have rested for 30 minutes, you can roll them into discs. Once the cheese is rolled, you can sprinkle nigella seeds on it to make them saltier.
For centuries, the Akkawi cheese was made in the Middle East, where it was eaten as a table cheese. It has a mild, salty flavor and is traditionally eaten with soft flatbread during lunch. It is also used in kanafeh desserts. You can find it in most Middle Eastern markets. There are several varieties of awi cheese. And you can try them in various countries.
When making akkawi cheese, use nigella seeds and a za'atar spice mix. You can also use a double boiler to make this cheese. It can be served as a dessert or as a snack with fruit. Alternatively, you can fry it to make it a snack. You can serve it as a snack or add it to your sandwich. The nigella seeds and za'atar spice mixture will add a unique, savory flavor.
After soaking in brine overnight, akkawi cheese is ready to eat. The soft white curds can be eaten straight from the brine, or you can fry them. But you must keep it refrigerated in order to prevent it from spoiling. Then, you can use it in a variety of recipes. Once you have the right recipe, you'll be able to enjoy the best of the cheese.
Hope you enjoy the special Chicken Soup recipe and don't forget to read more interesting articles about culinary knowledge on FoodandMeal website ! If you feel this recipe is useful, please leave your kind comments below and take time to read other blogs to be an international chef at your home.