Welcome to a culinary journey that takes you straight to the heart of Japan. In this blog post, we're diving into the world of Teriyaki Chicken Kabobs, a delightful fusion of sweet and savory flavors grilled to perfection. Get ready to elevate your grilling game and experience the taste of Japan in your own backyard.
Teriyaki Chicken Kabobs Recipes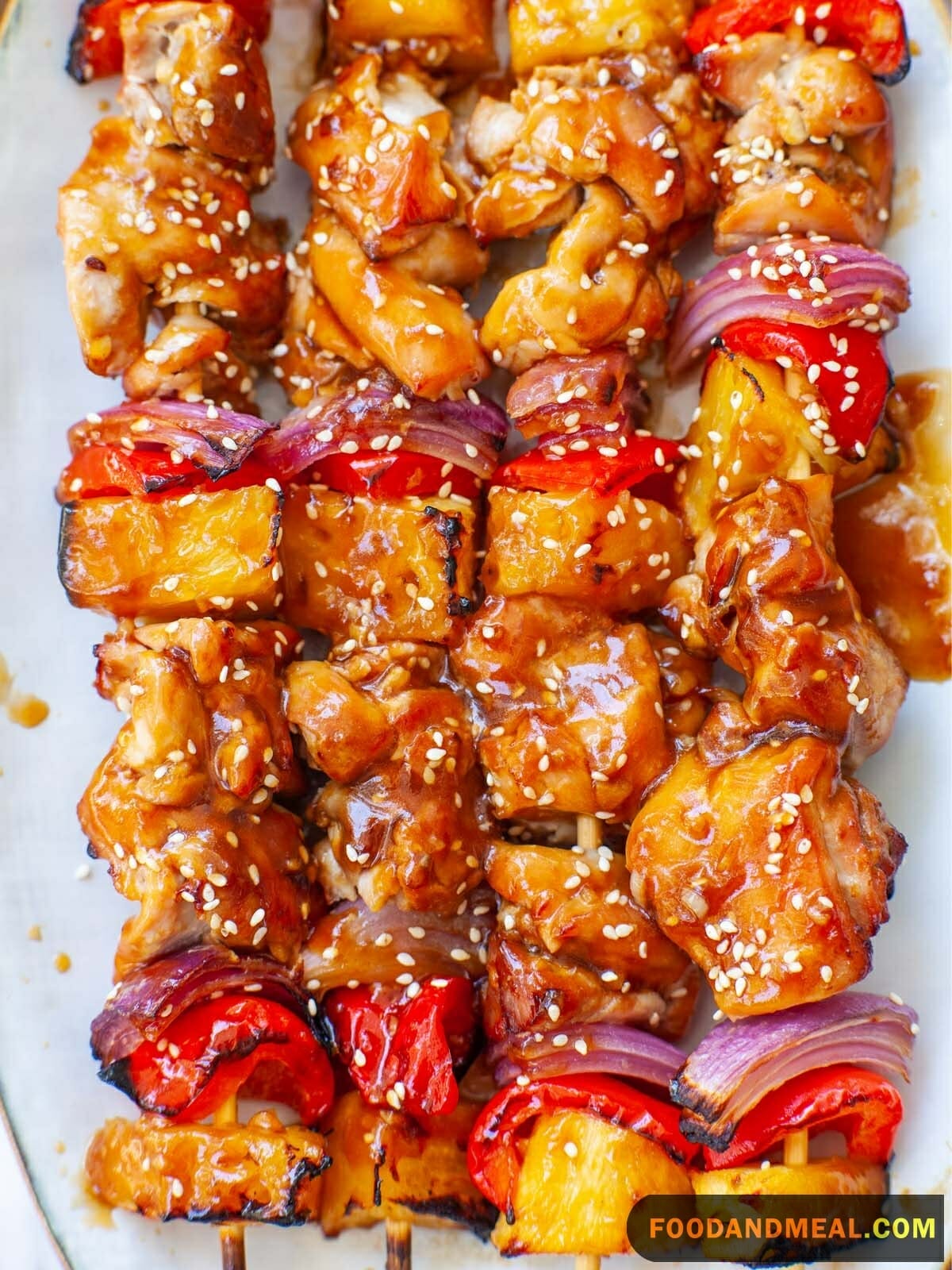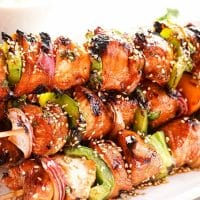 Teriyaki Chicken Kabobs
When grilling Teriyaki Chicken Kabobs, you can prepare the skewers in advance and refrigerate them. For best results, you should place the skewers on a baking sheet or in a dish that is tightly covered with plastic wrap. Afterward, place the kabobs on a preheated grill or on the grill pan and cook for 25 to 30 minutes, depending on your preferences. Make sure to brush them with the remaining teriyaki sauce before serving.
Print
Pin Recipe
Add to Collection
Go to Collections
Equipment
Ingredients
Ingredients for the marinade:
Ingredients for the meat and veggies:
Instructions
In a Ziploc bag, add in all of the ingredients for the marinade. Toss gently to mix. Add in the chicken pieces and seal the bag. Place into the fridge to marinate for 3 hours. 2. Preheat an outdoor grill to medium heat.

Thread the marinated chicken onto metallic skewers. In intervals, thread the mushrooms, zucchini pieces, bell pepper peppers, tomatoes and onion wedges.

Place the skewers onto the grill. Grill for 15 to 20 minutes or until the chicken is cooked through.

Remove and rest for 5 minutes before serving.
Notes
If you don't want to use the grill, you can bake the kabobs in the oven. Place them on a rimmed baking sheet. Spray the baking sheet with nonstick cooking spray. Once the chicken is done, allow it to cool for 15 minutes before removing it from the oven. The skewers should be placed on the baking sheet to prevent them from falling out of the pan.
Share by Email
Share on Facebook
Share on Twitter
Nutrition
Serving:
1
serving
|
Calories:
237
kcal
|
Carbohydrates:
19
g
|
Protein:
12
g
|
Fat:
13
g
|
Saturated Fat:
3
g
|
Polyunsaturated Fat:
4
g
|
Monounsaturated Fat:
5
g
|
Trans Fat:
1
g
|
Cholesterol:
56
mg
|
Sodium:
885
mg
|
Potassium:
422
mg
|
Fiber:
1
g
|
Sugar:
16
g
|
Vitamin A:
684
IU
|
Vitamin C:
31
mg
|
Calcium:
27
mg
|
Iron:
1
mg
© Food And Meal
This website provides approximate nutrition information for convenience and as a courtesy only. Nutrition data is gathered primarily from the Spoonacular Database, whenever available, or otherwise other online calculators.
Pin Recipe
Alternative Method: Baking Teriyaki Chicken Kabobs in the Oven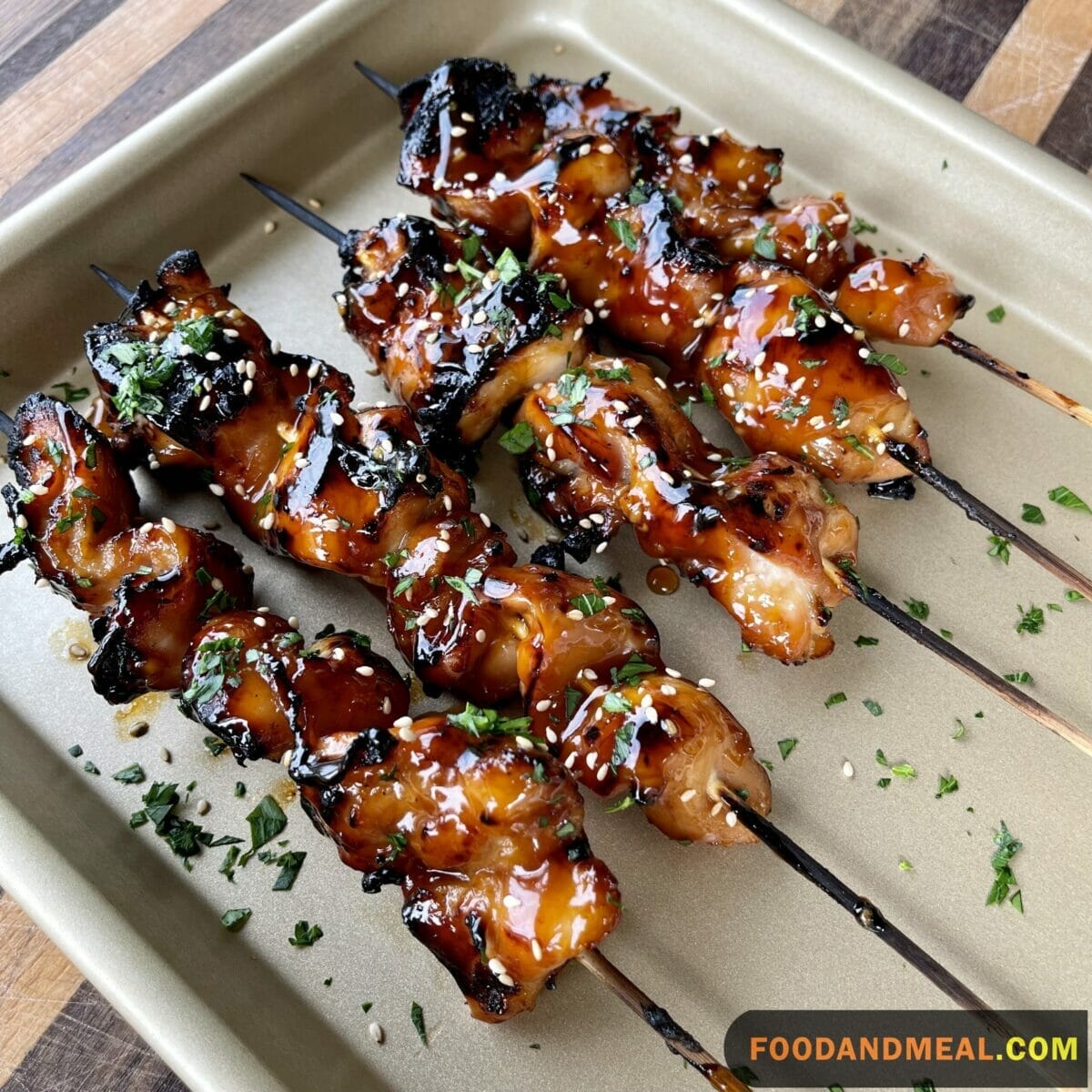 Ingredients:
1 pound boneless, skinless chicken breast or thigh, cut into 1-inch chunks
1/2 cup teriyaki sauce (store-bought or homemade)
1 red bell pepper, cut into 1-inch pieces
1 green bell pepper, cut into 1-inch pieces
1 red onion, cut into 1-inch pieces
1 zucchini, sliced into 1/2-inch rounds
8-10 wooden skewers, soaked in water for 30 minutes
Instructions:
Preheat the Oven: Start by preheating your oven to 400°F (200°C). While the oven is heating up, line a baking sheet with aluminum foil and place a wire rack on top. This will help the kabobs cook evenly and prevent them from sticking to the foil.
Marinate the Chicken: In a bowl, combine the chicken chunks and teriyaki sauce. Toss to ensure the chicken is well-coated. Allow it to marinate for at least 30 minutes in the refrigerator. You can marinate it longer for more flavor penetration.
Assemble the Kabobs: While the chicken is marinating, prepare your skewers. Thread the marinated chicken, bell peppers, red onion, and zucchini onto the wooden skewers, alternating between ingredients for a colorful presentation.
Bake the Kabobs: Place the assembled kabobs on the wire rack over the prepared baking sheet. Make sure they are evenly spaced. This allows hot air to circulate around the kabobs, ensuring even cooking.
Baking Time: Bake the teriyaki chicken kabobs in the preheated oven for approximately 20-25 minutes. To ensure they are cooked through, use a meat thermometer; the chicken's internal temperature should reach 165°F (74°C).
Broil for a Char: For that lovely char you'd get from grilling, switch the oven to the broil setting during the last 3-5 minutes of cooking. Keep a close eye on them to prevent burning. The broiler will give the kabobs that irresistible caramelization.
Serve and Enjoy: Once the chicken is cooked through and has a beautiful char, remove the kabobs from the oven. Allow them to cool slightly before serving. Garnish with sesame seeds and chopped green onions if desired. Serve with steamed rice or your favorite side dish.
Tips for making Teriyaki Chicken Kabobs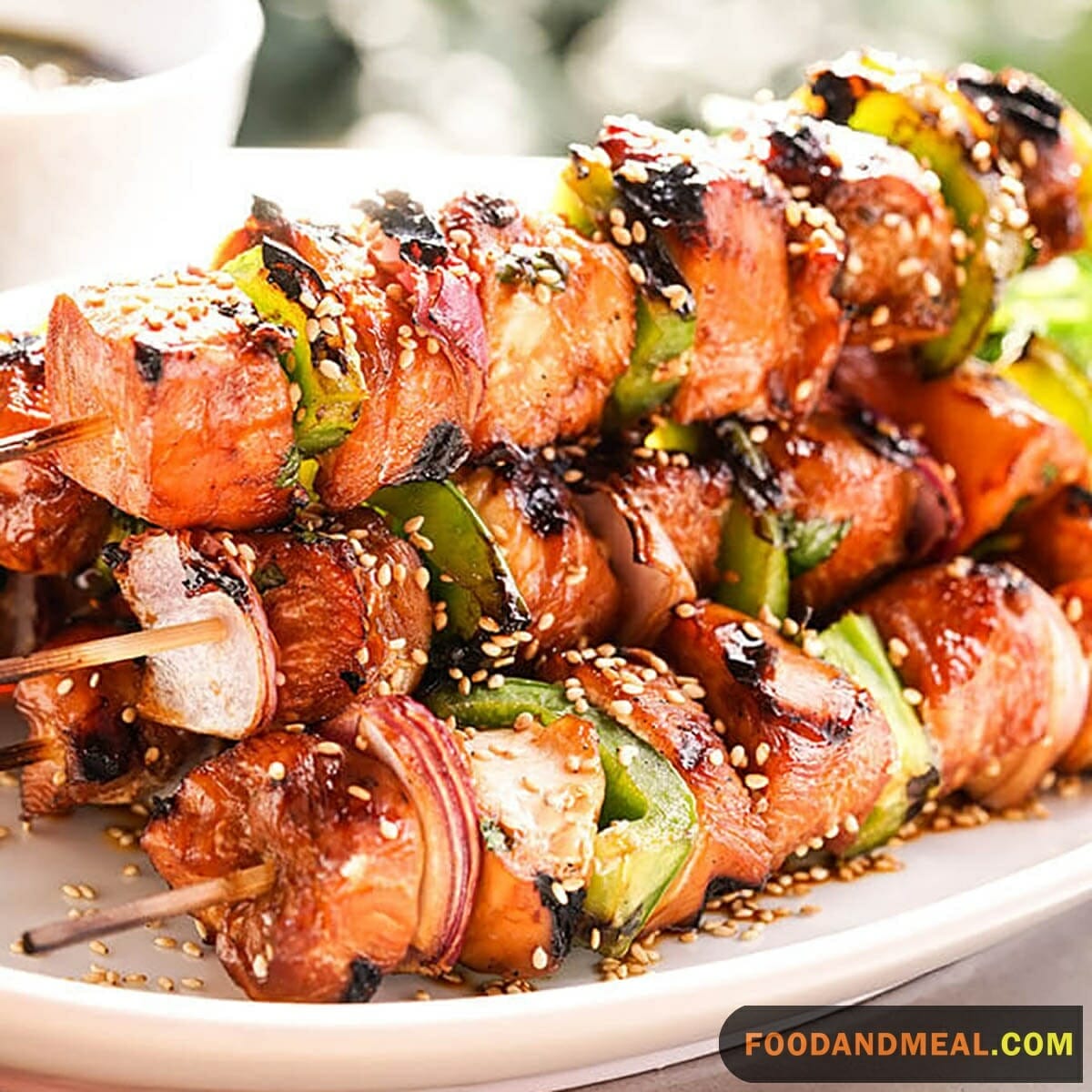 Cooking Tips
Marinating Time Matters: Give the chicken enough time to soak up the teriyaki goodness. Marinating for at least 30 minutes is recommended, but longer marination, even overnight, can result in more flavorful kabobs.
Soak Those Skewers: Wooden skewers can easily burn in the oven or on the grill. Prevent this by soaking them in water for at least 30 minutes before using. This helps keep them from catching fire.
Evenly Sized Ingredients: Cut your chicken and veggies into uniform-sized pieces. This ensures that everything cooks evenly, and you won't end up with some pieces undercooked while others are overcooked.
Use a Meat Thermometer: Don't guess when it comes to chicken's doneness. A meat thermometer is your best friend. Chicken should reach an internal temperature of 165°F (74°C).
Baste for Flavor: While grilling or baking, baste the kabobs with extra teriyaki sauce during the last few minutes of cooking. This adds an extra layer of flavor and a beautiful glaze.
Avoid Overcrowding: Whether grilling or baking, give your kabobs some space. Overcrowding the cooking surface can lead to uneven cooking. If grilling, rotate them occasionally.
Serving Suggestions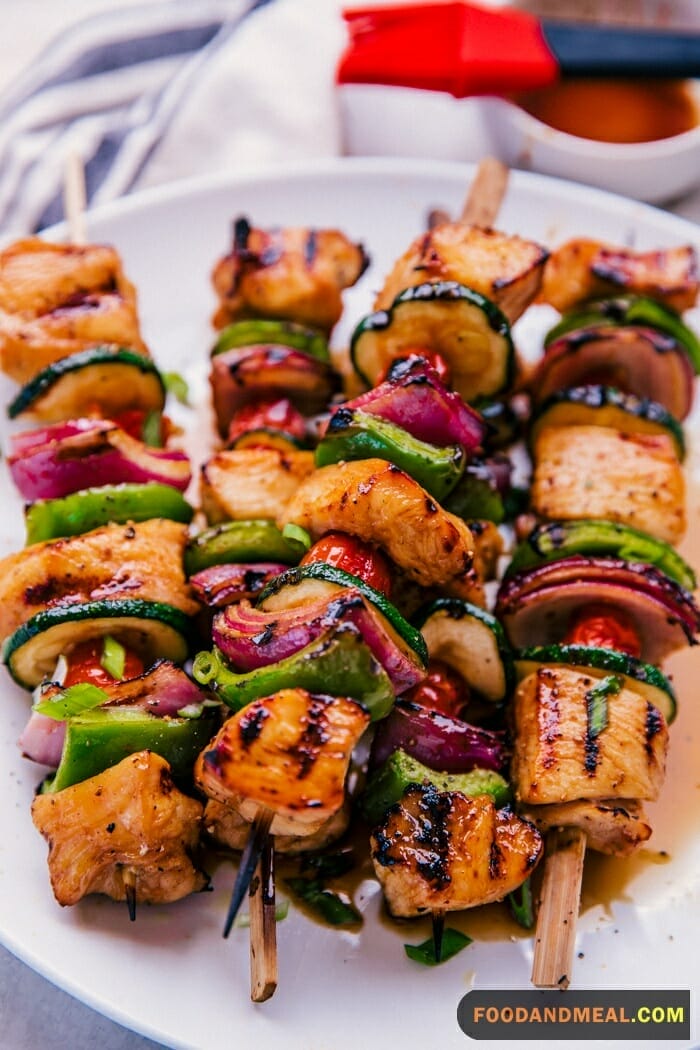 Steamed Jasmine Rice: Serve your kabobs over a bed of fragrant steamed jasmine rice. The rice's mild flavor pairs wonderfully with the bold teriyaki sauce.
Grilled Pineapple: Add a tropical twist by grilling some pineapple rings alongside your kabobs. The sweet and slightly caramelized pineapple complements the savory chicken.
Crispy Asian Slaw: A crisp and refreshing Asian slaw with sesame dressing makes a fantastic side dish. The contrast of textures and flavors is delightful.
Teriyaki Noodles: Boil up some udon or soba noodles and toss them in teriyaki sauce. Place your kabobs on a nest of these flavorful noodles.
Garnishes: Sprinkle sesame seeds and freshly chopped green onions over your kabobs for a burst of color and added flavor.
Beverage Pairing: Pair your Teriyaki Chicken Kabobs with a light and refreshing beverage like a cold Japanese green tea or a fruity Asian-inspired cocktail.
Frequently Asked Questions about Teriyaki Chicken Kabobs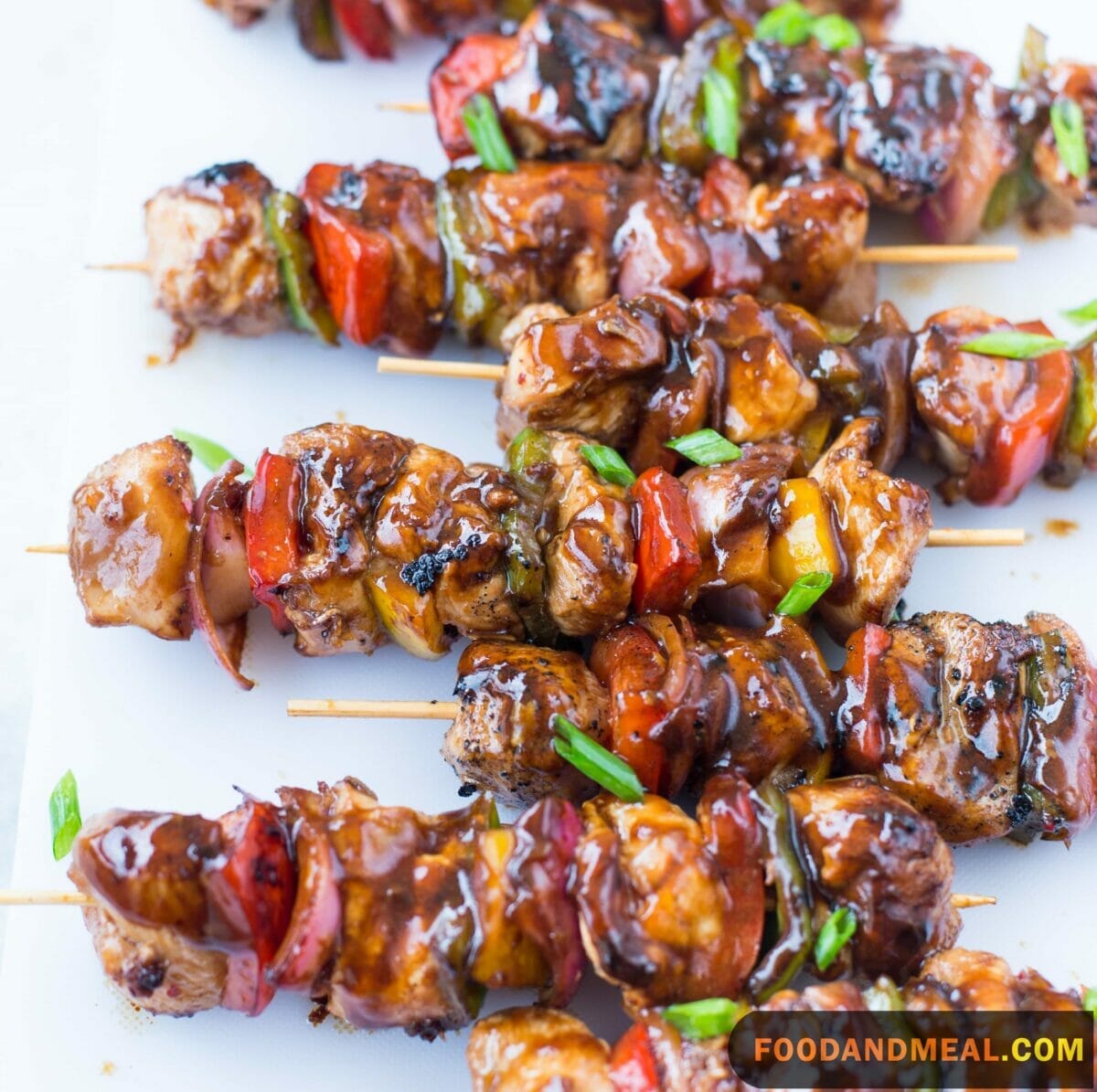 Can I use a different protein besides chicken?

Absolutely! You can use beef, shrimp, tofu, or even a combination of these proteins. Adjust cooking times accordingly.

How long should I soak wooden skewers?

Soak wooden skewers for at least 30 minutes before using to prevent them from burning.

Can I make these kabobs ahead of time?

Yes, you can marinate the chicken and assemble the kabobs in advance, but it's best to cook them just before serving for the freshest taste and texture.

What if I don't have a grill or oven?

You can pan-fry the kabobs in a lightly oiled skillet over medium-high heat. Ensure even cooking by rotating them.

How do I store leftovers?

If you have leftovers, store them in an airtight container in the refrigerator for up to 2-3 days. Reheat in the oven or on the stovetop for best results.
Elevate your grilling game with Teriyaki Chicken Kabobs. Explore expert tips, serving suggestions, and a burst of Asian flavors. Cook like a pro.
I'm James F Anderson, a noted sous chef from London and a Le Cordon Bleu alumnus. My career began in a Michelin-starred Parisian eatery, where my blend of classic and contemporary cooking, using seasonal ingredients, earned accolades. Recognized in culinary publications and on cooking shows, I'm committed to mentoring aspiring chefs and delivering memorable dining experiences, marking me as a standout talent in the culinary world.
Affiliate DisclaimerAbout The Content
As an affiliate, we may earn a commission from qualifying purchases. We get commissions for purchases made through links on this website from Amazon and other third parties.