Hello, food lovers and kitchen dreamers alike! Today, I'm embracing my passion for culinary creativity and welcoming you into a world where flavors collide in the most exquisite manner. It's not just about cooking; it's about crafting an experience. With my chef's hat on, I present the Sweet and Spicy Roasted Vegetables that will redefine your perception of gourmet goodness.
These simple sweet, and spicy roasted vegetables are a delicious side dish to serve with roast beef or lamb. The honey and spices are a fabulous combination that bring out the vegetables' natural flavors. You will make this side dish again and again to rave reviews!
Note: Fine Cooking recommends using the leftover vegetables to make a delicious soup the next day. Just add chicken stock, some wild rice and any roast you have leftover, season to taste. Simple and easy!
Sweet And Spicy Roasted Vegetables Recipes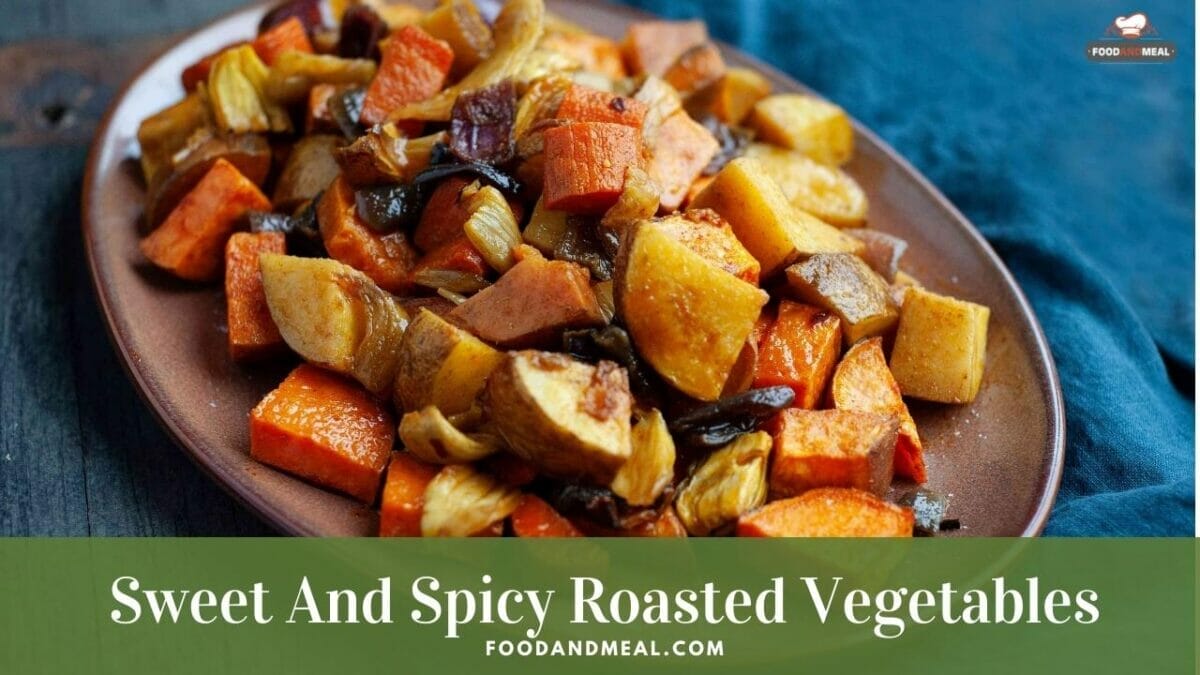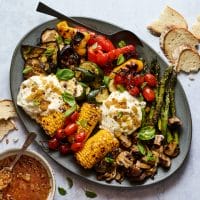 Sweet And Spicy Roasted Vegetables
When preparing side dishes, consider using low-calorie alternatives such as sweet and spicy roasted vegetables. You can also try Mexican-style roasted sweet potatoes, broccoli with yogurt sauce, or cauliflower with pork and pineapple. This dish can also be enjoyed by kids, as it can help them learn to like vegetables. Here are some recipes to try. Listed below are a few of my favorites:
Print
Pin Recipe
Add to Collection
Go to Collections
Equipment
Instructions
Preheat oven to 450 F.

Place the chopped vegetables on a large baking sheet. Drizzle olive oil and sprinkle the spices, and thyme evenly over the vegetable. Toss to coat evenly. Add honey, sea salt and pepper, and toss until incorporated.

Place baking sheet in the oven and bake for 35-40 minutes, until nicely browned.
Notes
Cook until they're golden brown
Adjust the sweetness and spiciness to suit your palate. It's all about finding your perfect balance of flavors.
Share by Email
Share on Facebook
Share on Twitter
Nutrition
Serving:
1
serving
|
Calories:
330
kcal
|
Carbohydrates:
58
g
|
Protein:
6
g
|
Fat:
12
g
|
Saturated Fat:
2
g
|
Polyunsaturated Fat:
2
g
|
Monounsaturated Fat:
8
g
|
Sodium:
190
mg
|
Potassium:
1798
mg
|
Fiber:
14
g
|
Sugar:
21
g
|
Vitamin A:
67909
IU
|
Vitamin C:
146
mg
|
Calcium:
221
mg
|
Iron:
4
mg
© Food And Meal
This website provides approximate nutrition information for convenience and as a courtesy only. Nutrition data is gathered primarily from the Spoonacular Database, whenever available, or otherwise other online calculators.
Pin Recipe
About Roasted Vegetables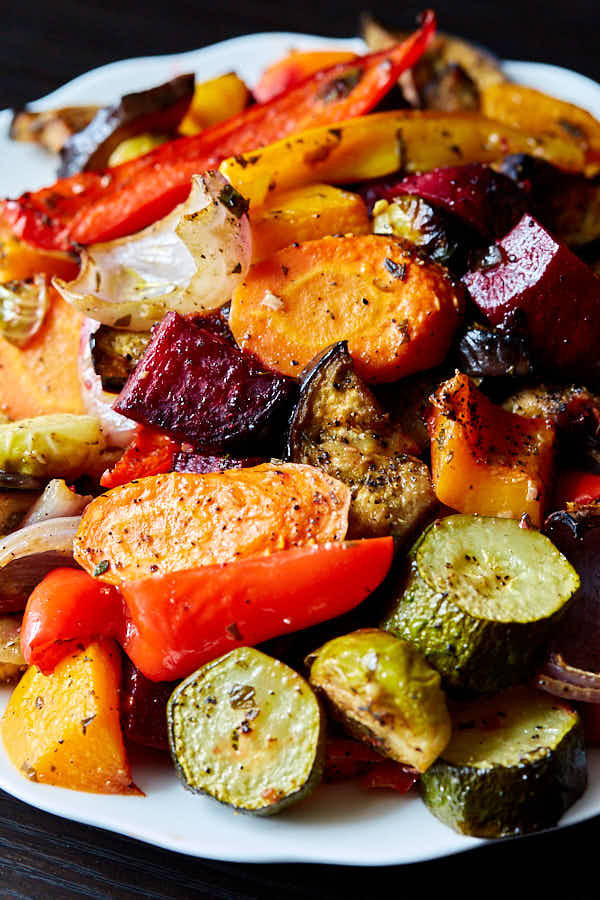 Pork and pineapple stir fry
This quick and easy pork and pineapple stir fry is packed with flavor. It's also easy to prepare and will not add too many calories to your diet. The vegetables are easily prepared ahead of time. You can slice spring onions and carrots thinly. Slice red bell peppers and red chilli peppers larger. Cut onion into thin slices, mince garlic, and grate ginger root. Slice pineapple into quarters or larger pieces.
When you're cooking this dish, you can add rice to your plate. Rice vinegar is a good choice for a stir fry, and it complements the pineapple and pepper well. Fresh garlic, ginger, green onions, and soy sauce all give flavor to the sauce. This delicious dish is ready to serve! Toss the pineapple, pepper, and pork cubes into a hot skillet. Cook until they're golden brown.
Mexican roasted sweet potatoes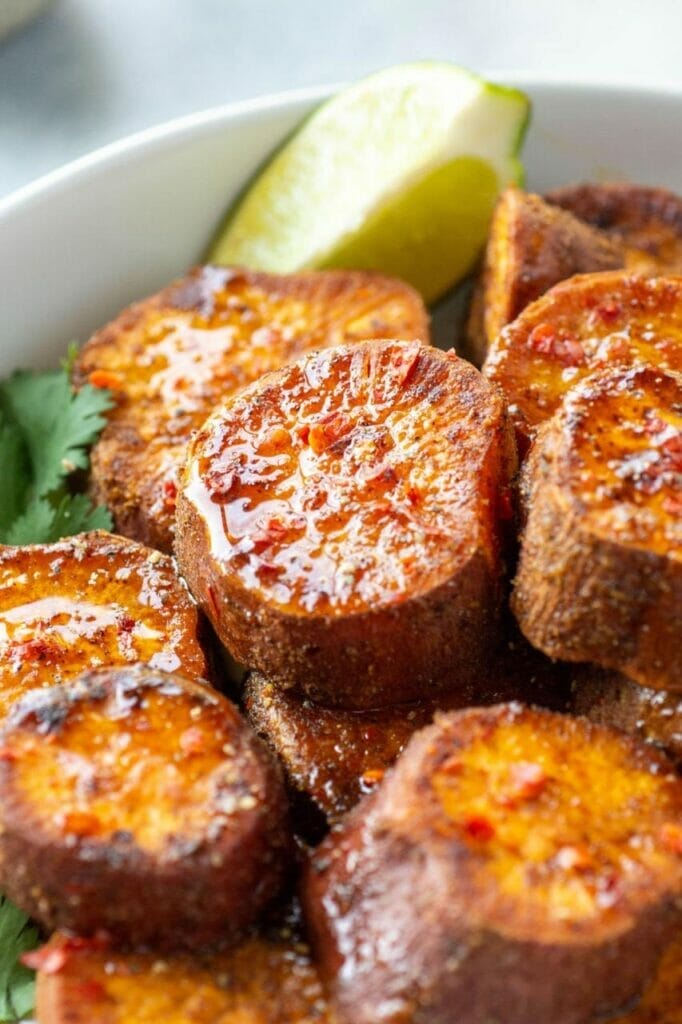 Making Mexican roasted sweet potatoes is a quick and easy way to serve a delicious and healthy meal. These sweet potatoes are filled with corn and black beans, and then topped with lime-infused sour cream and cilantro. The spicy filling counteracts the sweetness of the potatoes, which are a good source of fiber. You can bake them in the oven or microwave, and make sure to pierce them several times before baking. They cook evenly and quickly, so the skins can be eaten while still hot.
Baking sweet potatoes is a very important step, so choose the right oven to have the most delicious and fresh sweet potatoes. Check out some of our expert picks to find the best oven! After roasting, toss the sweet potatoes in olive oil and sprinkle with the taco seasoning. Roast until the sweet potatoes are golden brown on the exterior and easily pierced with a fork. You can then stuff them with a variety of Mexican fillings, such as spicy chorizo, protein-rich black beans, and sweet Australian onions. Serve immediately, or let them cool. If you make ahead, you can use the seasoning to toss a salad.
Cauliflower
For a delicious side dish, try making a roasted cauliflower recipe! Roasting vegetables is a great way to add variety to your diet and this recipe is sure to please! Roast cauliflower on a baking sheet at 450 degrees for about 20 minutes.  Using air fryer to perfect dish. You can check out some options from Food and Meal experts. Once done, transfer the roasted cauliflower to a serving dish and serve with lemon juice. For an even more delicious treat, try roasting vegetables in sesame oil.
To make the perfect cauliflower recipe, begin by roasting the head of cauliflower in a pan for approximately 40 minutes. Roasting the cauliflower will give the cauliflower a beautiful caramelized texture. This delicious side dish can also be served as a side dish with other roasted vegetables. It can be a great accompaniment to any meal. Whether it's a salad or a side dish, roasted vegetables are the perfect choice for a low-carb diet.
Broccoli roasted in yogurt sauce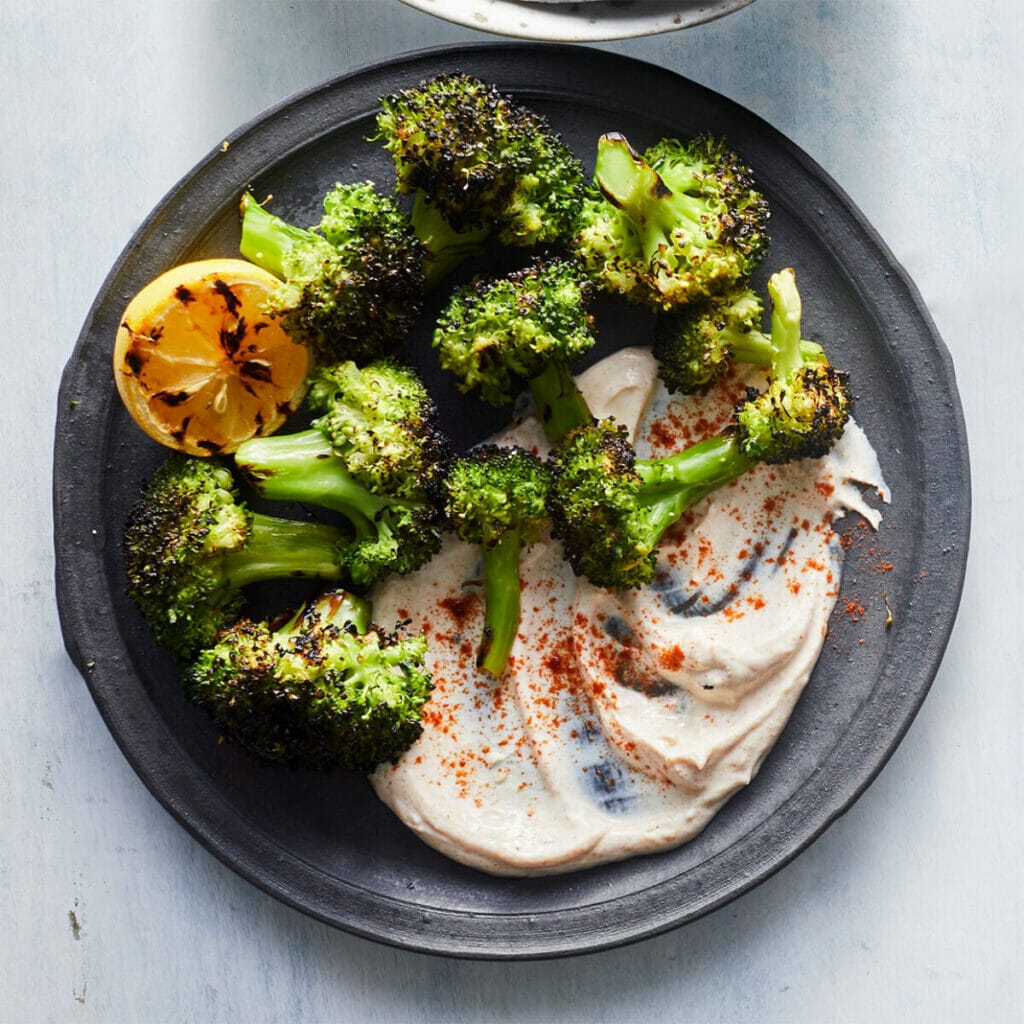 This recipe is a delicious way to spruce up roasted broccoli with a delicious, creamy dressing. To make the sauce, combine plain Greek yogurt, fresh lemon juice, olive oil, Sriracha, sea salt, and ground black pepper. Whisk them together until combined and serve over broccoli. Serve with additional chili yogurt sauce, if desired. It can also be made vegan by substituting nutritional yeast for parmesan.
Cut the broccoli into pieces of similar size. If using large florets, cut them in quarters. This will ensure a slightly crispier outer edge and tender insides. Keeping a small space between the broccoli pieces will ensure maximum contact with the pan and caramelization. Make sure to leave some room between each piece, as too much broccoli will steam instead of roasting. Once roasted, garnish with lemon slices and serve hot or room temperature.
Cooking Tips
Embarking on the journey of crafting Sweet and Spicy Roasted Vegetables? Let me guide you with some expert insights to ensure your dish is a masterpiece:
Marination Magic: Allow the vegetables to marinate in the sweet and spicy blend for at least 20 minutes. This deepens the flavors and ensures every bite is a burst of deliciousness.
Spread the Love: Arrange the vegetables in a single layer on the baking sheet. Crowding can lead to uneven roasting and steaming rather than caramelization.
Even Sizing, Even Roasting: Cut your veggies into similar sizes to ensure they cook uniformly. This ensures a harmonious texture and flavor profile.
Common Mistakes to Avoid:
Overcrowding the Pan: Give each vegetable its space to roast beautifully. Overcrowding leads to soggy results.
Ignoring the Tossing Step: Toss the veggies halfway through roasting for even caramelization. This step is key to achieving that inviting color and flavor.
Serving Suggestions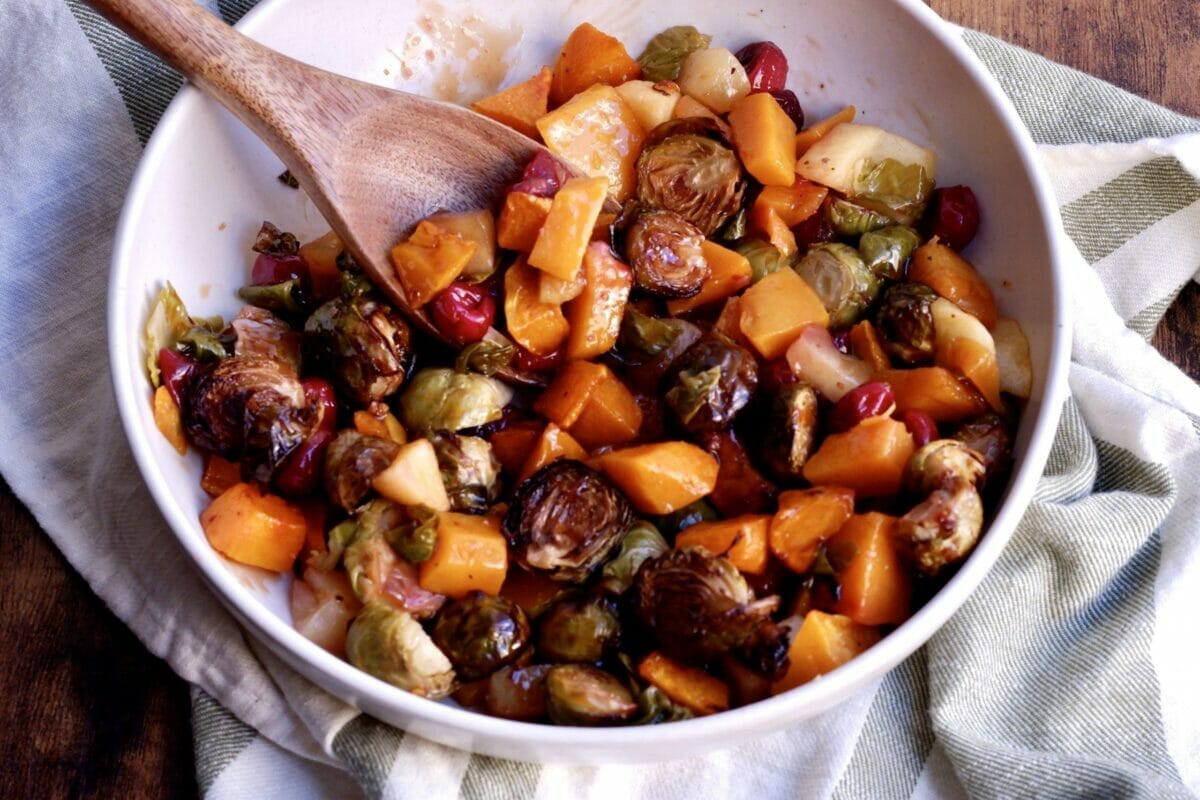 Allow me to paint a picture of how and when to savor the Sweet and Spicy Roasted Vegetables, along with their perfect companions:
Ideal Occasions: These roasted vegetables are versatile enough to be enjoyed as a main dish, side dish, or even as a hearty appetizer at gatherings.
Target Audience: From foodies seeking a vibrant flavor experience to health-conscious eaters craving a nourishing meal, this dish caters to all.
Complementary Sides and Garnishes:
Lemon Zest: A sprinkle of lemon zest adds a zingy brightness that complements the sweet and spicy notes.
Fresh Herbs: Chopped cilantro or parsley lends a burst of freshness to every forkful.
Creamy Dip: Pair the vegetables with a yogurt-based dip to balance the heat and enhance the textures.
Beverage Pairings:
Iced Herbal Tea: A cooling iced herbal tea is the perfect contrast to the spiciness of the roasted vegetables.
Serving Variations:
Gourmet Salad: Toss the roasted vegetables with your favorite greens for a hearty and colorful salad.
Wrap It Up: Fill whole-wheat wraps with these veggies, some hummus, and a drizzle of tahini for a satisfying meal on the go.
FAQs (Frequently Asked Questions):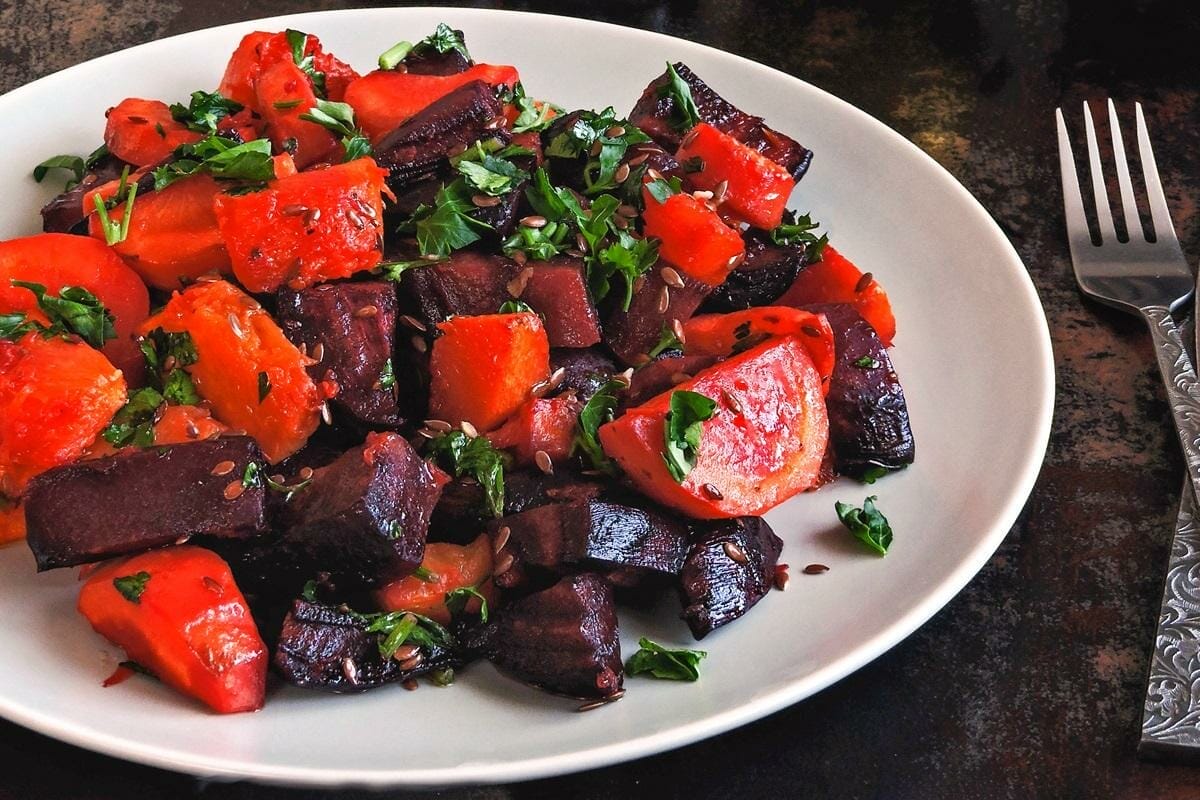 Can I Use Frozen Vegetables? While fresh is always best, you can use frozen vegetables in a pinch. Just make sure to thaw and pat them dry before marinating.
Is It Too Spicy for Kids? You can adjust the level of spiciness by reducing the amount of chili flakes or omitting them altogether. It's a versatile dish for all taste preferences.
How Do I Store Leftovers? Store any remaining roasted vegetables in an airtight container in the refrigerator for up to 3 days. Reheat gently in the oven to maintain the crispy edges.
Can I Use Different Vegetables? Absolutely! Feel free to mix and match your favorite vegetables. Just keep in mind their roasting times and adjust accordingly.
Can I Freeze the Roasted Vegetables? Roasted vegetables can be frozen, but their texture may change slightly upon thawing. It's best to enjoy them fresh for the optimal taste and texture.
As you dive into the realm of flavors, let the Sweet and Spicy Roasted Vegetables spark culinary creativity in your kitchen. Embrace these tips, savor the serving suggestions, and satisfy your curiosity with answers to common questions. Remember, these dishes aren't just recipes—they're experiences waiting to be shared and enjoyed.
Thanks for your visiting our FoodandMeal site. Like and share this recipe if it is beneficial for you.
Affiliate DisclaimerAbout The Author
As an affiliate, we may earn a commission from qualifying purchases. We get commissions for purchases made through links on this website from Amazon and other third parties.