Get ready to tantalize your taste buds with a Teriyaki Chicken Cobb Salad Sandwich that's bursting with savory and sweet notes. In this recipe, we'll explore the art of blending a classic salad into a delightful sandwich.
Teriyaki Chicken Cobb Salad Sandwich Recipes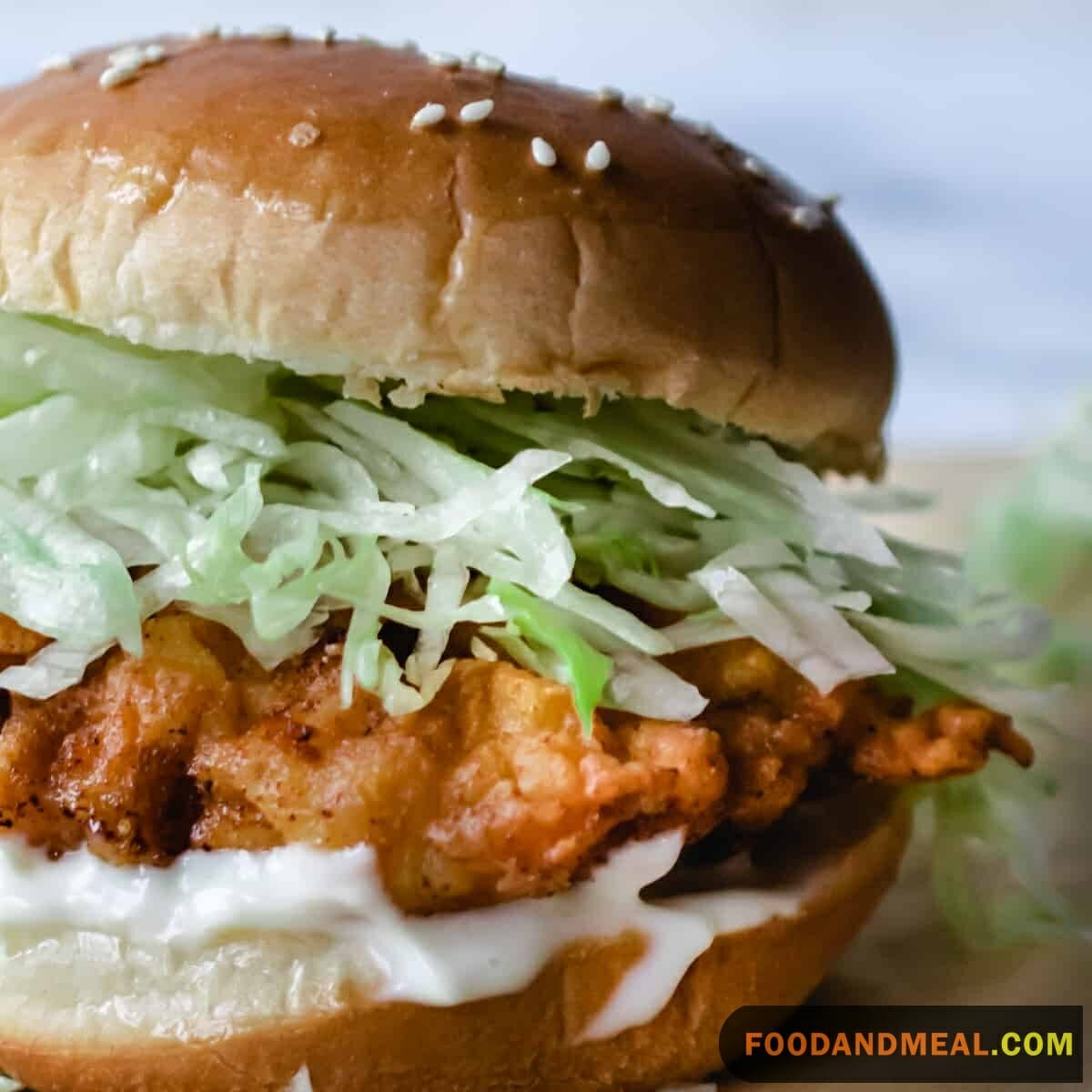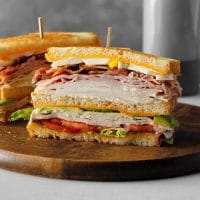 Teriyaki Chicken Cobb Salad Sandwich
This is a delicious sandwich recipe you can prepare whenever you are craving a delicious sandwich. Serve with potato chips for the tastiest results.
Print
Add to Collection
Go to Collections
Equipment
Ingredients
Ingredients for the dressing:
Ingredients for the sandwich:
2

French bread baguettes

5

ounces

baby spinach

1 ½

pound

teriyaki chicken breast

6

hard boiled eggs

chopped

8

strips of bacon

cooked and crumbled

½

cup

blue cheese

crumbled

5

cherry tomatoes

chopped
Instructions
Prepare the dressing. In a bowl, add in all of the ingredients for the dressing. Whisk well until mixed. Set aside.

Prepare the sandwich. Slice the baguettes in half and split open. brush the teriyaki sauce over the insides of the baguette pieces. Place onto a baking sheet with the cut side facing up. Place into the oven to broil for 3 to 5 minutes or until golden.

Add a layer of baby spinach over the bread. Top off with the chicken.

In a bowl, add in the chopped eggs, crumbled bacon, crumbled blue cheese and chopped tomatoes. Dress ¼ cup of the dressing over the top. Toss well to mix.

Spoon the egg mix over the chicken on the sandwiches.

Slice and serve immediately.
Notes
If you don't feel like having a salad for lunch, try making one with a Teriyaki Chicken Cobb Salad Sandwich. This recipe contains grilled chicken, avocado, tomatoes, and bacon, along with lettuce and mayonnaise. You can also add avocado, blue cheese crumbles, and bacon. This sandwich is the perfect meal for a light summer evening. All of the ingredients in a Teriyaki Chicken Cobb Salad are healthy and delicious.
Share by Email
Share on Facebook
Share on Twitter
Nutrition
Serving:
1
serving
|
Calories:
358
kcal
|
Carbohydrates:
9
g
|
Protein:
27
g
|
Fat:
23
g
|
Saturated Fat:
6
g
|
Polyunsaturated Fat:
3
g
|
Monounsaturated Fat:
13
g
|
Trans Fat:
1
g
|
Cholesterol:
202
mg
|
Sodium:
777
mg
|
Potassium:
555
mg
|
Fiber:
1
g
|
Sugar:
4
g
|
Vitamin A:
1999
IU
|
Vitamin C:
9
mg
|
Calcium:
101
mg
|
Iron:
2
mg
© Food And Meal
This website provides approximate nutrition information for convenience and as a courtesy only. Nutrition data is gathered primarily from the Spoonacular Database, whenever available, or otherwise other online calculators.
Alternative Method: Grilled Teriyaki Chicken Cobb Salad Sandwich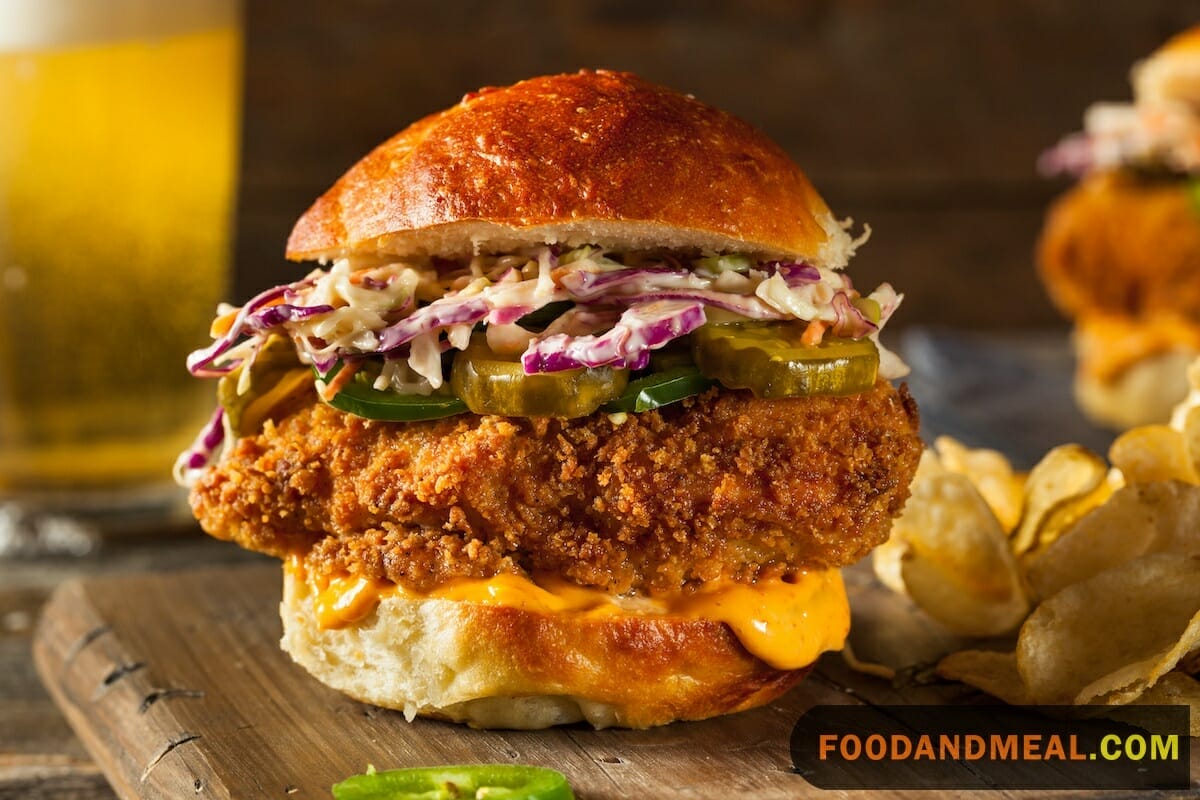 Ingredients:
2 boneless, skinless chicken breasts
1/2 cup teriyaki sauce
1 tablespoon olive oil
4 ciabatta rolls or your choice of sandwich bread
4 large lettuce leaves
1 cup cherry tomatoes, halved
1 cup cucumber, thinly sliced
1/2 cup red onion, thinly sliced
1/2 cup cooked bacon strips
1/2 cup crumbled blue cheese
1/2 cup ranch dressing
Salt and pepper, to taste
Instructions:
Marinate the Chicken:

In a bowl, combine the teriyaki sauce and olive oil. Place the chicken breasts in a resealable plastic bag and pour in the marinade. Seal the bag and refrigerate for at least 30 minutes, allowing the flavors to infuse.

Preheat the Grill:

Preheat your outdoor grill to medium-high heat (about 400°F or 200°C). Clean and oil the grill grates to prevent sticking.

Grill the Chicken:

Remove the chicken from the marinade and season both sides with salt and pepper. Place the chicken on the preheated grill and cook for approximately 6-8 minutes per side or until the internal temperature reaches 165°F (74°C) and there are clear grill marks. Cooking times may vary based on grill heat, so use a meat thermometer to ensure doneness.

Rest and Slice:

Remove the grilled chicken from the grill and let it rest for a few minutes. Then, slice the chicken breasts into thin strips.

Prepare the Sandwiches:

Slice the ciabatta rolls in half and lightly toast them on the grill, cut side down, for about 1-2 minutes until they have grill marks.

Assemble the Sandwiches:

Begin with a lettuce leaf on the bottom half of each roll. Layer the grilled chicken slices, cherry tomatoes, cucumber, red onion, bacon strips, and crumbled blue cheese. Drizzle ranch dressing generously over the toppings.

Top and Serve:

Place the other half of the ciabatta roll on top to complete the sandwich. Use a long toothpick or skewer to hold the sandwich together. Serve immediately while it's warm and enjoy!
Tips for making Teriyaki Chicken Cobb Salad Sandwich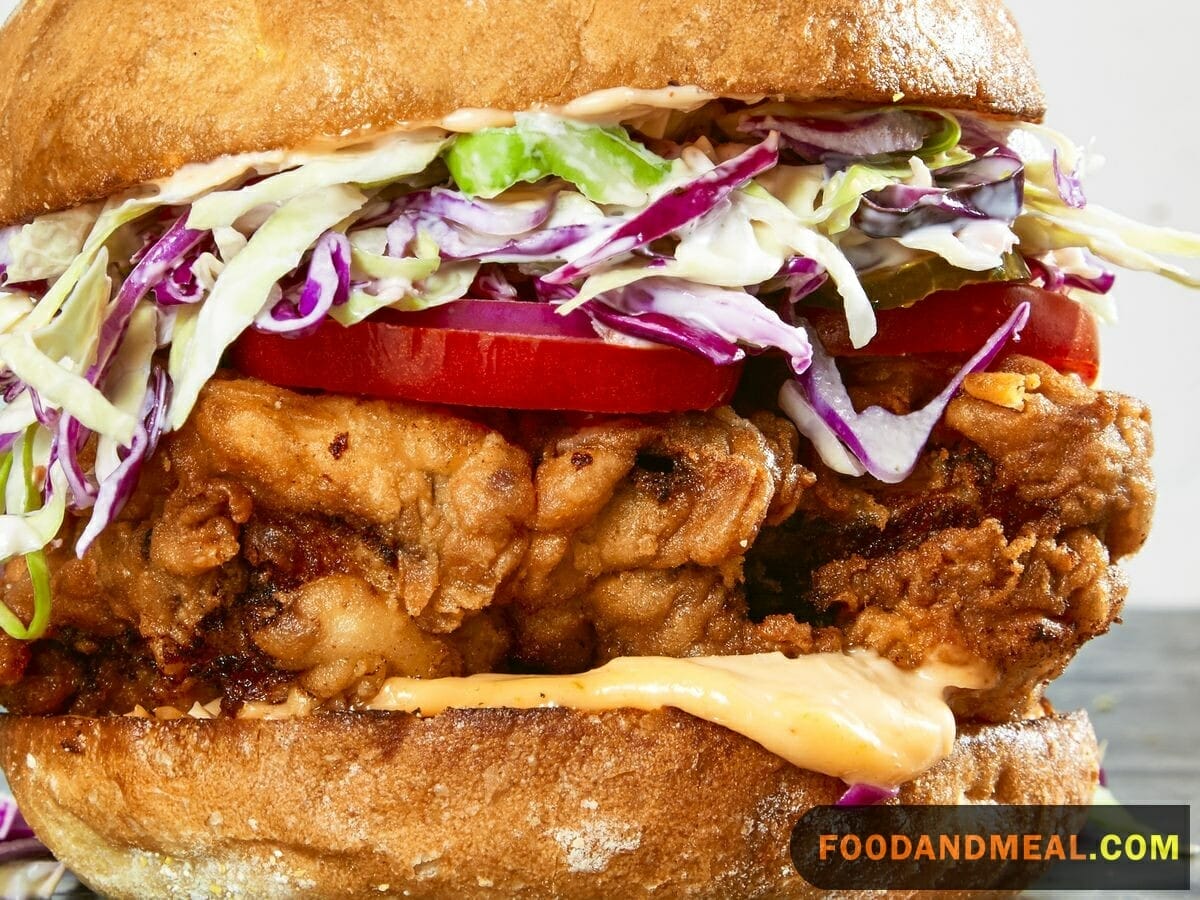 Cooking Tips
Marinate for Flavor: Don't rush the marinating process. Allow the chicken to soak up the teriyaki goodness for at least 30 minutes. For more intense flavor, marinate longer or even overnight in the fridge.
Grill to Perfection: When grilling the chicken, preheat the grill adequately and oil the grates to prevent sticking. Achieve those appealing grill marks and ensure the chicken is cooked through, reaching 165°F (74°C) internally.
Toasted Bread Brilliance: Toast the ciabatta rolls on the grill for a brief time to enhance their texture and flavor. The gentle char adds an irresistible smokiness to your sandwich.
Layer Thoughtfully: When assembling your sandwich, think about the layering. Start with the lettuce as a barrier to keep the bread from becoming soggy. Arrange the ingredients in an aesthetically pleasing way to make every bite delightful.
Secure with a Skewer: After assembling, use a long toothpick or skewer to hold the sandwich together. It not only looks great but also makes it easier to handle and devour your masterpiece.
Get Creative: While this recipe is fabulous as-is, feel free to get creative with your choice of toppings. Avocado, red peppers, or even a fried egg can make unique additions.
Customize Your Dressing: Experiment with different dressings like honey mustard, balsamic vinaigrette, or Sriracha mayo for an extra kick of flavor.
Serving Suggestions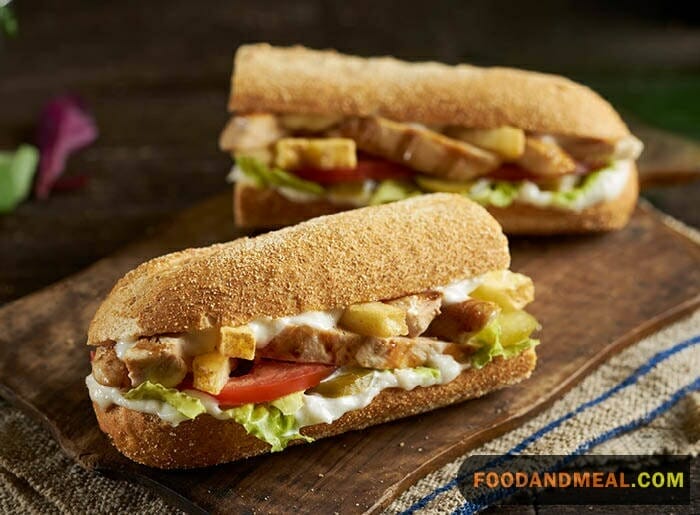 Side Selection: Pair your sandwich with a side of sweet potato fries, coleslaw, or a fresh fruit salad. The contrast of flavors and textures will elevate your meal.
Garnish Galore: Sprinkle extra blue cheese crumbles, chopped green onions, or sesame seeds on top of your sandwich for added visual appeal and flavor.
Beverage Bliss: Complement your sandwich with a refreshing beverage like iced green tea, a citrusy lemonade, or even a light lager beer for a delightful meal pairing.
Wrap It Up: Turn this sandwich into a wrap by using a large tortilla. This portable option is perfect for picnics or on-the-go meals.
Open-Faced Delight: Try serving your Teriyaki Chicken Cobb Salad open-faced. Spread the toppings generously on a single slice of bread for a unique presentation.
Frequently Asked Questions about Teriyaki Chicken Cobb Salad Sandwich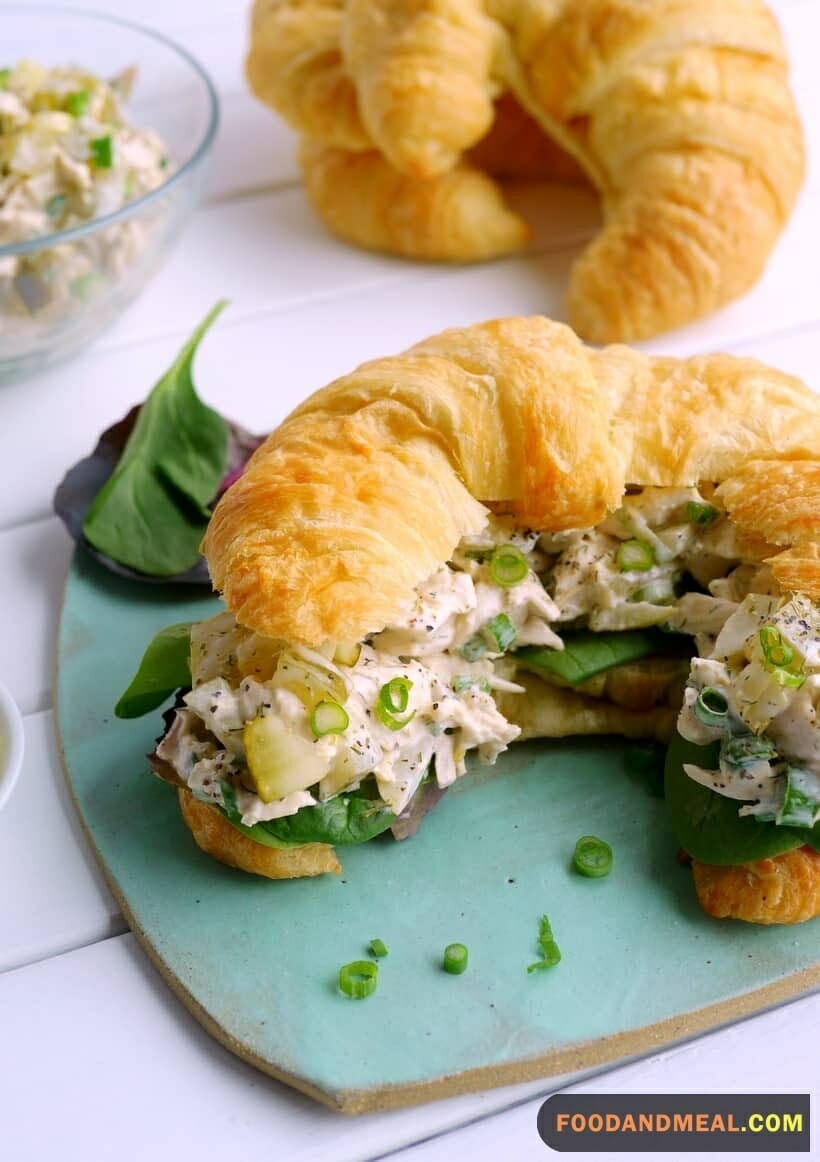 Can I use bottled teriyaki sauce instead of making my own?

Absolutely! While homemade teriyaki sauce adds a personal touch, store-bought versions work perfectly. Just ensure it's a quality sauce for the best flavor.

Can I make this sandwich ahead for a picnic?

You can prepare all the ingredients in advance and assemble the sandwich just before your picnic. This ensures the bread stays fresh and maintains its texture.

What can I substitute for blue cheese if I'm not a fan?

If you're not a fan of blue cheese, try feta, goat cheese, or even shredded cheddar for a milder flavor.

How should I store leftovers?

To store leftover Teriyaki Chicken Cobb Salad Sandwich, wrap it tightly in plastic wrap or foil and refrigerate. Consume within 2 days for the best taste and texture.

Can I make this sandwich vegetarian or vegan?

Absolutely! Substitute the chicken with marinated tofu or tempeh for a vegetarian version. To make it vegan, ensure your bread, dressing, and cheese choices are plant-based.
Savor the flavors of Teriyaki Chicken Cobb Salad Sandwich with our expert recipe. Perfectly grilled chicken, fresh veggies, and tangy dressing await. Try it today!
Affiliate DisclaimerAbout The Content
As an affiliate, we may earn a commission from qualifying purchases. We get commissions for purchases made through links on this website from Amazon and other third parties.