Top 10 national
South African Food Recipes
Chakalaka chicken
This hearty CHAKALAKA CHICKEN is saucy, delicious and goes a long way. Serve with your favourite savoury rice and chips or alternatively, pita bread and salad.
Check out this recipe

Elephant Soup Recipe from Biltong or Beef Jerky
This recipe shows that biltong or beef jerky can be able to use to make soup or stew dishes.
Check out this recipe

South African Butternut Soup
South Africans love butternut soup. It is considered the national soup of South Africa and is served in restaurants, homes, and on safaris. In the process of making this delicious soup, you will need to prepare the butternut, onions, garlic, and Peri-Peri. After that, blend the ingredients until they are well blended. When you are done, season with salt and pepper to taste. In the end, you will have a delicious butternut soup that will warm your soul and satisfy your soul.
Check out this recipe

South African Malay Curry - Simple and easy Recipes
The Malaysian curry powder is commonly known as Malay curry. It is a blend of Indian and British food cultures. The spice and heat of chili peppers and cinnamon are infused into the mixture for a deliciously spicy flavor. Typically, the Malaysian curry powder is combined with coconut milk and a variety of vegetables, including a variety of leafy greens. It is typically served with chicken satay or beef satay.
Check out this recipe

Bunny Chow
Another South African dish, Bunny Chow is a popular street food in the country. It's a highly spiced curry that is usually accompanied by a sambal or chutney. It dates back to the arrival of Indian migrant workers to South Africa. The hollowed-out bread was an easy way to transport vegetable curries, and the dish evolved over time to incorporate meat filling.
Check out this recipe

South African Durban Chicken Curry
Durban Chicken Curry is a spicy South African delicacy that is perfect for the first timer in the world of Indian cuisine. This spicy, pungent dish consists of roasted chicken in a gravy with finely chopped onions, tomatoes, garlic and other spices. This recipe also calls for sambal and steamed basmati rice. Here's a look at how to make it yourself. It is easy, quick, and sure to please the crowd.
Check out this recipe

Veggie Yellow Rice
Have you ever known A VEGGIE YELLOW RICE ? .With this secret recipe, We write about the direction to cook easy recipe of A SOUTH AFRICAN VEGGIE YELLOW RICE.
Check out this recipe

South African Lamb Curry
When it comes to making lamb curry, the Indian method is best. It is relatively simple and quick, and can be made in about an hour. 
Check out this recipe

Chicken Briyani
If you are unfamiliar with Biryani, this dish is a mix of rice, spices and meat. It originated in the Indian subcontinent among Muslims. It is traditionally made with meat, vegetables, eggs and rice. Some regional varieties also use potatoes. The mixture is traditionally flavored with garlic and cumin. While it is commonly served with chicken, it can also be prepared with beef. Here are some basic steps to make this delicious rice dish.
Check out this recipe

Bobotie
The bobotie is a traditional South African dish. It is a classic dish served in homes and restaurants. It is made with minced meat and spices, with the addition of dried fruit. It is traditionally served with a spicy yellow rice. It is also commonly served with melktert, a type of custard tart, a dish similar to British custard. The Bobotie is usually accompanied by a bowl of rice and a glass of red wine.
Check out this recipe
South African food overview
Southern Africa is known as a country with the world's largest diamond mines. Because of a diverse and rich system of landscape, this country seemly is not strange for travelers loving to explore anymore. South Africa's nature is featured with the Namib desert terrain in the northwest. It also has the vast scrubland clay plateau near the central area and the land of lush plants along the east coast. 
Besides the attractive landscape, the South African food is very special and plentiful. This leaves many indelible impressions on diners near and far. South African food is a fusion of various cultures, from the Netherlands, England, Portugal to India. In particular, the cuisine of South Africans of European descent is a blend of Dutch, British, Indian, and Malaysian culinary styles. 
Admittedly, enjoying African culinary brings many different emotions for diners. Besides, it challenges the gourmet's braves. Do you dare to enjoy some dishes like fried stinky bugs and big caterpillars? Definitely, you may be not unless you are a daring diner. However, if you are not courageous enough, you may enjoy fantastic local delicacies made from biltong, boboties, or boerewors. Moreover, dishes from the global menus, like sushi, hamburger, or spaghetti may be a perfect option for the diners who like safety. Thus, there are plenty of dishes you may choose to enjoy when you travel to South Africa. However, how to know what option is the best for you and reflect fully the culture of this land? To answer this question, we invite you to take a South African food tour. During this tour, you will go through a collection of the top 10 famous foods the local person often use in their daily diet.
What do Southern Africans eat?
Meat
One of the distinctive features of this region's cuisine is the abundance of meat dishes. The most popular is lamb, and then beef. Pork is not very popular here though this kind of meat is the second most consumed on the globe.
Beyond this, the residents consumed the meat of the wild animals. These animals may be buffalo, elephant, monkey, giraffe, zebra, antelope, crocodile, and porcupine. Also, they also consume warthog which is a species of wild African pigs. However, these delicious kinds of meat are only tasted at restaurants.
Southern Africans really love to eat meat; the majority of them are meat-eaters, occupying 90% in 2021. The national survey of Knorr's Plate showed that, each local people consumes more than 58 kg of meat yearly. About 46% of people participating in the survey stated that they eat more meat every day. Besides, ⅓ of Southern Africans supposed that they do not replace meat with anything. However, the most common meat replacement used in South African food is beans. This is followed by mushrooms, lentils, and some other vegetables.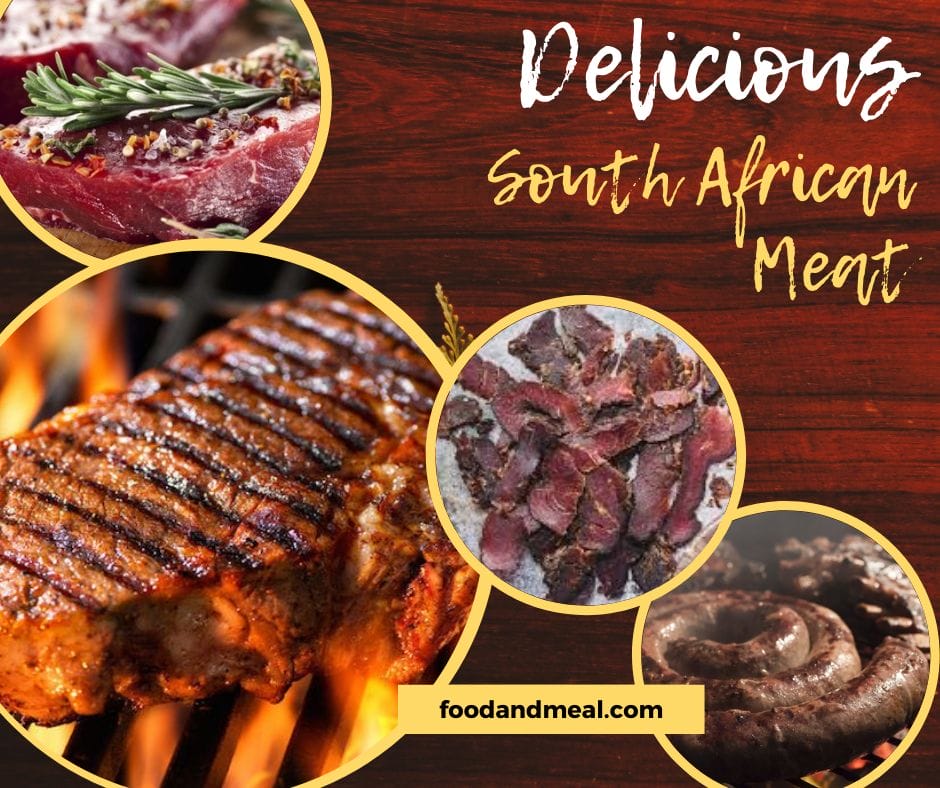 Vegetable
In South African food, the local people primarily consume onion, tomatoes, cabbage, and carrots. There are about 13% of vegetables consumed within a meal. This shows that vegetables are rarely served as a side dish. But it is often used to process other foods to enhance the taste.
In the pre-colonial European era, local people mostly eat a lot of plants. They used many food ingredients including fruits, nuts, tubers, leaves, and other products. Their main diet this time was featured by cooked grains, sorghum, and millet, fermented milk. Europeans then penetrated the country and introduced corn to replace sorghum as the main cereal.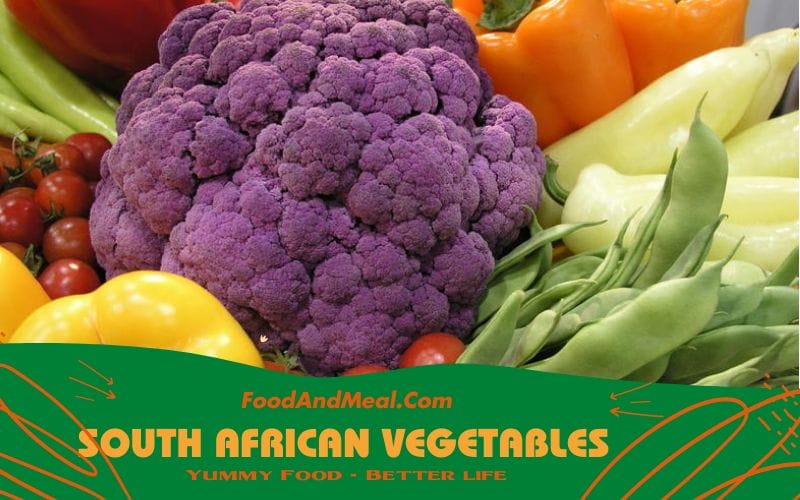 Seafood
No country in the world consumes fish and seafood more than Southern Africans. There is a wide variety of seafood from the Atlantic and Indian Oceans. The most commonly consumed fish is Hake. This kind of fish is found at depths of over 1000 meters. Hake has a mild taste, soft texture, and small flake. Local people often cook fish with fried potatoes or salt.
Beyond this, they consume kingklip, snoek, red roman, cod, sole, tuna, etc. Some most popular seafood categories are lobster, mussels, octopus and cod, shrimp, and scallops.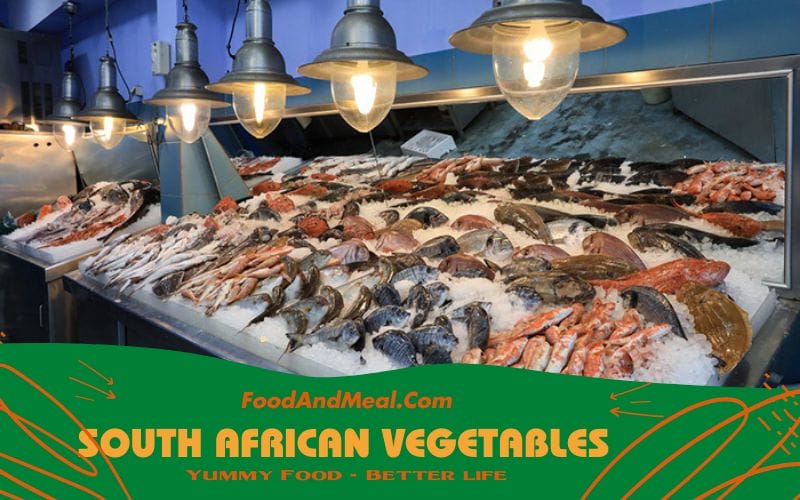 Spices
Most Southern Africa people like adding pili pili (or peri peri) to some dishes to enhance the taste. Pili pili can be served as a condiment of South African barbecue parties. In addition, they use Durban curry powder, Cape Malay curry powder, braai salt, bay leaves, etc. Because of such various spices, Southern African cookery can produce complex flavors. That is the reason why the South African food is such plentiful.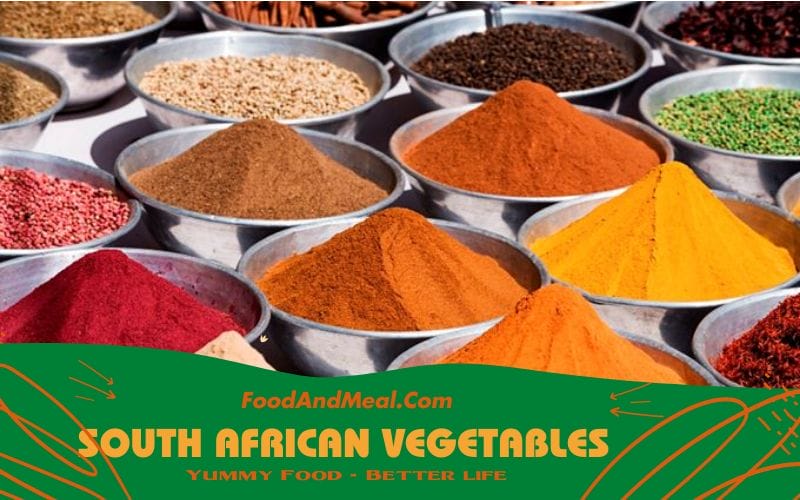 Dessert
South Africans extremely love their sweets and rich sauces. Hence, it is not unusual when they often enjoy many desserts. These desserts are combined with a lot of sugar and a variety of delicious and sweet sauces. Southern African desserts are influenced by the food cultures from many different countries. Thus, they reflect a variety of palettes to suit each party or event. It is so special when desserts here eliminate any herbs, seeds, and spices. This is against the trend, but still does not fade the prominence of traditional cuisine. Basically, South African desserts are other versions of caramel or custard types, such as: koeksisters, milk tart, malva pudding, so on.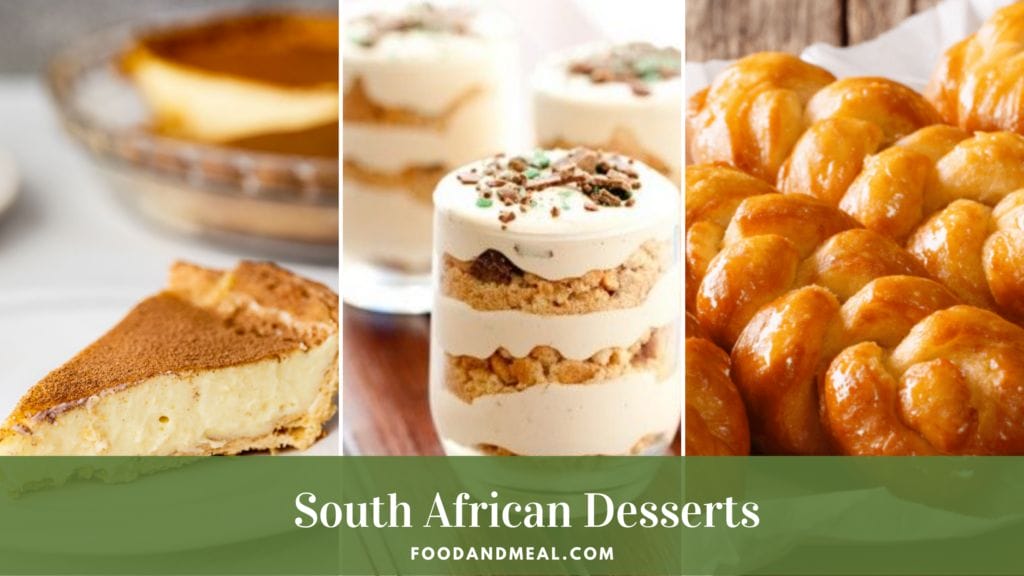 Conclusion
The diversity of South African food is reflected in its many variations, ranging from savory dishes to sweet treats. This region is known for its diverse culinary and cultural traditions. The varying flavors and preparation methods reflect the region's history and heritage. Above are a few popular varieties of South African food recipes. Let's take a closer look at them. With the above list of traditional dishes in South Africa, we hope you have more reasons to travel to this beautiful country. You can also read other cooking recipes of foodandmeal to have the most perfect cuisine route.
If this post is beneficial to you, like, share, or leave a kind comment below to help us improve our content <3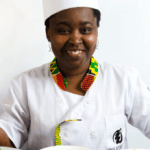 Hello! I'm Black Pie, your culinary guide at Food And Meal, Hana Hotel Travel Company Limited. I'm passionate about unveiling the rich and diverse flavors of African cuisine to the world. Each recipe we explore is a celebration of culture, tradition, and exquisite taste. Join me on this delightful culinary journey, where we'll discover and share the hidden gems of African cooking together!
Affiliate DisclaimerAbout The Content
As an affiliate, we may earn a commission from qualifying purchases. We get commissions for purchases made through links on this website from Amazon and other third parties.