Ah, the scent of South African Butternut Soup simmering away! It's like a hug from a dear old friend. Having honed my culinary skills over the years, I can assure you, this recipe is a soulful blend of tradition and love. Journey with me into the heart of this African culinary masterpiece, a dish that has warmed my heart and table for years.
South African Butternut Soup is one of the most popular winter dishes. It can be made with just five ingredients and is packed with flavor. In this recipe, you will find the way to spice up your soup to add a little extra zing. To get the most out of this delicious soup, prepare it ahead of time and serve it at a cold day's end. It's a healthy choice for those on a diet.
South African Butternut Soup Recipe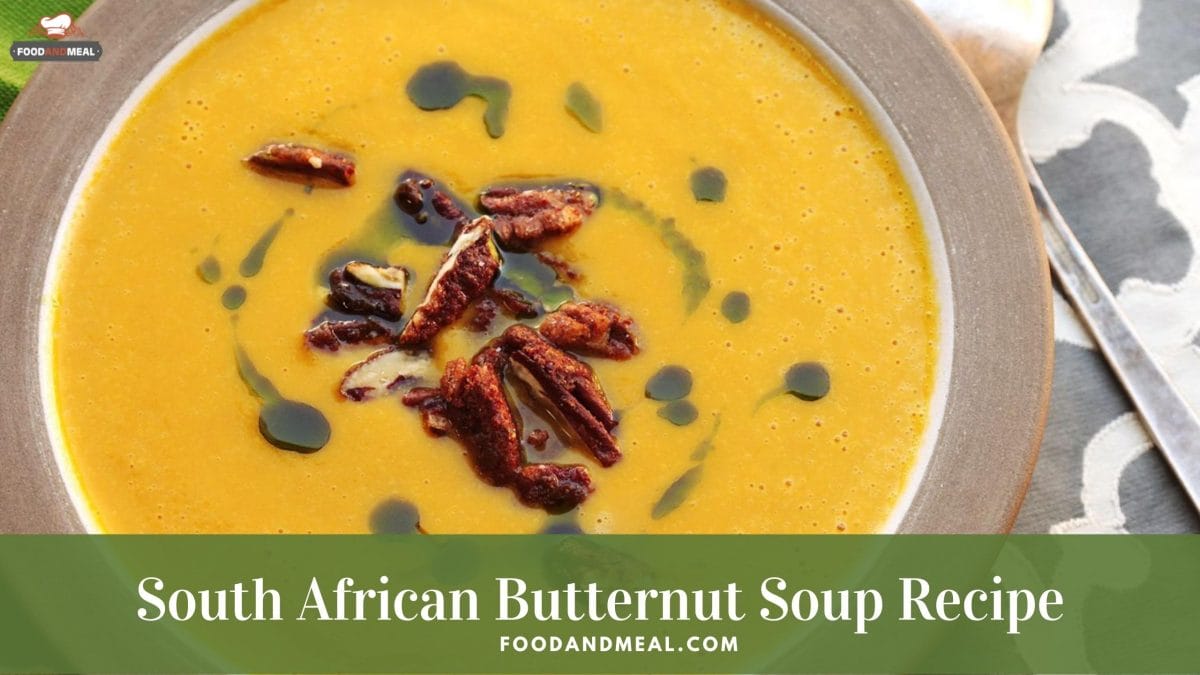 In South Africa, butternut squash soup is made with roasted banana, curry and a touch of Peri-Peri. This country's diverse history is reflected in its cuisine. In the mid-seventeenth century, the Dutch East India company opened a trading post on the Spice Route in South Africa. Today, butternut soup is served in many restaurants and on safaris. To make the soup, you need to add onion, garlic, nutmeg, Peri-Peri, salt, and other spices.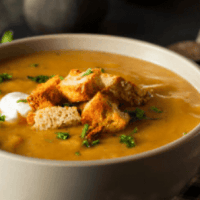 South African Butternut Soup
South Africans love butternut soup. It is considered the national soup of South Africa and is served in restaurants, homes, and on safaris. In the process of making this delicious soup, you will need to prepare the butternut, onions, garlic, and Peri-Peri. After that, blend the ingredients until they are well blended. When you are done, season with salt and pepper to taste. In the end, you will have a delicious butternut soup that will warm your soul and satisfy your soul.
Print
Add to Collection
Go to Collections
Equipment
Instructions
Peel, scrape out the pips and cut the butternuts into square pieces of approx. 5 cm.

Roast the butternut in the oven for 40-50 minutes until it is soft and slightly caramelized around the edges.

Peel and finely chop the onions and dice the

garlic

.

Melt the butter in a saucepan over medium heat and add the garlic, onions, and peppers to it. Cook until the onions are tender and translucent.

Add the chicken broth and lemon juice and stir thoroughly until everything is well mixed.

Add the roasted butternut cubes and water and cook for 1 hour for the ingredients to blend well and the soup to thicken.

Liquefy with a food processor.

Serve hot.

Before serving, place a spoon or two of cream in the center of each bowl.
Notes
THE NUTRITIONAL BENEFITS OF BUTTERNUT
1. Prevents high blood pressure
2. Prevents constipation
3. Improves eyesight
4. Keeps bones strong
5. Protects your skin
6. Boosts immune function
7. Reduces inflammation
8. Aids in weight loss
While the traditional recipe is dear to many, don't hesitate to put your own spin on it. Maybe a hint of chili for an extra kick? Or perhaps a dollop of cream for richness? Remember, cooking is about making it your own.
Share by Email
Share on Facebook
Share on Twitter
Nutrition
Serving:
6
servings
|
Calories:
315.44
kcal
|
Carbohydrates:
40.8
g
|
Protein:
6.7
g
|
Fat:
16.4
g
|
Saturated Fat:
9.8
g
|
Cholesterol:
54.8
mg
|
Sodium:
167.3
mg
|
Fiber:
6.2
g
|
Sugar:
10.2
g
© Food And Meal
This website provides approximate nutrition information for convenience and as a courtesy only. Nutrition data is gathered primarily from the Spoonacular Database, whenever available, or otherwise other online calculators.
Making South African Butternut Soup using a Pressure Cooker
Ingredients:
1 medium-sized butternut squash, peeled, seeds removed, and diced
1 large onion, finely chopped
2 cloves garlic, minced
1 tsp fresh ginger, grated
4 cups vegetable or chicken broth
1 tsp ground cinnamon
1/2 tsp nutmeg
Salt and pepper to taste
1 cup coconut milk (optional, for a creamier texture)
Fresh coriander (cilantro) for garnish
Instructions: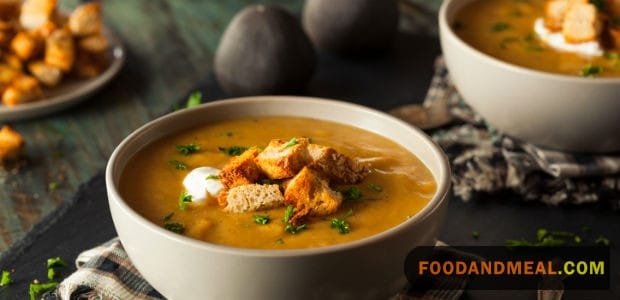 Preparation: Start by ensuring your butternut squash is peeled, seeds are discarded, and the flesh is chopped into even cubes. This will ensure even and quick cooking.
Sauté the Basics: Turn your pressure cooker to the 'Sauté' function. Once hot, add a splash of olive oil or butter. Toss in the onions and sauté until they're translucent, about 3-4 minutes. Next, add the garlic and ginger, sautéing for another minute until aromatic.
Add the Main Ingredients: Throw in the diced butternut squash and give everything a good stir. Now, sprinkle the ground cinnamon, nutmeg, salt, and pepper over the mixture. Pour in the vegetable or chicken broth, ensuring the squash is fully submerged.
Pressure Cooking Time: Securely close the lid of the pressure cooker. Set it to 'Manual' or 'Pressure Cook' mode and adjust the cooking time to 10 minutes on high pressure. Ensure the valve is set to the 'sealing' position.
Natural Release: Once the cooking time is up, allow the pressure to release naturally for about 15 minutes. Afterward, you can turn the valve to the 'venting' position to release any remaining pressure.
Blend and Serve: Carefully open the lid. Use an immersion blender to puree the soup directly in the pot until smooth and velvety. If you want a creamier texture, stir in the coconut milk at this stage. Adjust seasoning if needed.
Garnish and Enjoy: Pour the soup into bowls, garnishing with fresh coriander leaves. Serve hot, accompanied by crusty bread or your choice of side.
Pressure cooking intensifies flavors and significantly speeds up the cooking process, making it perfect for our beloved South African Butternut Soup. Now, who's ready for a bowl of comfort?
Our Recommended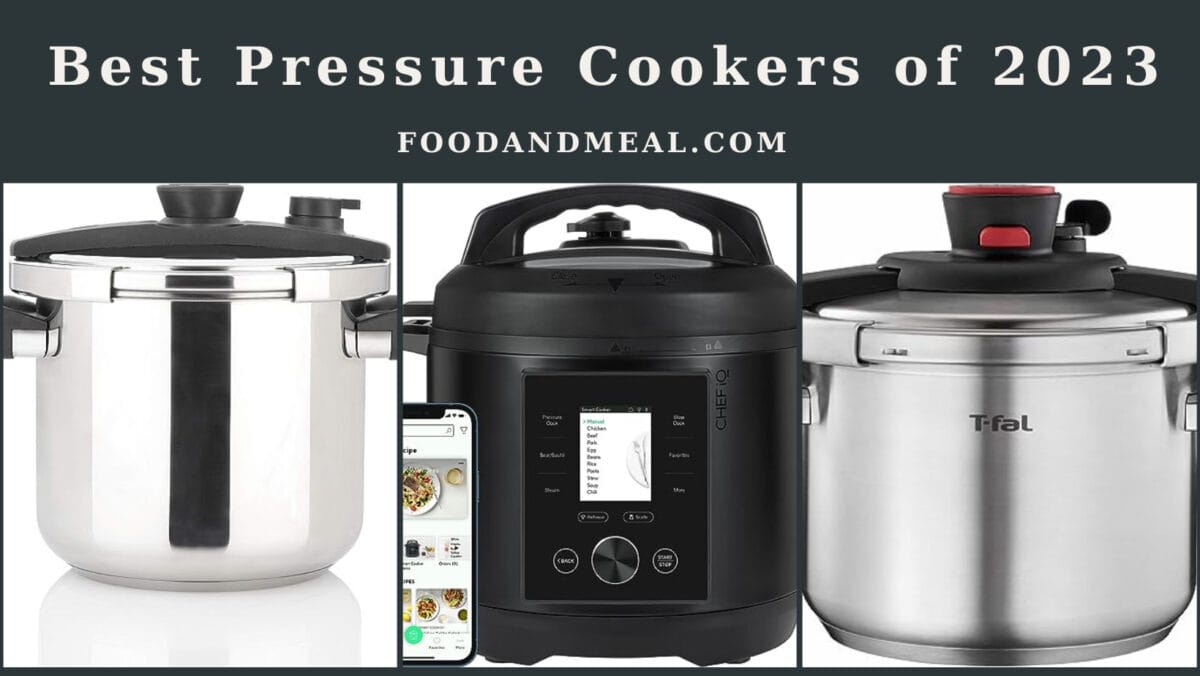 Read more
Tips for making Butternut Soup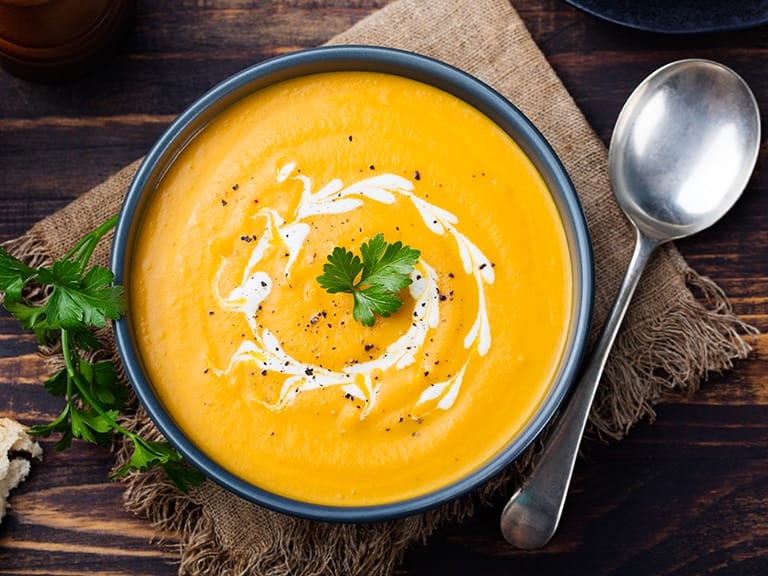 FAQs
1. Can I use frozen butternut squash instead of fresh?
Absolutely! Frozen butternut squash is a convenient alternative and often pre-cubed, which saves prep time. Just ensure you defrost it before adding to the pressure cooker. The taste and texture will be quite similar to using fresh squash.
2. How do I store any leftover soup?
Leftover South African Butternut Soup can be transferred to an airtight container and stored in the refrigerator for up to 3 days. For longer storage, you can freeze the soup for up to 2 months. Just remember to leave some space at the top of the container for expansion as it freezes.
3. I don't have a pressure cooker. Can I make this on the stovetop?
Yes, you can. Follow the same steps but instead of pressure cooking, bring the mixture to a boil, then reduce to a simmer, covering and cooking until the butternut squash is tender. This will likely take around 25-30 minutes.
4. Can I make this soup vegan?
Certainly! Simply ensure you use vegetable broth instead of chicken broth. If you want a creamy texture, stick to coconut milk or try almond or cashew milk as alternatives.
5. Is this soup spicy?
Traditional South African Butternut Soup has a slightly spicy undertone from the ginger and nutmeg. However, it's not overwhelmingly spicy. If you wish to add heat, consider adding a chopped chili or a dash of cayenne pepper.
Cooking Tips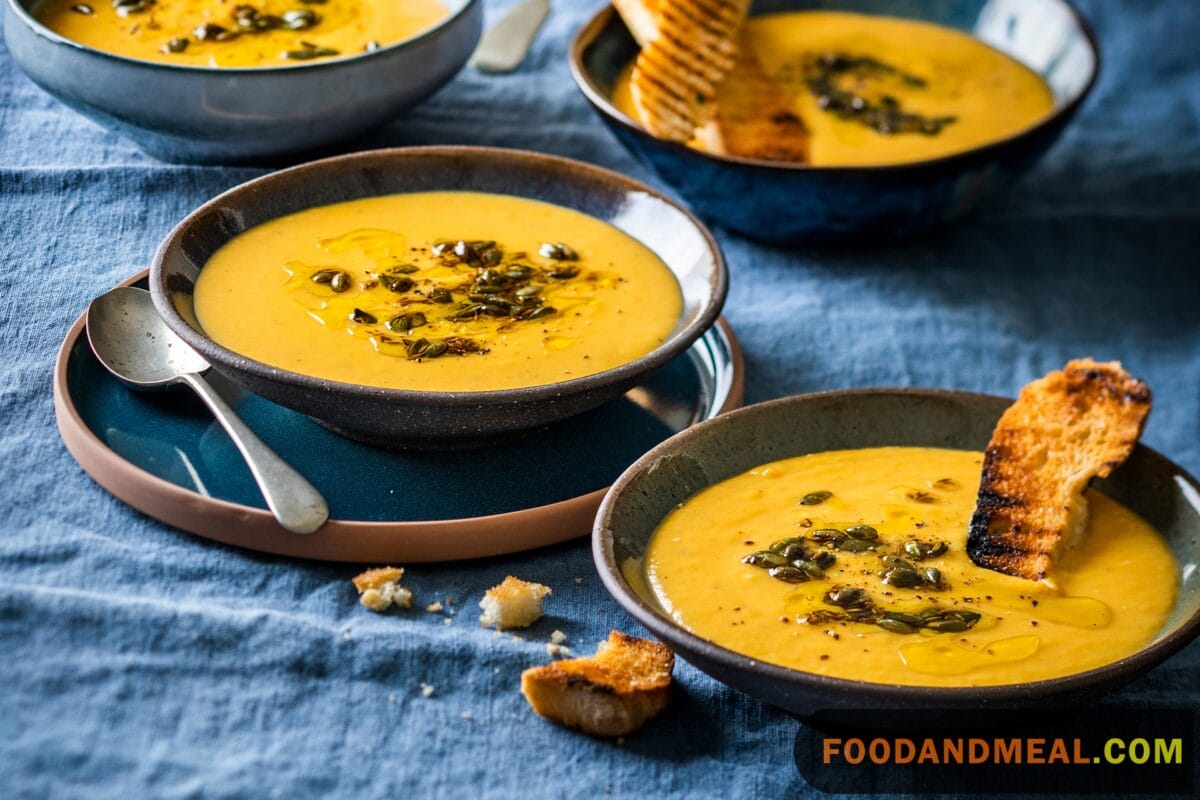 Embarking on the journey of making this soup is both thrilling and rewarding. Here are some pointers to guide you:
Choose the Right Squash: A ripe butternut squash has a beige color and should feel heavy for its size. Avoid those with soft spots or deep cuts.
Spices are Key: Freshly ground nutmeg and cinnamon make a noticeable difference. They add depth and aroma that pre-ground spices often lack.
Blending to Perfection: For an ultra-smooth texture, consider straining the soup after blending. This ensures there are no unblended chunks.
Common Mistake to Avoid: Don't rush the natural release of the pressure cooker. Giving it time helps the flavors meld and ensures the soup has the perfect consistency.
Serving Suggestions
Setting the scene for this soup can truly elevate the dining experience.
Occasions and Audience: This soup serves as a perfect starter for dinner parties or a warming lunch on chilly days. Given its mild yet rich flavor profile, it's kid-friendly and can impress your adult guests alike.
Complementary Sides and Beverages: A crusty bread or garlic toast is a delightful partner to this soup. If you're looking for a refreshing drink, consider a white wine like a Chardonnay or even a sparkling apple cider.
Garnish and Presentation: Apart from coriander, roasted pumpkin seeds or a swirl of sour cream can add a delightful touch. For a festive look, serve in hollowed-out mini pumpkins or rustic bowls.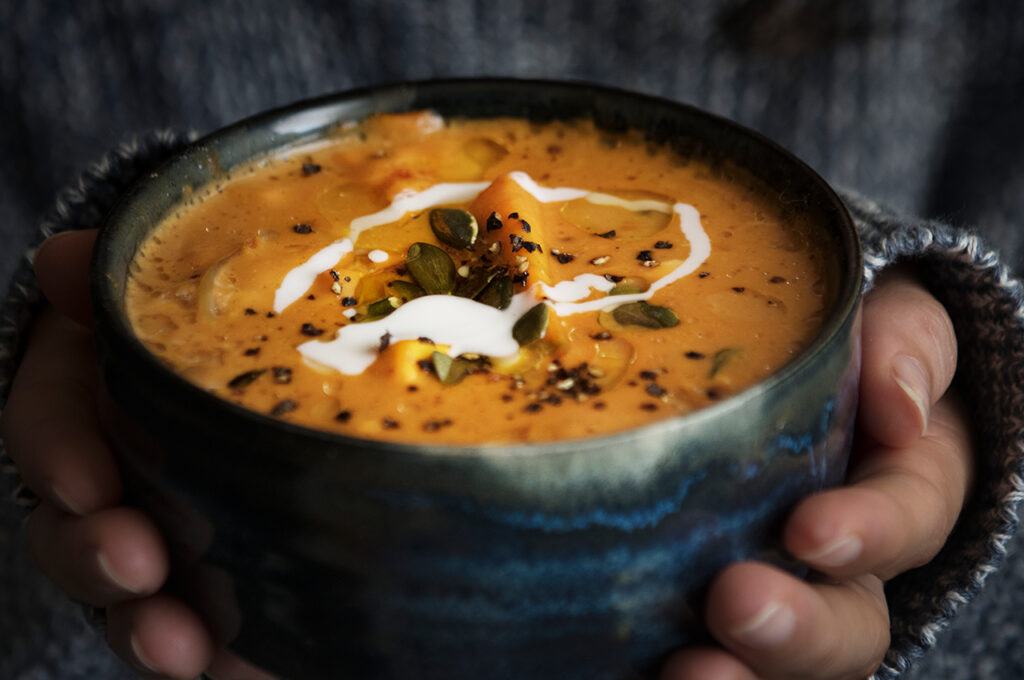 There's a story in every bowl of our South African Butternut Soup—a tale of tradition, flavor, and culinary finesse. Unveil this narrative with every bite, and let the world in on this secret. Share the recipe with friends and family and join our food-loving community by subscribing to our blog.
By following Food And Meal site, you definitely collect a plentiful volume of recipes that can help you process successfully the challenging dishes. Don't hesitate to click the "follow button" below to update the newest recipes from us.
Affiliate DisclaimerAbout The Author
As an affiliate, we may earn a commission from qualifying purchases. We get commissions for purchases made through links on this website from Amazon and other third parties.