South Africans love their bobotie. It's a spicy minced meat dish baked in an egg-based topping. The flavor is rich and bursting with flavor. A traditional bobotie is served with a side of sourdough bread. Try it yourself! Here are a few ways to make bobotie at home. Let's start with how to prepare it. Using a frying pan, cook the spiced meat mixture until it's tender.
Bobotie Recipe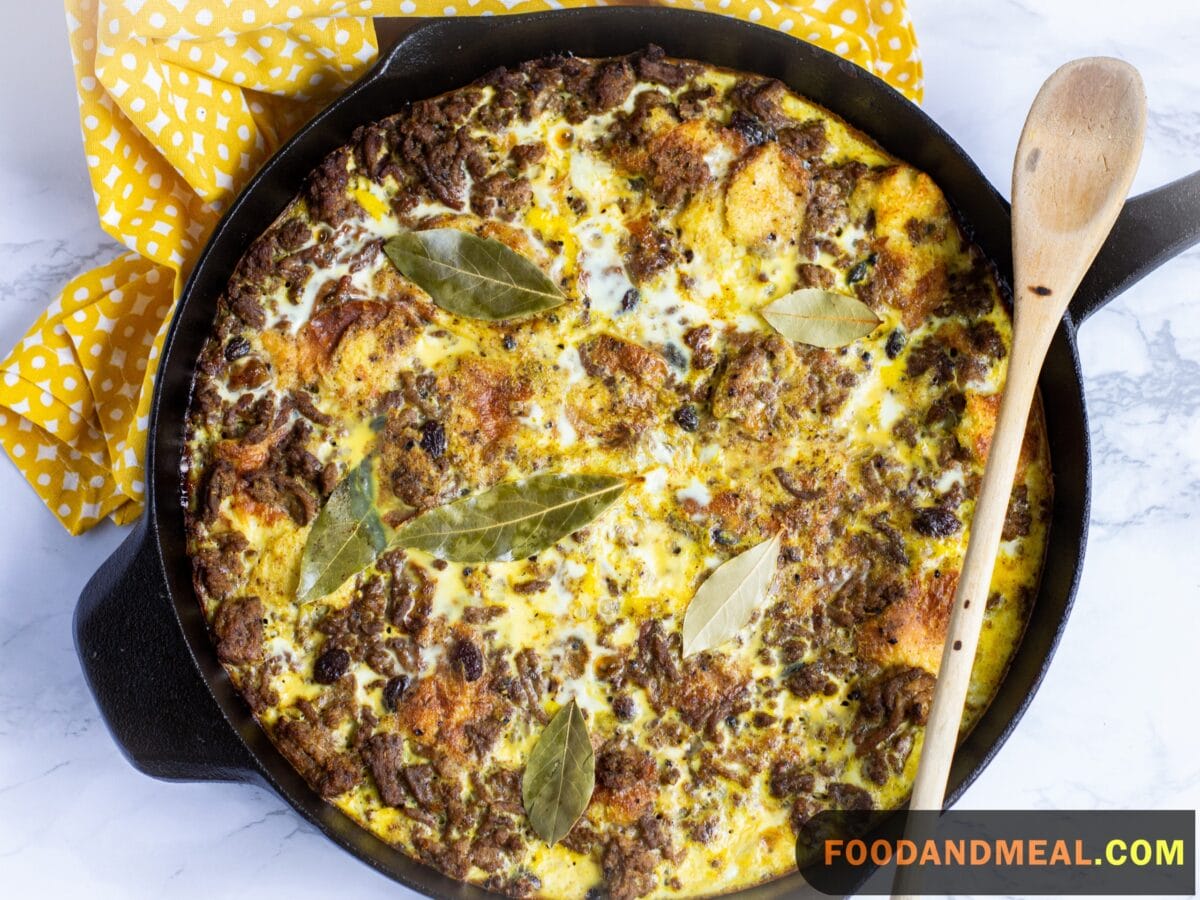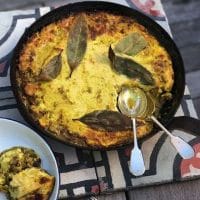 Bobotie
The bobotie is a traditional South African dish. It is a classic dish served in homes and restaurants. It is made with minced meat and spices, with the addition of dried fruit. It is traditionally served with a spicy yellow rice. It is also commonly served with melktert, a type of custard tart, a dish similar to British custard. The Bobotie is usually accompanied by a bowl of rice and a glass of red wine.
Print
Add to Collection
Go to Collections
Equipment
Ingredients
For the burger
5

teaspoon

curry powder

2

medium

onions

1

teaspoon

dried mixed herbs

3

slices

bread

2

tablespoon

mango chutney

3

teaspoon

sultana

2

teaspoon

raisin

Grounded ginger

3

eggs

Minced beef
Instructions
1. Break the slices of bread into a cooking bowl and pour the milk into it. Let the milk get soaked by the bread. Set aside.

2. Chop the onions and crush the garlic.

3. Put oil in the pot, let it heat up. Then add the onions and crushed garlic to it. Stir for a few minutes until the color turns golden brown.

4. Add the mango chutney, raisins, and sultanas, cloves, and tomato puree.

5. Add your minced meat to the pot. Stir well while crushing the mince into fine-grain until the color is changed.

6. Then, squeeze out the milk from the bread and stir in the soaked bread to the meat. Stir well together. Taste and adjust seasoning.

7. Leave to cook slowly for 5 minutes.

8. Remove the pot from the fire and pour the meat into a baking dish. Press it down and smoothen the top. Cover the dish with a foil and put it into a preheated oven at 190 degrees. Bake for 25-35 minutes.

9. Mix the eggs and remaining milk together with some seasonings. Whisk thoroughly.

10. Pour the mixture over the meat and bake for 20 more minutes until it turns golden.

11. Bring out to cool for 10-15 minutes.

12. The food is ready.
Notes
To make bobotie at home, use a skillet with enamel or cast iron to heat up the mixture. Then, mix the beef with spices, tomato paste, and breadcrumbs. Then, bake the bobotie in the oven until the egg layer is set. Serve with yellow rice and chutney. For a full meal, serve with sliced cucumbers. This dish is a popular dish in many parts of the world.
Share by Email
Share on Facebook
Share on Twitter
Nutrition
Serving:
1
serving
|
Calories:
184
kcal
|
Carbohydrates:
30
g
|
Protein:
8
g
|
Fat:
4
g
|
Saturated Fat:
1
g
|
Polyunsaturated Fat:
1
g
|
Monounsaturated Fat:
1
g
|
Trans Fat:
1
g
|
Cholesterol:
123
mg
|
Sodium:
164
mg
|
Potassium:
268
mg
|
Fiber:
3
g
|
Sugar:
11
g
|
Vitamin A:
215
IU
|
Vitamin C:
6
mg
|
Calcium:
82
mg
|
Iron:
2
mg
© Food And Meal
This website provides approximate nutrition information for convenience and as a courtesy only. Nutrition data is gathered primarily from the Spoonacular Database, whenever available, or otherwise other online calculators.
Alternative Method: Oven-Baked Bobotie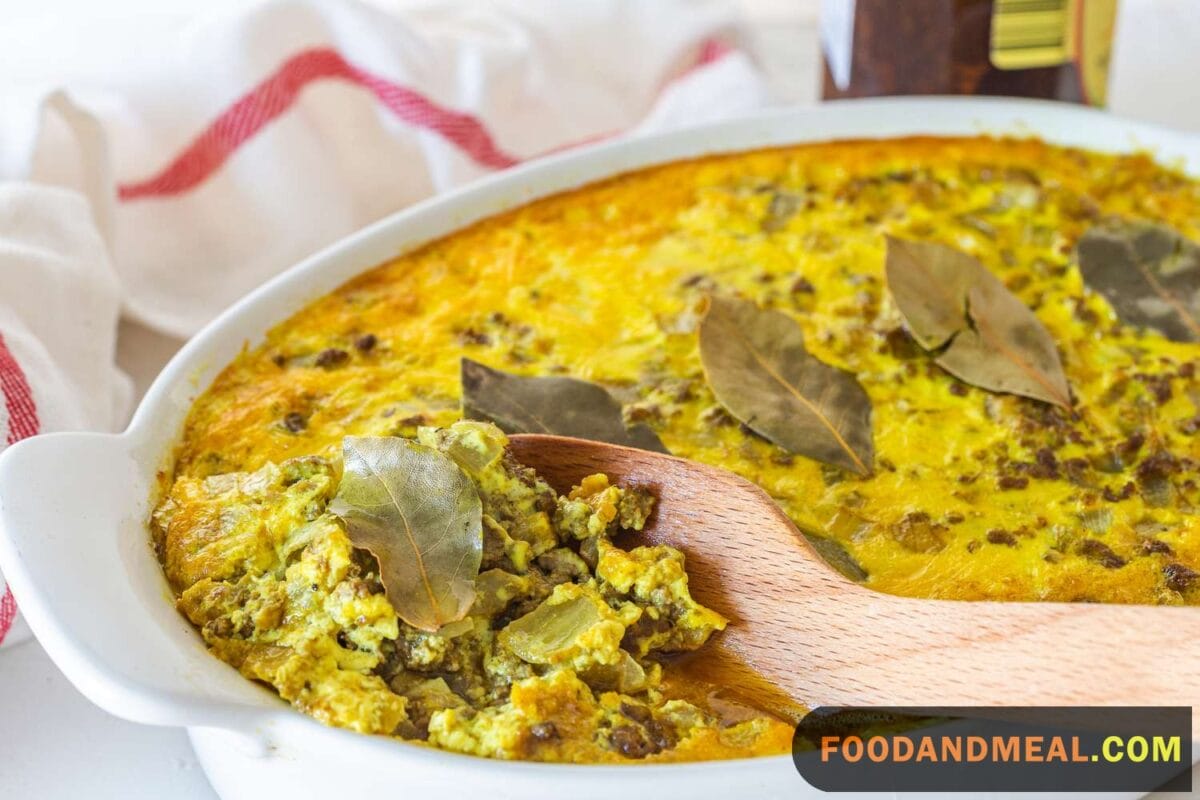 Ingredients:
1 lb (450g) ground beef or lamb
2 slices of bread, crust removed
1 cup milk
1 large onion, finely chopped
2 cloves garlic, minced
2 tablespoons vegetable oil
2 tablespoons mild curry powder
1 teaspoon ground turmeric
1 teaspoon ground coriander
1/2 teaspoon ground cumin
1/2 teaspoon ground cinnamon
1/4 cup raisins
1/4 cup apricot chutney
2 tablespoons slivered almonds
3 large eggs
Salt and pepper to taste
Instructions:
Preheat your oven to 350°F (175°C).
In a bowl, tear the bread into small pieces and soak it in 1 cup of milk. Let it sit for a few minutes until the bread is completely saturated.
In a large skillet, heat the vegetable oil over medium heat. Add the chopped onion and garlic, sauté until they become translucent and fragrant.
Add the ground meat of your choice and brown it, breaking it into small pieces with a spatula as it cooks. Drain any excess fat if necessary.
Stir in the curry powder, turmeric, coriander, cumin, and cinnamon. Cook for a few minutes until the spices are aromatic.
Add the soaked bread, raisins, and apricot chutney to the meat mixture. Cook for another few minutes, allowing all the flavors to meld. Season with salt and pepper to taste.
In a separate bowl, beat the eggs, then pour them over the meat mixture. Stir well to combine.
Transfer the Bobotie mixture to a baking dish and spread it out evenly. Sprinkle slivered almonds on top for that delightful crunch.
Bake in the preheated oven for 30-35 minutes, or until the top is golden brown and the Bobotie is set.
Remove from the oven and let it cool for a few minutes before serving.
Tips for making Bobotie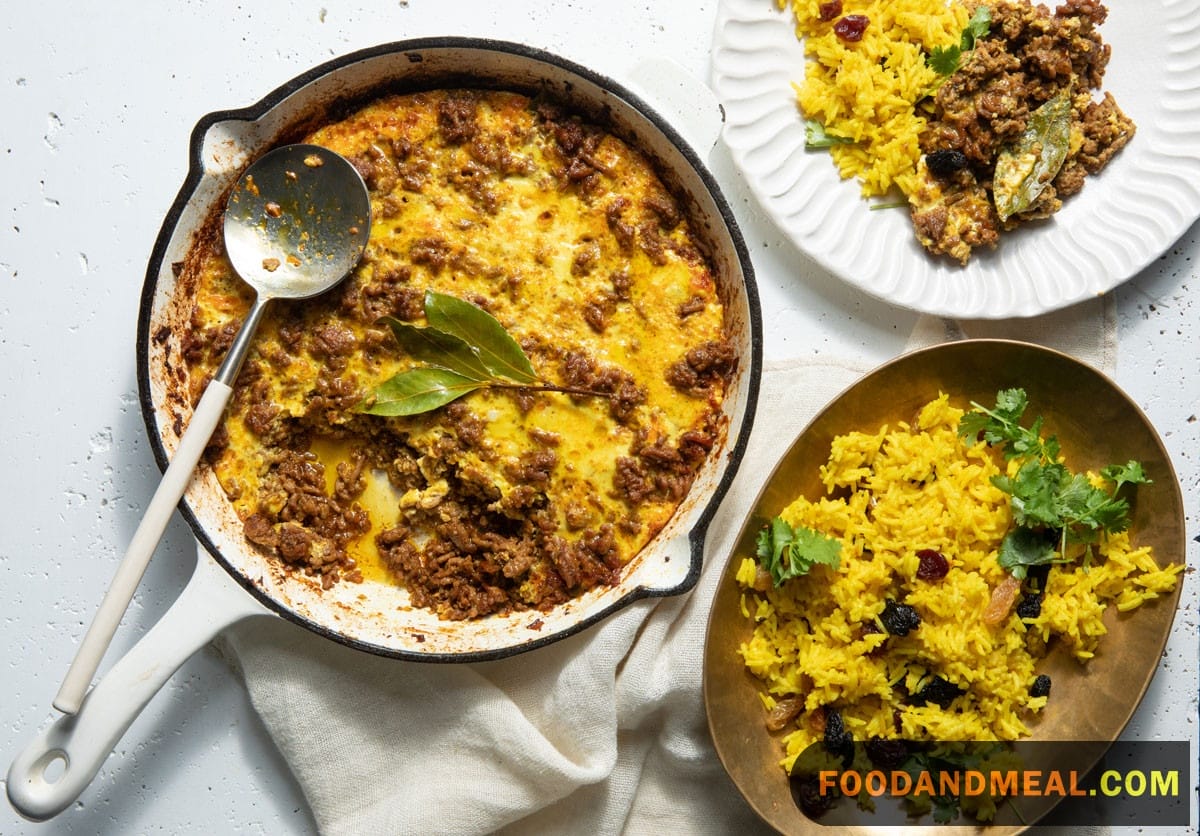 Cooking Tips
Tip 1: To achieve the perfect Bobotie, use a mix of ground beef and ground lamb. The lamb adds a unique richness to the dish.
Tip 2: Don't skip soaking the bread in milk. This not only adds moisture to the dish but also gives it a pleasant, custard-like texture.
Tip 3: Adjust the spice levels to your preference. If you enjoy a spicier dish, increase the curry powder. For a milder version, reduce the amount.
Tip 4: Allow the Bobotie to rest for a few minutes after baking. This allows the flavors to settle and makes it easier to slice and serve.
Common Mistake to Avoid: Overcooking can lead to a dry Bobotie. Be cautious not to leave it in the oven for too long. The dish should still have a slightly moist center when done.
Serving Suggestions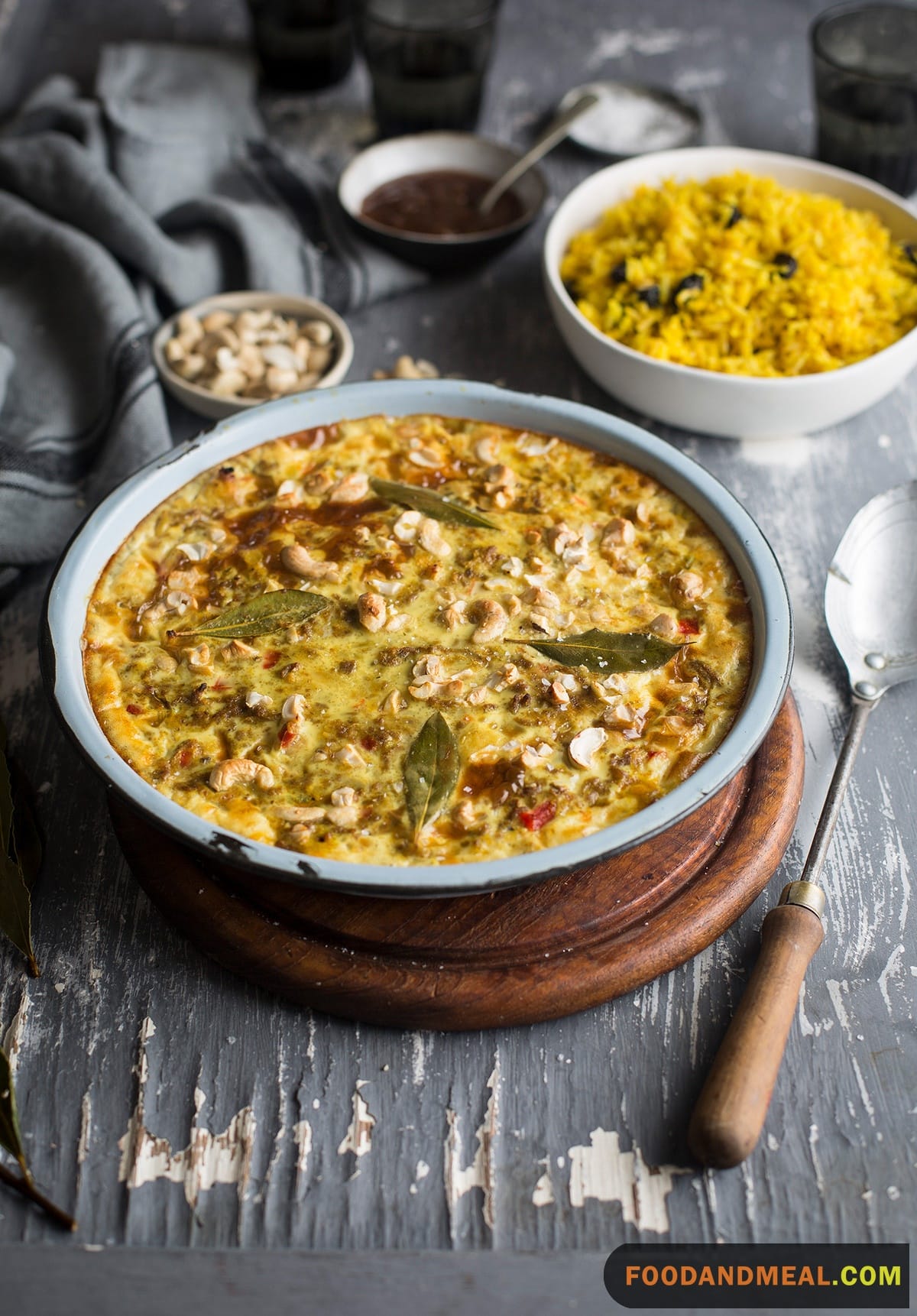 Recommend Sides: Serve with fragrant yellow rice, a fresh tomato and onion sambal, and a dollop of chutney. The sweetness of the chutney complements the spiciness of the dish beautifully.
Garnishes: Sprinkle extra slivered almonds on top before serving for an added crunch. Fresh coriander leaves and a lemon wedge can be used as garnishes to brighten up the plate.
Beverage Pairing: Pair Bobotie with a South African white wine like Chenin Blanc or a glass of refreshing iced rooibos tea to balance the flavors.
Different Ways to Serve: While it's often served as a main dish, you can also serve smaller portions as appetizers or in mini pies for a unique twist.
FAQs (Frequently Asked Questions) about Bobotie
Can I make Bobotie in advance and reheat it?  Yes, Bobotie is even more flavorful when reheated. Store leftovers in an airtight container in the refrigerator for up to 3 days and reheat in the oven at 350°F (175°C) until heated through.
Can I use other meats like chicken or pork? Traditional Bobotie uses ground beef or lamb, but you can certainly experiment with other meats. Just remember that it might alter the authentic flavor.
What can I substitute for apricot chutney if I can't find it? Mango chutney or any sweet fruit chutney can be a suitable substitute for apricot chutney.
Is it necessary to use slivered almonds? While slivered almonds add a lovely crunch, you can use chopped almonds or skip them altogether if you have nut allergies.
Can I freeze Bobotie? Yes, Bobotie can be frozen for up to three months. Be sure to wrap it tightly in plastic wrap and then aluminum foil before freezing. Thaw it in the refrigerator before reheating.
Master the art of making Bobotie, a South African delight, with our easy-to-follow recipe. Share it with friends and subscribe for more culinary inspirations.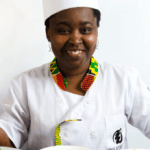 Hello! I'm Black Pie, your culinary guide at Food And Meal, Hana Hotel Travel Company Limited. I'm passionate about unveiling the rich and diverse flavors of African cuisine to the world. Each recipe we explore is a celebration of culture, tradition, and exquisite taste. Join me on this delightful culinary journey, where we'll discover and share the hidden gems of African cooking together!
Affiliate DisclaimerAbout The Content
As an affiliate, we may earn a commission from qualifying purchases. We get commissions for purchases made through links on this website from Amazon and other third parties.