Bunny chow, also known as bun, is a popular South African fast food dish. The dish is a hollowed out piece of white bread filled with curry and other ingredients. Its origins can be traced back to the Durban area, where it first appeared among Indian South Africans. Despite its name, bunny chow has a history that is surprisingly rich. Read on to learn more about this unique dish.
Bunny Chow Recipe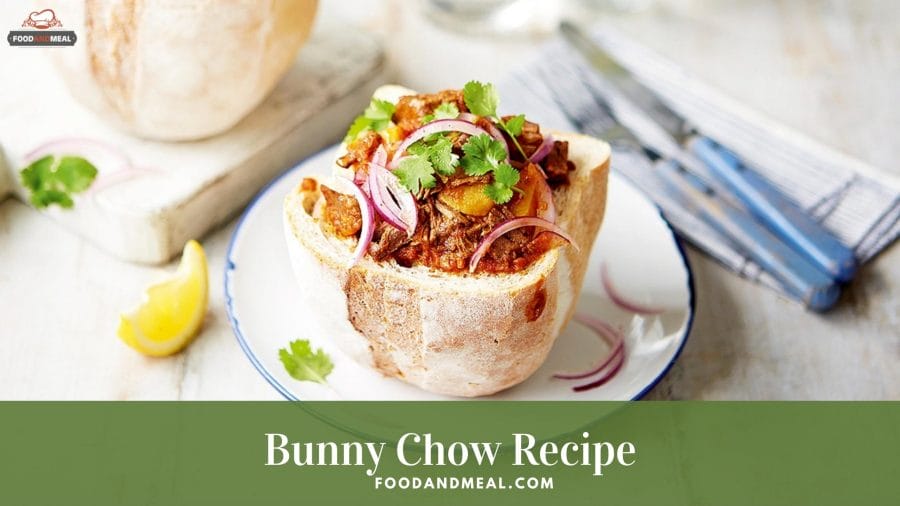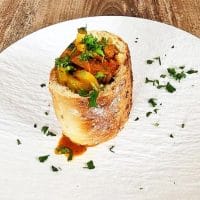 Bunny Chow
Another South African dish, Bunny Chow is a popular street food in the country. It's a highly spiced curry that is usually accompanied by a sambal or chutney. It dates back to the arrival of Indian migrant workers to South Africa. The hollowed-out bread was an easy way to transport vegetable curries, and the dish evolved over time to incorporate meat filling.
Print
Pin
Add to Collection
Go to Collections
Equipment
Ingredients
1

tsp

turmeric

1

tsp

coriander powder

1

tsp

cayenne pepper

1

tsp

Hot chili pepper

3

tsp

curry powder

2

tsp

kashmiri chili powder

5

tsp

salt

25

tsp

black pepper.

120

ml

oil

10

cm

cassia bark

star anise

1

tsp

cumin seeds

1

tsp

black mustard seeds

1

tsp

fennel seeds

10

g

ginger

400-500

g

lamb or any other meat such as beef

mutton, goat, or rabbit

Lamb bone

optional

200

g

plum tomatoes

3

tbsp

tomato ketchup

A handful of coriander stalks/leaves

100

g

potato

diced

200-300

g

other veggies like green beans and aubergine

White bread

flat bottomed

Carrot salad
Instructions
Chop the onions, garlic cloves, garlic, and green chilies. Peel and dice the potatoes into cubes.

Add oil in a large pan on medium heat

Add the bay leaves, cassia bark, star anise and fry for 30- 40 seconds to infuse the oil

Add the cumin seeds, black mustard seeds, fennel seeds And constantly stir until mustard seeds start popping.

Add chopped onions and fry for 5 minutes, frequently Stirring until it is translucent and starting to brown.

Add the chopped garlic cloves and ginger and fry for Further few minutes. Then, add the curry leaves and stir.

Add all the spices together and constantly stir for a couple Of minutes. If spices start sticking to the pan, add a little water to Compensate.

Add the meat, in 1-inch chunks, trimmed of any excess Fat. Add some lamb bone to the pot for extra flavor if you have any.

Coat well with the mixture and fry for 2 more minutes Until the meat is sealed.

Add the plum tomatoes and tomato ketchup and mix well. Add the coriander stalks/leaves and fry for a few minutes.

Add the potato, green chilies, and any other vegetable that You have and stir thoroughly for 2 minutes. Then, add 300l water and Stir well.

Turn down the heat to low, cover and leave to cook for 1½ Hours or until the meat is tender. Stir occasionally.

Taste and adjust seasoning and add fresh coriander leaves. (you can add more water to your desired consistency if you don't like A thick bunny).

Remove any bone and sticks.
Video
Notes
Serving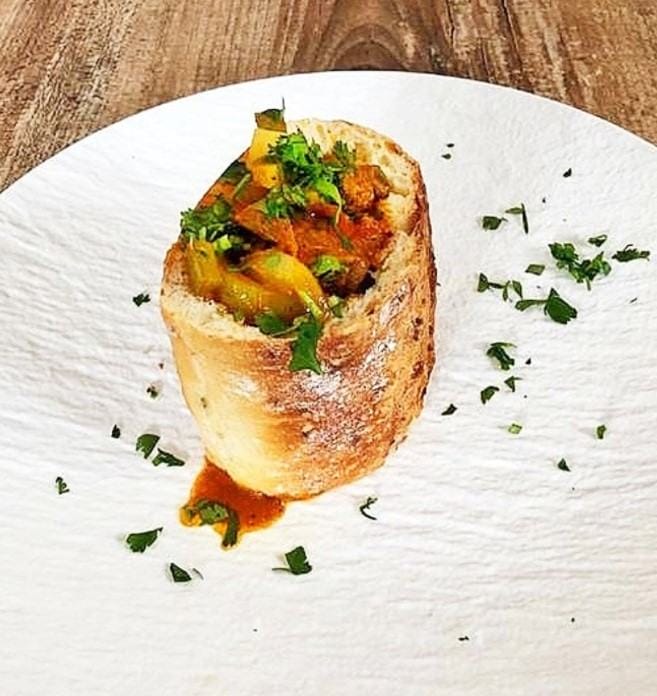 Take a cube-shaped chunk of flat bottomed bread And cut a cube of the inner bread out using a knife leaving about 1.5- 2cm around the sides and the bottom.
Cut the removed inner into stripes (optional)
Ladle the curry into the hole in the bread and top With some carrot salad and the excess bread.
Don't worry if it gets messy. It's supposed to be.
Share by Email
Share on Facebook
Share on Twitter
Nutrition
Serving:
4
servings
|
Calories:
428
kcal
|
Carbohydrates:
30
g
|
Protein:
30
g
|
Fat:
21
g
|
Cholesterol:
107
mg
|
Sodium:
445
mg
© Food And Meal
This website provides approximate nutrition information for convenience and as a courtesy only. Nutrition data is gathered primarily from the Spoonacular Database, whenever available, or otherwise other online calculators.
About Bunny Chow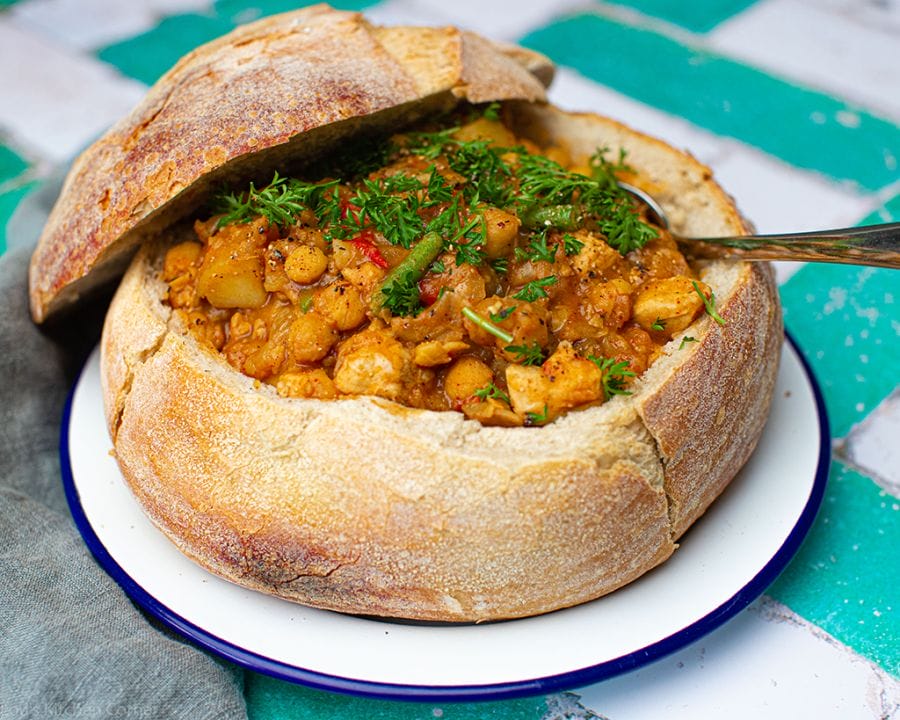 Bunny chow was originally known as banyan chow but the name has since been shorten to Bunny chow. It's often served in a scooped out loaf of bread and is very popular in South Africa. A typical serving of bunny chhow will consist of a steamed curry and stale bread. For a delicious meal, try this tasty treat.
This spicy South African food originated in Durban, where Indian workers didn't have time to make traditional Indian beads. Instead, they used Western bread to eat curries. This made it difficult to transport separate containers of curries. The Indian workers simply hollowed out a portion of the bread and wrapped it in the bun. Traditionally, the bunny chow is a dish that is enjoyed by people of all races and ethnicities.
In addition to the delicious, hearty dish, bunny chow is also a wonderful accompaniment to a meal. It's a popular South African breakfast. In South Africa, the popular kota, a kota, is a grilled sandwich. The ad is a public service announcement, which notes that violence against women and children is not acceptable. This tasty dish is often served with a side salad.
Bunny chow is a savory dish containing a meat or vegetable filling. It's also considered an important dish for a party, and a good bunny chow is a fun way to celebrate the occasion. In South Africa, the dish is served with a side salad and sambal. This meat-filled bunny chow is often served with a side salad.
Tips for making Bunny Chow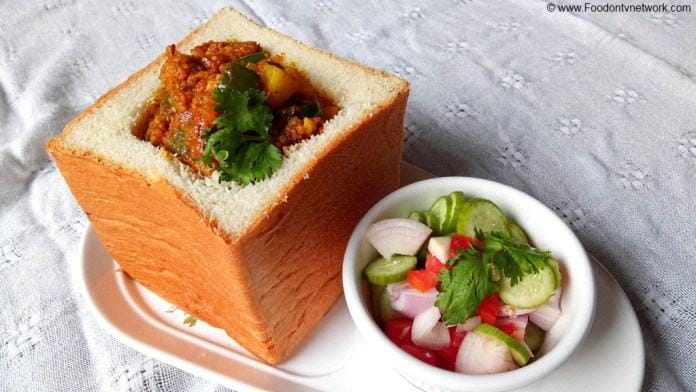 The spiced curry is made with diced tomatoes and other spices such as curry, cumin, turmeric, and chili powder. A side of diced potatoes and seared meat is cooked with 1/2 cup of water. The curry should simmer for 30 to 40 minutes. If it's too dry, it can be topped with more water. Ensure that it's served with a side salad. This meal is delicious and nutritious, but it can be messy.
Originally a migrant Indian meal, bunny chow is a delicious and inexpensive lunch that can be easily carried to the field. Its origins date back to the early 20th century, and the name bunny chow comes from a Hindi word that means "bunny." It is a type of curry, which means 'bunny' in Afrikaans. It is a meat-filled sandwich made from lentils.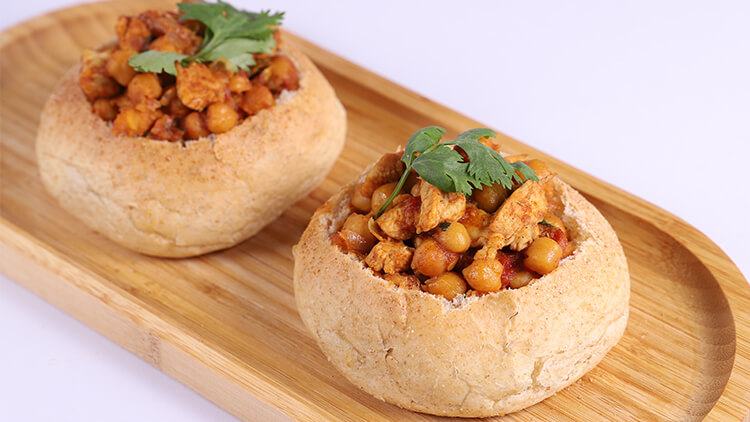 Hope you enjoy the special Chicken Soup recipe and don't forget to read more interesting articles about culinary knowledge on Food and Meal website ! If you feel this recipe is useful, please leave your kind comments below and take time to read other blogs to be an international chef at your home.