Welcome to "Food and Meal," your destination for quick and delicious quick and easy Dutch Oven recipes. We've curated a collection of recipes that promise great flavor with minimal effort. Whether you're a seasoned cook or just getting started, our Dutch oven recipes are designed to simplify your cooking while delivering mouthwatering results. Join us in the world of effortless Dutch oven delights!
Rules to Follow When Cooking with a Dutch Oven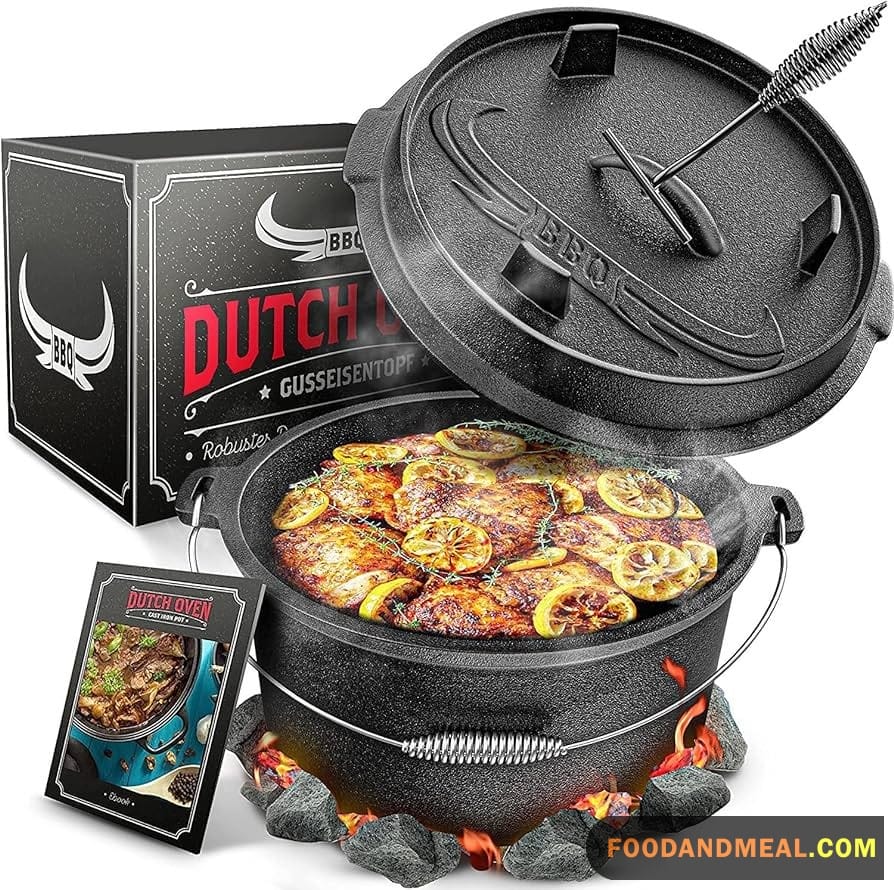 Choose The Right Size of Pot
When choosing a Dutch oven, size matters. Dutch ovens come in various capacities, including 2-quart, 4-quart, and 7-quart options at CampMaid. Ensure you pick one that comfortably fits all your cooking needs.
Opt for a recipe that features delicate and uncomplicated ingredients. Keep the list concise, but be sure that these ingredients harmonize gracefully to elevate the dish's subtlety and finesse. This approach will enable you to savor the intricate flavors and enjoy a culinary experience that's both refined and delightful.
Avoid Dumping Everything Together
Many great recipes involve preparing different elements in advance and assembling them just before serving. This is especially true for dishes like lasagna in a cast iron Dutch oven. To make it even simpler, prep some components ahead and refrigerate until ready to use.
The heat source plays a vital role in achieving the desired crispiness and tenderness. Charcoal is best for cast iron Dutch ovens, offering even heat distribution. Gas burners or electric ovens can be used to brown the food before finishing it in the oven for added versatility.
Best Ways To Use Your Dutch Oven
Deep Searing: Heat the pot first, then add a bit of oil before placing the meat to prevent oil from overheating. Alternatively, add oil directly to the meat.
Covering for Gently Cooking: When making soups or gentle-cooked dishes, keep the pot entirely covered. Be cautious as the lid's handle can get hot, especially if it's made of metal.
Adjustable Lid: When making sauces, leave the lid slightly ajar for some evaporation. In contrast, avoid using it completely when reducing liquids in the final stages of cooking.
Oven Use: You can use the Dutch oven in the oven for extended cooking periods. Keep the lid on to retain moisture, and always use oven mitts or dry dish towels to handle it.
Serving Dish: Dutch ovens are excellent for serving because they keep food hot for a long time. Use a sturdy trivet and warn guests that the pot is hot.
Cleaning Enameled Cast Iron: To maintain the colorful finish of enameled cast iron, clean it by hand, regardless of the manufacturer's instructions.
Best Dutch Oven Recipes
Affiliate DisclaimerAbout The Author
As an affiliate, we may earn a commission from qualifying purchases. We get commissions for purchases made through links on this website from Amazon and other third parties.