Top 10 East African Recipes you shouldn't miss
East Africa 
East Africa is the eastern region of the African continent consisting of 19 countries and territories. This place converges full of the natural landscape and the diversification of incredible wildlife. East Africa is a 100-language region with Swahili being the most popular one. There are about 5 million Swahili native speakers and millions of people use it as a secondary language. The primary religion is Christian and Muslim.
Overview East African food
Similar to Western and Southern, East African food is strongly influenced by many various cultures, leading to the harmony of ingredients and cooking techniques. Generally, East African food tends to focus on grains and tubers, which can be processed into mashed dishes. Besides, stew foods, milk, butter, and curry are favored by most local people. Because of a region where sheep, goats, and castles are kept as possessions, meat is not the main food source of this land. Also, pork is not seen commonly in East African food because of Muslim's influence. As a result, most meat dishes come from chicken, beef, or buffalo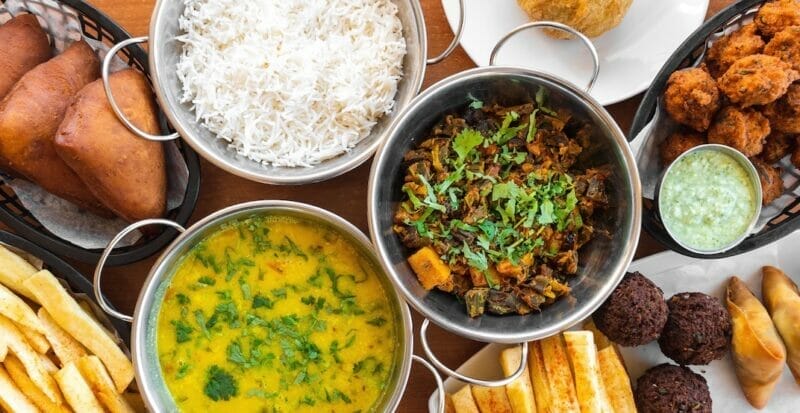 In East African food, you may find it difficult to distinguish and remember the name of some dishes stemming from some countries such as Kenya, Eritrea, and Tanzania because these dishes are rarely known outside of the country boundary. Such as Nyama Choma – a dish made by grilling meat over the open fire, or Mbaazi – a dish featured with pigeon peas in coconut milk, or fufu are the local foods you have to try to make and enjoy to be able to remember and name them clearly.
East African dining etiquette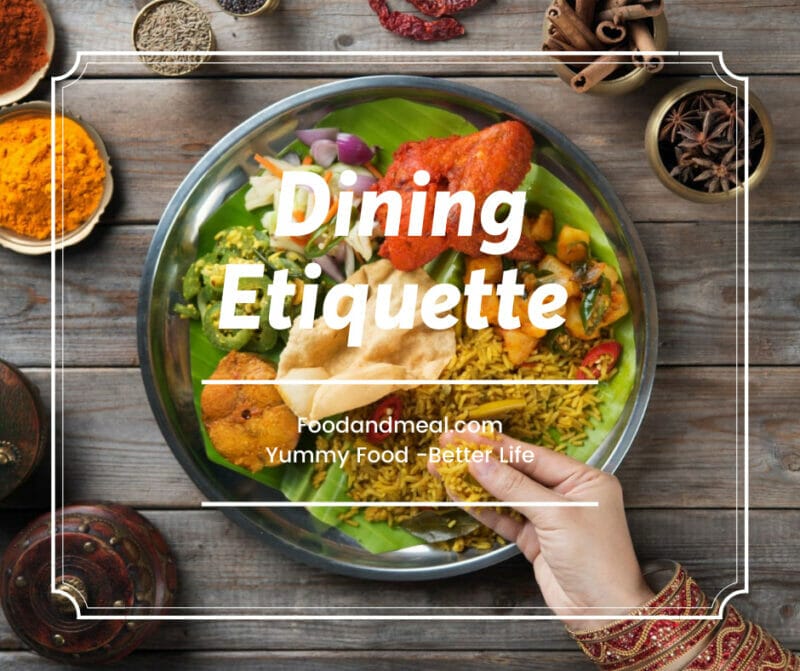 Eastern Africans often wash their hands before having a meal. Even it has the ability that hosts may bring to the guests a water bowl and soap for washing hands. Men, women, and children eat separately, and the best food is spent for men, then women afterward and children at last. If dining at Kenya's house, you are required to take off your shoes before getting into the house. During the meal, your fingers and feet are not allowed to direct the food and other diners.
In addition, in East African food culture, people don't eat and drink at the same time, but you should eat first and then drink. The serving order would be the honor guests first, old men, younger men, children next, and women at last. You are not allowed to eat after the oldest people are served at all and begin to eat.
Similar to Western, Eastern Africans use the right hand to have a meal. Even if they are provided with a spoon and fork, they must hold these with their right hand. Moreover, it's wrong when you put your left hand to the bowl or food service utensil. This is because according to the opinion of the East Africans, the left hands are often used to do dirty work.
East African food reflected through some countries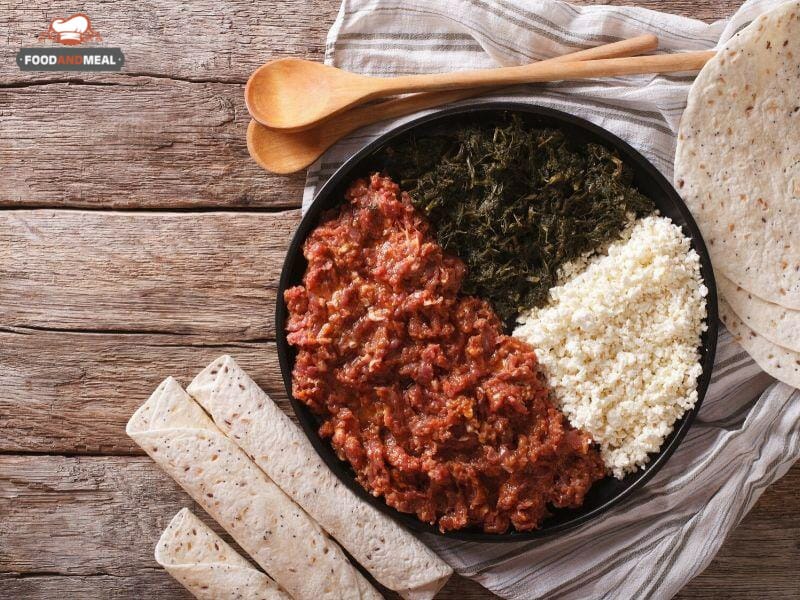 Ethiopia
The Ethiopian meal is quite interesting, both simple and sophisticated. Simplicity in the "ten-in-one" layout – many dishes encapsulated in just one plate of food. This kind of plate is colorful because it is a mixture of the green color of vegetables, the red color of palm oil, and the color of side sauces. It is an art, not a joke!
Ethiopian cuisine is seen as a typical culture of East African food. The symbol dish of Ethiopians is Injera flatbread, which is a thin, thick, and spongy bread, made from teff seed flour (a super-small grain, rich in protein, very good for health and physique). From morning to evening, whether hot or cold season, Injera bread always appears in the daily meals of Ethiopians and is an indispensable food in the "picture" of Ethiopian cuisine.
In addition, Wat is the "national" dish of Ethiopia and is also a very popular dish in African countries. "Wat" is the common name for stews made from meat and vegetables. Some famous wat dishes like Doro Wat (Chicken Stew), Atakilt Wat (Vegetables Stew), Sega Wat (Beef Stew), etc. 
Kenya
Kenya's cuisine has both its own unique national identity and dishes imported or modified from other countries such as India, Thailand, Brazil, and so on. It contributes to building the feature of East African food. A famous dish that must be mentioned is Ugali which you can't find anywhere in other countries. This is a dish that is primarily made from flour and is served with any kind of meat and vegetables.
Common spices used to flavor dishes are cumin, turmeric, coconut, coriander, and tamarind, especially in Swahili cooking. For authentic street food, you can't find any kind of food that is more popular than mutura – a sausage made from meat, spices, and blood grilled over charcoal.
Tanzania
Tanzania has a completely different cuisine from that of Ethiopia. Tanzania's cuisine is heavily influenced by Indian cooking due to the migration of Indians and taking advantage of most of the abundant fish and seafood along the east coast of the country. Many dishes of this land belong to the cooking technique of Hindu, but they are adjusted to be suitable for the indigenous ingredients.
The influence of English cuisine is strong too towards the cuisine of Tanzania. Coconut milk is popularly used to create a sauce for Currie. Various types of bananas are also grown throughout Tanzania and are often baked or stewed in savory dishes. Tanzanians popularly consume trout, perch, tilapia, parrotfish, tigerfish, and rock cod. This area also features lobster from Zanzibar and giant prawns.
Uganda
Further into the heart of Africa is Uganda whose cuisine takes on a different style. Peanuts are an important part of many Ugandan stews, often served with ugali. Beef, goat, and lamb are commonly consumed. In the poor countryside, meat is consumed less than in other areas and is mainly eaten in the form of wild boar meat. Soybeans were considered a healthy food in the 1970s. So it is consumed a lot, especially for breakfast. Chapati – a type of flatbread, is also part of Ugandan cuisine.
Conclusion
People often have the habit of 'eating' a dish that they forget to 'enjoy'. When you eat a dish, you simply want to fill your stomach, but enjoying a dish means you are discovering the culinary culture of a certain locality. Gourmets often prefer enjoyment to 'eating' and they only eat it when they feel their enjoyment is satisfied. For traditional dishes like East African foods, if you're not a local, we basically advise you that you should value enjoyment rather than "eating". Because enjoyment means that you accept the uniqueness of the dish instead of rushing to judge that dish negatively.
The top 10 East African foods (including recipe) we mentioned above are made with some local ingredients; hence, some of you may not be familiar with its taste. But, that you are reading this blog post and applying the recipes we have just provided above means that you can be a "gourmet". So leave a comment below to let us know you're a gourmet! And share this post to let your friends know how you are passionate about East African food.