Chinese New Year Dishes – An interesting content will be discovered right now! Let's read on the full blog!
China is a country with a long history, so there are many traditional holidays. Each is featured with different cultural meanings and typical dishes. But among them, the Lunar New Year is considered the most important festival of the year in this country.
If you travel to China during this period of time, you will have many opportunities to profoundly understand the culture of this "country of billions of people". Besides the bustling atmosphere with thousands of people walking on the street decorated with brilliant flowers and lights, you will see some local customs such as wishing Tet, visiting pagodas offering incense to pray for peace, organizing lion dances, etc.
You can even admire the variety of traditional Chinese food displayed in the stores. And if you have acquaintances living here, you can be invited to enjoy these kinds of delicacies when you visit their home. Some traditional Chinese New Year dishes usually include dumplings, shrimp dumplings, longevity noodles, whole fish, New year rice cake, 8-dish jam tray,…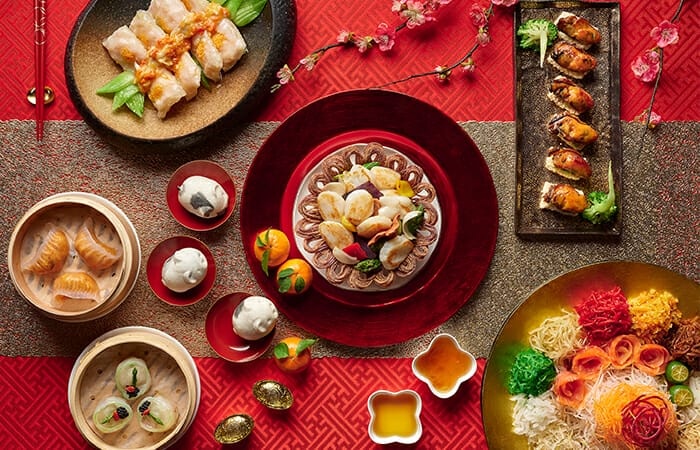 To be more clear about what these delicacies are and how to make them as well, let's read on this blog, you will not regret! 
Top 20 Chinese New Year dishes/Chinese New Year recipes
Traditional Chinese foods in Reunion dinner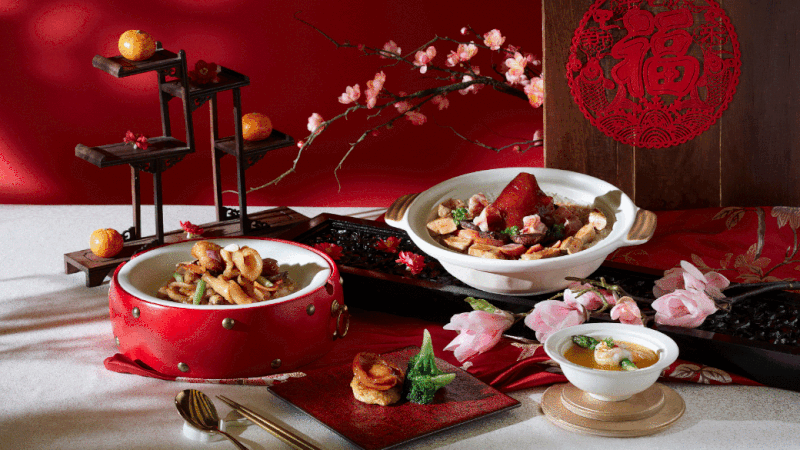 Reunion dinner is one of the customs on Chinese New Year's Day, also referring to the New Year's Eve party of the whole family. Reunion dinner originated from a year-end worshiping ritual in ancient times, first worshiping gods and ancestors, then reunited to eat the year-end meal.
Not only is reunion dinner an important meal in the Lunar New Year occasion of China but it also implies much deep significance. Before having the meal, people must worship the gods and ancestors. Commonly, in this reunion meal, there will be dishes that sound like good luck such as chicken – indicating nurturing a plan, fish – indicating that five years are abundant, oysters – indicating something good, scum beans and raw vegetables – indicating wealth, lotus root – indicating intelligence, etc.
Northern China
Normally, in the reunion dinner of Northern Chinese, the presence of dumplings is dispensable. Local people eat dumplings at this time to wish for fortune. Beyond this, they add coins, candy, and peanuts to the cake filler. Adding candy means hope for a happy and sweet New Year, peanuts with the meaning of longevity, and adding coins means hope for wealth. Nowadays, the dishes in the end-year meal of Northern Chinese also include rice, fish, pork, etc.
Southern China
Southern Chinese love to eat floating cake at the reunion dinner. This cake implies hope for a warm and happy family. New year rice cake (Nian Gao) is also a traditional Chinese dish that is often present in the reunion dinners of North China. It is made from glutinous rice, with the implication that the next year will be better than the previous year. Northern people also enjoy bacon, meat, vegetables, etc.
Before enjoying the reunion dinner, it is customary to make offerings to the ancestors with those same dishes. After the New Year's Eve bell rings, the whole family will bow together in front of the ancestral altar. Children line up in order from oldest to smallest to bless the elders and be blessed by the elders in return. Children also received "red packets" from the elders, implying the suppression of evil spirits.
What is a typical Chinese New Year meal?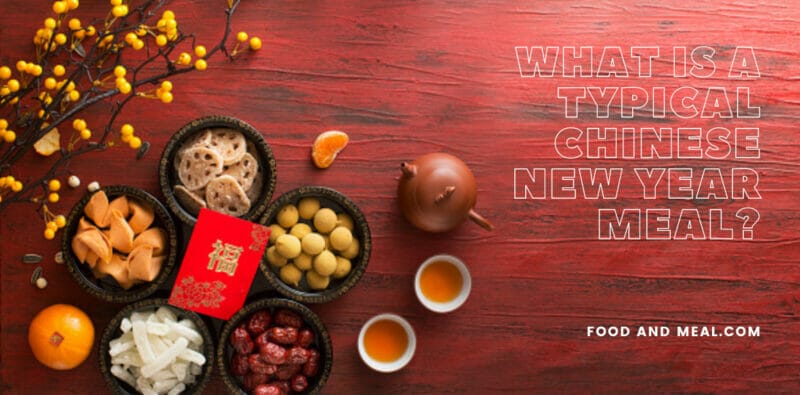 In the traditional Chinese New Year meals, people often reserve bowls, chopsticks, and seats for members who cannot reunite (referring to the deceased) to express the meaning of reunion. Seating positions at the New Year's dinner table must also be in order. Grandparents sit on top, grandchildren or great-grandchildren sit in the middle, parents sit at the bottom. Usually, everyone present at the table has to drink some toast. The Lunar New Year meal was held in a very happy and cozy atmosphere.
With the hope of a lucky new year, the Chinese often borrow homophones in language expressions to express the good meaning of each dish on New Year's Day.
The typical Chinese New Year meals in different regions are different. In the New Year's Eve meal of Tianjin people, there is a popular presence of stews from pork, beef, goat, and chicken that are added with some stir-fried vegetables. Meanwhile, the Shaanxi people arrange a typical New Year meal with four trays and eight bowls. Four trays include stir-fried vegetables and mixed vegetables. Eight bowls include main dishes such as grilled and fried food.
In Anhui province, the typical New Year meal includes plenty of meat. Meanwhile, in the central region of Anhui, the New Year table dinner usually has two fish, including one carp and one whole tench. However, the carp aims to offer to the ancestors, usually just looking, not eating.
In some places in Hubei, people eat chicken soup to hope for a happy and peaceful new year.
In Suzhou, the New Year meal is mandatory with green vegetables – also known as "peaceful vegetables", and bean sprouts – also known as "satisfactory vegetables". They also eat celery with the meaning of a year of "hard work".
For some places in Guangdong region, on the first day of the new year, people will prepare enough dishes for the whole family during the three days of New Year to look forward to "a new year without worrying about hunger and thirst.
In addition, the Minnan people of Fujian province have the habit of eating noodles for the first meal of the new year with the desire to "be together forever". People in the Zhangzhou region of this province eat sausages, salted eggs, and ginger, with the implication that "more luck for each day".
In general, the typical Chinese New Year meal in each place has one or a few mandatory dishes and those dishes often carry many good meanings. However, besides the similar ones, regions always keep their own unique things, creating their own identities.
Conclusion
Lunar New Year is the most special occasion of the year of some Asian countries. For the Chinese, this time also signifies the end and the beginning of the cycle. Therefore, everyone wishes for peace, luck, health, and prosperity to their family, which is first and foremost expressed through the Chinese New Year dishes on the table both at the end of the year and at the beginning of the year.
Remember to follow Foddandmeal.com regularly to get more useful information about tourism, cuisine, and tricks to cook at home!