Every bite of the Mushroom Tofu Hot Pot speaks to the soul, echoing the centuries-old traditions of Japanese cuisine. With my years of culinary expertise, I'm thrilled to share this comforting and unique recipe that's close to my heart.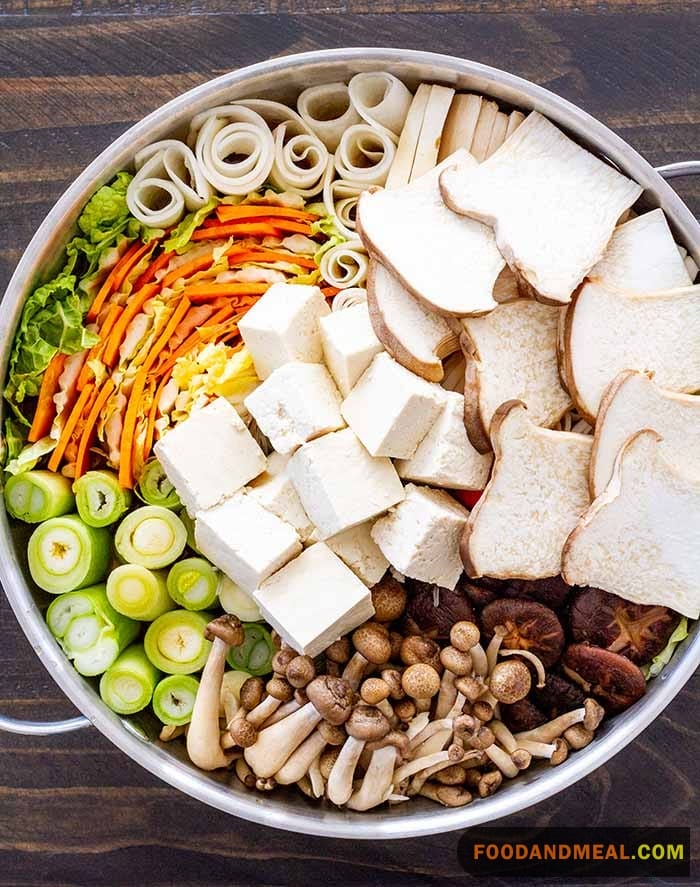 Japanese Mizutaki Hot Pot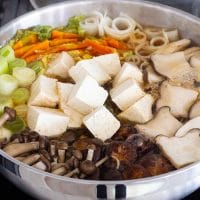 Japanese Mushroom Tofu Hot Pot
Dive into the warm embrace of our Mushroom Tofu Hot Pot, a celebration of umami flavors and silky textures. Tried our recipe? We'd love to see your take! Share your masterpiece with us and don't forget to subscribe for more culinary journeys. 🍲✨
Print
Pin Recipe
Add to Collection
Go to Collections
Ingredients
Ingredient List:
1 x 10

1⁄2-oz

package of tofu, cubed
For soup base
For soup content:
2

tablespoons of

oil, canola

1

pound of

beef, sliced thinly

2

sliced onions, medium

1/4

pound of

vermicelli

1

cup of

sliced, canned bamboo shoots

3

stalks of

green onion cut in 2-inch pieces

1/4

sliced head of

cabbage, Napa

1

bunch of

mushrooms, enoki

1

cup of

soaked, sliced mushrooms, shiitake
Instructions
Mix the ingredients for the soup base in large sized bowl. Set it aside.

Add oil to large skillet on high heat. Sauté onions till they are soft.

Place other ingredients in skillet, separating them from each other. Cook till tender.

Place stock and other ingredients except beef in hot pot. Move the pot to burner in center of table.

Furnish family and friends with skewers or chopsticks and individual bowls. Allow them to cook their beef in the hot soup. Ladle soup and veggies into their bowls and let them mix in the beef and enjoy.
Notes
Tofu Tip: Always opt for firm tofu when preparing your hot pot. It holds its shape better during the simmering process, ensuring every bite is a delightful mix of texture and flavor. Found this tip helpful? Share this recipe with friends and family, and let them in on the secret!
Mushroom Magic: Different mushrooms bring unique flavors and textures. Shiitake offers a rich umami taste, while oyster mushrooms give a delicate, silky texture. Why not get creative and mix a few? If you enjoyed these insights, don't forget to subscribe for more culinary treasures!
The Broth Base: The true essence of a hot pot lies in its broth. Whether you're going for a light soy base or a richer miso foundation, ensure it's seasoned well but not overpowering. The mushrooms and tofu should shine through. Love these tidbits of wisdom? Share the recipe on your social media and spread the joy of cooking!
Share by Email
Share on Facebook
Share on Twitter
Nutrition
Serving:
1
serving
|
Calories:
143
kcal
|
Carbohydrates:
31
g
|
Protein:
4
g
|
Fat:
0.2
g
|
Saturated Fat:
0.05
g
|
Polyunsaturated Fat:
0.1
g
|
Monounsaturated Fat:
0.1
g
|
Sodium:
1817
mg
|
Potassium:
72
mg
|
Fiber:
1
g
|
Sugar:
4
g
|
Calcium:
11
mg
|
Iron:
1
mg
© Food And Meal
This website provides approximate nutrition information for convenience and as a courtesy only. Nutrition data is gathered primarily from the Spoonacular Database, whenever available, or otherwise other online calculators.
Pin Recipe
Mushroom Tofu Hot Pot: The Pressure Cooker Method
The pressure cooker, with its ability to lock in flavors and expedite the cooking process, is a fantastic tool to bring out the best in our Mushroom Tofu Hot Pot. Let's journey together into this efficient method, ensuring the deep, umami flavors are brought to the fore, while still preserving the delicate textures we cherish.
Ingredients:
Same as the traditional Mushroom Tofu Hot Pot recipe.
Method:
Preparation: Slice your chosen mushrooms and cube the firm tofu. Ensure all other ingredients, like vegetables and seasonings, are prepped and ready to go.
Sauté: Turn your pressure cooker to its sauté setting. Add a touch of sesame oil and lightly sauté your garlic and ginger until fragrant. This forms the aromatic base of our hot pot.
Layering: Add the mushrooms first, allowing them to sit at the bottom where they can impart their rich flavors into the broth. Next, layer on any other vegetables you're using.
Broth: Pour in your chosen broth, be it soy-based, miso-infused, or another favorite. Ensure the ingredients are submerged but not drowning, as the pressure cooker will produce additional liquid from the ingredients.
Pressure Cooking: Secure the lid of the pressure cooker and set it on 'High' for 15 minutes. This will allow the flavors to meld, and the ingredients to cook perfectly.
Quick Release & Tofu: Once the cooking time is done, use the quick release method to let out the steam. Carefully open the lid, and gently stir in the cubed tofu. The residual heat will warm the tofu without making it fall apart.
Season & Serve: Check the broth for seasoning, adding salt, pepper, or a splash of soy sauce if needed. Garnish with freshly sliced green onions or a sprinkle of sesame seeds. Serve immediately with steamed rice or noodles on the side.
Cooking Tips for the Perfect Mushroom Tofu Hot Pot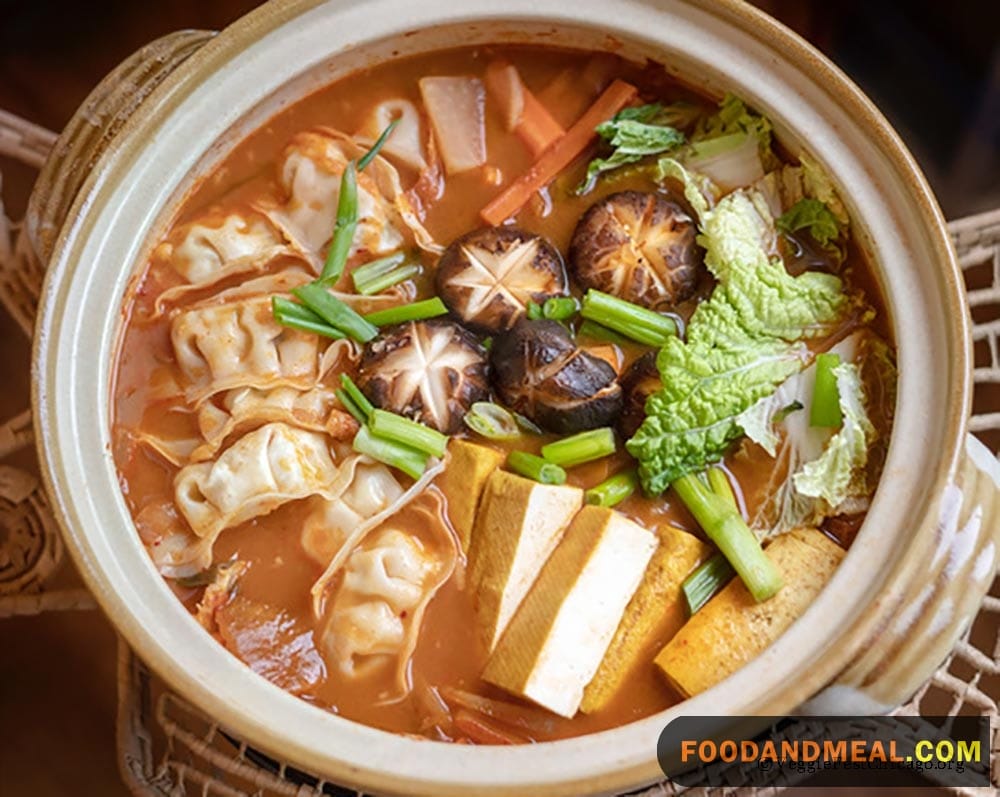 Quality Matters: Invest in good-quality, fresh tofu. It's the star alongside the mushrooms and deserves the spotlight.
Mushroom Variety: Mix and match mushrooms for a medley of flavors and textures. Shiitake, Enoki, and Maitake are some of the best picks.
Don't Overcook: Tofu can turn mushy if overcooked. Always add it towards the end, allowing it to soak up flavors without compromising texture.
Common Mistakes: Avoid using a very thin broth. The richness of the mushrooms and tofu needs a robust broth to stand against. Also, resist the urge to stir frequently once the tofu is added to prevent it from breaking apart.
Serving Suggestions for Mushroom Tofu Hot Pot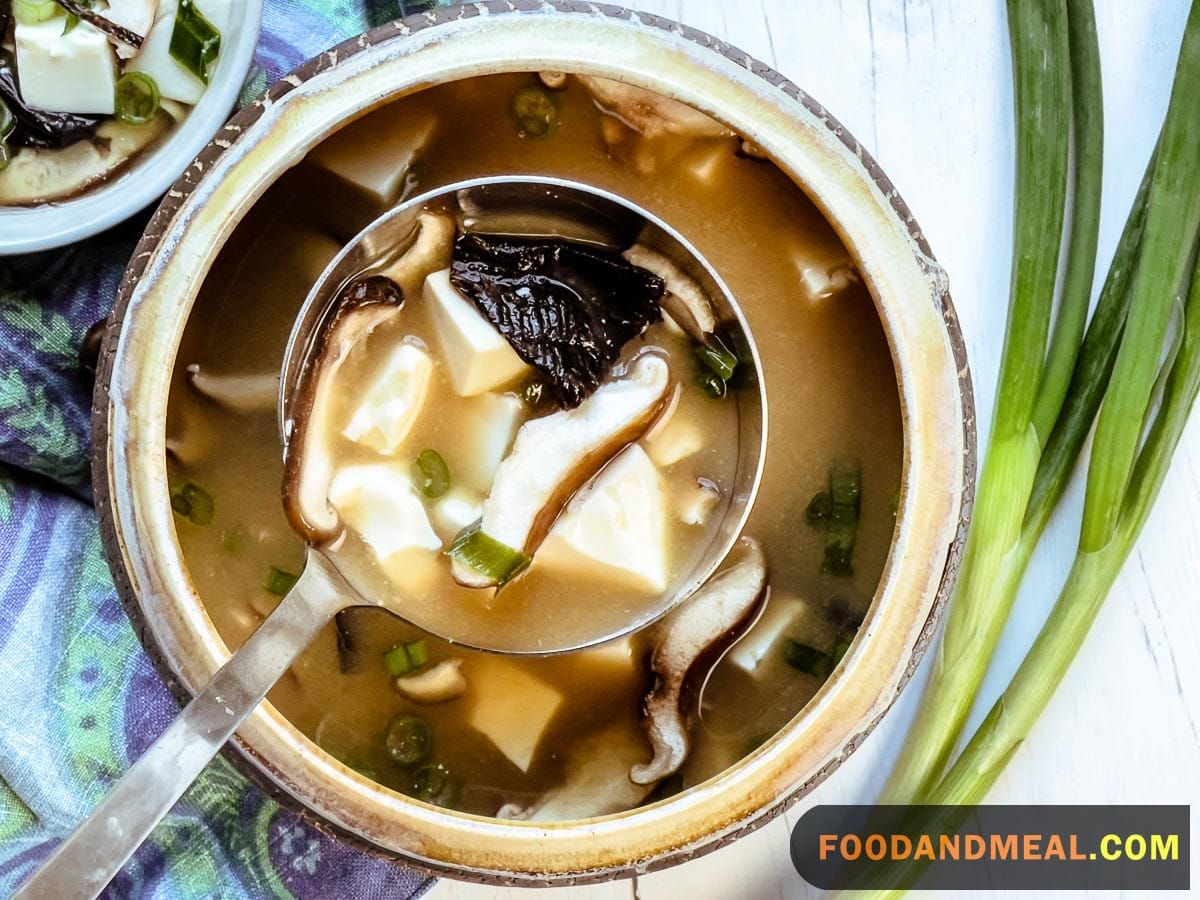 Occasions: This hot pot is a winter staple, providing warmth on chilly nights. It's also a hit for intimate gatherings or family dinners, bringing people together as they share from one pot.
Audience: A favorite among vegetarians and those seeking lighter, healthful meals. The absence of meat makes it a top pick for plant-based diet enthusiasts.
Pairings: Serve with steamed white or brown rice to soak up the rich broth. For those keen on noodles, Udon or Soba make delightful companions.
Garnishes: Fresh cilantro, green onions, and a drizzle of chili oil can enhance the visual appeal and flavor.
Beverages: Pair with light green tea to cleanse the palate. For alcoholic options, a crisp sake or a glass of white wine complements the umami flavors beautifully.
FAQs About Mushroom Tofu Hot Pot
Can I use silken tofu instead of firm tofu?
While silken tofu brings a creamy texture, it's delicate and can break apart easily in a hot pot. If you prefer its texture, add it right before serving.
How long can I store leftovers?
Mushroom Tofu Hot Pot can be refrigerated for up to 3 days. Store in airtight containers to retain freshness. Reheat gently on the stovetop to prevent tofu from breaking.
Can I freeze the hot pot?
It's best enjoyed fresh. However, if you need to freeze, do so without the tofu, as its texture can change post-freezing. Add fresh tofu upon reheating.
What other vegetables can I add?
Feel free to get creative! Bok choy, spinach, or even thinly sliced carrots can add flavor and texture.
I'm not a fan of mushrooms. What can replace them?
While mushrooms are central to this dish, you can use other umami-rich ingredients like thinly sliced eggplants or zucchini. They won't replicate the mushroom flavor but will offer their unique touch.
Unveil the secrets of the perfect Mushroom Tofu Hot Pot! Dive into our recipe and experience the burst of umami flavors. Try now!
Affiliate DisclaimerAbout The Author
As an affiliate, we may earn a commission from qualifying purchases. We get commissions for purchases made through links on this website from Amazon and other third parties.