Welcome to a culinary escape to Thailand, right in the comfort of your kitchen. If there's one dish that embodies the heart and soul of Thai cuisine, it's the irresistible Thai Red Beef Curry. As someone who treasures the art of cooking, I'm excited to guide you through the creation of this masterpiece. Get ready to embark on a flavorful journey that captures the essence of Thailand's culinary heritage.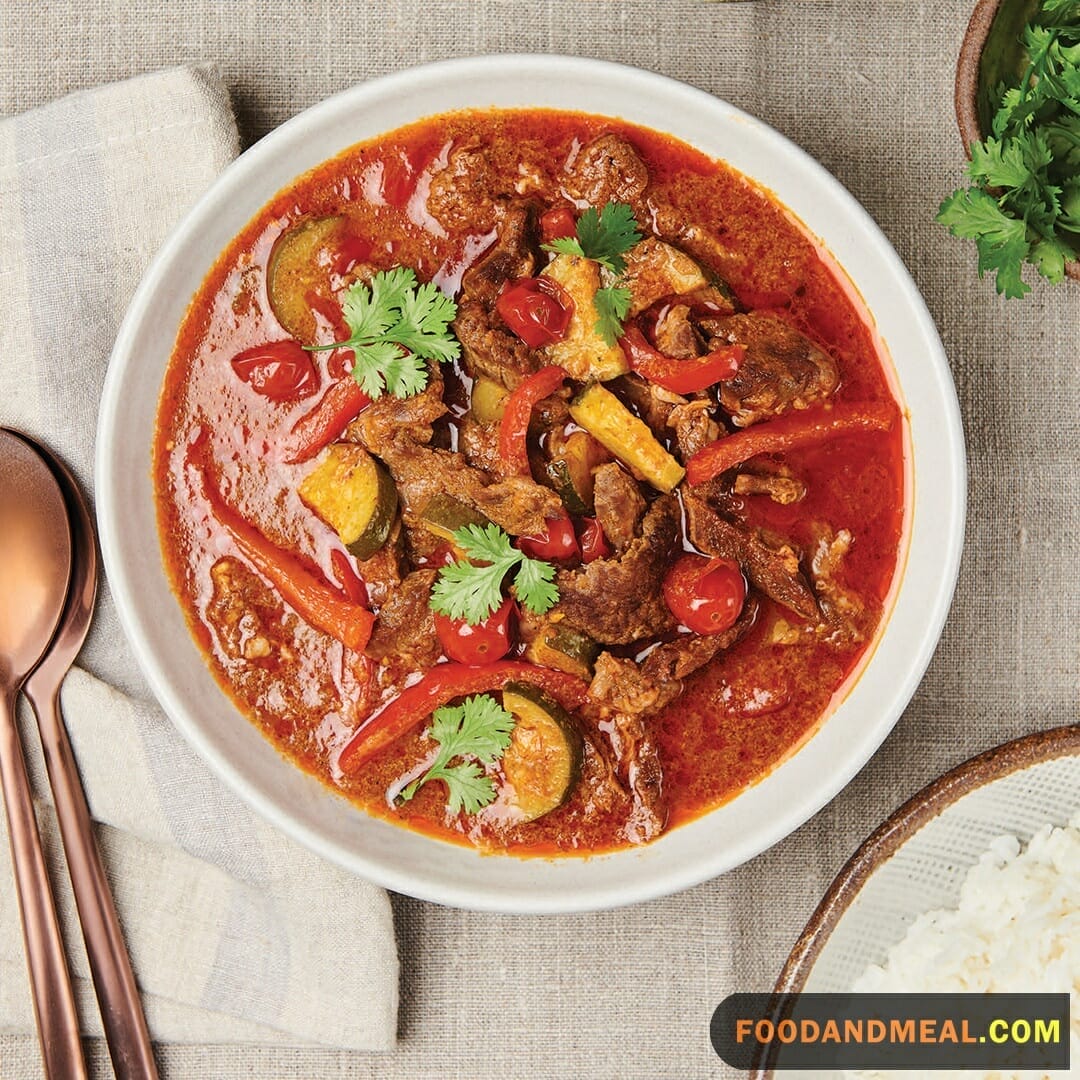 Thai Red Beef Curry Recipe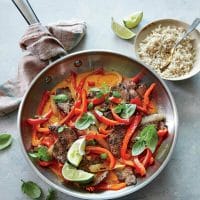 Thai Red Beef Curry Recipe
As the aromatic symphony of Thai Red Beef Curry fills your kitchen, consider sharing this culinary masterpiece with friends and family. The joy of experiencing this delightful dish multiplies when shared. Don't miss out on more exciting recipes and cooking insights – subscribe to my blog. Together, let's spread the flavors and make every meal an unforgettable experience.
Print
Pin Recipe
Add to Collection
Go to Collections
Equipment

Electric Cooker
You can prepare this dish using an electric cooker if you're short on time.

Dutch oven
If you want your stew to be more tender, you can use a Dutch Oven and cook it over medium or low heat.
Ingredients
2

cups

Beef stock

1

teaspoon

Crushed garlic

2

tablespoon

Palm sugar

1

Shallot

4

Kaffir lime leaves

2

sticks

Lemon grass

2

tablespoon

Fish sauce

2

tablespoon

Thai red curry paste

3/4

cup

Cilantro

1/2

pound

Beef

1

tablespoon

Olive oil
Instructions
Add the shallots and olive oil.

Cook your shallots and then add the beef meat.

When the beef is half cooked, add the red curry paste, beef stock, and minced garlic.

Cook your ingredients until it starts boiling.

Add in the lemon grass and rest of the ingredients into the curry.

Cook your ingredients for ten minutes.

When your curry is cooked, dish it out.

Garnish it with cilantro leaves.

Your dish is ready to be served.
Notes
Beef Cuts: Opt for cuts like chuck or sirloin for the best texture and flavor. These cuts tenderize beautifully during the slow cooking process.
Customize Heat: Adjust the amount of red curry paste to suit your spice preference. Start with a smaller quantity if you're sensitive to heat and gradually increase for a balanced kick.
Fresh Ingredients: Incorporate authentic Thai ingredients like Thai basil and kaffir lime leaves for an aromatic touch. These elements elevate the dish's authenticity.
Simmering Magic: Allow the curry to simmer on low heat for a sufficient amount of time. This lets the flavors meld and intensify, resulting in a robust and rich curry.
Coconut Cream: If using canned coconut milk, ensure to mix it well before adding it to the curry. This ensures a consistent texture and prevents separation.
Thickening Trick: If your curry turns out thinner than desired, continue simmering uncovered until it reaches the desired consistency.
Share by Email
Share on Facebook
Share on Twitter
Nutrition
Calories:
236
kcal
|
Carbohydrates:
11
g
|
Protein:
13
g
|
Fat:
16
g
|
Saturated Fat:
5
g
|
Polyunsaturated Fat:
1
g
|
Monounsaturated Fat:
8
g
|
Trans Fat:
1
g
|
Cholesterol:
40
mg
|
Sodium:
997
mg
|
Potassium:
492
mg
|
Fiber:
1
g
|
Sugar:
6
g
|
Vitamin A:
1385
IU
|
Vitamin C:
2
mg
|
Calcium:
43
mg
|
Iron:
2
mg
© Food And Meal
This website provides approximate nutrition information for convenience and as a courtesy only. Nutrition data is gathered primarily from the Spoonacular Database, whenever available, or otherwise other online calculators.
Pin Recipe
Cooking Tips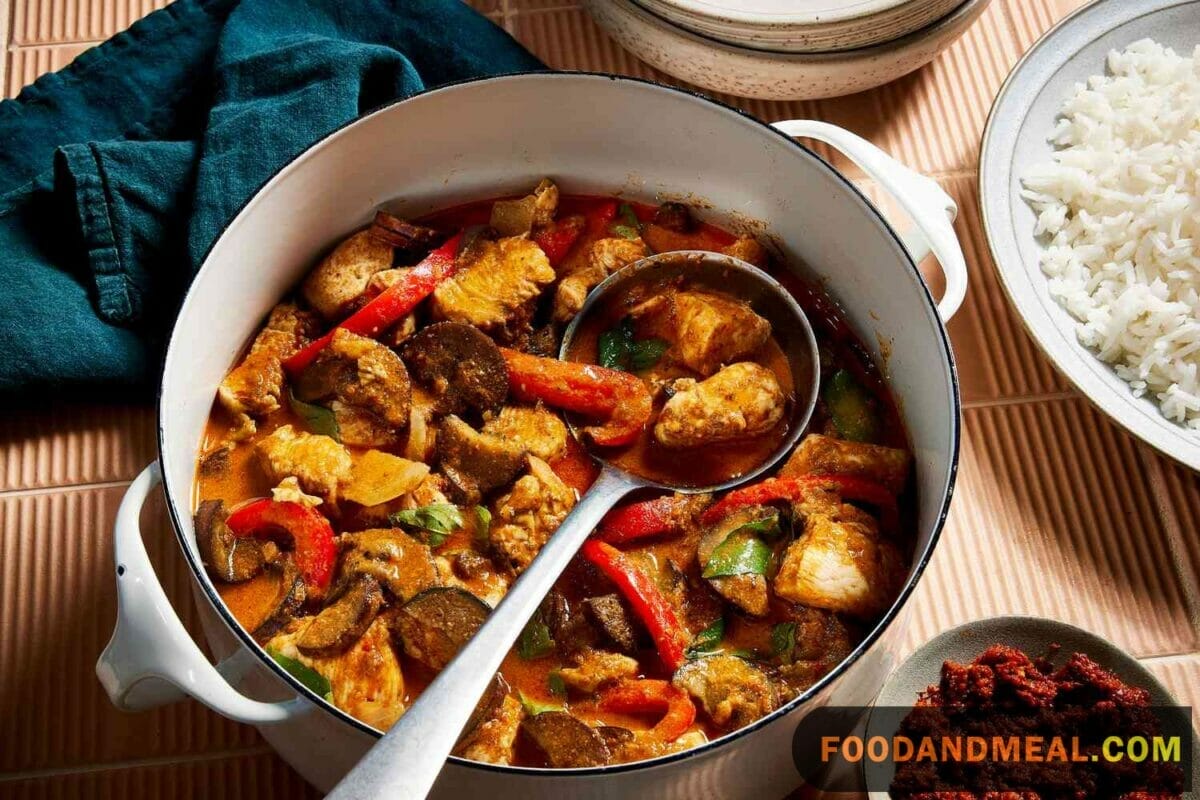 Balanced Flavors: Achieve a harmonious balance of flavors by adding red curry paste gradually. Taste as you go to find your perfect level of spiciness.
Searing the Beef: Sear the beef before adding it to the curry for a richer flavor. Brown the meat in batches to ensure even browning.
Low and Slow: Simmer the curry on low heat for at least an hour. This slow cooking process allows the beef to become tender and the flavors to develop fully.
Coconut Cream Addition: Add the coconut cream towards the end of cooking to prevent curdling. This ensures a velvety, luscious texture in the curry.
Fresh Herbs at the End: Stir in fresh herbs like Thai basil and cilantro just before serving. Their vibrant aroma and color will enhance the overall experience.
Let It Rest: Allow the curry to rest for a few minutes after cooking. This allows the flavors to settle and meld, resulting in a more cohesive taste.
Storage Magic: Leftover curry tends to taste even better the next day. Refrigerate it in an airtight container and reheat gently for a delightful encore.
Serving suggestions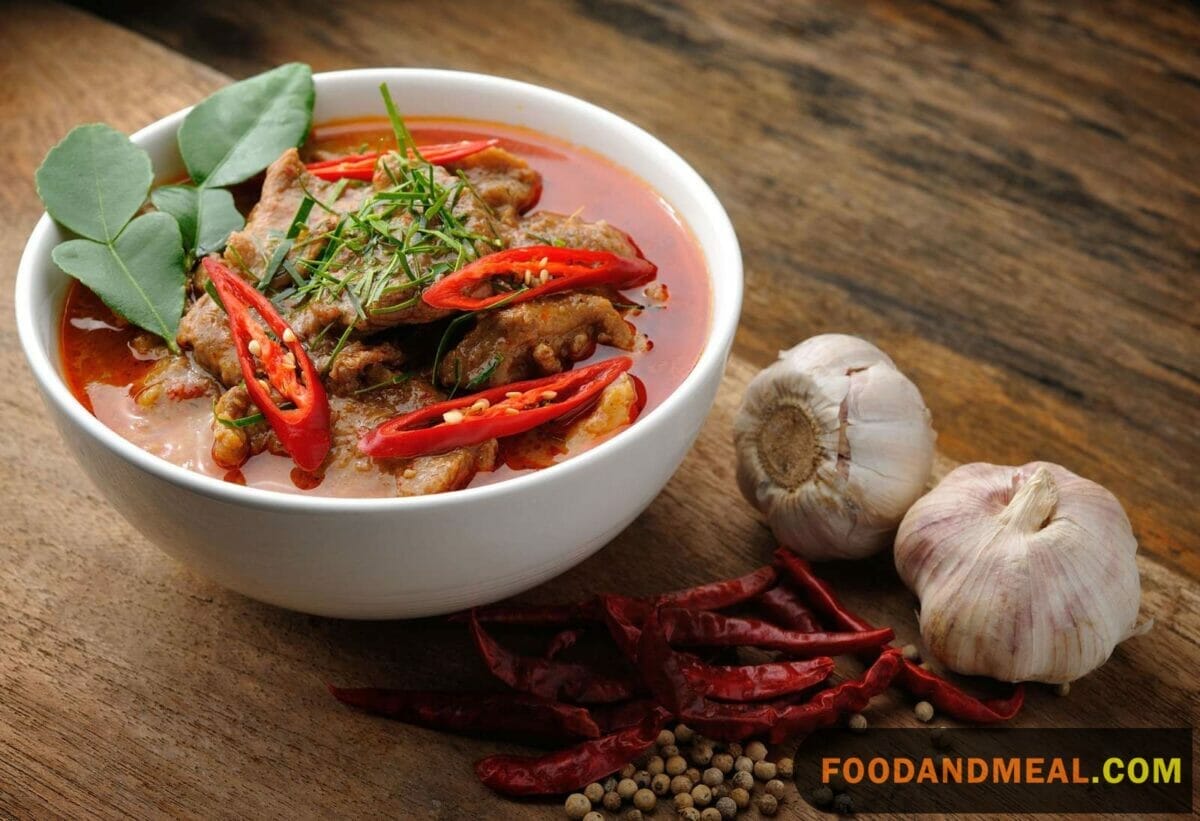 When to Serve: Elevate any dining occasion with the captivating flavors of Thai Red Beef Curry. It's a dish that adds a touch of exotic charm to both casual gatherings and special celebrations.
Audience: Designed to satisfy adventurous palates and those eager to explore the essence of Thai cuisine. This dish is perfect for sharing with friends who appreciate bold flavors or for impressing guests with your culinary prowess.
Complements and Sides: Pair the curry with steamed jasmine rice to absorb the rich sauce. A refreshing cucumber salad with a zesty lime dressing offers a cooling contrast. Crispy Thai spring rolls or savory dumplings make delightful appetizer companions. Garnish with fresh cilantro and lime wedges for a burst of color and aroma.
Beverage Pairings: Accentuate the experience with a traditional Thai iced tea, complementing the spices with a touch of sweetness. For a non-alcoholic option, a cooling cucumber and mint cooler is a refreshing choice. If you enjoy wine, a slightly off-dry Riesling or a fruity rosé can harmonize with the curry's complexity.
Frequently Asked Questions of Thai Red Beef Curry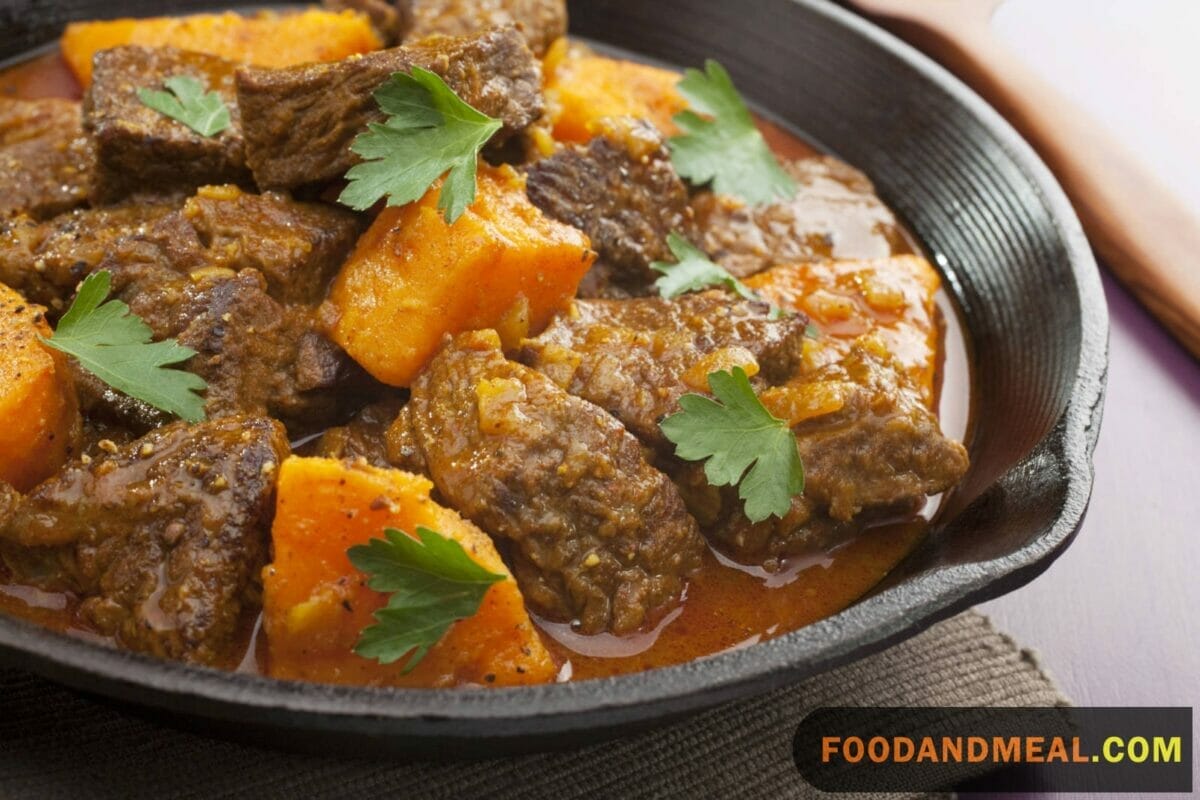 What is Thai Red Beef Curry? Thai Red Beef Curry is a flavorful and spicy dish from Thai cuisine. It's made with tender pieces of beef cooked in a rich and aromatic red curry sauce that's made with red curry paste, coconut milk, and a variety of herbs and spices.
What is red curry paste made of? Red curry paste is typically made from red chili peppers, garlic, shallots, lemongrass, galangal (a type of ginger), shrimp paste, and various spices. It's a fundamental ingredient in Thai cuisine and provides the distinctive flavor and color to the dish.
How spicy is Thai Red Beef Curry? The spiciness of Thai Red Beef Curry can vary depending on the amount of red curry paste used and the type of red chili peppers used. It's generally considered to be moderately spicy, but you can adjust the level of spiciness according to your preference by adding more or less curry paste.
What cuts of beef are best for this curry? Tender cuts of beef that are suitable for slow cooking or braising work well for Thai Red Beef Curry. Examples include beef chuck, beef stew meat, or beef sirloin. These cuts become tender and flavorful when cooked in the curry sauce.
Can I substitute beef with other proteins? Yes, you can definitely substitute beef with other proteins like chicken, pork, tofu, or even a variety of vegetables to make a vegetarian version of the curry.
Unleash the Flavors of Thailand: Cook Authentic Thai Red Beef Curry Today! Share the Recipe & Subscribe for More Culinary Delights.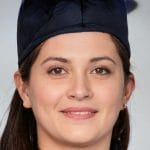 Hi! I'm Nazia of 'Nazia Cooks', a self-taught baker and cook residing in Chennai. Rooted in the rich South Indian culinary landscape, my palate has expanded to embrace global flavors. I revel in crafting fusion dishes, melding traditions to birth unique tastes.
Affiliate DisclaimerAbout The Content
As an affiliate, we may earn a commission from qualifying purchases. We get commissions for purchases made through links on this website from Amazon and other third parties.