Welcome to a flavorful journey along Kenya's stunning coast. As a seasoned chef and dedicated food blogger, I'm thrilled to introduce you to Kenya Mbaazi, a delightful coastal delicacy that embodies the richness of Kenyan culture. Get ready to embark on a culinary adventure that will transport you to the beautiful shores of Kenya.
Kenya Mbaazi Recipe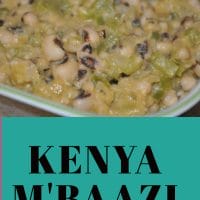 Kenya M'baazi - Pea Beans Nairobi Style
Mbaazi is a delicious and healthy dish from the African continent. It's made with pigeon peas in coconut milk and is commonly served in Tanzania and Kenya. 
Print
Pin Recipe
Add to Collection
Go to Collections
Equipment
Instructions
Slice the onion and bell pepper and set aside

Boil the beans for 1 hour in 1 liter of salted water in a pan, or until the beans are cooked. Remove from heat and drain.

Heat the oil or butter in another pan. Add the onion, salt, cayenne pepper, and bell pepper and sauté until the onion is soft but not golden brown.

Add the beans and continue sautéing until the onion is golden brown. Pour the coconut milk into the pot and cook. Continue to stir until the mixture turns to the consistency of a medium sauce.

Dish in a bowl and let cool.

Line small plates with lettuce and add half a glass of M'baazi every plate. Garnish with tomato wedges and parsley.
Notes
Mbaazi is a dish that is served in Tanzania and Kenya. It is a popular Swahili dish and is made from dried pigeon peas cooked in coconut milk. This traditional food is served with a coconut burfi and mahamri, which are sweet deep-fried doughnuts. It is very nutritious, and a great way to kick off your day!
Share by Email
Share on Facebook
Share on Twitter
Nutrition
Serving:
4
servings
|
Calories:
266
kcal
|
Carbohydrates:
8
g
|
Protein:
2
g
|
Fat:
26
g
|
Saturated Fat:
12
g
|
Sodium:
360
mg
|
Fiber:
2
g
|
Sugar:
3
g
© Food And Meal
This website provides approximate nutrition information for convenience and as a courtesy only. Nutrition data is gathered primarily from the Spoonacular Database, whenever available, or otherwise other online calculators.
Pin Recipe
Alternative Method: Slow Cooker Mbaazi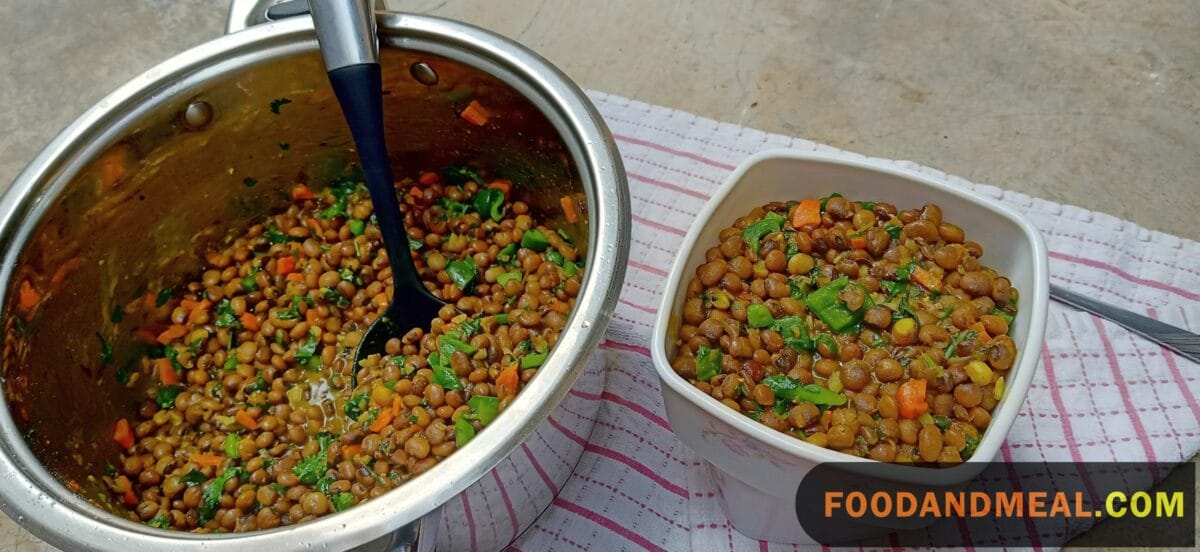 Ingredients:
2 cups dried pigeon peas (soaked overnight)
1 can of coconut milk (400ml)
1 onion, finely chopped
2 cloves of garlic, minced
1 teaspoon ground cumin
1 teaspoon ground coriander
1/2 teaspoon ground turmeric
1/2 teaspoon red chili flakes (adjust to taste)
Salt and black pepper to taste
Fresh cilantro leaves for garnish
Instructions:
Begin by sautéing the chopped onions and minced garlic in a skillet until they turn translucent. This will add depth to your Mbaazi's flavor.
Drain the soaked pigeon peas and add them to the slow cooker.
Now, pour in the sautéed onions and garlic.
Add the ground cumin, ground coriander, ground turmeric, and red chili flakes to the slow cooker. Stir well to coat the pigeon peas with the aromatic spices.
Pour in the entire can of coconut milk, which will create a rich, creamy base for your Mbaazi.
Season with salt and black pepper to taste. Give it a good stir.
Cover the slow cooker and set it on the low heat setting. Let the Mbaazi cook for about 6-8 hours. Slow cooking allows the pigeon peas to absorb all the flavors and become tender.
About 30 minutes before serving, taste and adjust the seasoning as needed. If it's too thick, you can add a bit of water or more coconut milk to achieve your desired consistency.
Serve your Slow Cooker Mbaazi garnished with fresh cilantro leaves. It's a flavorful dish that's been simmering gently all day, ready to be savored.
Tips for making Mbaazi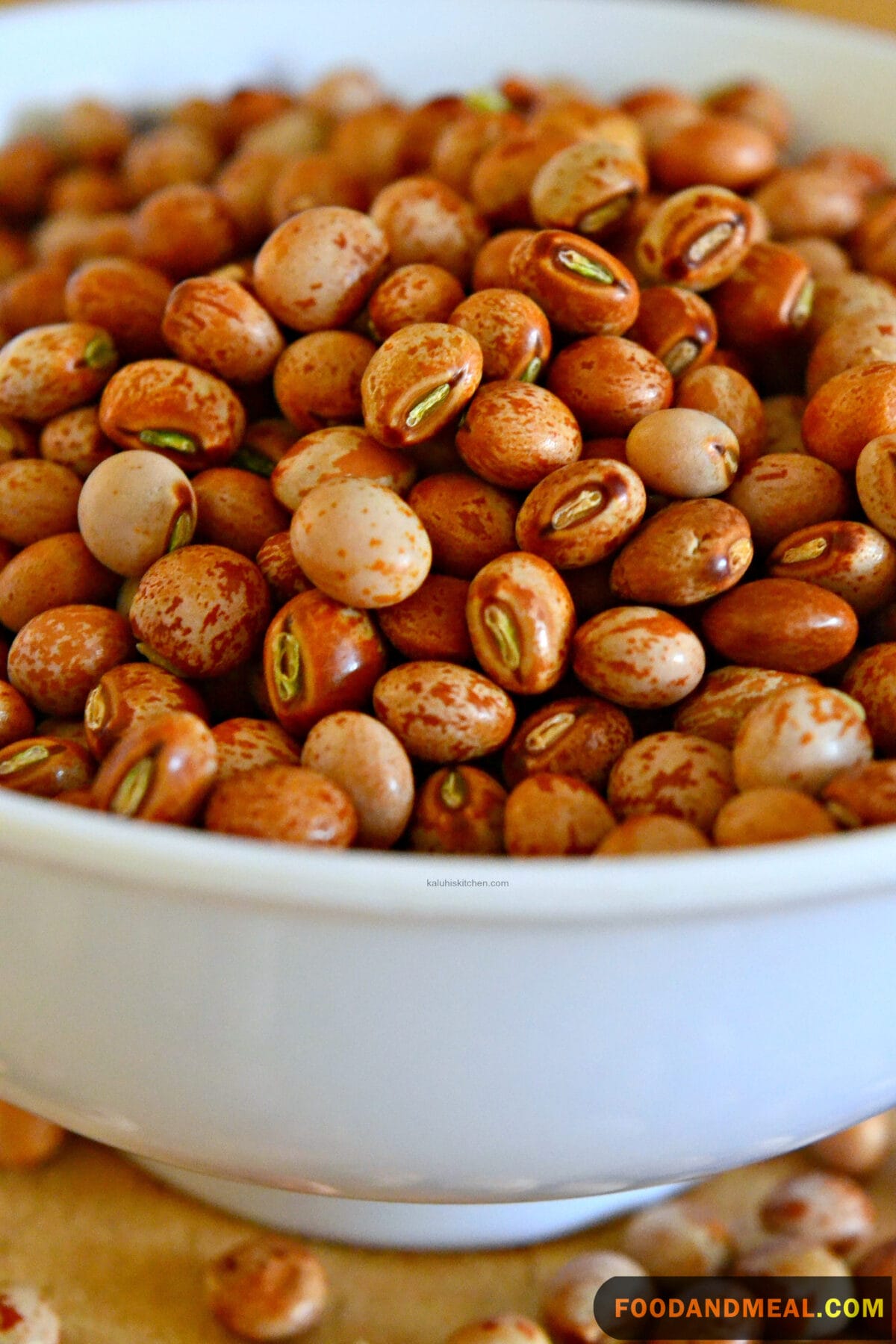 Cooking Tips
Tips for the Best Slow Cooker Mbaazi:
Soaking Pigeon Peas: Soak the dried pigeon peas overnight before using them in the slow cooker. This softens the peas and reduces cooking time.
Sauté the Aromatics: Sautéing the onions and garlic before adding them to the slow cooker enhances the depth of flavor. It's a small step that makes a big difference.
Spice Levels: Adjust the spice levels to your preference. If you enjoy some heat, feel free to add more red chili flakes. The slow cooker will mellow the spices over time.
Season at the End: It's a good practice to taste and adjust the seasoning about 30 minutes before serving. This ensures that the flavors are perfectly balanced.
Common Mistakes to Avoid:
Overcooking: While slow cooking is the name of the game, avoid overcooking as it can turn the pigeon peas mushy. Stick to the recommended 6-8 hours on the low setting.
Not Soaking Pigeon Peas: Skipping the soaking step can significantly increase the cooking time. To achieve tender results, make sure to soak them overnight.
Adding Coconut Milk Too Early: Add the coconut milk at the beginning of the cooking process. This allows the flavors to meld seamlessly.
Serving Suggestions
Flavorful Complements:
Side Dishes: Serve your Slow Cooker Mbaazi with traditional Kenyan sides like rice, chapati, or ugali. They provide the perfect balance to the creamy stew.
Garnishes: Enhance the visual appeal and taste by garnishing with fresh cilantro leaves. A squeeze of fresh lime or lemon juice can add a zesty kick.
Beverage Pairing: Mbaazi pairs wonderfully with a refreshing glass of coconut water or a tropical fruit smoothie. The mild coconut flavor complements the dish.
Versatile Serving Styles:
Mbaazi and Rice: Create a hearty meal by serving Mbaazi over steamed rice. The creamy stew blends perfectly with the grains.
Chapati Wraps: Spoon a generous portion of Mbaazi into warm chapati and fold them into wraps. It's a delicious handheld meal.
Ugali Combo: Embrace Kenyan tradition by serving Mbaazi with a side of ugali. Dip a piece of ugali into the stew and savor the flavors.
FAQs (Frequently Asked Questions) about Mbaazi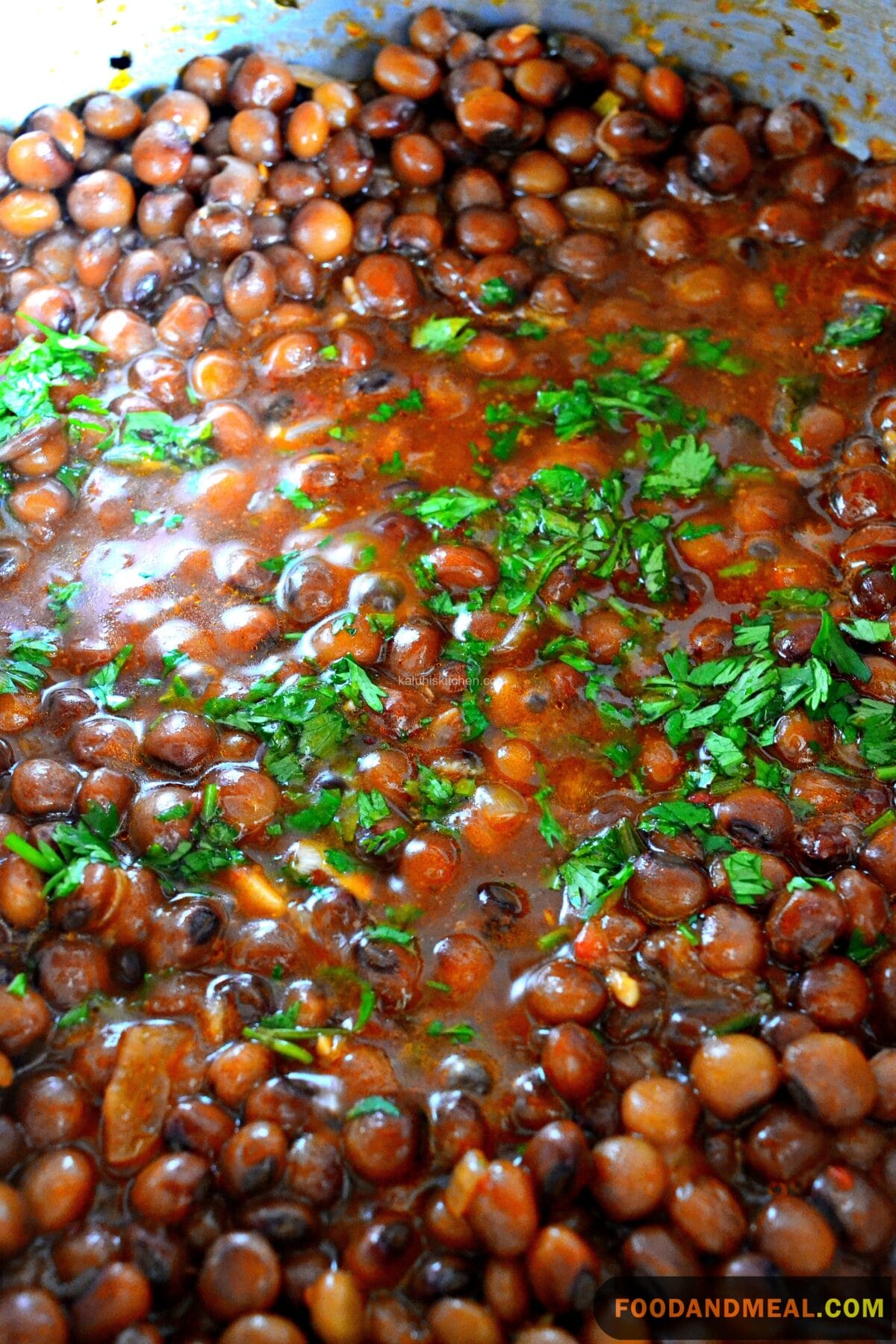 Can I make Slow Cooker Mbaazi with canned pigeon peas? Yes, you can use canned pigeon peas for convenience. In this case, there's no need for overnight soaking. Simply drain and rinse the canned peas before adding them to the slow cooker.
How do I store leftover Slow Cooker Mbaazi? To store leftovers, let the Mbaazi cool to room temperature. Transfer it to an airtight container and refrigerate. It will stay fresh for up to 3-4 days. Reheat in the microwave or on the stovetop with a little water.
Can I freeze Slow Cooker Mbaazi? Absolutely! Slow Cooker Mbaazi freezes well. Allow it to cool completely, then transfer to a freezer-safe container. It can be stored in the freezer for up to 2-3 months. Thaw in the refrigerator before reheating.
Is Mbaazi vegetarian-friendly? Yes, Mbaazi is suitable for vegetarians. It's a flavorful dish that relies on coconut milk, pigeon peas, and spices to create a delightful stew.
What's the ideal consistency for Mbaazi? Mbaazi should have a creamy yet slightly thick consistency. If it's too thick, you can add a bit of water or coconut milk to reach your preferred texture.
Explore the rich flavors of Kenya's coast with Slow Cooker Mbaazi. Share the recipe and subscribe for more global culinary adventures. Your taste buds will thank you!
I'm James F Anderson, a noted sous chef from London and a Le Cordon Bleu alumnus. My career began in a Michelin-starred Parisian eatery, where my blend of classic and contemporary cooking, using seasonal ingredients, earned accolades. Recognized in culinary publications and on cooking shows, I'm committed to mentoring aspiring chefs and delivering memorable dining experiences, marking me as a standout talent in the culinary world.
Affiliate DisclaimerAbout The Content
As an affiliate, we may earn a commission from qualifying purchases. We get commissions for purchases made through links on this website from Amazon and other third parties.