Welcome to a culinary adventure that's as rich in tradition as it is in flavor. As an experienced chef and food blogger, I'm thrilled to share the Yekik Alicha recipe—a heartwarming Ethiopian stew that captures the essence of Ethiopian cuisine. Get ready to embark on a journey to the vibrant and aromatic world of East African flavors.
Yekik Alicha Recipe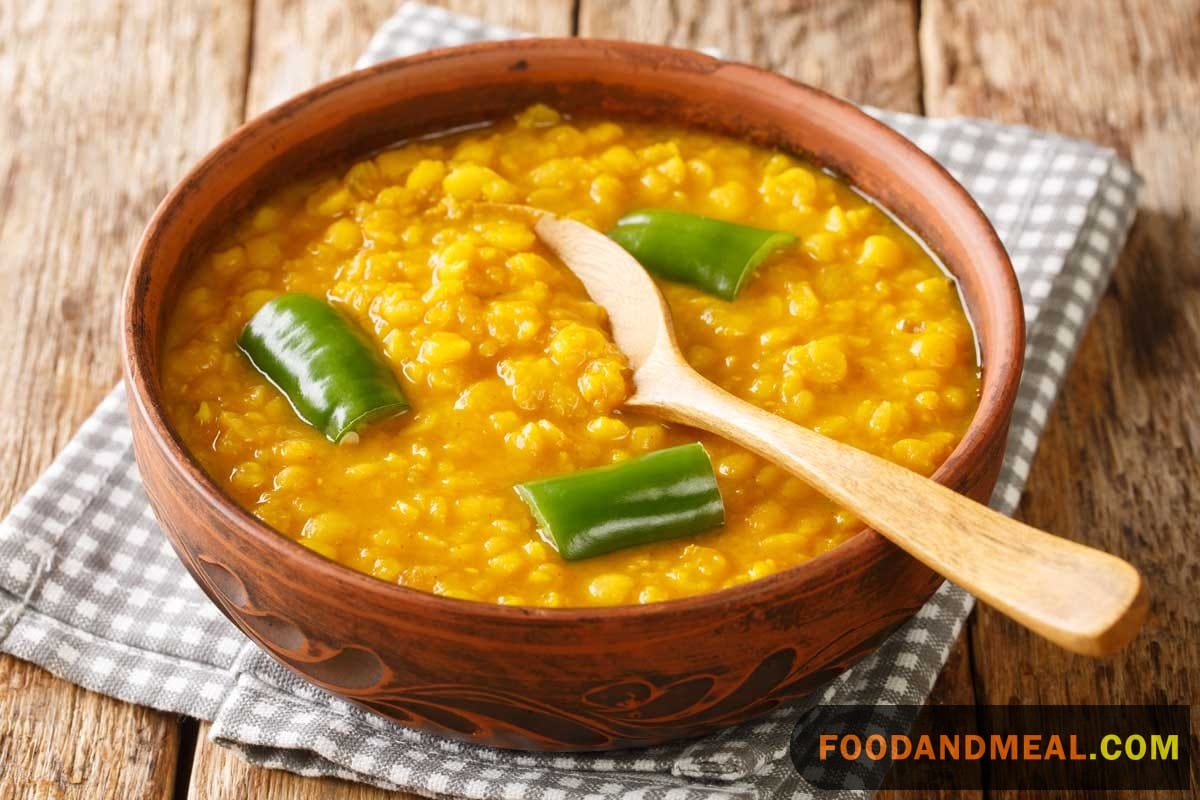 Equipment
Instructions
Wash the peas and boil in water over medium heat until tender. Drain the water from it and set aside.

Put the oil in a pot and heat up. Add the sliced onions and sauté until it becomes tender and golden brown.

Then, add the peas to the pot continuously for 3 minutes. Prevent it from sticking to the bottom of the pot by stirring frequently.

Add the garlic and ginger paste, pepper, and salt to taste.

Cook for 25 minutes on low heat. Stir occasionally.

Add the green chili, stir, and cook for further 3 minutes.

Enjoy!
Notes
Cooking Time for Yellow Split Peas:  Yellow split peas do not require soaking. However, you can cut down the cooking time of the yellow split peas if you presoak them overnight. This is because they can take up to well over an hour and up to two hours to cook. To soak them overnight, simply place the cleaned and rinsed split peas into a bowl. Then you cover them generously with water. Then, you allow them to sit overnight in the refrigerator.  You can also follow a quick method which is to place the yellow split peas in a pot. You cover them with water (at least 3 inches). Then, you bring them to a boil, boil for 2 minutes, cover with a lid. Remove them from the stove and allow them to sit for one hour undisturbed. We strongly recommend pre-soaking of the yellow split peas overnight in the refrigerator. Keep in mind that there are other factors that influence the cooking time such as the age of the yellow split peas. Older yellow split peas take longer to cook as they tend to become drier and harder as they age.
Share by Email
Share on Facebook
Share on Twitter
Nutrition
Serving:
1
serving
|
Calories:
180
kcal
|
Carbohydrates:
17
g
|
Protein:
5
g
|
Fat:
11
g
|
Saturated Fat:
1
g
|
Polyunsaturated Fat:
3
g
|
Monounsaturated Fat:
7
g
|
Trans Fat:
1
g
|
Sodium:
36
mg
|
Potassium:
278
mg
|
Fiber:
5
g
|
Sugar:
6
g
|
Vitamin A:
565
IU
|
Vitamin C:
34
mg
|
Calcium:
43
mg
|
Iron:
1
mg
© Food And Meal
This website provides approximate nutrition information for convenience and as a courtesy only. Nutrition data is gathered primarily from the Spoonacular Database, whenever available, or otherwise other online calculators.
Alternative Method: Pressure Cooker Yekik Alicha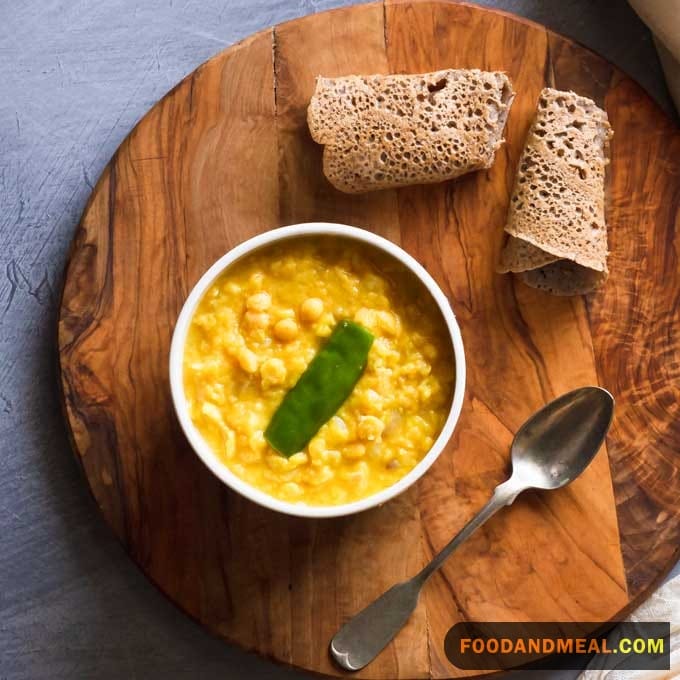 Ingredients:
1 cup yellow split peas
1 large onion, finely chopped
2 cloves garlic, minced
2 tablespoons vegetable oil
1 teaspoon ground turmeric
1 teaspoon ground cumin
1 teaspoon ground coriander
1-2 green chilies, sliced (adjust to your spice preference)
4 cups water
Salt and pepper to taste
Fresh lemon juice for garnish
Chopped fresh cilantro for garnish
Instructions:
Start by rinsing the yellow split peas thoroughly under running water and drain them.
Set your pressure cooker to sauté mode and heat the vegetable oil. Add the chopped onions and sauté until they turn translucent.
Add the minced garlic and sliced green chilies. Sauté for a couple of minutes until the garlic is fragrant.
Stir in the ground turmeric, cumin, and coriander. Cook for another minute to release the spices' aroma.
Add the drained split peas to the pressure cooker and mix them with the sautéed ingredients.
Pour in the 4 cups of water, and season with salt and pepper. Stir well to combine all the ingredients.
Close the pressure cooker lid and set it to high pressure. Cook for 6-8 minutes, depending on your pressure cooker's settings.
Once the cooking is complete, carefully release the pressure using the quick-release method.
Open the lid, and you'll find the split peas have softened and absorbed the aromatic flavors.
Serve your Pressure Cooker Yekik Alicha hot, garnished with fresh cilantro and a generous squeeze of fresh lemon juice.
Tips for making Yekik Alicha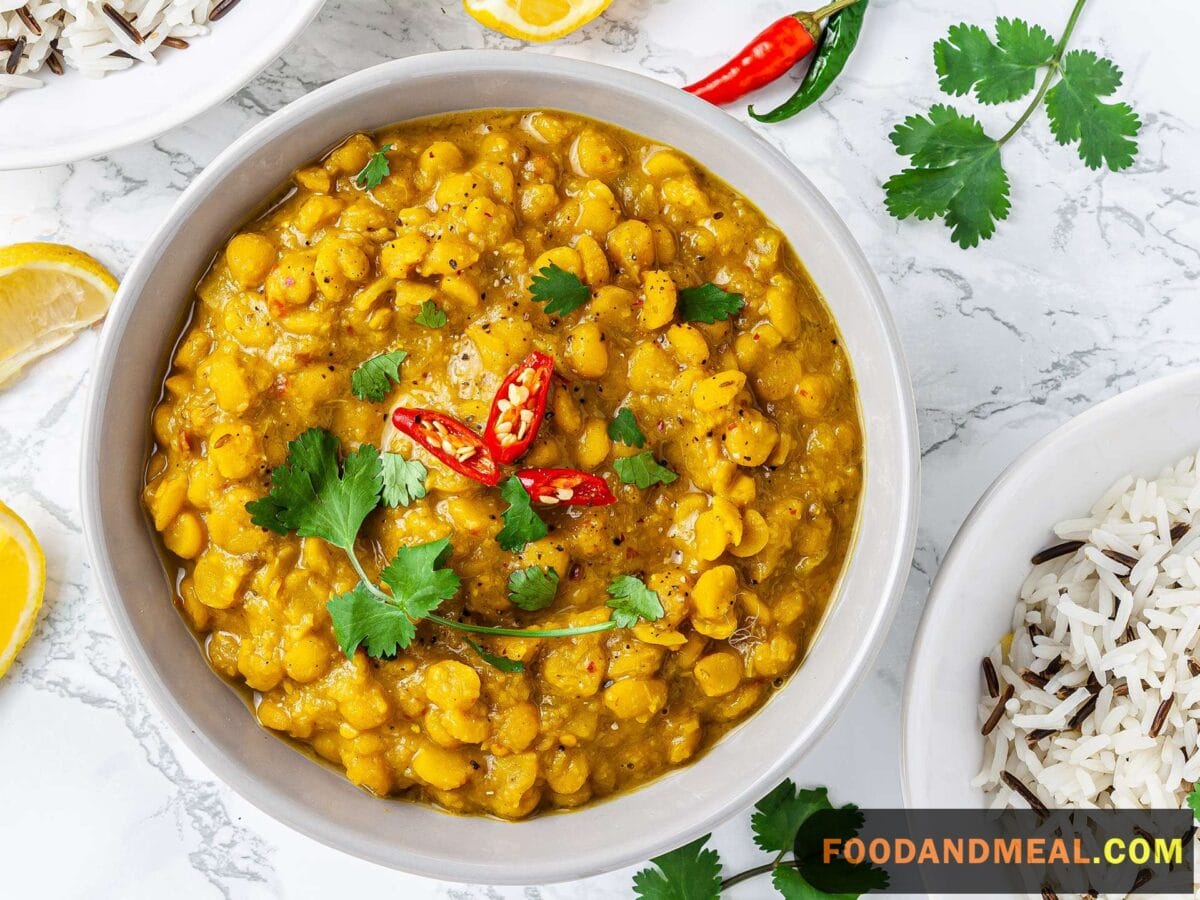 Cooking Tips
Tip 1: Rinse the yellow split peas thoroughly before using them. This helps remove excess starch and prevents the stew from becoming too thick.
Tip 2: Sautéing the spices is crucial for releasing their full flavor. Don't rush this step; give the spices a minute to bloom.
Tip 3: Use green chilies cautiously. Adjust the quantity to match your desired level of spiciness, but remember that the heat can intensify as the dish cooks.
Tip 4: Taste and adjust the seasoning before serving. Yekik Alicha is all about a balanced blend of spices, and a final taste check ensures perfection.
Common Mistake to Avoid: Overcooking the split peas can turn them mushy. Keep an eye on the cooking time, especially when using a pressure cooker. You want them tender but not disintegrated.
Serving Suggestions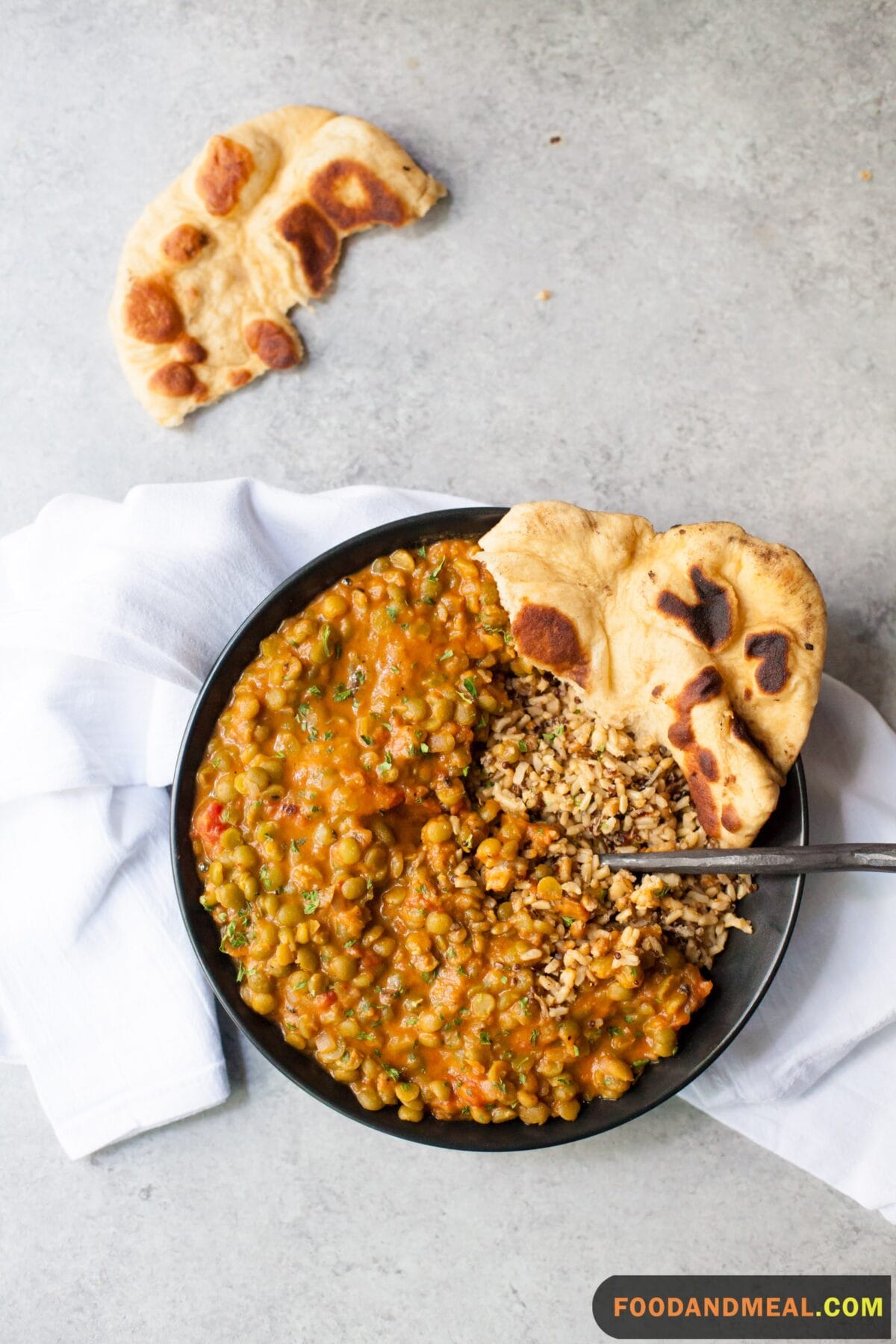 Recommend Sides: Yekik Alicha pairs wonderfully with traditional Ethiopian injera, a spongy flatbread. If injera isn't available, serve it with rice, couscous, or even crusty bread to soak up the flavorful stew.
Garnishes: Enhance the dish with fresh lemon juice and a sprinkle of chopped cilantro. The citrusy zing and the herb's freshness elevate the flavors.
Beverage Pairing: A glass of Ethiopian honey wine (Tej) or a fruity white wine complements the spices and adds an extra layer of enjoyment.
Different Ways to Serve: While traditionally a main dish, Yekik Alicha can also be enjoyed as a side to other Ethiopian dishes. It's a versatile stew that can fit into various dining experiences.
FAQs (Frequently Asked Questions) about Yekik Alicha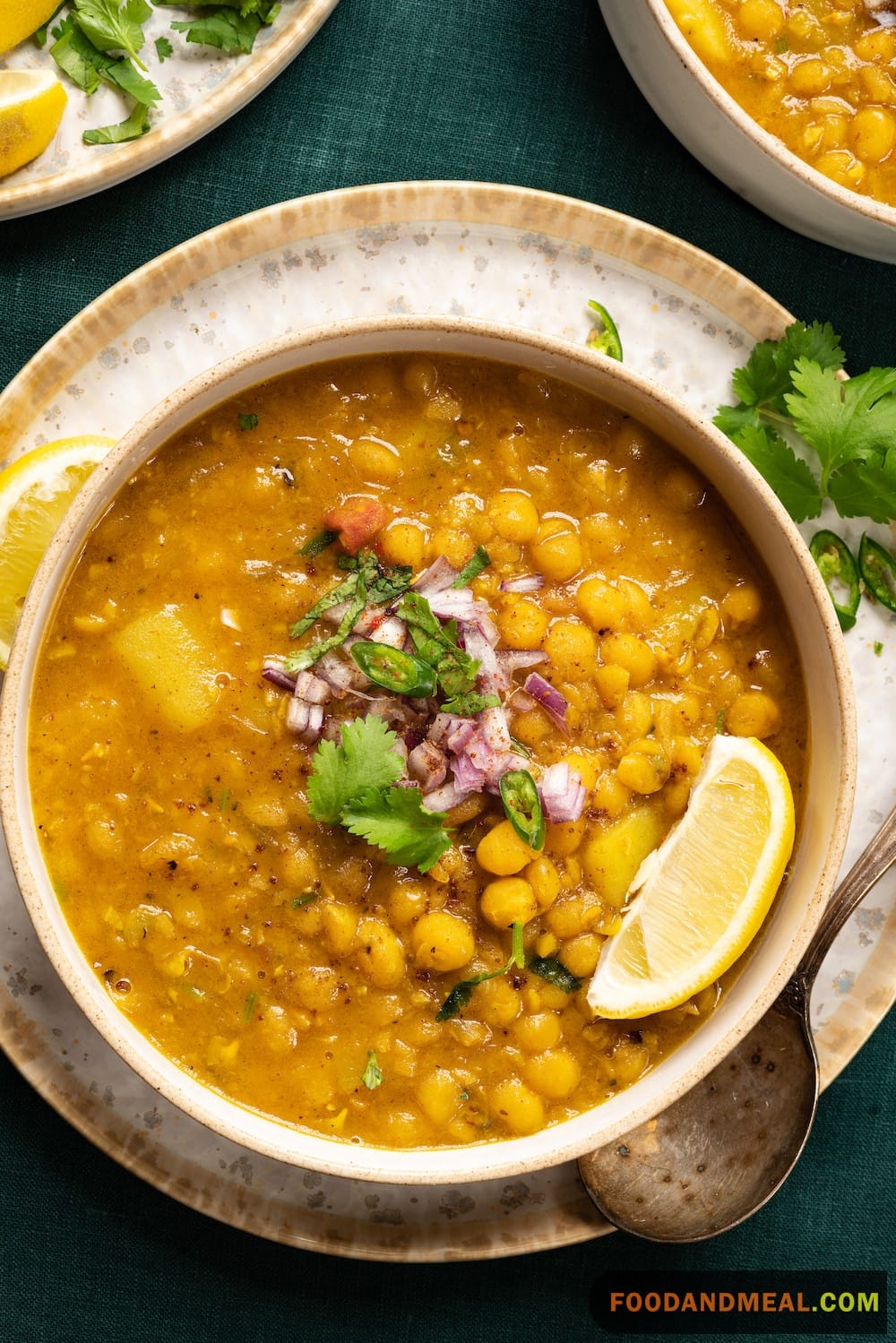 Can I store leftovers, and how do I reheat them? Yes, you can store Yekik Alicha in an airtight container in the refrigerator for up to 3-4 days. To reheat, use a microwave or stovetop, adding a splash of water to maintain the stew's consistency.
Can I substitute yellow split peas with another legume? While yellow split peas are traditional, you can experiment with lentils or chickpeas for a different twist. Just adjust the cooking time accordingly.
Is Yekik Alicha gluten-free? Yes, it's naturally gluten-free, making it a suitable option for those with gluten sensitivities.
Can I freeze Yekik Alicha? Absolutely! It freezes well for up to 3 months. Be sure to cool it completely before freezing and thaw it in the refrigerator before reheating.
What's the best way to add heat if I like my Yekik Alicha spicier? To increase the spiciness, add extra green chilies or a pinch of cayenne pepper during the cooking process. Taste and adjust as needed to achieve your preferred level of heat.
Unveil the secret to making Yekik Alicha, a heartwarming Ethiopian stew. Share the recipe and subscribe for more culinary inspirations.
I'm Kelly Atkinson, with a passion for dissecting the world of home goods. My reviews stem from thorough testing and a love for sharing detailed insights. Each piece I write offers a glimpse into my explorative journey, aiming to guide readers to informed choices with authenticity and precision, making every review a blend of exploration and expertise.
Affiliate DisclaimerAbout The Content
As an affiliate, we may earn a commission from qualifying purchases. We get commissions for purchases made through links on this website from Amazon and other third parties.