Ugali is a traditional breakfast dish in Africa and is served with a cup of coffee or tea. The dish is a popular choice among East Africans, but can be served with or without tea. The white cornmeal is often used to prepare ugali in sub-Saharan Africa. A cup of cornmeal can be mixed with water and is boiled for about half an hour. Then the mixture should be drained and cooled.
Ugali Recipe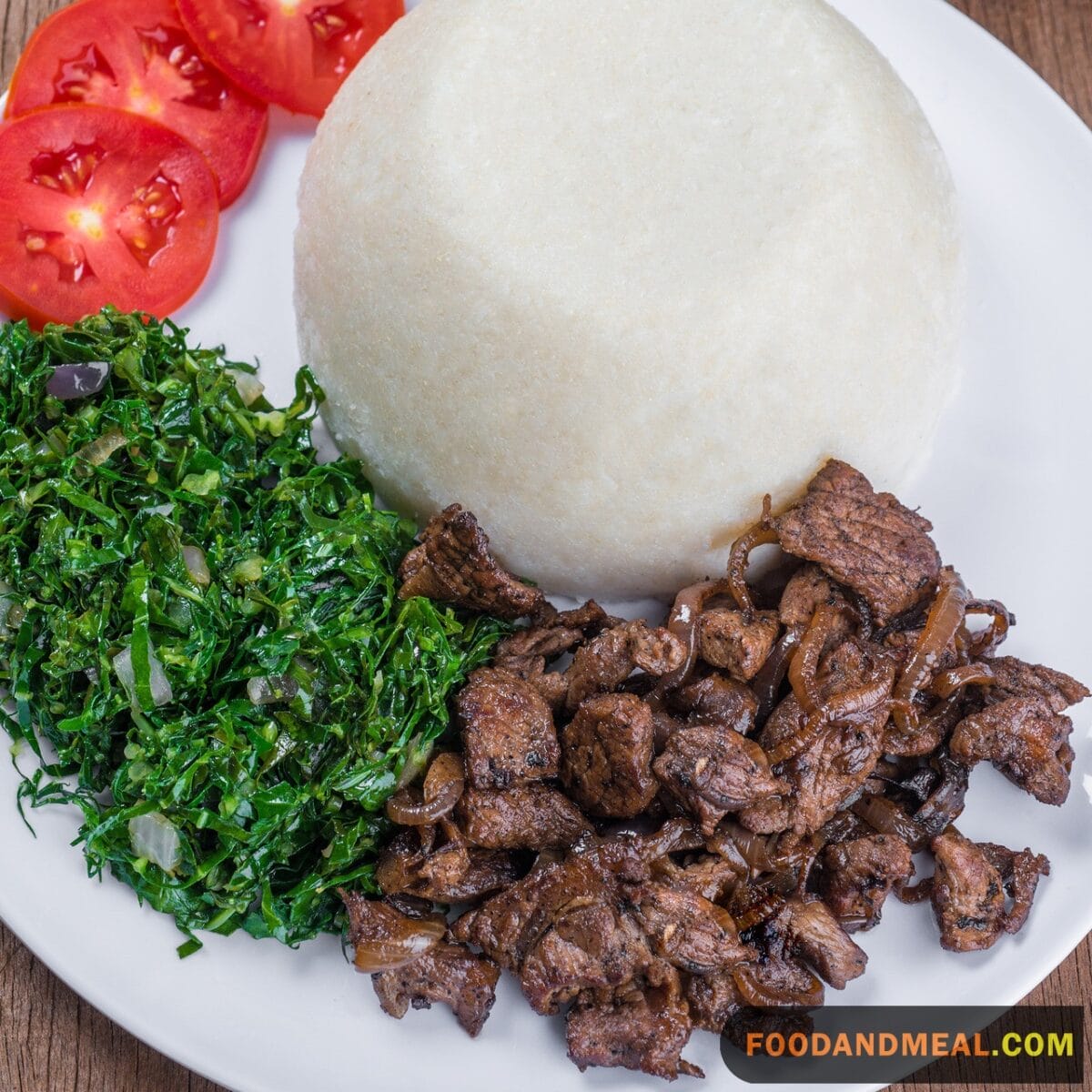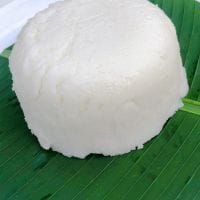 East African Ugali Recipe - 10 Easy Steps
Have you ever known A East African Ugali? .From my exploration, I will write about the direction to make the easiest recipe for Ugali.Ugali is usually served as an accompaniment to meat or vegetable stews, greens or soured milk. To eat ugali, pull off a small ball of mush with your fingers. Form an indentation with your thumb, and use it to scoop up accompanying stews and other dishes. Or you can form larger balls with your hands or an ice cream scoop, place them in individual serving bowls and spoon stew around them.
Print
Pin Recipe
Add to Collection
Go to Collections
Ingredients
3

cups

of water

2

cups

Maize flour

5

g

margarine
Instructions
Put the water in a pot and boil until the water starts bubbling.

Add the margarine to the boiling water.

Pour a reasonable quantity of the maize flour into the water and boil for 2 minutes, then turn with a wooden spoon, mixing the flour and water completely together.

You can add more maize flour to the mixture to thicken it. However, sprinkle the flour instead of pouring it all in at a go. Keep stirring thoroughly, folding the flour into itself.

You'll notice that the mixture is becoming heavier and firming up. At this juncture, you will need a heavy cloth to hold the pot with to avoid burning your hands while folding the heavy flour into itself.

When the Ugali gets firmer and stops sticking to the sides of the pot, press it against the pot with the wooden spoon. Put the spoon under the pressed Ugali and flip it over on the other side to the center of the pan and press down.

You'll know that the ugali is cooking well once it starts releasing a pleasant aroma.

Leave the mixture in the center of the pot and cook on medium heat for 4 minutes. Press and turn again

Remove the Ugali from the pot onto a plate and form it into a round shape.

You can serve ugali with meats, chicken, fish, and vegetables.
Notes
Equipment: Wooden spoon and pot
Be prepared to do some stirring to get a smooth paste. Be mindful that cornmeal hardens as it cools down, so if you want like really soft Ugali add more water.
Ugali is a staple food in West Africa and is also known as vuswa, bogobe, fufu, gima, and obokima. It is a type of porridge made from maize flour. Its name comes from the African term "ugali," which means "to chew" and "to chew well." It is usually thick and chewy, with a nutty flavor.
Share by Email
Share on Facebook
Share on Twitter
Nutrition
Serving:
4
servings
|
Calories:
228
kcal
|
Carbohydrates:
43
g
|
Protein:
5
g
|
Fat:
3
g
|
Fiber:
5
g
© Food And Meal
This website provides approximate nutrition information for convenience and as a courtesy only. Nutrition data is gathered primarily from the Spoonacular Database, whenever available, or otherwise other online calculators.
Pin Recipe
Microwave Ugali Recipe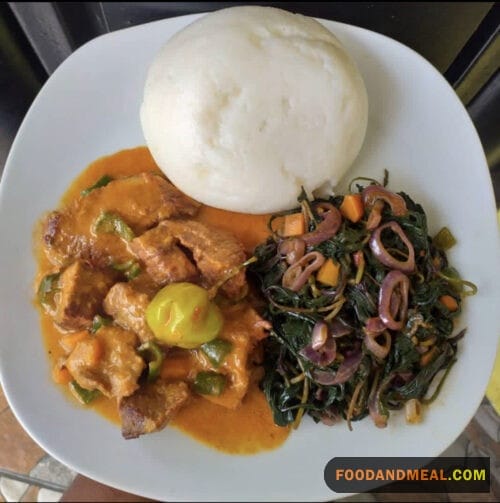 Ingredients:
1 cup maize meal (cornmeal)
2 1/2 cups water
A pinch of salt (optional)
Instructions:
In a microwave-safe bowl, combine the maize meal with 1 1/2 cups of water. Stir well to create a smooth, lump-free mixture.
Cover the bowl with a microwave-safe lid or microwave-safe plastic wrap. This is crucial to prevent the Ugali from bubbling over in the microwave.
Place the bowl in the microwave and cook on high for 2 minutes. Carefully remove the bowl (it will be hot) and stir the mixture thoroughly. At this point, the Ugali will begin to thicken.
Return the covered bowl to the microwave and cook for an additional 2 minutes on high. Repeat this process, stirring and microwaving in 2-minute intervals, until the mixture becomes thicker and more solid.
As it cooks, you may notice the Ugali pulling away from the sides of the bowl and forming a smooth, cohesive texture.
After about 8-10 minutes of microwaving and intermittent stirring, your Ugali should be ready. The total cooking time can vary depending on your microwave's wattage, so keep an eye on it.
Once the Ugali reaches your desired consistency, carefully remove it from the microwave. Use a wooden spoon or spatula to transfer it onto a clean plate or wooden board.
Allow the Ugali to cool for a few minutes before serving. It will continue to firm up as it cools.
Ugali is traditionally served in slices, balls, or any shape you prefer. It's often accompanied by a variety of stews, vegetables, or meats.
Tips for making Ugali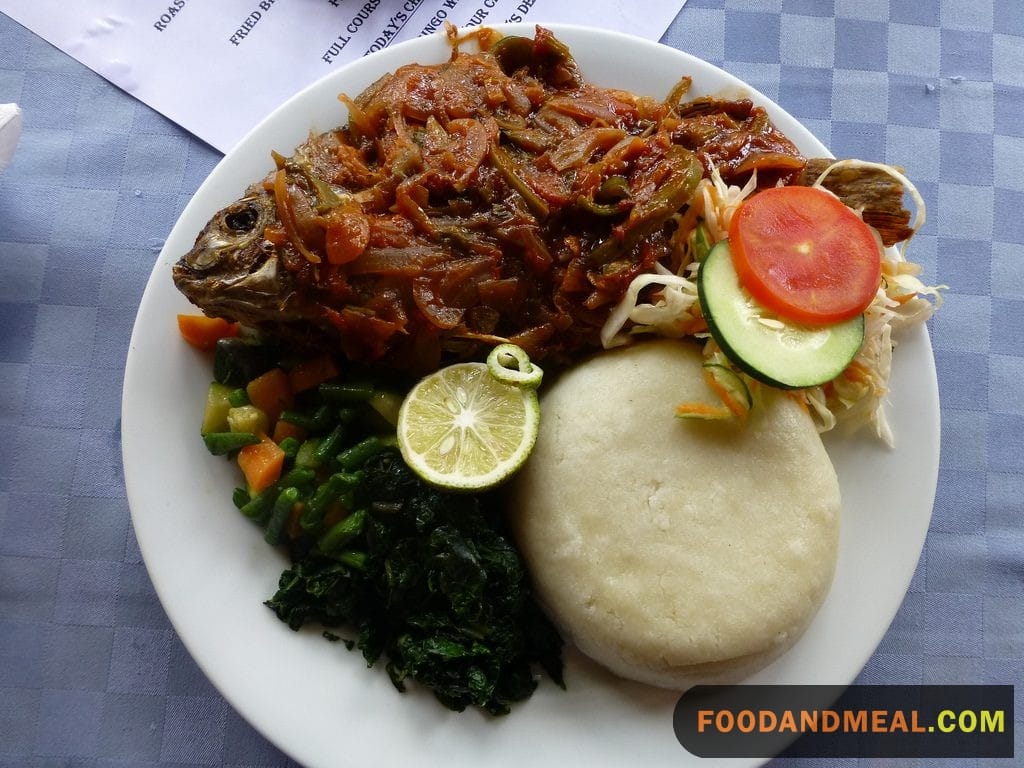 Cooking Tips
Choosing the Right Maize Meal: The key to great Ugali is starting with good-quality maize meal (cornmeal). Look for a fine or medium-grind maize meal. It ensures a smoother, lump-free consistency.
Water-to-Maize Meal Ratio: The ratio of water to maize meal is crucial. Generally, for every cup of maize meal, use 2.5 cups of water. Adjust as needed to achieve your desired consistency.
Stirring Technique: To avoid lumps, start by mixing a small amount of maize meal with cold water to form a smooth paste. Gradually add the paste to the boiling water while stirring continuously.
Consistent Stirring: Ugali requires constant stirring as it cooks. Stirring helps prevent lumps and ensures even cooking.
Avoiding Air Pockets: To achieve a smooth texture, press down firmly while stirring to eliminate any air pockets in the mixture.
Serving Suggestions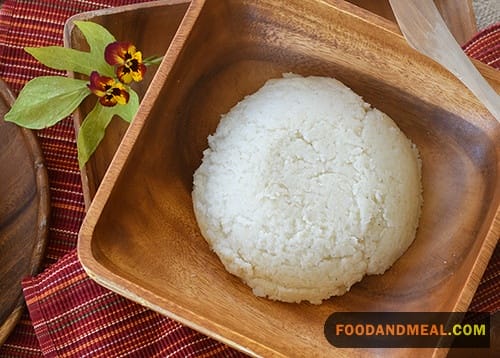 Stews and Sauces: Ugali is commonly served with flavorful stews or sauces. Try it with sukuma wiki (collard greens), beef stew, chicken stew, or fish in coconut sauce for a complete meal.
Grilled Meats: Grilled meats like nyama choma (barbecued meat) are a popular Ugali accompaniment. The smoky flavors complement the plainness of Ugali perfectly.
Vegetables: Steamed or sautéed vegetables such as spinach, okra, or cabbage are fantastic side dishes.
Chutneys and Sambals: Enhance the flavor with chutneys or sambals made from tomatoes, onions, and chili peppers. These add a spicy kick to your meal.
Mchuzi wa Samaki: This fish stew, made with tomatoes and coconut milk, is a coastal favorite in Kenya and pairs deliciously with Ugali.
Frequently Asked Questions (FAQs) Ugali
How Do I Store Leftover Ugali? To store leftover Ugali, wrap it in a damp cloth or plastic wrap to prevent it from drying out. Keep it in an airtight container in the fridge for up to 2-3 days. Reheat by steaming or microwaving with a bit of water.
Why Is My Ugali Too Hard or Too Soft? Achieving the right consistency is a matter of practice. If it's too hard, add more hot water and stir. If it's too soft, cook it a bit longer while stirring.
Can I Add Flavorings to Ugali? Absolutely! While traditional Ugali is plain, you can add flavorings like grated cheese, herbs, or spices for a unique twist.
Is Ugali Gluten-Free? Ugali made from maize meal is naturally gluten-free, making it suitable for those with gluten sensitivities.
What Is the Origin of Ugali? Ugali is a staple dish in East and South Africa, particularly in countries like Kenya and Tanzania. It's been a part of the region's culinary tradition for generations.
Master the art of Ugali with our step-by-step recipe – a beloved African dish you'll cherish. Share the recipe, subscribe for more, and embark on a culinary journey.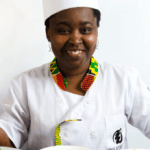 Hello! I'm Black Pie, your culinary guide at Food And Meal, Hana Hotel Travel Company Limited. I'm passionate about unveiling the rich and diverse flavors of African cuisine to the world. Each recipe we explore is a celebration of culture, tradition, and exquisite taste. Join me on this delightful culinary journey, where we'll discover and share the hidden gems of African cooking together!
Affiliate DisclaimerAbout The Content
As an affiliate, we may earn a commission from qualifying purchases. We get commissions for purchases made through links on this website from Amazon and other third parties.