Tanzanian pilau rice is often difficult to separate from its Indian roots. However, when it comes to African cuisine, pilau is East Africa's ubiquitous rice dish and it often extends beyond its coastline from Zanzibar into the Indian Ocean islands such as Mauritius.In this recipe, i will share how to cook Tanzania Pilau Rice A timesaving one, yet delicious for people of all ages.
Tanzania Pilau Rice Recipe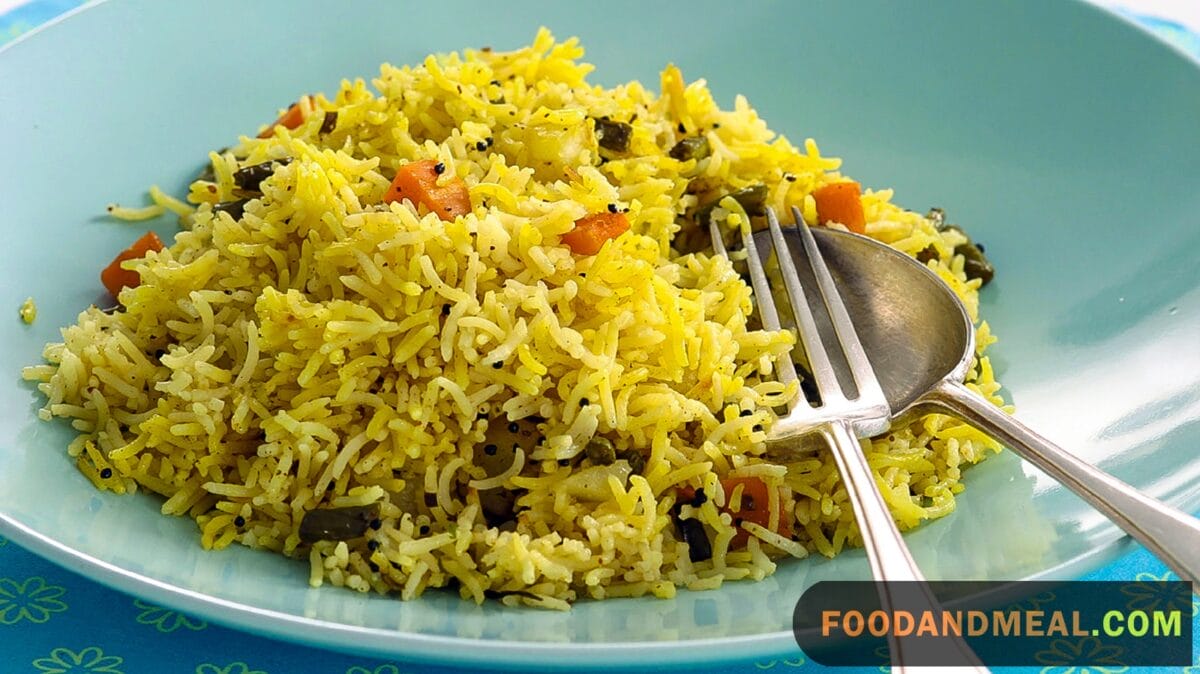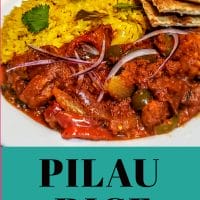 Tanzania Pilau Rice
The recipe for Tanzania Pilau Rice is very simple. The rice is cooked in stock with spices and a bit of butter. If you're making this dish for a family gathering, you'll probably want to prepare it a day or two before the party. Then, you can chill it or freeze it to enjoy later. To reheat it, you'll need to use a saucepan and simmer it for 15 minutes.
Print
Add to Collection
Go to Collections
Equipment
Ingredients
All crushed and mixed together.
Instructions
Heat the cooking oil up in a pot over a medium heat

Add the onions and rice and stir continuously until the color of the rice starts to change from translucent to white color.

Add the spices including the ginger and garlic paste and stir for 2 minutes

In another bowl, mix 2 cups of chicken broth and coconut milk. Pour the mixture into the rice pot and stir softly.

Cover the pot and cook on low heat, adding the broth gradually to the rice until it is well cooked.

You can serve this dish with curried meat or with savory dishes.
Notes
It is pretty straightforward to make pilau rice. In essence, you just need to make the stock, then cook the rice in that stock. 
Share by Email
Share on Facebook
Share on Twitter
Nutrition
Serving:
6
g
|
Calories:
384
kcal
|
Carbohydrates:
58
g
|
Protein:
8
g
|
Fat:
13
g
|
Saturated Fat:
5
g
|
Cholesterol:
4
mg
|
Sodium:
538
mg
|
Fiber:
2
g
|
Sugar:
3
g
© Food And Meal
This website provides approximate nutrition information for convenience and as a courtesy only. Nutrition data is gathered primarily from the Spoonacular Database, whenever available, or otherwise other online calculators.
Alternative Method: Pressure Cooker Pilau Rice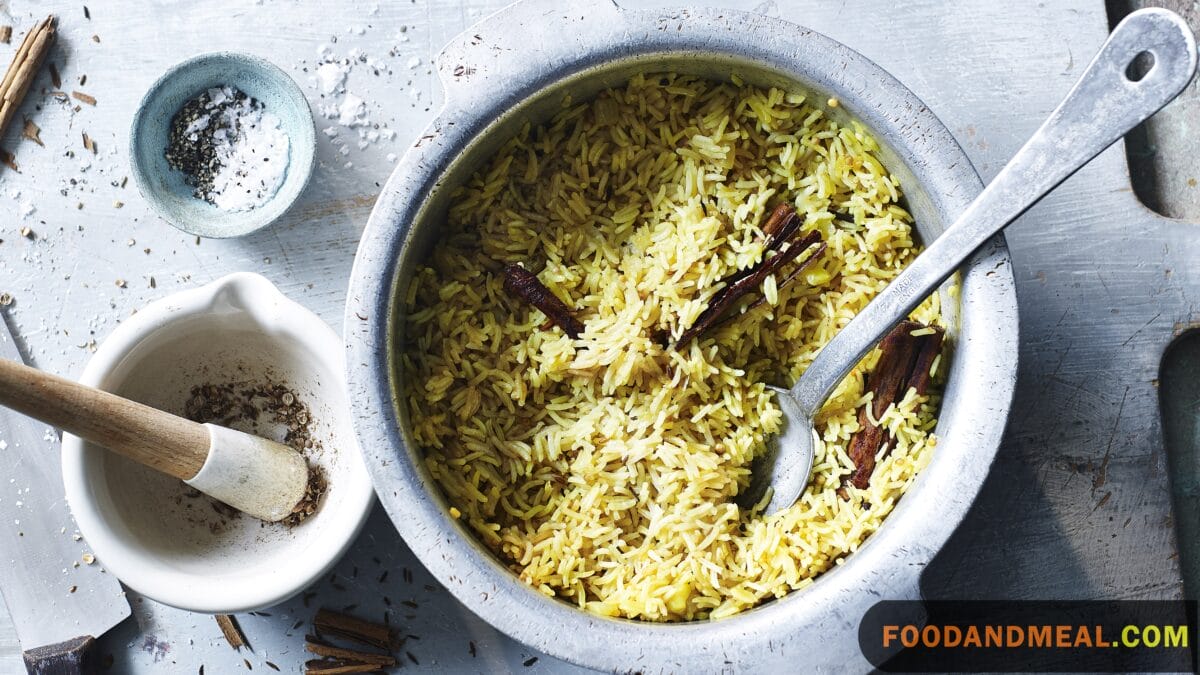 Ingredients:
2 cups long-grain Basmati rice
2 tablespoons vegetable oil
1 onion, finely chopped
2 cloves of garlic, minced
1-inch piece of ginger, minced
2 tomatoes, chopped
1 teaspoon ground cumin
1 teaspoon ground coriander
1/2 teaspoon ground cardamom
1/2 teaspoon ground cinnamon
1/4 teaspoon ground cloves
4 cups vegetable broth
Salt and black pepper to taste
Fresh cilantro leaves for garnish
Instructions:
Begin by washing the Basmati rice thoroughly until the water runs clear. Drain and set it aside.
Heat the vegetable oil in the pressure cooker over medium heat. Sauté the finely chopped onion, minced garlic, and ginger until they turn soft and translucent.
Add the chopped tomatoes and continue to cook until they become tender and release their juices.
Now, add the ground cumin, ground coriander, ground cardamom, ground cinnamon, and ground cloves. Sauté the spices for a minute to release their aromas.
Toss in the washed Basmati rice and stir well to coat it with the aromatic spices.
Pour in the vegetable broth and season with salt and black pepper to taste. Stir to combine.
Seal the pressure cooker and bring it to high pressure. Once it reaches high pressure, reduce the heat and cook for about 7-8 minutes.
Turn off the heat and allow the pressure to release naturally for a few minutes. Carefully open the pressure cooker.
Fluff the Pilau Rice with a fork, garnish with fresh cilantro leaves, and serve hot.
Tips for making Tanzania Pilau Rice
Cooking Tips
Tips for Perfect Pressure Cooker Pilau Rice:
Rinse the Rice: Properly rinsing the rice is crucial to prevent clumping. Wash it until the water runs clear, and then drain.
Sautéing Aromatics: Sauté the onions, garlic, and spices until fragrant. This step builds a solid flavor foundation.
Rice-to-Liquid Ratio: Maintain a 1:2 ratio of rice to vegetable broth. This ensures the rice cooks to perfection without being too dry or mushy.
Don't Skip Natural Release: Allow the pressure to release naturally for a few minutes. This step ensures the rice doesn't get overcooked.
Common Mistakes to Avoid:
Insufficient Sautéing: Make sure the spices are well sautéed, as this releases their flavors and aromas. Insufficient sautéing can result in a less flavorful dish.
Too Much Liquid: Adding excess liquid can make the Pilau Rice mushy. Stick to the recommended rice-to-liquid ratio.
Rushing the Natural Release: Avoid immediately releasing the pressure after cooking. Letting it release naturally for a few minutes is essential.
Serving Suggestions
Complementing the Flavors:
Side Dishes: Serve Pressure Cooker Pilau Rice with traditional sides like a fresh vegetable salad, plantains, or a simple cucumber raita.
Garnishes: Enhance the presentation and taste by garnishing with toasted almonds or fried onions. These add a delightful crunch.
Beverage Pairing: A glass of sweet mango lassi or a refreshing tamarind cooler is the perfect accompaniment to balance the spice.
Versatile Serving Styles:
Pilau Rice Wrap: Make a wrap by spooning Pilau Rice into a warm tortilla or flatbread with your choice of protein and veggies. Roll it up for a handheld meal.
Pilau Bowl: Create a bowl by topping the rice with grilled chicken, roasted vegetables, and a drizzle of yogurt-based dressing.
Rice Pilaf: Turn your Pilau Rice into a pilaf by mixing in cooked chicken, shrimp, or tofu. Sauté it briefly for a fragrant one-pot meal.
FAQs (Frequently Asked Questions) about Pilau Rice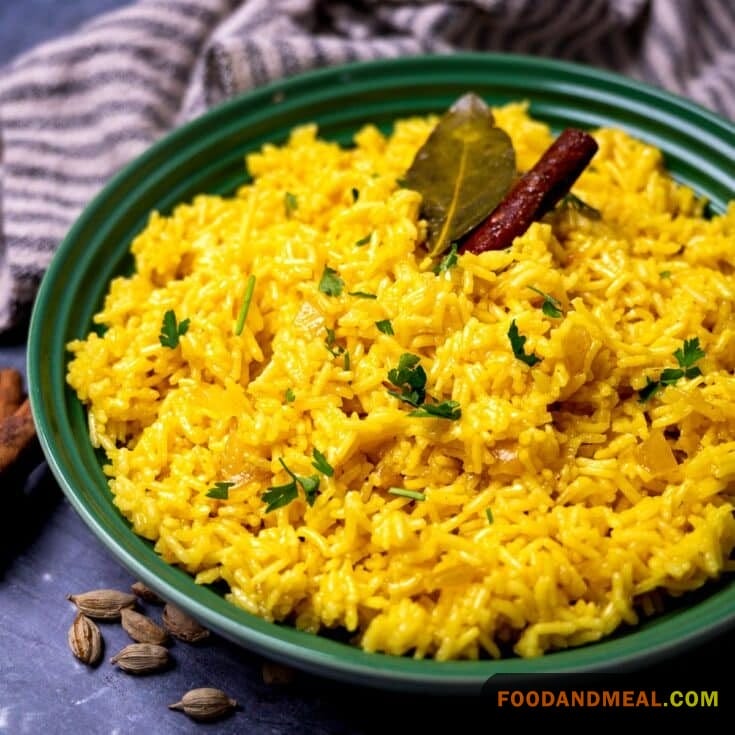 Can I make Pressure Cooker Pilau Rice with brown rice? Yes, you can use brown rice, but it requires a longer cooking time. Increase the pressure cooking time to 20-25 minutes and add an extra 1/2 cup of vegetable broth.
What's the best way to store leftover Pilau Rice? To store leftovers, allow the rice to cool to room temperature. Transfer it to an airtight container and refrigerate. It will stay fresh for up to 3-4 days. Reheat in the microwave or on the stovetop with a little water.
Can I make Pressure Cooker Pilau Rice in advance for a party? Absolutely! You can prepare Pilau Rice in advance and reheat it just before serving. It's a convenient dish for parties and gatherings.
How do I adjust the spice level to my preference? You can easily control the spice level by adjusting the amount of chili powder or omitting it altogether if you prefer a milder flavor.
Can I use a different type of rice for this recipe? While Basmati rice is the traditional choice, you can experiment with other long-grain rice varieties for a slightly different texture and flavor. Just be sure to adjust the cooking time accordingly.
Taste the spice of Tanzania with Pressure Cooker Pilau Rice. Share the recipe, subscribe for more global flavors, and start your culinary journey.
Affiliate DisclaimerAbout The Content
As an affiliate, we may earn a commission from qualifying purchases. We get commissions for purchases made through links on this website from Amazon and other third parties.