If you are a huge fan of bass, then this is one dish I know you are going to love to enjoy over and over again. Chinese Style Black Bass with Sauteed Bok Choy and Spring Garlic. Served with healthy bok choy and spring garlic, this is one dish I know you won't be able to get enough.
Chinese Style Black Bass Recipes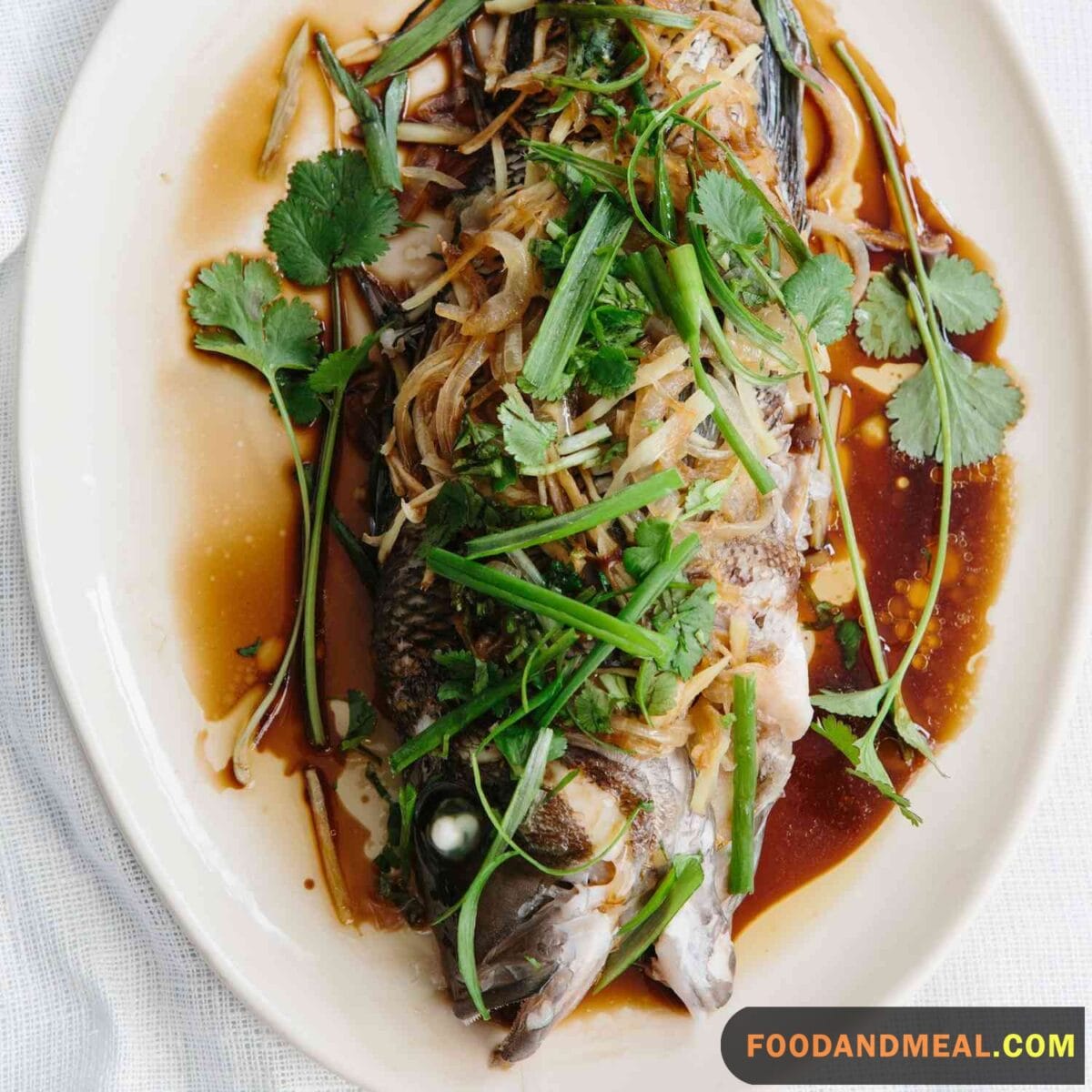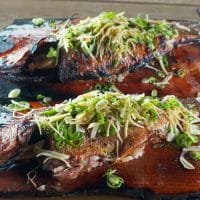 Chinese Style Black Bass
This recipe for Chinese Style Black Bass combines fresh ginger, garlic, soy sauce, sesame seeds, and a blend of spices. The fish will flake easily and look spectacular. This recipe also includes a healthy side dish. It is a simple and delicious dinner that everyone will love. There are several variations of this dish. The following is a step-by-step guide to preparing the recipe. Read on to find out more.
Print
Pin Recipe
Add to Collection
Go to Collections
Equipment
Ingredients
Some Oil

Vegetable Variety and For Frying

1, 2

Pound

Bass

Black in Color

1

Cup

Flour

Rice Variety •1 Cup of Cornstarch

Dash of Salt and Black Pepper

For Taste

Cup

Cup of Seasoning

2

teaspoons

Five Spice

Powdered Variety

4

Bunches

Spring Garlic

Thinly Sliced

4

Heads of Bok Choy

Baby Variety and Split •

1

teaspoon

Oil

Sesame Variety

2

tablespoons

Vinegar

Rice Wine Variety

Some Garlic Chili Sauce

Premade and Store-bought
Ingredients For Your Seasoning:
Instructions
The first thing that you will want to do is make your seasoning. To do this place all of your ingredients for your seasoning into a small sized bowl. Stir thoroughly to combine.

Then preheat your oven to 360 to 375 degrees in a large sized Dutch oven set over medium heat.

Next cut four slits on the surface of your bass.

Then use a large sized bowl and add in your flour, cornstarch, dash of salt and black pepper, seasoning and powdered five spice. Stir thoroughly to combine.

Season your bass with a generous amount of salt and black pepper and dredge in your flour mixture. Once seasoned drop your bass into your hot oil and fry for at least 8 to10 minutes or until your fish is golden brown in color and fully cooked through.

Next heat up a large sized wok and add in your vegetable style oil. Set over medium heat and once your oil is hot enough add in your spring garlic and fresh bok choy. Cook for at least 4 to 5 minutes before removing from heat.

Add in your sesame style oil and vinegar. Toss again to evenly incorporate.

Serve your fish on top of a bed with your sauteed vegetables and your chili

sauce served on the side. Enjoy right away.
Notes
 Once the fish is done, it should be served with lime slices.
Share by Email
Share on Facebook
Share on Twitter
Nutrition
Serving:
4
servings
|
Calories:
1186
kcal
|
Carbohydrates:
97
g
|
Protein:
155
g
|
Fat:
23
g
|
Saturated Fat:
4
g
|
Polyunsaturated Fat:
8
g
|
Monounsaturated Fat:
7
g
|
Trans Fat:
1
g
|
Cholesterol:
544
mg
|
Sodium:
8545
mg
|
Potassium:
6317
mg
|
Fiber:
23
g
|
Sugar:
21
g
|
Vitamin A:
77318
IU
|
Vitamin C:
783
mg
|
Calcium:
1998
mg
|
Iron:
26
mg
© Food And Meal
This website provides approximate nutrition information for convenience and as a courtesy only. Nutrition data is gathered primarily from the Spoonacular Database, whenever available, or otherwise other online calculators.
Pin Recipe
Alternative Preparation Method: Steaming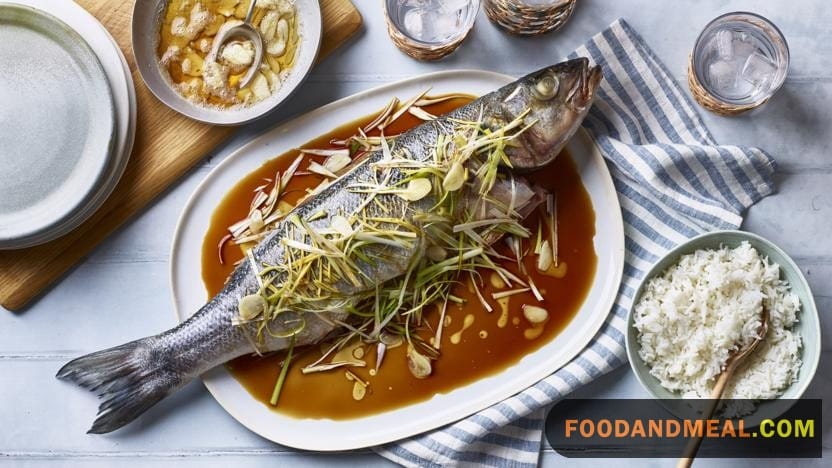 Ingredients:
1 whole black bass (about 2 pounds)
2-3 slices of ginger
2-3 green onions, sliced lengthwise
2 tablespoons light soy sauce
1 tablespoon Shaoxing wine (Chinese rice wine) or dry sherry
1 tablespoon sesame oil
1 teaspoon sugar
Salt to taste
Fresh cilantro, for garnish
Instructions:
Begin by cleaning the black bass. Rinse it under cold water and pat it dry with paper towels.
Season the inside of the fish with a pinch of salt and stuff it with the ginger slices and half of the sliced green onions.
Prepare your steamer by bringing water to a boil. Ensure the water doesn't touch the bottom of the steamer basket.
Place the black bass on a heatproof plate that will fit inside your steamer. Make sure the plate has raised edges to catch any juices.
Steam the fish over high heat for about 10-12 minutes per pound of fish. For a 2-pound fish, this would be approximately 20-24 minutes. The fish is done when it flakes easily with a fork, and the flesh turns opaque.
While the fish is steaming, you can prepare the sauce. In a small saucepan, combine the light soy sauce, Shaoxing wine, sesame oil, and sugar. Heat the mixture over low heat until the sugar dissolves, and then remove it from the heat.
Once the fish is done, carefully remove it from the steamer and pour off any accumulated juices.
Drizzle the prepared sauce over the fish, and garnish with the remaining green onions and fresh cilantro.
Serve your Chinese Style Black Bass immediately, and enjoy the tender and flavorful result of steaming.
Tips for making Chinese Style Black Bass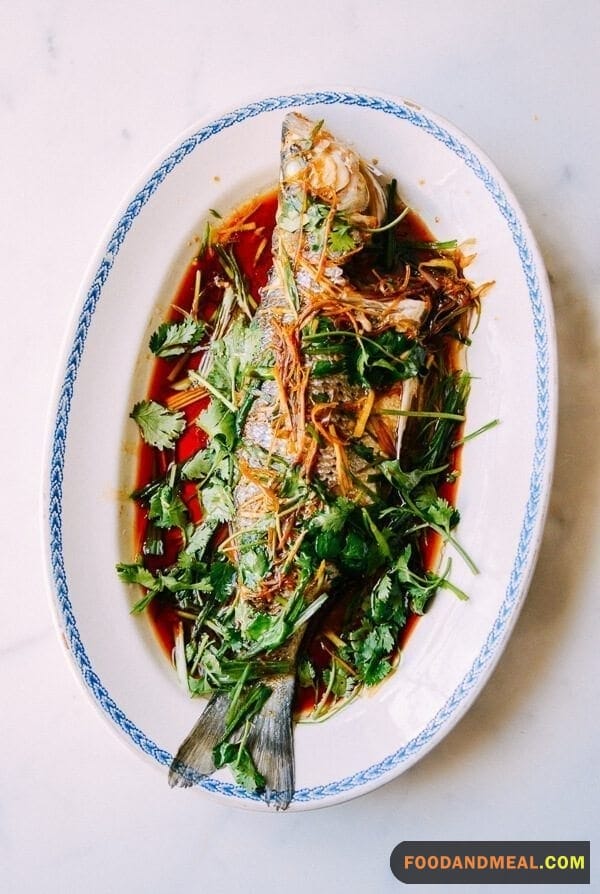 Cooking Tips
Freshness Matters: Start with the freshest black bass you can find. The quality of the fish is key to the success of this dish. Look for clear eyes, shiny skin, and a fresh ocean scent.
Ginger and Green Onions: Don't underestimate the role of ginger and green onions. They not only add flavor but also help neutralize any fishy odors. Be generous with these aromatic ingredients.
Proper Steaming: When steaming the fish, ensure the water in the steamer doesn't touch the bottom of the plate. A gentle steam is more effective in cooking the fish evenly.
Sauce Balance: Adjust the sauce to your taste. Some prefer a slightly sweeter sauce, while others may like it saltier. Taste and adjust as needed.
Garnish Gracefully: Fresh cilantro adds a delightful herbal note. It's best to garnish just before serving for the freshest flavor.
Serve Promptly: Chinese Style Black Bass is best enjoyed right after cooking. The delicate texture and flavors are at their peak when served hot.
Serving Suggestions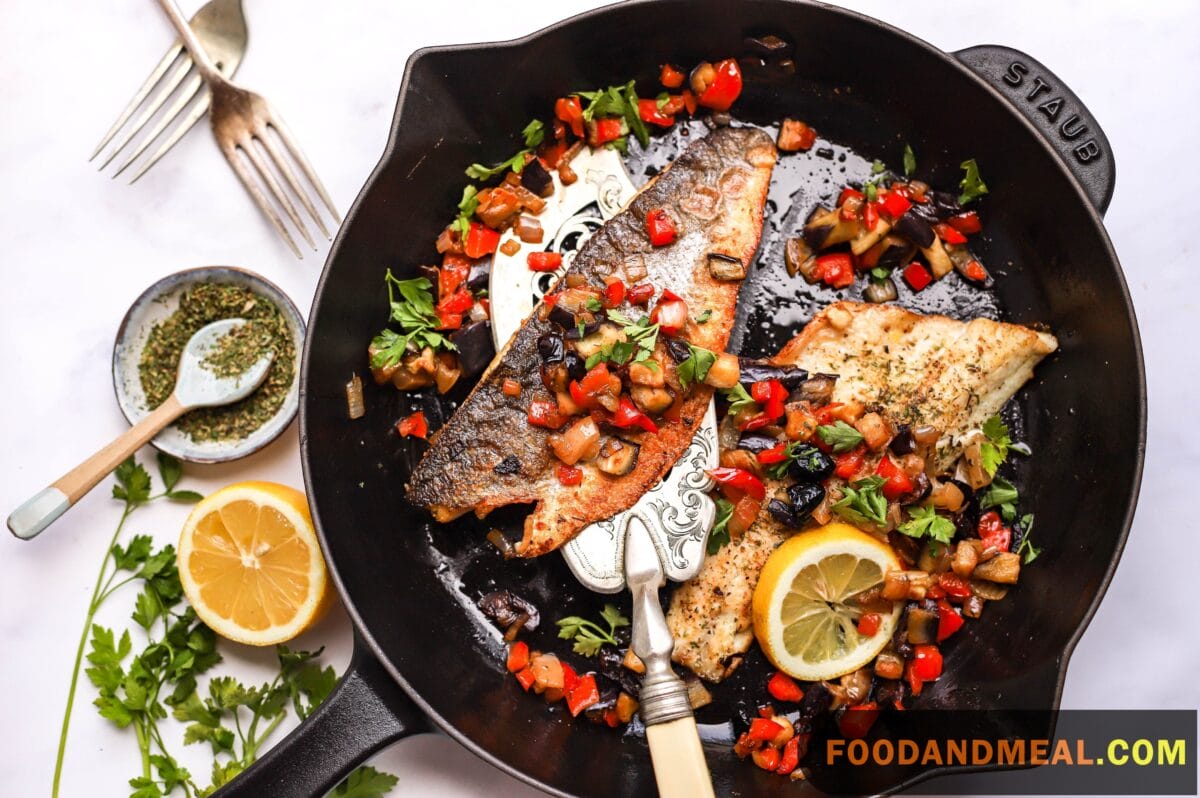 Steamed Rice: Steamed jasmine or basmati rice makes an excellent accompaniment. The fragrant rice pairs beautifully with the tender fish and flavorful sauce.
Asian Greens: Steamed or stir-fried Asian greens, such as bok choy or gai lan (Chinese broccoli), provide a perfect balance to the rich flavors of the bass.
Garnish with Cilantro: Enhance the presentation and flavor by sprinkling extra fresh cilantro on top.
Pair with Oolong Tea: Complement the meal with a light and fragrant oolong tea. Its floral notes can elevate the dining experience.
Family-Style Serving: Present the whole fish on a platter, allowing guests to appreciate its beauty and serve themselves.
FAQs (Frequently Asked Questions) about Chinese Style Black Bass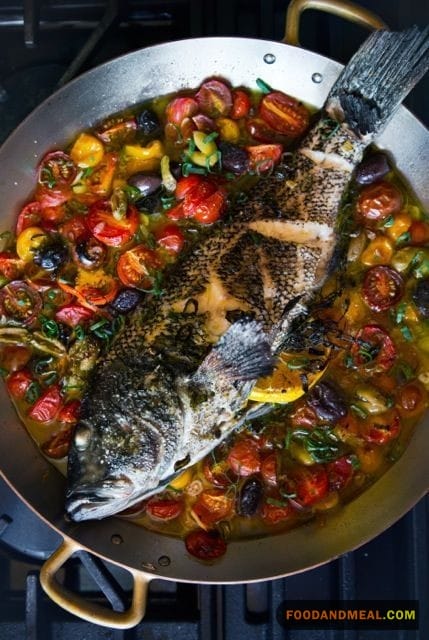 Can I use other types of fish for this recipe? While black bass is traditionally used, you can adapt this recipe to other white-fleshed fish like sea bass, snapper, or trout.
How do I adjust the sauce to my taste? Taste the sauce before pouring it over the fish. You can adjust the balance of soy sauce, wine, sesame oil, and sugar to your liking.
What if I don't have a steamer? If you don't have a steamer, you can create a makeshift one by placing a heatproof rack inside a large wok or wide saucepan. Ensure the water doesn't touch the rack, and cover it with a lid.
Can I make this dish ahead of time? Chinese Style Black Bass is best enjoyed fresh, but you can prepare the sauce and ingredients ahead of time and steam the fish just before serving for the best results.
Q5: How should I store leftovers? If you have leftovers, store them in an airtight container in the refrigerator. Reheat gently in a steamer to maintain the fish's tenderness.
Elevate your culinary skills with our Chinese Style Black Bass recipe. Discover expert tips and serving suggestions. Share the love!
I'm James F Anderson, a noted sous chef from London and a Le Cordon Bleu alumnus. My career began in a Michelin-starred Parisian eatery, where my blend of classic and contemporary cooking, using seasonal ingredients, earned accolades. Recognized in culinary publications and on cooking shows, I'm committed to mentoring aspiring chefs and delivering memorable dining experiences, marking me as a standout talent in the culinary world.
Affiliate DisclaimerAbout The Content
As an affiliate, we may earn a commission from qualifying purchases. We get commissions for purchases made through links on this website from Amazon and other third parties.