Here is a classic and traditional Chinese New Year Szechuan Style Beef that you will want to serve every Chinese New Year. Serve this with a side of simple steamed rice for the tastiest results.
Szechuan Style Beef Recipes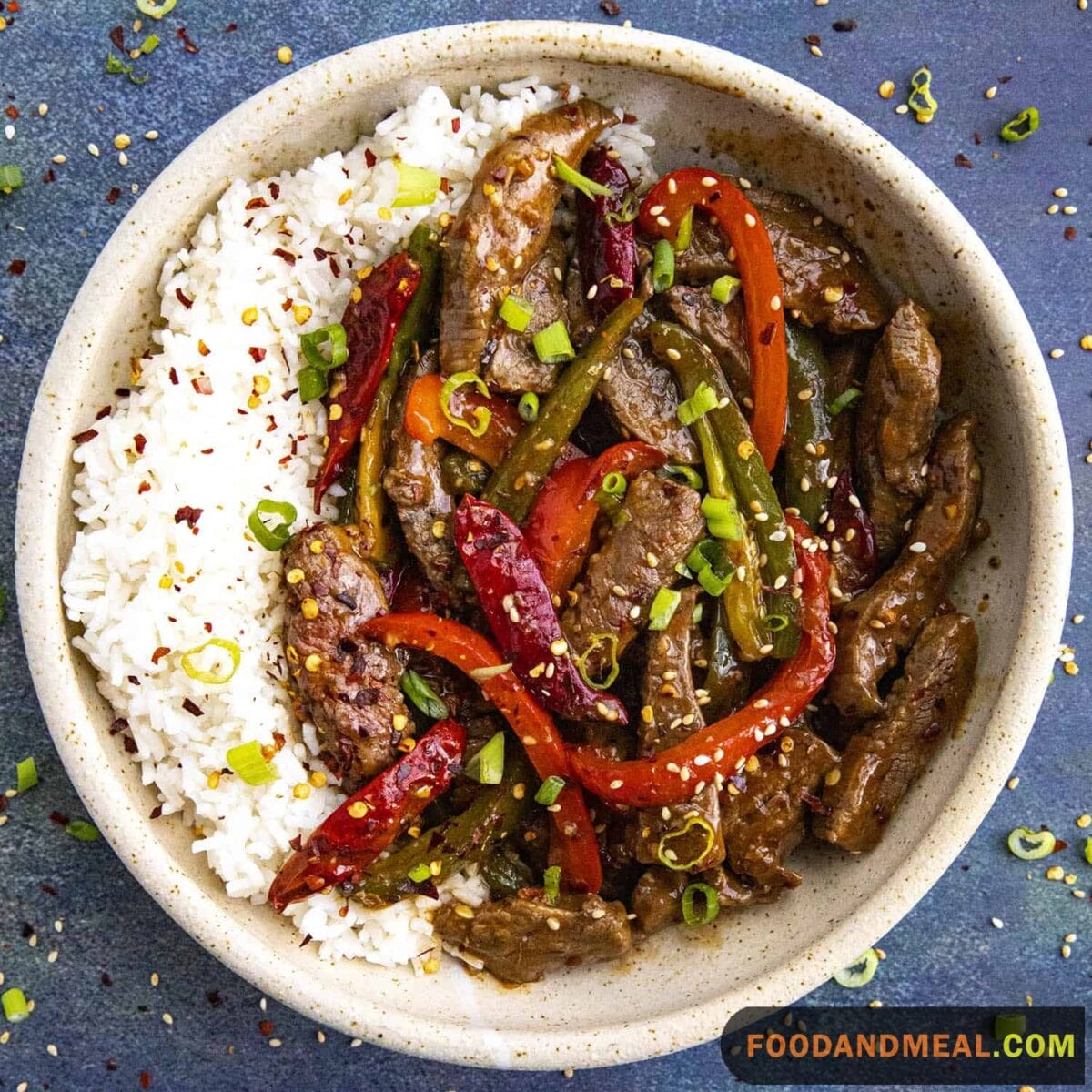 Szechuan Style Beef
Szechuan Beef is a quick and easy meal that is great for busy families. It's a great choice for dinners that are quick and easy to make. A large serving of Szechuan Style Beef can serve up to six people, and each serving has about 260 calories. It also contains approximately 11g of fat and 15g of protein. In terms of calorie content, Szechuan Beef is not a good choice for high-protein diets.
Print
Pin Recipe
Add to Collection
Go to Collections
Equipment
Ingredients
Ingredients For Your Sauce:
Instructions
The first thing that you will want to do is mix together your sliced flank steak with your favorite kind of soy sauce, cooking wine and cornstarch in a medium sized bowl. Stir thoroughly to combine.

Then heat up a large sized Wok set over medium heat. Add in your oil and once your oil is hot enough add in your garlic and jalapeno pepper slices. Cook for at least one minute before adding in your beef.

Add in all of your ingredients for your sauce and cook for the next 2 minutes or until your beef is brown in color.

Remove from heat and add in your green onions. Stir thoroughly to combine and serve whenever you are ready.
Notes
Szechuan Style Beef is a flavorful, explosive dish. You can serve it with rice or quinoa, or serve it over a bed of cauliflower rice. This dish is best served with thinly sliced beef. Szechuan Style Beef pairs well with different Asian noodles and other dishes. As an added bonus, it reheats easily. The flavors in Szechuan beef will be rich and savory and will leave you feeling satisfied.
Share by Email
Share on Facebook
Share on Twitter
Nutrition
Serving:
1
serving
|
Calories:
197
kcal
|
Carbohydrates:
1
g
|
Protein:
17
g
|
Fat:
13
g
|
Saturated Fat:
2
g
|
Polyunsaturated Fat:
3
g
|
Monounsaturated Fat:
8
g
|
Trans Fat:
1
g
|
Cholesterol:
45
mg
|
Sodium:
402
mg
|
Potassium:
273
mg
|
Fiber:
1
g
|
Sugar:
1
g
|
Vitamin A:
19
IU
|
Vitamin C:
1
mg
|
Calcium:
19
mg
|
Iron:
1
mg
© Food And Meal
This website provides approximate nutrition information for convenience and as a courtesy only. Nutrition data is gathered primarily from the Spoonacular Database, whenever available, or otherwise other online calculators.
Pin Recipe
Alternative Preparation Method: Szechuan Style Beef in the Oven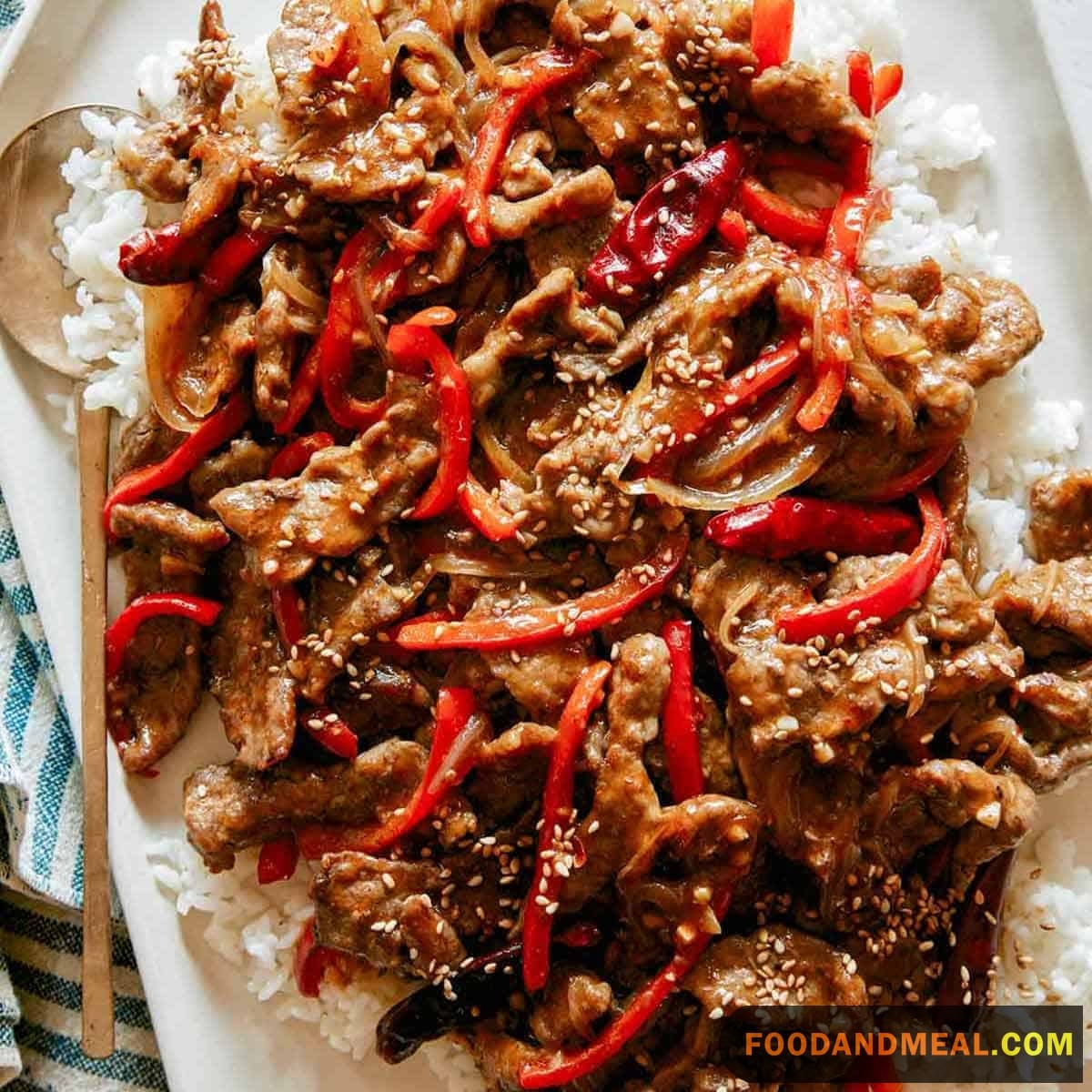 Ingredients:
1 pound of beef, thinly sliced
2 tablespoons of vegetable oil
2 cloves of garlic, minced
1 tablespoon of ginger, minced
1/4 cup of low-sodium soy sauce
2 tablespoons of Szechuan peppercorns
2 tablespoons of red pepper flakes (adjust to your spice preference)
2 tablespoons of hoisin sauce
1 tablespoon of honey
2 green onions, chopped
1 red bell pepper, sliced
Cooked white rice for serving
Instructions:
Preheat your oven to 350°F (175°C).
In an oven-safe skillet, heat the vegetable oil over medium-high heat.
Add the minced garlic and ginger to the skillet, sauté for a minute until fragrant.
Place the thinly sliced beef into the skillet, and stir-fry until it's just browned, which should take about 2-3 minutes.
In a small bowl, mix the soy sauce, Szechuan peppercorns, red pepper flakes, hoisin sauce, and honey. Pour this sauce over the beef, stirring well to ensure it's evenly coated.
Add the sliced red bell pepper to the skillet, and continue to cook for another 2-3 minutes until it starts to soften.
Transfer the skillet to the preheated oven and bake for about 15-20 minutes. This will allow the flavors to meld together, and the beef to become tender.
Once out of the oven, sprinkle the chopped green onions on top.
Serve your delicious Szechuan Style Beef over a bed of cooked white rice, and enjoy your oven-baked masterpiece!
Tips for making Szechuan Style Beef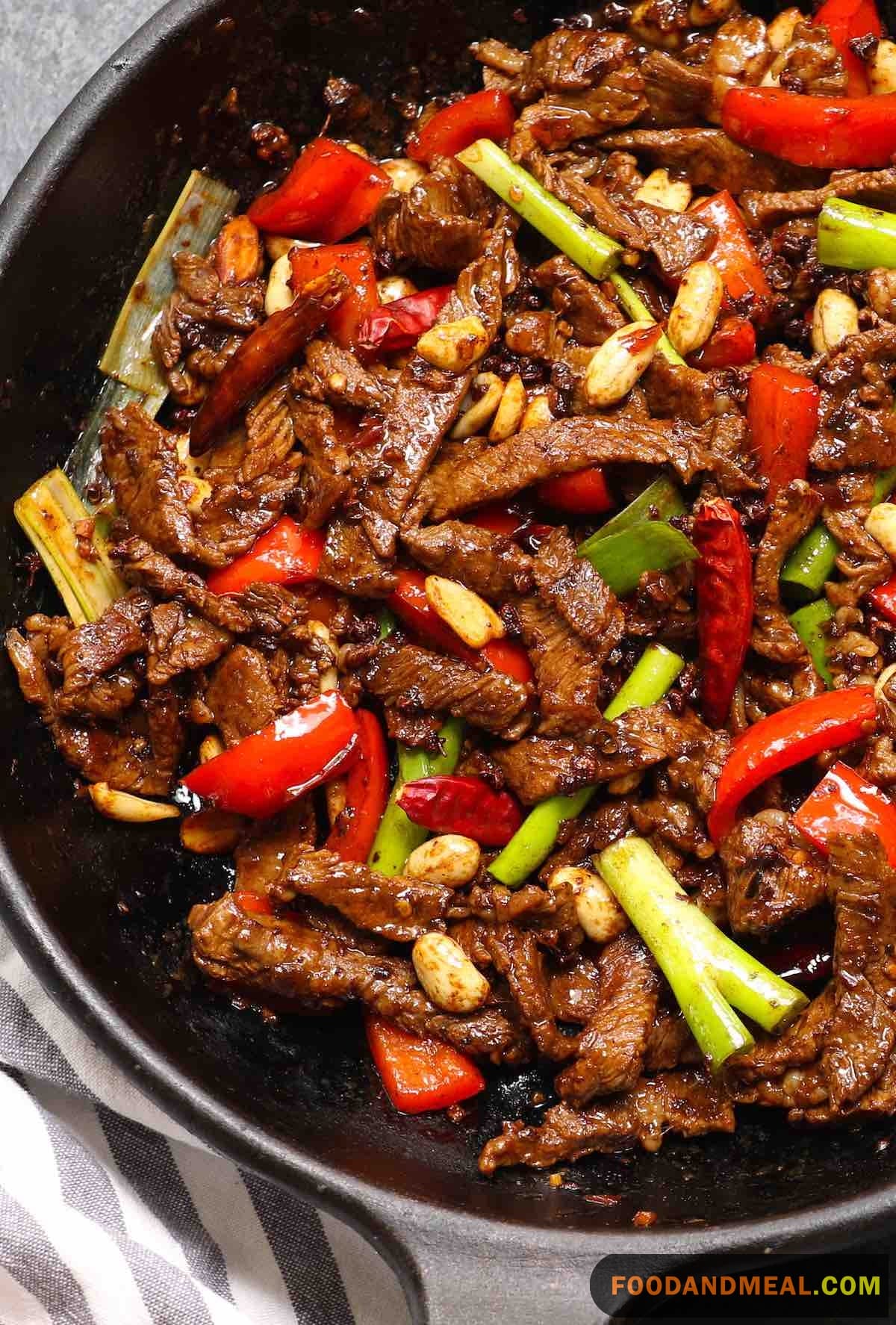 Cooking Tips for Perfect Szechuan Style Beef
Quality Cuts of Beef: Use a tender cut of beef like sirloin or flank steak. Ensure that it's thinly sliced against the grain for maximum tenderness.
Marination Time: Let the beef marinate in the Szechuan sauce for at least 30 minutes before cooking. This allows the flavors to infuse the meat deeply.
Adjust the Heat: Szechuan cuisine is known for its fiery flavors. Adjust the amount of red pepper flakes according to your spice tolerance. You can always start with a smaller amount and add more later.
Use an Oven-Safe Skillet: If you're opting for the oven cooking method, make sure your skillet is oven-safe to avoid any mishaps.
Don't Overcook: Whether on the stovetop or in the oven, avoid overcooking the beef. It should be tender and slightly pink in the center when done.
Serve Hot: Szechuan Style Beef is at its best when served immediately, so have your sides ready and your guests gathered for a wonderful meal.
Serving Suggestions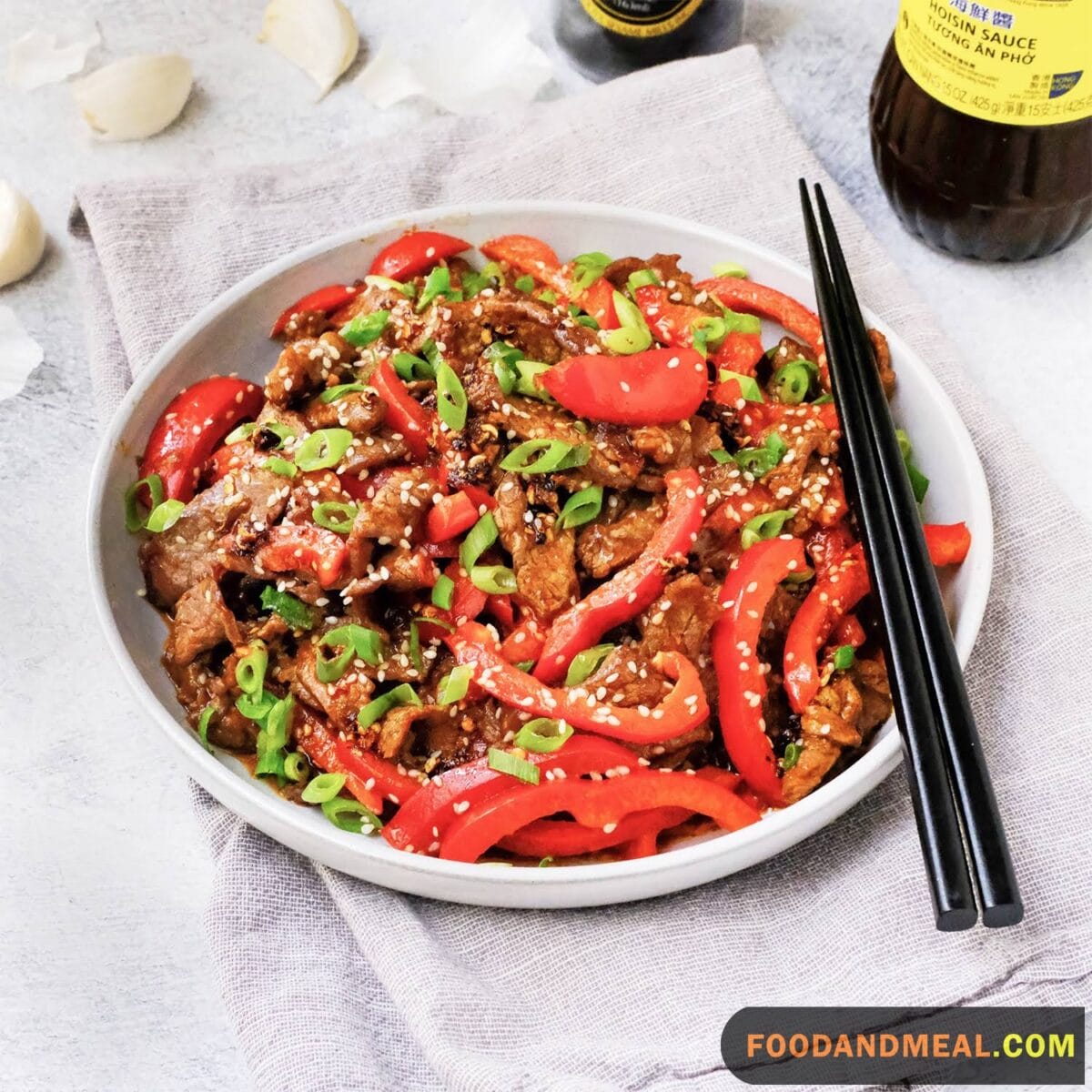 Steamed Jasmine Rice: The subtle aroma of jasmine rice complements the bold flavors of the dish. Its fluffy texture is perfect for soaking up the sauce.
Stir-Fried Vegetables: Serve alongside stir-fried or steamed vegetables like bok choy, broccoli, or snap peas to add freshness and crunch to the meal.
Garnish with Cilantro: A sprinkle of fresh cilantro leaves adds a burst of herbal freshness that beautifully balances the heat.
Soy Dipping Sauce: Provide a small bowl of soy sauce with a dash of rice vinegar and a pinch of sugar for dipping—it offers a pleasant contrast to the spiciness.
Cold Beer or Iced Tea: The coolness of a light beer or a refreshing glass of iced tea can help tame the heat if the dish turns out spicier than expected.
Frequently Asked Questions about making Szechuan Style Beef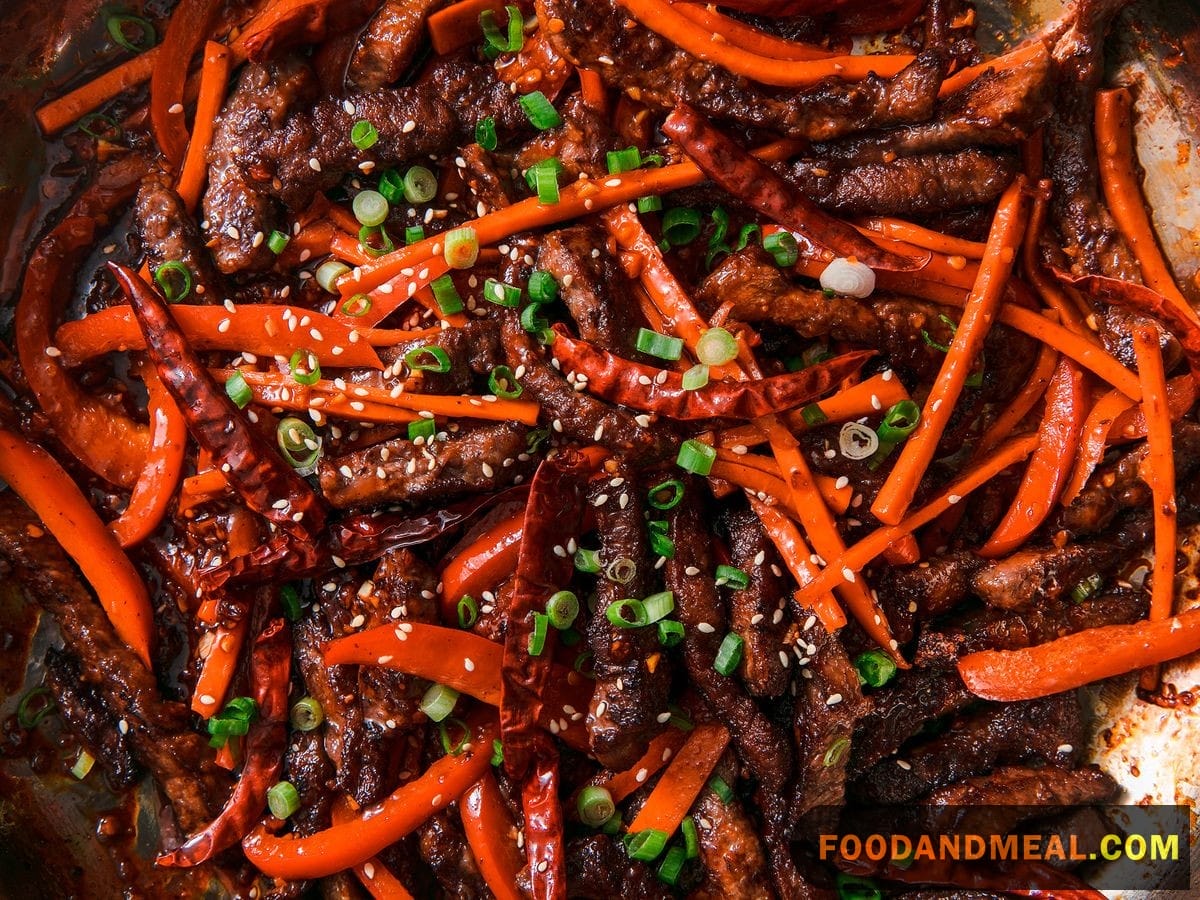 Can I make this dish less spicy? Yes, certainly. Adjust the amount of red pepper flakes or Szechuan peppercorns to suit your spice preference. You can start with less and add more as you go.
How do I store leftovers? To store any leftover Szechuan Style Beef, place it in an airtight container and refrigerate. Reheat gently on the stovetop or in the microwave, but be cautious not to overcook the beef.
Can I use a different protein? While beef is traditional, you can also prepare this dish with chicken, pork, or tofu if you prefer. Adjust cooking times as needed.
What is the key ingredient in Szechuan cuisine? Szechuan cuisine is renowned for the unique flavor of Szechuan peppercorns, which have a numbing and citrusy taste. These peppercorns, along with chili peppers, are the foundation of Szechuan flavor.
How can I make this dish gluten-free? You can make a gluten-free version of Szechuan Style Beef by using gluten-free soy sauce and ensuring that all the sauces and condiments you use are free from gluten. Check labels for any hidden sources of gluten.
Unlock the bold flavors of Szechuan cuisine with our Szechuan Style Beef recipe. Follow our expert guide and subscribe for more culinary adventures!
I'm James F Anderson, a noted sous chef from London and a Le Cordon Bleu alumnus. My career began in a Michelin-starred Parisian eatery, where my blend of classic and contemporary cooking, using seasonal ingredients, earned accolades. Recognized in culinary publications and on cooking shows, I'm committed to mentoring aspiring chefs and delivering memorable dining experiences, marking me as a standout talent in the culinary world.
Affiliate DisclaimerAbout The Content
As an affiliate, we may earn a commission from qualifying purchases. We get commissions for purchases made through links on this website from Amazon and other third parties.