Steamed green soybean recipes is good for you, and it is one of the most nutritious foods you can eat. It is rich in phytonutrients, which are good for your body. These nutrients help you live longer, and you will be able to fight off disease more effectively. This vegetable also contains a large amount of protein. It is also good for you when paired with steamed vegetables and fish.
Steamed Green Soybean (Edamame) Recipes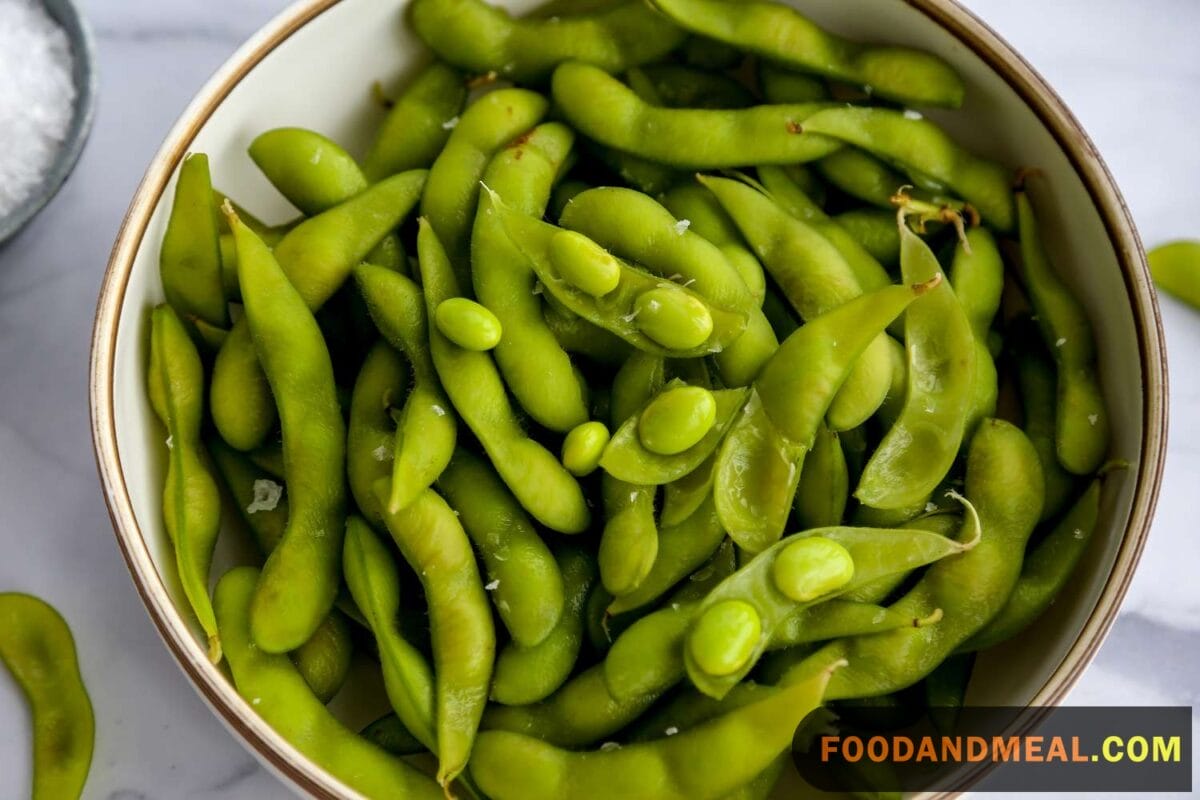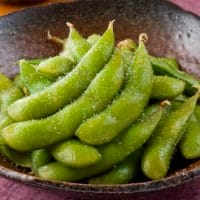 Steamed Green Soybean - Edamame
Steamed green soybean is a popular dish in the Far East. It is a delicious food, and it is easy to make. Soybeans are edible, and the pods can be bought frozen at Asian markets. Just boil them for 5-7 minutes, then remove from the water and let them cool down. 
Print
Pin Recipe
Add to Collection
Go to Collections
Equipment
Ingredients
2

cups

edamame in the pod

topped and tailed, fresh or frozen

2 ½

tablespoons

sea salt

divided Water, for boiling
Instructions
Rub the pods with about 1 tablespoon of salt.

In a medium saucepan, boil enough water to cover edamame. Stir in the remaining salt.

Boil the edamame for 3-5 minutes, or until it floats to the surface. Remove the pot from the heat and drain out the water.

Spread the edamame on a tray in one layer to cool. You may use a fan for faster cooling.

Squeeze the pods with a thumb and forefinger to pop the beans out of the pod.

Serve. (Do not eat the pod.)
Notes
To serve, sprinkle them with salt and serve with rice crackers. The dish is best enjoyed fresh, so try to find a local farmer's market where you can buy these.
Share by Email
Share on Facebook
Share on Twitter
Nutrition
Serving:
4
servings
|
Calories:
95
kcal
|
Carbohydrates:
8
g
|
Protein:
8
g
|
Fat:
4
g
|
Saturated Fat:
1
g
|
Polyunsaturated Fat:
2
g
|
Monounsaturated Fat:
1
g
|
Trans Fat:
1
g
|
Sodium:
4365
mg
|
Potassium:
339
mg
|
Fiber:
4
g
|
Sugar:
2
g
|
Vitamin C:
5
mg
|
Calcium:
52
mg
|
Iron:
2
mg
© Food And Meal
This website provides approximate nutrition information for convenience and as a courtesy only. Nutrition data is gathered primarily from the Spoonacular Database, whenever available, or otherwise other online calculators.
Pin Recipe
Alternative Cooking Method: Sautéed Green Soybeans with Garlic and Lemon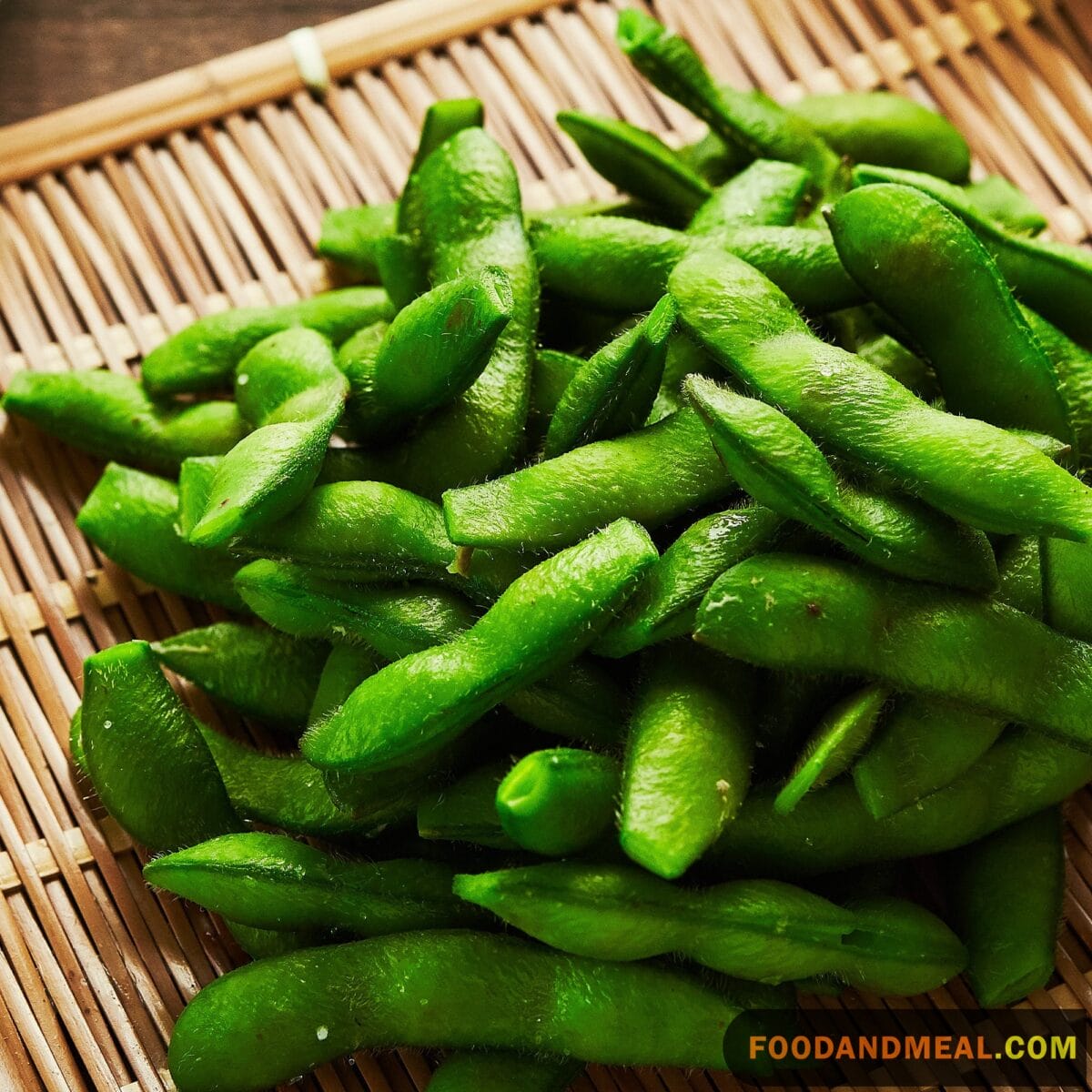 Ingredients:
2 cups fresh or frozen green soybeans (edamame), thawed
2 cloves garlic, minced
2 tablespoons olive oil
1 lemon, zested and juiced
Salt and pepper to taste
Fresh parsley, chopped, for garnish
Instructions:
Prep the Green Soybeans: If using frozen green soybeans, ensure they're completely thawed. If using fresh ones, blanch them in boiling water for 3-4 minutes, then drain and rinse with cold water. This will make them easier to sauté.
Sauté with Garlic: Heat a large skillet over medium-high heat. Add the olive oil and minced garlic. Sauté for about 1-2 minutes until the garlic becomes fragrant and slightly golden.
Add Green Soybeans: Add the green soybeans to the skillet. Sauté for 5-6 minutes, stirring occasionally, until they become slightly crispy and charred.
Lemon Zest and Juice: Zest the lemon directly into the skillet, then cut it in half and squeeze the juice over the green soybeans. This adds a burst of citrusy freshness to the dish.
Season and Garnish: Season with salt and pepper according to your taste. Garnish with freshly chopped parsley for a pop of color and an extra layer of flavor.
Serve Hot: Transfer the sautéed green soybeans to a serving plate. They are now ready to be enjoyed as a flavorful side dish or a delightful snack.
Tips for making Steamed Green Soybean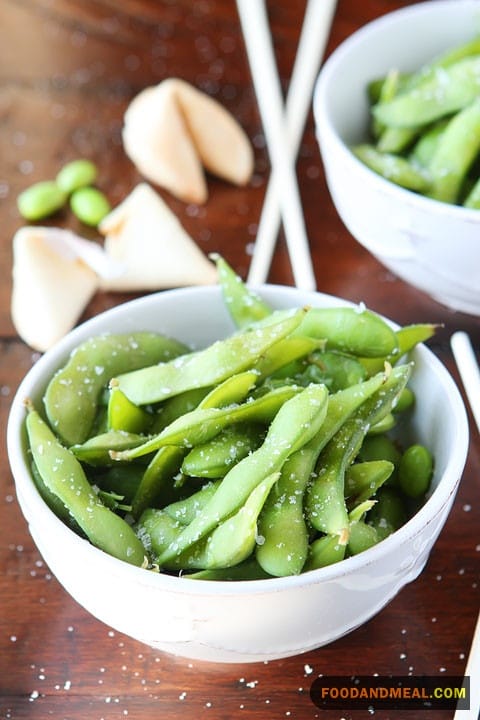 Cooking Tips
Unlock the Best Green Soybeans: If using frozen green soybeans, make sure they're completely thawed before cooking. For fresh ones, a quick blanch in boiling water followed by an ice bath helps retain their vibrant green color.
Don't Overcook: Whether steaming or sautéing, avoid overcooking green soybeans. They should be tender yet slightly crisp to maintain their delightful texture.
Flavor Variations: Experiment with different seasonings like chili flakes, sesame seeds, or soy sauce to add unique flavors to your green soybeans.
Avoid Salt in Steaming Water: When steaming green soybeans, skip adding salt to the boiling water as it may toughen the skin.
Serving Suggestions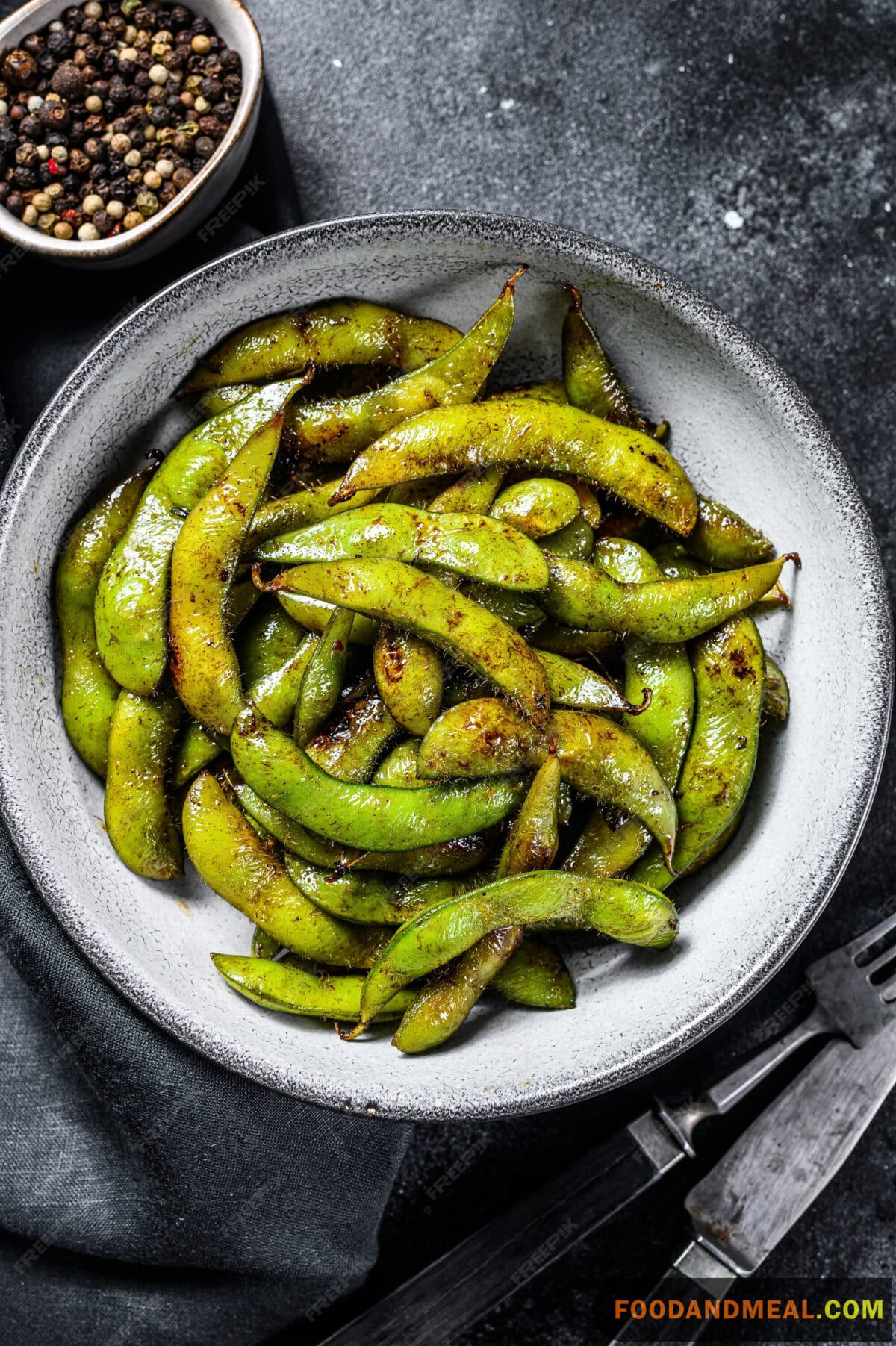 Complementary Sides: Serve green soybeans with a side of soy sauce, ponzu sauce, or a simple dipping sauce made from soy sauce and a dash of rice vinegar.
Garnishes Galore: Enhance the presentation and flavor with garnishes like sesame seeds, chopped scallions, or a sprinkle of togarashi spice mix.
Beverage Pairings: Green soybeans pair wonderfully with light, crisp Japanese lagers or a refreshing green tea to balance the flavors.
Add Them to Dishes: Use sautéed green soybeans as a filling for sushi rolls, or toss them into a bowl of ramen or a stir-fry for added texture and taste.
FAQs (Frequently Asked Questions) about Steamed Green Soybean
How do I store leftover green soybeans? Store them in an airtight container in the refrigerator. Reheat in the microwave or steam them briefly before serving.
Can I eat the green soybean pods? Absolutely! The pods are edible and contribute to the overall flavor and texture.
Do I need to remove the skin before eating green soybeans? You can eat them whole, including the skin. It's a matter of personal preference.
How can I make green soybeans less salty? To reduce saltiness, soak frozen green soybeans in cold water for a few minutes, then drain.
Are green soybeans and edamame the same thing? Yes, green soybeans and edamame are the same – edamame is just the Japanese term for young soybeans. Enjoy them in various dishes!
Learn how to cook the perfect steamed green soybeans in a few simple steps. Elevate your snacking game with this delectable recipe!
I'm James F Anderson, a noted sous chef from London and a Le Cordon Bleu alumnus. My career began in a Michelin-starred Parisian eatery, where my blend of classic and contemporary cooking, using seasonal ingredients, earned accolades. Recognized in culinary publications and on cooking shows, I'm committed to mentoring aspiring chefs and delivering memorable dining experiences, marking me as a standout talent in the culinary world.
Affiliate DisclaimerAbout The Content
As an affiliate, we may earn a commission from qualifying purchases. We get commissions for purchases made through links on this website from Amazon and other third parties.