We are always looking for ways to eat more veggies, especially early in the day. With this simple pumpkin pie recipe, you not only get to have pie for breakfast, but you also get a serving of veggies packed with a good amount of protein, tons of vitamin A, and even a dose of iron.
BLW Pumpkin Pie for Breakfast Recipe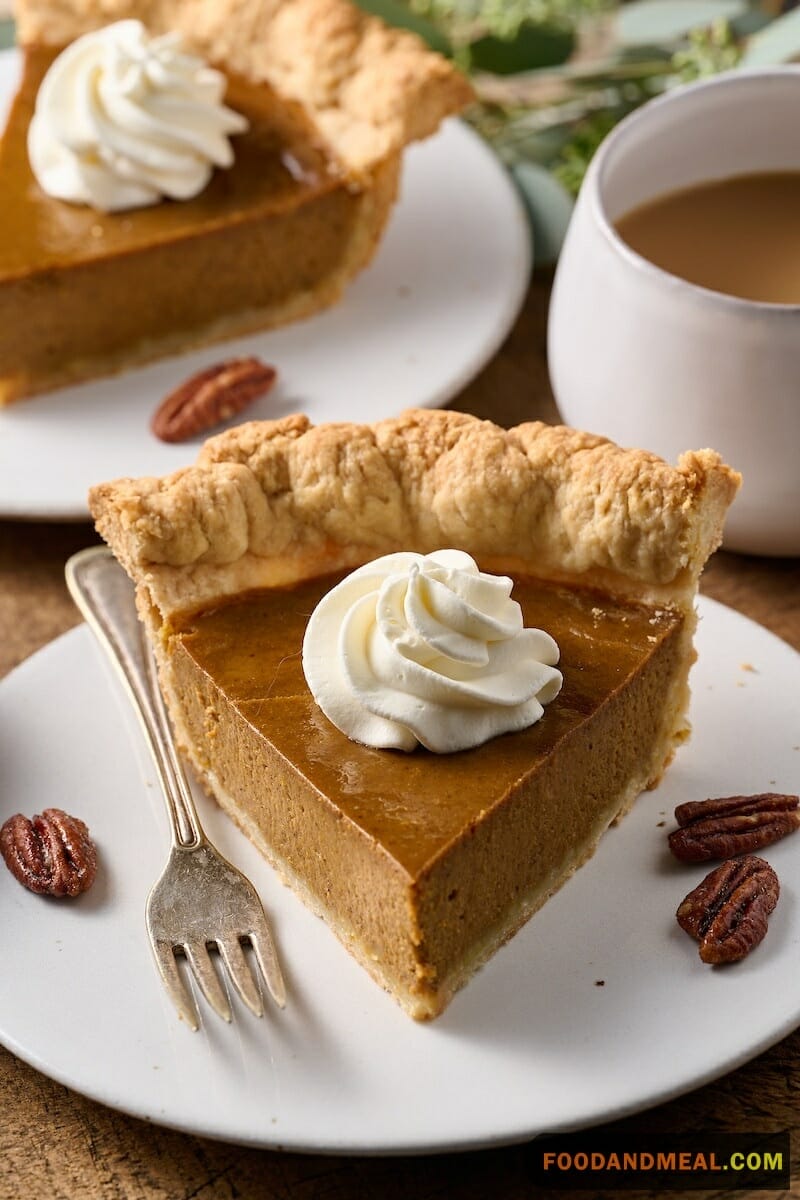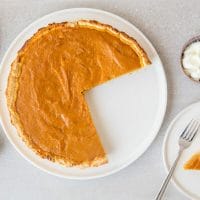 Pumpkin Pie
Pumpkin pie is a dessert pie made with a spiced pumpkin-based custard filling. The pumpkin is the more commonly used type of squash, but other varieties are also commonly used. The flavor and appearance of the pumpkin make it a traditional fall and early winter dish. Although other types of squash are also used to make the pie, it is still the traditional dessert of fall and early winter. Here are some tips for making a pumpkin-pie.
Print
Add to Collection
Go to Collections
Equipment
Instructions
Preheat the oven to 350°F, and use butter to grease a 9-inch pie pan.

In a large bowl, whisk together all ingredients until smooth.

Pour the mixture into the prepared pan and bake for 20 to 25 minutes, until set in the center. Serve warm.

Refrigerate leftovers in a container with a tightly fitting lid for up to 3 days.
Notes
TIP: To sweeten this recipe, add in 2 tablespoons of maple syrup while whisking ingredients together.
Share by Email
Share on Facebook
Share on Twitter
Nutrition
Serving:
1
yield
|
Calories:
586
kcal
|
Carbohydrates:
94
g
|
Protein:
32
g
|
Fat:
16
g
|
Saturated Fat:
6
g
|
Polyunsaturated Fat:
3
g
|
Monounsaturated Fat:
6
g
|
Trans Fat:
1
g
|
Cholesterol:
497
mg
|
Sodium:
228
mg
|
Potassium:
4900
mg
|
Fiber:
7
g
|
Sugar:
41
g
|
Vitamin A:
116594
IU
|
Vitamin C:
123
mg
|
Calcium:
442
mg
|
Iron:
14
mg
© Food And Meal
This website provides approximate nutrition information for convenience and as a courtesy only. Nutrition data is gathered primarily from the Spoonacular Database, whenever available, or otherwise other online calculators.
Alternative Method: Slow Cooker Pumpkin Pie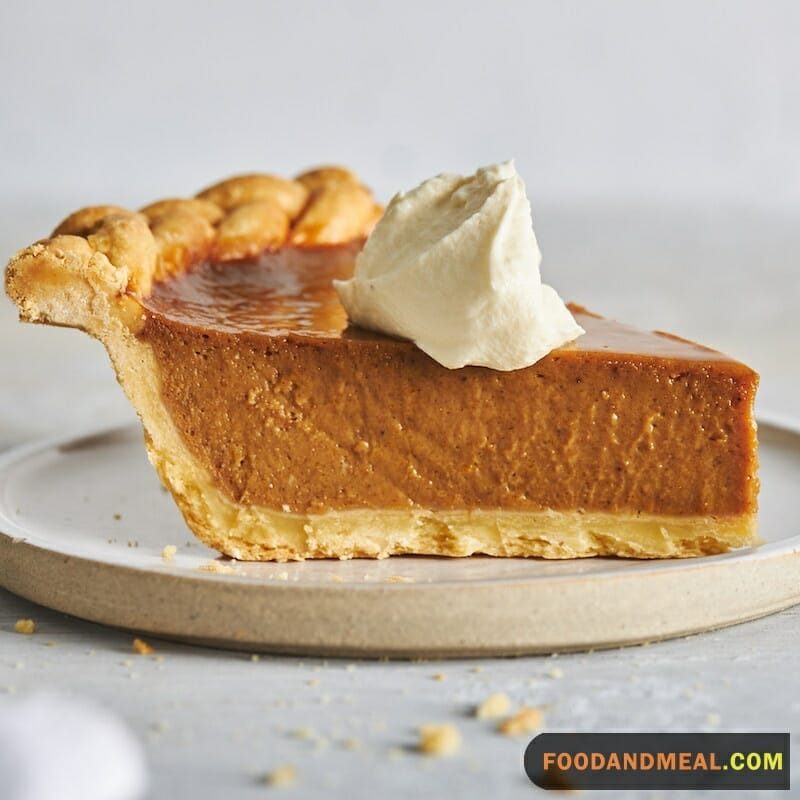 Ingredients:
1 ½ cups pumpkin puree
1 can (14 ounces) sweetened condensed milk
2 large eggs
1 teaspoon ground cinnamon
½ teaspoon ground nutmeg
¼ teaspoon ground cloves
¼ teaspoon ground ginger
1 premade pie crust
Whipped cream and ground cinnamon (for garnish)
Instructions:
Start by preparing your premade pie crust. You can use a store-bought one or make your own if you prefer. Place the pie crust into your slow cooker, ensuring it covers the bottom and slightly climbs up the sides.
In a mixing bowl, combine the pumpkin puree, sweetened condensed milk, eggs, and all the spices (cinnamon, nutmeg, cloves, and ginger). Mix well until everything is thoroughly combined.
Pour the pumpkin mixture into the pie crust inside the slow cooker.
Cover the slow cooker with its lid and set it to low heat. Allow the pumpkin pie to cook for 4-5 hours. The edges should be set, but the center can remain slightly soft. Cooking times may vary depending on your slow cooker, so keep an eye on it after 4 hours.
Once the pumpkin pie is done, turn off the slow cooker and carefully remove the ceramic insert. Allow the pie to cool to room temperature.
Once cooled, refrigerate the pumpkin pie for at least 2 hours or until it's chilled and set.
When you're ready to serve, garnish the pumpkin pie with a dollop of whipped cream and a sprinkle of ground cinnamon.
Slice, serve, and enjoy your Slow Cooker Pumpkin Pie with all the delightful flavors of the classic dessert, minus the oven time!
Tips for making Pumpkin Pie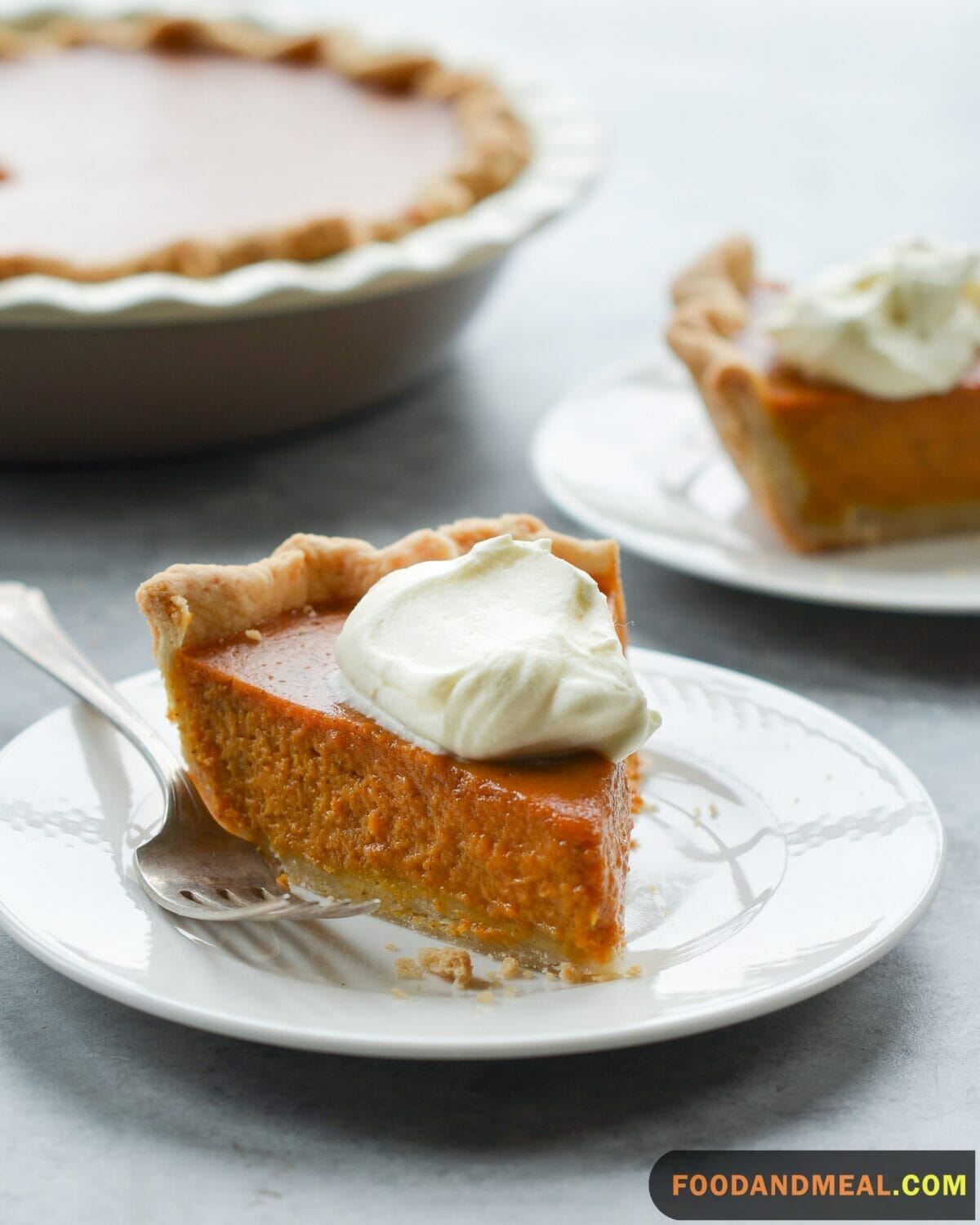 Cooking Tips for Perfect Pumpkin Pie
Use Fresh Spices: For the best flavor, use fresh spices rather than those that have been sitting in your pantry for years. Freshly ground nutmeg and cinnamon can make a significant difference.
Blind Bake the Crust: To prevent a soggy bottom crust, consider blind baking it. Simply pre-bake the crust for about 10 minutes before adding the filling.
Check for Doneness: The key to a successful pumpkin pie is to bake it until the center is set but still slightly jiggly. Overbaking can lead to a dry pie, so keep a close eye on it towards the end of the baking time.
Invest in Quality Puree: While canned pumpkin puree is convenient, using homemade roasted pumpkin puree can elevate the flavor of your pie. Roast and puree your pumpkins if you have the time.
Avoid Overmixing: When combining the pie filling ingredients, mix until just combined. Overmixing can lead to a dense and less-than-perfect texture.
Serving Suggestions for Your Pumpkin Pie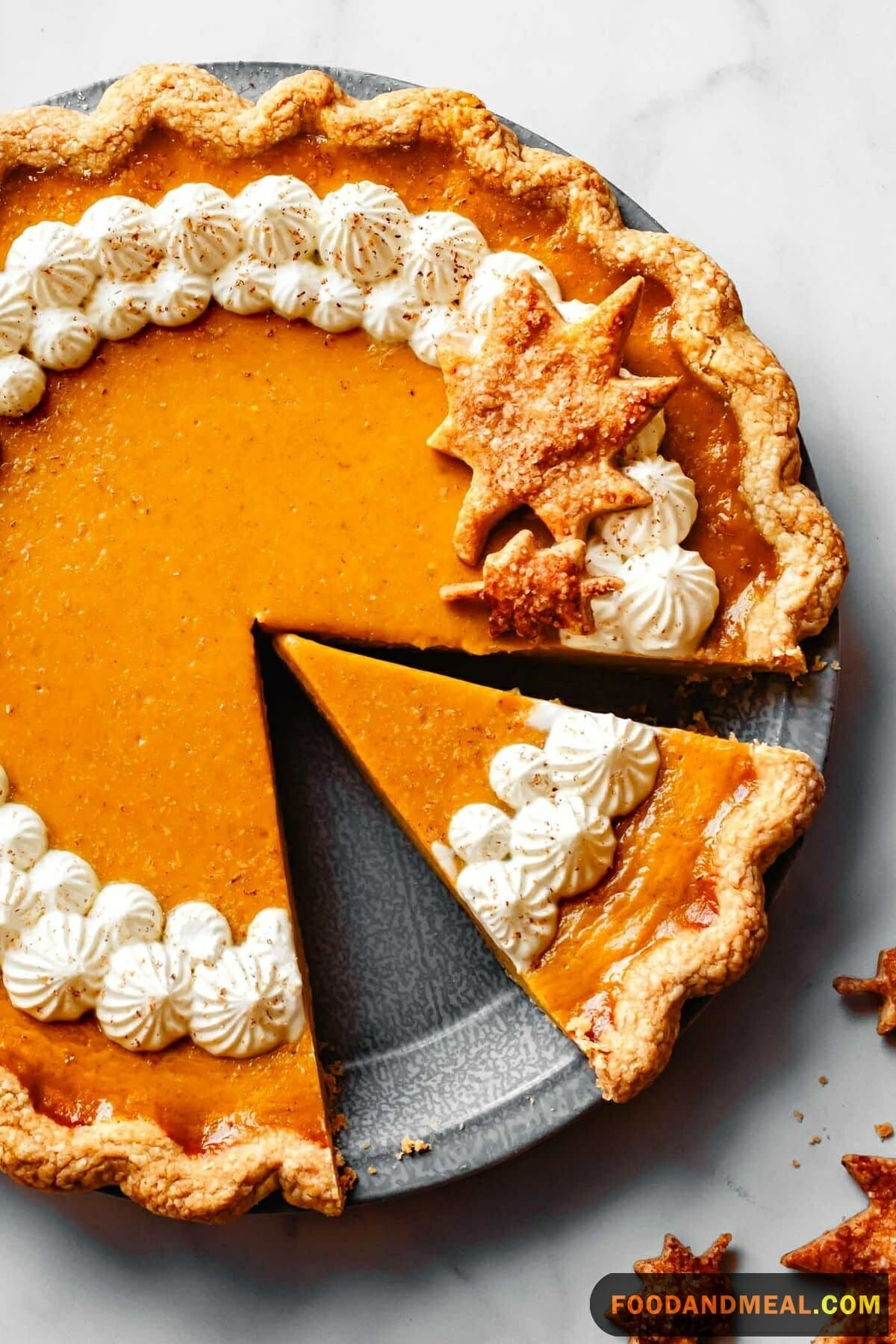 Whipped Cream: A generous dollop of homemade whipped cream is a classic topping for pumpkin pie. Add a touch of cinnamon or nutmeg to the whipped cream for extra flavor.
Vanilla Ice Cream: Serve a slice of warm pumpkin pie with a scoop of vanilla ice cream for a delightful contrast in temperatures and textures.
Caramel Drizzle: Drizzle warm caramel sauce over your pie for a sweet and indulgent twist.
Pecans or Walnuts: Add some texture and nuttiness by sprinkling chopped pecans or walnuts on top of your whipped cream.
Coffee or Chai Tea: Pumpkin pie pairs wonderfully with a cup of coffee or a spiced chai tea. The flavors complement each other beautifully.
Frequently Asked Questions about making and serving Pumpkin Pie?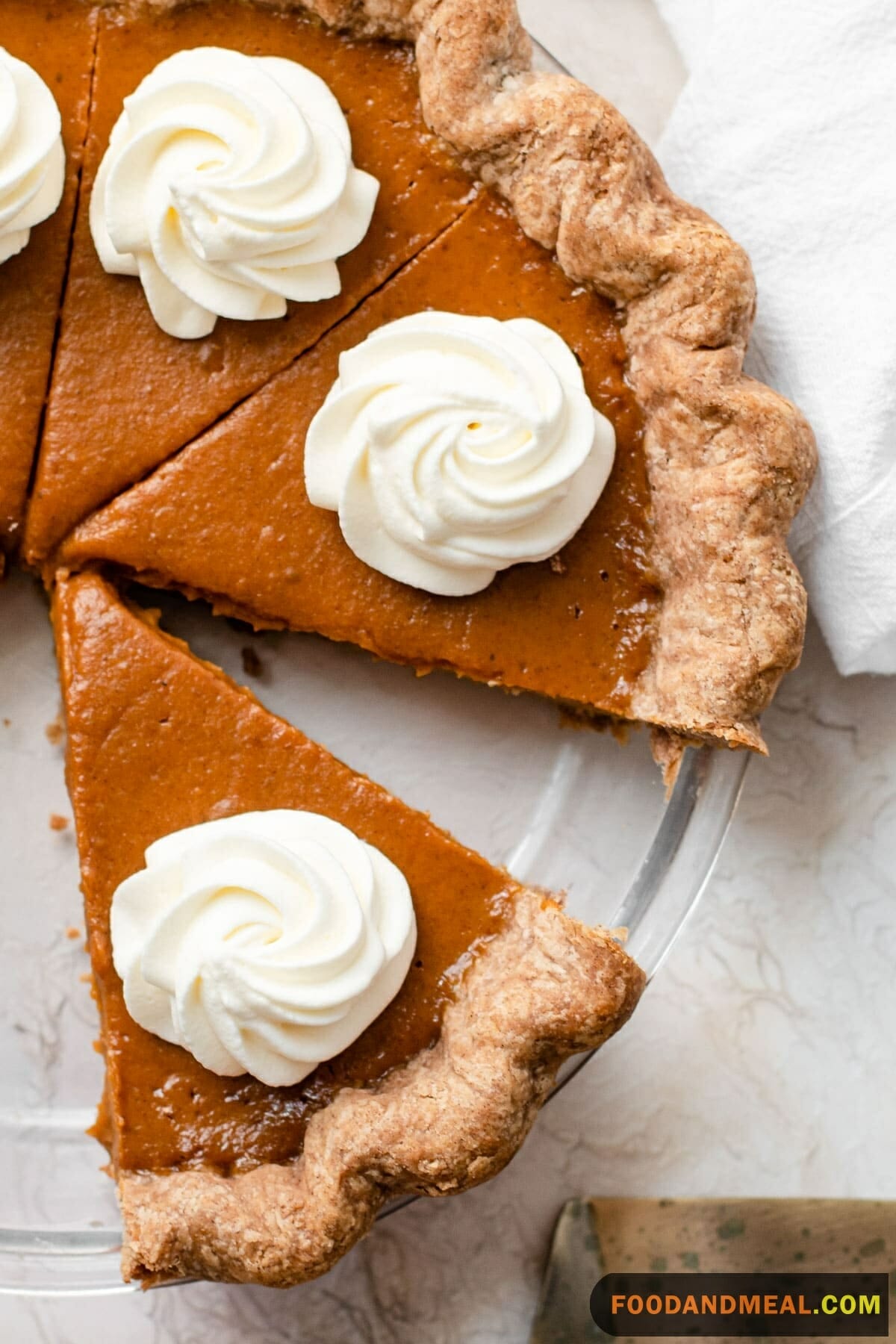 Can I make the pie ahead of time? Yes, you can make pumpkin pie a day in advance. Refrigerate it overnight and serve it chilled or at room temperature.
How do I store leftover pumpkin pie? Leftover pumpkin pie should be covered with plastic wrap or foil and refrigerated. Consume it within 2-3 days.
Can I freeze pumpkin pie? Yes, pumpkin pie can be frozen. Wrap it tightly in plastic wrap and aluminum foil, and freeze for up to 2-3 months. Thaw it in the refrigerator before serving.
What if my pie cracks on top? If your pie cracks on top, don't worry. You can cover the cracks with whipped cream, caramel sauce, or a dusting of powdered sugar when serving.
Can I use fresh pumpkin instead of canned puree? Absolutely! Using fresh pumpkin can enhance the flavor of your pie. Simply roast, puree, and use it in place of canned puree in your recipe.
Indulge in the flavors of fall with our scrumptious Pumpkin Pie recipe. Get expert tips, serving suggestions, and answers to FAQs. Subscribe for more delicious recipes!
Affiliate DisclaimerAbout The Content
As an affiliate, we may earn a commission from qualifying purchases. We get commissions for purchases made through links on this website from Amazon and other third parties.