Print
How to Cook a Brick Roast – 8 easy Steps
---
Description
Brick roast actually comes in different names—Square Roast, French Roast, etc. This one genuine kosher dish made from the softest and juiciest beef cut which is the chuck but you can also try the rib and brisket part.  Since these three are certified kosher, you will surely experience the succulence extraordinaire. Even if the price could be pretty hefty, eating brick roast is all worth every penny.   Now, if you want to trim expenses, try cooking this at home—either for yourself only or with guests.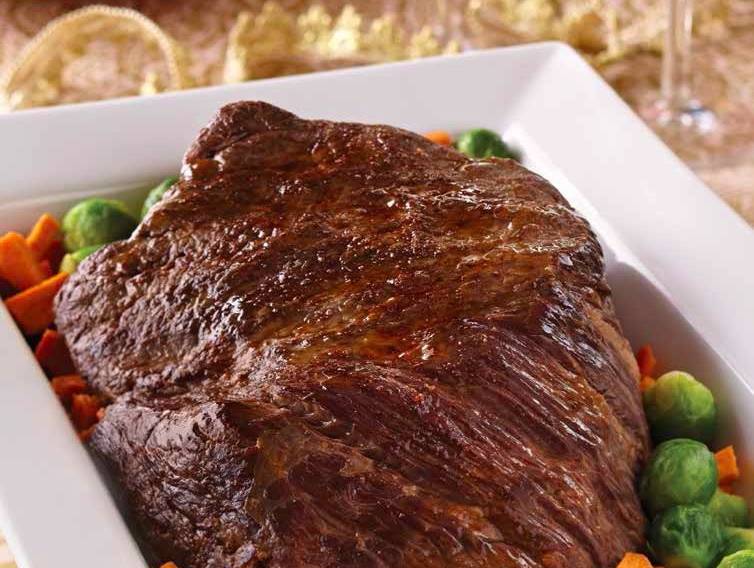 ---
Scale
Ingredients
3

–

4

lb. brick roast, unfrozen

6

cloves garlic, sliced

2 cups

of coffee

1

package dried mushrooms
salt
pepper
paprika (optional)
For serving
Sauce or gravy (optional)
Materials
Roasting pan
Meat thermometer
Sharp knife
---
Instructions
Put salt, pepper and paprika on your brick roast, making sure that both sides are well-seasoned. Place the seasoned meat in a ceramic or Pyrex.
Using a sharp knife, create necessary slits on the meat. Insert the sliced cloves of garlic into the cuts.
Pour the coffee into the Pyrex and add the mushrooms after.
Cover the Pyrex with lid or plastic wrap and marinate the meat overnight.
The next day, cover the meat with aluminium foil. Cook the marinated meat into a 400⁰F heat within 2 hours.
Get it out of the oven and let it cool for some time.
Get the roasted meat and slice it into the desired cut, and then put it back to its juices. Cover the Pyrex again and cook into the oven for another 30 minutes.
Serve with desired gravy or sauce.
Notes
You can season your brick roast with herbs and other seasonings.
You can substitute dried herbs and spices from the fresh seasonings.
If you want a medium-rare brick roast, the internal temperature of the meat should be at least 145⁰F; for the medium, 160⁰F; and pot-roast style, between 200-212⁰