When I look back at my culinary escapades, the vibrant feasts of holiday dinners hold a poignant space in my memories. The sizzle of the grill, the wafting scent of herbs and spices, and the orchestrated dance of flavors in every bite—it's an enchantment hard to resist. Over time, amidst the galaxy of dishes I've brought to life, there's a mesmerizing allure in the richness and depth of the Brick Roast. Today, as we tread the path of this gastronomic marvel, I offer not just a recipe, but a canvas of emotions, traditions, and heartfelt moments.
Brick Roast, with its robust character, is a cornerstone of many celebratory feasts. Should you embark on this culinary quest, choosing a premium cut is paramount. In case the traditional cut is elusive, alternatives can be considered, albeit with nuanced differences in taste and texture. The essence of creating the perfect Brick Roast lies in the patient marination and slow-cooking process, culminating in a dish that promises to be the pièce de résistance of any gathering. After perfectly roasting this masterpiece, the world is your oyster in terms of accompaniments and garnishes, elevating every dining experience to an exquisite affair.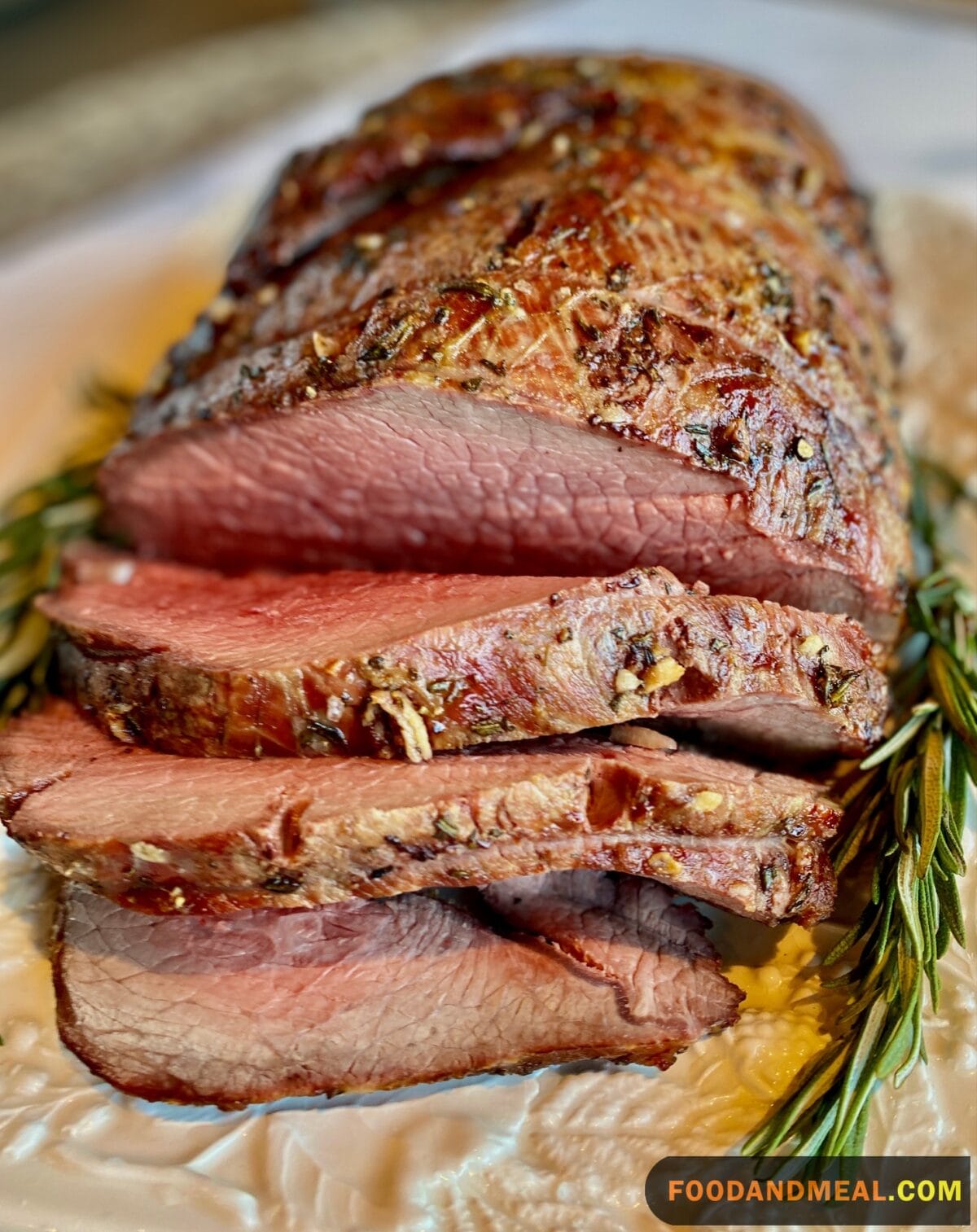 Brick Roast Recipe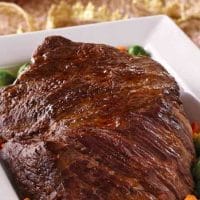 Brick Roast
When I'm standing at the butcher counter deciding what kind of roast I want, brick roast is what my hand reaches for time and time again. It's packed with flavor from all the marbling, and the herbs give it another dimension of flavor.
Print
Pin Recipe
Add to Collection
Go to Collections
Instructions
Put salt,

pepper

and paprika on your brick roast, making sure that both sides are well-seasoned. Place the seasoned meat in a ceramic or Pyrex.

Using a sharp knife, create necessary slits on the meat. Insert the sliced cloves of

garlic

into the cuts.

Pour the coffee into the Pyrex and add the mushrooms after.

Cover the Pyrex with lid or plastic wrap and marinate the meat overnight.

The next day, cover the meat with aluminium foil. Cook the marinated meat into a 400⁰F heat within 2 hours.

Get it out of the oven and let it cool for some time.

Get the roasted meat and slice it into the desired cut, and then put it back to its juices. Cover the Pyrex again and cook into the oven for another 30 minutes.

Serve with desired gravy or sauce.
Notes
You can season your brick roast with herbs and other seasonings.
You can substitute dried herbs and spices from the fresh seasonings.
If you want a medium-rare brick roast, the internal temperature of the meat should be at least 145⁰F; for the medium, 160⁰F; and pot-roast style, between 200-212⁰
Share by Email
Share on Facebook
Share on Twitter
Nutrition
Serving:
4
ounce
|
Calories:
120
kcal
|
Fat:
3.5
g
© Food And Meal
This website provides approximate nutrition information for convenience and as a courtesy only. Nutrition data is gathered primarily from the Spoonacular Database, whenever available, or otherwise other online calculators.
Pin Recipe
Crafting the Perfect Brick Roast Using a Sous Vide Machine
Ingredients:
1 Brick Roast (3-4 pounds)
Salt and pepper, to taste
Fresh herbs of your choice (rosemary, thyme, and garlic work wonders)
2 tbsp olive oil or melted butter
Method:
Preparation: Begin by seasoning the Brick Roast generously with salt, pepper, and your chosen herbs. Ensure that the roast is evenly coated.
Seal the Deal: Place the seasoned roast in a vacuum-seal bag, adding the olive oil or melted butter. Vacuum-seal the bag, ensuring there's no air left inside.
Sous Vide Setup: Fill your sous vide machine with water and set the temperature to 134°F (56.5°C) for a medium-rare finish. For medium, set it to 140°F (60°C).
Cooking: Once the sous vide machine reaches the desired temperature, submerge the vacuum-sealed roast into the water bath. Cook for a minimum of 6 hours, but it can go up to 10 hours for a deeply intensified flavor. The beauty of sous vide is that it's hard to overcook, as the temperature remains constant.
Final Searing: After the sous vide process, remove the roast from the bag and pat dry with paper towels. In a hot skillet with a bit of oil, sear each side of the roast for about 1-2 minutes until it achieves a beautiful golden-brown crust.
Rest and Serve: Allow the roast to rest for about 10 minutes to let the juices redistribute. Slice against the grain and serve.
Tips for making Brick Roast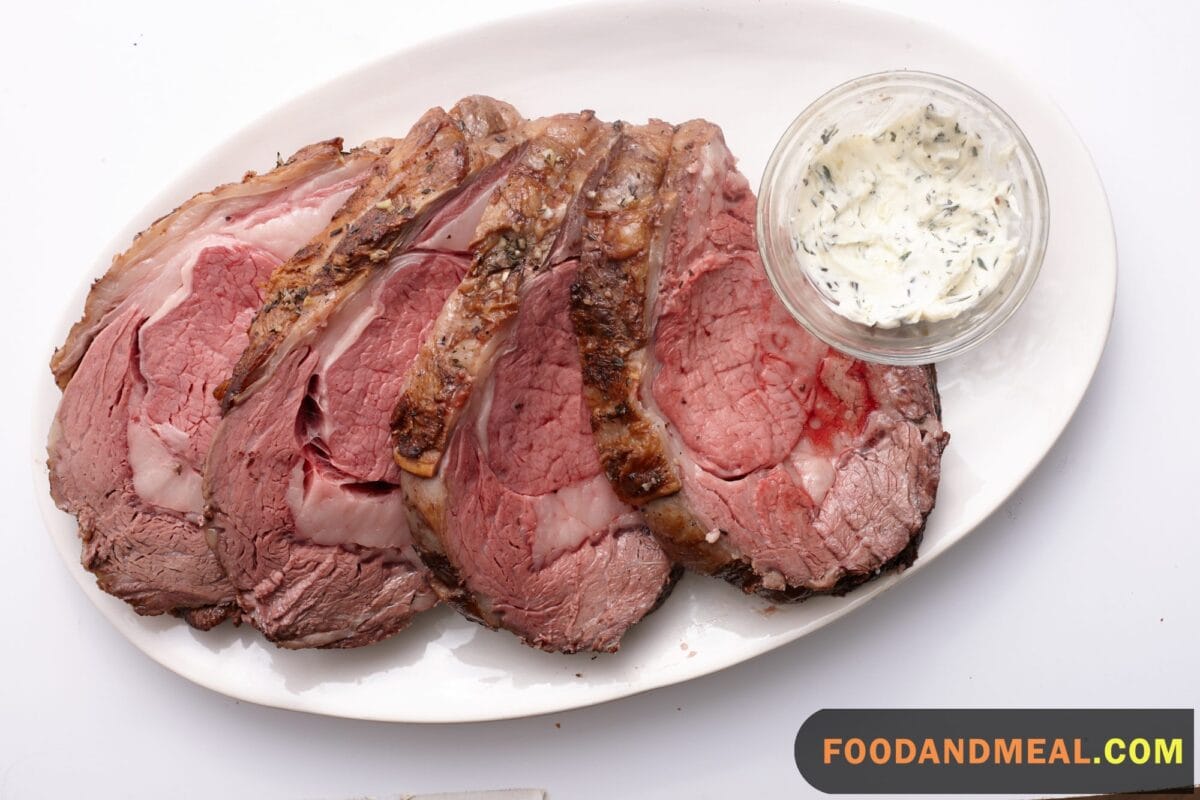 Cooking Tips for a Sublime Brick Roast
Quality First: Investing in a good cut from a reputed butcher makes a world of difference. Organic, grass-fed options usually promise better flavor.
Temperature Matters: Whether using an oven, sous vide, or any method, maintaining consistent temperature ensures even cooking.
Marinating Insights: For an even flavor profile, pierce the roast with a fork before marinating. This ensures deeper penetration of flavors.
Resting the Roast: One of the most overlooked steps—always let the roast rest post-cooking. This ensures juicier slices.
Serving Suggestions for Brick Roast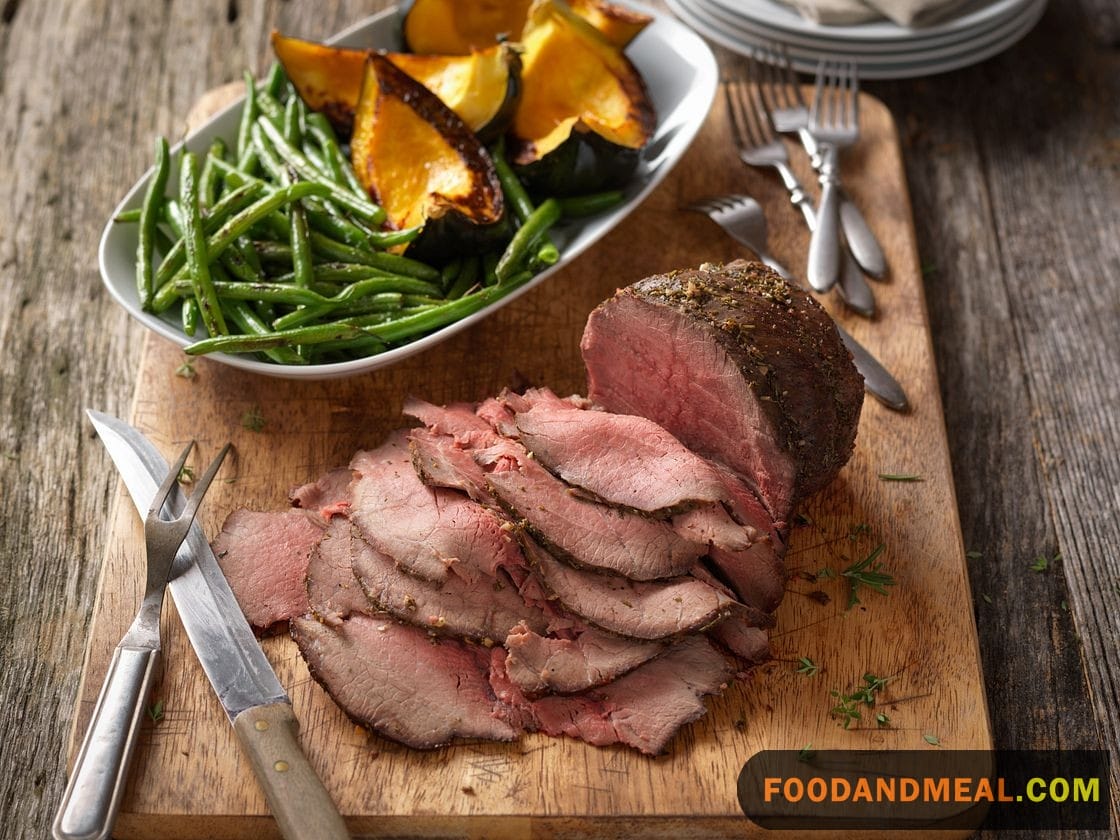 Audience & Occasion: Ideal for festive occasions and family get-togethers, the Brick Roast becomes the centerpiece at formal dinners or casual Sunday brunches.
Complementary Sides: Roasted root vegetables, creamy mashed potatoes, or a light garden salad balance the richness of the roast. For a fresh touch, consider a tangy coleslaw.
Beverages: A full-bodied red wine, like a Cabernet Sauvignon, complements the deep flavors of the roast. For those preferring non-alcoholic options, a cranberry spritzer or a rosemary-infused lemonade adds a refreshing touch.
Diverse Ways to Serve: While traditionally served sliced, consider making gourmet sandwiches with leftovers. Alternatively, dice the roast to stir into salads or pasta for a hearty meal.
FAQs on Brick Roast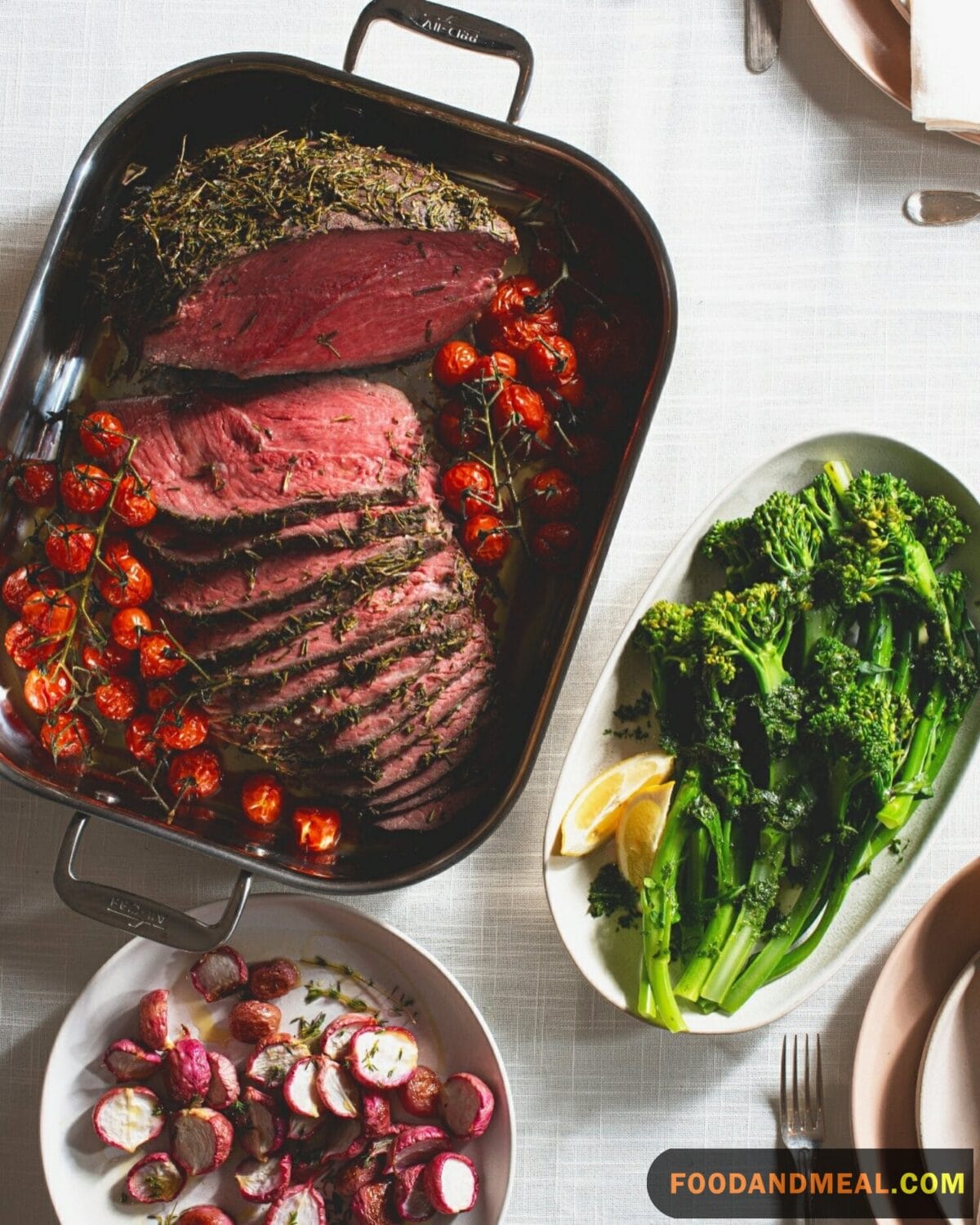 Can I use any other cuts besides Brick Roast? While Brick Roast offers a unique flavor, similar cuts like rib roast or chuck roast can serve as alternatives, though cooking times might vary.
How long should I marinate the roast? Marinating overnight intensifies the flavors. However, if pressed for time, a minimum of 2-4 hours should suffice.
Can I freeze cooked Brick Roast? Yes, ensure the roast is cooled, then wrap it in foil, followed by a plastic wrap. It can be frozen for up to 3 months.
How can I ensure a crusty exterior while keeping the inside tender? The key is a quick sear post the sous vide process. This gives a delightful crust without overcooking the interior.
Is there a vegetarian version? While Brick Roast is inherently meat-based, similar cooking techniques can be applied to hearty veggies like jackfruit or seitan, mimicking the texture and feel.
In the vast tapestry of culinary delights, the Brick Roast stands as an emblem of tradition, mastery, and shared moments. Beyond the layers of flavors and textures, it's the embodiment of gatherings, stories whispered across tables, and the warmth of togetherness. As we savor the last morsels and echoes of laughter fade away, the essence of Brick Roast lingers, reminding us of the timeless bonds forged over shared meals. Here's to the magic of cooking, the memories it evokes, and the promise of many more feasts and stories yet to unfold. Until the next culinary journey, bon appétit!
Affiliate DisclaimerAbout The Author
As an affiliate, we may earn a commission from qualifying purchases. We get commissions for purchases made through links on this website from Amazon and other third parties.