Almonds are easily acquired in parts of China, Greece, the Middle East and Central Asia. However, the best of the kind can actually be picked in Turkey. This Bake Turkish Almond Cookie's fact (and ingredient) actually brought forth revolutionary Turkish cuisines ranging from soup, main dishes to desserts, which are enjoyed not only in Turkey but worldwide.
For this article, we are going to use Turkish almonds as the main ingredient for our cookie recipe. By the way, in Turkey, they call these cookies "Bademli Kurabiyesi."  These sweets are easily made and are almost a constant partner for coffee or tea during the winter season.
Turkish Almond Cookie Recipe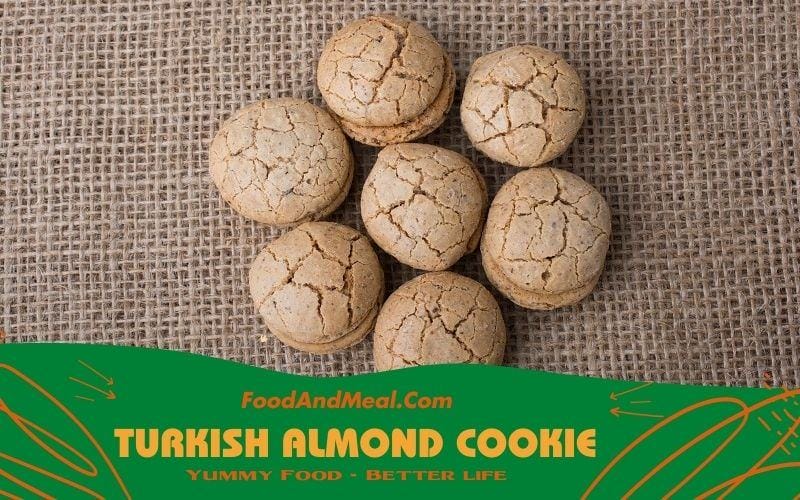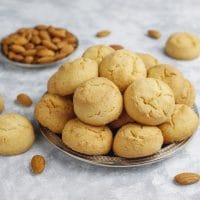 Turkish Almond Cookie or Bademli Kurabiyesi
The Turkish Almond Cookie is a delicious cookie. It is a traditional, homemade treat made with roasted almonds, butter, and powdered sugar. It is usually not very sweet, but can be a delightful addition to a cup of coffee. It is a great treat to enjoy with friends and family. There are several variations of this cookie that you can try out, too. Listed below are some tips for baking this traditional snack.
Print
Add to Collection
Go to Collections
Instructions
Baking Procedure
Get one cup of almonds and put them in a food processor. Put the processor in a high-speed mode to make the almonds to a fine powder form.

Get a mixing bowl, beat the butter (or optional margarine) until it is of a fluffy consistency. Add the sugar variants and beat again until they are all evenly incorporated. Put in the egg whites and vanilla, and then beat again. Lastly, add the flour and almond powder and beat until you have acquired sticky dough.

Flour a flat surface and put the dough over it. Flour your hands, too, and knead the dough for around 5 minutes or until you get a smooth dough.

Get your cookie sheet and line it with non-stick baking paper.

Break off a piece of dough in the size of a walnut and roll it between your palms, making a small ball.

Roll the half sphere of the ball over the granulated sugar. Flip over the ball, making sure that the sugared part is right on top. Get a fork and gently press down the tines onto the ball to make it flat.

Align the dough pieces (or cookies) along with the cookie sheet with the paper lining. Observe a half-inch space between cookies.

Now, get your whole almonds and press one almond at the centre of each cookie.

Bake the cookies in a 175-degree Celsius heat (or approximately 350-degree Fahrenheit) for about 15 minutes or until slightly brown.

Get the cookies out of the oven and let them cool a bit before serving alongside tea or coffee.
Notes
The recipe for Turkish Almond Cookie is very easy to prepare. You only need four ingredients and a non-stick pan. These cookies are extremely light and fluffy, and will remind you of marzipan. If you are gluten- and dairy-free, this recipe will work well for you. The almond flour is available in most grocery stores in Turkey, and it should be at room temperature before preparing the dough. When you have finished baking the cookies, you can then decorate them with almonds.
Share by Email
Share on Facebook
Share on Twitter
Nutrition
Serving:
30
g
|
Calories:
117
kcal
|
Carbohydrates:
14
g
|
Protein:
2
g
|
Fat:
4
g
© Food And Meal
This website provides approximate nutrition information for convenience and as a courtesy only. Nutrition data is gathered primarily from the Spoonacular Database, whenever available, or otherwise other online calculators.
What is Turkish Almond Cookie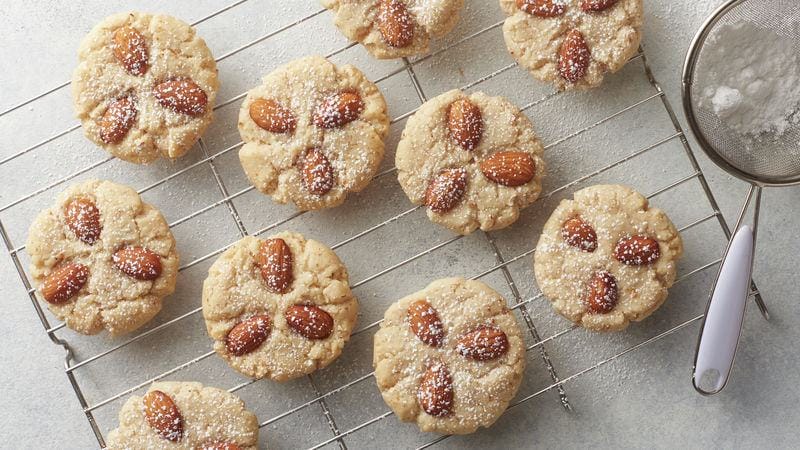 If you are looking for a sweet treat that is traditional to Turkey, try an acibadem cookie. These cookies are made from a combination of almonds, sugar, and egg whites. Although these delicious treats are traditionally bitter, modern recipes use almond extract instead of the actual nuts. These cookies can be found in almost any bakery in Turkey. They are delicious and have a unique flavor that will appeal to any palate.
The name acibadem derives from the bitter almond that is sprinkled on top. This cookie is sweet and delicious, and goes well with a cup of Turkish tea or well-brewed black tea. They are also great with milk or honey. When you are making these cookies, be sure to leave about half an inch of space between each cookie. Bake these treats at a temperature of 175 degrees Celsius or 350 degrees Fahrenheit, and you'll be surprised at how delicious they are!
Traditionally, this cookie is made with semolina, a flour-based flour. Its almond flavor comes from the almonds placed on the cookie. These cookies pair well with a cup of hot Turkish tea and taste great with a little bit of honey. They're also great with classic chocolate desserts, such as cheesecake and tiramisu. These cookies keep well in the refrigerator. You can buy them from a local bakery, online, or at a specialty food store.
Tips for making Turkish Almond Cookie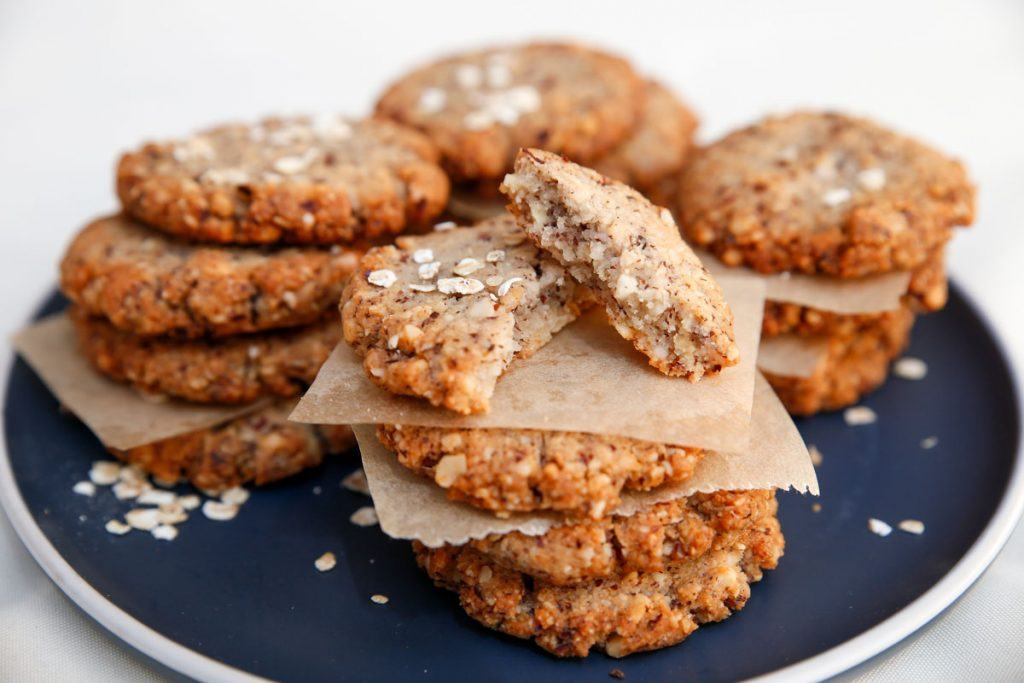 The first step to baking this delicious treat is to prepare the ingredients. This recipe is extremely simple, and only requires four ingredients. It is similar to a marzipan cookie, but is dairy- and gluten-free. It can be made for anyone with dietary restrictions. Make sure you have room temperature egg whites and almond flour. This will help the cookies rise evenly. If you are worried about allergies, don't worry, this recipe is suitable for you.
The next step is to heat the ingredients over medium heat. The mixture should be warm, but not boiling. When it reaches this temperature, spread the dough over lemon juice and let it cool. Then, using a spatula, spoon the dough onto the baking sheet. Once the dough is ready, sprinkle a few almonds on top. Bake for 45 minutes without opening the oven door. If you are making the cookies at home, you can use almond meal instead.
When making a Turkish Almond Cookie, you must keep the ingredients cool. It is best to serve the cookies as they are. They should be kept in a cool place and should be kept at room temperature. They are traditionally served warm. But, if you are preparing the cookies ahead of time, they will stay fresher for longer. If you do not have a fridge, you should leave the dough in the fridge for about an hour.
Thanks for your visiting our Food and Meal website. Like and share this recipe if it is useful for you.
Affiliate DisclaimerAbout The Author
As an affiliate, we may earn a commission from qualifying purchases. We get commissions for purchases made through links on this website from Amazon and other third parties.