This Pecan buttercrunch should come with a warning sign because it is truly addictive. The combination of the sweet buttery toffee, rich dark chocolate, followed by the salty crunchy nuts are heavenly. This recipe makes a large batch, but not to worry, the likelihood of leftovers is very low. It is a really great recipe that I have made countless times, and definitely worth attempting! It is great for parties and makes an amazing gift. (A great source for cellophane bags for hostess gifts is Nashvillewraps, they sell all kinds of pretty packaging!)  You can replace the pecans for caramelized Rice Krispies for those with nut allergies.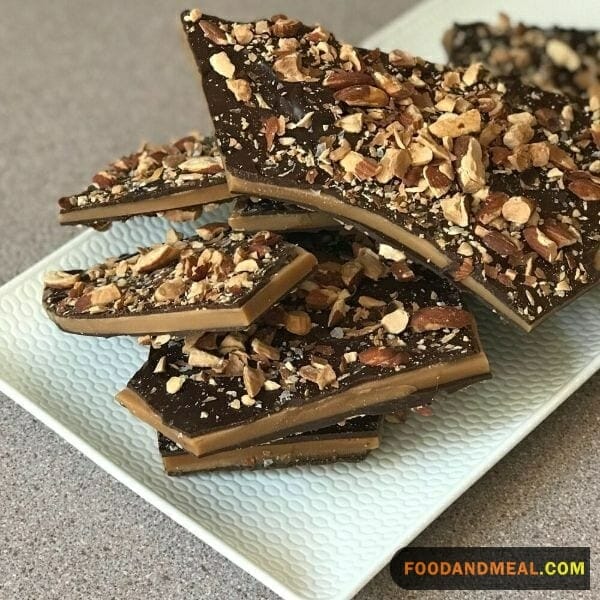 Pecan Buttercrunch Recipes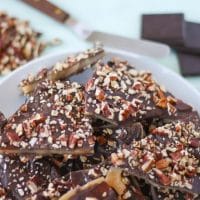 Pecan Buttercrunch
Pecan Buttercrunch Toffee is a delicious treat that can be made in a snap! This fudge recipe contains chocolate, pecans and butter. It is easy to make and makes a wonderful gift for friends and family. It is easy to make and can be enjoyed by the whole family! It is best served as a treat when it is warm, but can also be stored in the refrigerator. To serve, it is best to keep it in an airtight container or on a tray.
Print
Add to Collection
Go to Collections
Equipment
Ingredients
450

g

4 sticks or 2 cups Butter

melted

450

g

16 oz or 2 cups Sugar

90

g

3 0z Water

1

Tsp

Salt

15

g

0.5 oz Vanilla Extract
Optional caramelized Rice Krispies
680

g

2 1/2 cupsDark Chocolate

tempered or just melted

450

g

4 cups Pecans

toasted chopped and salted
Instructions
Prepare a silicone mat or a long section of parchment paper on your counter.

Combine the butter, sugar, water, and salt in a medium saucepan. Bring to a boil, stirring constantly.

Continue to stir the mixture over moderate-high heat till it reaches 298F, This can take approx. 15-20 minutes.

Remove from heat and add the vanilla extract. Stir in well.

Working quickly, spread the mixture over a silicone mat or over parchment paper on your counter, if heatproof. The toffee will set quickly.

Allow to cool completely. Blot the toffee with a towel to remove any excess oil on the surface.

Coat one side of the toffee with half of the chocolate and immediately sprinkle the toasted nuts onto the chocolate.

When the chocolate sets, turn the toffee over, and repeat on the other side.

Break into desired-size pieces.

Store protected from heat and humidity.
Notes
If you're looking for a simple chocolate treat, make Pecan Buttercrunch! It's the perfect snack for any occasion. This treat is a delicious way to celebrate your loved ones and is great for all ages. They are the perfect way to say "I love you" and are always welcome at any gathering! It's the perfect dessert for any occasion! And with just a few ingredients, you'll have a sweet and tasty treat!
Share by Email
Share on Facebook
Share on Twitter
Nutrition
Serving:
4
servings
|
Calories:
1242
kcal
|
Carbohydrates:
113
g
|
Protein:
1
g
|
Fat:
91
g
|
Saturated Fat:
58
g
|
Polyunsaturated Fat:
3
g
|
Monounsaturated Fat:
24
g
|
Trans Fat:
4
g
|
Cholesterol:
242
mg
|
Sodium:
1386
mg
|
Potassium:
29
mg
|
Sugar:
112
g
|
Vitamin A:
2811
IU
|
Calcium:
28
mg
|
Iron:
1
mg
© Food And Meal
This website provides approximate nutrition information for convenience and as a courtesy only. Nutrition data is gathered primarily from the Spoonacular Database, whenever available, or otherwise other online calculators.
Alternative Method: Oven-Baked Pecan Buttercrunch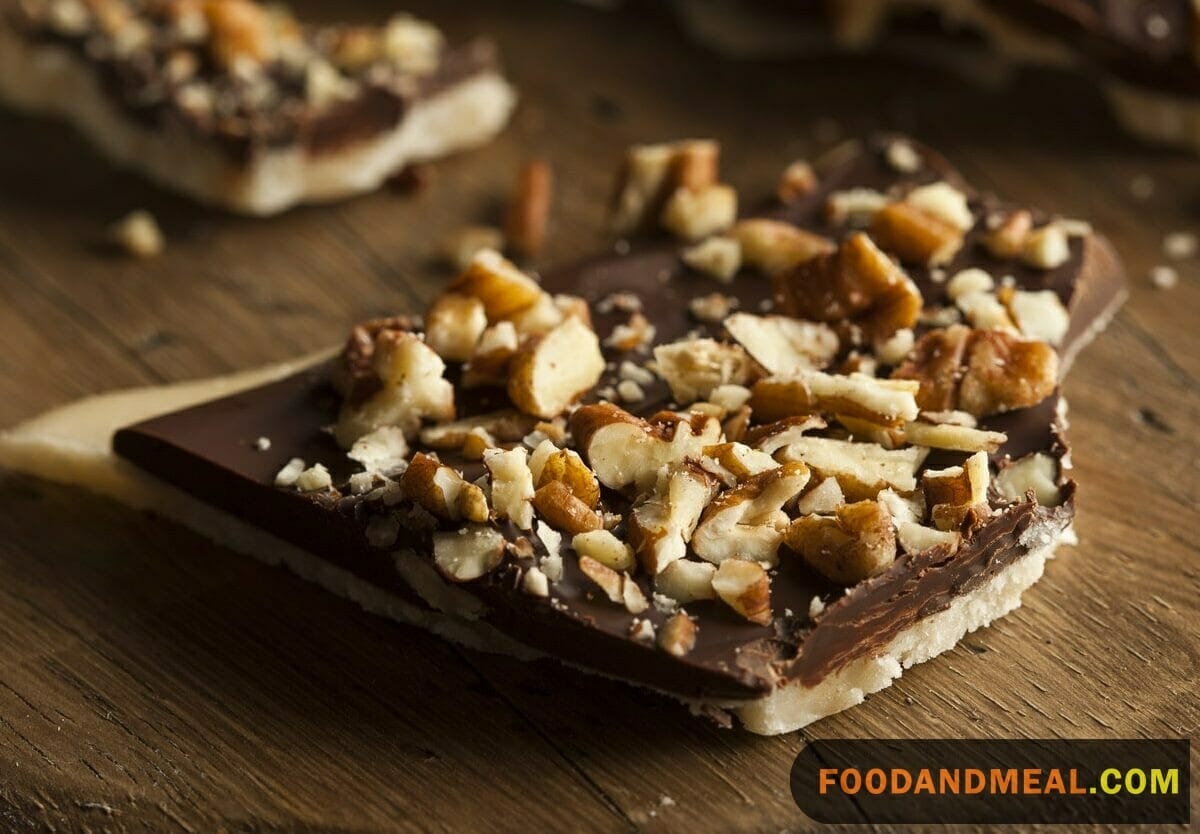 Ingredients:
1 cup (2 sticks) unsalted butter
1 cup granulated sugar
1/4 teaspoon salt
1 teaspoon pure vanilla extract
2 cups chopped pecans
1 1/2 cups semi-sweet chocolate chips
Instructions:
Preheat the Oven: Preheat your oven to 350°F (175°C) and line a baking sheet with parchment paper.
Prepare the Buttercrunch Base: In a medium-sized saucepan over medium heat, melt the butter. Stir in the sugar and salt. Continue to cook, stirring constantly, until the mixture reaches 300°F (149°C) on a candy thermometer. This should take about 10-15 minutes.
Add Vanilla and Pecans: Remove the saucepan from the heat, and carefully stir in the vanilla extract and chopped pecans. Quickly spread this mixture onto the prepared baking sheet in an even layer.
Bake in the Oven: Place the baking sheet in the preheated oven for about 10 minutes, or until the toffee becomes golden and bubbly.
Add Chocolate: Remove the baking sheet from the oven and sprinkle the chocolate chips evenly over the hot toffee. Allow them to sit for a few minutes to soften, and then spread the melted chocolate over the toffee layer with a spatula.
Cool and Set: Let the Pecan Buttercrunch cool at room temperature until the chocolate has completely set. You can speed up this process by placing it in the refrigerator for about 30 minutes.
Break into Pieces: Once fully set, break the buttercrunch into bite-sized pieces.
Serve and Enjoy: Serve your oven-baked Pecan Buttercrunch as a delightful treat or wrap it up as a gift for friends and family.
Tips for making Pecan Buttercrunch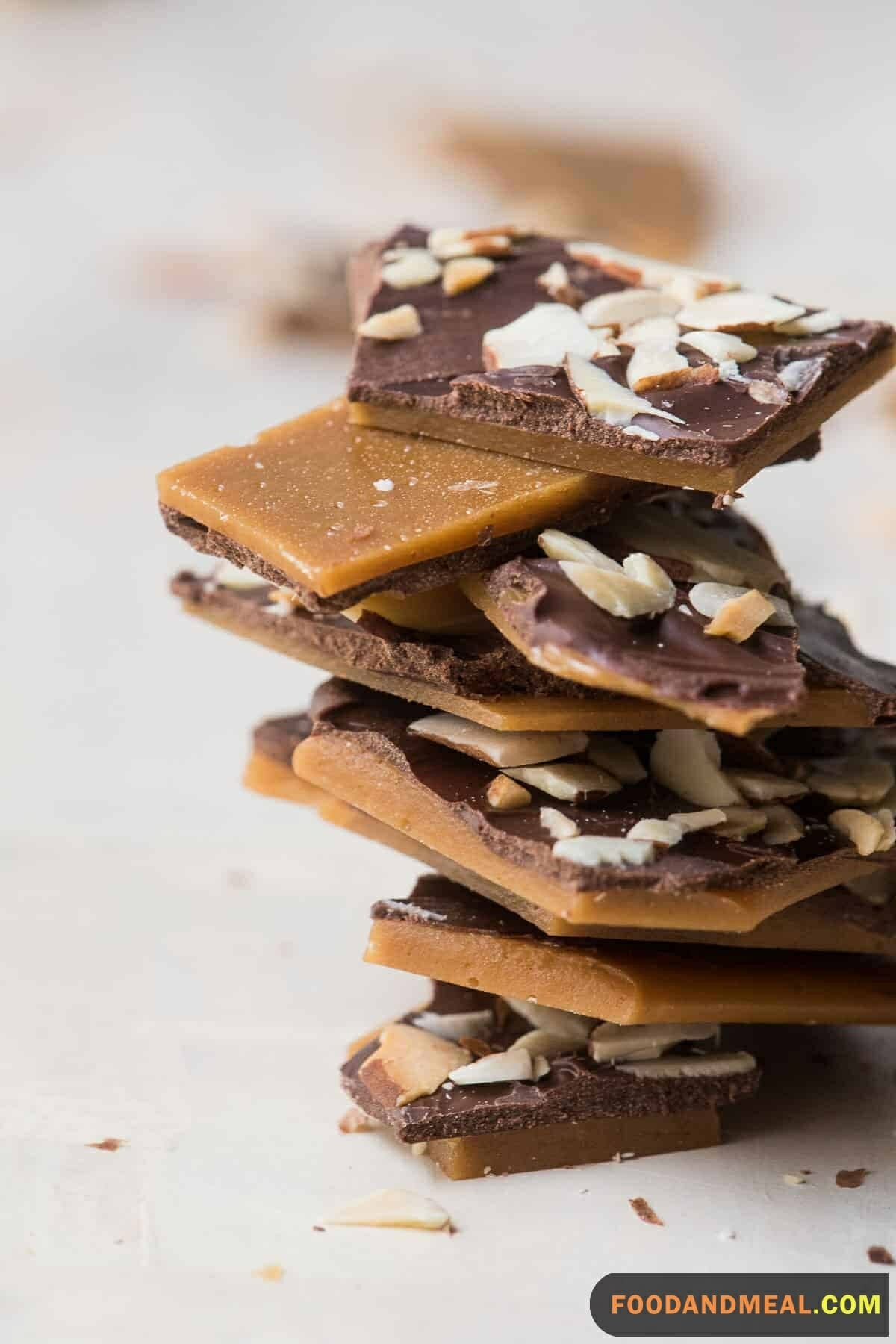 Cooking Tips
Temperature Matters: Invest in a candy thermometer. The toffee needs to reach precisely 300°F (149°C) for that ideal crunch.
Quality Ingredients: Use high-quality butter, fresh pecans, and premium chocolate for the best flavor.
Keep Stirring: When making the toffee, stir constantly to prevent it from burning or sticking to the pan.
Timing is Key: Don't rush the process. Slowly heat the toffee to achieve that deep caramel flavor.
Precision Cutting: Use a sharp knife to create clean, even pieces of Buttercrunch. It will make a world of difference in presentation.
Common Mistakes to Avoid:
Rushing the Toffee: Don't crank up the heat too high. Low and slow is the way to go for perfect toffee.
Skipping the Thermometer: Guessing the toffee's temperature can lead to uneven results. A candy thermometer is your best friend.
Neglecting the Cooling Stage: Allow the toffee to cool completely before breaking it into pieces. Rushing this step can result in a sticky mess.
Inadequate Buttering: Make sure to butter your baking sheet generously to prevent sticking.
Storing Too Long: Pecan Buttercrunch is best enjoyed fresh. If stored for too long, it can lose its delightful crunch.
Serving Suggestions
Ice Cream Topping: Crumble Pecan Buttercrunch over a scoop of vanilla ice cream for a heavenly dessert.
Coffee Companion: Pair a piece of Buttercrunch with your morning coffee or an afternoon espresso.
Gift with Love: Package your Buttercrunch in a beautiful box or jar to give as a thoughtful homemade gift.
Dessert Board: Create a dessert board with an assortment of chocolates, fruits, and Pecan Buttercrunch for a stunning presentation.
Chocolate Fondue: Dip pieces of Buttercrunch into a pot of warm, melted chocolate for an indulgent fondue experience.
FAQs about Pecan Buttercrunch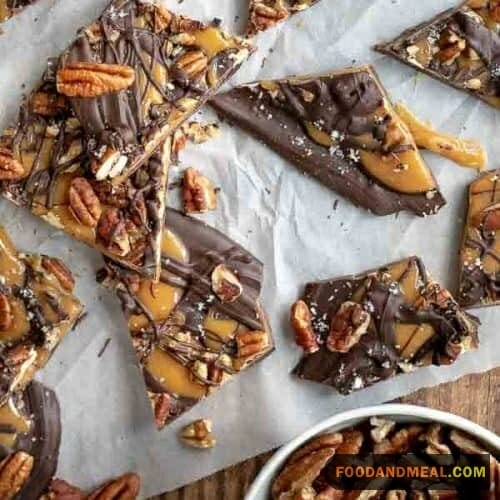 How do I store Pecan Buttercrunch? Store it in an airtight container at room temperature for up to two weeks. For longer storage, refrigerate or freeze in an airtight container.
Can I use different nuts in this recipe? Absolutely! Almonds, walnuts, or cashews work wonderfully in place of pecans.
What kind of chocolate should I use?Use high-quality semi-sweet or bittersweet chocolate for the best results.
Can I make Pecan Buttercrunch without a candy thermometer? It's possible, but using a thermometer ensures consistent results. Without one, you'll need to rely on visual cues, which can be trickier.
How do I prevent the toffee from sticking to the pan? Generously butter the pan or use a silicone baking mat to prevent sticking.
Create Pecan Buttercrunch magic in your kitchen with our irresistible recipe. Share the love and subscribe for more sweet surprises.
Affiliate DisclaimerAbout The Content
As an affiliate, we may earn a commission from qualifying purchases. We get commissions for purchases made through links on this website from Amazon and other third parties.