This Pecan buttercrunch should come with a warning sign because it is truly addictive. The combination of the sweet buttery toffee, rich dark chocolate, followed by the salty crunchy nuts are heavenly. This recipe makes a large batch, but not to worry, the likelihood of leftovers is very low. It is a really great recipe that I have made countless times, and definitely worth attempting! It is great for parties and makes an amazing gift. (A great source for cellophane bags for hostess gifts is Nashvillewraps, they sell all kinds of pretty packaging!)  You can replace the pecans for caramelized Rice Krispies for those with nut allergies.
Pecan Buttercrunch Recipes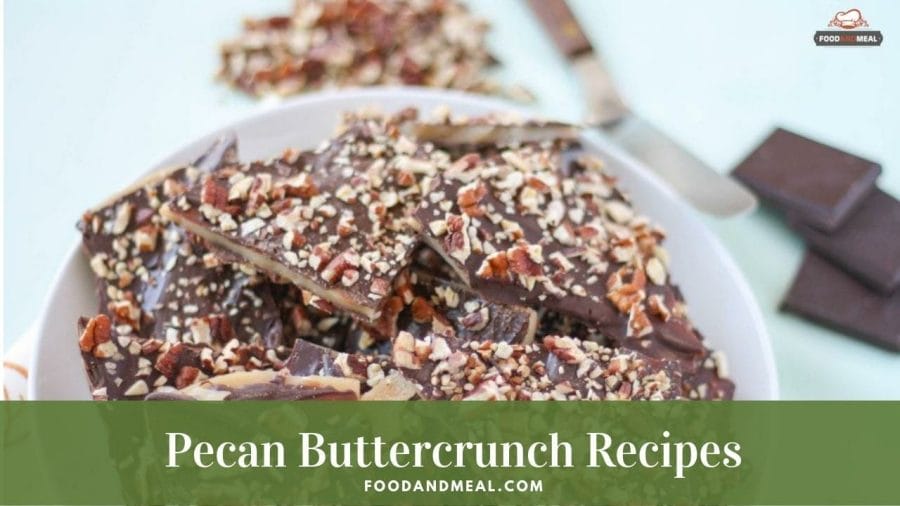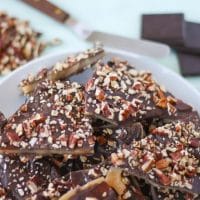 Pecan Buttercrunch
Pecan Buttercrunch Toffee is a delicious treat that can be made in a snap! This fudge recipe contains chocolate, pecans and butter. It is easy to make and makes a wonderful gift for friends and family. It is easy to make and can be enjoyed by the whole family! It is best served as a treat when it is warm, but can also be stored in the refrigerator. To serve, it is best to keep it in an airtight container or on a tray.
Print
Pin
Add to Collection
Go to Collections
Equipment
Ingredients
450

g

4 sticks or 2 cups Butter

melted

450

g

16 oz or 2 cups Sugar

90

g

3 0z Water

1

Tsp

Salt

15

g

0.5 oz Vanilla Extract
Optional caramelized Rice Krispies
680

g

2 1/2 cupsDark Chocolate

tempered or just melted

450

g

4 cups Pecans

toasted chopped and salted
Instructions
Prepare a silicone mat or a long section of parchment paper on your counter.

Combine the butter, sugar, water, and salt in a medium saucepan. Bring to a boil, stirring constantly.

Continue to stir the mixture over moderate-high heat till it reaches 298F, This can take approx. 15-20 minutes.

Remove from heat and add the vanilla extract. Stir in well.

Working quickly, spread the mixture over a silicone mat or over parchment paper on your counter, if heatproof. The toffee will set quickly.

Allow to cool completely. Blot the toffee with a towel to remove any excess oil on the surface.

Coat one side of the toffee with half of the chocolate and immediately sprinkle the toasted nuts onto the chocolate.

When the chocolate sets, turn the toffee over, and repeat on the other side.

Break into desired-size pieces.

Store protected from heat and humidity.
Video
Notes
If you're looking for a simple chocolate treat, make Pecan Buttercrunch! It's the perfect snack for any occasion. This treat is a delicious way to celebrate your loved ones and is great for all ages. They are the perfect way to say "I love you" and are always welcome at any gathering! It's the perfect dessert for any occasion! And with just a few ingredients, you'll have a sweet and tasty treat!
Share by Email
Share on Facebook
Share on Twitter
Share by Text
Nutrition
Serving:
4
servings
|
Calories:
1242
kcal
|
Carbohydrates:
113
g
|
Protein:
1
g
|
Fat:
91
g
|
Saturated Fat:
58
g
|
Polyunsaturated Fat:
3
g
|
Monounsaturated Fat:
24
g
|
Trans Fat:
4
g
|
Cholesterol:
242
mg
|
Sodium:
1386
mg
|
Potassium:
29
mg
|
Sugar:
112
g
|
Vitamin A:
2811
IU
|
Calcium:
28
mg
|
Iron:
1
mg
© Food And Meal
This website provides approximate nutrition information for convenience and as a courtesy only. Nutrition data is gathered primarily from the Spoonacular Database, whenever available, or otherwise other online calculators.
Keys to Success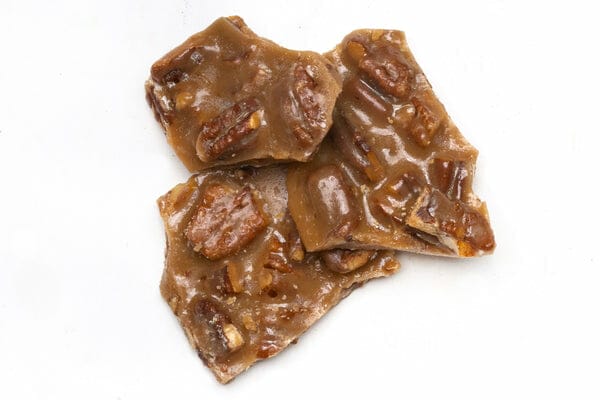 The toffee sets within a few minutes therefore miss en place is a good idea: have your silicone baking mat or parchment paper ready as well as an offset spatula on your counter to spread the toffee.
The use of a digital thermometer is important, to avoid overcooking the toffee.
Prepare the vanilla extract and keep it onhand near the stove as you will quickly need to mix it in. Do not add it from the beginning as the vanilla might burn and give the toffee a bitter flavor.
The mixture gets very hot. Make sure you use a medium saucepan, large enough that you can stir safely without any splatters. Also make sure you are using a heatproof spatula.
Spread your toffee enough that it is not too thick.
You can place the chocolate covered toffee in the fridge to set. Unless you are using tempered chocolate which sets within minutes, it will take long to set and putting it to cool just speeds up the process. As you can see from the pics below, the chocolate is still nice and shiny.
Pecan Buttercrunch (adapted from Chocolate and Confections by  Peter B. Greweling)
Tips and Tricks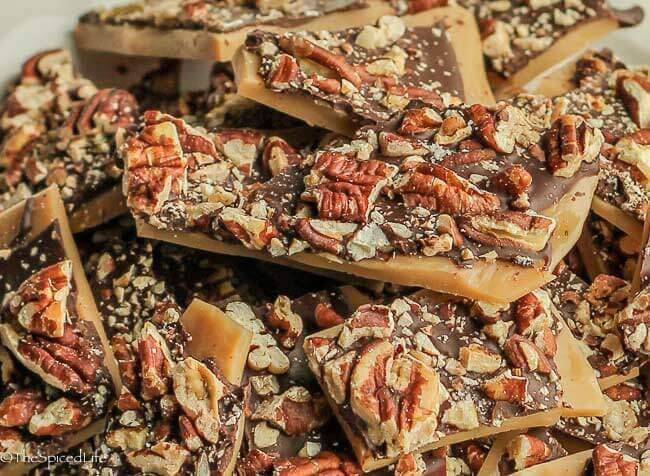 To make Pecan Buttercrunch, start by melting the chocolate. Set the mixture aside to cool. Next, melt the chocolate chips in a double boiler. Spread the chocolate evenly over the toffee layer. Sprinkle with fleur de sel and pecans and allow the chocolate to set completely. After the chocolate has cooled, remove the pecans and chocolate toffee. Once the toffee has hardened, cut it into pieces and store in an airtight container.
To make Pecan Buttercrunch, melt the chocolate and corn syrup in a double boiler. Then, pour it over the toffee and let it cool. Then, sprinkle the chocolate with pecan halves and fleur de sel. Place the chocolate-covered toffee in the fridge for 2 hours or overnight. Once hardened, transfer the toffee to a airtight container and store it in the refrigerator for up to a month.
While the chocolate and corn syrup are cooking, stir the vanilla and butterscotch until the toffee is melted. Allow the toffee to cool to a light golden color. Once the toffee is ready, spread it out onto a lined baking sheet. Next, spread the chocolate over the toffee. Sprinkle the top with chopped pecans and allow it to set. Pour the toffee over the pecan buttercrunch. Let the candy set at room temperature for 2 hours, then carefully remove it from the mold. Once the chocolate has hardened, you can serve it.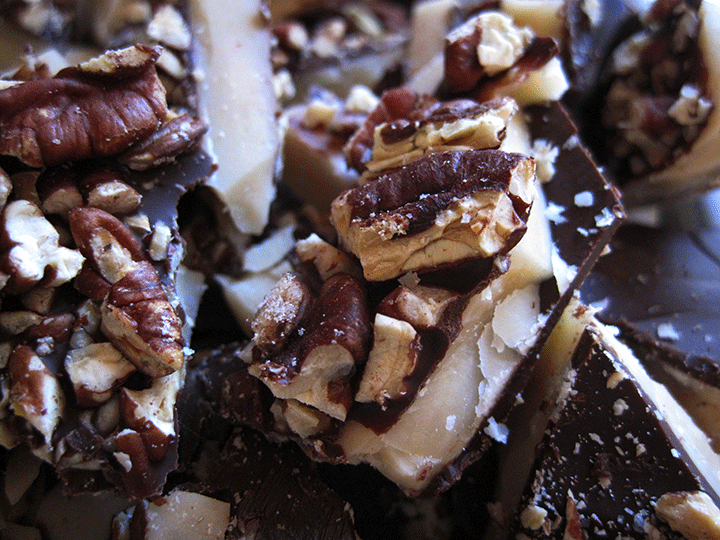 Once the chocolate is ready, it is time to prepare the toffee. While it is not necessary to use a microwave, you can place it in the freezer. Once it has been completely cooled, it will become a chewy snack. It can be enjoyed at any time! If you haven't tried it before, try the recipe today! You'll be glad you did! You'll love it. So, give it a try. You'll be glad you did!
Once you've made Pecan Buttercrunch, you'll be ready to decorate your confection. As with any candy, it's best to use chocolate in small amounts to prevent the chocolate from melting. The chocolate layer should be about 1/4-inch thick. Once the toffee has cooled, you can sprinkle the pecans with fleur de sel and decorate the top with the rest of the chocolate. Assemble the chocolate and pecans and let them cool.
You can make Pecan Buttercrunch for any occasion. Toffee is a delicious treat to make for a special occasion. It can be enjoyed by all ages and is a perfect gift for your friends and family. Just remember to store it in an airtight container and avoid direct sunlight. You'll need a silicone liner to make the perfect confection. You can even buy pecan buttercrunch and make it at home!
If you're storing the Pecan Buttercrunch for later use, you should store it in an airtight container. The toffee is very sensitive to humidity and should be stored in a dry place. Ensure that it is stored in a cool and dark place. It's best to store it in an airtight container for several weeks to keep the chocolate from getting soggy. This candy is a delicious treat for every occasion.