Print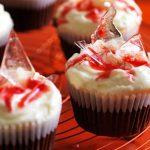 How to Make Broken Glass Cupcakes – 20 Steps
---
Author:

Prep Time:

30 mins

Cook Time:

30 mins

Total Time:

1 hr

Yield:

24

cupcakes

1

x
Description
Bloody Broken Glass Cupcakes: Halloween comes once in a year only that's why moms try their very best to make the event memorable for their kids. Creating themed treats may be a bit challenging but seeing the appreciation in the little ones' faces is a gratifying feeling.
Read More: https://foodandmeal.com/cake/
---
For the cupcake:
2 ¼ cups

of cake flour

1 tbsp

. of baking powder

1 ¼ cups

of whole milk, observe room temperature

4

large egg whites

1 ½ cups

of sugar

1

stick (= 8 tbsp.) butter

¼ tsp

. of cream of tartar

½

of kosher salt

1

vanilla bean, cut in half and scraped

2 tsp

. of vanilla extract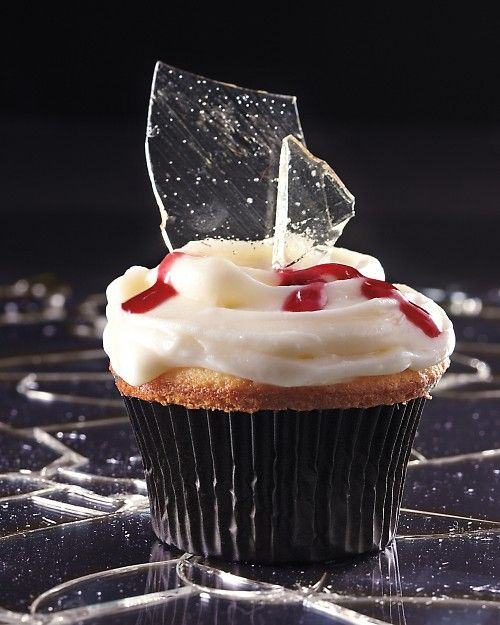 For the frosting:
2 cups

of confectioner's sugar, sifted

½ cup

of butter

2 tbsp

. of milk

1 tsp

. of vanilla extract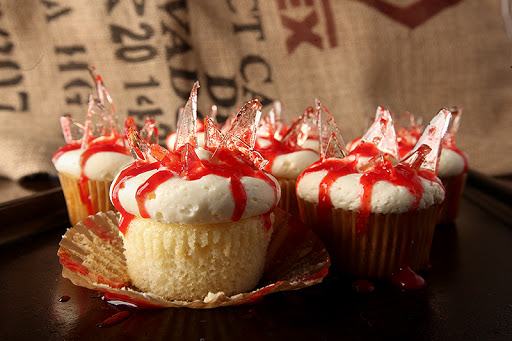 For the broken glass:
3 ½ cups

of sugar

1 cup

of light corn syrup

2 cups

of water

¼ tsp

. of cream of tartar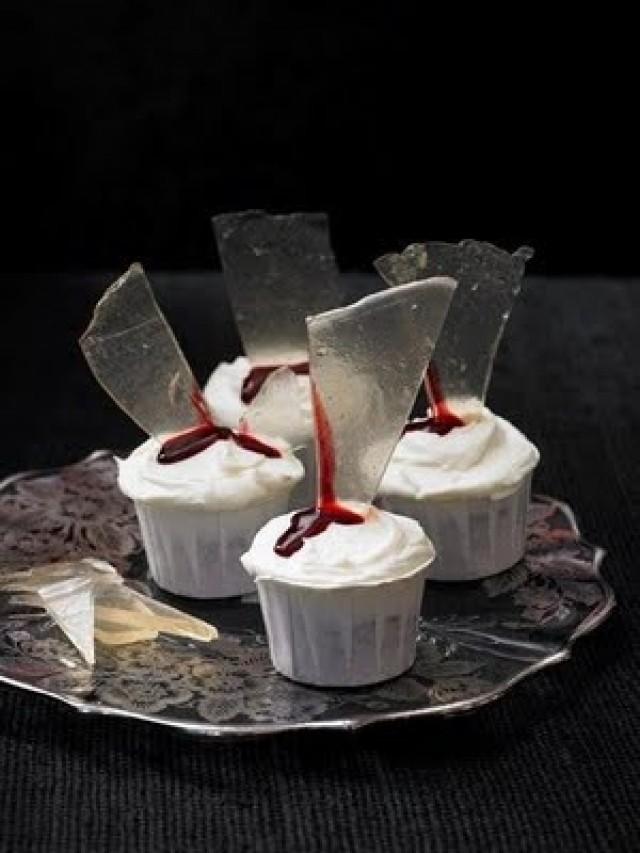 For the blood:
1

jar of raspberry preserves

1

drop of red food color

1 tbsp

. of water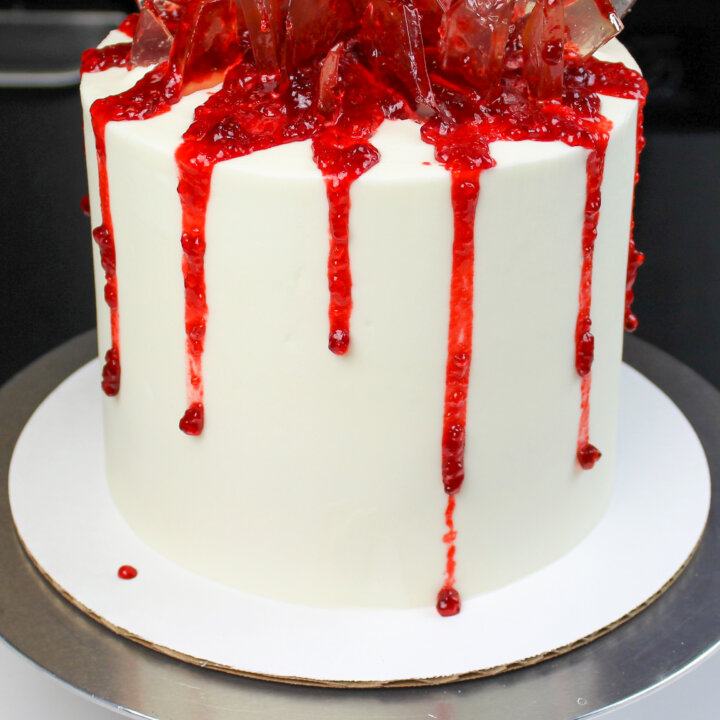 ---
Instructions
Directions
Step by Step
Mix the flour, baking powder and salt together in a large bowl.
Into another bowl, incorporate milk and white eggs, whisking them together to blend well.
Use paddle attachment to your mixer in order to whisk butter, sugar and vanilla extract. Make sure that the consistency will be light and fluffy.
On low speed, put the flour and milk mixture until they well blended.
Pour cupcake mixture into cupcake tins, filling only ¾ of the way.
Bake in 350°F temperature for about 18-20 minutes. Use the toothpick test to know if the cupcakes are ready and if they are, let them cool on wire rack.
Using your stand mixer, cream butter for about 10 minutes until it becomes smooth.
Add the clear vanilla extract into the butter to keep the frosting white.
Set the mixer into low speed and gradually add the confectioners' sugar until blended.
You can then add the milk and beat on high for 3-4 minutes until the butter attains light and fluffy consistency.
Frost the cupcakes and set them aside while you work on for the broken glass.
For the broken glass design, put sugar, corn syrup, cream of tartar and water into a sauce pan. Put it over medium heat and dissolve the sugar by stirring constantly using whisk or spoon.
Boil the mixture until the thermometer reaches 315°F and then remove from stove.
Pour the sugar mixture onto a baking sheet lined with aluminum foil and sprayed with non-stick spray.
Let the sugar mixture cool in room temperature for at least 1 hour.
When it has cooled, break the glass into shards using the back of a spoon and set aside for the decoration later on.
Meanwhile, put saucepan over medium flame and mix jar of raspberry preserves with water.
Stir with whisk until the preserve liquefies and then strain it using a sieve.
Add the red coloring to make the blood effect and mix well.
Now, you can stick a shard of sugar glass into a cupcake and using a spoon, drizzle raspberry sauce over the frosting, coating the area surrounding the shard. Serve the cupcakes after designing them.
Notes
If you want such feeling, then try the broken glass- themed cupcakes.  Warning, though—be ready for the resounding "oooh" and "aaaah" from the kids.
Nutrition
Calories:

376.7

Sugar:

58.1 g

Sodium:

198.2 mg

Fat:

9

Saturated Fat:

1.6 g

Carbohydrates:

74.6 g

Protein:

1.7 g

Cholesterol:

23.3
Keywords: Broken Glass Cupcakes,Broken Glass Cupcakes, Bloody Broken Glass Cupcakes, fake bloody,