Ahhhh, the blissful combination of coconut and date, intertwined in a dance of sweetness and texture. I've spent years in the culinary world, and every so often, a recipe captures my heart. Today, I'm sharing the magic of my Coconut Date Bites with you. Let's embark on this delicious journey together.
A great, healthy recipe for coconut date bites. A perfect non-processed treat for the family that is ready in minutes! You can try different coatings to suit everyone's taste, you can even try Rice Krispies if that is your kids' favorite!
Coconut Date Bites Recipes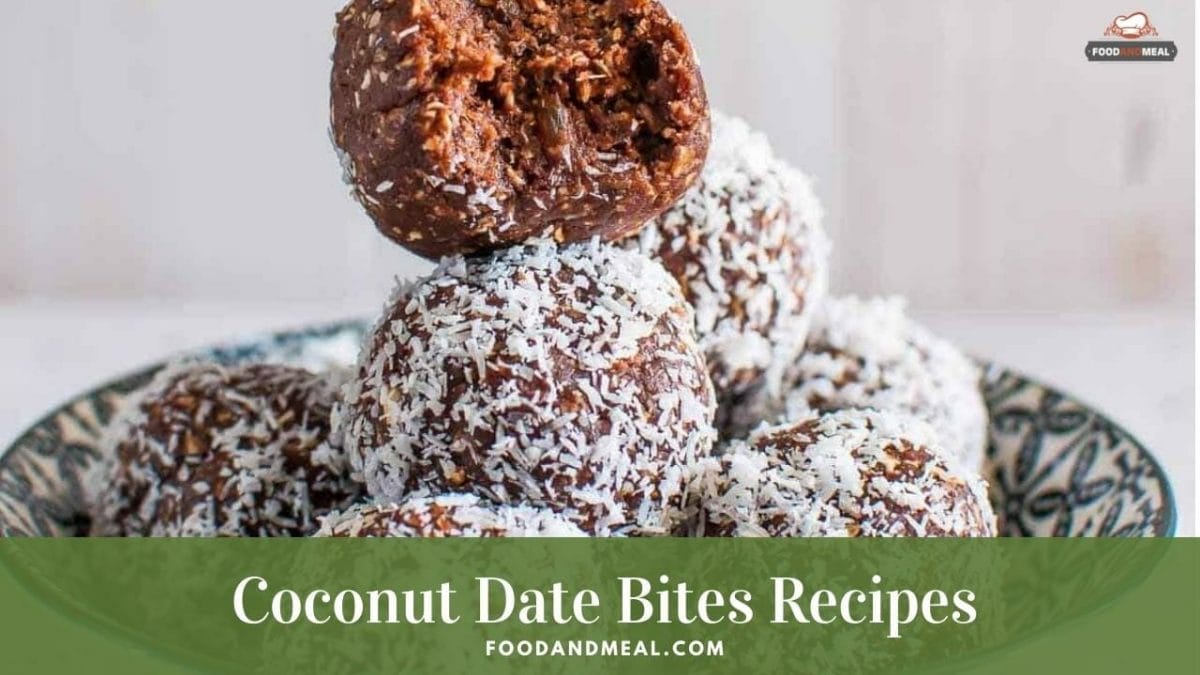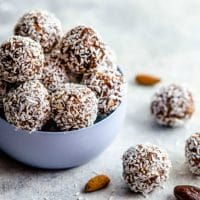 Coconut Date Bites
To make Coconut Date Bites, start by preparing the dates. Next, add the almond butter and walnuts. Pulse until a paste-like consistency is formed. Add water as needed to make the mixture more manageable. Once all ingredients have been combined, roll the coconut dates into balls and freeze. Coconut Date Bites are delicious, healthy, and easy to make. They make a great snack for anyone who wants something sweet and healthy, but doesn't have a lot of sugar or other refined ingredients.
Print
Pin Recipe
Add to Collection
Go to Collections
Instructions
In a food processor, pulse the dates till it becomes a thick paste.

Add the walnuts, vanilla and 1/4 cup of the coconut and pulse until incorporated.

Pour the maple flakes or other topping of choice into a small bowl. Scoop 2 tablespoons of the date mixture at a time, and roll with your hands into a ball.

Coat with the flakes until fully covered. Repeat till all the mixture is used.

Serve in mini paper cupcake liners. Store in an airtight container for up to 1 week, or more if refrigerated.
Notes
These coconut date balls can be stored for up to 3 months or frozen for snacking later.
The dates provide natural sweetness, but their texture is paramount. If your mix feels a bit dry, add a splash of coconut oil. Want to experiment with more recipes? Dive into my 'Tropical Dessert Collection' for more!
Share by Email
Share on Facebook
Share on Twitter
Nutrition
Serving:
1
bite
|
Calories:
23
kcal
|
Carbohydrates:
1
g
|
Protein:
1
g
|
Fat:
2
g
|
Saturated Fat:
1
g
|
Polyunsaturated Fat:
1
g
|
Monounsaturated Fat:
1
g
|
Sodium:
1
mg
|
Potassium:
17
mg
|
Fiber:
1
g
|
Sugar:
1
g
|
Vitamin A:
1
IU
|
Vitamin C:
1
mg
|
Calcium:
3
mg
|
Iron:
1
mg
© Food And Meal
This website provides approximate nutrition information for convenience and as a courtesy only. Nutrition data is gathered primarily from the Spoonacular Database, whenever available, or otherwise other online calculators.
Pin Recipe
Baked Coconut Date Bites: A Toasted Delight Using an Oven
Handling cast iron pans straight out of the oven can be challenging. That's why, before delving into this oven-baked delight, make sure you're equipped with the "Best Oven Mitt for Cast Iron" to ensure safety as you create this masterpiece.
While the traditional Coconut Date Bites are raw, giving them a quick bake adds a toasted depth to their flavor profile and a crispness to their exterior. Using an oven, we'll slightly alter our approach, resulting in a delightful variation of our favorite dessert.
Ingredients:
Medjool dates, pitted
Shredded coconut, unsweetened
A splash of coconut oil (if needed for binding)
A pinch of sea salt (optional, but recbommended)
Any additional desired ingredients (e.g., chopped nuts, seeds, cocoa powder)
Instructions:
Preparation: Preheat your oven to 350°F (175°C). Line a baking sheet with parchment paper or a silicone baking mat.
Mixing: In a food processor, combine the dates and half of the shredded coconut. Pulse until the dates are finely chopped and the mixture starts to clump together. If your mixture feels a bit dry or isn't coming together, add a splash of coconut oil and pulse again.
Forming Bites: Using your hands, shape the mixture into small balls, about the size of a walnut. If you'd like, you can roll them in the remaining shredded coconut, pressing slightly so it adheres to the surface.
Baking: Place the Coconut Date Bites on the prepared baking sheet, ensuring they are spaced apart. Bake in the preheated oven for about 10-12 minutes or until they are slightly golden on the bottom.
Cooling: Once baked, remove them from the oven and let them cool on the baking sheet for a few minutes. They will be very soft right out of the oven but will firm up as they cool.
Serve and Enjoy: Serve these toasted delights at room temperature. The slight crispness from baking combined with the depth of toasted coconut is an irresistible twist to the classic recipe.
The oven-baked version offers a more complex texture and a warm, toasted flavor that's sure to captivate your taste buds. Enjoy the toasted twist on the classic!
Tips and Tricks
Serving Suggestions
With the ethereal combination of sweet dates and toasty coconut, these bites are perfect for a myriad of occasions:
Events: Think high-tea parties, brunches, or even elegant evening soirées. Their simplicity and elegance make them a hit across age groups.
Audiences: From kids to adults, these are loved by all. For children's gatherings, consider adding a chocolate drizzle or colorful sprinkles on top for a fun twist.
Complementary Sides: Since these are on the sweeter side, pair them with mildly flavored teas like chamomile or white tea. For those wanting an extra kick, a spiced chai can be delightful.
Presentation: Place them on a platter with some fresh berries and mint leaves for garnish. The pop of color makes it visually appealing. If you're looking to serve them at an adult event, consider accompanying them with a dessert wine or a light sparkling beverage.
Alternate Serving Style: Crumble them over yogurt or your morning oatmeal. Alternatively, they can be halved and filled with almond butter or cream cheese for a filled dessert experience.
Cooking Tips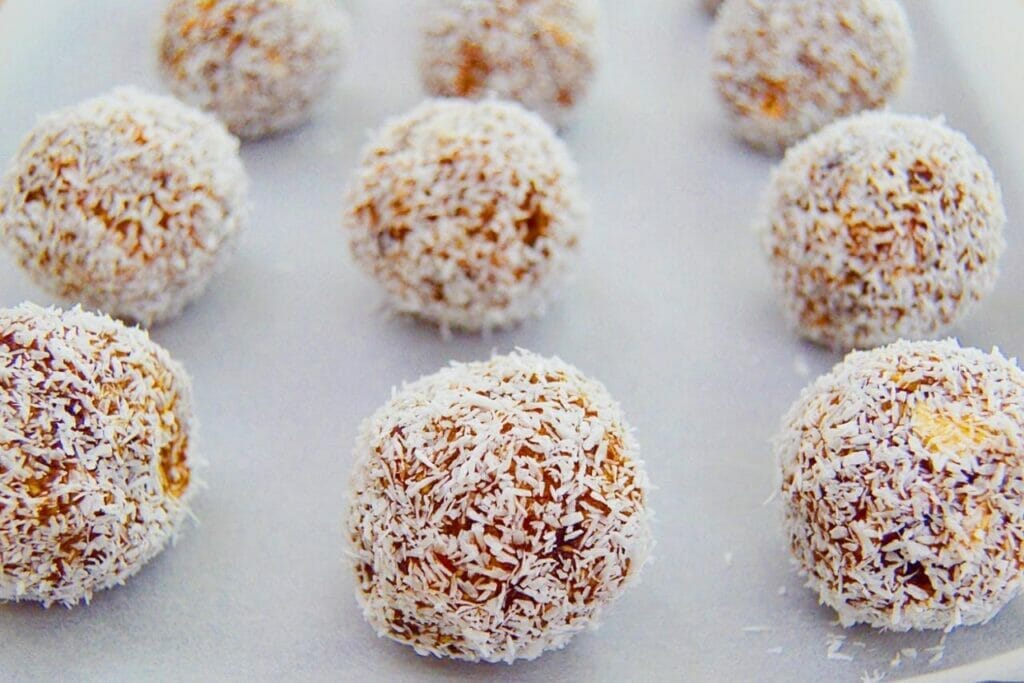 Getting these bites just right is a balance of technique and art:
Texture Matters: Don't over-process the mixture. While you want the dates finely chopped, retaining some texture ensures the bites are not overly mushy.
Oven Watch: Every oven behaves differently. Keep a watchful eye during the baking phase to avoid over-toasting. The golden point is a slight crispness without them turning overly brown.
Common Mistake: Many tend to use sweetened coconut shreds since they're widely available. However, this makes the bites overly sweet. Stick to unsweetened varieties. If you only have sweetened ones, adjust the number of dates accordingly.
List of 5 FAQs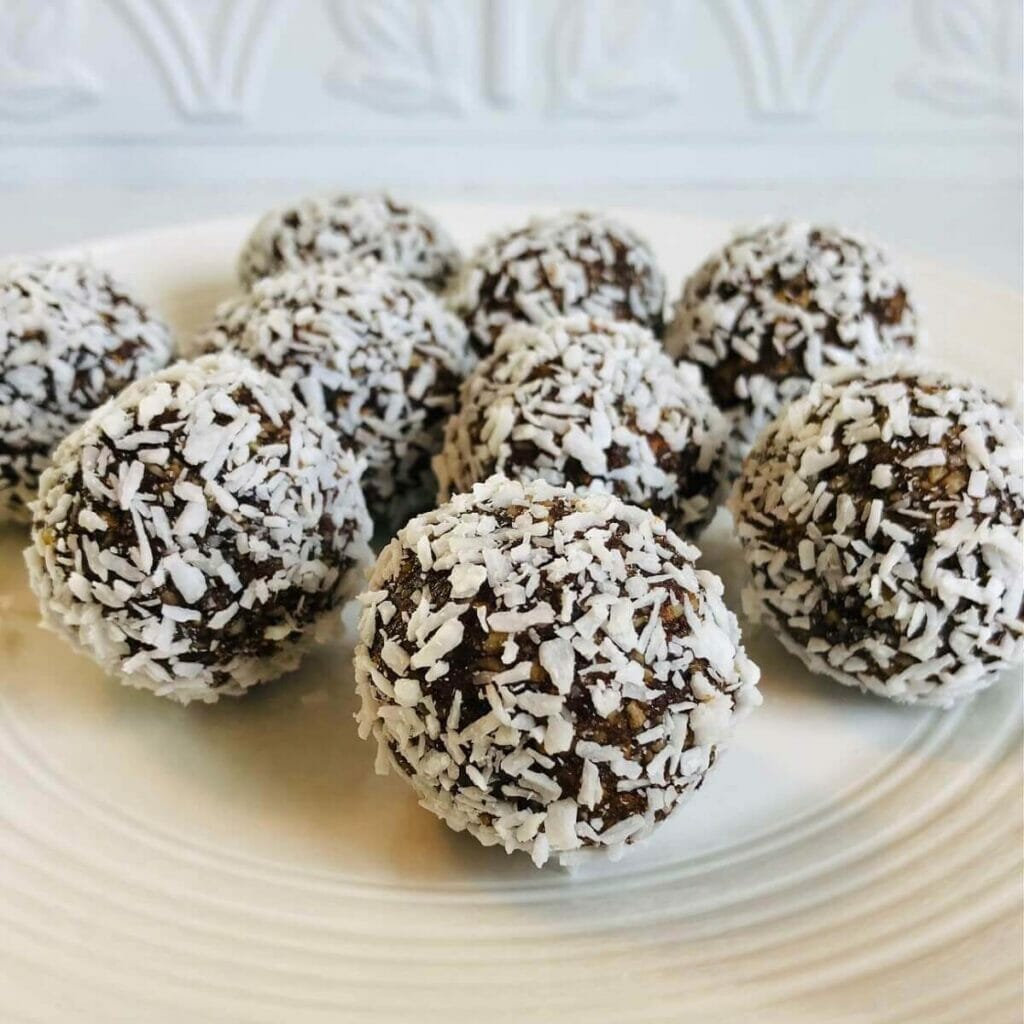 Can I use a different type of date other than Medjool? Yes, you can use other types of dates, but Medjool dates are preferred due to their soft texture and sweet flavor. If using a drier date variety, consider soaking them in warm water for 10 minutes before processing.
What if I don't have a food processor? You can finely chop the dates and then mix them with the shredded coconut using your hands or a spoon. The texture might be slightly different, but the flavor will still be delightful.
How to store any leftovers? Store leftover Coconut Date Bites in an airtight container in the refrigerator for up to a week. You can also freeze them for up to a month; just ensure they're separated by parchment paper to prevent sticking.
Can I add other ingredients like nuts or seeds? Absolutely! Feel free to add chopped nuts like almonds or walnuts, or seeds like chia or flaxseed for additional texture and nutrition. Adjust the quantity to ensure the mixture binds well.
Is there a vegan alternative to the ingredients? The ingredients listed are already vegan-friendly. Ensure any added components or variations align with vegan requirements if necessary.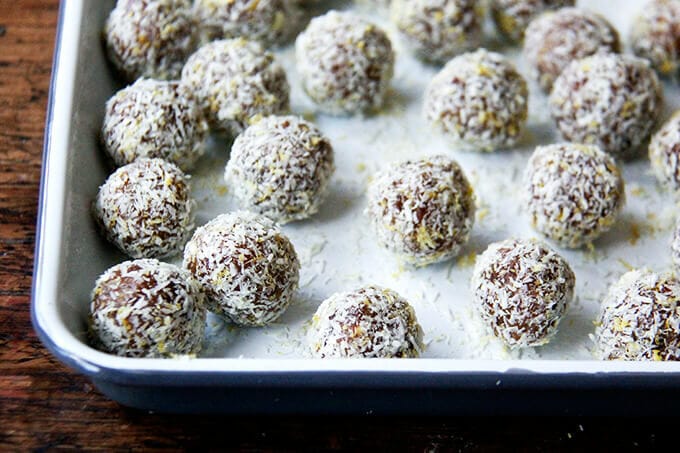 Delve into the toasted charm of our oven-baked Coconut Date Bites. Every bite will transport you to a world of rich flavor and delightful texture. After trying this recipe, we're certain you won't keep it to yourself. If you loved this sweet treat, share the joy with your friends and family! And don't miss out on more culinary gems – hit that subscribe button to stay updated on our latest recipes!
Affiliate DisclaimerAbout The Content
As an affiliate, we may earn a commission from qualifying purchases. We get commissions for purchases made through links on this website from Amazon and other third parties.